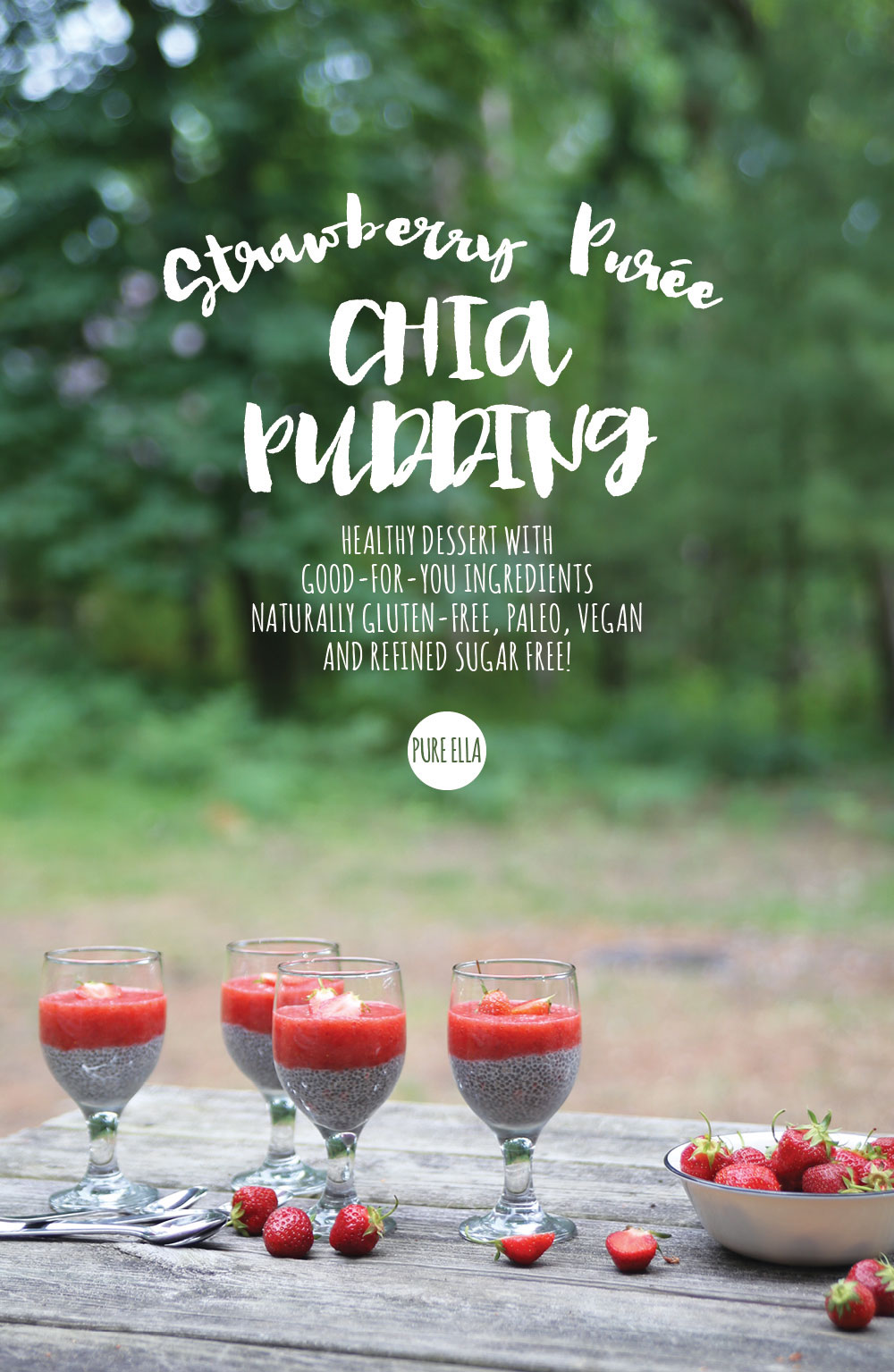 If you're like me and embracing these summer days to the fullest (and NOT complaining that it's too HOT, because heck, in 4 months you'll be begging for a day like today…) Basically, you need to make this Strawberry Chia Pudding and let summer linger forever!
And if you're vibeing this chia pudding stuff, you must try my Pina Colada Chia Pudding OR this Chocolate Cherry Chia Pudding too!
Summer, this is not a goodbye… the last time I checked, you end in mid september and that's so far away, pumpkins can definitely wait… because oh summer, I love you. You've been so good to us, reminding me to slow down and smile to the sun and stop and smell the flowers and breathe in all the good stuff…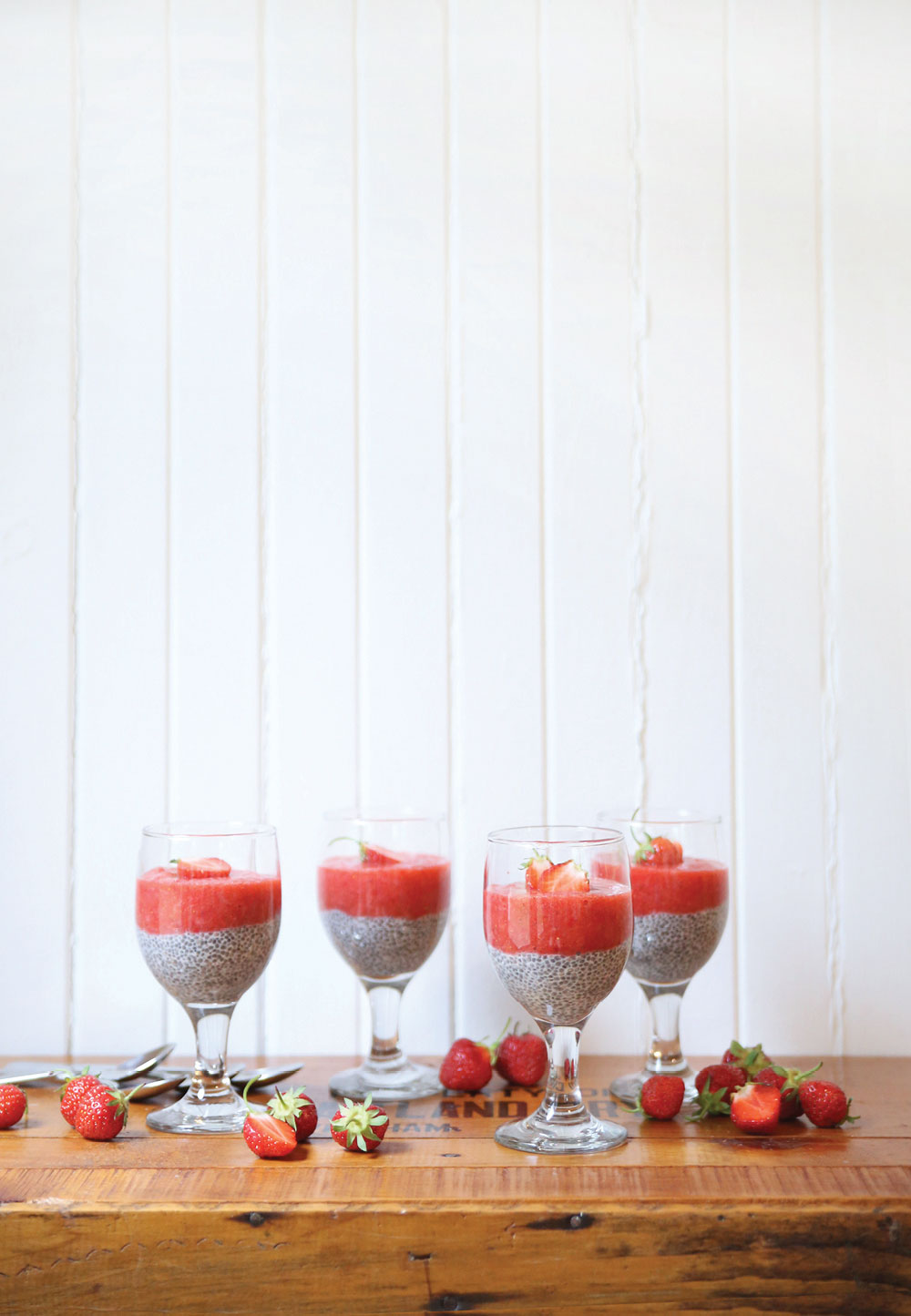 This delicious recipe for the Strawberry Puree Chia Pudding is my ultimate tribute to Summer. I made these on our first getaway back in July, a week at a beach cottage in Grand Bend, Ontario, at an incredible beach at Lake Huron but one that looks and sounds and feels like the ocean… really our favourite spot for staycationing.
It was a glorious week where I learned to let go of so much heavy stuff, I came alive and woke up to a life that's more beautiful. I learned that happiness is a choice and that no one is really lucky in finding happiness… but rather, they seek it. You literally choose happiness…
I thought I lived like this all along for a while…. (especially after breaking through a rough illness and learning so much along the way) but, it appears there was so much more to learn and let go in my life…
For one thing, here's a bit about me you may not know. I love sleep and I'm not much of a morning person. I get grumpy and blame everyone that I did not sleep well (like Mia who still wakes up at night at least once, like Moxie who often wanders around the house and her pitter patter on the hardwood wakes me up)… and there's always something (like lately, insomnia….) Sleep is very therapeutic and it makes sense that I want to (and expect to) feel rejuvenated and just have a good night sleep…
We stayed at a small cottage with my sister in law and her husband and 4 year old son who came for a visit from Poland. For two families with kids this cottage was way too small and the sound travelled straight through the walls. We all came to relax and sleeping in was pretty much on everyone's agenda (except for Mia's ;)) She did not get the memo that it's ok to sleep in… As usual, she was up at 6 am and immediately loud and busy with two-year-old tasks.
The first couple of days I was really grumpy and OH SO TIRED… we (the adults) stayed up late into the night and I just wanted to sleep till noon…. but when you bring a toddler on a vacation, this is truly impossible. So I started the day off on a grumpy note, stayed in the house and ran around the busy loud toddler. Within 10 minutes, everyone else woke up and also (I was not surprised) very grumpy in need of lots of coffee. This continued the second morning and I learned no lesson. Still grumpy, still tired and miserable.
The following morning something changed. My entire mindset changed and instantly turned off the grumpiness and switched on happiness instead. I quietly and quickly grabbed the baby, took some bananas and water from the kitchen, put on my running shoes and headed out for a morning walk with a stroller and smile on me…
Wow! Turns out the day was so incredibly beautiful this early in the day. It was peaceful and serene with birds chirping, the air breezy and comfortable, and I got to move my body and walk and even run through magical little streets in a beautiful beach neighbourhood…
I literally switched my mindset and chose happiness!
Plus I helped everyone else get a bit more sleep that morning and that also felt good. Sometimes if you sacrifice a piece of yourself for everyone's happiness – it doesn't take away from you. It actually makes you feel good inside.
I also met some interesting people on my walk and our pleasant conversation resulted in us exchanging our info and becoming friends :)
I ended up having a great day and later crashed for a nap with my daughter (which was much needed and understandable). I kept choosing 'happiness' every single morning for the rest of our stay. I embraced these early mornings with open arms (we even saw a deer!) and I somehow learned to LIVE, like really live in a much more meaningful way….
This rubbed off on me quite well and I'm happy these habits continued on even when we came back home.
Especially now with so much heat in the day, early morning runs are just the best thing that could happen to start the day (because later it's just too hot to do anything at all that requires physical movement of any kind…. ;)
Moral of the story…. Happiness is a choice.
Every day is presented with opportunities that are either negative or can in fact bring you happiness – quite often we can't change the situation but you can change your mindset and simply choose what's going to make you feel better. The quicker you change your mindset to choose a positive reaction, the better. Let this become a habit… force it at first if you must, and soon you'll see such an amazing side of life… and positivity feeds more positivity… (just like negativity feeds more negativity)… small baby steps help and soon you'll be waking up with arms open wide to hug the day too :)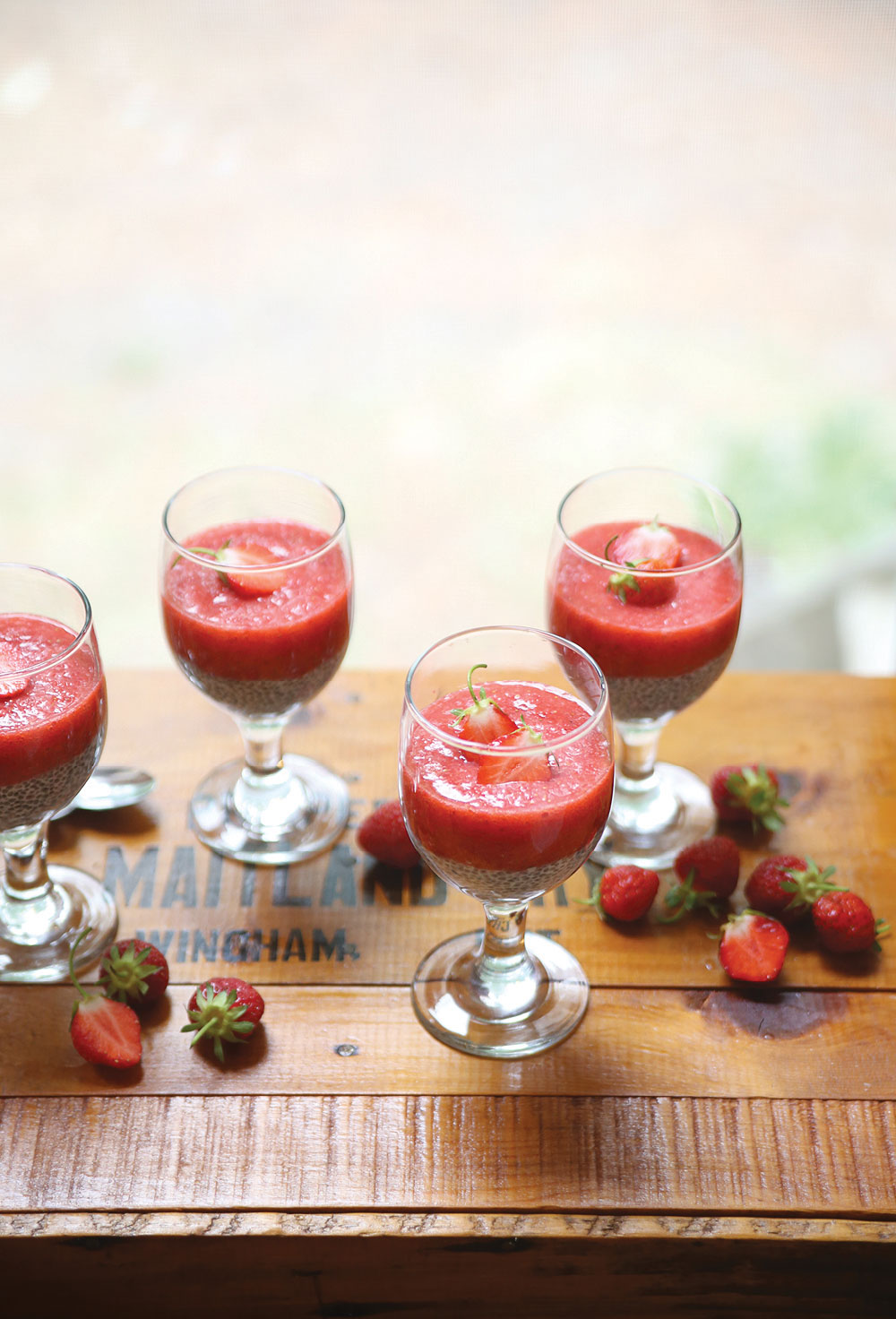 So these Strawberry Puree Chia Puddings are my homage to summer and that week at the cottage.
Everyone loved them, the adults and the kids alike, and they were a breeze to make ahead and serve for a snack later.
These are the best way to relive summer over and over again and savour it just a bit longer. My idea of 'summerizing' :)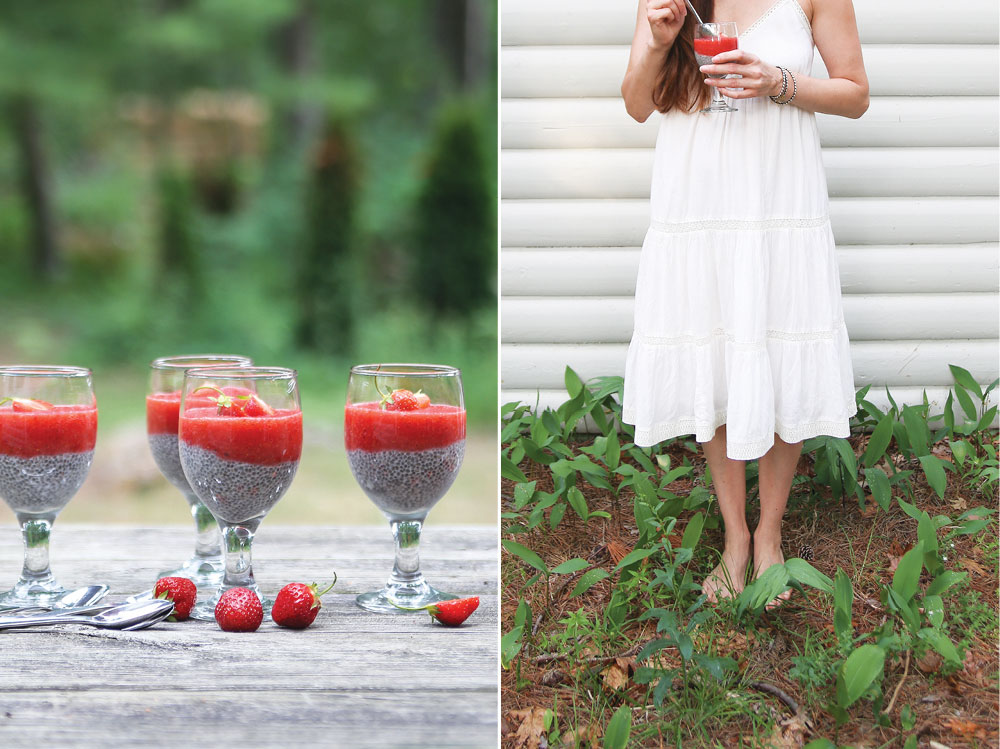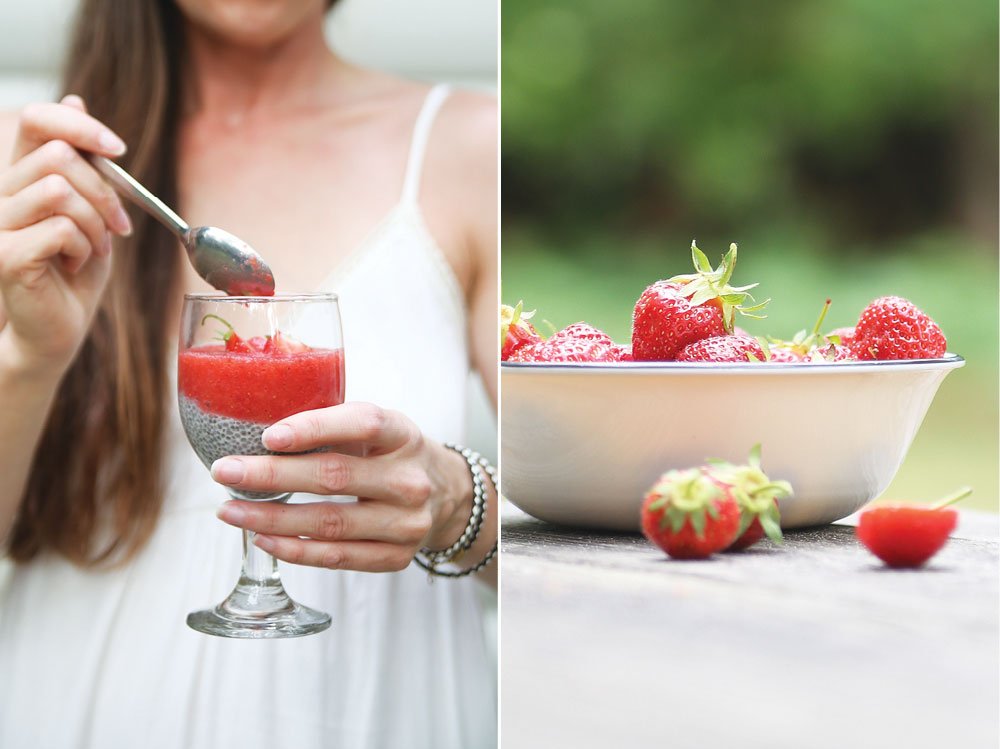 Strawberry Chia Pudding
gluten free, dairy free, paleo, naturally sweetened, (use maple syrup for vegan option)
Ingredients:
1/4 cup chia seeds
1 cup almond or soy milk
1 cup strawberries
honey or maple syrup to taste
How to make chia pudding:
In a mason jar or other container with lid, mix the chia seeds with milk until well combined.
Place in the fridge to soak for about 6 hours or overnight.
Return to the container and mix the chia seeds with a fork to separate the chia seeds as they settle at the bottom.
How to make the strawberry puree:
Wash the strawberries and place in a blender and puree on high until completely pureed.
Add a bit of sweetener if desired.
To serve:
Distribute the chia pudding evenly over two – three glasses, and top with the strawberry puree.
Enjoy immediately while still cold.
NOTES :
I tripled this recipe to serve 6 people.
You can use any soft-flesh fresh fruit and puree it for similar results (just a different flavour).
Use maple syrup or other natural sweetener for vegan option as opposed to honey.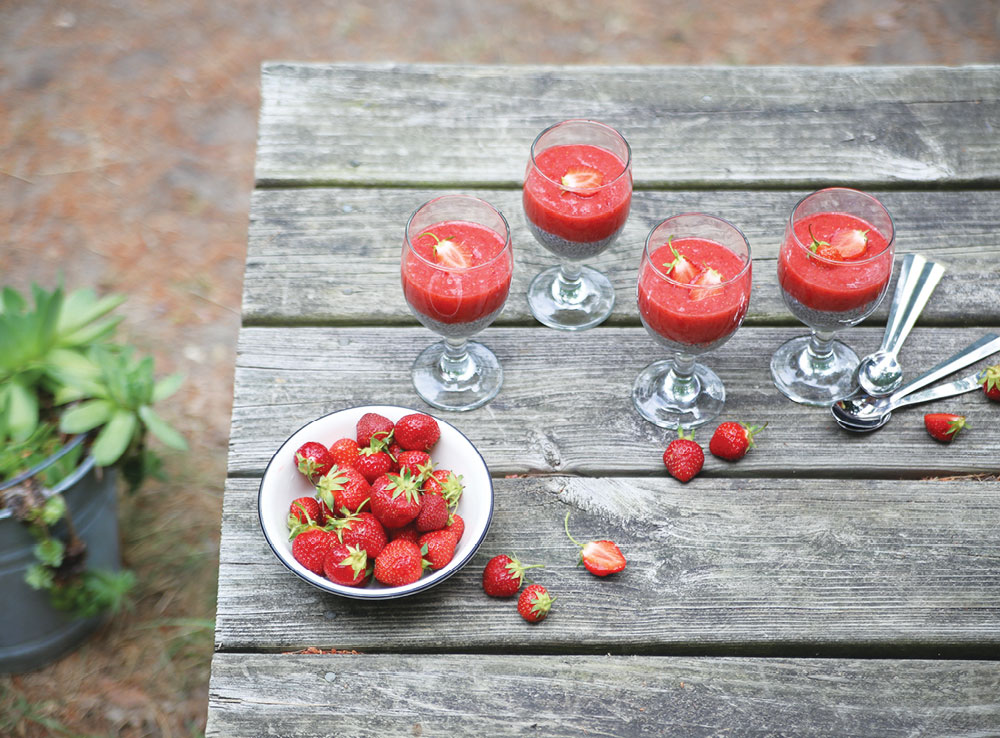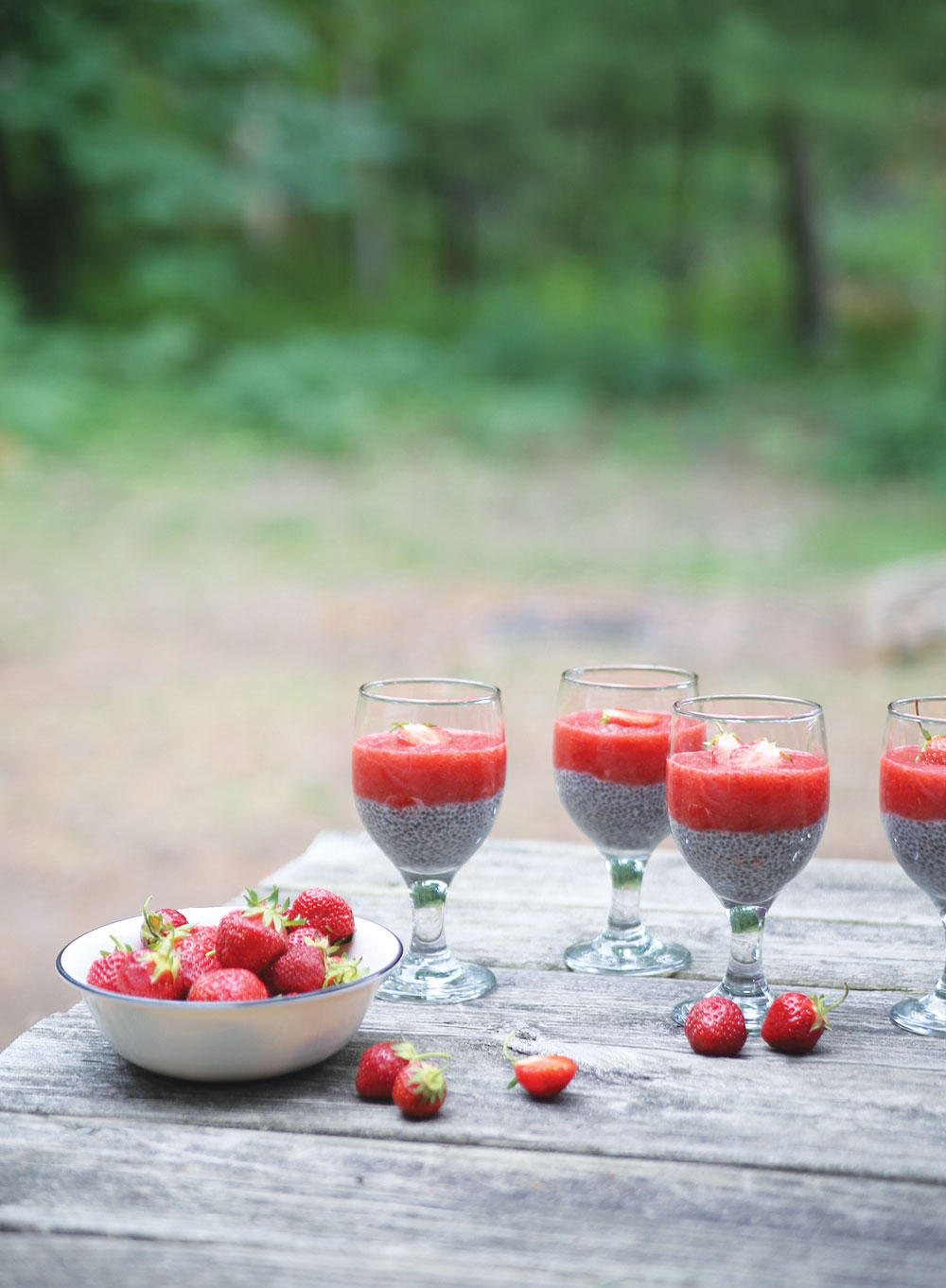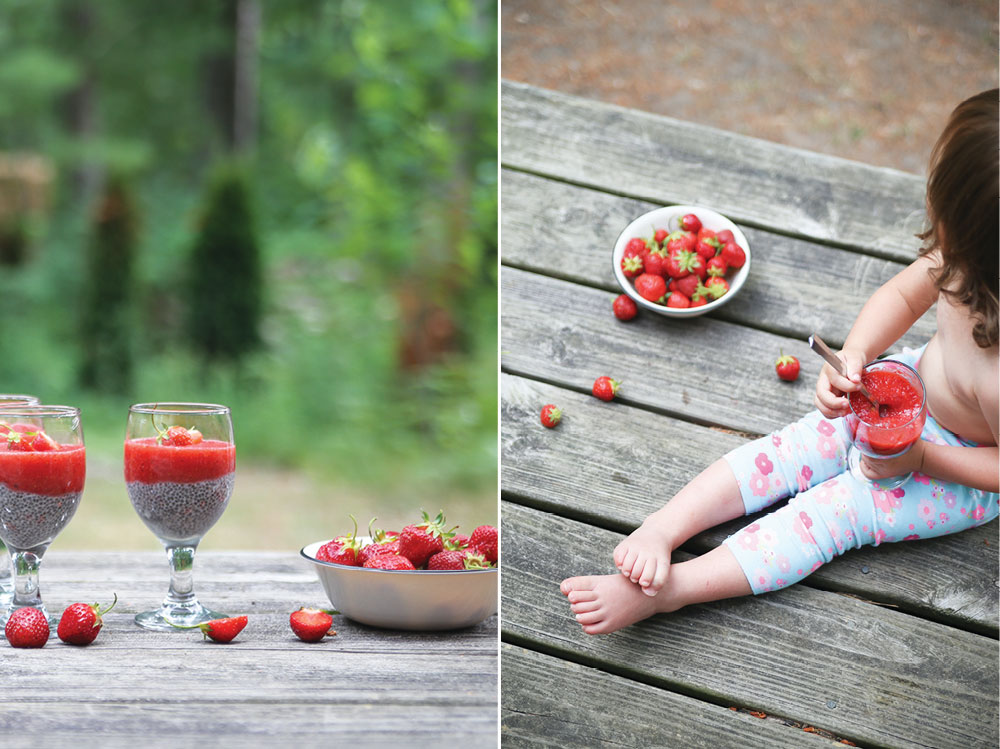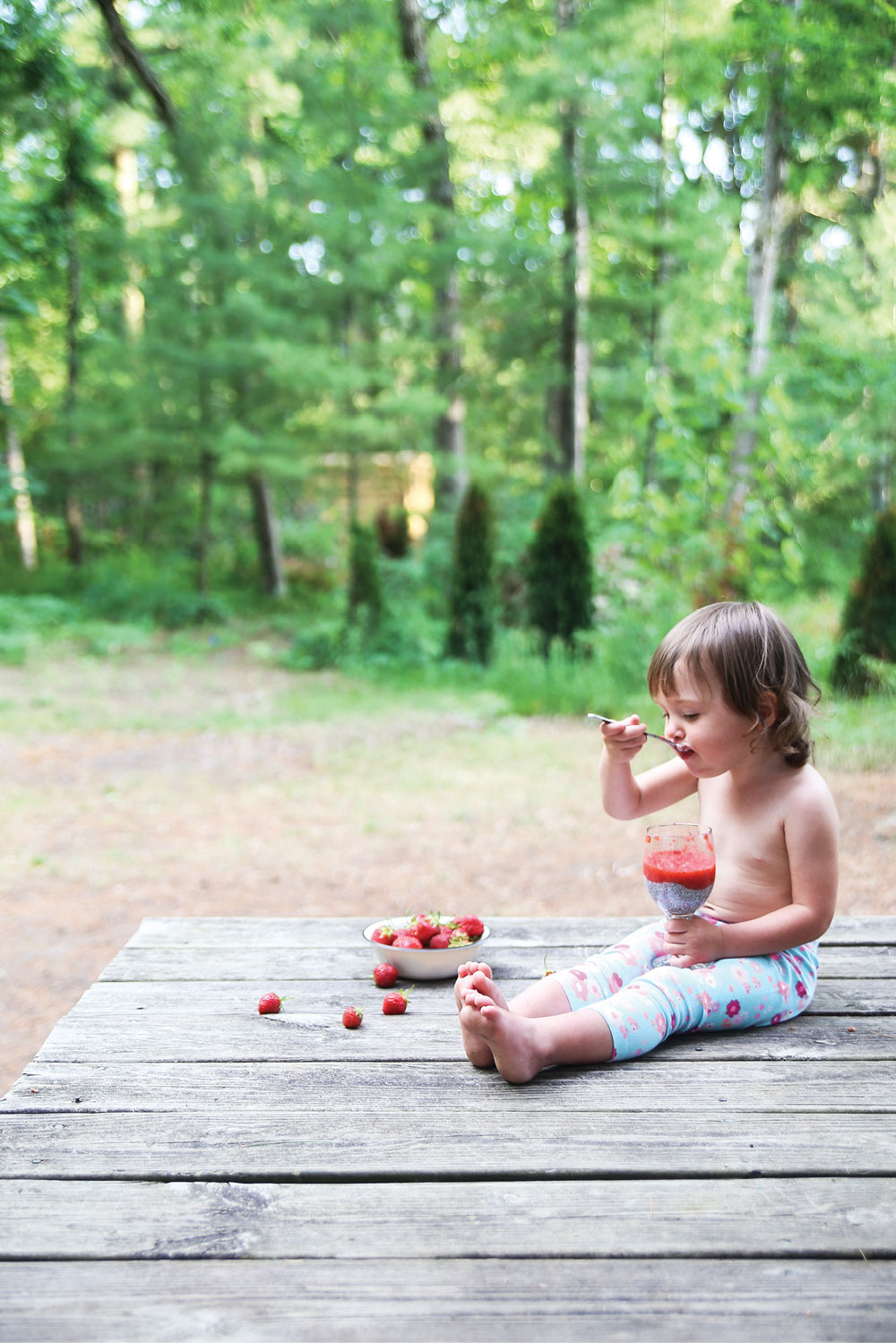 This Chia Pudding makes a wonderful dessert, snack or even breakfast.
It's just the best on hot days as you eat it cold.
It's also very nutritious!
High in protein.
High in calcium.
High in magnesium.
Contains healthy fats.
Contains vitamins and antioxidants.
Contains natural sweeteners.
I hope you'll be enjoying this treat soon! It's a must-make before the summer is over! :)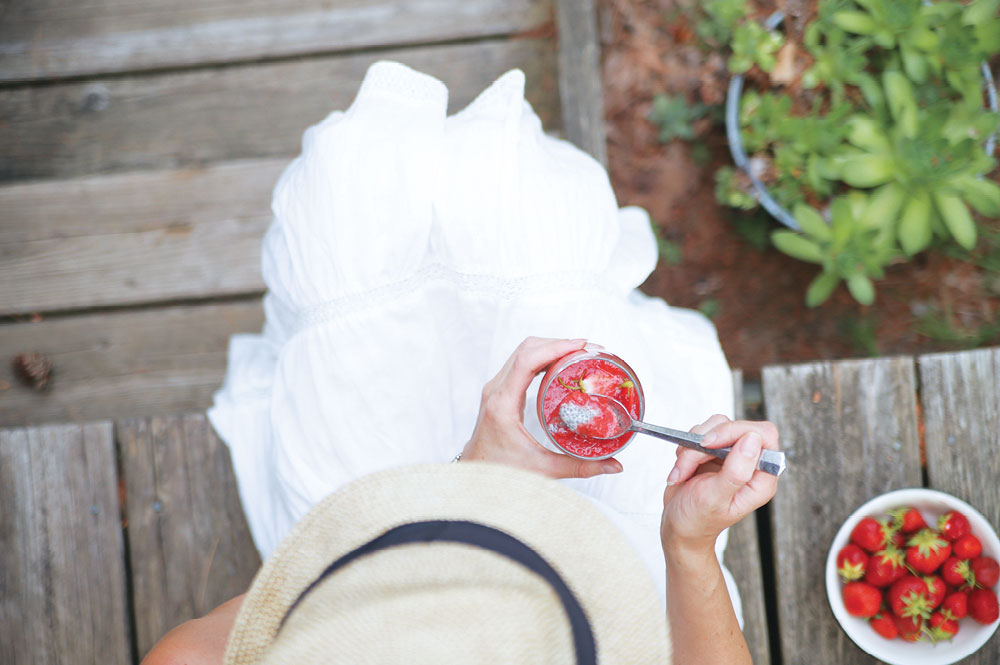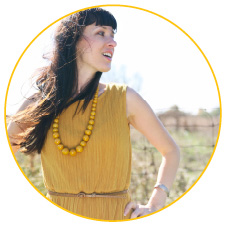 Ella Leché
is a cookbook author ('
Cut the Sugar
'), recipe developer, and photographer/stylist behind Pure Ella; where she shares delicious and healthy recipes. Eating PURE is clean ingredients, whole foods, plant-based nourishment and delicious desserts – with quality ingredients and sweeteners so they're treats with benefits so you won't have to feel deprived or restricted to eat healthier.
Thank YOU for being here!
Follow on social media for daily health & happiness inspiration:

ps. don't forget to share your Pure Ella (PE) recipe creations by tagging them #pureella and
@pure_ella
on Instagram – we repost our favourite photos!