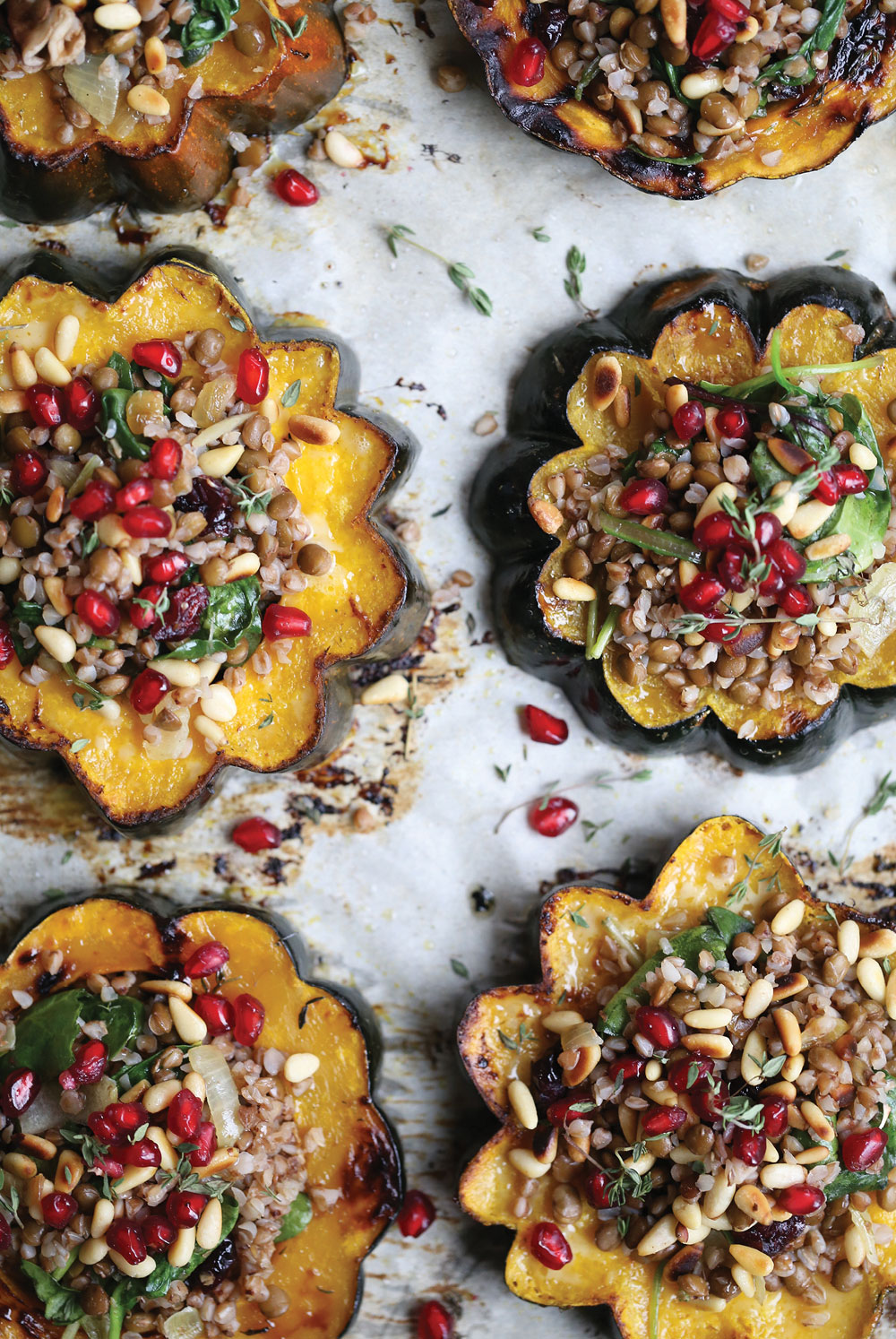 Hello my friends and welcome to another beautiful and delicious recipe post! :)
I've been embracing squash season fully and I'm having so much fun trying new recipes with these beauties. These French Lentil & Buckwheat Stuffed Acorn Squash Rings are something threw together super quickly but it ended up being such a WOW dish that I knew I had to share.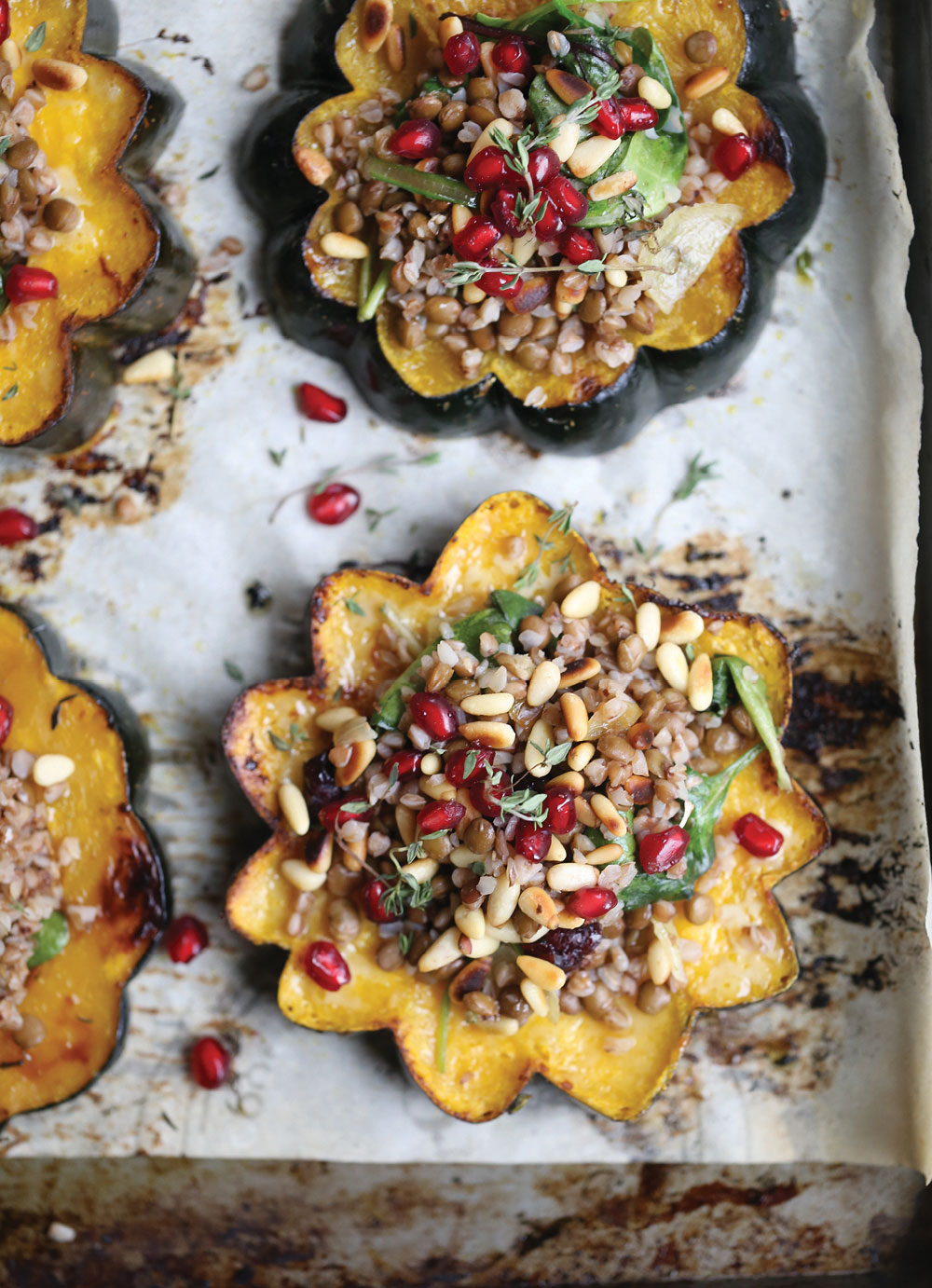 These Acorn Squash Rings are filled with the tastiest toppings that are super healthy and taste great ~ there's lentils, buckwheat, dried cranberries, toasted pine nuts, spinach, balsamic vinaigrette and pomegranate arils. All these flavours combined create a divine taste when paired up with the baked squash underneath.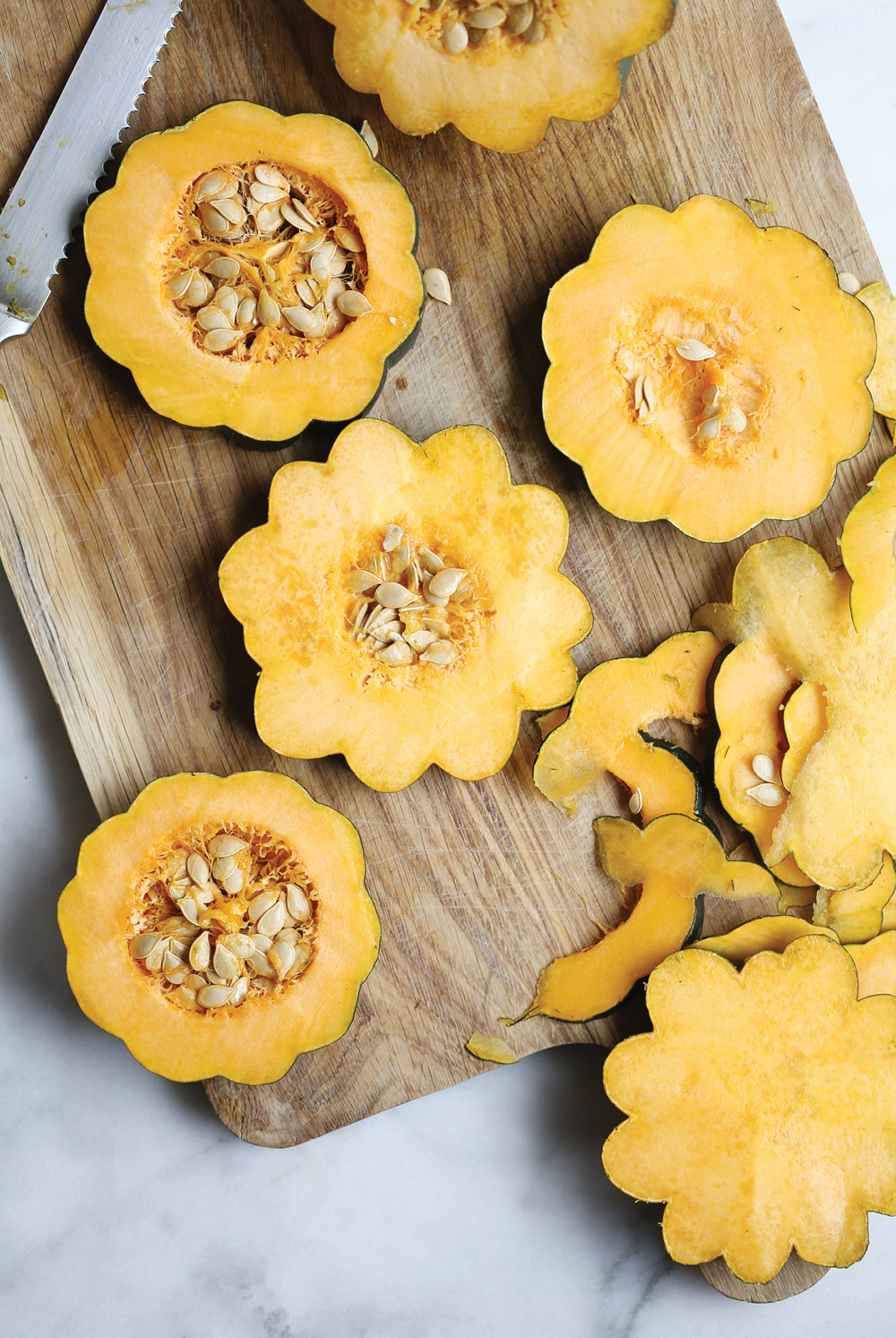 How to bake Acorn Squash:
Directions
Preheat oven to 325 F degrees.
Drizzle grape seed oil on a parchment-lined rimmed baking sheet.
Hold the acorn squash on its side on a cutting board and using a sharp serrated knife slice off about 3/4″ off one side. Then, cut again, then again to make 3 even clean slices. (This could get a bit tricky, and the pieces could not come out very even – don't worry. Just go back and trim off uneven portions as best you can to make them lay down flat.
Some pieces will not be fully filled with squash so I went in with a pairing knife and cut that part out to make all the rings hollow so that they cook evenly and also so that the filling fits, of course.
Scoop out seeds and discard those.
Set squash rings on the prepared sheet and brush with more oil. Sprinkle some sea salt and pepper and thyme on top.
Bake for about 25-30 minutes. Being sure to flip them over half-way through. (In the meantime, you can prepare the filling.)
Remove from oven and fill with stuffing. (It should be ready by now).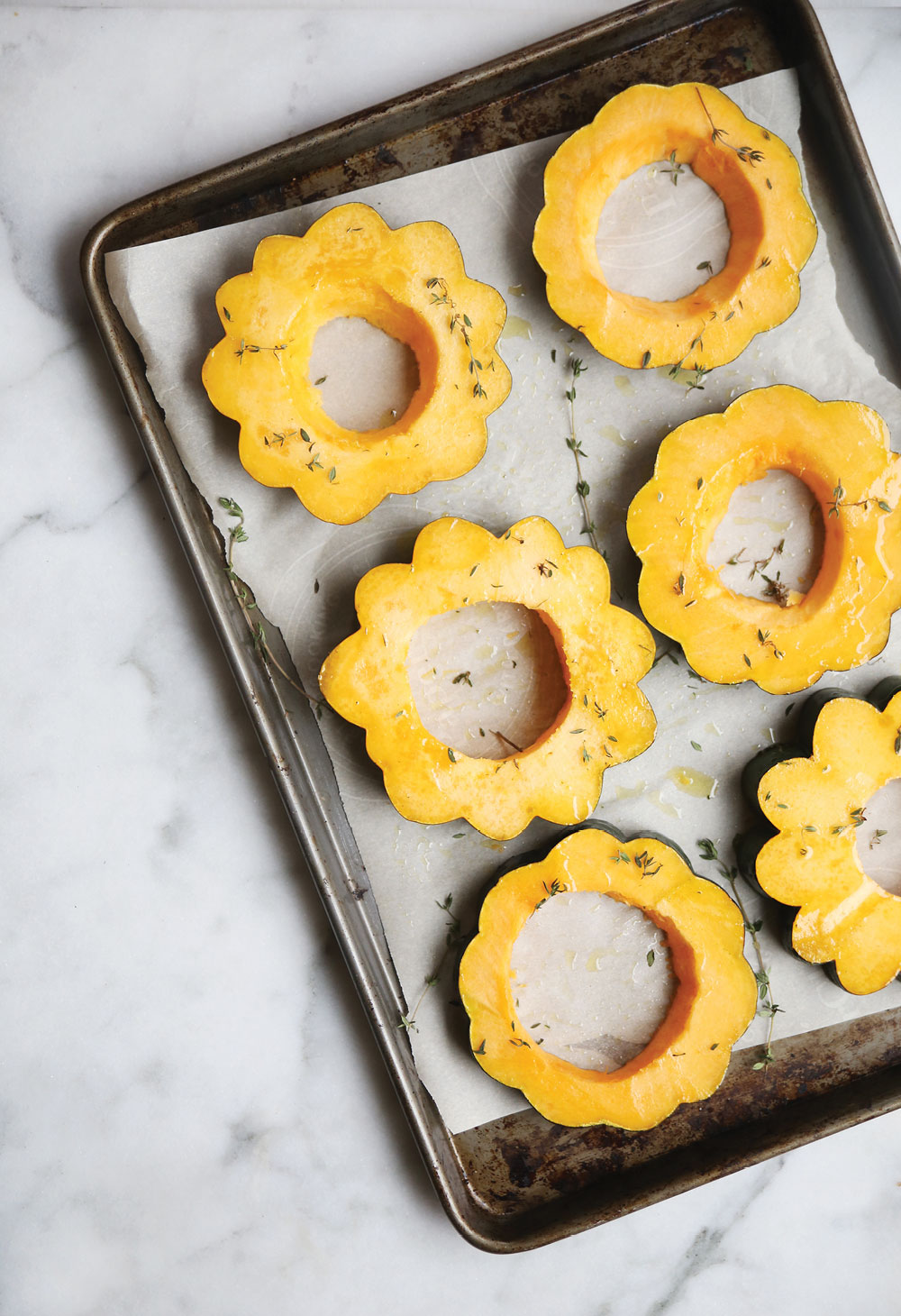 Keep the trimmed parts and end pieces and bake them too – those are great to add to a salad or leave uncooked and add to another recipe like this Squash Apple Soup:)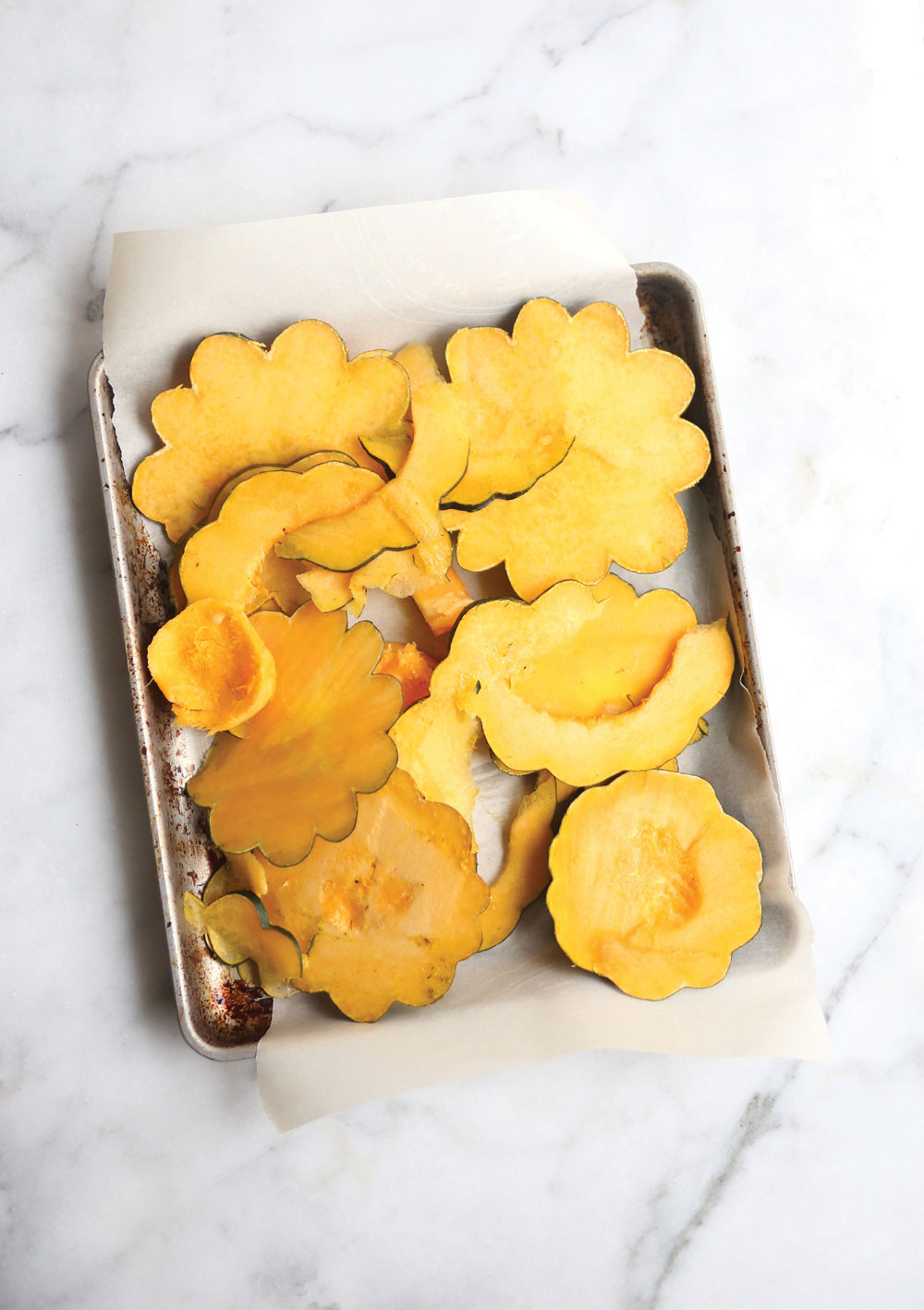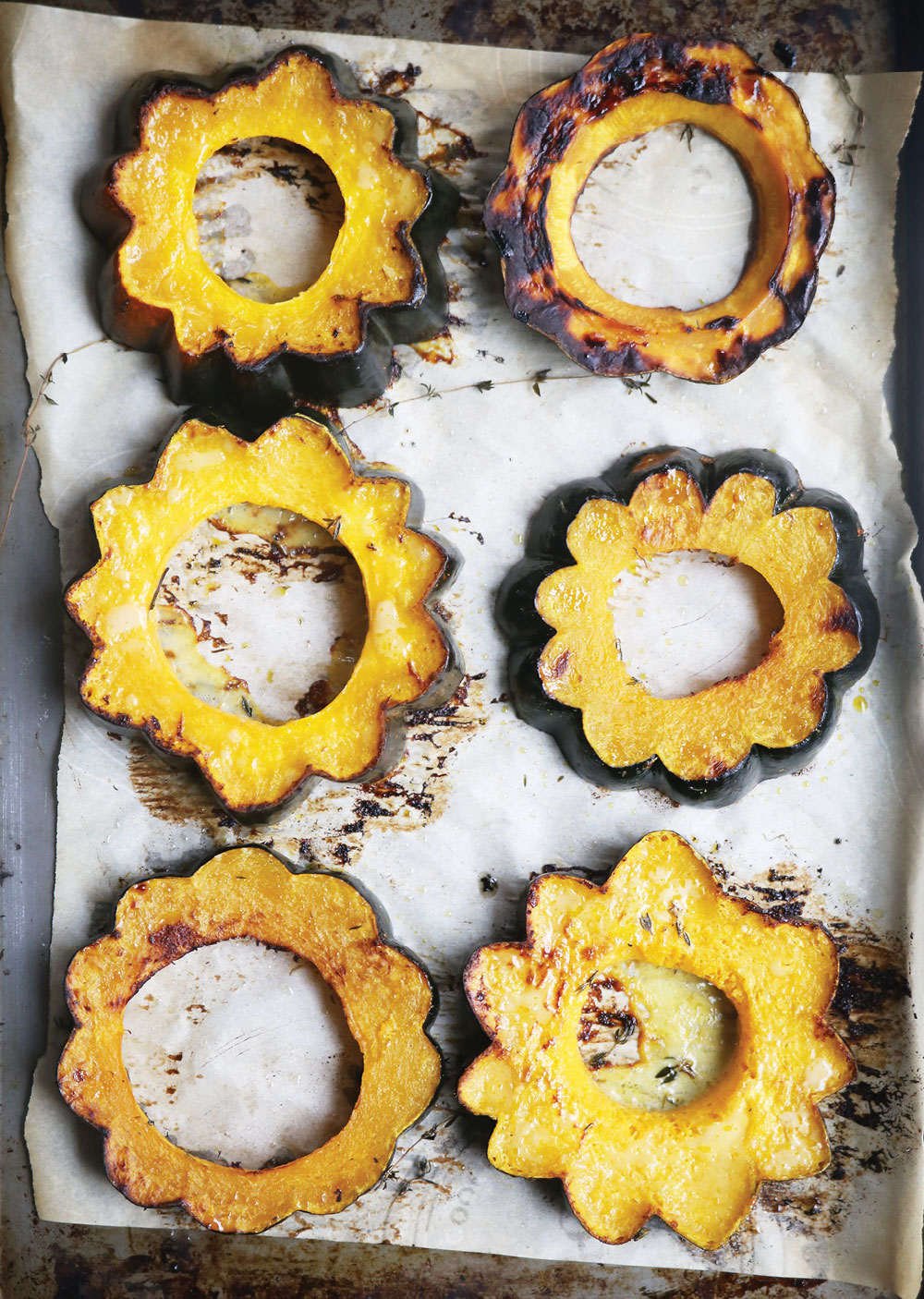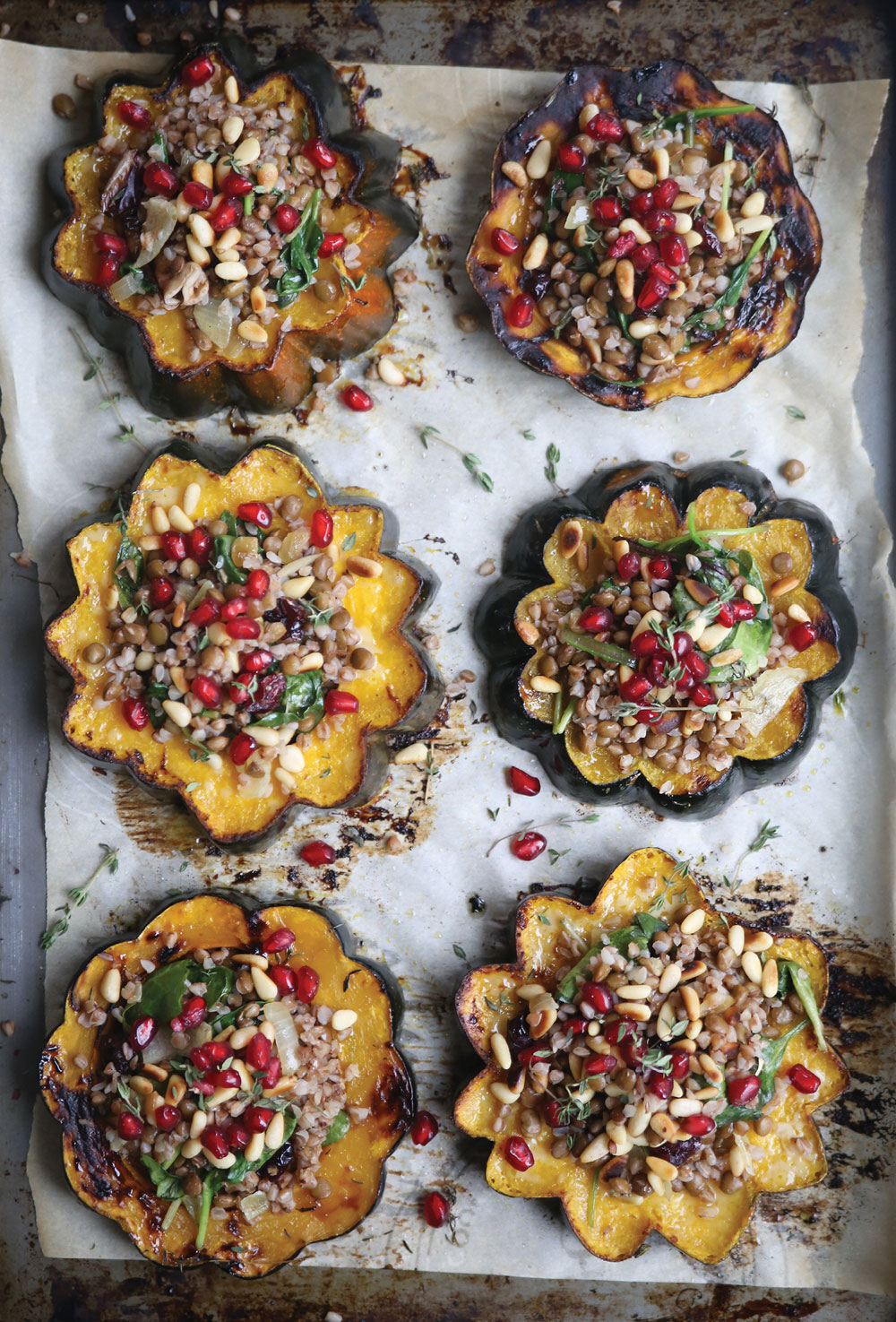 This healthy acorn squash recipe is naturally gluten-free, grain-free (because buckwheat is not a grain), and vegan. You can easily swap out the buckwheat and replace with a quinoa or brown rice or farro – depending on what you have on hand. I used buckwheat because it's what I already had some leftover buckwheat – which was really the inspiration for this dish… I was like, what do I do with this buckwheat??? ;) I saw the two acorn squashes on the counter and voilà – this happened! :)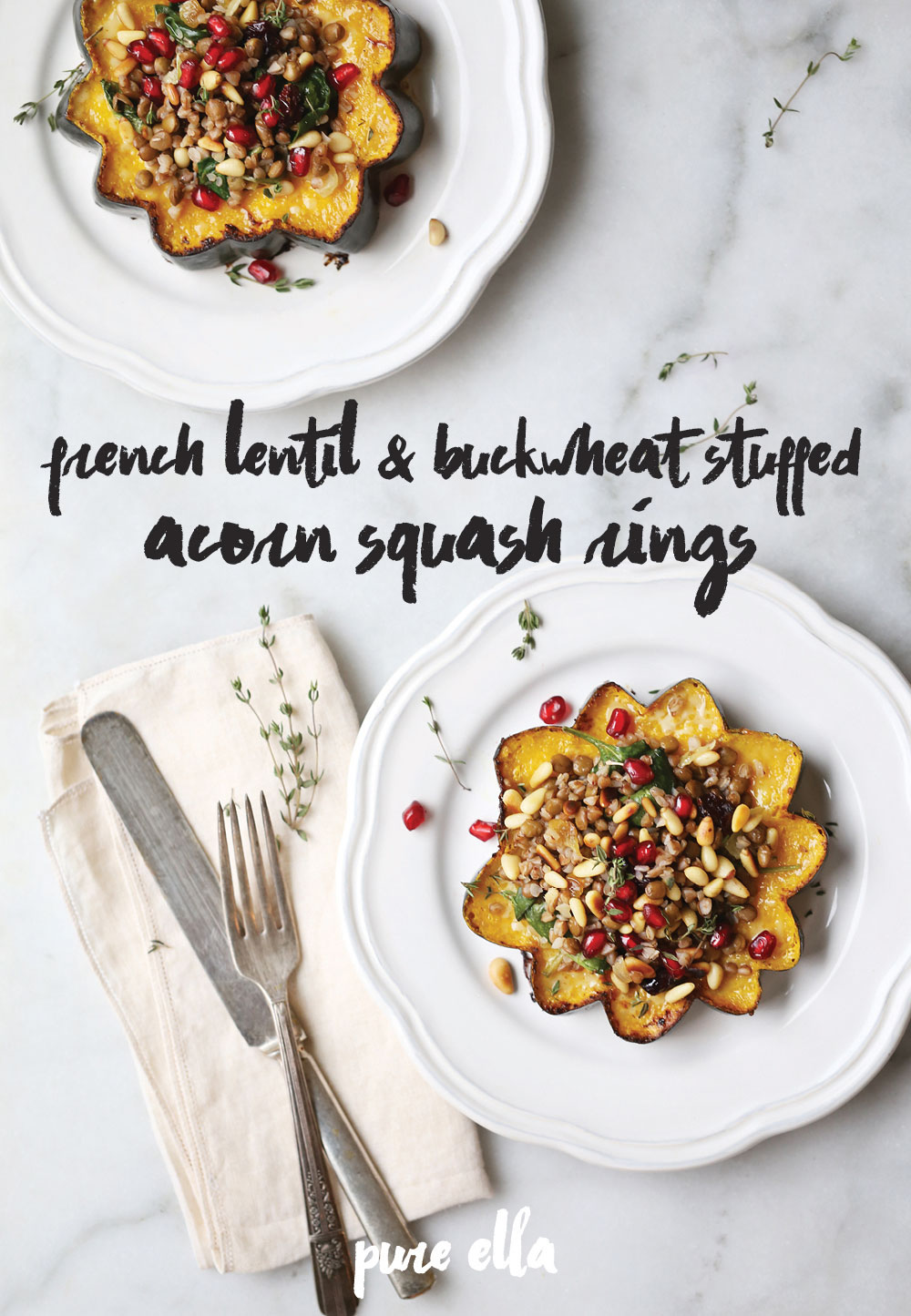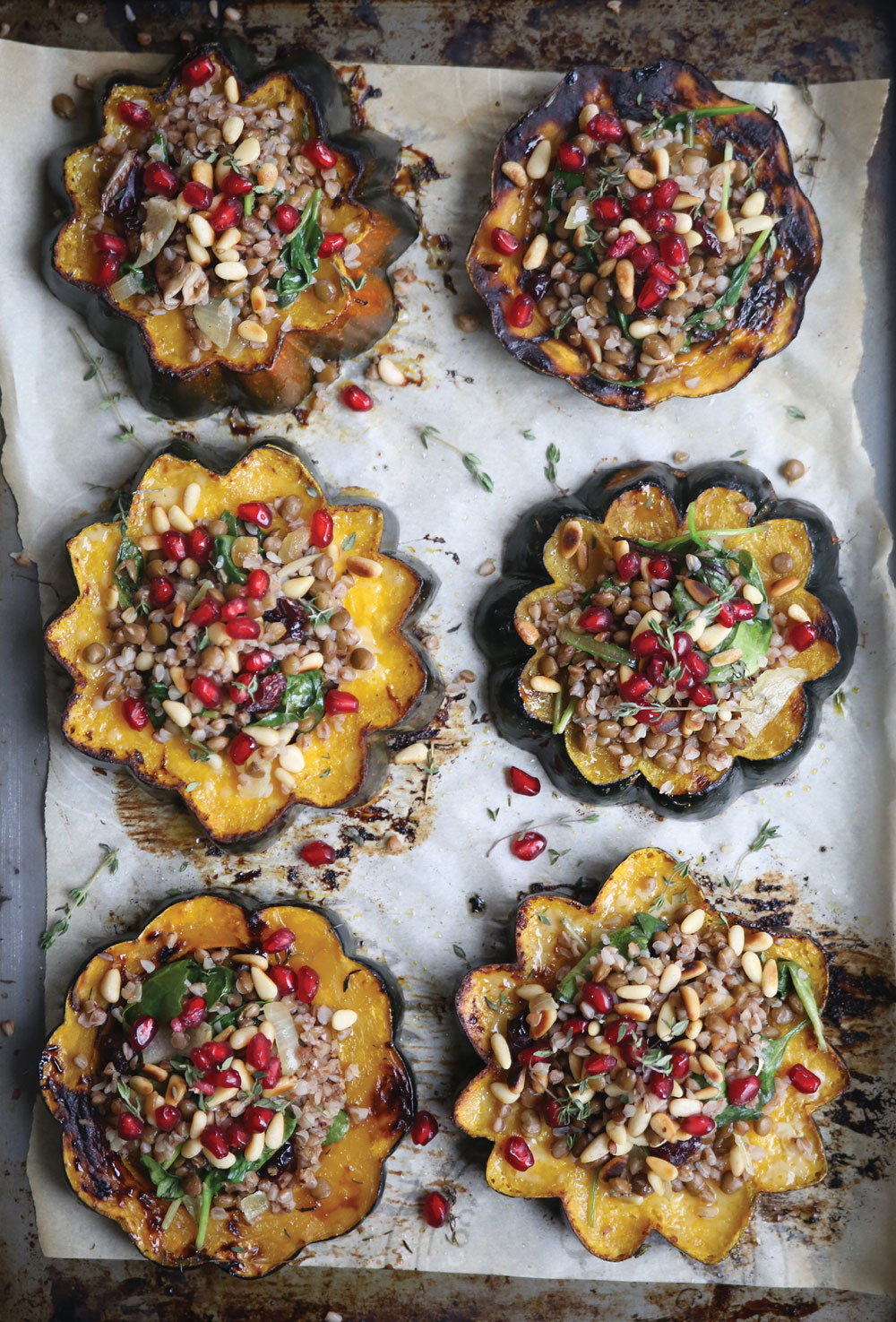 FRENCH LENTIL & BUCKWHEAT STUFFED ACORN SQUASH RINGS
2016-11-07 08:35:59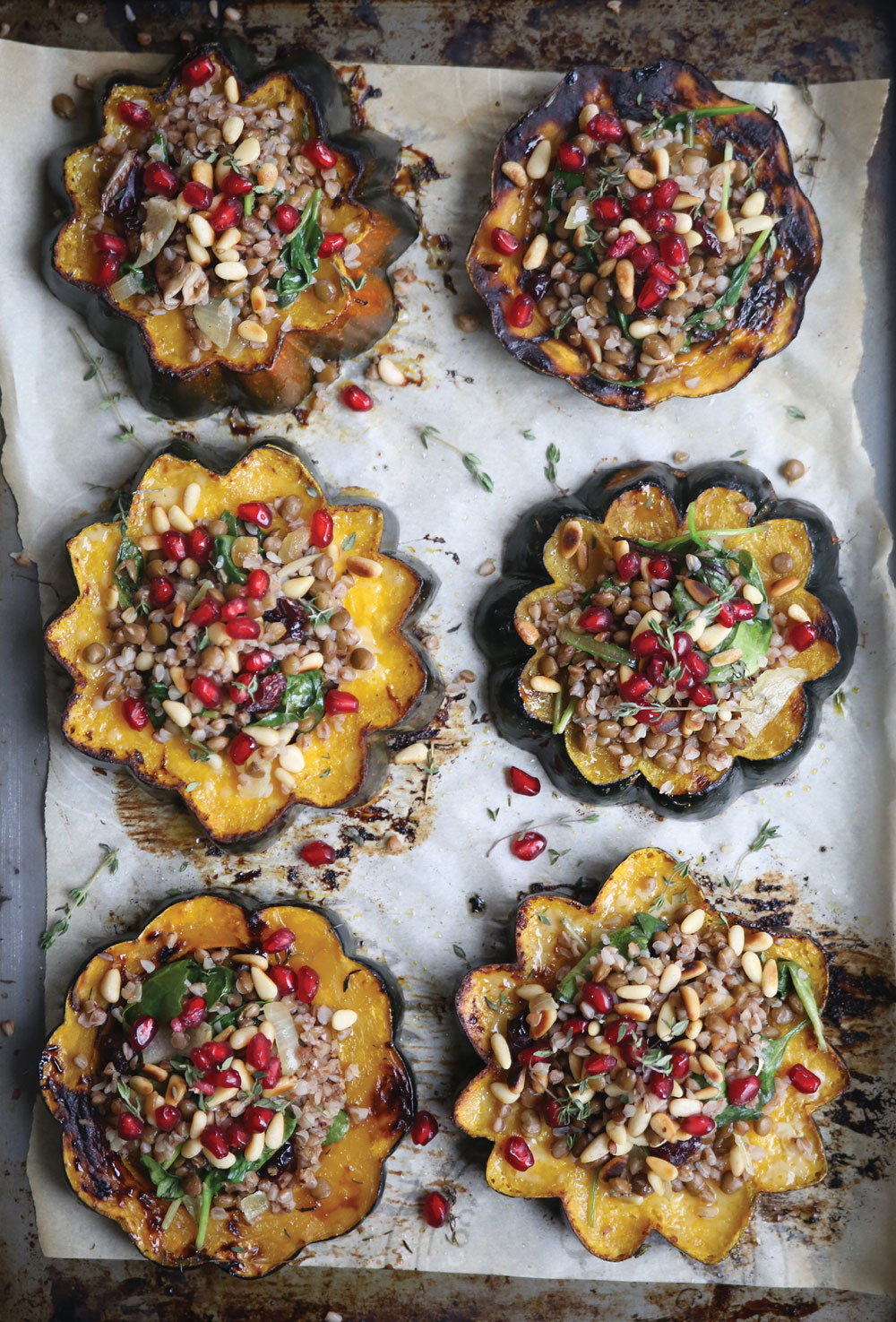 A delicious meal or side dish that's gluten-free, grain-free and vegan.
Ingredients
2 equal sized Acorn Squashes (cut 3 rings from each)
1/4 cup pine nuts
1/2 small onion, chopped
1 cup buckwheat or quinoa, previously cooked (great to use leftover)
1 cup French lentils, canned, rinsed and drained well
a handful of baby spinach
1/4 cup dried cranberries (sulphite free)
6 tablespoons of balsamic vinaigrette, or more to taste
1 teaspoons fine sea salt
fresh ground pepper to taste
1/4 cup pomegranate arils
fresh thyme for serving
Instructions
Bake the squash as directed above in this post. (in the meantime make the filling)
Heat a large skillet to medium heat and add in the pine nuts. (Do not add oil to this, just straight onto a dry pan.) Toss gently around a few times as they toast up. Once they get a little toasted and aromatic, remove from the pan into a side bowl and set aside.
Drizzle grape seed oil into the same pan and sautee the onion until golden.
Add in buckwheat, lentils and spinach and cook for a few minutes until the ingredients get hot and the spinach wilts a bit. Do not overcook the spinach as it will loose colour.
Add in the dried cranberries, balsamic vinaigrette and salt and pepper to taste. Remove from heat.
Scoop the filling into the freshly baked Acorn Squash rings.
Top with toasted pine nuts, pomegranate arils and fresh thyme. Drizzle tops with extra balsamic vinaigrette if desired.
Serve hot. (But not bad at all if they're cold which makes them great for a potluck or a buffet table.)
To serve, use a large flat spatula to lift these up so that the filling doesn't fall out. (important)
Notes
Makes 6 rings (serves either 2 per person or up to 6 people, 1 each with a large salad or other sides)
Pure Ella https://pureella.com/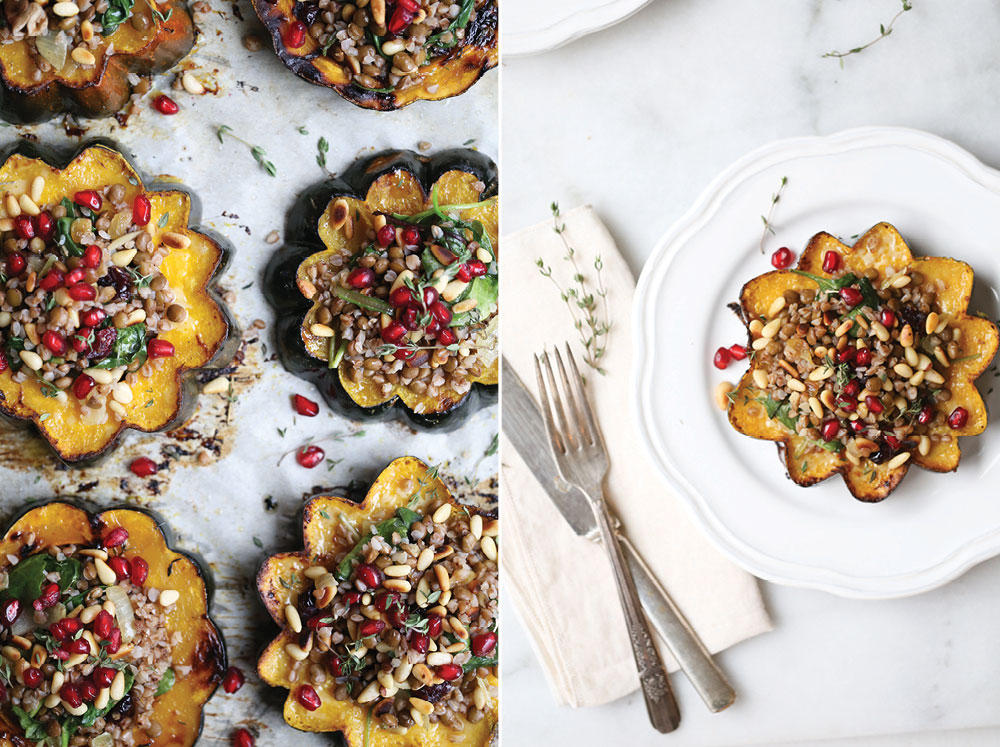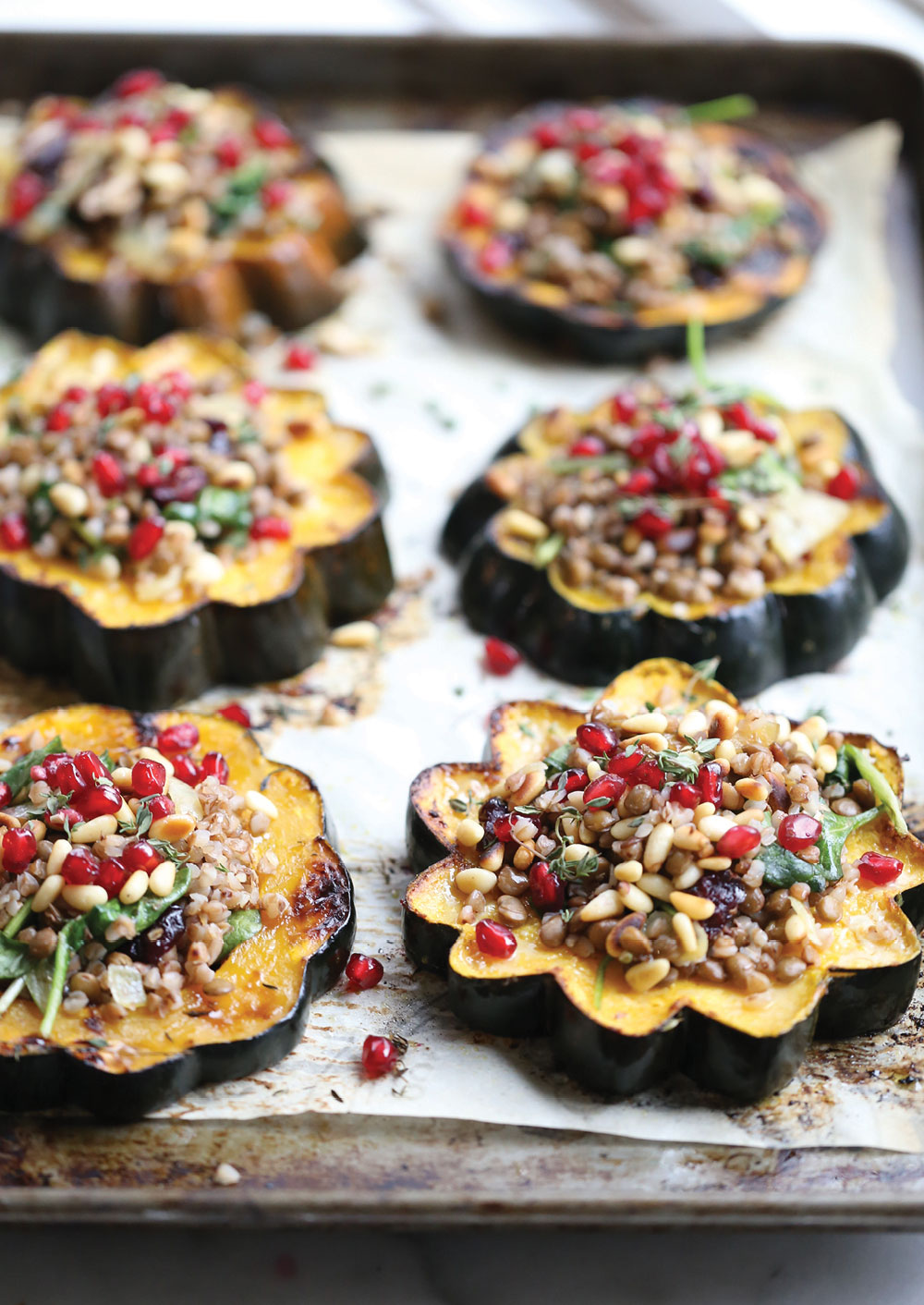 This dish was so amazing! I love how versatile squash is and also…. how gorgeous???
The flower shaped rings from this Acorn Squash make me just so happy! I LOVE when food looks beautiful – food should always be gorgeous because we eat with our eyes first! We really do… and this presentation is so beautiful for all your senses. Your eyes, your nose and taste buds are in for a treat!
I hope you'll enjoy this soon. It's a lovely dish to make for your family or friends and makes it great for a buffet table or makes a great Thanksgiving potluck recipe.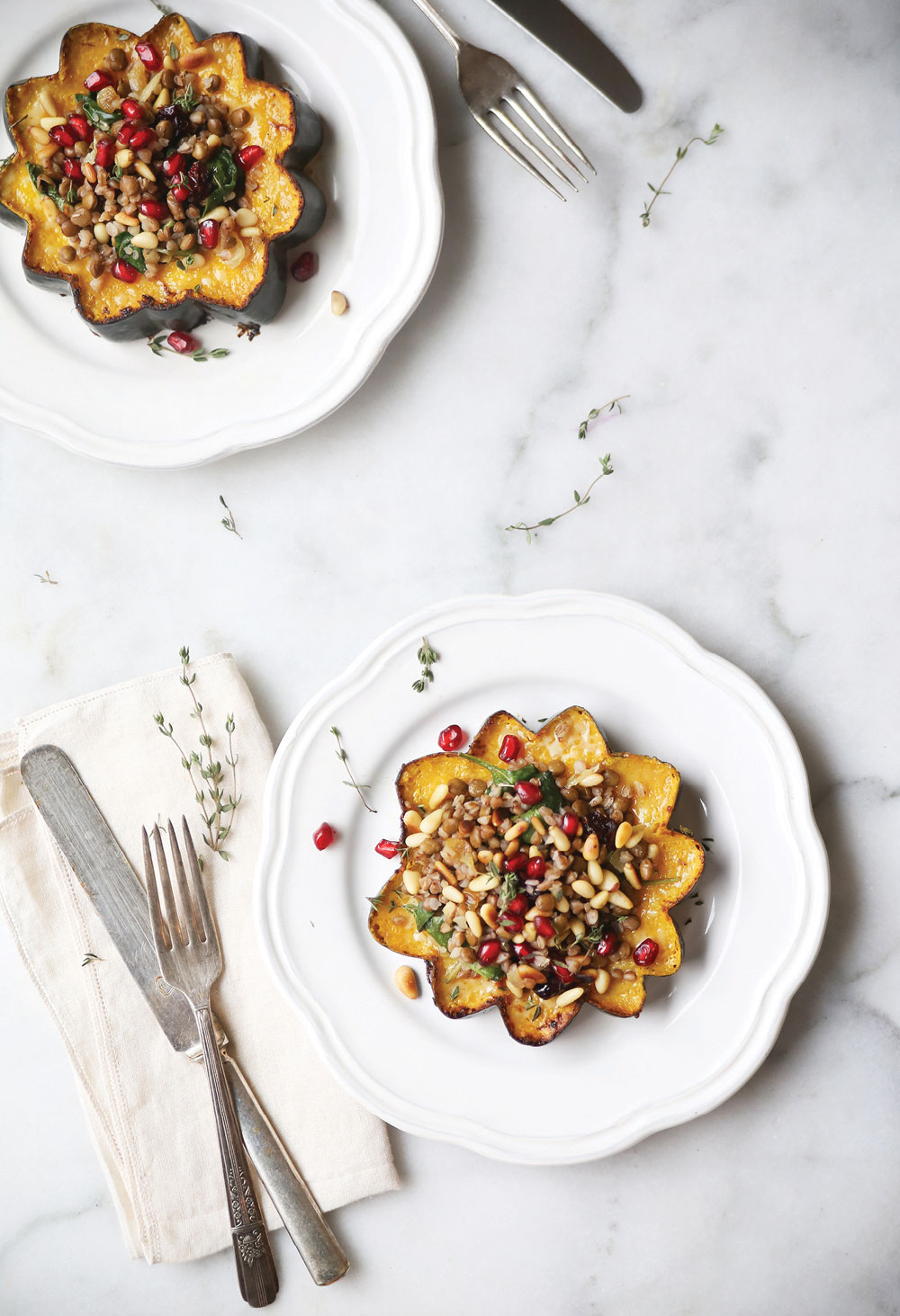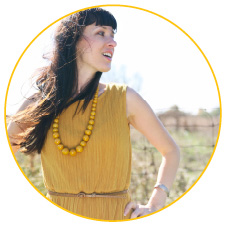 Ella Leché
is a cookbook author ('
Cut the Sugar
'), recipe developer, and photographer/stylist behind Pure Ella; where she shares delicious and healthy recipes. Eating PURE is clean ingredients, whole foods, plant-based nourishment and delicious desserts – with quality ingredients and sweeteners so they're treats with benefits so you won't have to feel deprived or restricted to eat healthier.
Thank YOU for being here!
Follow on social media for daily health & happiness inspiration:

ps. don't forget to share your Pure Ella (PE) recipe creations by tagging them #pureella and
@pure_ella
on Instagram – we repost our favourite photos!