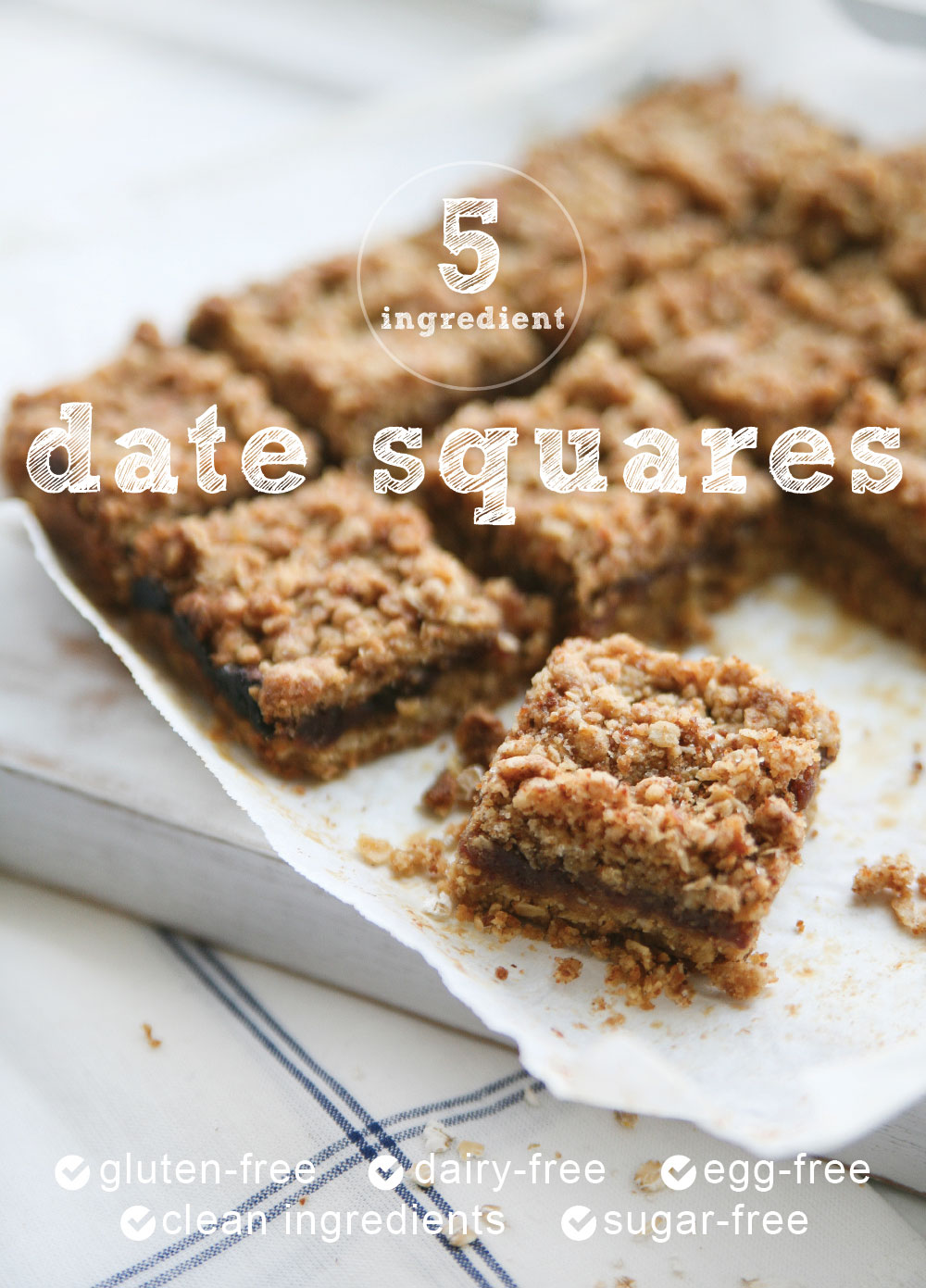 I don't know about you, but I catch myself sometimes dreaming about the perfect dessert. Lately, it's been the thought of biting into some incredibly delicious and seductive classic Date Squares. I can be a master at making my dreams come true (wink!) because just then – these happened – yup, Gluten-free Healthy Date Squares!
Gluten-free, dairy-free, egg-free date squares with completely clean ingredients and refined sugar-free too! I am telling you guys – this dessert is completely guilt-free and dare I say… healthy – and it's easy to make with just 5 ingredients!!!
F.I.V.E. ai. 5 ingredients! Enough said!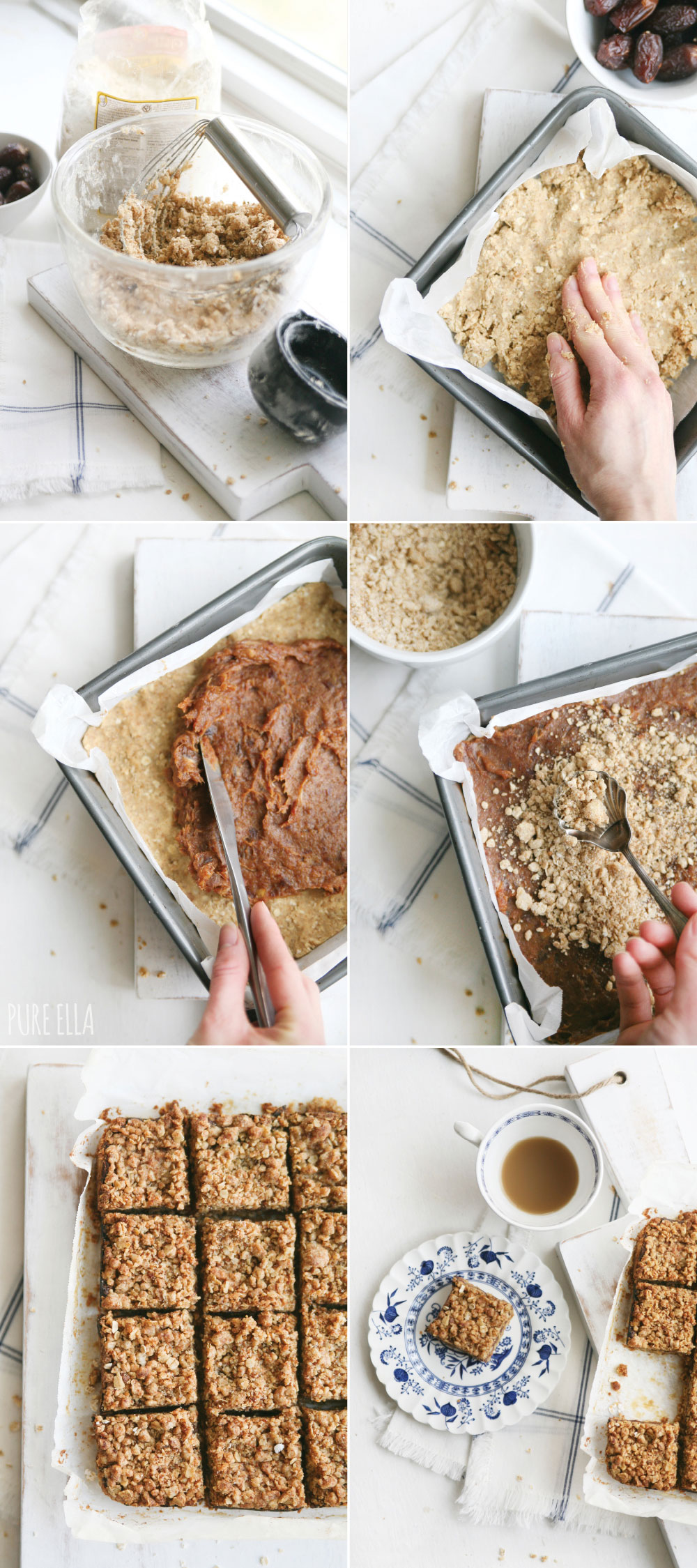 I want to change the way people view desserts and making it an enjoyable, pleasurable experience. Why should you cringe when you see desserts and drain yourself from not enjoying it as you salivate. Or when you do, you're torn from the guilt because god knows what awful things are hiding in there?
There are two ways of enjoying dessert again!
1. You avoid that confusion, ingredient-list reading and simply don't buy store-made desserts. Sometimes, even 'baked fresh' really means it comes from a pre-made artificial source. Just because the place you shop at had a big industrial oven doesn't mean there's skilled bakers making things from scratch from good ingredients. Same thing goes for coffee shops or bakeries – unless it is of course a specialty place – those do exist and that's great but a fancy single date square holds a price tag of about $3.50! (for that price, your 'date' might as well be just you!:) )
2. You make your own desserts from quality ingredients! You know what you eat because you know exactly what's in it. You find quality ingredients that are organic, avoid gluten or other allergens if that's a concern to you. Or perhaps you just want to eat healthier. (You know I don't actually have 'official' allergies to wheat or gluten, dairy or eggs – but avoiding these foods makes me feel better and be healthier.)
This recipe is simple enough for beginners and keeps your shopping list nice and short. Or, I maybe you already have these in your kitchen already – did I mention these are just 5 simple ingredients!

Gluten-free Vegan 5 Ingredient Healthy Date Squares
refined sugar-free gluten-free, dairy-free, egg-free, nut-free
Ingredients :
1 cup gluten-free oat flour OR gluten-free all-purpose flour
1/2 cup certified gluten-free rolled oats or quick oats (not instant)
3/4 cup organic coconut palm sugar
3/4 cup vegan organic margarine OR coconut oil, cold & hardened, cubed
2 cups pitted medjool dates
Directions :
Line a 8 x 8″ pan with parchment paper and preheat oven to 350F.
Pit the dates and soak them in a bowl with hot water for about 5 minutes. Then strain well and add to a food processor and mix to form a paste. Set aside.
To make the crumble, first make sure the margarine or coconut oil is very cold. I like to place mine in the freezer for about 20 minutes so it hardens up more. Then cut into cubes.
In a food processor, pulse the flour, oats, sugar and margarine or oil until crumbs form. Do not overmix. Transfer half into the baking dish and press into the pan with your fingers. If the dough is too crumbly, wet the tips of your fingers with water and press down. If the mixture is too wet, simply dust the top with a little extra all-purpose flour and continue pressing to cover the bottom of the pan evenly.
Spread out date paste evenly on top.
Sprinkle the remaining crumble that's on top of the pie evenly.
Place in the preheated oven and bake for about 30-40 minutes. Top should be nice and golden.
Remove from oven and allow to cool for about 20 minutes before serving.
These Crumb Squares are lovely still warm from the oven, just as they're great the next day straight from the fridge – you decide! ;)
Cutting them however when they are still warm will make them fall apart slightly.
Keep for up to 7 days in the refrigerator. Freezer friendly for up to 3 months in an airtight container with parchment paper in between squares.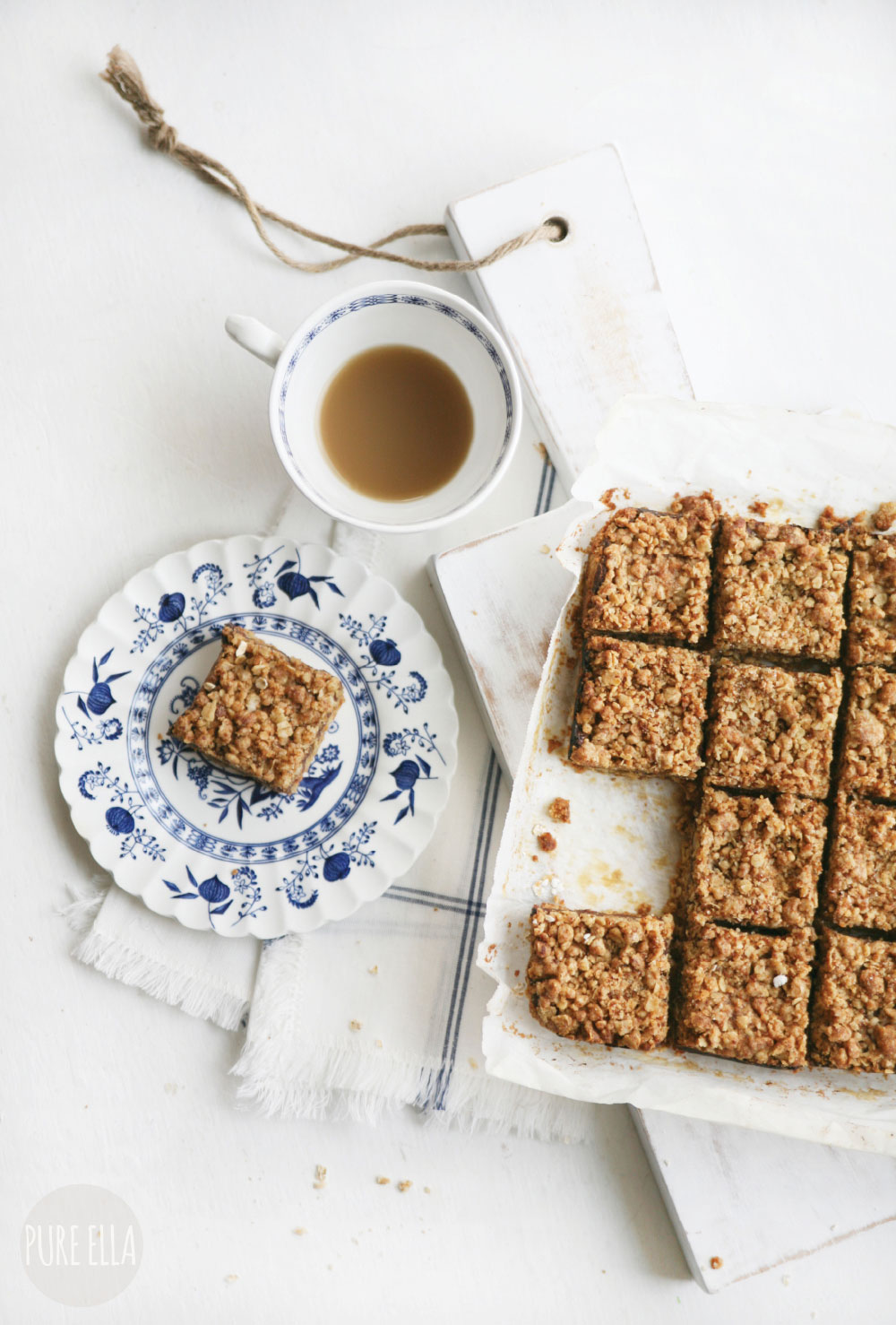 I hope you will enjoy these Date Squares soon! They are my favourite quick treat to make right now.
Do make it a 'date' and enjoy your Date Squares with someone special! :)
ps. I have missed regular blogging so much ~ thank you all for your continued support in this space and enjoying my recipes and taking your health to the next level. Times are so busy with my little baby girl, but I wouldn't want it any other way. Also, do stay tuned for some really exciting news coming up soon – I just have to put that post together with my announcement, so check back often ;) xoxo Thanks so much for being here!