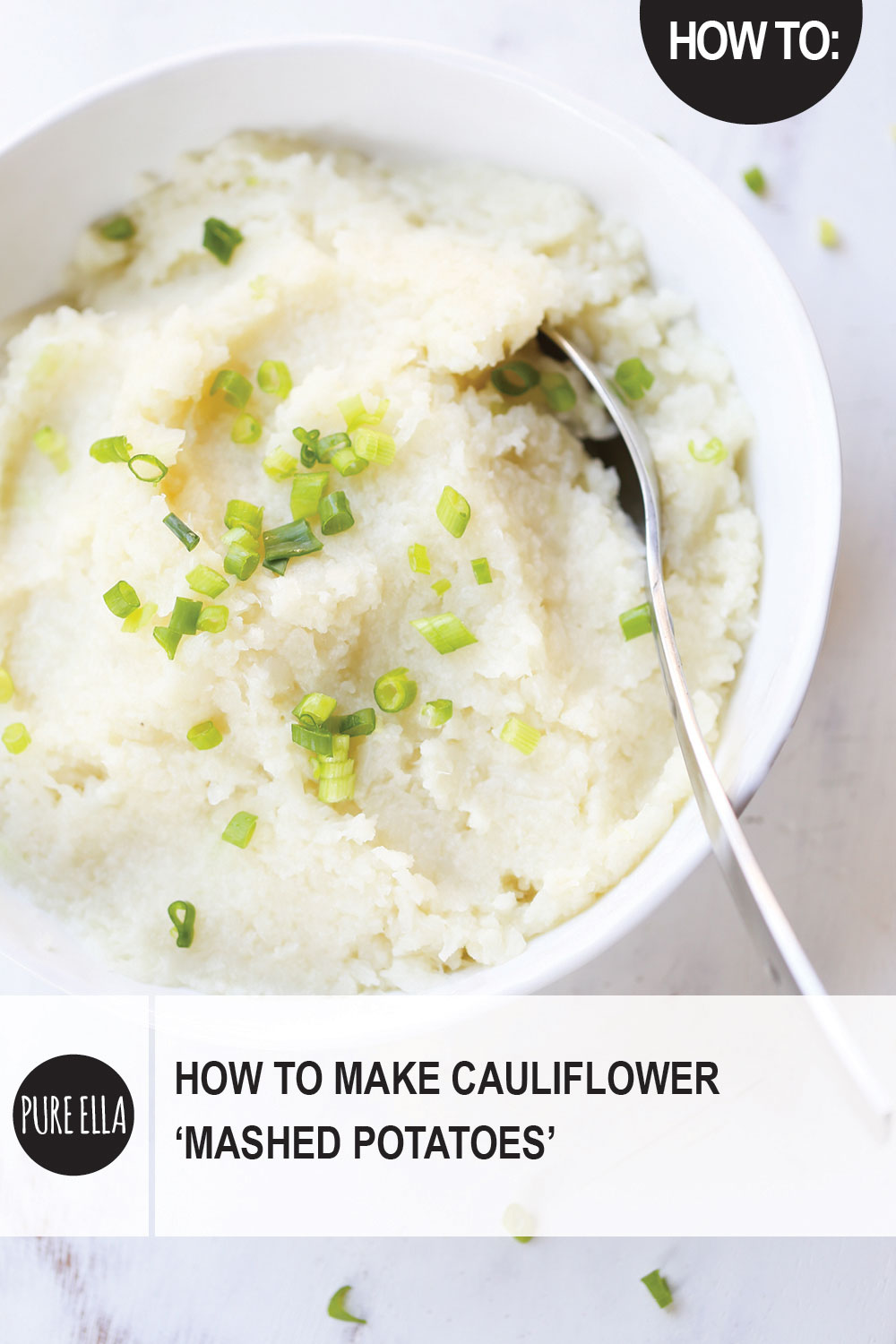 Hey everyone, I'm back with a super simple tutorial style post to show you How to Make Cauliflower Mashed Potatoes!
I get a lot of questions about ways to eat less SUGAR and this is actually a great way to eat less SUGAR! There you go, eat some cauliflower instead of potatoes. Done! ;)
Ok, let me explain this a bit more… I'm happy to be your new sugar expert and answer ALL your questions wherever however sugar is involved. I mention this in my book Cut the Sugar, but I want to share more here on Pure Ella too…
So basically, all carbohydrates contain sugar! ALL! It doesn't matter if the food actually tastes sweet or has sugar as in ingredient (this is what we usually think of when we consider sugar), but all carbohydrates basically become sugar in our body as they become glucose (sugar) during digestion and affect our blood sugar exactly the same way.
See 'How Sugar is Actually Digested' for more.
So when you take a foods that contains a lot of carbs, say white potatoes. It's like basically eating doughnuts! I kid you not! Your blood sugar sees these foods exactly the same!!
Isn't that so incredibly interesting??? I think so :)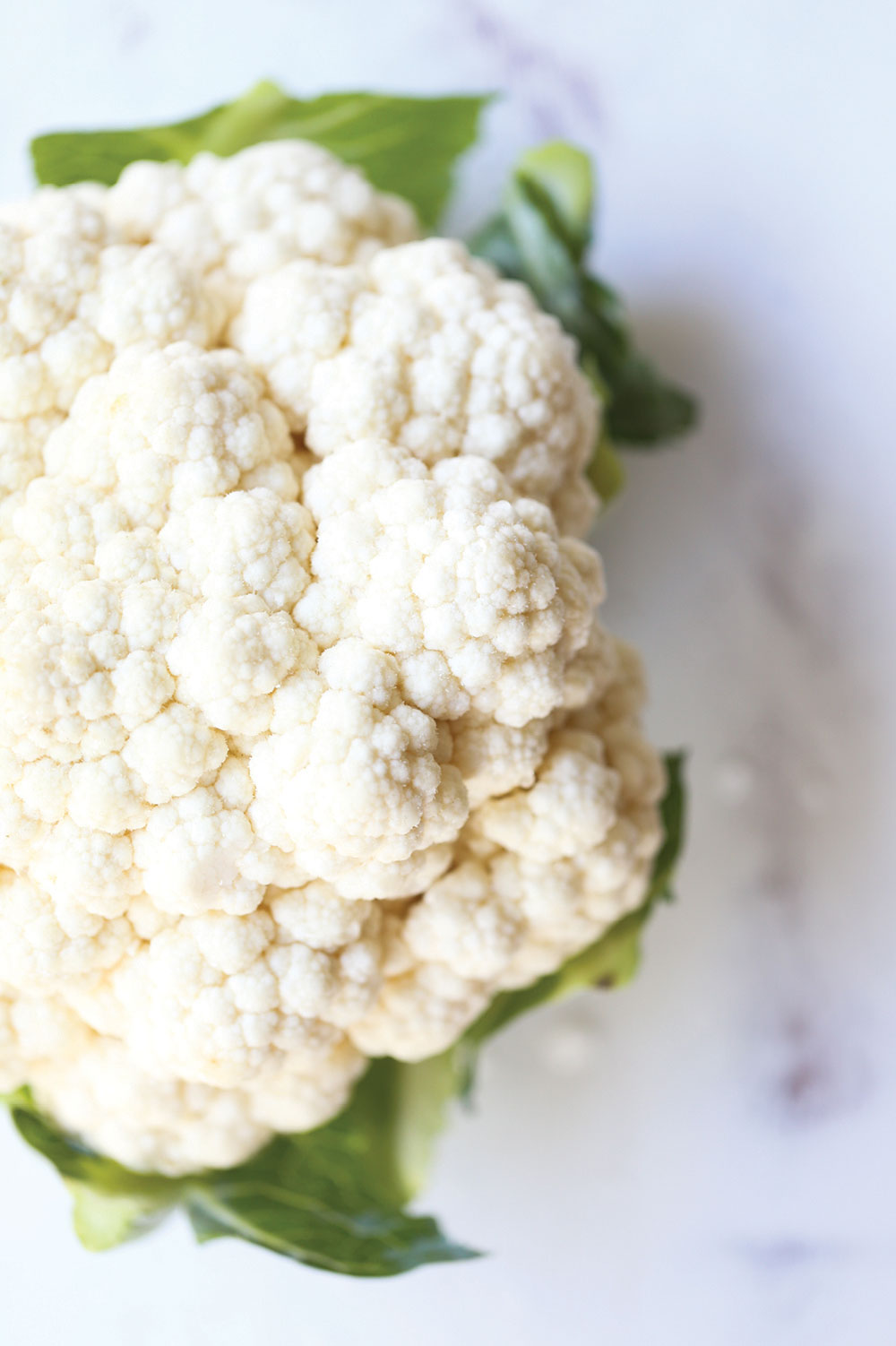 How to Make Cauliflower Mashed Potatoes:
low-carb, gluten-free, paleo, vegetarian,
Ingredients:
1 head of cauliflower
1/2 teaspoon salt
1-2 tablespoons of grass-fed butter or a vegan buttery spread
chopped green onion or chives for topping
Directions:
Bring a large pot of water to a boil.
Rinse and break a cauliflower into chunks.
Place in the water and cool until soft, about 10 minutes, covered on medium heat.
Strain the cauliflower and leave in the pot.
Mash with a potato masher or blend with an immersion blender for a very smooth puree (I prefer the potato masher though).
Add in salt and butter and continue mashing until combined. (Do taste and adjust the flavour to your liking).
Transfer onto a serving bowl and top with chopped green onion.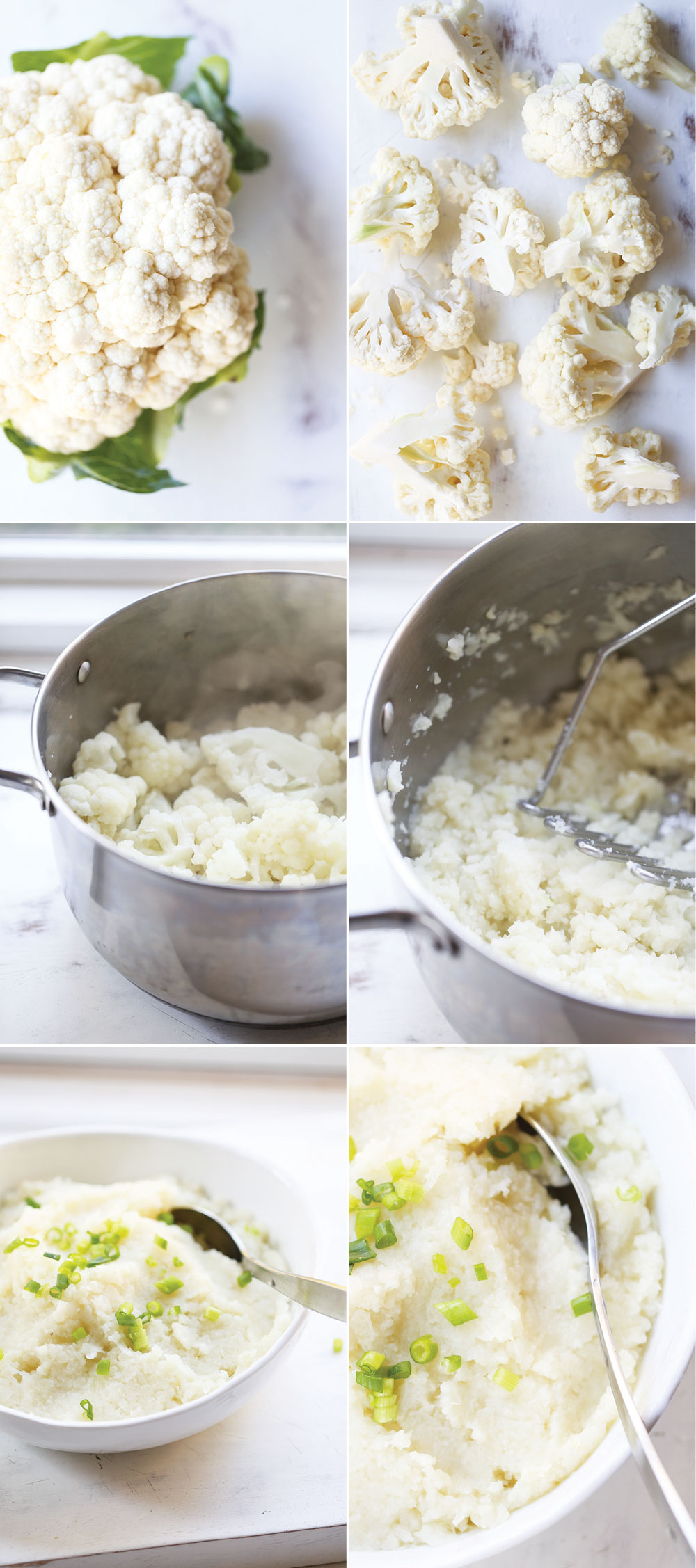 When should you eat low-carb meals and/ or sides?
So, even though I'm not on a low-carb diet and I don't necessarily recommend one, I feel there's a time and place for low-carb meals or sides. Like these Cauliflower 'Mashed Potatoes', would make perfect sense if you knew you wanted to eat dessert later because it's a special occasion and you don't want to feel deprived and you want to participate in the fun. This is definitely ok and you should indulge…. :) Life should be fun and food has a huge impact on our happiness! Go enjoy food and LIFE to the fullest!
(But just remember to keep that blood sugar happy, okay? Okay, cool!) (Oh and please don't go for artificially coloured, flavoured and preservative-loaded gross treats, ok?) Thanks! :)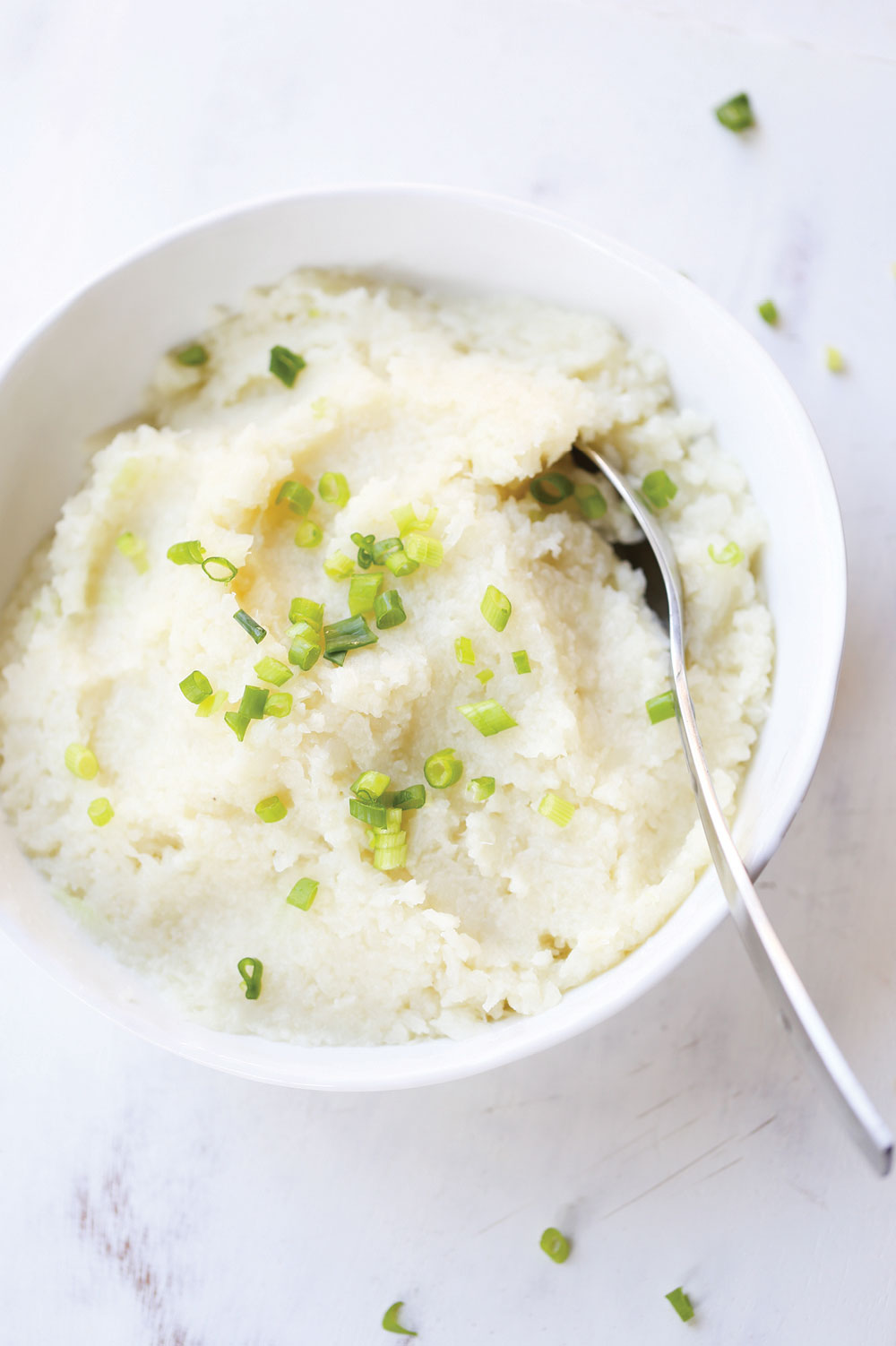 Choose low-carb foods (like cauliflower vs. white potatoes) if you want to control the amount of sugar you want to eat
Add fat for satiety and better nutrition absorption.
Cauliflower does not feed Candida like white potatoes.
I hope you try this recipe soon! We've been enjoying swapping out white potatoes for a while and everyone LOVES this option! What's best is that it definitely leaves room for dessert :)
.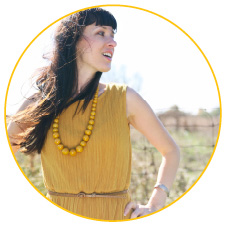 Ella Leché
is a cookbook author ('
Cut the Sugar
'), recipe developer, and photographer/stylist behind Pure Ella; where she shares delicious and healthy recipes. Eating PURE is clean ingredients, whole foods, plant-based nourishment and delicious desserts – with quality ingredients and sweeteners so they're treats with benefits so you won't have to feel deprived or restricted to eat healthier.
Thank YOU for being here!
Follow on social media for daily health & happiness inspiration:

ps. don't forget to share your Pure Ella (PE) recipe creations by tagging them #pureella and
@pure_ella
on Instagram – we repost our favourite photos!