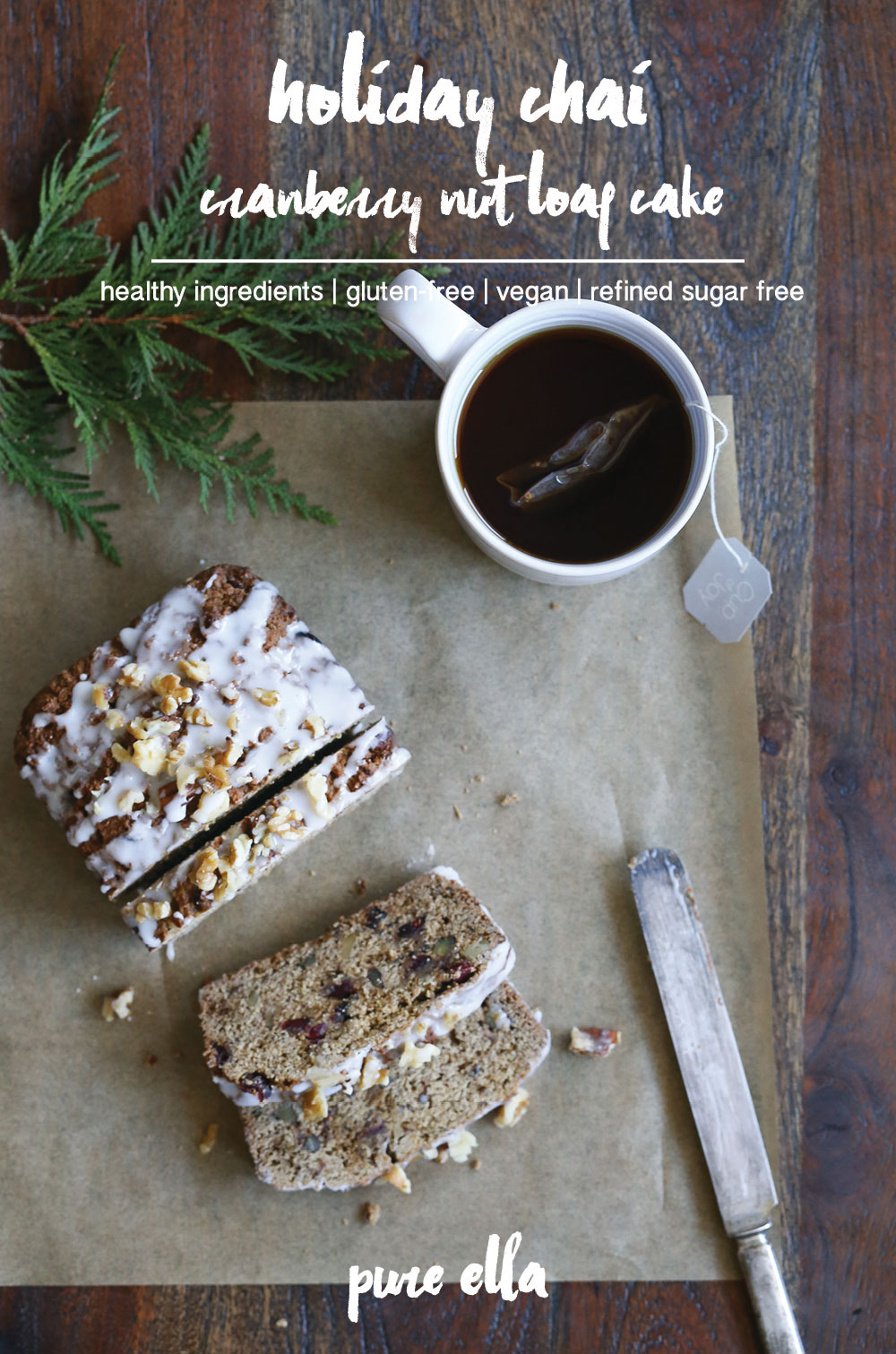 It's that time of the year that everything is about comfort and joy. It probably my favourite time of the year when you can make special occasions happen any time ~ simply over tea and a good cake. This Holiday Chai Cranberry Nut Loaf Cake made with Stash Tea and served with a lovely Holiday Chai just adds that special touch and joy!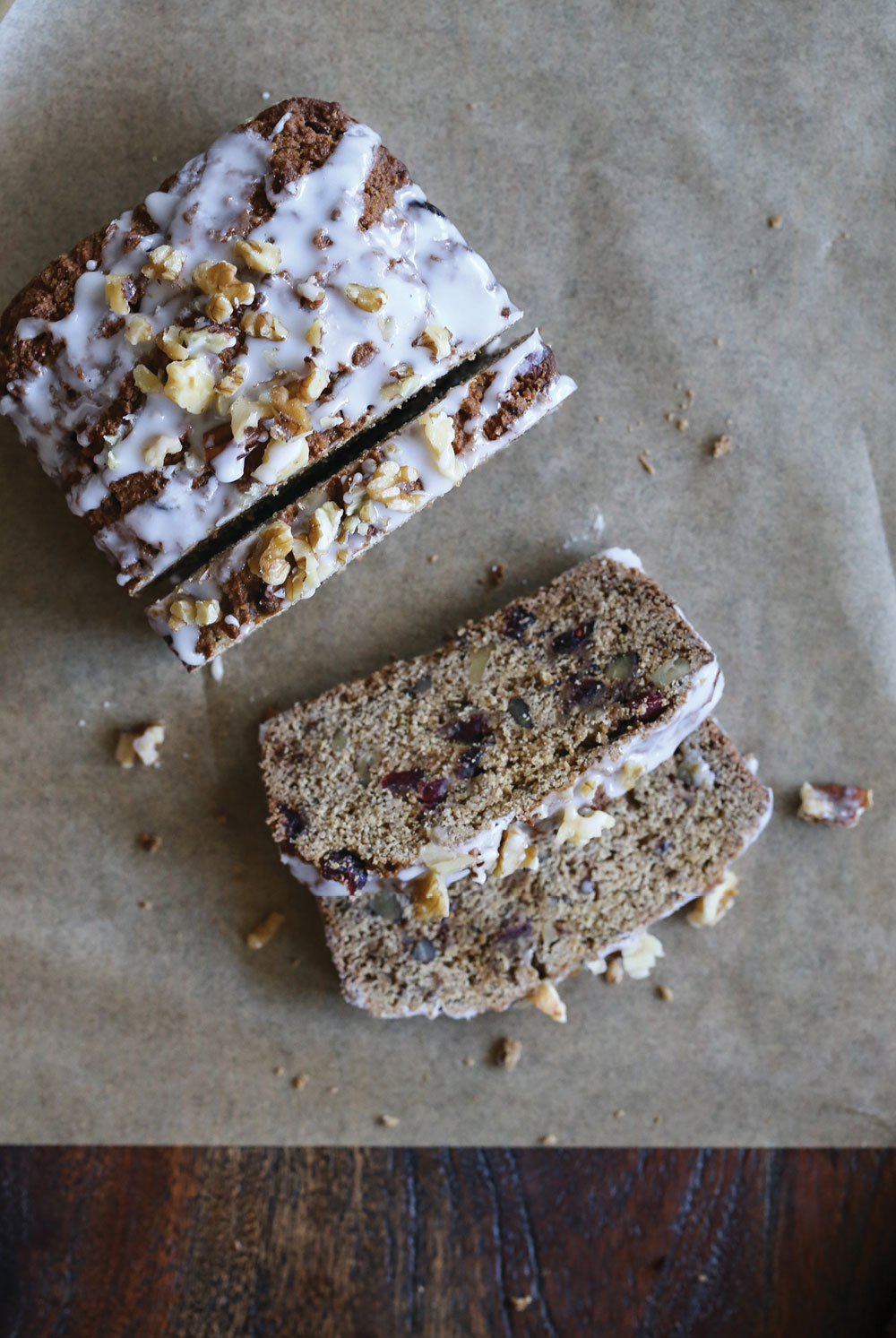 I'm a lover of chai tea as is and I was so inspired by adding this Holiday Chai blend into this delicious gluten-free and vegan loaf cake.
The aroma and flavour of this tea goes above and beyond and really adds so much WOW into this cake just by simply adding in tea :)… just this blend alone contains black tea, cinnamon, allspice, clove, ginger root, gingerbread flavour, nutmeg oil and Jamaican rum ~ Yessss!!! :)
The Holiday Chai goes absolutely perfectly in this recipe and simplifies the recipe so much as you can avoid all spices because this tea is so rich and potent as is :) Plus, it's nice to make two cups and drink tea as you make it ~ because the baking is already half the fun :)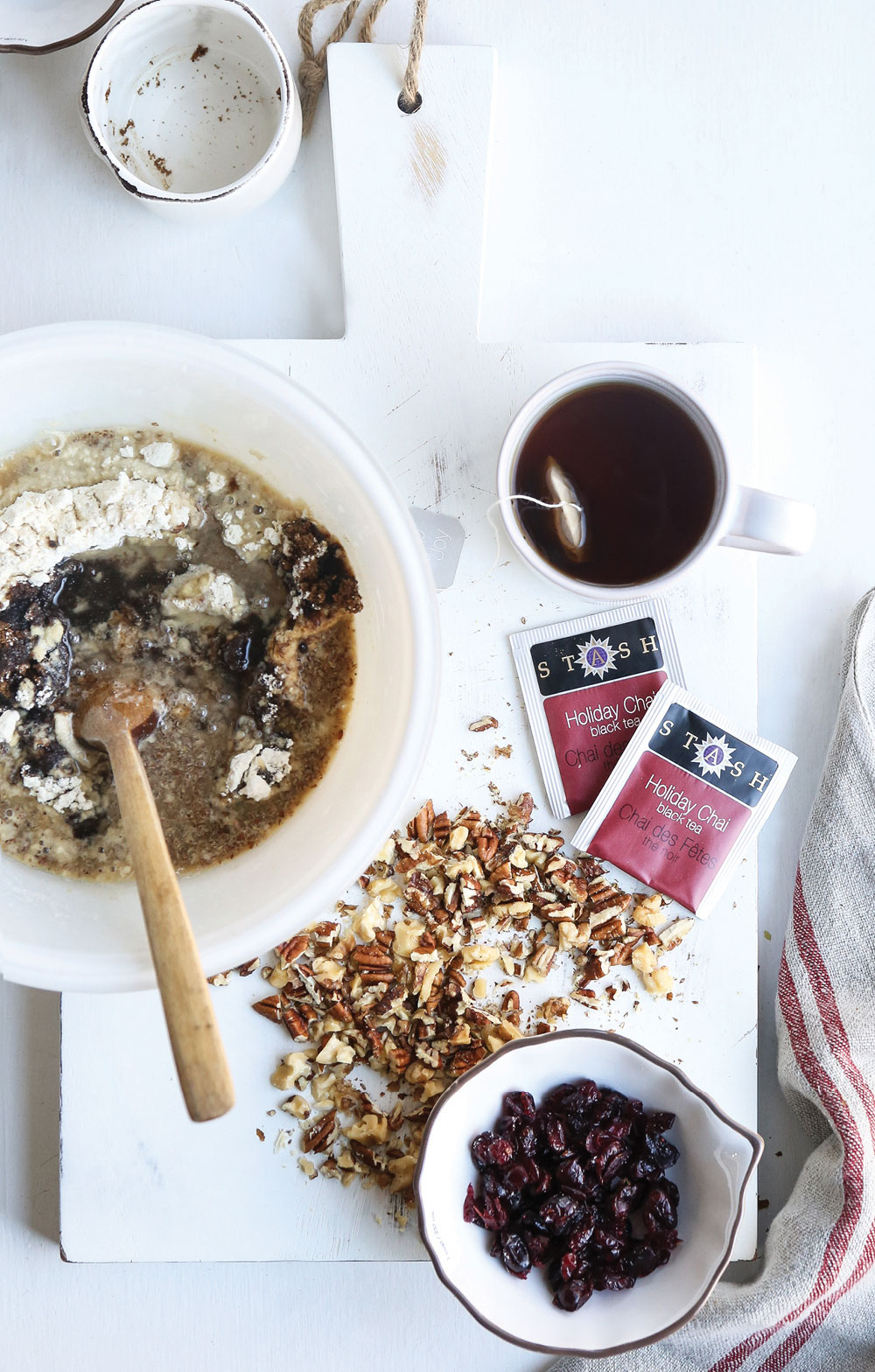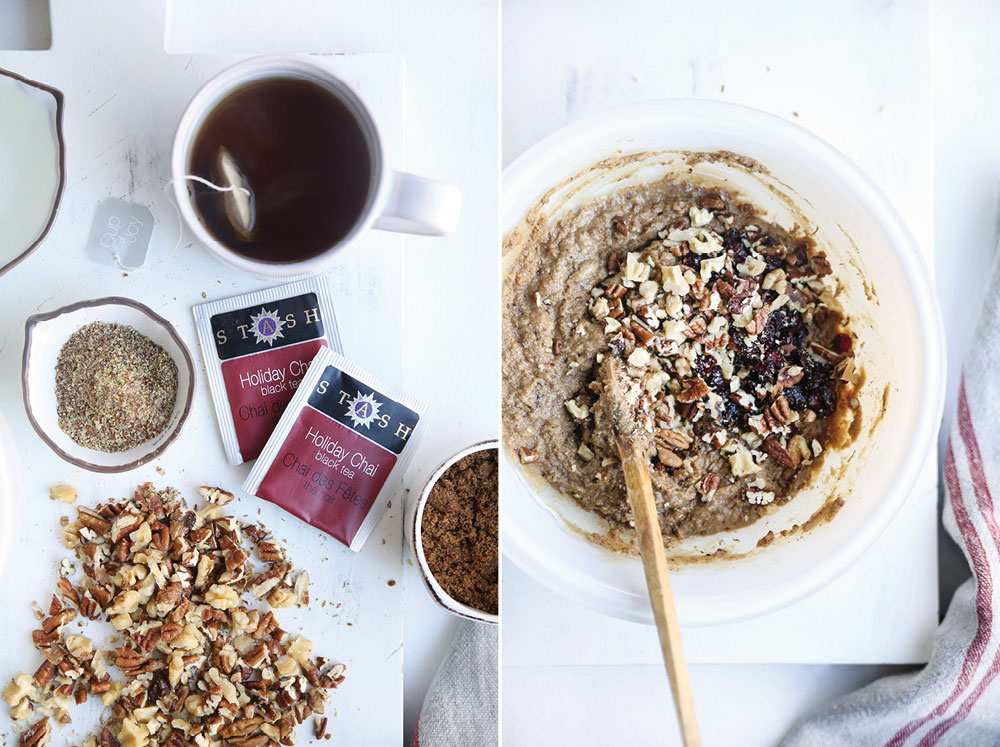 With the Holidays coming up, I also thought it would be fun to make this loaf cake recipe as mini cakes as gifts. The recipe filled up two mini paper pans perfectly AND I think it makes for an excellent and delicious gift idea.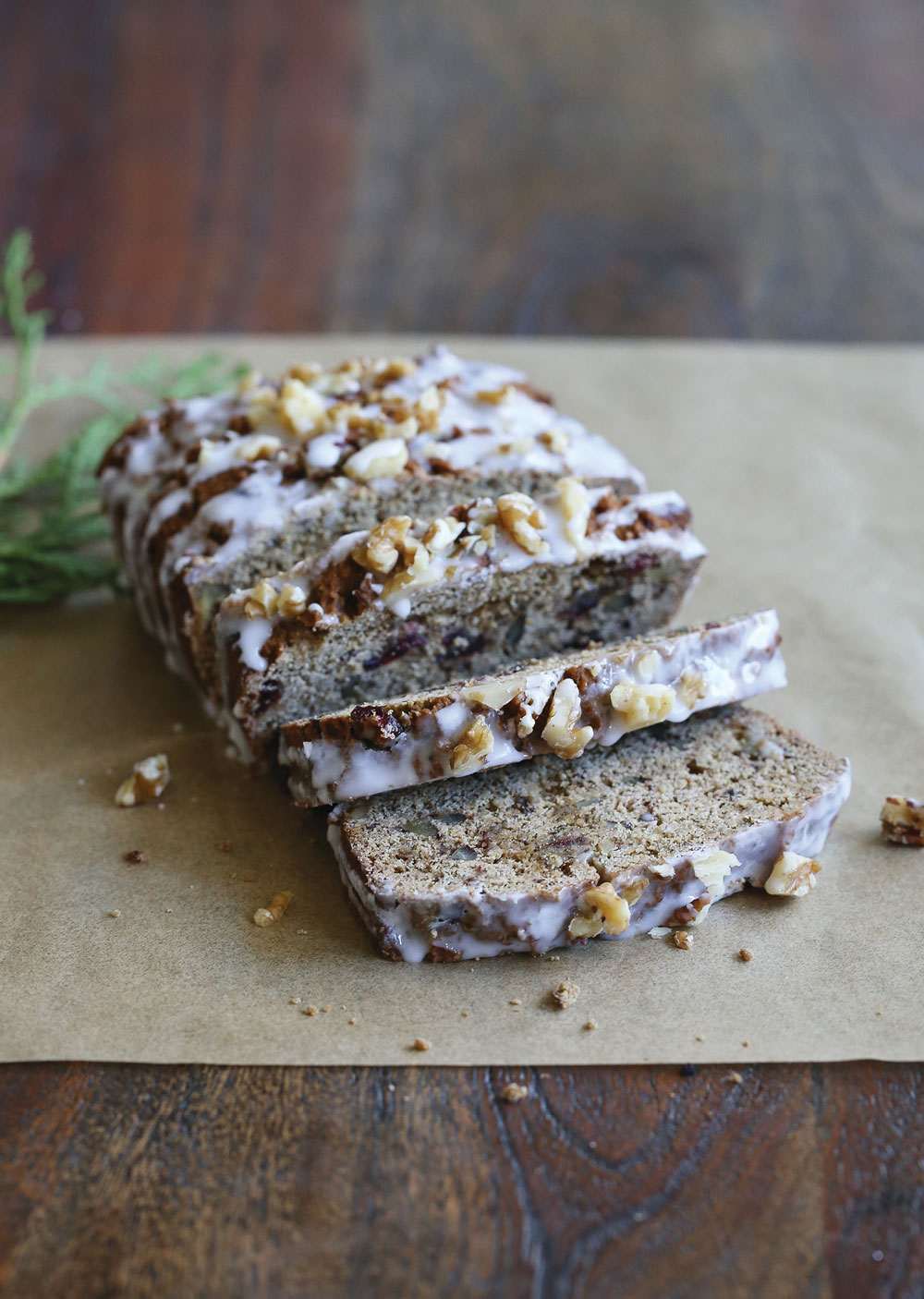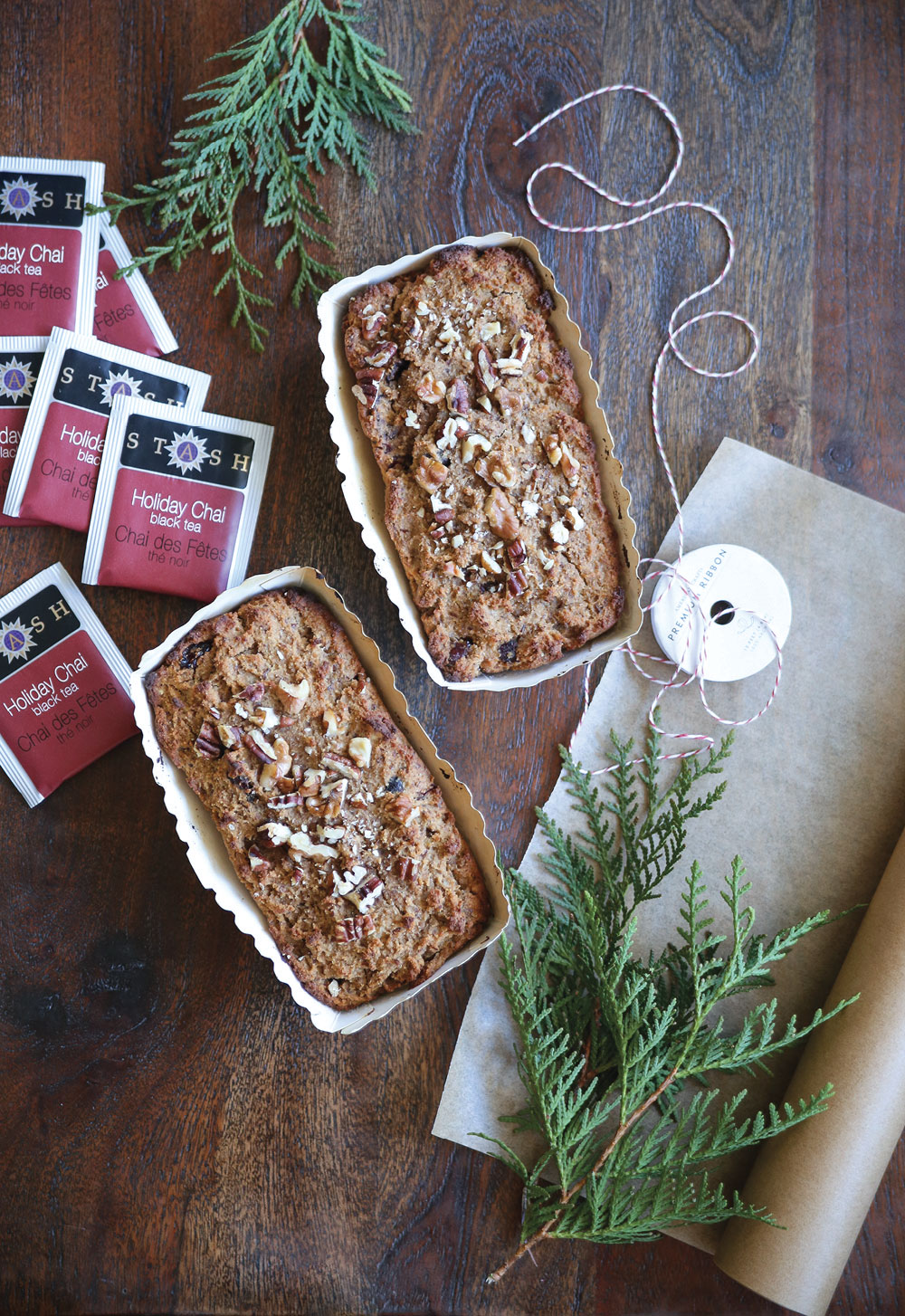 Add a couple more Stash Tea bags for a tea for two and it's the cutest cake and tea set ever given and received! (you could also just throw in a whole box of Stash Tea along with it if you're more generous ;) It's adorable, practical and delicious ~ the best kid of gift for a hostess, neighbour or friend :)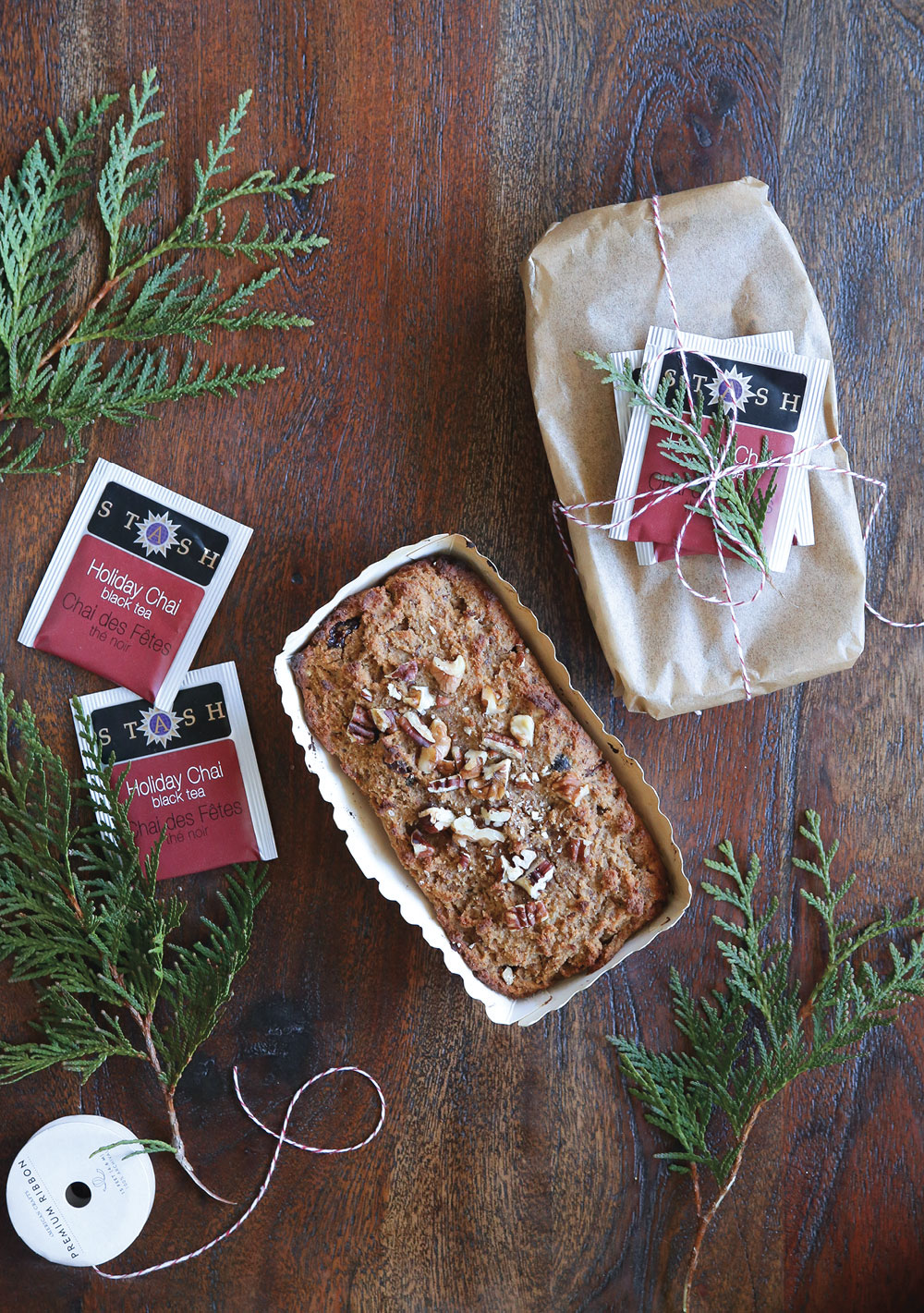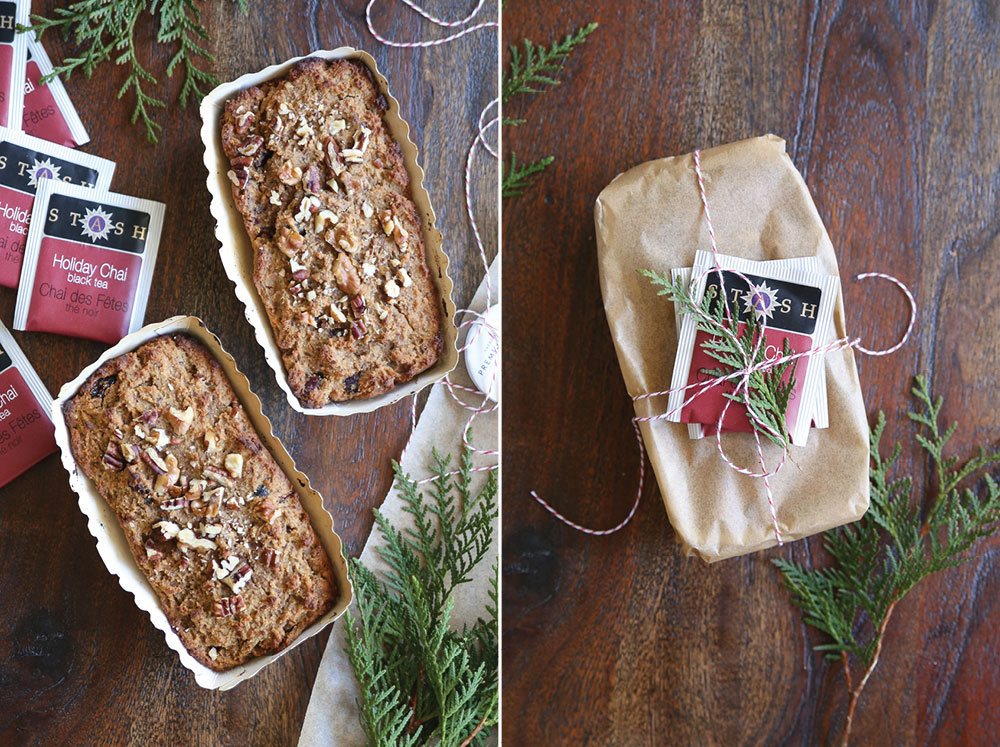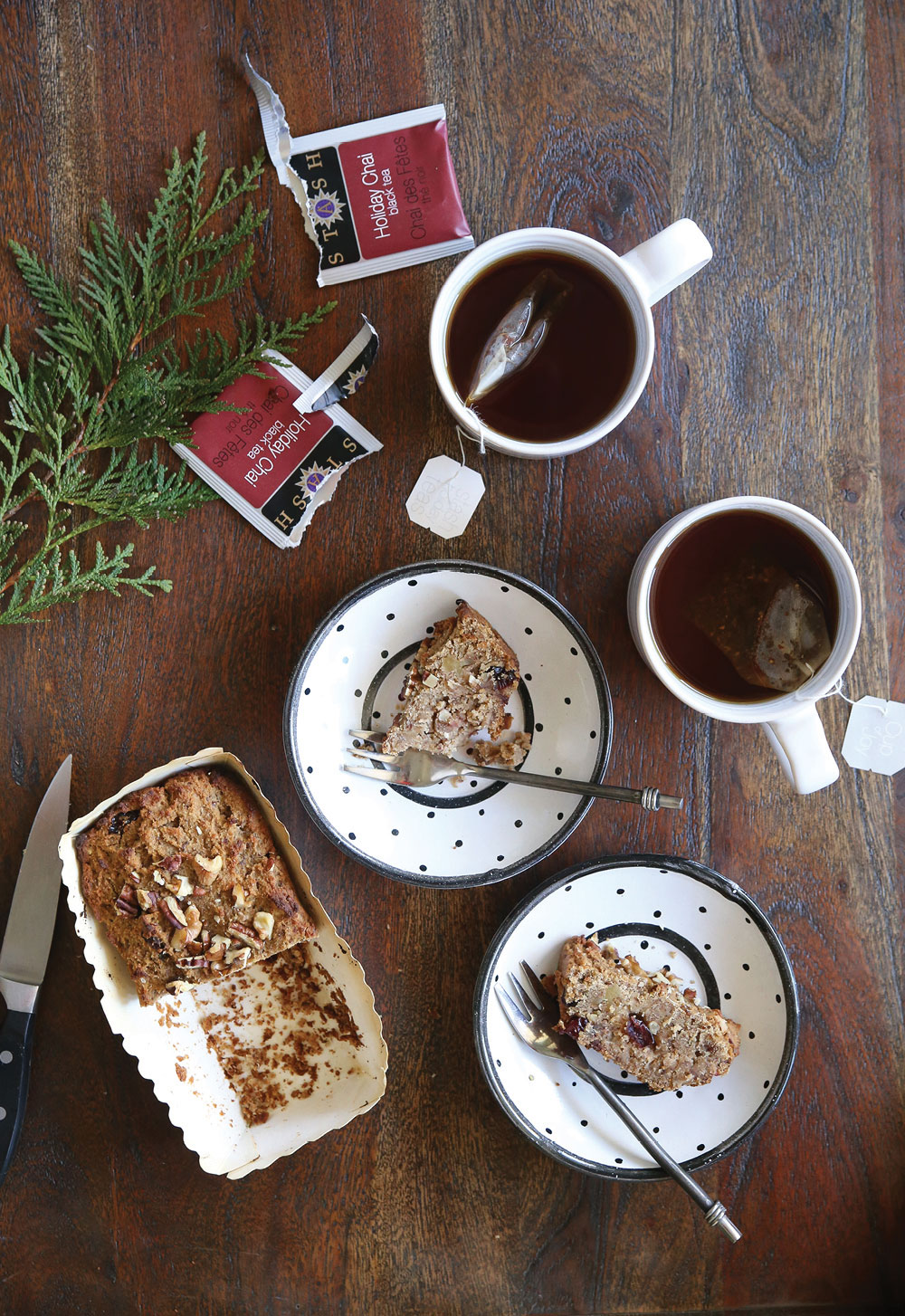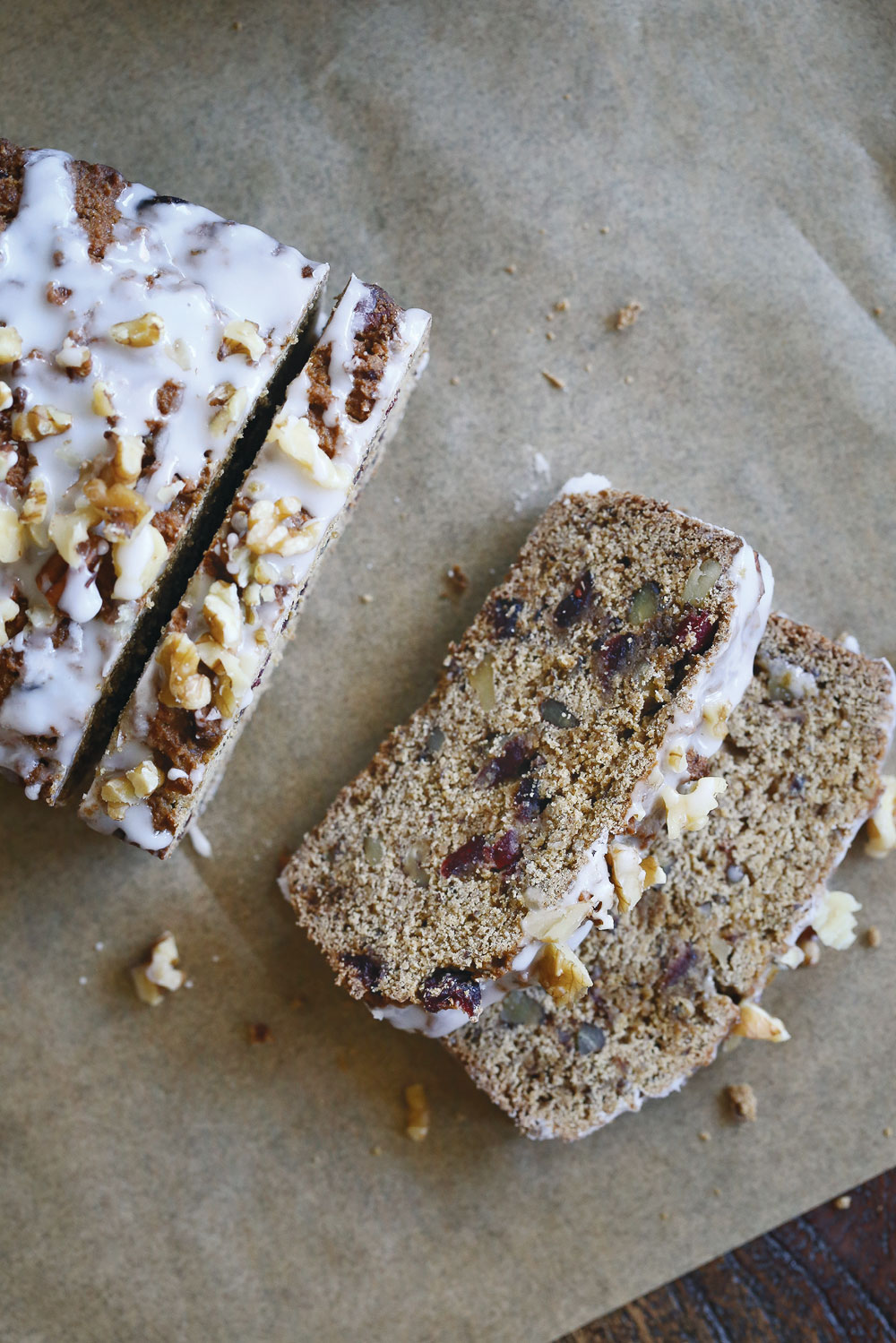 Holiday Chai Cranberry Nut Loaf Cake
2016-11-16 09:58:28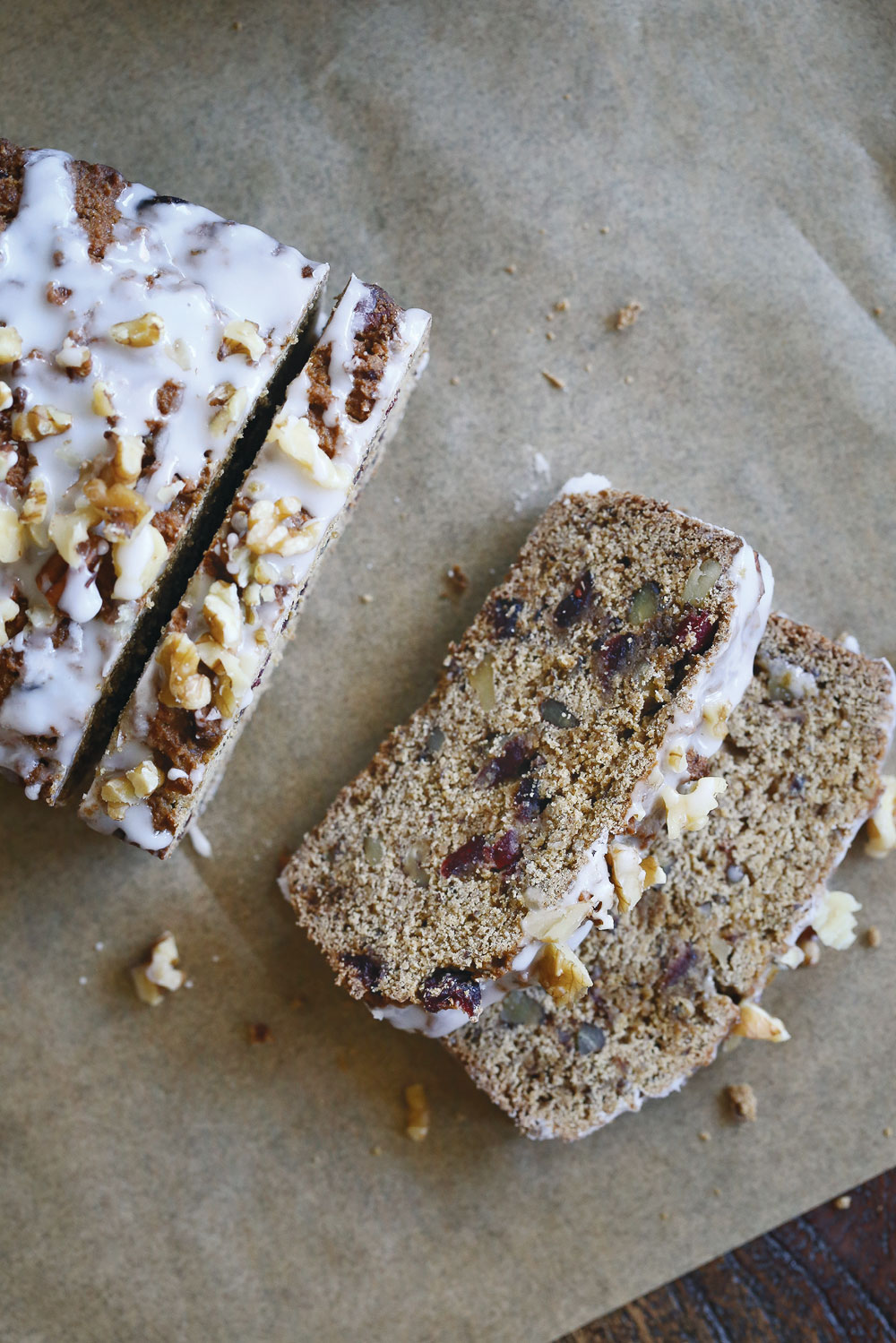 Serves 6
A delicious and festive Holiday Chai loaf cake made with real chai tea! Made with healthy ingredients, gluten-free, vegan and refined sugar free.
Ingredients
2 tablespoons flax mea
3/4 cup Stash Tea Holiday Chai tea, strongly brewed
1 cup gluten-free flour mix (or light spelt flour)
1/2 cup coconut flour
1/2 teaspoon fine sea salt
1 teaspoons baking powder
1/2 teaspoon baking soda
3/4 cup raw cane sugar or organic brown sugar
1/2 cup coconut oil, melted
1 teaspoon vanilla extract
3/4 cup mixed nuts, chopped (I used walnuts and pecans) + extra for topping
1/4 cup dried cranberries (sulphite free)
Icing (optional) http://pureella.com/gluten-free-vegan-apple-cranberry-bundt-cake/
Instructions
Preheat oven to 350F. Prepare a loaf pan with parchment paper and oil the sides. If using paper pans, just oil the sides well.
First, brew a cup of strong Holiday Chai tea. (In the meantime, prepare all the ingredients.)
In a large bowl, mix the flax meal with the tea and set aside.
In another bowl, combine the flours, salt, baking powder and baking soda and mix to combine well.
Back in the bowl with the flax and tea mixture, add in sugar, coconut oil and vanilla extract and whisk to combine well and the sugar starts to dissolve a bit.
Add the dry ingredients into wet and mix until fully combined.
Pour or scoop into the pan(s).
Sprinkle extra chopped nuts on top.
Bake for 40-45 minutes for 1 large loaf pan. 35-40 minutes for two small loafs. Or until sides brown and a toothpick in centre comes out dry.
Let cool for about 15 minutes before removing from the pan. (for mini paper-pan cakes, just keep in the paper)
Let cool completely on a cooling rack and store in the refrigerator covered with parchment paper.
Notes
This cake is really best the next day as the flavours really saturate the cake and the texture improves and it's easy to cut clean slices. Otherwise it's a bit crumbly when fresh. We really loved it the next day or even on the third day.
Keeps well covered in the refrigerator for up to 5 days.
Pure Ella https://pureella.com/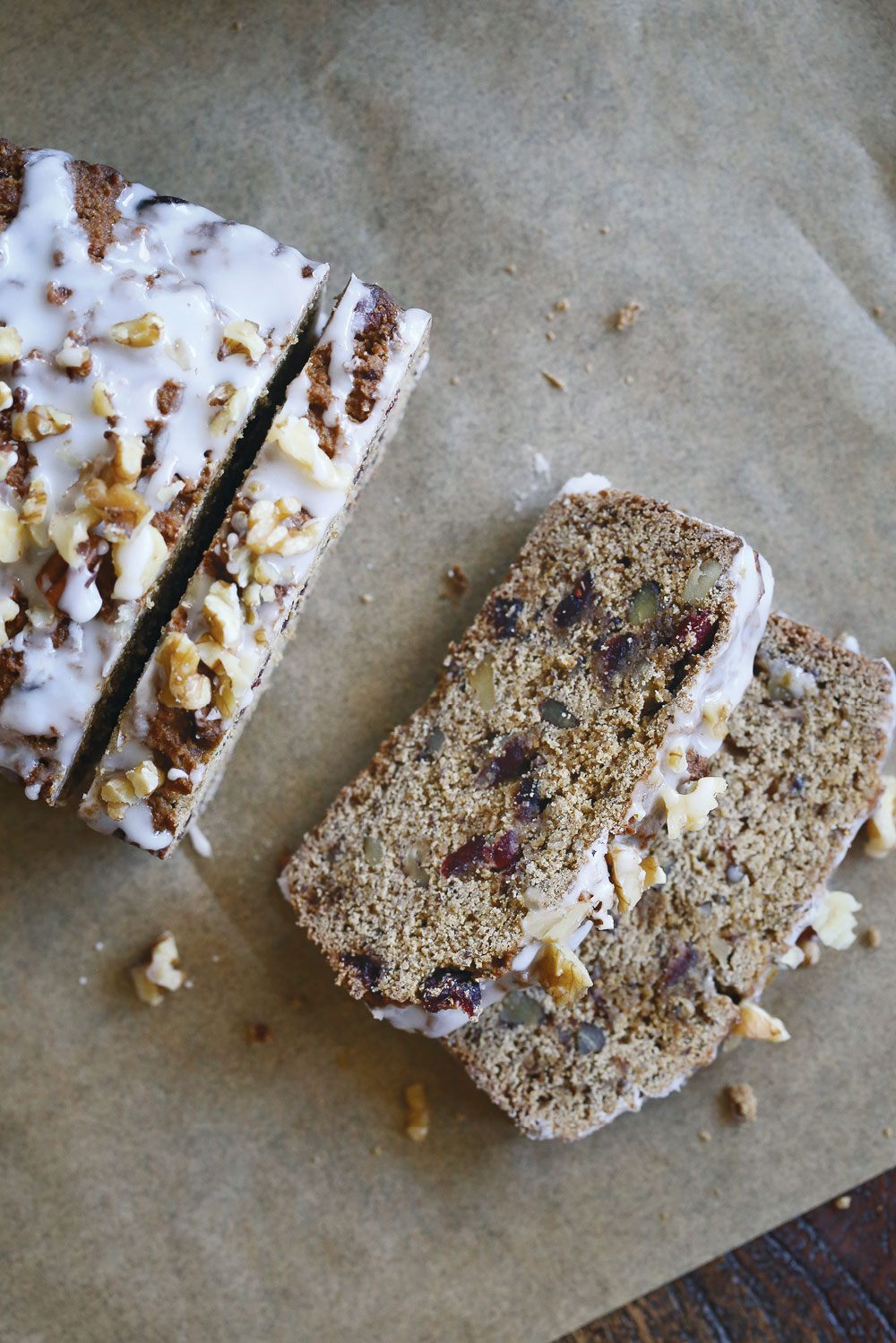 Wow! What a beautiful and delicious cake if I can say so myself.
This cake also is better the next day – which makes it great for baking ahead and just having it out of the way. Because I know how Holidays can get busy and having one thing out of the way is amazing!! :)
Also, it's most delicious when served with the Holiday Chai Stash Tea ~ it just brings out the flavour so much :)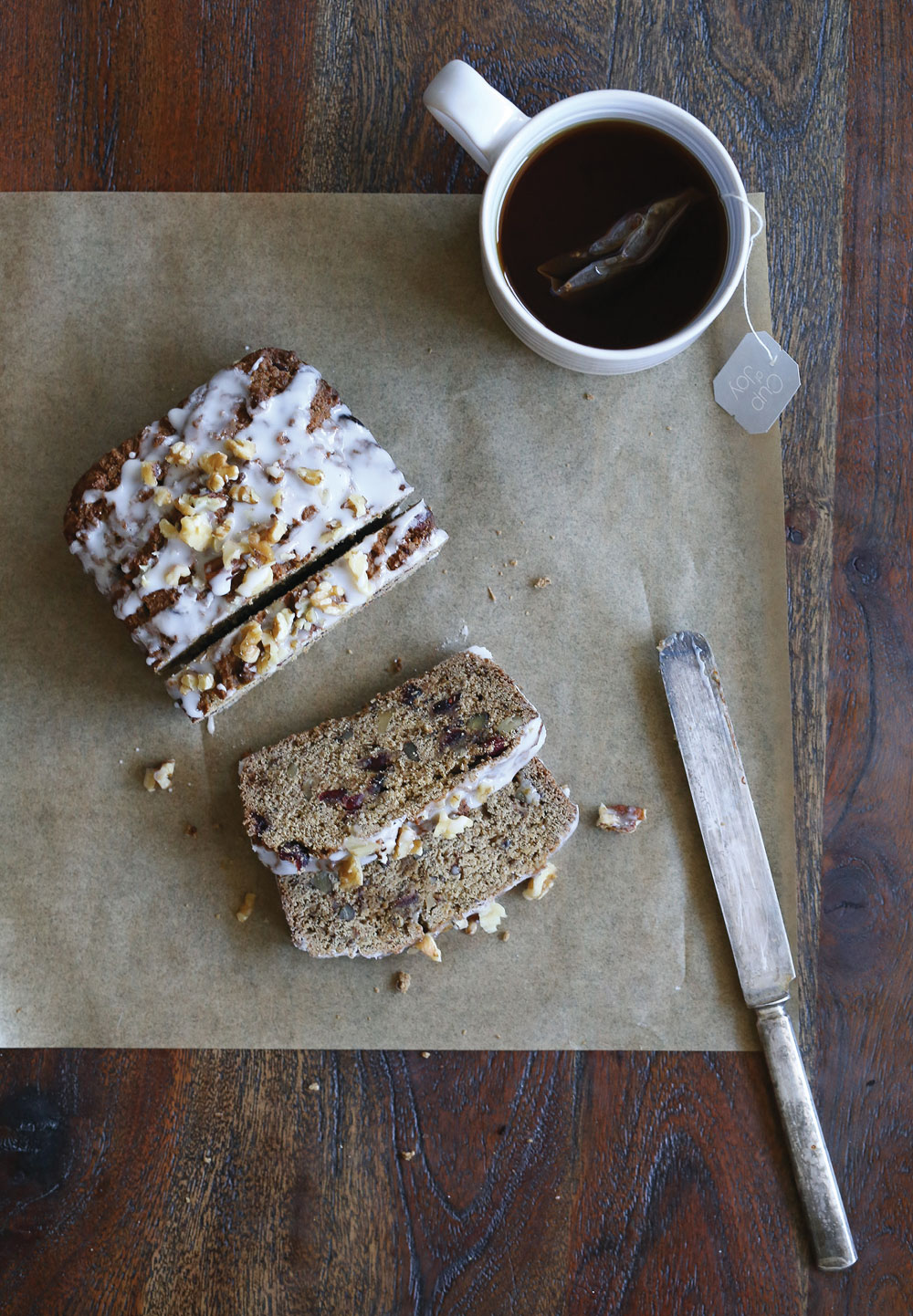 I liked using the Holiday Chai in this recipe, but this same recipe could be done with so many other of the Stash Tea flavours, such as: Cinnamon Vanilla, Christmas Eve, Christmas Morning… or Christmas in Paris ~ what a lovely Holiday collection this is! :)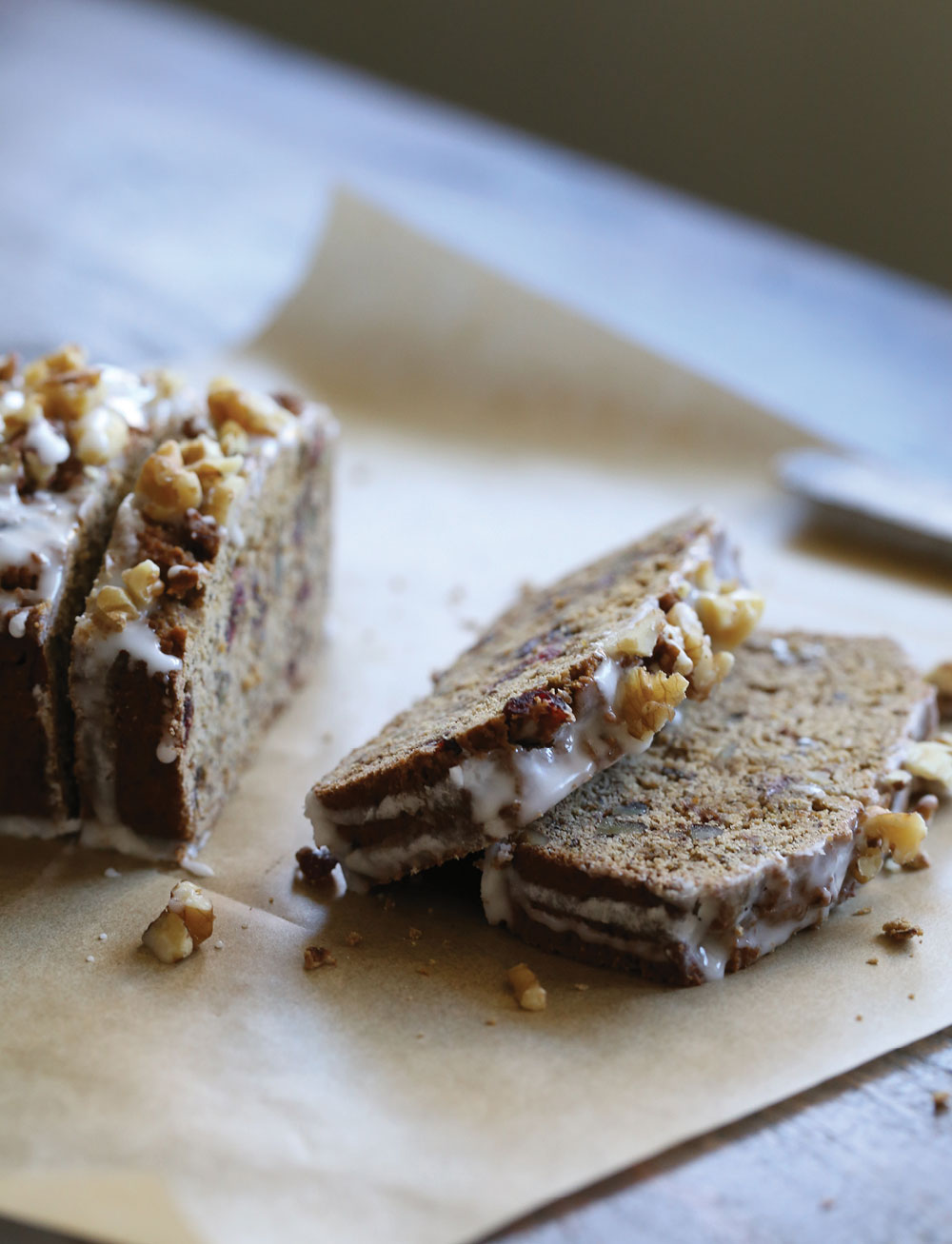 I hope you'll enjoy this lovely Holiday Chai Cranberry Nut Loaf Cake soon and make yourself and your family and friends celebrate life with joy!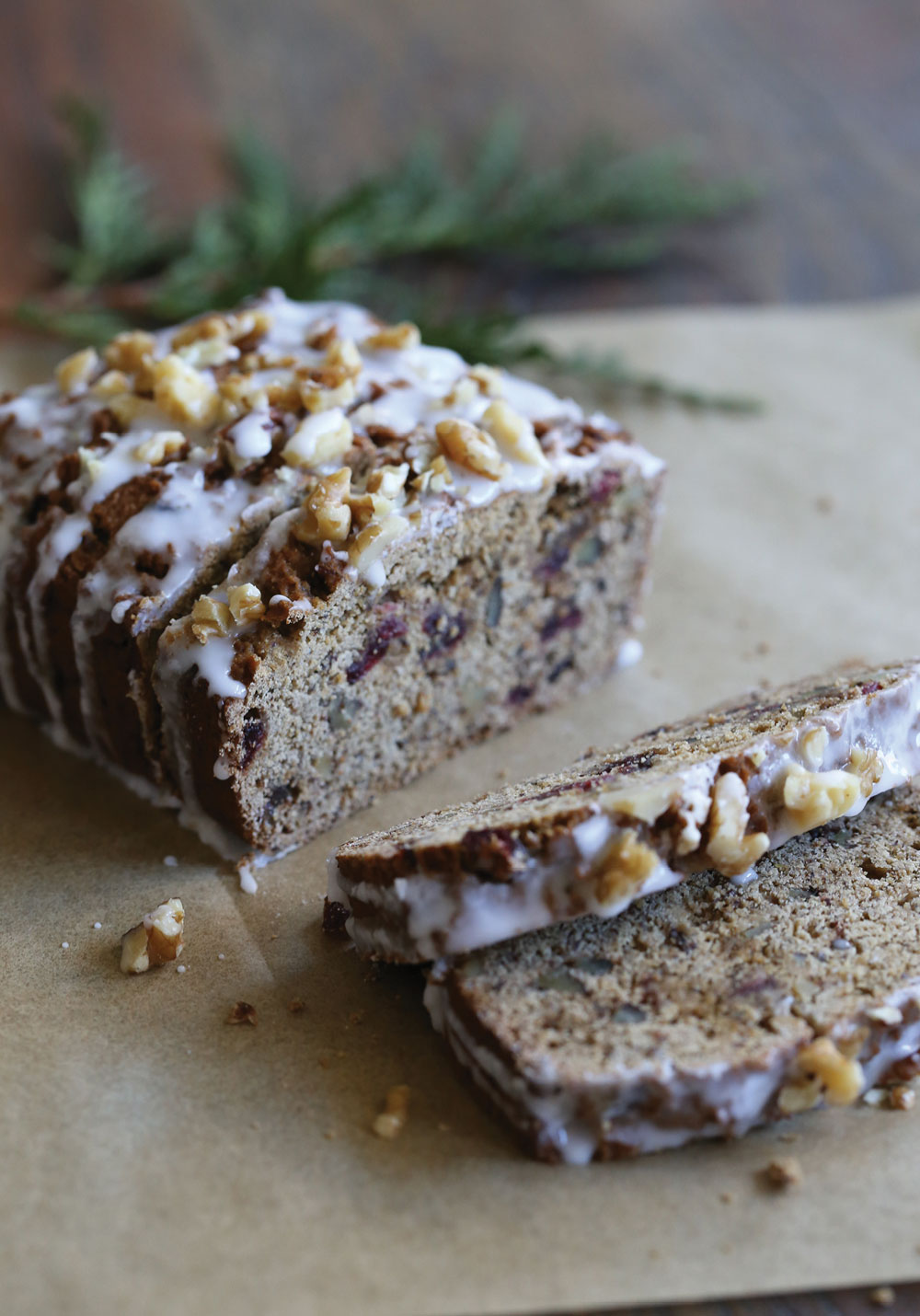 Sponsored by Stash Tea ~ my truly favourite natural tea company! :)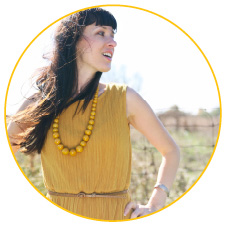 Ella Leché
is a cookbook author ('
Cut the Sugar
'), recipe developer, and photographer/stylist behind Pure Ella; where she shares delicious and healthy recipes. Eating PURE is clean ingredients, whole foods, plant-based nourishment and delicious desserts – with quality ingredients and sweeteners so they're treats with benefits so you won't have to feel deprived or restricted to eat healthier.
Thank YOU for being here!
Follow on social media for daily health & happiness inspiration:

ps. don't forget to share your Pure Ella (PE) recipe creations by tagging them #pureella and
@pure_ella
on Instagram – we repost our favourite photos!