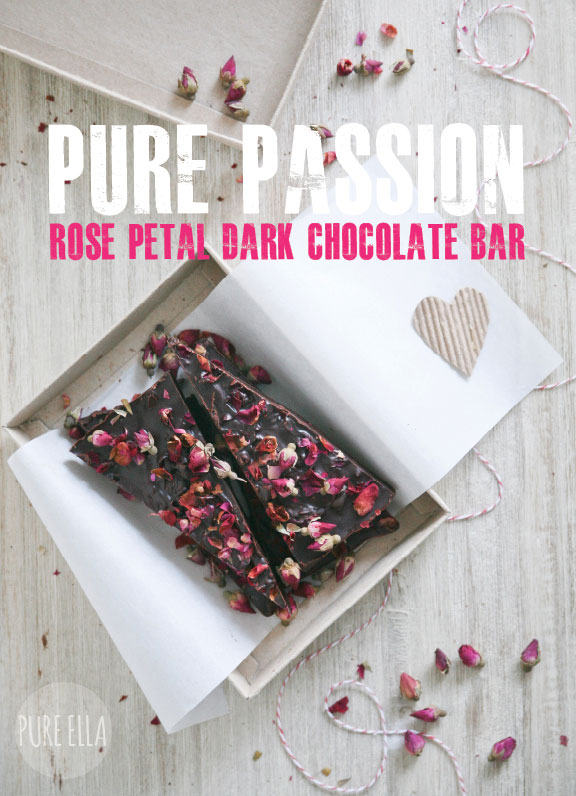 Today, there is even more love in the air… things are really heating up for Valentine's Day around here… what can I say… it's all about LOVE!
And what better way to say I Love You than with chocolate – a homemade luxurious chocolate at that.
This is the most beautiful homemade aphrodisiac chocolate bar that's topped with natural rose petals! Perfect for your Valentine!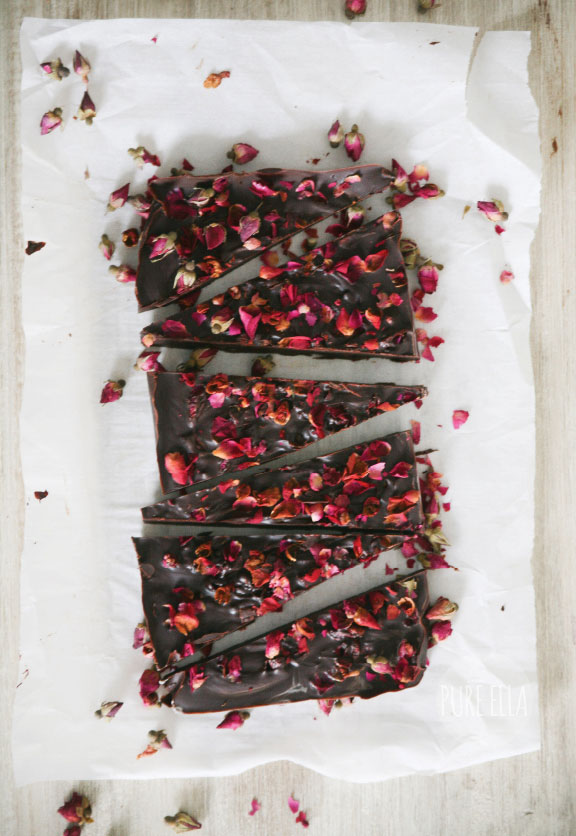 Chocolate is my biggest pleasure…. so naturally, it's pure joy for me to reinvent The Chocolate Bar! The ultimate lover's delight, move over diamonds! This is SO much better!!
Some pleasures are not only exciting – but they get heightened when you eat better quality food (with no processed ingredients, preservatives, artificial flavours or colours and especially added sugar). And that's why this is Pure Passion – this isn't just chocolate…. it's a beautiful and luxurious masterpiece. A very indulging, sexy, seductive, romantic chocolate masterpiece…. one that begs to be shared and enjoyed with pure pleasure!
This is the perfect Valentine's Day dessert (or something special for any other occasion). When you make this beautiful Rose Petal Dark Chocolate Bar… you have to share it with the love of your life! (or a close friend) – someone who appreciates the good things in life. Like a beautiful sinfully luxurious handmade chocolate… all made with Love.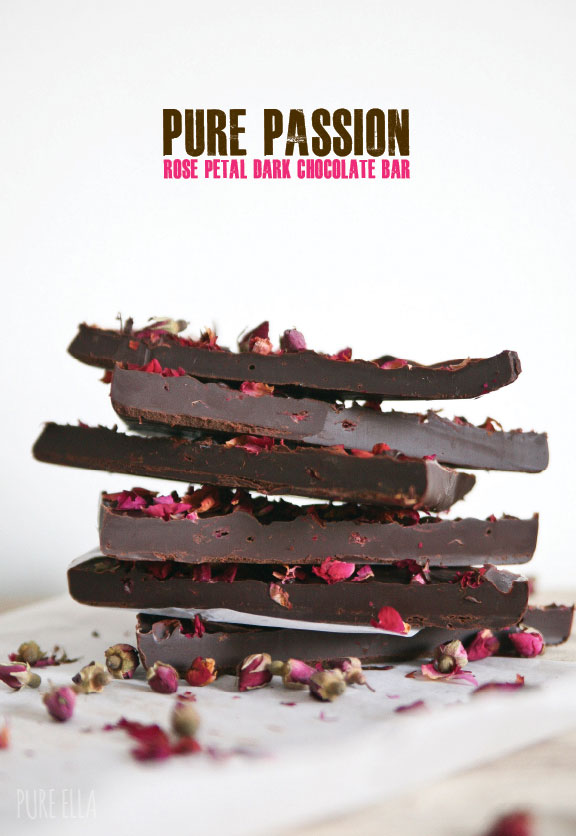 PURE PASSION
Rose Petal Dark Chocolate Bar
(a handmade luxurious dairy-free/ vegan and gluten/wheat free chocolate bar)
Ingredients :
1 cup squares or 200 grams of dark 72% chocolate
1/4 cup dairy-free creamer
1 teaspoon raw maca powder* (this is an aphrodisiac)
1/4 cup coconut butter or oil
roughly 1/2 cup rose tea petals **
* maca is an natural superfood that also has aphrodisiac properties! (omit if serving this chocolate recipe to kids or pregnant women)
** the rose petals I use are designed for tea brewing and can easily be found in Asian stores. A large bag costs about $5 and I hardly used any from it. A little goes a long way. They also make a nice tea and I've been experimenting in making other recipes with rose petals – stay tuned for those ;)
You will need : double boiler or a small pot with bowl for melting chocolate, steamer, a rectangular dish or pan for your form, parchment paper.
Directions :
Line a pan or any rectangular dish (does not have to be oven proof) with parchment paper and set aside.
First, set the double boiler or pot with water and a bowl, stacked over medium low heat, and prepare to melt some chocolate. Add all the chocolate pieces along with the creamer and coconut oil all together while ingredients are still room temperature, then turn on the heat to allow to melt. Mix gently with a whisk to incorporate all the ingredients well. Once the consistency is smooth and glossy, turn off the heat. Add in the raw maca powder and stir in to mix in well.
Pour the melted chocolate mixture into the pan and smooth top. Tap the pan on a tabletop to press down and allow the chocolate to get into all the air pockets. Set aside.
On a steamer, place a handful of dried roses and cover to allow to steam. This will help the petals separate better from the buds. (this is an optional step, but it helps to keep the petals intact for a nicer touch. Otherwise they may break and crumble more easily as you try to remove them from the green buds.) Remove the petals and separate the greed buds away and discard.
Take the pan with the still melted chocolate and sprinkle the rose petals right on top. With a knife or spoon, dab some of the petals right into the chocolate to let the sink into the chocolate layer. Take some additional rose petals and sprinkle them on top of this chocolate bar. Place in the refrigerator to set for about 1 hour. Or the freezer for an even quicker set time, about 15 minutes.
Once set, pull the parchment paper to remove the chocolate bar. Place on a flat surface and slice into smaller pieces. I liked making long triangles out of mine, but you can cut squares, rectangles or even leave as one whole piece which you can break into pieces once ready to enjoy.
Don't forget to package your beautiful handmade Rose Petal Chocolate Bar in a gift box and wrap simply with a red ribbon on baker's twine for a casual look. I've cut a little heart out of some corrugated cardboard and glued that to the front. Pure and simple…. a perfect gift made with Love.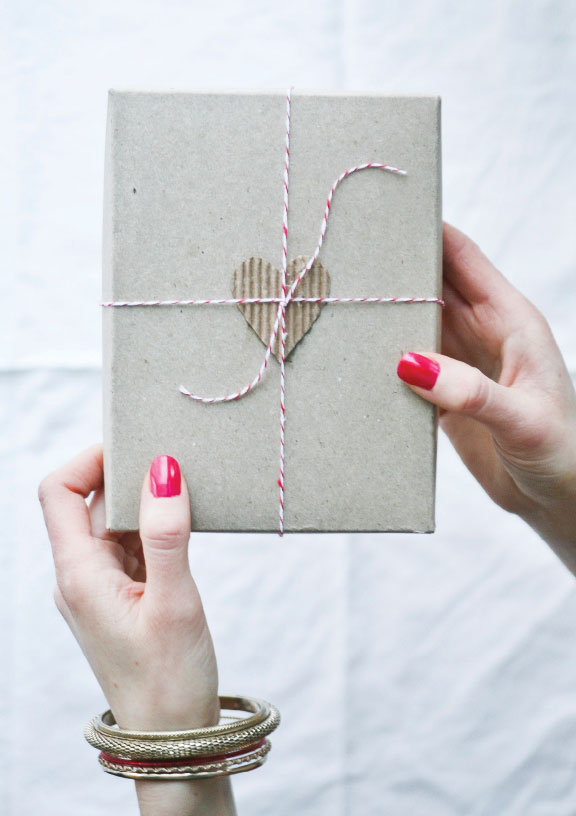 ♥
Pure Ella
If you're new to Pure Ella, please sign up for email updates and join me elsewhere:
Facebook

//

Pinterest

//

Twitte

r //

Instagram

@pure_ella