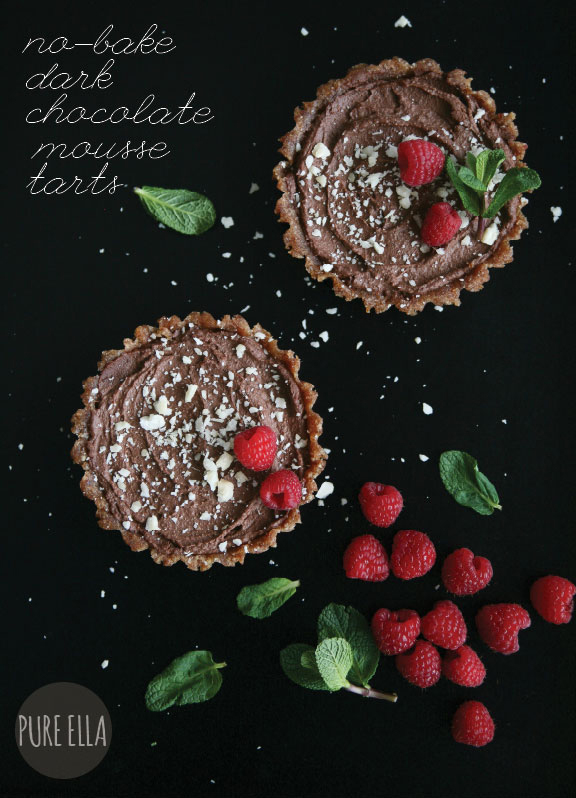 All you need is Love and some chocolate!!!
Love is in the air today as I share with you one of my best dessert recipes made especially with Love and some damn good ingredients!
Are you excited about Valentine's Day yet? I know it's a Holiday that has it's pros and cons – but why even waste time assessing the meaning behind it when you can just have an excuse to eat some amazing dessert!!
I'll be honest, I'm a very down-to-earth girl and my darling husband even before he was my husband was forced to return some jewellery because I felt it was too expensive! After all I thought if we're planning our life together, and would share our bank account one day why drain the poor guy… (back when we were in our early 20's a few hundred bucks was huge!) I knew there was more to love even back then… and that was to create special moments with a few good ingredients… passionate kisses, sweet love notes, a little cuddling and of course some good chocolate and champagne!
These ingredients haven't changed much… still love the kisses, the love notes (ok. now they're texts! lol), and the cuddling… except the quality of chocolate has improved and I won't be drinking this year – but man I still miss champagne ;)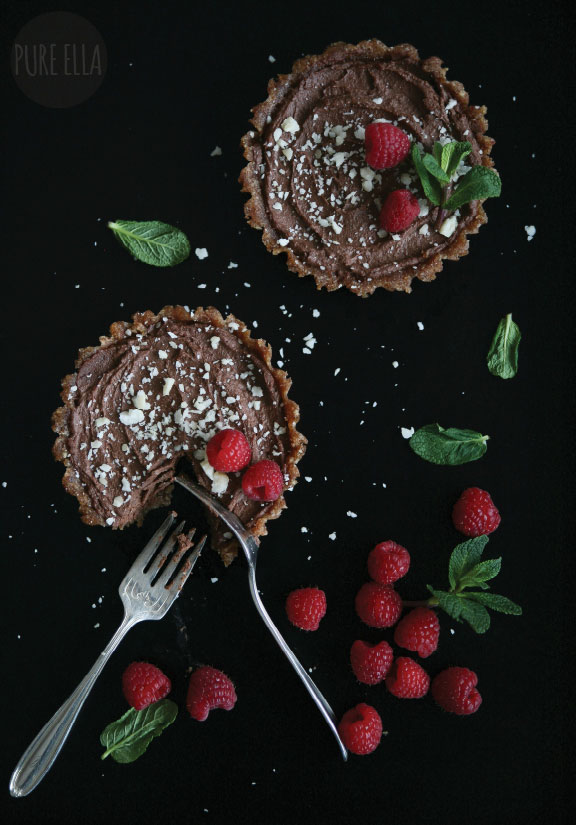 These No-Bake Dark Chocolate Mousse Tarts are quite possibly the most amazing dessert I've ever eaten in my life! ;)
The richness, the luxurious filling, the slight crunch in the tart shells – Pure Decadence! And topped with fresh raspberries and mint leaves – heaven on earth!!
What's even more amazing is that these tarts are completely guilt-free! The ingredients are so great they're actually good-for-you! Can you imagine that?
You no longer need to sneak a box of chocolates and hide in the closet to eat them up! This is your magic ticket to freely enjoy something delicious and decadent on this special day (or any day!) Because you don't need to deprive yourself of yummy things in life… you just need to find the good ;) – and this is good! (trust me!)
No-bake Dark Chocolate Mousse Tarts
Valentine's Day dessert recipe!
(guilt-free, gluten-free, grain-free, vegan dessert)
Base Ingredients :
1 cup almonds
1/2 cup macadamia nuts + extra for topping
1 cup medjool dates, pitted
1/2 cup coconut flakes
+ 2 tablespoons warm water, if needed
+ coconut oil for greasing
Filling Ingredients :
1 1/2 cup silken tofu (I used organic sprouted silken tofu)
3/4 cup dark 72% good quality chocolate squares (about 200g)
3 tablespoons coconut oil
pinch of fine sea salt or himalayan pink salt
1 teaspoon vanilla extract
1/4 cup organic agave nectar or raw honey (if not vegan)
optional : going all out for a romantic night? add a tablespoon of an amaretto liqueur or rum to spice up the recipe even more ;)
You will also need : tart shells, about 4″D with removable bases are best, food processor, double boiler or a bowl with small pot to melt some chocolate.
Directions :
For the base : Soak the nuts for about 2-4 hours or longer even overnight in the refrigerator. Once they are soaked, rinse and drain them thoroughly. Place in a food processor and grind them up on high to a meal texture. Add the dates and the coconut flakes and continue processing until a paste forms. Turn off the food processor and check with your fingers if the mixture sticks when you press it between your fingers. If it falls apart, add one tablespoon of warm water at a time and continue checking for the right 'slightly sticky' texture.
Grease the tart shells with some coconut oil. How many you make depends on the size of your tart shells. The ones I used are 4″D and the recipe would have made 6 of them. Fill the tart shells with the base mixture being sure to press the bottom evenly and bringing up the mixture up to the sides. Set aside.
For the filling : Start by setting up a double boiler or a dish over a small pot with water to melt the chocolate. (be sure the dish does not touch the water in the pot). Add the chocolate pieces and coconut oil and slowly allow to melt, stirring gently to incorporate the ingredients well. Once all melted, turn the heat off and keep in the bowl to stay warm and soft.
Simply rinse and wipe the food processor from the base mixture and set it in place for the filling ingredients. Place the silken tofu, vanilla extract and agave or honey and pinch of salt into the food processor and mix on medium to blend together well. You may need to turn off the processor and scrape down the sides to make sure everything gets incorporated. Now you're going to incorporate the melted chocolate. This has to be done very slowly as you never want to mix cold and hot ingredients too quick – the temperatures need to be blended in slowly. So, scoop a tablespoon of the melted chocolate into the mixer, close and blend on low, turn off and scoop in another tablespoon…. continue adding in the chocolate one tablespoon at a time until all in incorporated. Towards the end, be sure to scrape the sides down to get all the goodies combined.
Scoop the filling into the tart shells and distribute evenly over the tops.
Place in the freezer to set for about 2 hours. You'll still need to remove them from the tart shells. This is easiest done when they are still cold. If you're using tart shells with removable bottoms, then they'll just pop right out. If not, good luck! ;)
What has worked in the past is actually using a hair blow dryer and just heating the bottom of the still frozen tart, just enough to melt the underneath oil so they slide out. A little toothpick action on the sides also helps to remove them. Which is why tart shells with removable bases are so so much better! ;)
Once the tarts are removed from the shells, move them to the refrigerator about 1 hour before serving. If storing for longer be sure to keep them in an air-tight container so the tops don't dry out.
Serve topped with crushed macadamia nuts and a bowl of fresh raspberries with some mint leaves… and of course Champagne! ;)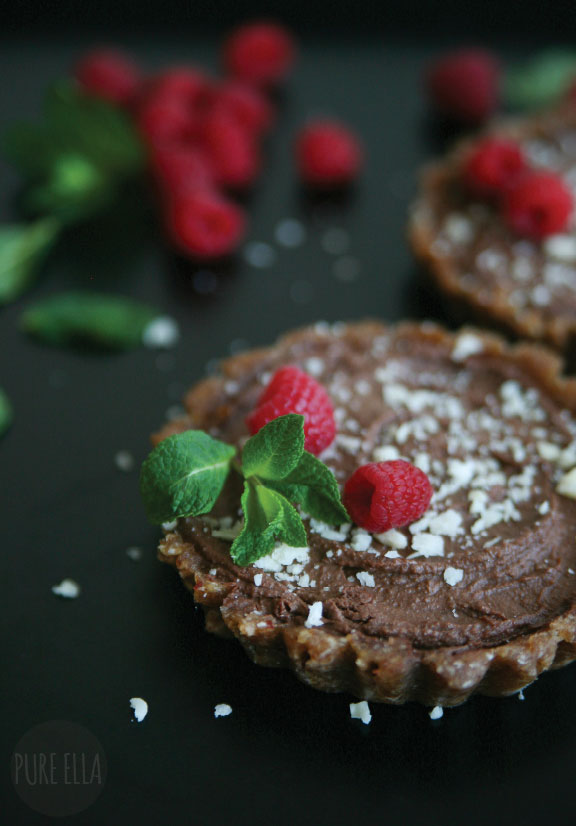 Now you have the complete recipe for Love… it should always come with a good quality chocolate dessert! Ideally one that's made with love and some amazing guilt-free ingredients!!
I hope you will have a great Valentine's Day! Remember, you don't need to hide in the closet to indulge in a great dessert anymore ;) xoxo
♥
Ella
If you're new to Pure Ella, please sign up for email updates and join me elsewhere:
Facebook

//

Pinterest

//

Twitte

r //

Instagram

@pure_ella