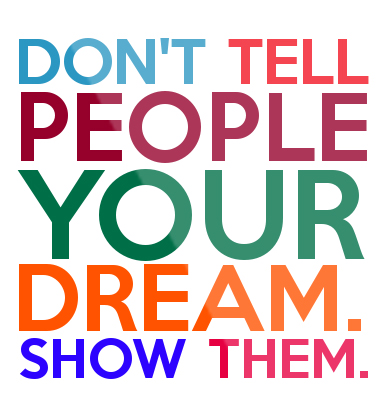 Hello my friends! Happy Monday!!
We're moving quickly towards the last few days of January…. and so… how did the New Year stroll in for you?
Have you made any improvements in your life? Have you stuck to your resolutions?
I personally don't make resolutions, but I always look at each week ahead and plan out the things I want to accomplish.
I have short and long term goals which I hope to achieve each week. They are small things. I do baby steps.
And there's a lot that's not crossed off the list – that's because I'm a big dreamer!!
I know I'm not the only one… (thanks John Lennon for that one!)
10 years ago when I just graduated from college, I had a clear dream of what I wanted to do.
I wanted to have my own graphic design company.
And I clearly had *the balls* to do it back them. I lasted a total of 4 months in a large company and then called it quits because I had a DREAM for something better!
So what did I do? I did my thing, clients came, I got busy…. got the fiancé (husband now) to even quit his job and join me in opening up a studio!!! ;)
We got married… we travelled…. we worked hard but still had a blast! Two years after our wedding, we started a family…. and life at that moment was perfect!
I was living my dream! I crossed my t's and dotted my i's!! Everything I have created up to that time was with passion and commitment to my career and life.
What then….? Well, some of you know what happened after the 'happily forever after' It was not at all Happy!
I got sick when my daughter was 4 months old and the 5 years after that were a blur of dealing with depression, a rough disease, and many challenges that went on that roller coaster ride. Problems came from left and right beyond my health, to my struggling with motherhood when I barely could function on my own, struggling with our business, and even struggling financially and in our marriage… yeah… they don't show that part in fairytales, do they? ;)
I can now look back and see that these were lessons I had to live through to see just how strong I was.
So what now? What happened to my dream career and my dream life?
Well, I'll tell you that I no longer wish to continue living that same dream.
Am I worried about change? Am I worried about starting over?
Yes, sometimes. Just a little these thoughts of worry do come through my mind… but I have learned to brush them off and stand up stronger.
I had no idea where life would take me in these 5 years, but now I can breathe in deep and smile while I realize that my life took me to this very exact place I was meant to be.
In my old dream, I was hungry for a career without putting thought into the deep meaning of what I was doing. My job was very creative and fun but not meaningful in what matters in the world at all.
Because, hey, is life really about cheap products made in China that people really need more of? No. (at least to me right now it's not!) Yet, I felt responsible almost to make these products look good for my clients to sell more.
But that is not what I feel matters in the world… and I'm happy to close that chapter of my life and move on towards something different and better.
Because I now have a NEW DREAM….
But I will not tell you about it…. I will show you that dream soon!
♥
Ella
Do share : what dream will you show to the world?
If you're new to Pure Ella, please sign up for email updates and join me elsewhere:
Facebook

//

Pinterest

//

Twitte

r //

Instagram

@pure_ella