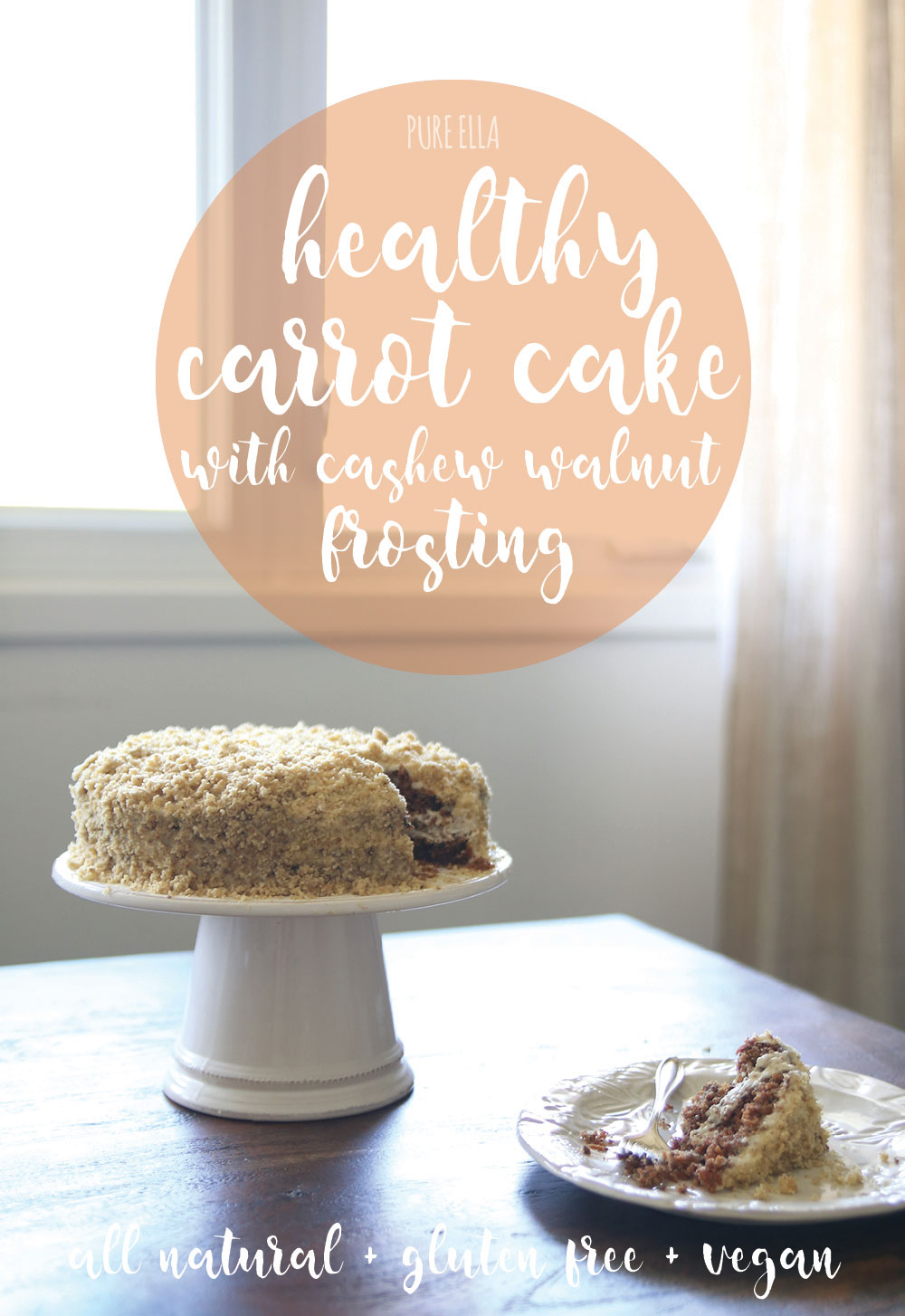 Ever since I made this delicious AND healthy Carrot Cake is pretty much all I crave now! Seriously. Obsessed. It is decadent and moist with the perfect carroty goodness and rich with spices and creamy from the frosting – you'll be saying WOW with every bite!!
And this beautiful naturally gluten-free and vegan carrot cake is still very much on the healthy side – honestly, I don't think these ingredient could be better (if you doubt me, please scroll down to the bottom and see for yourself! ;)) BUT it doesn't taste 'healthy' if that's what you're worried about. It's delicious and really cakey ~ just perfect!
It was a hit at our table with the whole family with everyone from the baby to our great aunt who's 88 – so I'm just happy to share this great recipe with you. I hope you will enjoy it as much as we did :)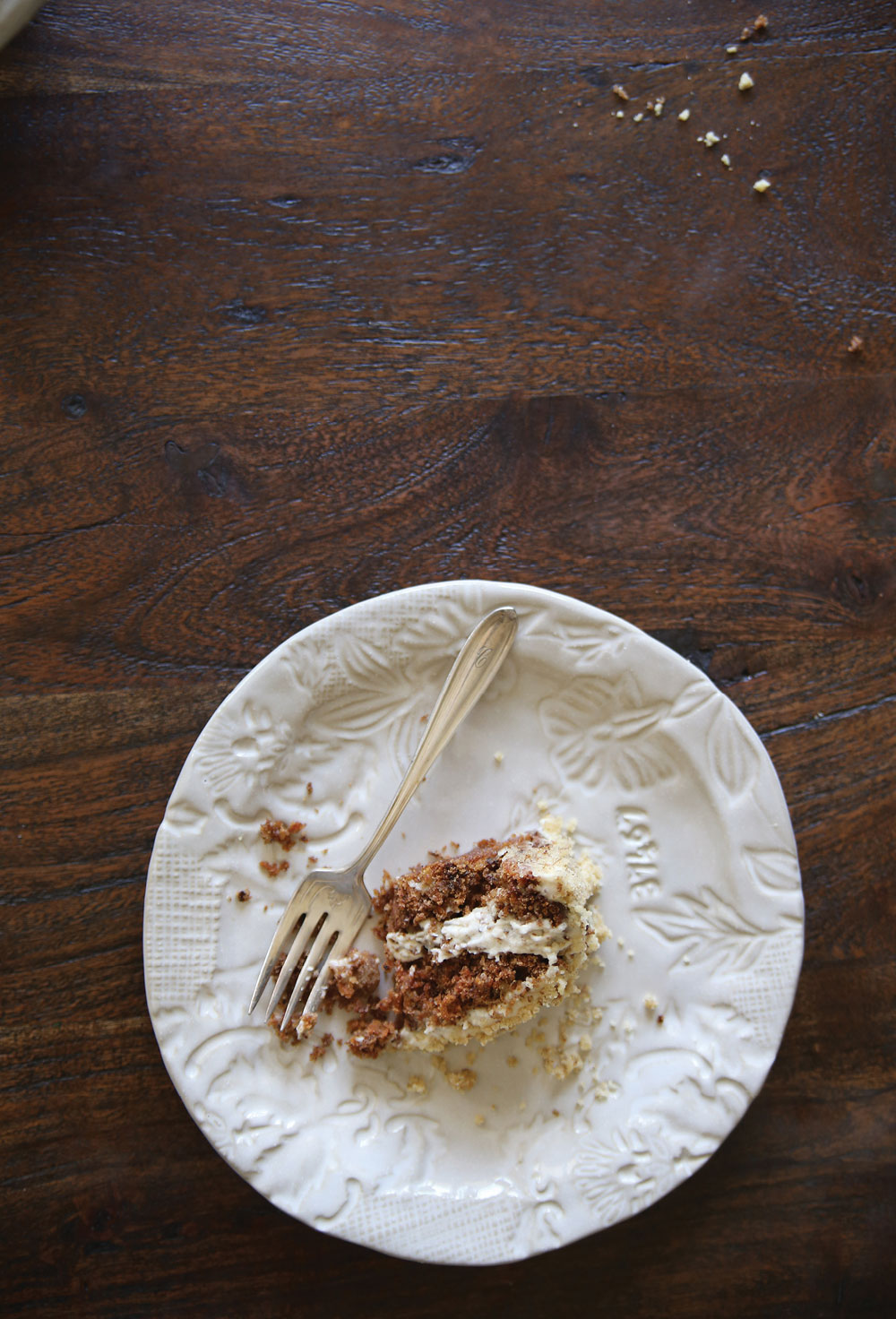 Delicious Carrot Cake with Cashew Walnut Frosting
Naturally gluten free and vegan cake recipe that's refined sugar free/ low-glycemic.
Healthy Carrot Cake
Recipe Type
:
Dessert, Cake
Author:
Prep time:
Cook time:
Total time:
A delicious and healthy carrot cake that's all natural, gluten free and vegan with low glycemic sugars.
Ingredients
3 tablespoons ground flax
1/4 cup hot water
1 1/2 cups all-purpose gluten-free flour (or light spelt flour)
1 teaspoon baking soda
1 1/2 teaspoons baking powder (aluminum free)
1 teaspoon cinnamon
1/2 teaspoon ground nutmeg
1/4 teaspoon fine sea salt
1/2 cup coconut palm sugar
1/2 cup coconut oil (melted) or grape seed oil
1/2 cup almond milk or other plant milk
1 tablespoon lemon juice
1/4 cup maple syrup
2 teaspoons vanilla extract
1 cup peeled & grated carrots, packed
1/4 cup raisins (sulphite free) (optional)
1/2 cup walnuts, chopped
+ 1/4 cup ground up walnuts for topping (optional)
Raw Cashew and Walnut Frosting (recipe follows)
Instructions
Grease one or two preferably spring-form baking pan(s) (8″x8″) and line the bottom with parchment paper. Preheat oven to 350F.
In a medium bowl, whisk together the flax and water and set aside.
In another medium bowl, combine the dry ingredients (except the sugar) : flour, baking soda, baking powder, cinnamon, nutmeg and salt and mix until well incorporated.
Back in the bowl with the flax, add in sugar, oil, milk, lemon juice, maple syrup, vanilla extract and whisk to combine well for a few seconds to allow the sugar to melt slightly.
Pour the wet ingredients into the dry and stir to combine thoroughly.
Add in grated carrots, walnuts and raisins and stir again to incorporate well.
Pour 1/2 of the batter into the pan (if you want a 2 layer cake you need to bake the two layers separately) and bake for 25-35 minutes until top looks dry and the sides appear a little darker but not burned.
Remove from the oven, score the sides and flip the cake out onto a cooling rack.
Line the pan again and pour in the remaining batter and bake the other cake.
Trim the dome part of the cake from the bottom layer and proceed to assemble the cake! (the really fun part!)
To assemble the two layer cake, spread a little bit of the frosting on a serving plate so it doesn't slide and carefully set the bottom layer with the top trimmed in the centre. Spread about 1/3 of the frosting on top and use a smooth knife or a spatula to spread the frosting out to the edges.
Carefully place the top layer on the frosting and continue with frosting the top and sides.
Toss with the ground up walnuts all over.
Store the cake in an airtight container so it doesn't dry up in the fridge for up to 3 days or 1 day at room temperature.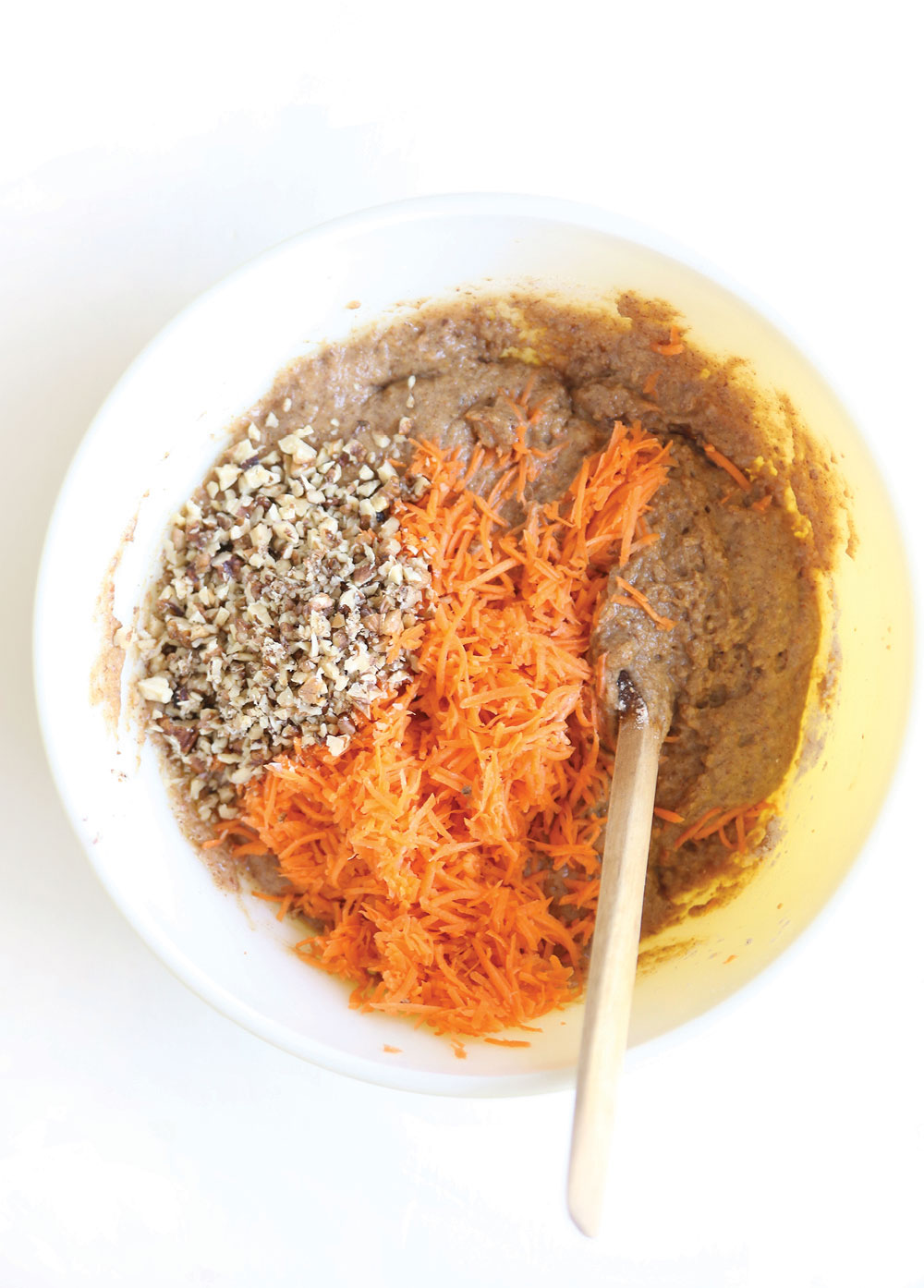 Raw Cashew Walnut Frosting
A frosting recipe that's all natural, raw, healthy, gluten free, vegan, paleo.
Ingredients :
2 cups cashews (pre-soaked)
1/4 cup coconut oil, melted
1/4 cup warm water
1/4 cup maple syrup
1 tablespoon lemon juice
1 tablespoon vanilla extract
1/4 cup walnuts, finely chopped (optional)
Optional : up to 1/4 cup powdered stevia or powdered sugar if more sweetness is desired (I omitted this entirely but it was on a low sweet side)
Directions :
Notes :
You'll need a high speed blender to get the cashews really smooth.
Use pre-soaked cashews (soaked at least 4 hours in the fridge or overnight OR 1-2 hours in hot water set on the counter).
In a high speed blender, add in all the ingredients (except the walnuts) : cashews, oil, water, maple syrup, lemon juice and vanilla extract and mix on high until a smooth creamy texture is achieved.
At the end, add in the walnuts and mix for a few seconds until combined thoroughly but still have some texture.
Chill for about 2 hours before using and frost the carrot cake as described above or use to top off carrot muffins or these Carrot Cake Brownies!
Notes :
Great to make ahead. Store in an airtight container for up to 3 days. Freezes well for up to 3 months.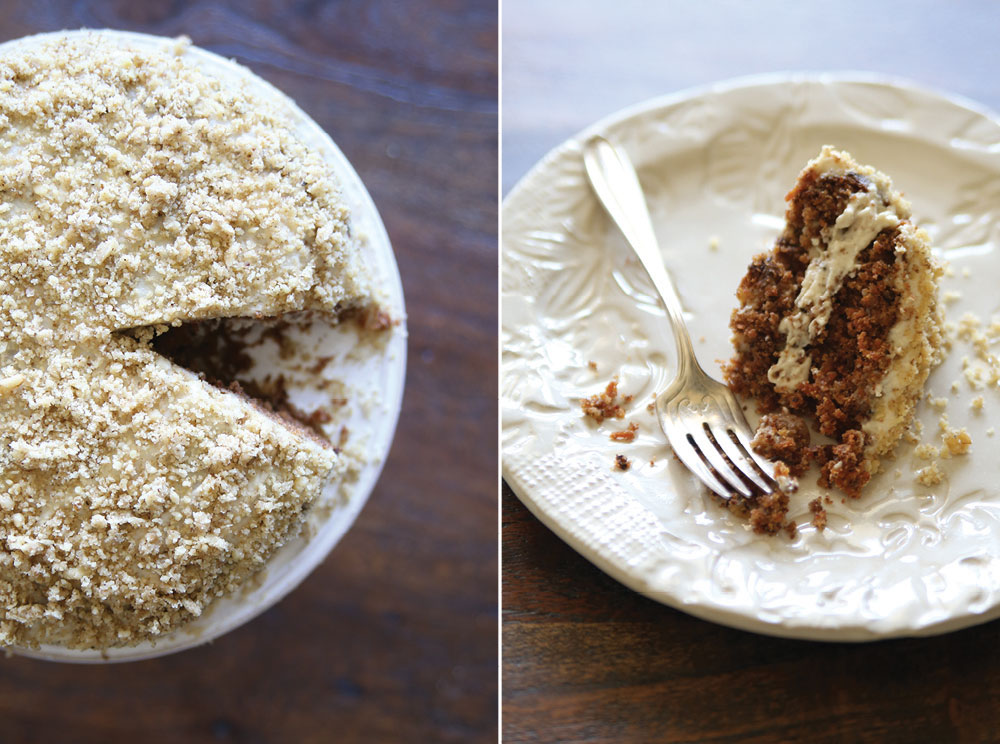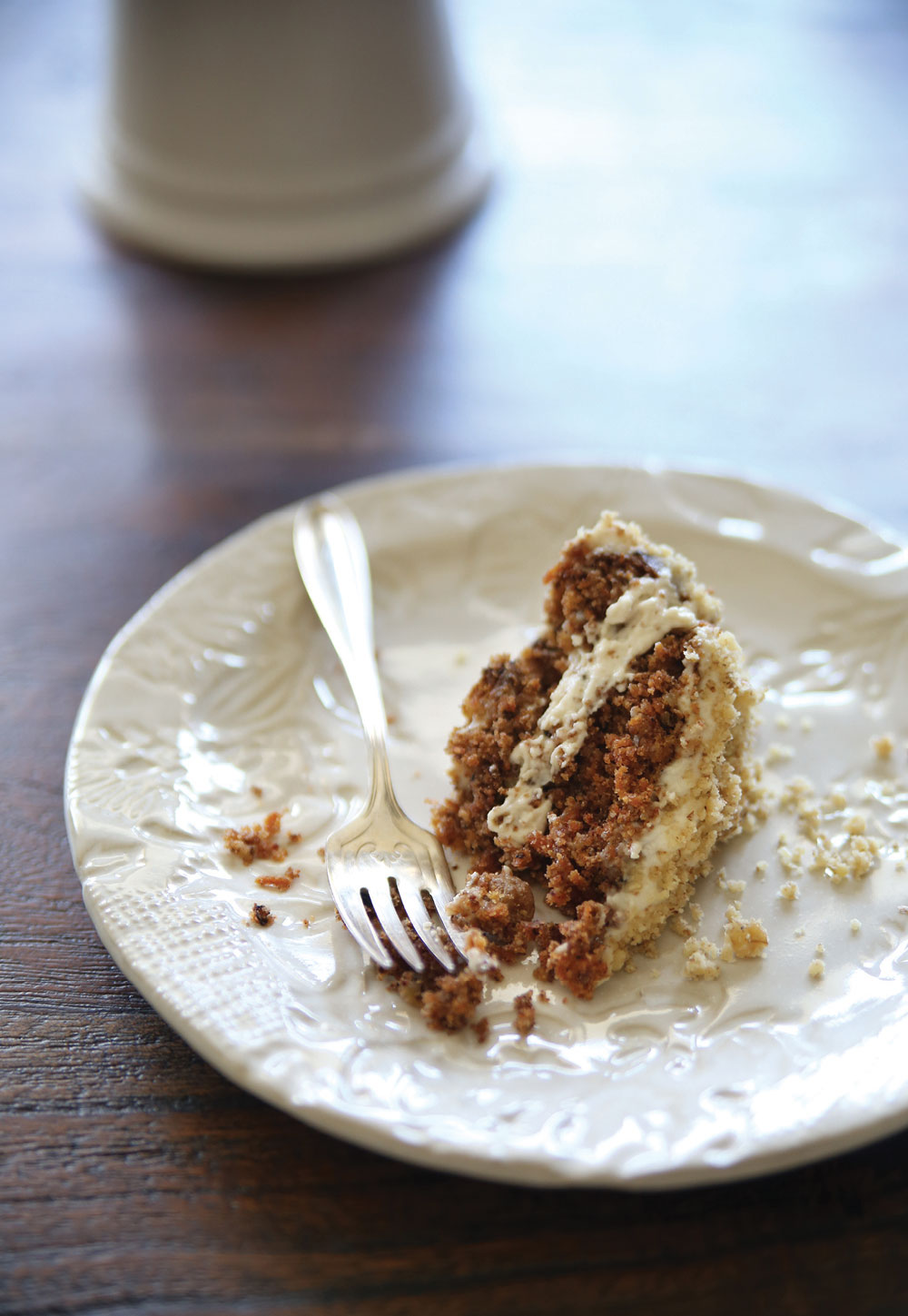 I hope you'll enjoy this delicious Healthy Carrot Cake soon! It was such a treat with our whole family. And it was even more delicious the next day as the flavours really saturated the cake! Ahhh… wish I could be eating it right now as I type this ;)
I can't wait to hear what you think! Don't forget to share your Pure Ella creations on Instagram and tagging me with #pureella to see it! (Please make sure you tag it otherwise I won't see it and I LOVE to repost my favourites!)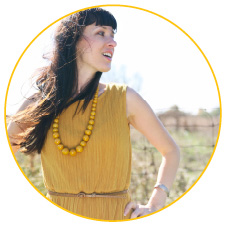 Ella Leché
is a cookbook author ('
Cut the Sugar
'), recipe developer, and photographer/stylist behind Pure Ella; where she shares delicious and healthy recipes. Eating PURE is clean ingredients, whole foods, plant-based nourishment and delicious desserts – with quality ingredients and sweeteners so they're treats with benefits so you won't have to feel deprived or restricted to eat healthier.
Thank YOU for being here!
Follow on social media for daily health & happiness inspiration:

ps. don't forget to share your Pure Ella (PE) recipe creations by tagging them #pureella and
@pure_ella
on Instagram – we repost our favourite photos!