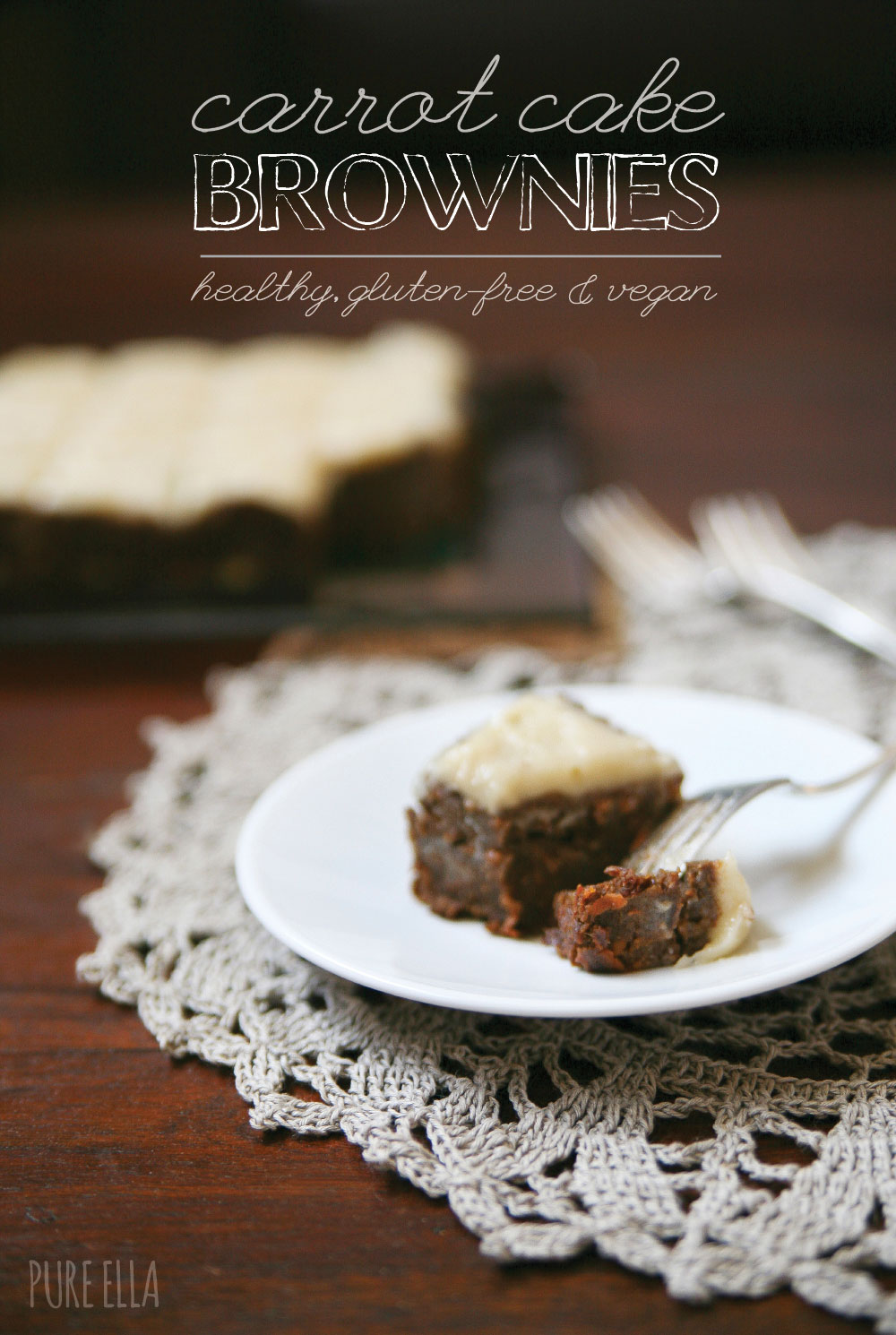 Hello my friends!
I think the Easter Holiday always brings in a little craving for something with carrots! Does it not? I guess we have to thank all the bunnies for this inspiration…. and I don't mind at all, neither does my family ;)
This year I knew I had to make something with carrots for our Easter dessert table – but everyone wanted brownies in my family…. so a new idea was born that I could make everything with the flavour of a Carrot Cake but with the richness and moistness of Brownies! So this is the result of what I ended up making – Carrot Cake Brownies – the biggest highlight of our dinner! I had no idea they would be so popular with my family but everyone cleaned off the serving dish in no time. (No leftovers even! You know it's good stuff when there's not a crumb left in sight…. maybe it was the Easter bunny?? ;)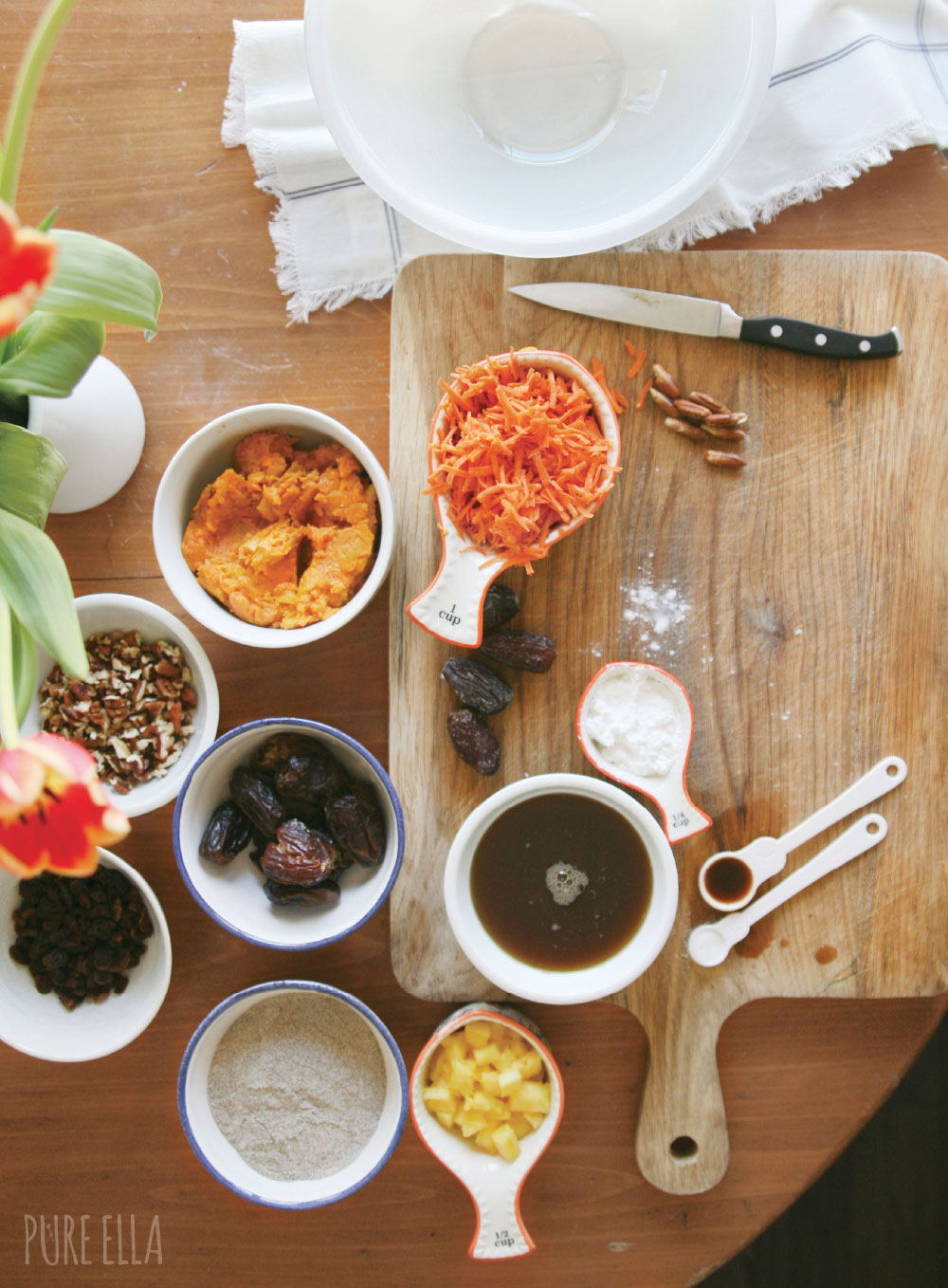 Carrot Cake Brownies : healthy, gluten free, vegan and refined sugar free
Ingredients :
1 1/2 cups organic sweet potato puree
1 1/2 cups medjool dates (about 15 dates)
1/2 cup maple syrup
3/4 cups buckwheat flour
1/4 cup potato starch
1 1/2 teaspoons vanilla extract
1/4 teaspoon fine sea salt
1 cup grated organic carrots
1/2 cup raisins
1/2 cup fresh pineapple, chopped fine
1/2 cup pecans or walnuts, roughly chopped
Directions :
First clean and peel about 2 large sweet potatoes, dice them into chunks and boil until fully cooked. Strain and set aside to cool.
Preheat the oven to 350F and line a baking pan, about 8″x 8″ with parchment paper.
Meanwhile, peel and grate about 2 medium carrots and set aside.
In a food processor, process the pitted dates until a smooth paste forms. If your food processor does better with a little liquid, process them with the maple syrup until completely incorporated and smooth.
You can continue mixing in all the ingredients (except the last 4) in the food processor or you can move the date paste into a mixing bowl and continue mixing all the ingredients with a wooden spoon in the bowl. (I only processed the dates and then had my daughter combine the rest of the ingredients in a bowl – this was so much fun!)
Combine all the ingredients and mix throughly. Scoop into the baking pan and even out the top with the back of the spoon.
Bake at 350F for about 45-50 minutes. Once baked, move onto a cooking rack and allow to fully cool before topping with the Vegan Cream Cheese Frosting. (great to bake it one day beforehand)
Vegan Cream Cheese Frosting : dairy and egg free/ vegan and gluten-free
Ingredients :
1 cup raw cashews, soaked for at least 2 hours
1/2 cup organic vegan margarine (I used Earth Balance Coconut Spread)
1/3 cup organic powdered sugar
1/3 cup powdered stevia
1/2 teaspoon vanilla extract
1 tablespoon lemon juice
Directions :
First, soak the raw cashews for at least two hours at room temperature or in the refrigerator if overnight. Rinse and strain them well before working with them.
In a food processor, process the raw cashews until fine crumbs form, about 5 minutes. Add in all the rest of the ingredients and continue mixing until a very smooth paste forms, another 5 more minutes. Be sure to turn off the machine and scrape down the sides to incorporate all the ingredients into the smooth paste.
Scoop the Vegan Cream Cheese Frosting on the already cooled Carrot Cake Brownies. Serve and enjoy!
This cake stays fresh for up to 3 days (if it lasts this long). Store in an airtight container in the refrigerator.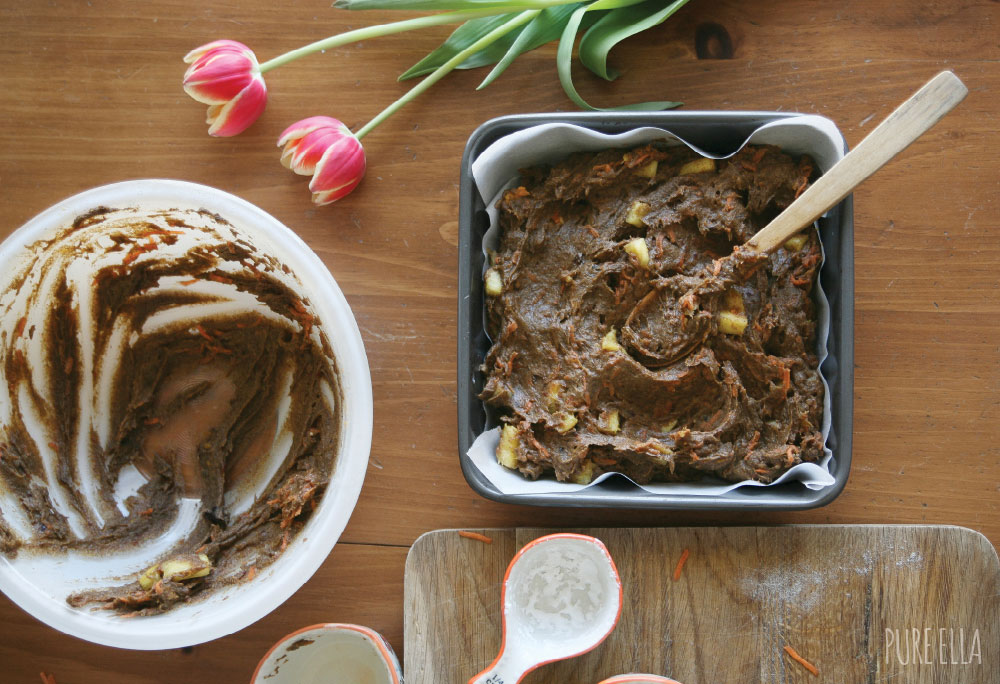 Carrots are such a gem when you think about it! Ok, I know that carrots aren't up there in the superfood category – but why not? They are loaded with so much goodness – Vitamin A and C and beta carotene – a real 'beauty' food too as all these nutrients are great for the skin! And there are the Sweet Potatoes – which are also loaded with beta carotene, are low glycemic and are very healthy.
Seriously, can these ingredients not get any better? I think not! The this really tastes amazing! You would have to try it to believe it ;) My family who are not on any special diets or restrictions enjoyed this cake so much! They could not believe these delicious Carrot Cake Brownies were so healthy, gluten-free, grain-free, egg-free and dairy-free!
I hope you enjoy these Carrot Cake Brownies very soon! It was so great to see non-vegan and non-gluten-free folks enjoy these so much!
That's what I love about vegan and gluten-free baking, everyone enjoys the goodies and they all feel good about what they eat! Everyone's happy at the end ;)
Pure Ella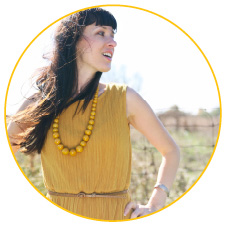 Ella Leché
is a cookbook author ('
Cut the Sugar
'), recipe developer, and photographer/stylist behind Pure Ella; where she shares delicious and healthy recipes. Eating PURE is clean ingredients, whole foods, plant-based nourishment and delicious desserts – with quality ingredients and sweeteners so they're treats with benefits so you won't have to feel deprived or restricted to eat healthier.
Thank YOU for being here!
Follow on social media for daily health & happiness inspiration:

ps. don't forget to share your Pure Ella (PE) recipe creations by tagging them #pureella and
@pure_ella
on Instagram – we repost our favourite photos!
Summary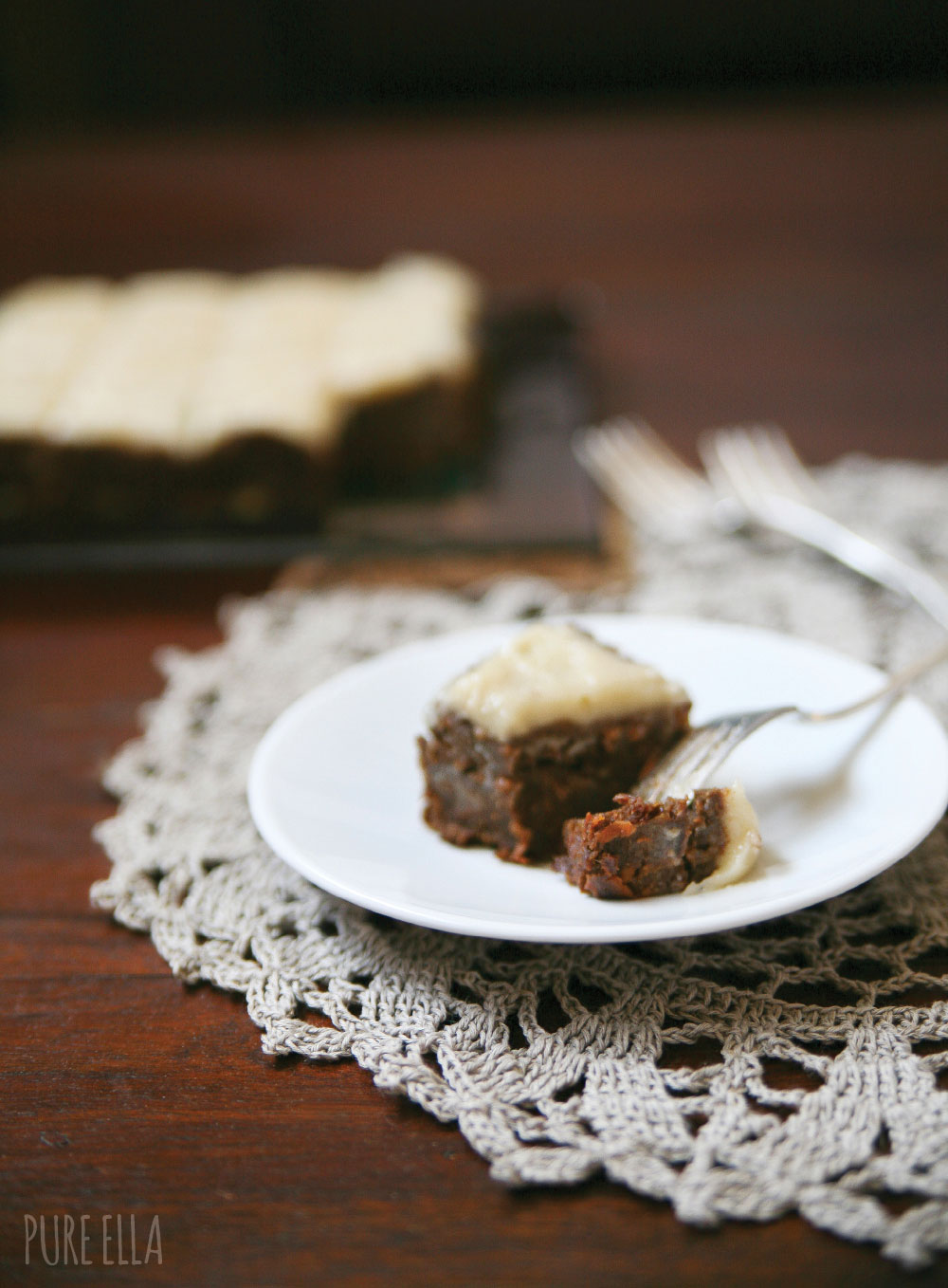 Recipe Name
Published On
Preparation Time
Cook Time
Total Time