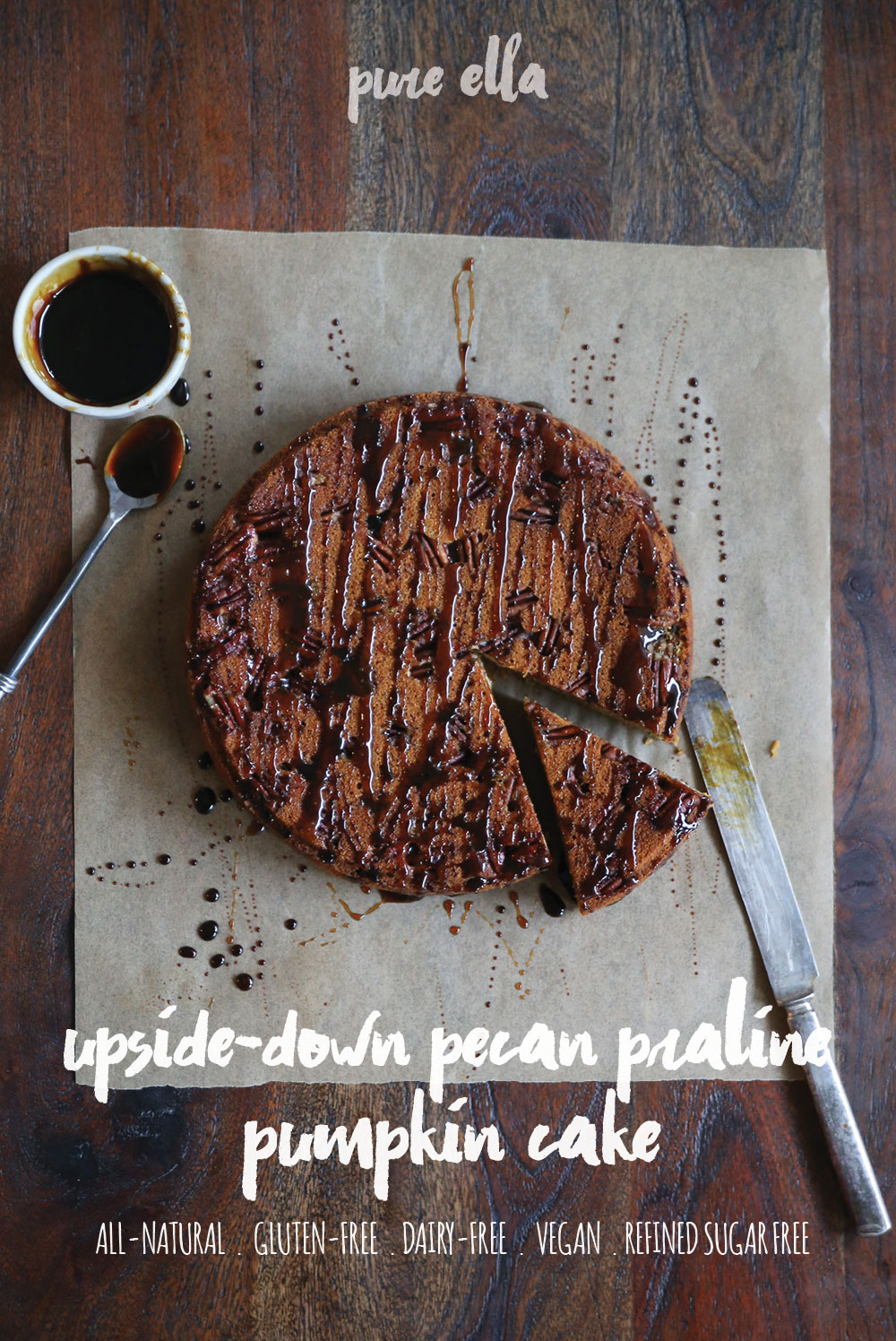 If you're wanting the perfect dessert for this time of the year…. this Upside-down Pecan Praline Pumpkin Cake is amazing!! It is aromatic, rich and flavourful. I also made this cake gluten-free, dairy-free and vegan and it was won over by some gluten-eating non-vegan folks too!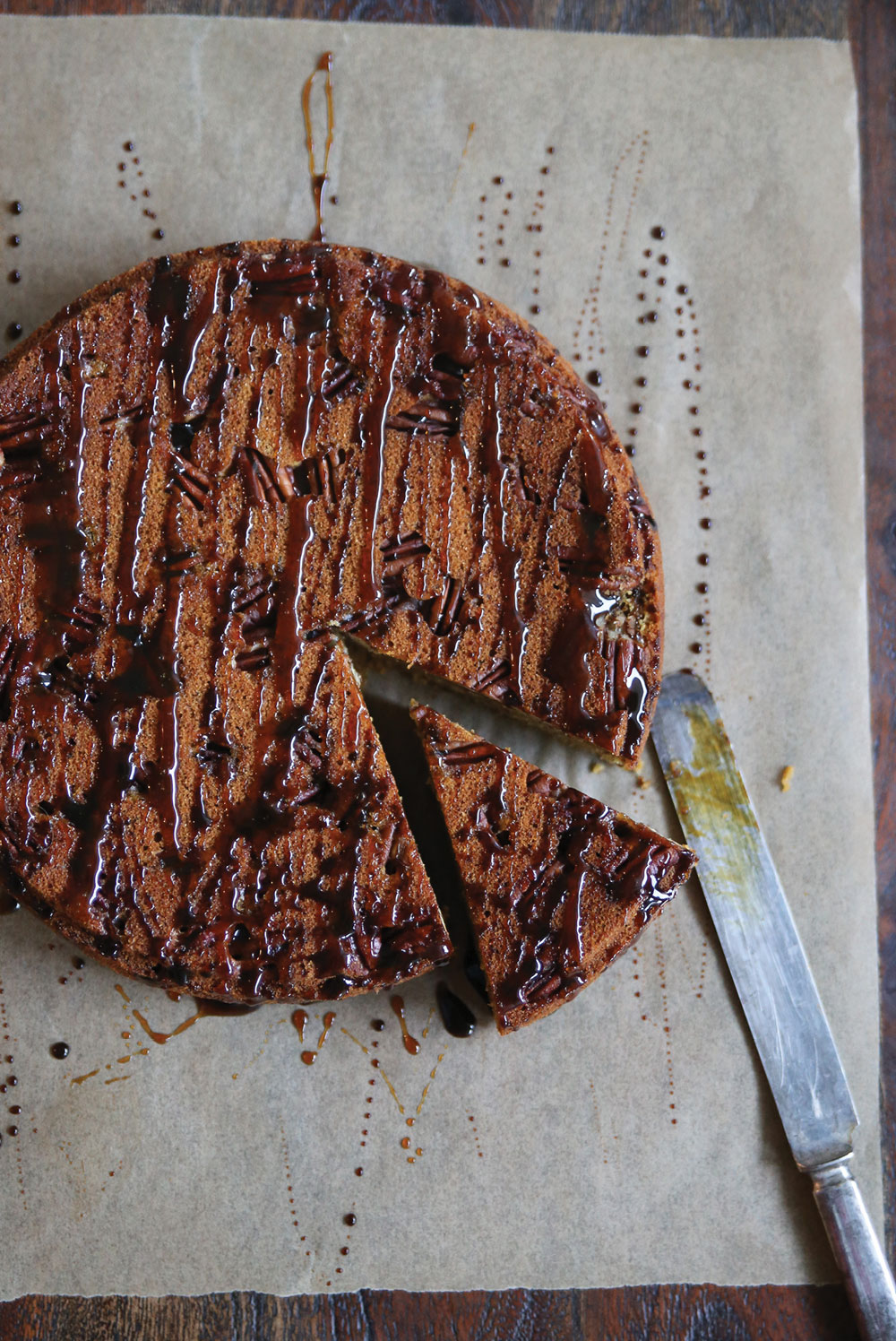 Upside-down Pecan Praline Pumpkin Cake
gluten-free, dairy-free, egg-free, vegan



prep time: 10 minutes  bake time: 40 minutes  serves 6-8
Ingredients:
2 tablespoons ground flax seeds
1 3/4 cups all purpose gluten-free flour or light spelt flour
2 teaspoons baking powder (aluminium free)
1 teaspoon ground cinnamon* 0r use pumpkin spice
1/2 teaspoon nutmeg* or use pumpkin spice
1/4 teaspoon fine sea salt
3/4 cup coconut palm sugar or raw cane sugar
1/2 cup almond milk or coconut milk
1 cup pumpkin puree (canned organic pumpkin is fine)
1/3 cup melted coconut oil or grape seed oil
2 teaspoons vanilla extract
1 teaspoon apple cider vinegar
4 tablespoons maple syrup or other natural liquid sweetener
1 cup + pecan halves or pine nuts
DIRECTIONS :
Preheat oven to 350F. and grease an 8″ d pan (spring form pans work great too).
Drizzle the maple syrup on the bottom and spread out a single layer of pecan halves on the bottom of the pan. Set aside.
In a large bowl, mix the ground flax seeds with water and set aside.
In a medium bowl, combine the dry ingredients: flour, baking powder, spices and salt and set aside.
Into the flax seed mixture – add in sugar, milk, pumpkin puree, oil, vanilla extract, ACV and mix to combine well.
Pour in the liquid mixture into the dry ingredients and mix gently to combine the ingredients well.
Pour over the pecans and place in the oven.
Bake for about 40 minutes at 350°F or until a toothpick comes out fairly dry on top.
Remove from the oven and allow to cool on a cooling rack 15 to 30 minutes before serving.
Serve once cooled or refrigerate and this cakes tastes great the next day.
Top with Molasses Caramel before serving. (I added more molasses to this version to make the caramel a bit darker).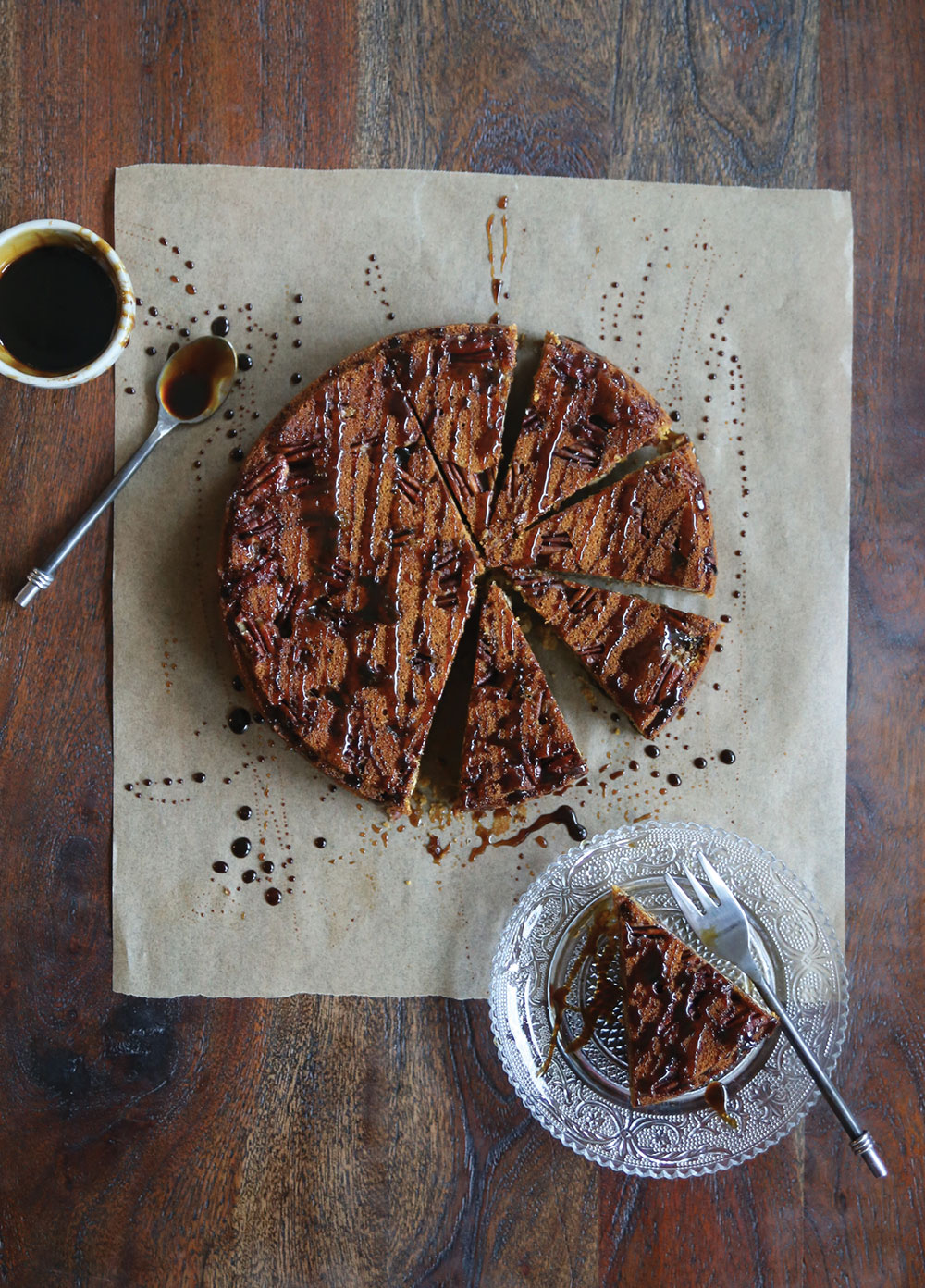 The Pecan Praline 'top' (even though you make it on the bottom) rocks this cake! It gives it crunch and such an amazing flavour boost to the cake! (However, it makes the cake harder to slice when eating so just be mindful that you're forking into a nut-layered top – if this would bother you, drown the pecans into the batter or don't flip the cake, just keep the nuts on the bottom and it will be wonderful too of course.
But I loved it being upside down – the texture on the bottom of the cake with the pecans peeking through was just too beautiful not to feature – so I made the call and flipped it upside down. The layer of the pecans are just wonderful too – you substitute for 1 cup of pine nuts.
Also, I served this cake the next day after it stayed in the fridge overnight and it was so moist and rich – it had a bit of a 'brownie' richness and every bite was amazing. This cake is actually preferred next-day-from-the-fridge.
And what to do with that left over molasses from last year or two years ago?? Good thing this crap doesn't expire. (Just make sure you store molasses in a glass mason jar in the fridge for up to 5 years.)
The Molasses Caramel topping was a win from my Superfood Healthy Pumpkin Breakfast Bars – so I used it again because I knew it would be the perfect compliment to these flavours. I just changed the proportions a bit and used more molasses to get a darker colour ~ it was wonderful and also much healthier than regular old caramel which is just processed cooked sugar. So… this is definitely a must-try recipe.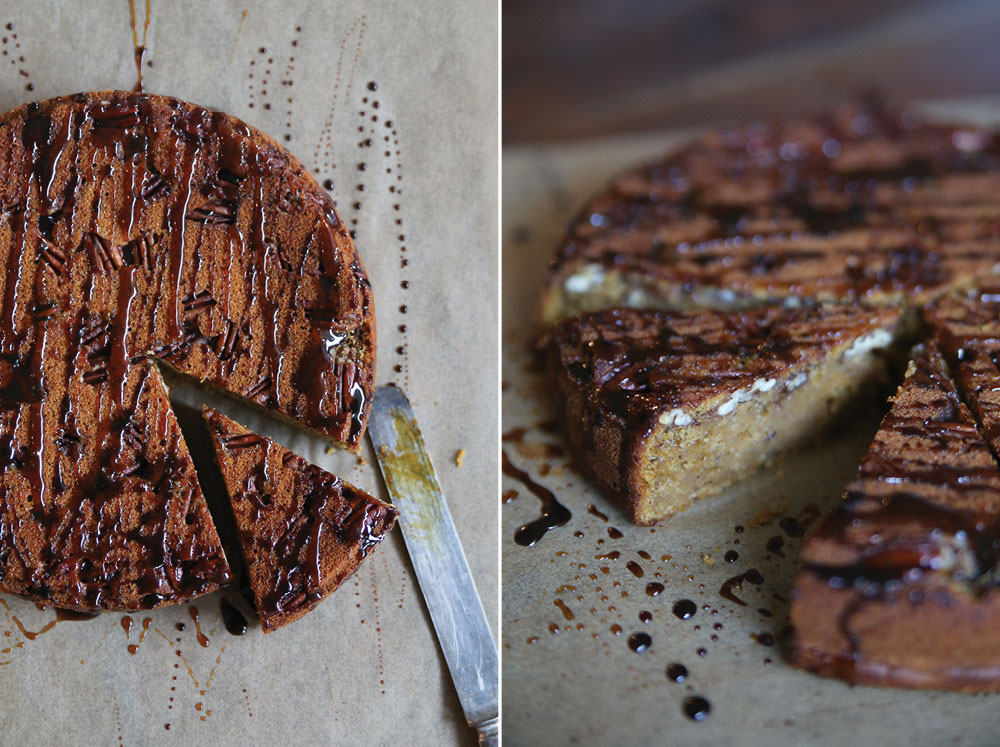 I hope you'll enjoy this amazing Pumpkin Cake soon too, I know I'll be making it soon because I just can't live without that deliciousness every time I have a Chai tea I miss this so much! :)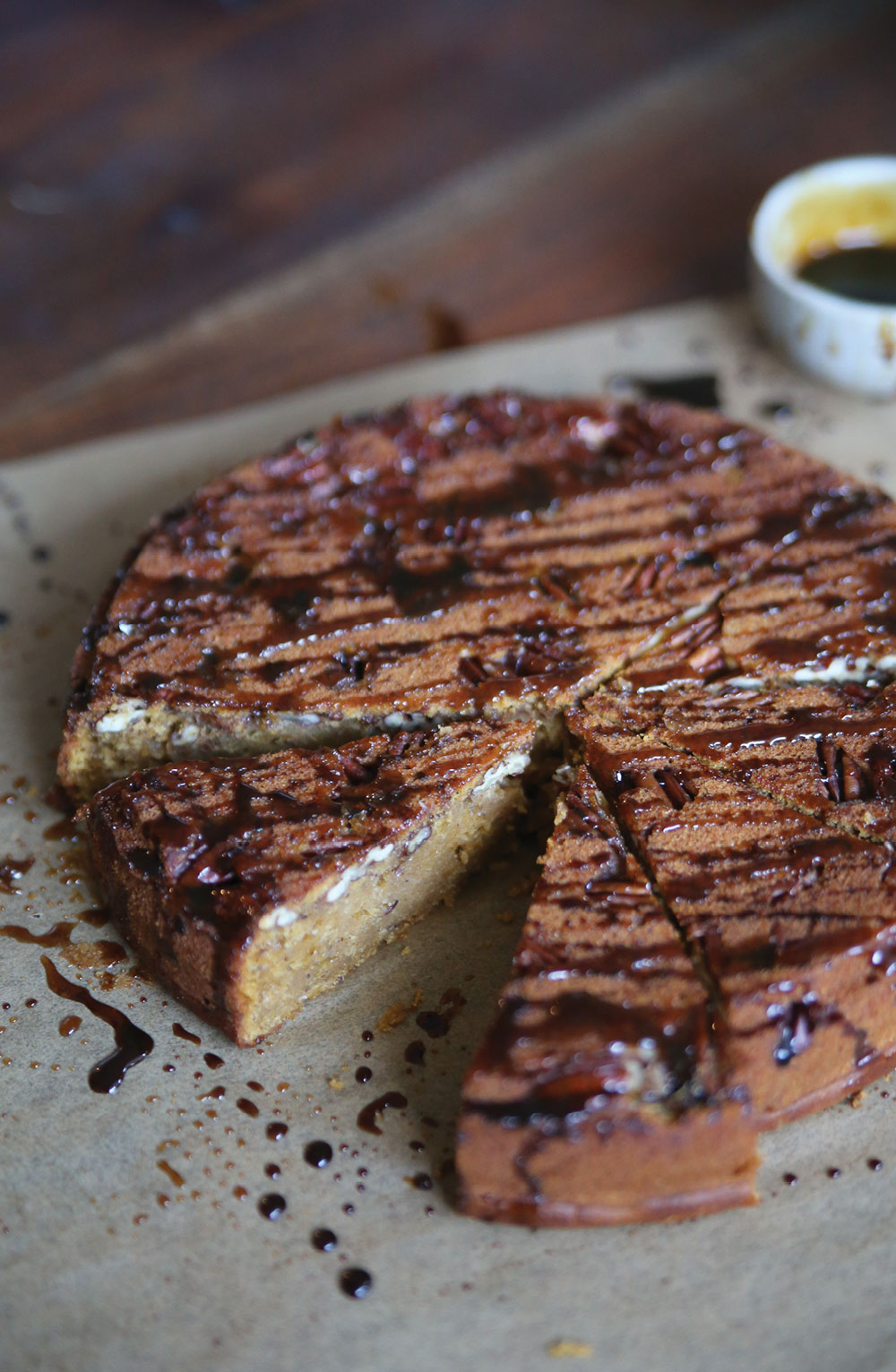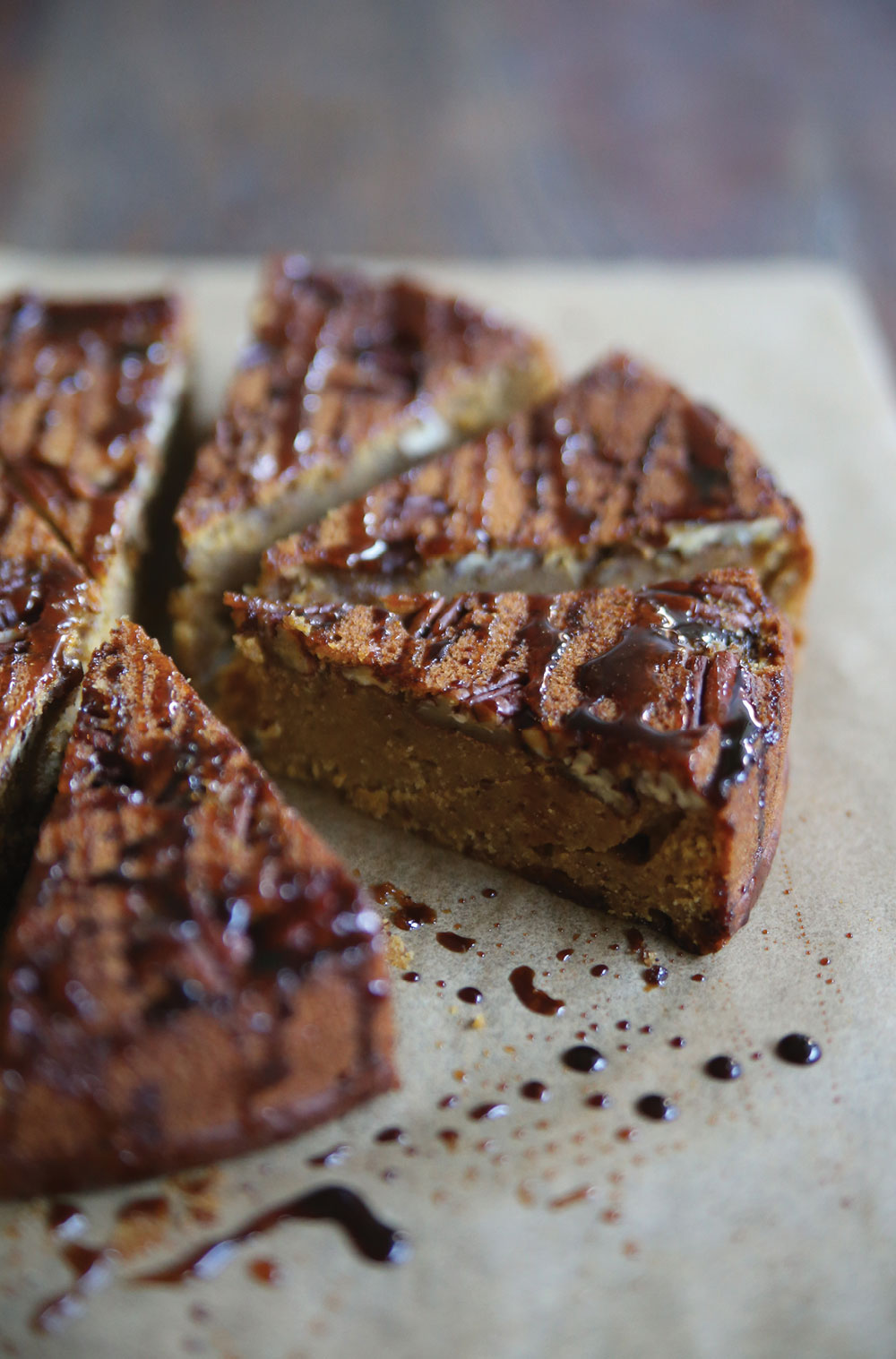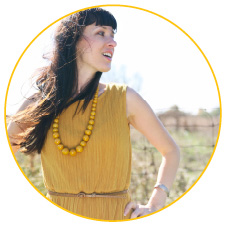 Ella Leché
is a cookbook author ('
Cut the Sugar
'), recipe developer, and photographer/stylist behind Pure Ella; where she shares delicious and healthy recipes. Eating PURE is clean ingredients, whole foods, plant-based nourishment and delicious desserts – with quality ingredients and sweeteners so they're treats with benefits so you won't have to feel deprived or restricted to eat healthier.
Thank YOU for being here!  
Follow on social media for daily health & happiness inspiration:

  ps. don't forget to share your Pure Ella (PE) recipe creations by tagging them #pureella and
@pure_ella
on Instagram – we repost our favourite photos!