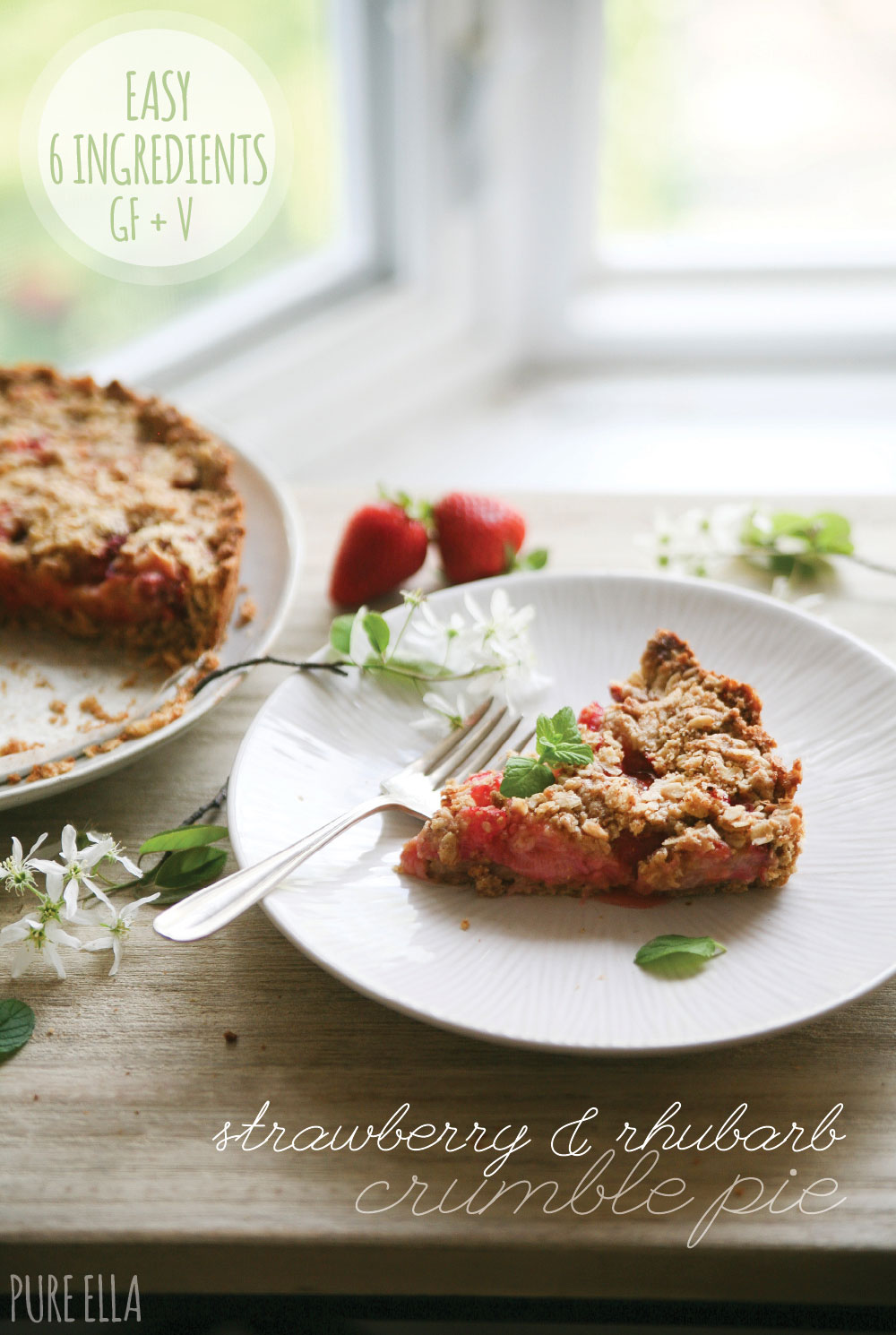 Spring is finally here! So I think it's time for a Strawberry Rhubarb Crumble Pie My favourite dessert this time of the year. It's gluten free and vegan and it's just SIX INGREDIENTS that make for an amazing dessert.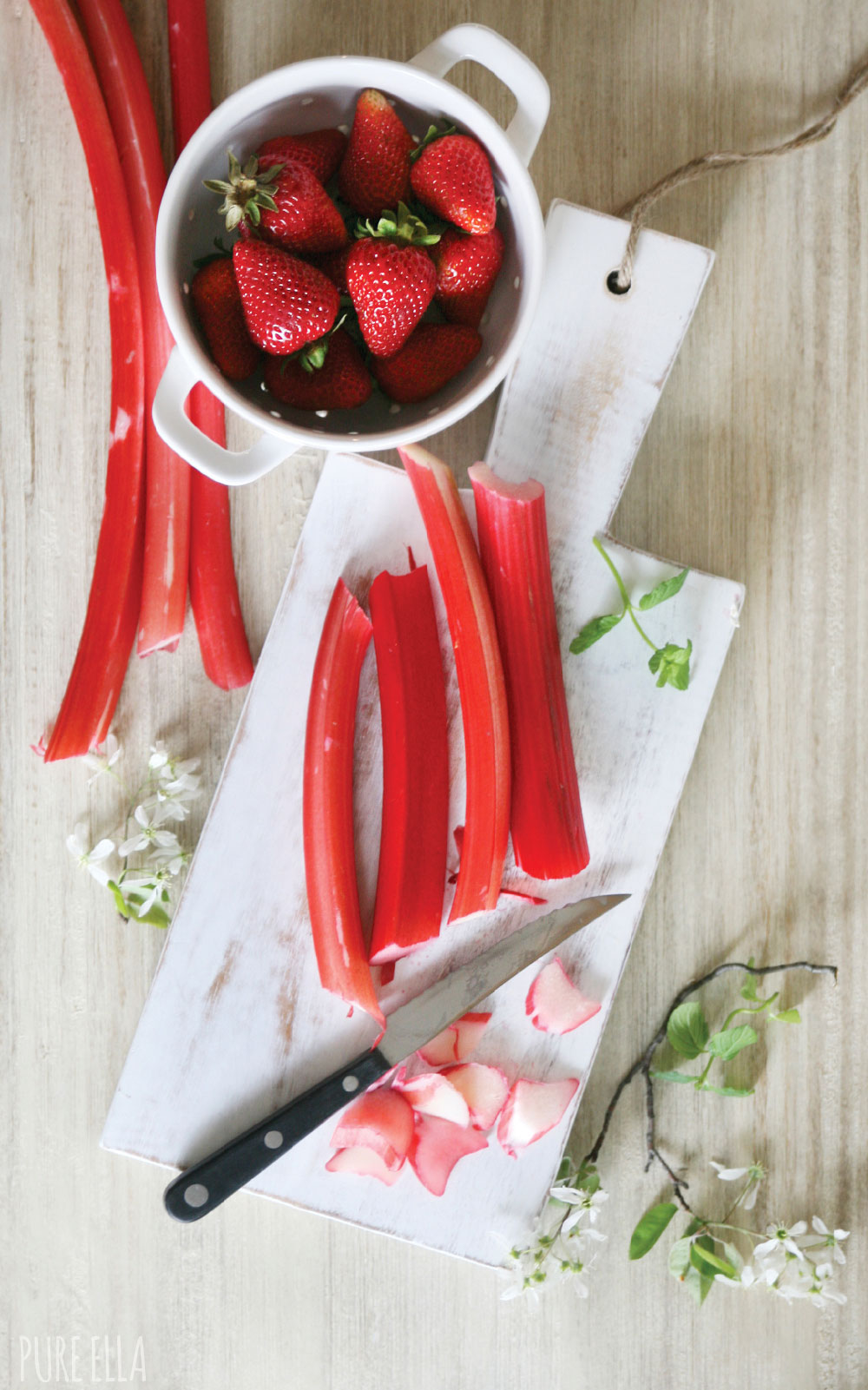 And the days are warm and perfect with gentle breezes and a rebirth of colour outside ~ pops of lush greens and flower buds so pretty…. each year I forget how beautiful this season is.
Of course, when there's so much beauty outside… you can't help it but to shift with the seasons and bring Spring to the table….
I love cooking with seasonal foods and when we finally get the first crops of the growing season and our Canadian soil bursts with fresh fruits and vegetables – me and my kitchen could not be happier;)
And of course, you can't have Spring without a Strawberry and Rhubarb pie, can you?
Real Spring tastes were on my mind and I didn't want to reinvent the wheel…. sticking to the classics is sometimes the best thing on earth!
The sweetness, the tartness in this pie is heavenly…. and it's so easy to put together, just 6 ingredients and you're baking from scratch an amazing Strawberry and Rhubarb Crumble Pie that's naturally gluten-free and vegan (dairy-free and egg-free) ~ and really healthy actually as all the ingredients are pure and organic.
And it's Easy as pie! Promise ;)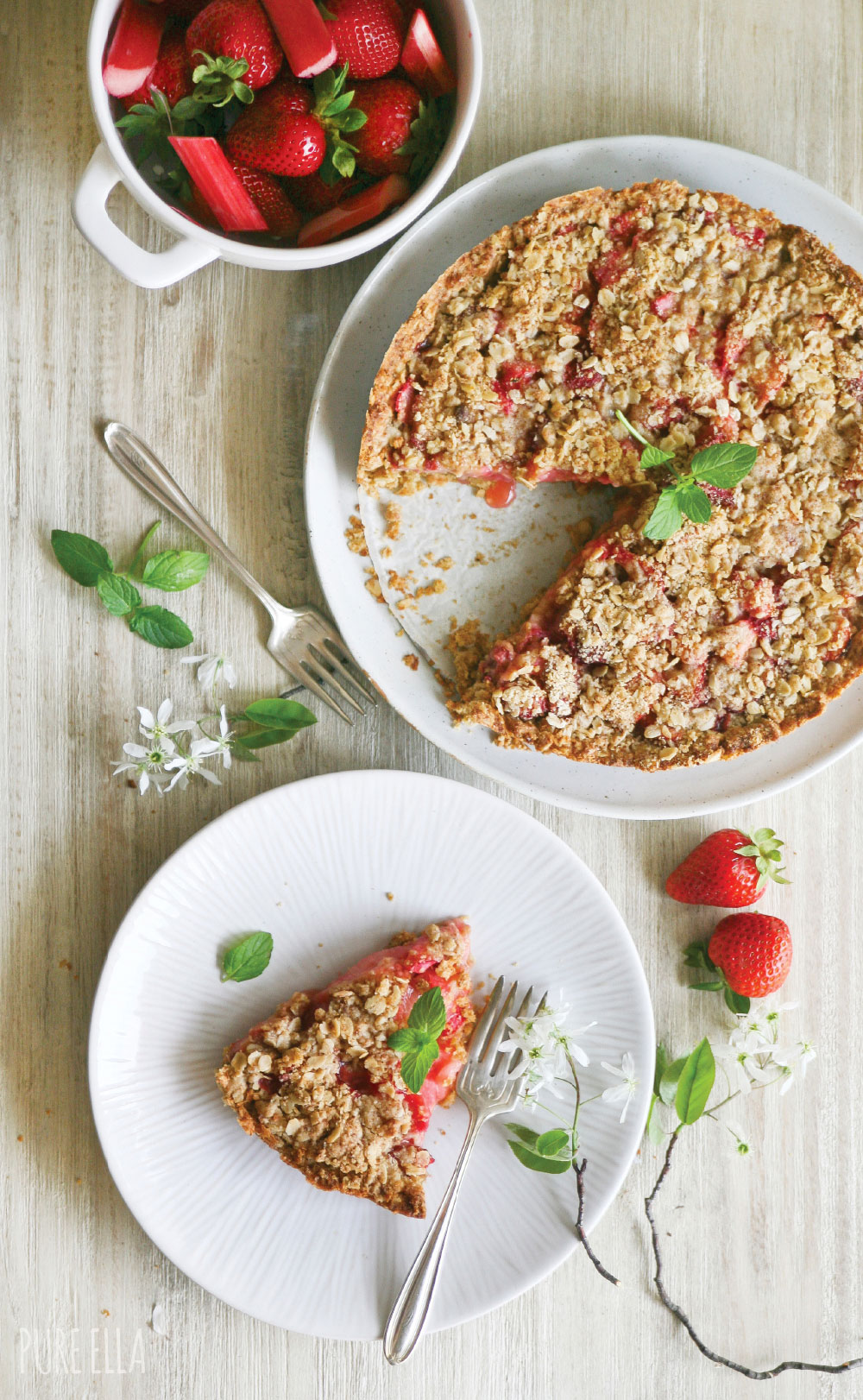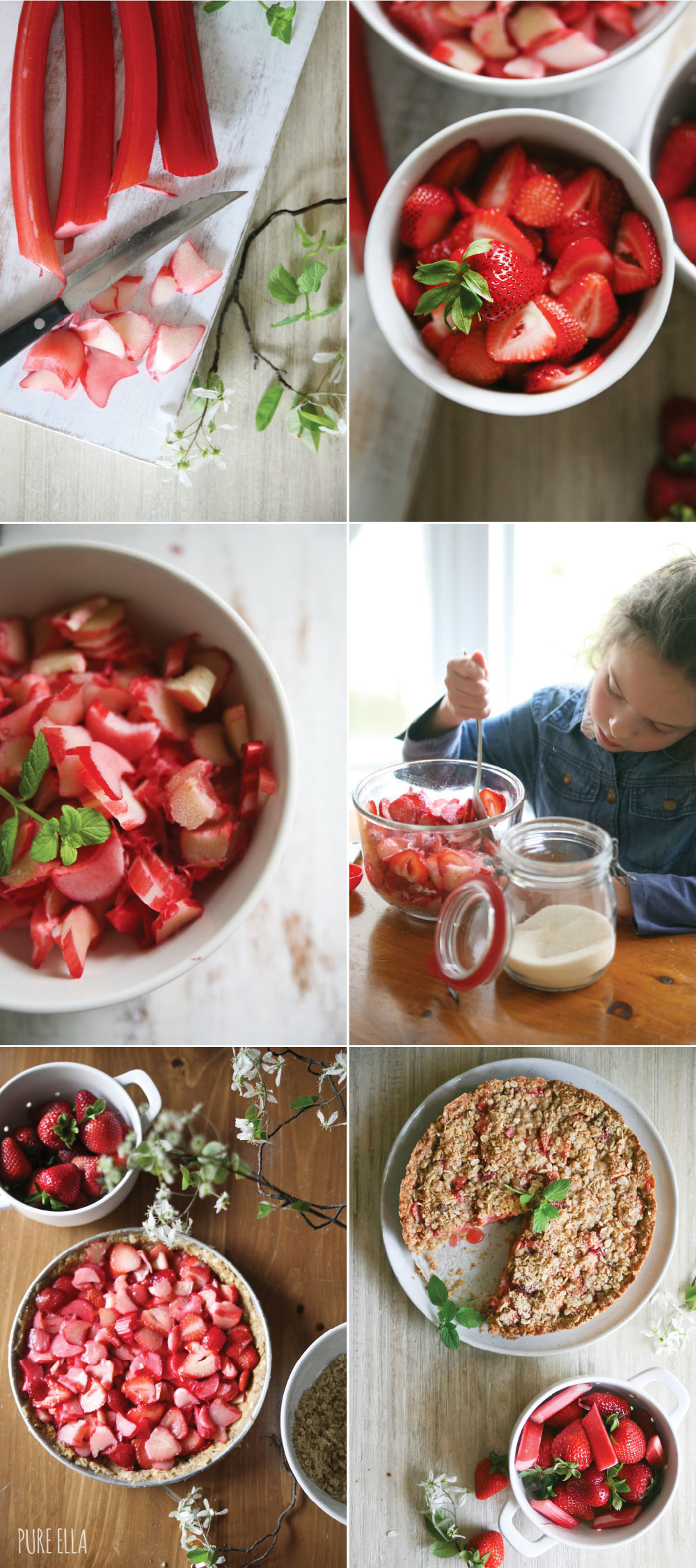 My daughter was really excited about seeing rhubarb sticks ;)
I guess she's never had fresh rhubarb and I quickly introduced her to the exact way I ate it as a child…
(maybe it's not the healthiest thing to do…. but it was so good and so fun!)
When I was little, I would pick a fresh stalk of the rhubarb plant and bring that to the kitchen and I would find our sugar bowl…. dip the end in… and savour the sweet/ tart taste…. this was sooo good! And while I watched my daughter's excitement in her wide eyes at every bite she took brought back those memories…. she of course loved it too! I have her a little 'controlled portion' of organic raw cane sugar (better than white sugar of course + besides we don't even own white sugar anymore) and she enjoyed every bite!
Now I'm looking for rhubarb plants to grow in my garden because this would be something wonderful to look forward to every spring…. ok, now back to the pie… ;)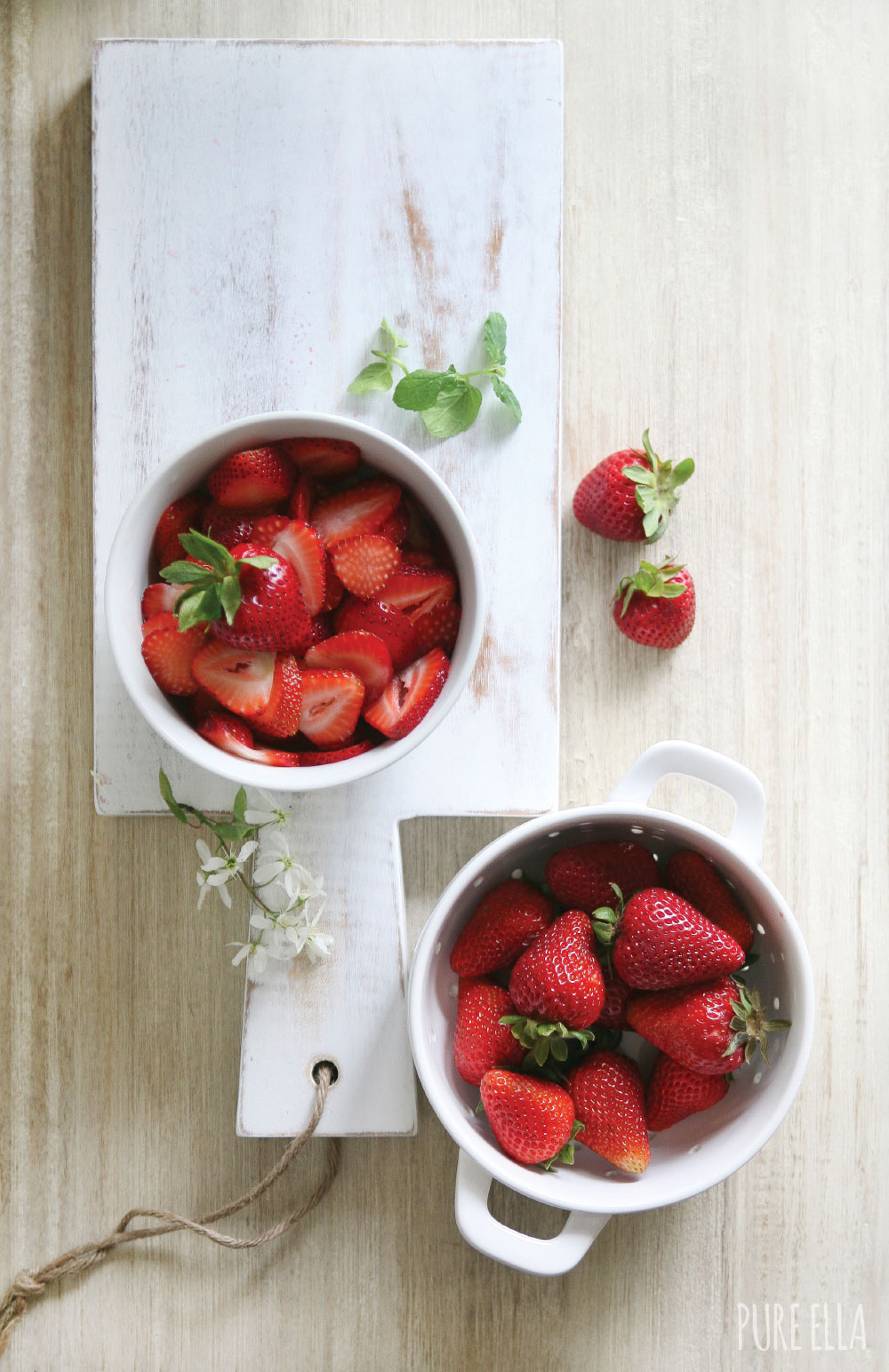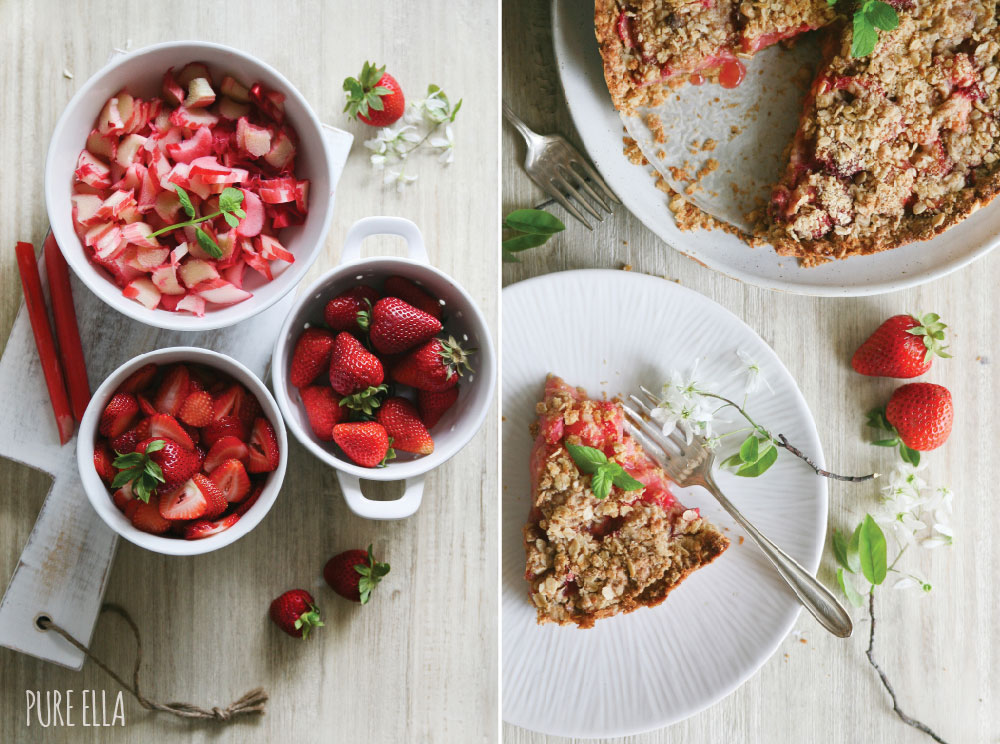 Strawberry & Rhubarb Gluten-free Crumble Pie
gluten-free, dairy-free, egg-free/ vegan, all natural
Ingredients :
1 cup gluten-free all-purpose flour
1 cup oats rolled or quick oats (not instant)
1/2 cup raw cane sugar (or 1/4 raw cane sugar + 1/4 coconut sugar)
3/4 cup organic vegan margarine
2 cups sliced organic strawberries
2 cups sliced rhubarb
+ 3 tablespoons of water
Directions :
Preheat oven to 350F and prep a baking pie dish with parchment paper.
In a large bowl, combine all the dried ingredients (first 3). Add in cold margarine and using a dough cutter or a knife keep slicing through the margarine to combine with the dry ingredients. The texture should start to look very crumbly and the size of the margarine bits should be very small. Once only crumbs remain, remove about 1 1/4 cup of the mixture onto a small bowl and set aside.
Add 3 tablespoons of water into the large bowl with the crumbs and gently mix to for a dough. Do not overmix. Once the ingredients form into one piece, simply scoop out the dough onto the baking pie dish. Start pressing down the dough with your fingers to cover the full base. If the dough is too crumbly, wet the tips of your fingers with extra water and press down. If the mixture is too wet, simply dust the top with a little extra all-purpose flour and continue pressing. Don't forget to go up onto the sides of the pie dish to form sides – this will prevent the juices from flowing out.
In another bowl, mix the sliced strawberries and rhubarb together with additional 3 tablespoons of raw cane sugar (up to 1/4 cup ~ depending on the sweetness desired).
Spread out the fruit on top of the pie crust and even out the top.
Back to the 'crumble' that's set aside, add 2 more tablespoons of raw cane sugar, mix to combine and sprinkle on top of the pie evenly.
Place in the preheated oven and bake for about 30-40 minutes. Top should be nice and golden. (my baking time was exactly 35 minutes)
Remove from oven and allow to cool for about 20 minutes minimum before serving.
This pie is lovely still warm from the oven, just as it's great the next day straight from the fridge – you decide! ;)
Notes :
If serving for brunch and you don't want it too sweet, you can omit the extra sugar in the crumble topping or in the fruit – but it definitely kicks up the 'dessert' level if you do include a little more sugar. Especially when working with the tartness of the rhubarb, it sort of needs it…. although I do like my desserts on the low sweet end. Essentially it's up to you decide on the sweetness level. If making it as an evening after-dinner dessert, then the extra sweetness is lovely… unless you add a scoop of vanilla ice cream on the side – then that would certainly balance things out! I think you know what's best to keep your taste buds happy ;)
Alternatively, you could mix in some Stevia also, this recipe however was not tested with Stevia, but instead of adding in the extra sugar, you could sub in for Stevia.
Also, when serving warm, do keep in mind that this pie will fall apart a little…. tossing extra sliced strawberries will work with the imperfect style… If you do chill the pie for at least 2 hours or overnight in the refrigerator, it will firm up and each slice will stay together when slicing and serving. Just a few things to keep in mind ;)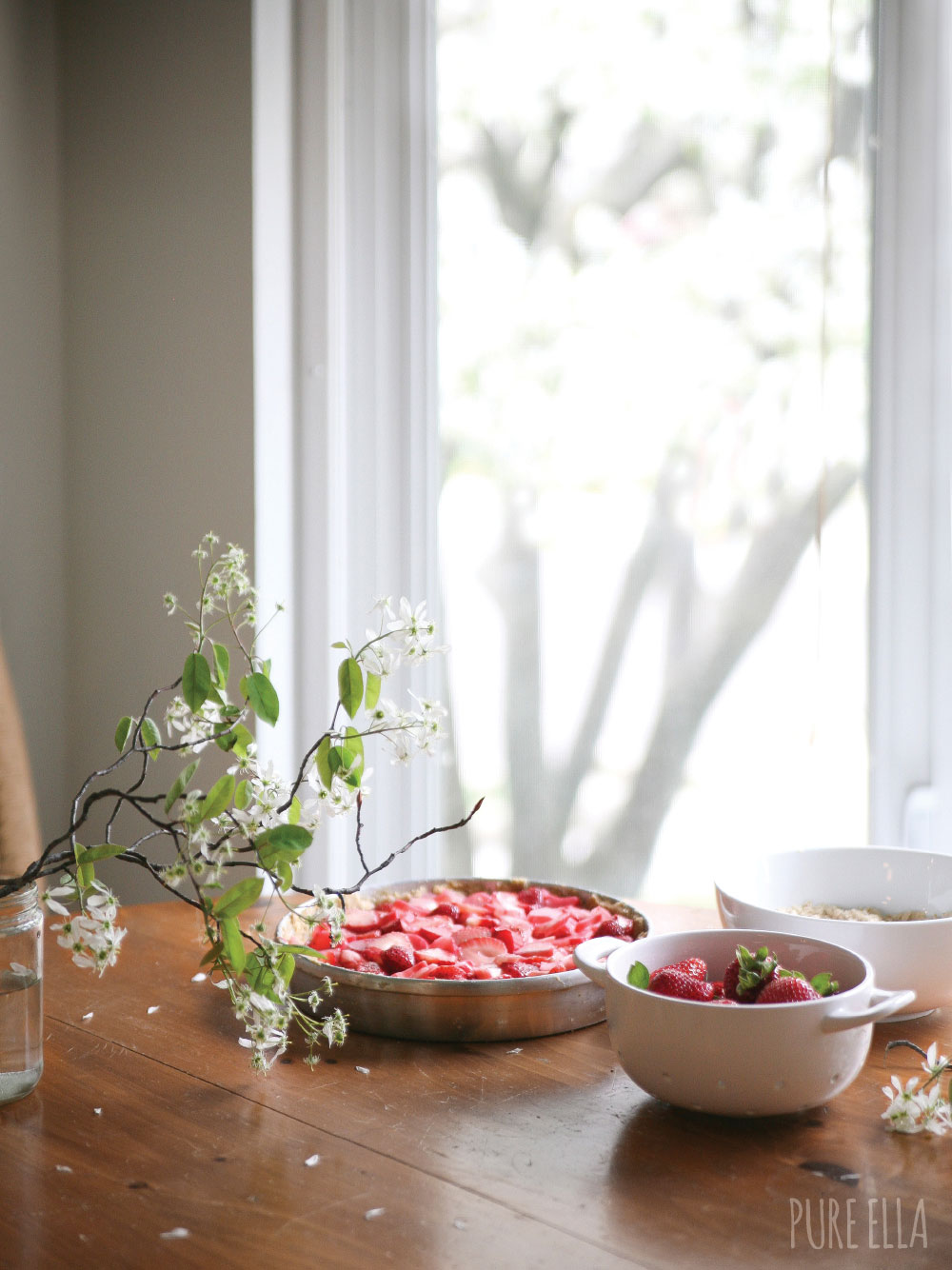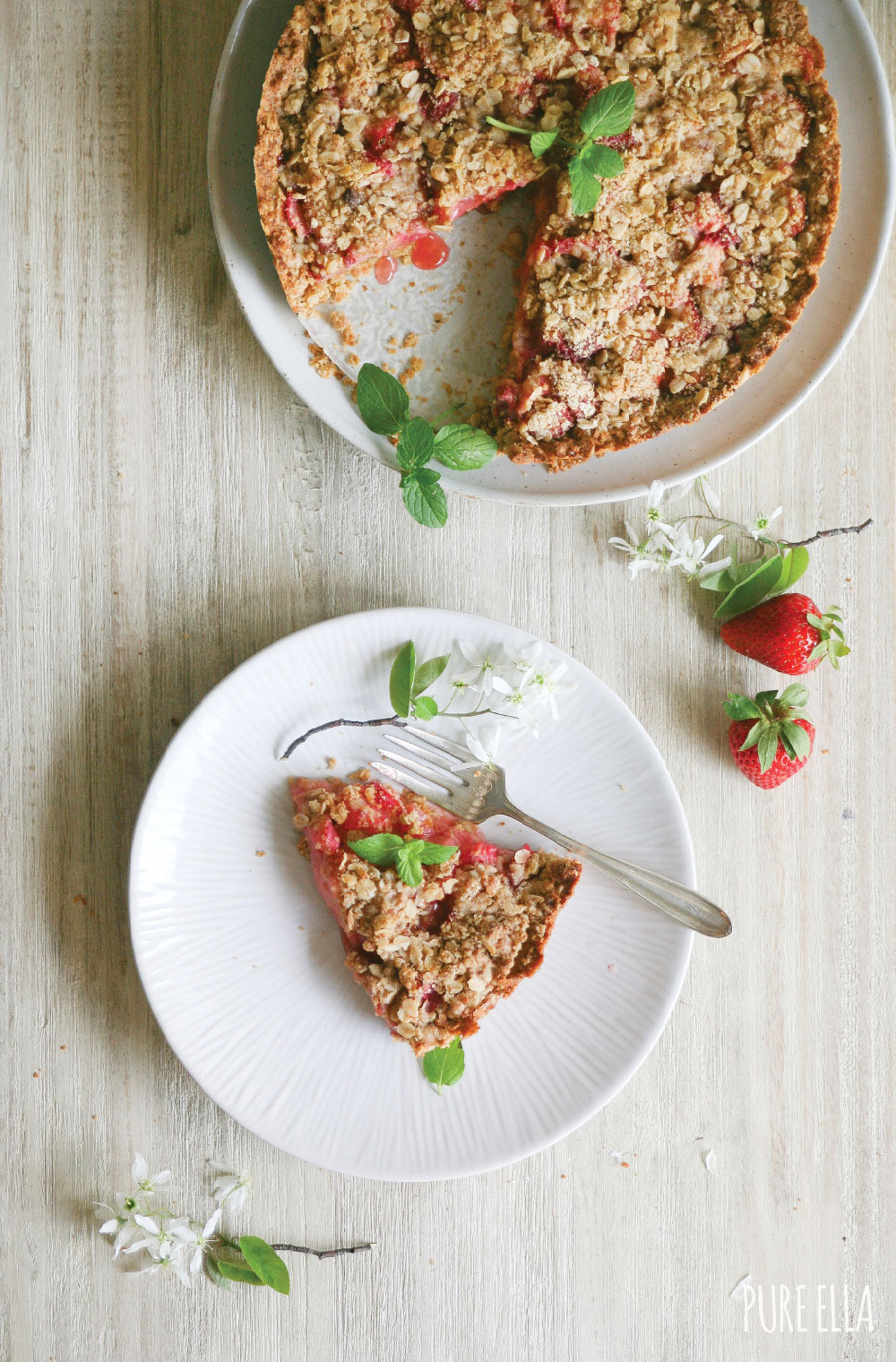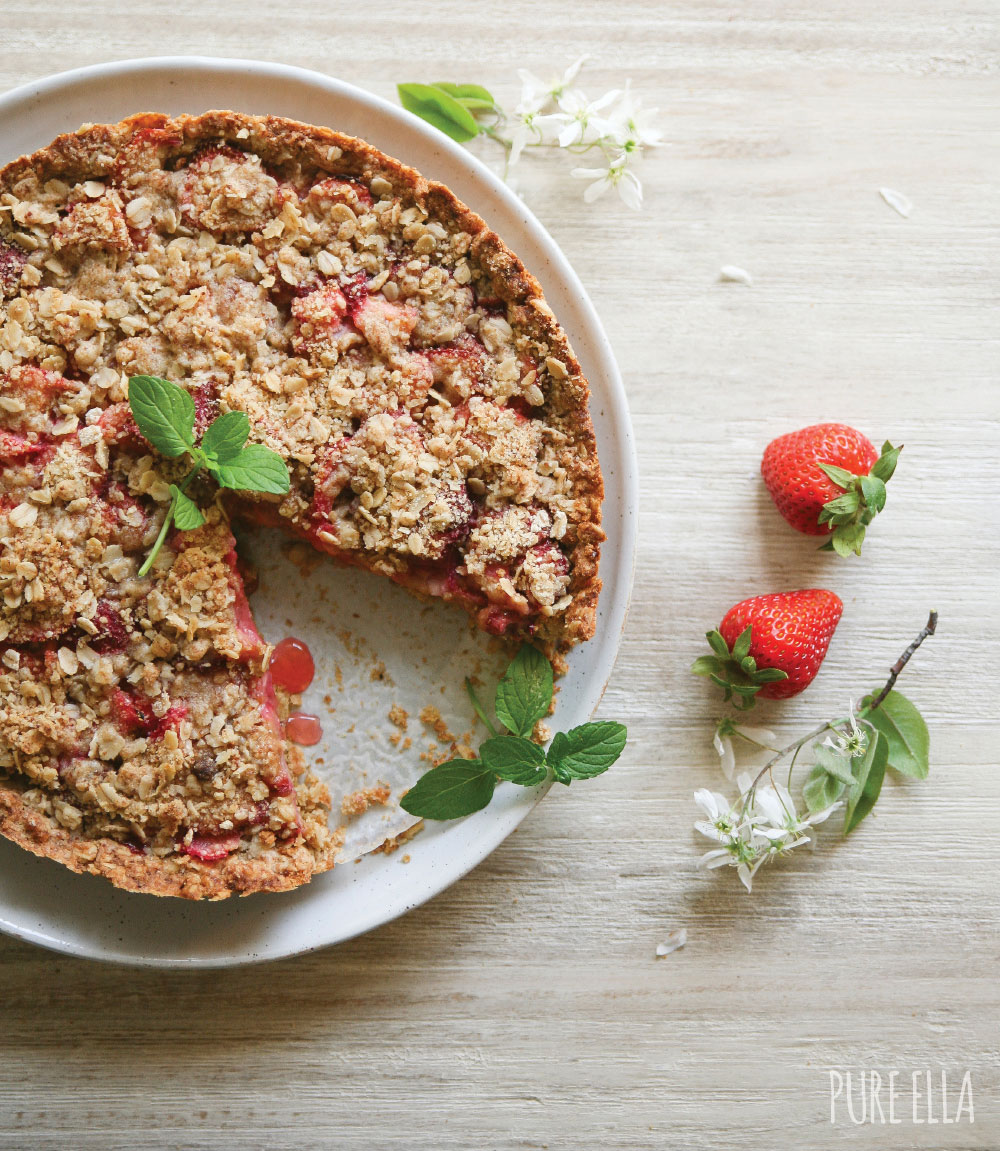 I love making Crumble Pies…. they are so freeform, imperfect and easy.
I don't care to take out my rolling pin and rolling out the dough, cutting it, trimming it and making sure things are perfect. Pie does not have to be perfect…. it tastes better when there's more texture, more crumbs and a little oozing of juices flowing from the fruit filling… it's all so good…. ;)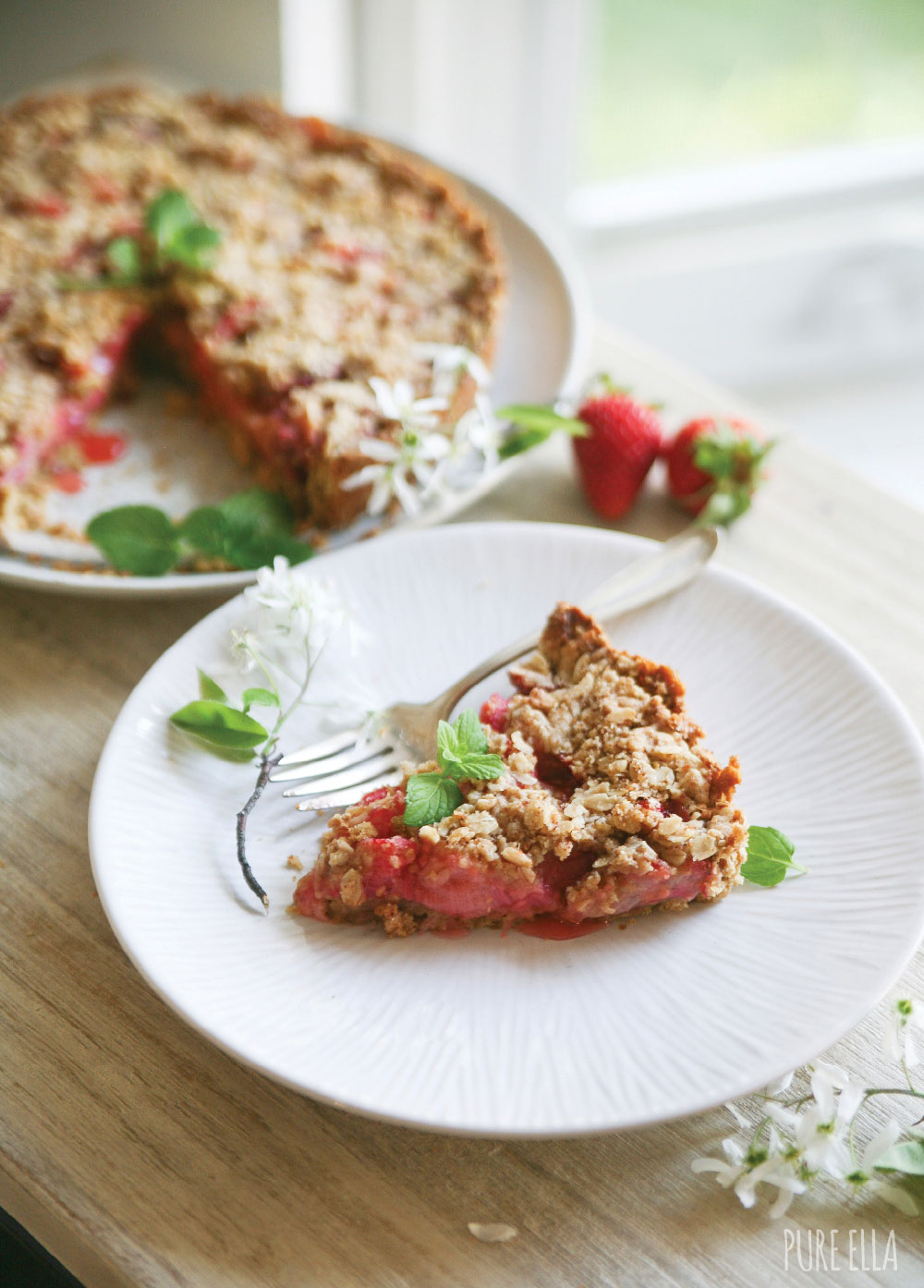 If you're new to gluten-free and vegan baking, or just new to baking in general and want to create something delicious but easy ~ this crumble pie is for you!
You can't go wrong with these 6 simple ingredients! And avoiding wheat, dairy, eggs has never been easier when making a classic dessert! I personally can't wait to make this again soon ;)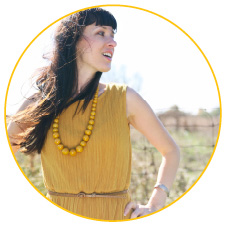 Ella Leché
is a cookbook author ('
Cut the Sugar
'), recipe developer, and photographer/stylist behind Pure Ella; where she shares delicious and healthy recipes. Eating PURE is clean ingredients, whole foods, plant-based nourishment and delicious desserts – with quality ingredients and sweeteners so they're treats with benefits so you won't have to feel deprived or restricted to eat healthier.
Thank YOU for being here!
Follow on social media for daily health & happiness inspiration:

ps. don't forget to share your Pure Ella (PE) recipe creations by tagging them #pureella and
@pure_ella
on Instagram – we repost our favourite photos!