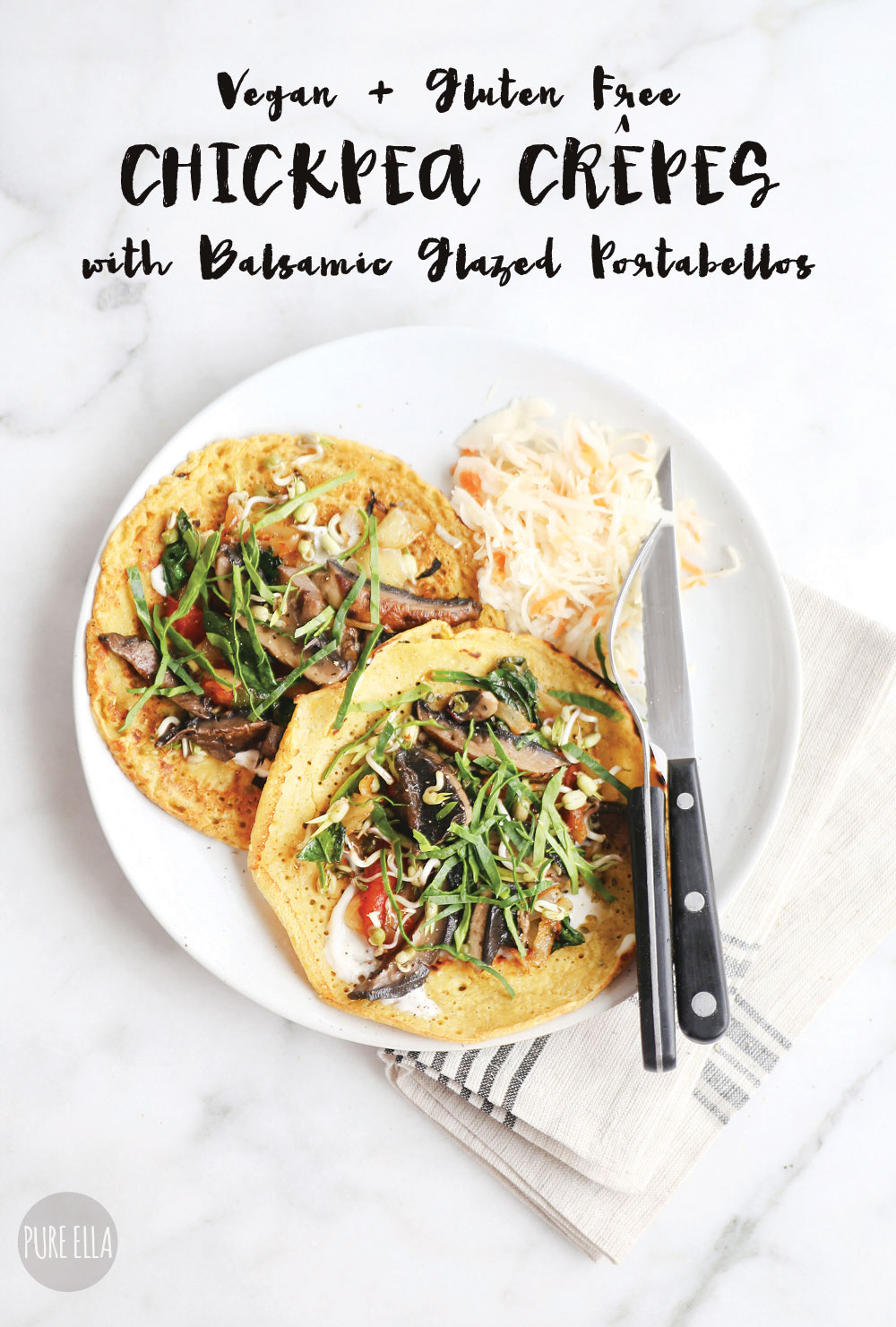 Hello wholesome delicious breakfast!! Savoury gluten free crepes with balsamic glazed portabellos!! Yes please!
I love savoury healthy breakfasts and this one is something I whip up very often – so simple and delicious! And if you're looking for egg free, vegan and gluten free crepes recipe – this is it my friends! Enjoy!!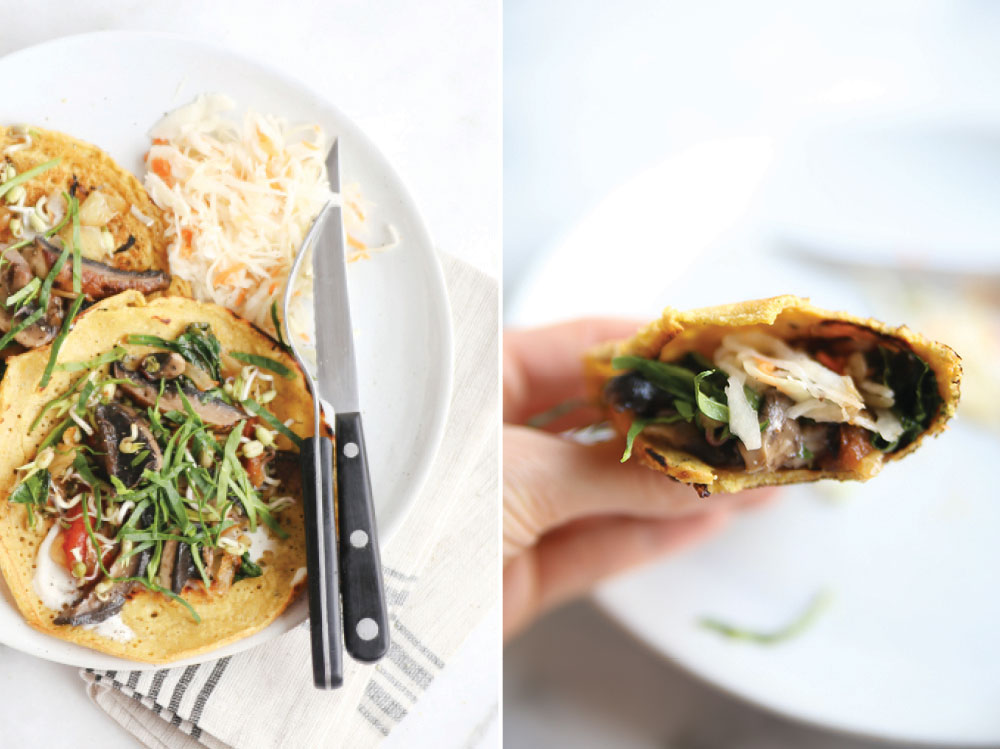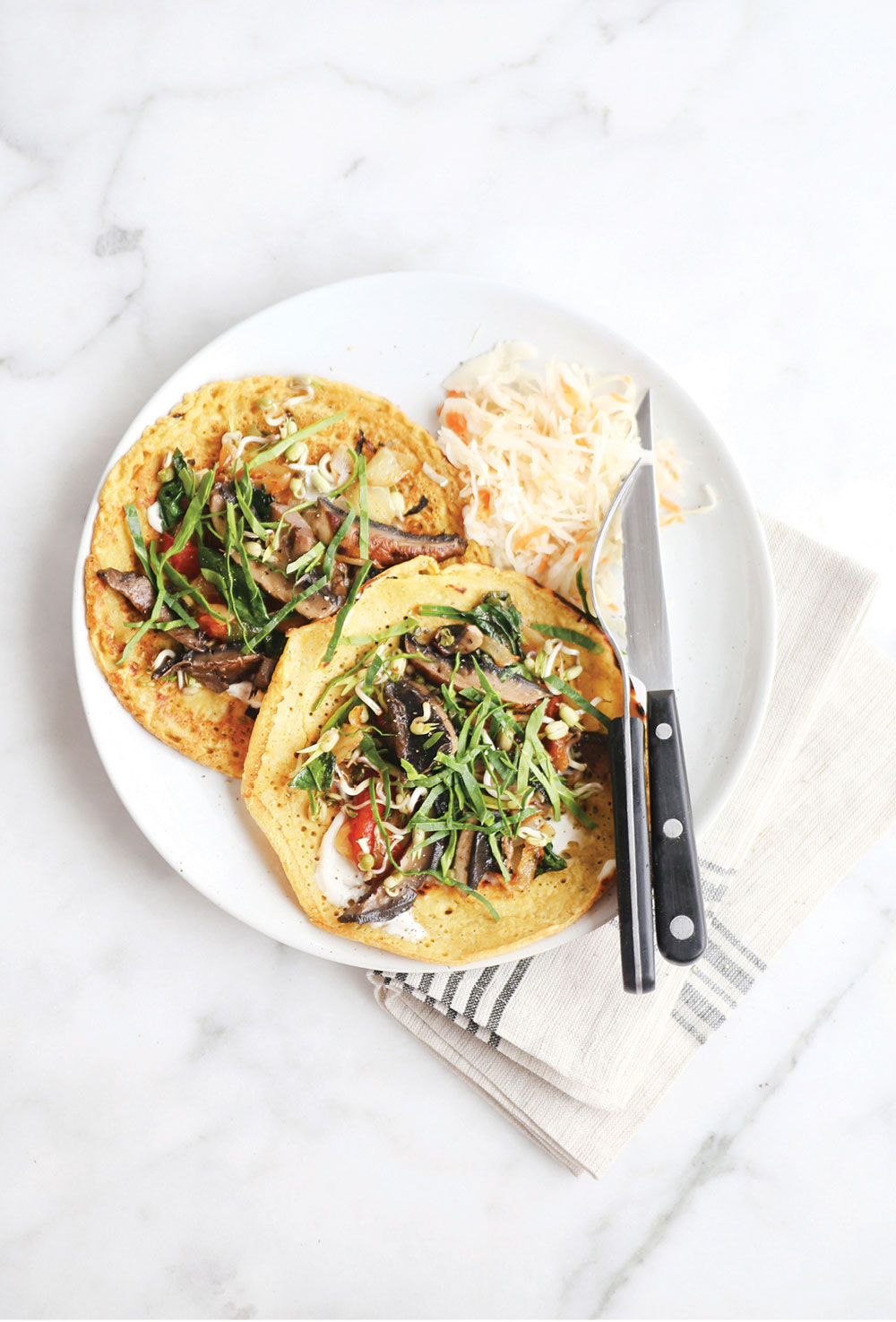 Chickpea Crepes with Balsamic Glazed Portabellos
2016-03-09 20:07:20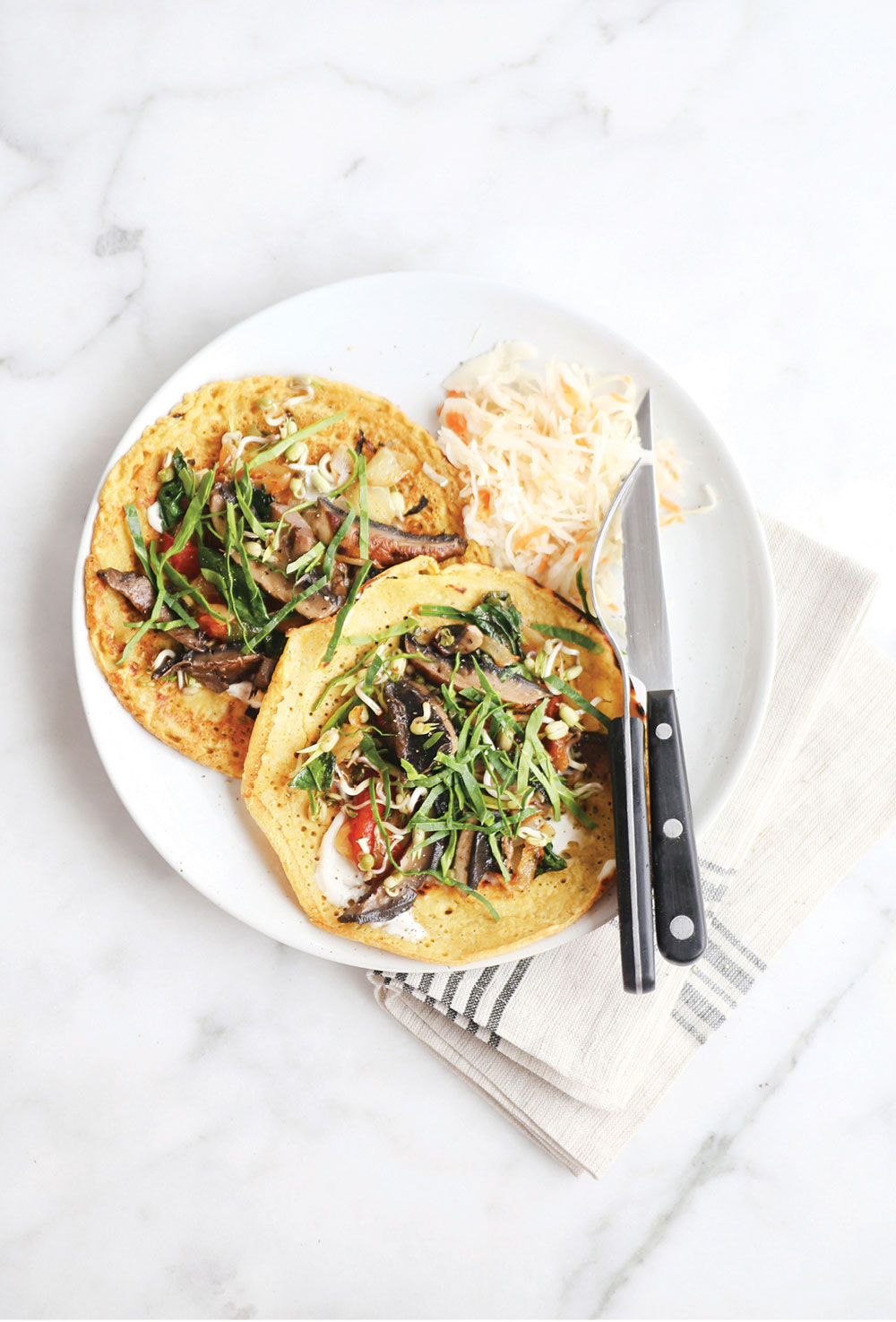 Serves 4
Easy and delicious vegan and gluten-free chickpea crepes.
Ingredients
1 1/2 cup chickpea/ garbanzo flour
1 1/2 cup water
1/2- 1 teaspoon turmeric powder
2 tablespoons nutritional yeast (optional)
1 teaspoon fine sea salt
freshly cracked black pepper
1/4 teaspoon cayenne pepper
grape seed oil for cooking
Veggies
3 portabello mushroom caps
1 red pepper
1 medium onion
splash of balsamic vinegar
handful of baby spinach + more for garnish
handful of sprouts (optional)
Vegenaise mayo
Instructions
In a medium bowl, whisk the chickpea flour, water, turmeric, nutritional yeast, salt and pepper and set aside for 1 hour in the fridge. (or overnight)
In the meantime, wash and dry the veggies and slice into thin long pieces. Heat a large skillet and drizzle bottom with oil. Fry the onion, peppers, portabellos until soft but not overcooked. Splash the balsamic vinegar onto the pan, stir and cover for a few seconds. Add spinach at the end, turn the heat off and cover to allow the heat on the pan to cook the spinach. Set aside covered.
Heat a small cast iron skillet, drizzle grape seed oil and scoop or pour out a small ladleful of the batter. Turn the skillet around so that the batter fills the the bottom.
Cook for 2-3 minutes on each side or until golden.
To serve, spread vegan mayo on the bottom of each crepe, top with sauteed veggies and chopped spinach and sprouts. Serve hot.
Notes
To cook the veggies, it's best to try this "fry-steam" method where you fry the veggies over oil for just a few minutes until they turn slightly browned (but they are still firm) then instead of adding more oil, add a splash of hot water (from a kettle) then mix the veggies and cover with a lid to allow the veggies to steam until soft.
This is my favourite way to fry as it doesn't use up a lot of oil and steams the veggies instead, yet, they have a nice browned look as opposed to just steaming.
Pure Ella https://pureella.com/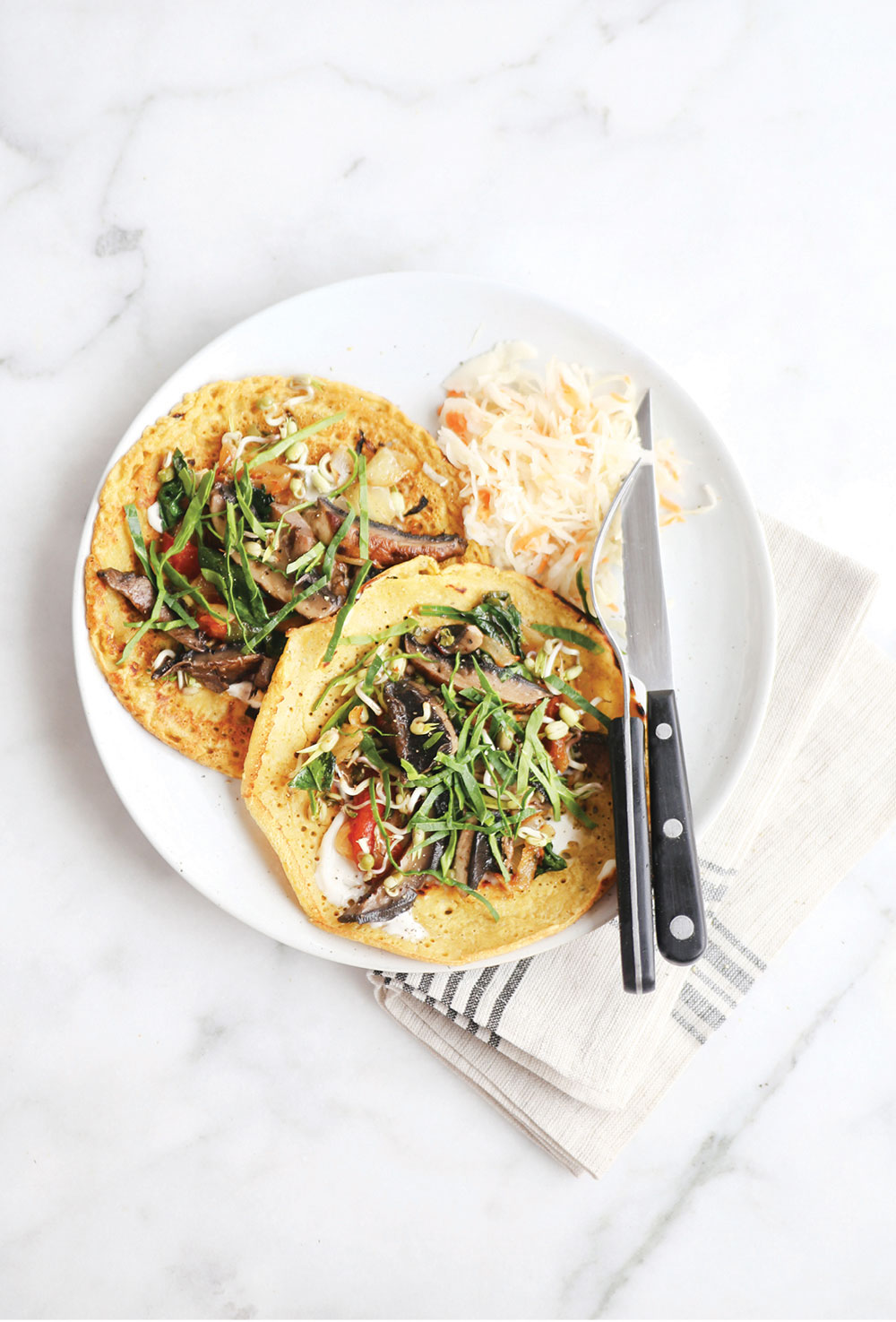 This dish is also high in plant protein! As both the chickpea flour and portabellos are high in protein.
As for a Cut the Sugar tip : it's best to eat savoury healthy breakfasts when you're trying to cut sugar! It's the taste of sweet that's addictive – so avoiding sweet breakfasts, you won't be setting yourself up for failure :)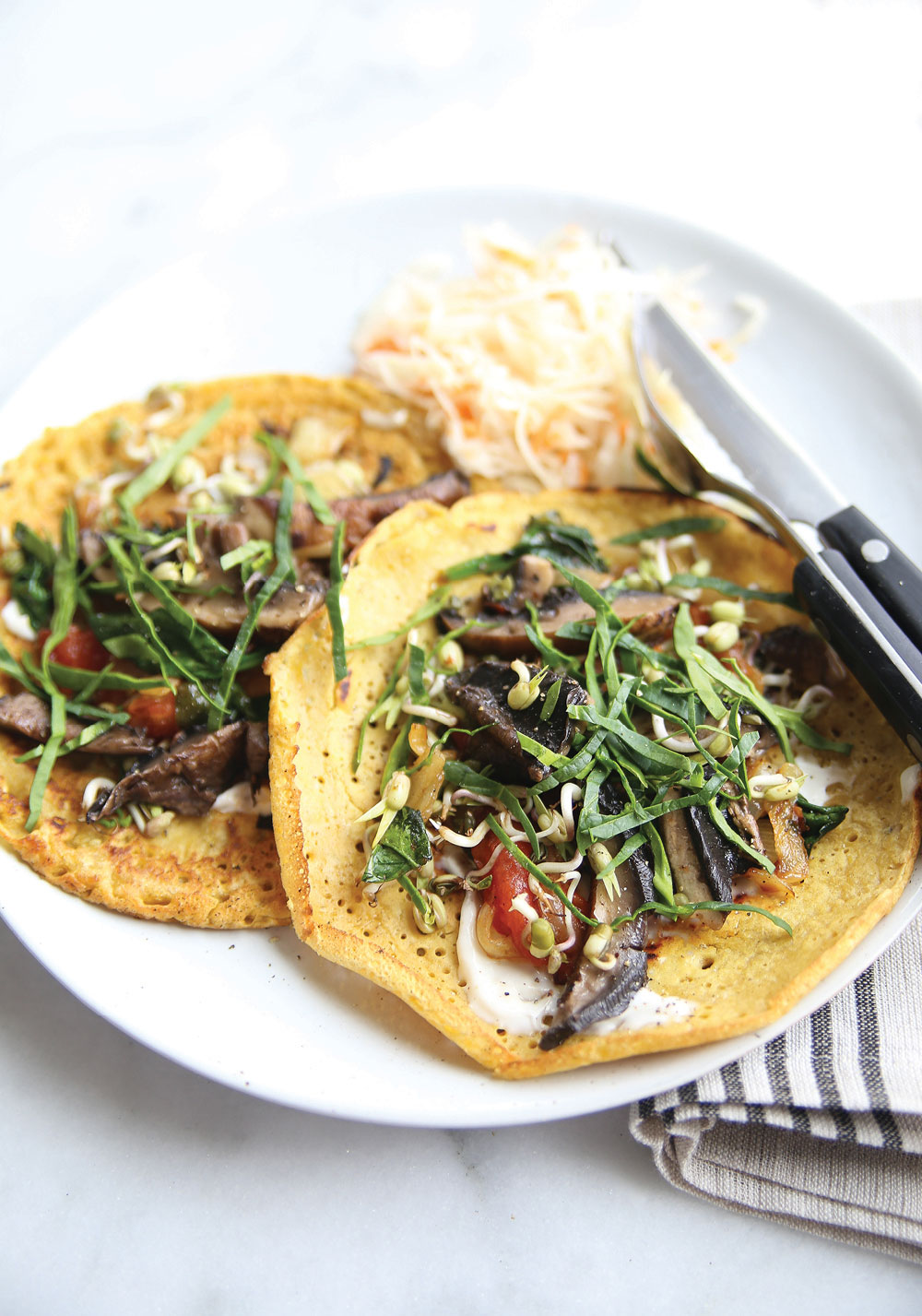 Summary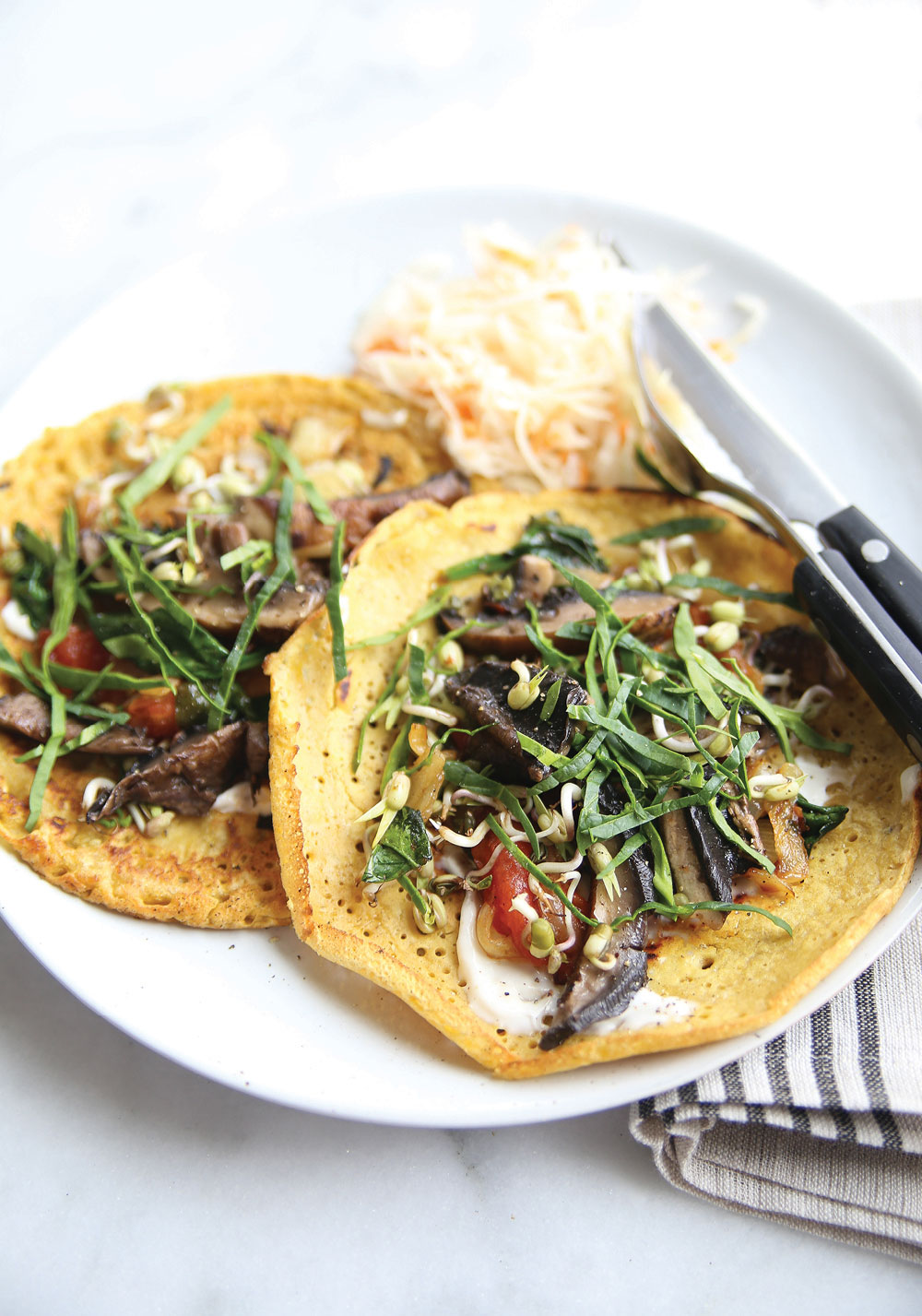 Recipe Name
Vegan Chickpea Crapes with Balsamic Glazed Portabellos
Published On
Preparation Time
Cook Time
Total Time