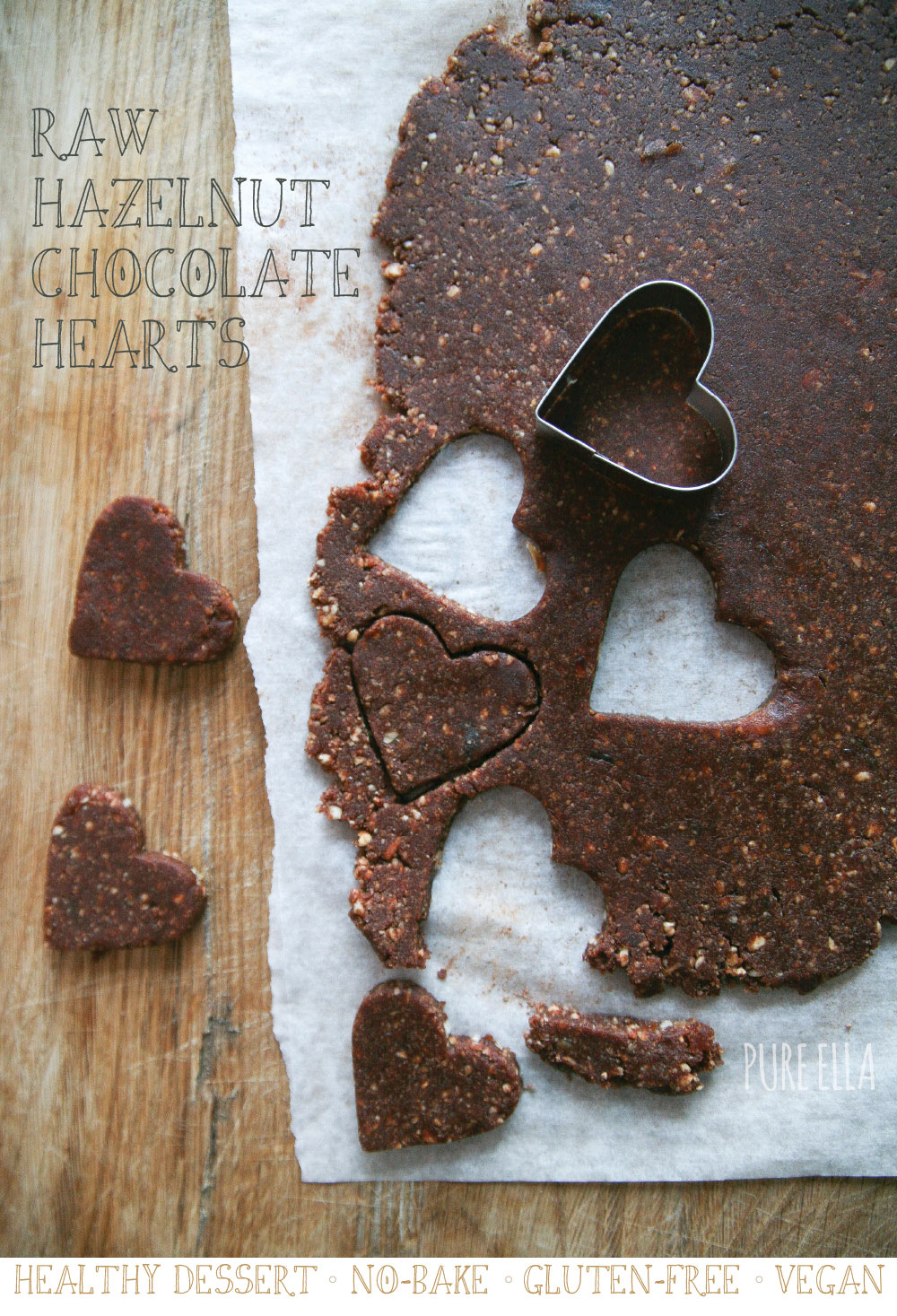 I bet your heart just skipped a beat when you saw these goodies…. ;)
I don't even know how to break the news to you – but these Raw Hazelnut Chocolate Hearts are pure perfection!!
Not only are they decadent and divine in flavour and they taste kind of naughty with all that rich chocolate – but they are actually kind of good for you!!
Worlds collide! It gets quite insane when a decadent chocolate dessert comes with health benefits! Craziness I know ;) Try to remain calm as I break this next news to you – – they take minutes to make!!! Like for real, you will be stuffing your face with cute heart shaped hazelnut chocolate deliciousness within 10 or 15 minutes*!!! Yes, seriously!!! *if you use shelled hazelnuts ;)
You know one thing I've learned on my healing journey (because if you are following my blog, you know I've had my struggles with health) is that nutrition comes first! But I also learned something else, nutrition doesn't have to be a bad thing.
In fact, that's the beauty of discovering good-for-you foods – they can be nutritious and taste amazing at the same time!!
Let's not chat too much about nutrition right now as I know you're just eager to make these raw *cookies*! So here's the recipe… (I'll come back in a bit and add the health benefits of using raw cacao and other great ingredients in these hearts)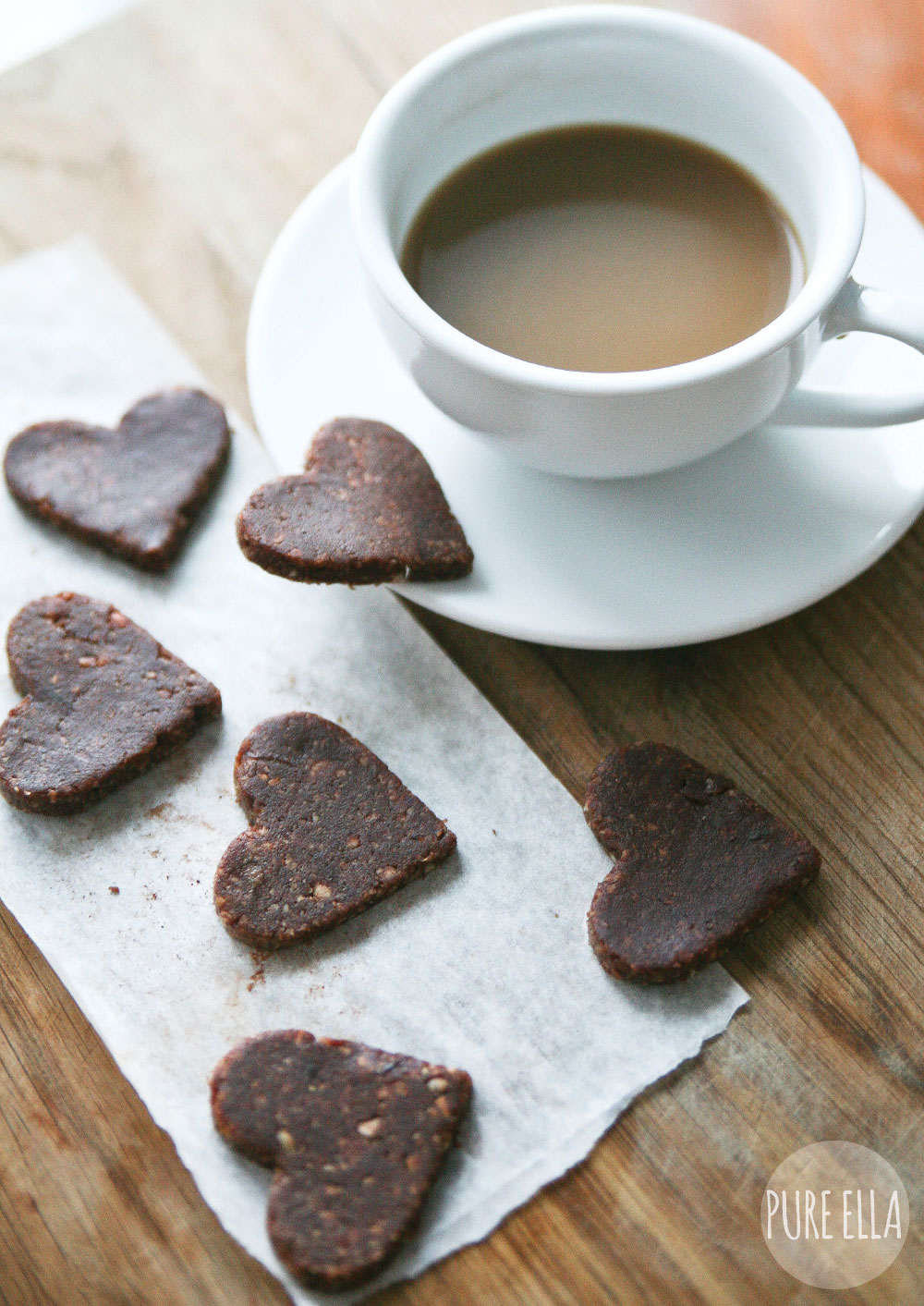 Raw Hazelnut Chocolate Hearts : gluten-free and vegan
Ingredients :
1 cup hazelnuts, skinned or see below how to roast them to get the skins off yourself
1/2 cup almonds
1 cup medjool dates, pitted
1/4 cup raw cacao powder
2-4 tablespoons of raw honey or agave/ maple syrup or other natural liquid sweetener + more if needed
pinch of himalayan pink salt or fine sea salt
You will need : food processor, rolling pin, parchment paper (not wax paper), heart shaped cookie cutter
Directions :
How to roast hazelnuts :
To roast the hazelnuts (which is so great to do yourself because the flavour is so much better and the texture crunchier – I recommend). Place the hazelnuts with their skins on a baking sheet covered with parchment paper and bake them for about 5-10 minutes in the oven at 300F until they slightly brown. Be sure to check on the often and giving them a stir half way to make sure they don't burn. Once roasted, remove from the oven and allow to completely cool to the touch.
Place them into a cloth and rub them with your hands. You will see the skins fall right off. Do this for the rest of the hazelnuts, some will be a little stubborn so you might need an extra rubbing. Leaving a little of the skins on is ok and will not ruin the flavour, but do aim for mostly white beautiful nuts with as little skins as possible.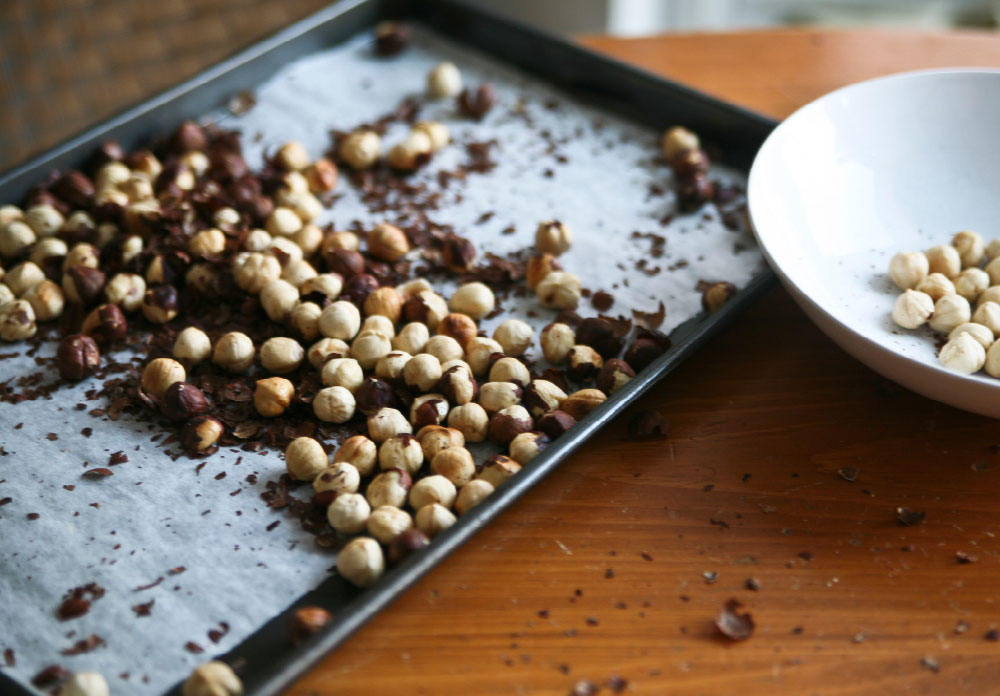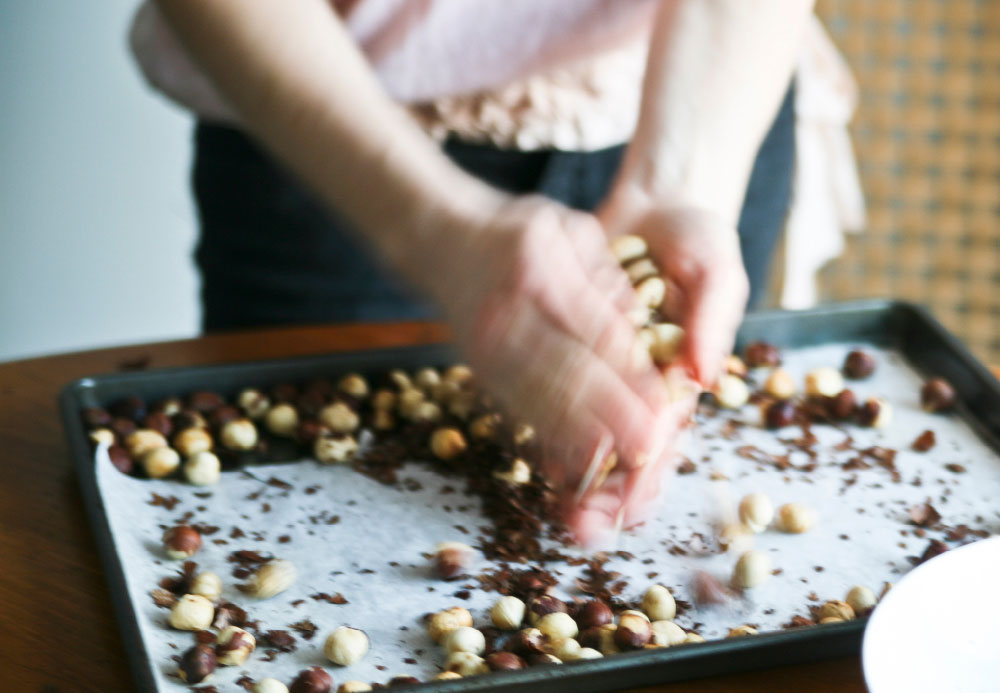 Back to the recipe :
In a food processor, blend on high the hazelnuts and almonds until crumbs form. Add the pitted dates and mix for a few more minutes. Then add the raw cacao, sweetener and salt. Continue mixing until you can see all the ingredients blended together well and the colour of the cacao gets transferred evenly into the whole mixture. Turn off the food processor and scrape down the sides to get all the goodies in. Turn on again for another minute or so. Turn off again and this time taste it to adjust the sweetness. I personally don't like them too sweet and the dates have enough sugar too, but if you want you can add a little extra honey or agave nectar if you like.
Remove from the food processor and you should have a nice big hazelnut chocolatey ball! Spread out another sheet of parchment paper (or reuse the one from the hazelnut roasting) and get ready for rolling out your 'dough'. Sprinkle a little of the extra raw cacao on the parchment paper and roll out the dough with a rolling pin to about 1/4″ thickness.
With a heart shaped cookie cutter, cut out the hearts all over. Roll up the extra negative dough into a ball and roll it out again and continue until all the dough gets cut into heart shaped 'cookies'.
Near the end if you don't have much dough left, go ahead and make a few Raw Hazelnut Chocolate Balls! ;) Just roll up the dough and enjoy ;)
If your home is a little on the warm side, these might get too soft, so I do recommend popping them in the refrigerator to keep hardened. Just stack them up in an air tight container with little parchment paper pieces in between each cookie. They are ready to eat and enjoy! ;) They keep well for up to a week in an airtight container in the refrigerator.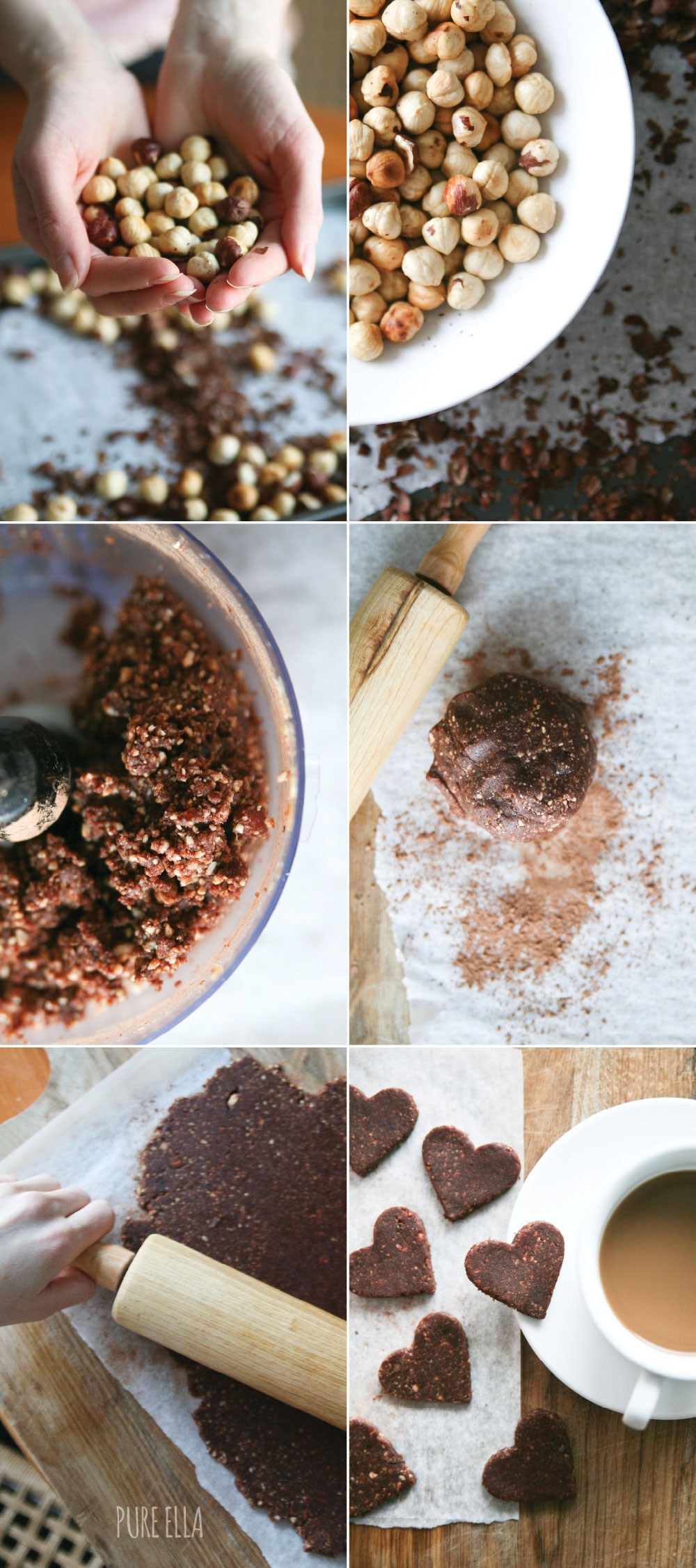 Pure ingredients come together to make these simple little bites of yumminess. You don't have to sacrifice taste when you want to make good food choices – and that especially is true for dessert.
Especially when now so many companies (and bloggers too) advertise their products or recipes as *healthy* – and yet they use low-fat products filled with chemicals, artificial colouring and flavours, preservatives and even GMO ingredients.
When you keep things simple, organic and pure… you will see that you don't need much to enjoy beautiful food. These raw cookies for example, burst with so much flavour yet they are completely pure and natural.
What's also great is that they are no-fuss, no-bake, quick to pull off and just super cute and delicious in the end! ;) You can eat great and delicious desserts without sacrificing the taste! And even get some awesome nutrition in your body while you indulge… why not? ;)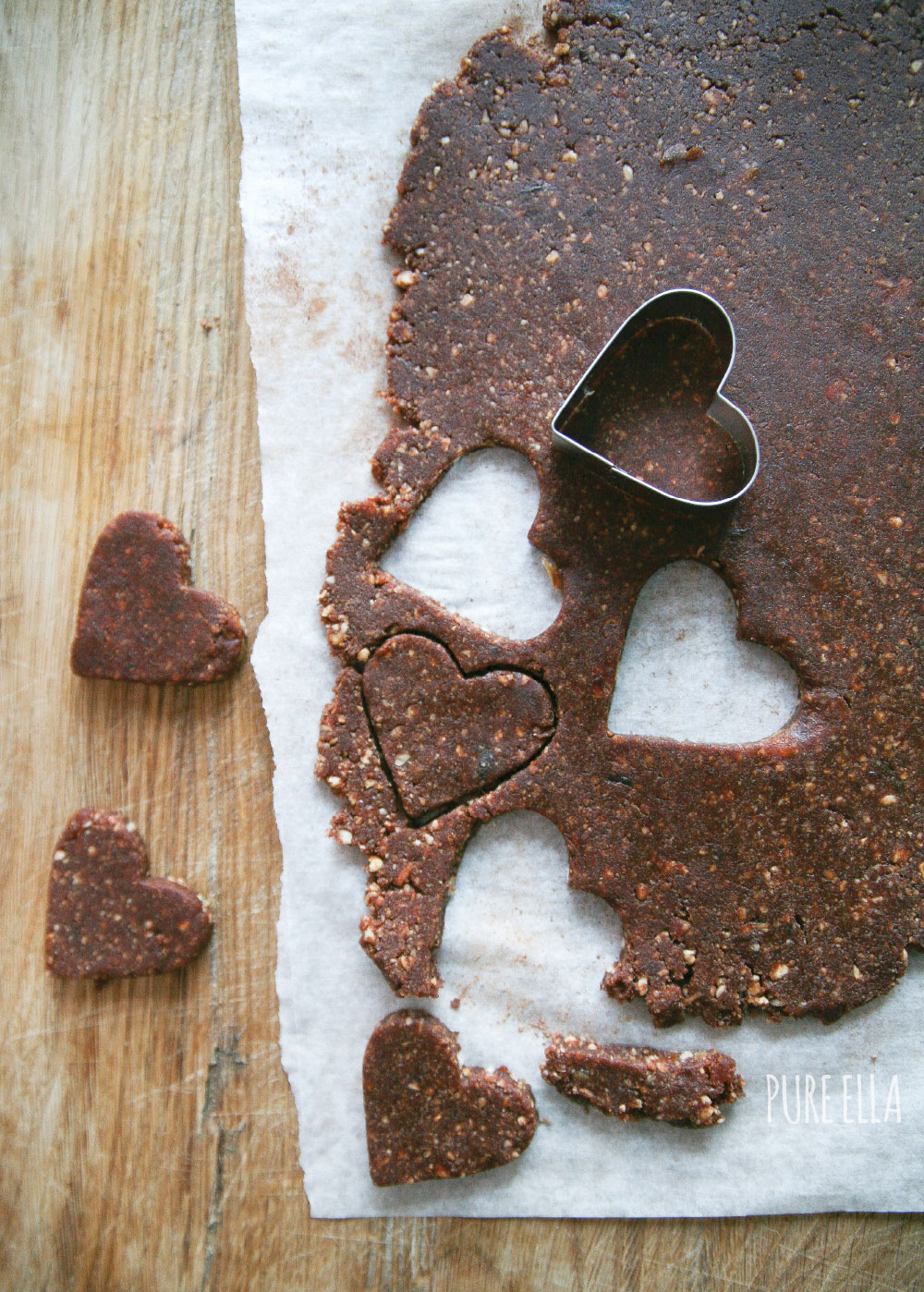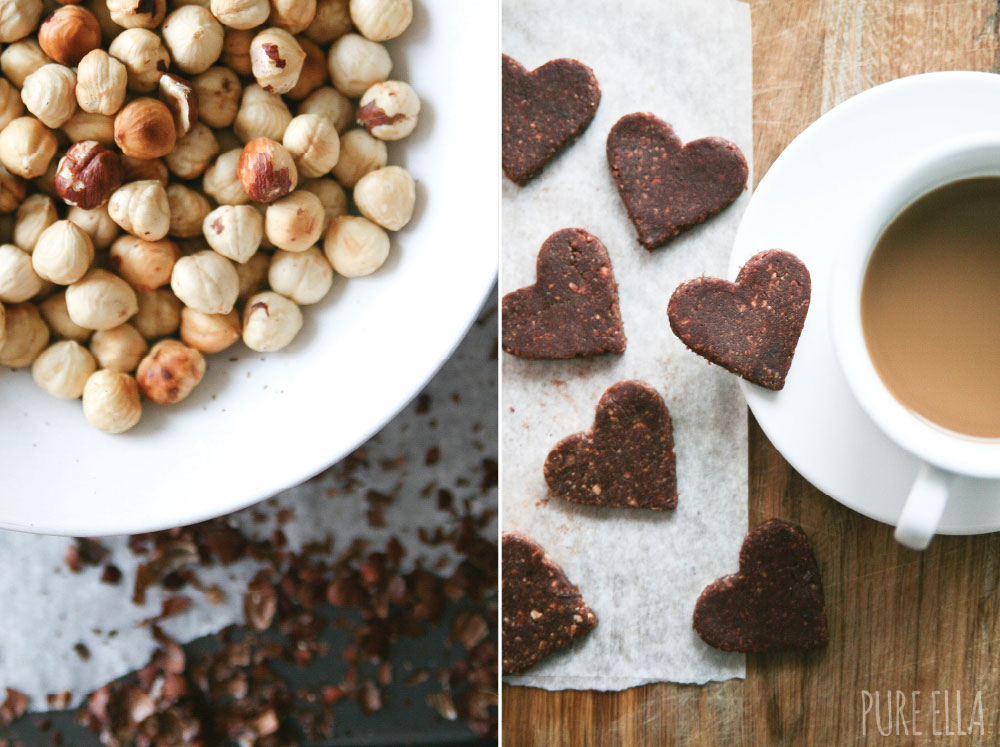 Oohh don't forget…. these make adorable gifts for Valentine's Day. Made with only pure natural ingredients and lots of love…
I layered my hearts in a jar and sealed them up. A little red baker's twine and a little red heart completes the look. Beautiful, simple and handmade gifts for Valentine's Day are the best!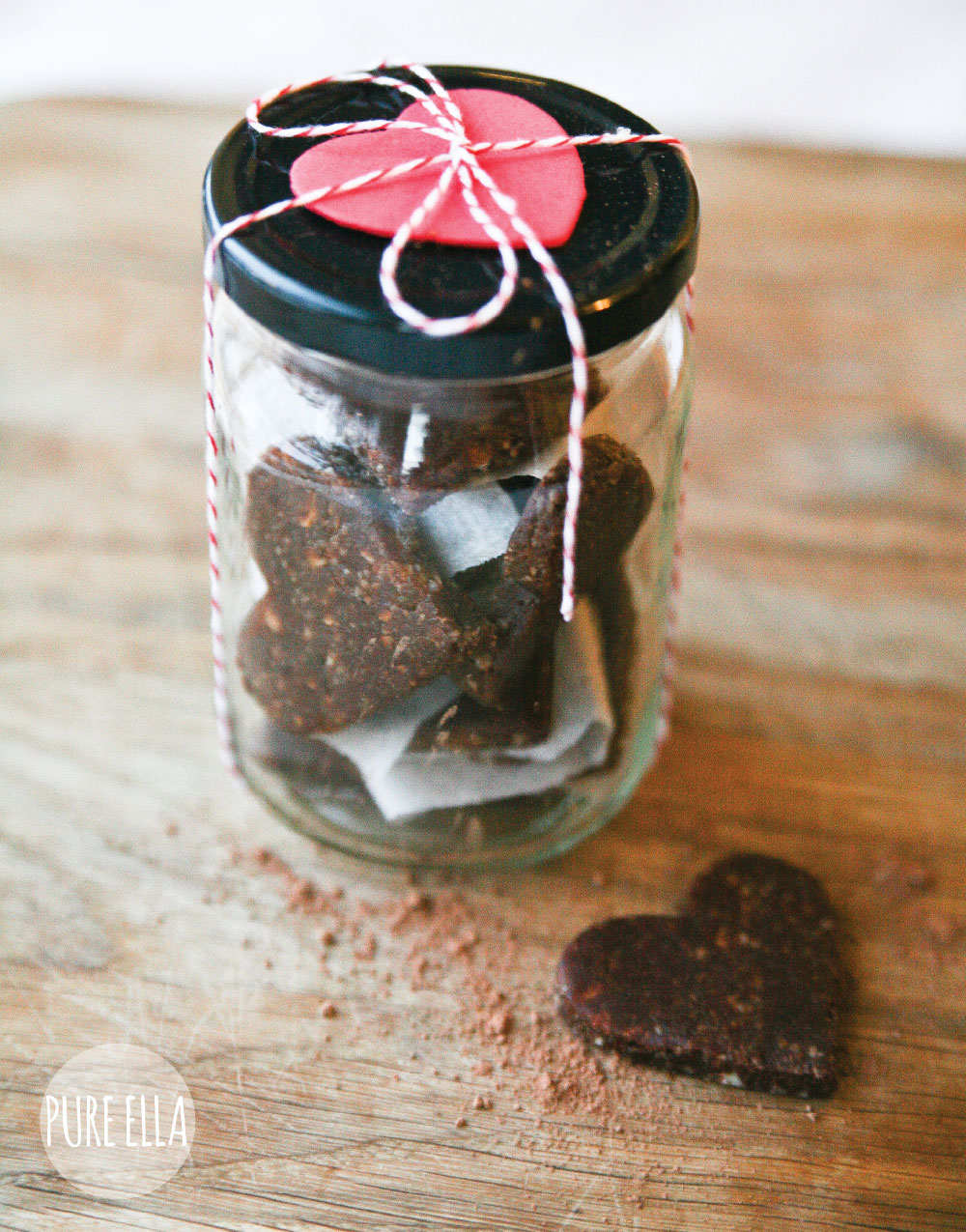 Do you give handmade or home baked gifts to your friends and loved ones? Do share what you've made if so ;)
One for thing… Do Share The LOVE and share this with your friends on Facebook and Pinterest ;) They will Love YOU for it! ;)
♥
Pure Ella
If you're new to Pure Ella, please sign up for email updates and join me elsewhere:
Facebook

//

Pinterest

//

Twitte

r //

Instagram

@pure_ella