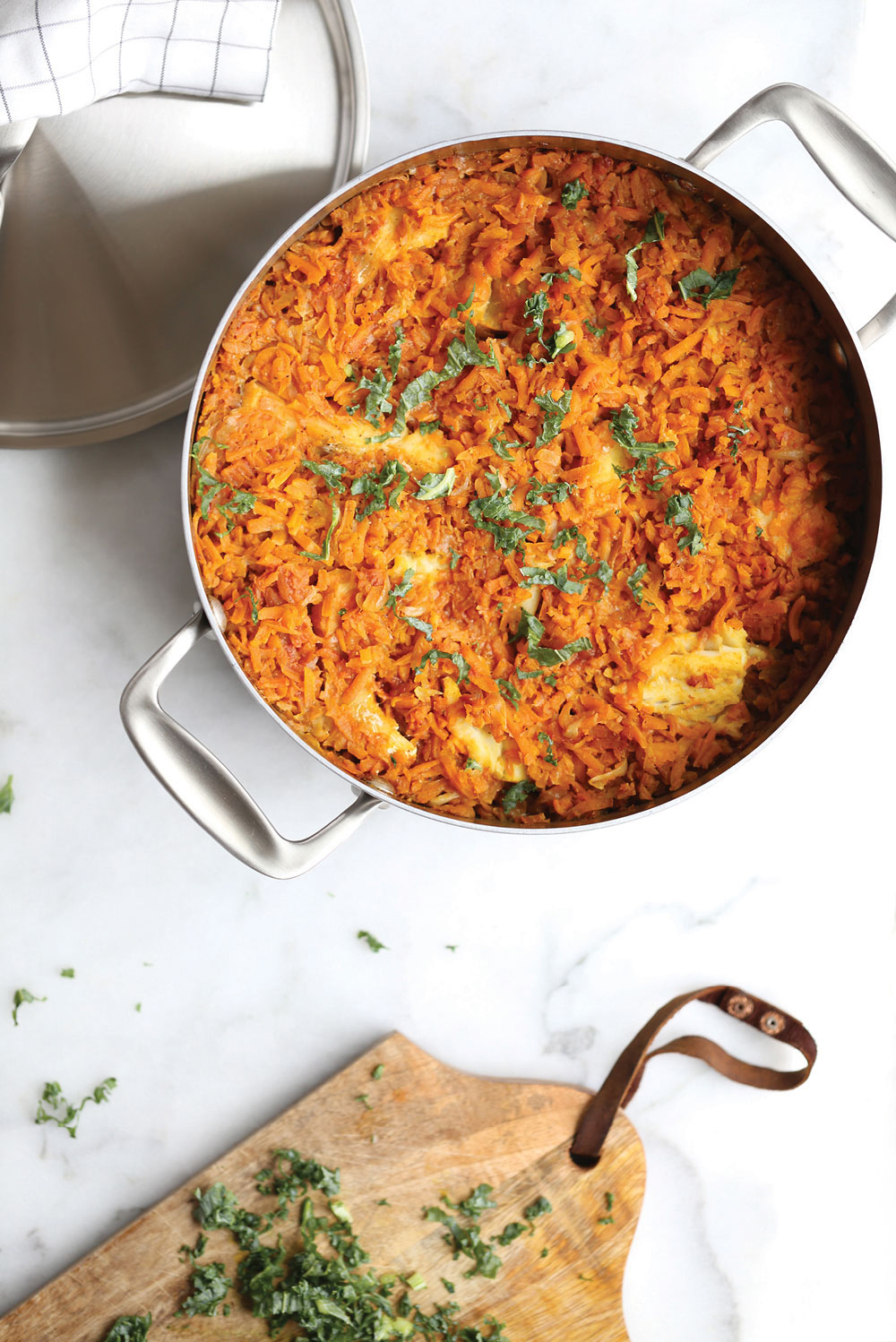 I have a really delicious and super easy casserole recipe for you today. A Shredded Carrot Fish Casserole that is made with just a few ingredients and so simple to make YET the flavours that come together are really great.
I'm happy to team up with American Kitchen for this post and use their gorgeous stainless steel 10-inch Premium Non-Stick Casserole Pan. The quality and beauty of this dish is absolutely stunning. I love that this casserole pan has multi-purpose uses from stovetop and/or oven right to the table. This pan is stylish, practical, functional, distributes heat evenly, comfortable to handle, easy to clean… a truly great quality pan that I know will last a very long time. When it comes to cookware, I know what quality means and investing in quality cookware from the beginning is so important.
American Kitchen is a premium cookware brand from parent company Regal Ware — a company that knows a thing or two about amazing cookware. After all, they've been a trusted manufacturer of quality cookware for over 100 years.
True to their name, all of American Kitchen's cookware is handcrafted in small batches in their West Bend, Wisconsin factory. Each piece is made with the highest grade of responsibly sourced stainless steel and aluminum available, so you know it's precisely engineered for unreal performance and unparalleled durability.
American Kitchen is committed to the highest standards of manufacturing quality and have been doing it this way for decades; that's why a Lifetime Warranty is offered on every product they sell.
From my personal opinion about cookware, you really waste more money when you continue purchasing low-quality kitchen accessories, cookware or small appliances etc. American Kitchen is one of those brands that knows how quality is important. And I truly value an approach to quality as a long-term investment. Plus cooking on quality cookware makes cooking so much more fun and easier as it does a lot in your favour and clean up is super easy ~ maybe it's the magical ingredient in fact, although LOVE is always the secret ingredient! :) But you could have two secret ingredients, right? ;)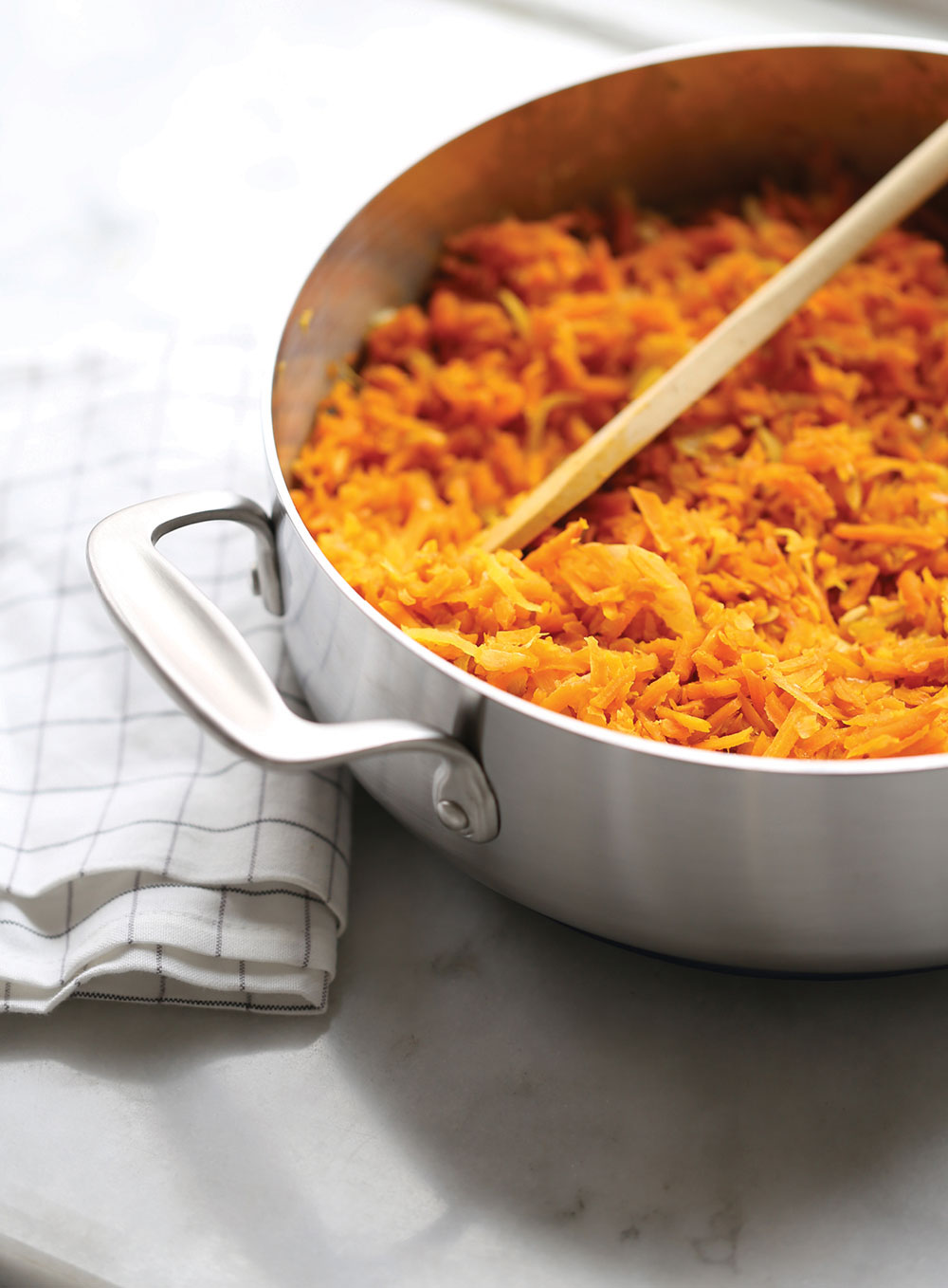 This fish casserole dish is naturally gluten-free, grain-free, paleo and pescetarian.
Yes, I post a lot of plant-based recipes that are also often gluten-free, however I am not vegan or gluten-free. I like to include about two servings of fish a week as fish do contain healthy fats and numerous nutrients that are not found in plant-based foods alone.
This recipe is inspired by a traditional Polish recipe that I enjoy making once a while. It's super simple, takes just a few minutes to put together (especially when you use a food processor to grate the carrots) and then it bakes in the oven. Very little effort is needed. And it makes great leftovers. I often make this dish in the evenings so that it has time to saturate the flavours for the next day. And then dinner is done and ready in the fridge. It can be reheated, but it tastes great as a cold dish also.
I used tilapia fillets, but any small white fish such as herring, cod or something similar with mild flavour works great too.
I don't mind using frozen fish either. It's a dish that I make then there's very little in the fridge in terms of fresh veggies. Carrots are a staple and so are onions, and I like to rely on a several key pantry staples, tomato paste is one of them… and yes – this is how simple this dish gets made!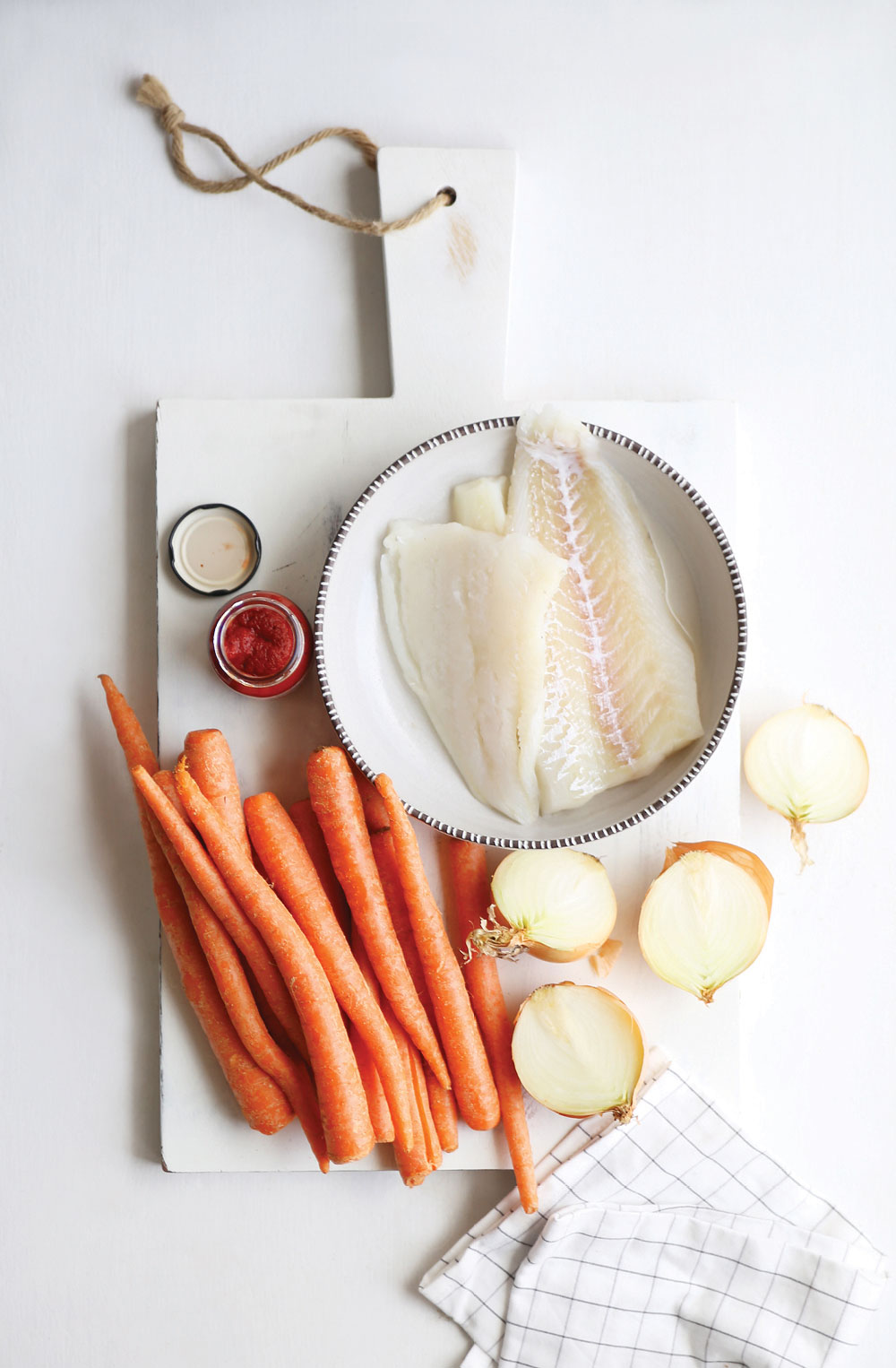 [yumprint-recipe id='36']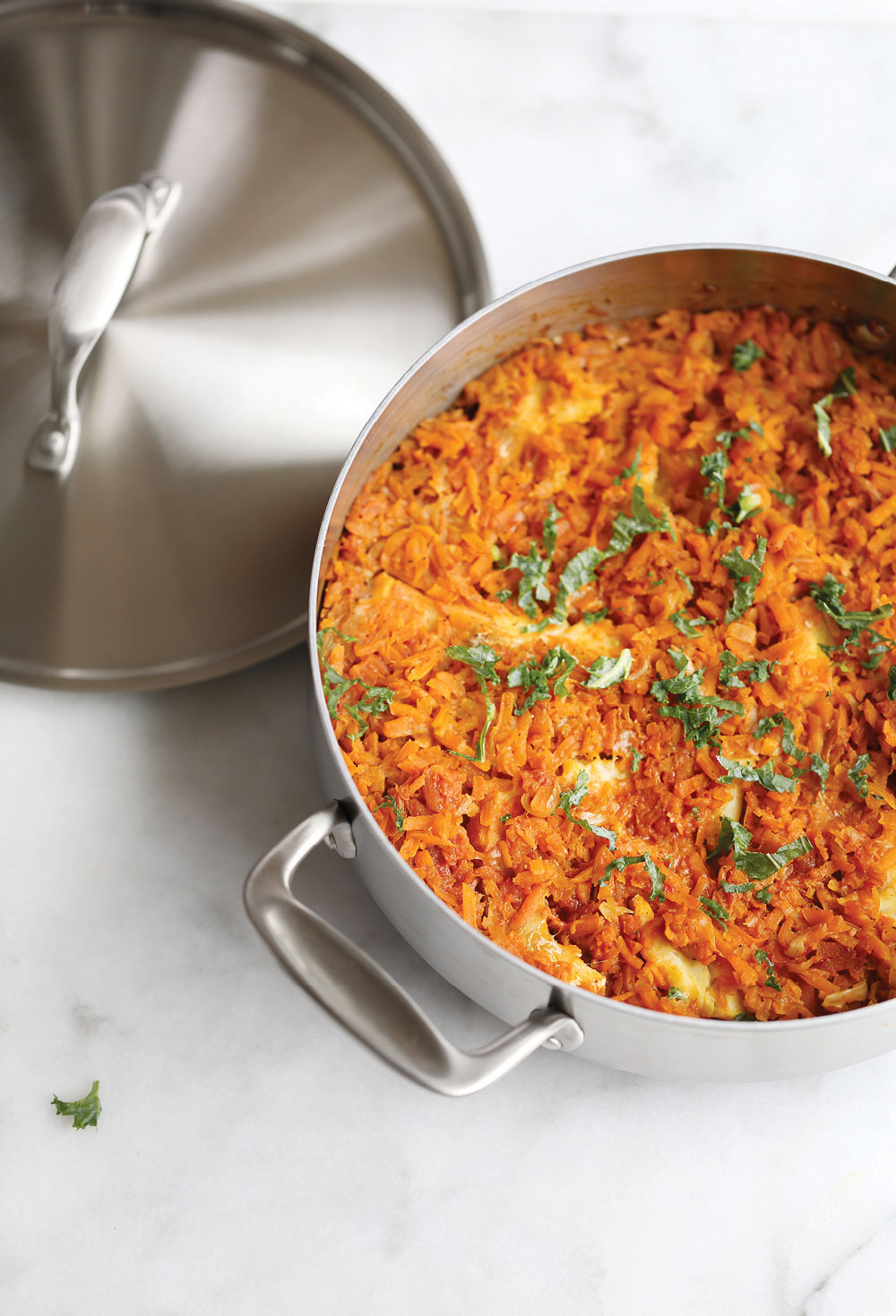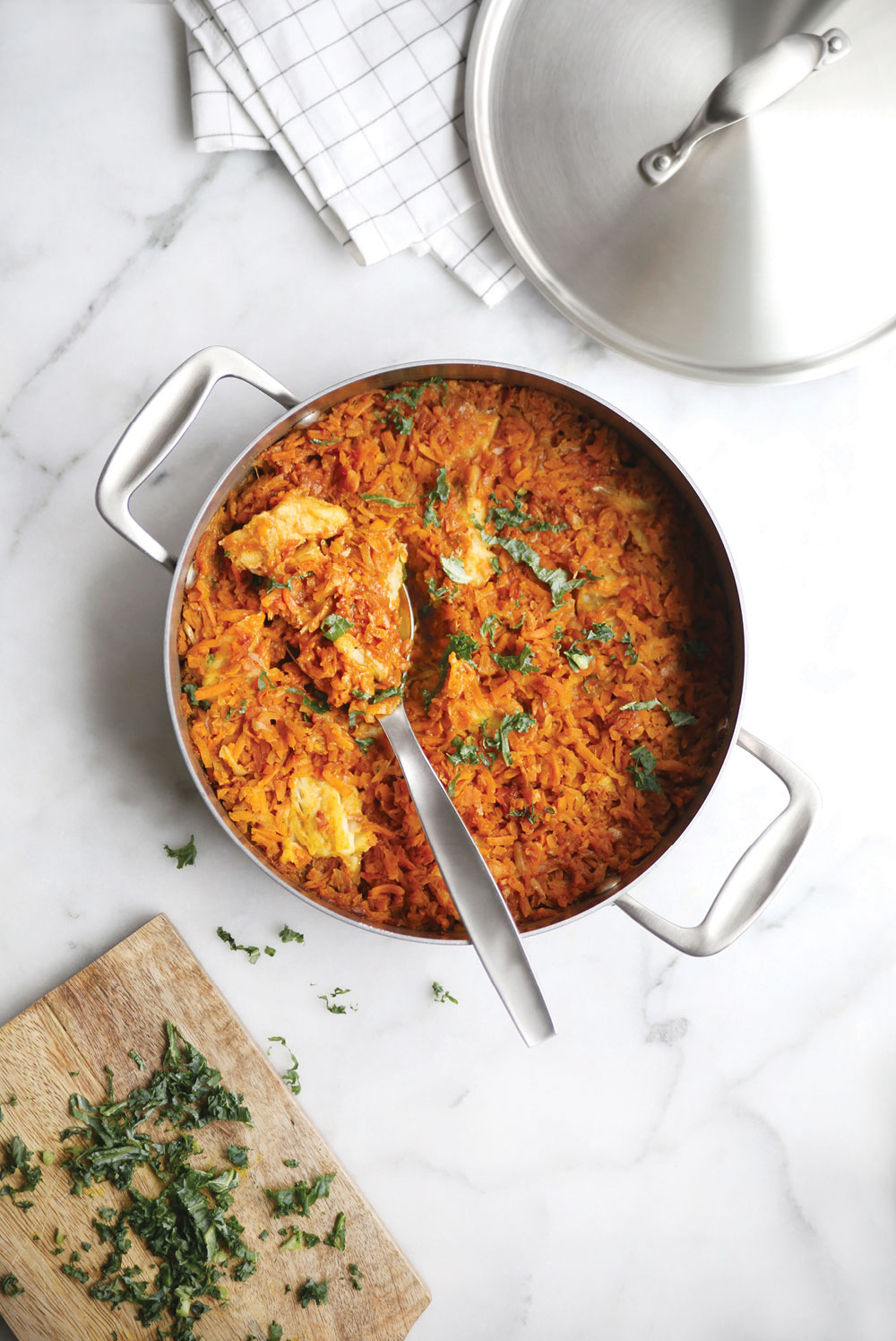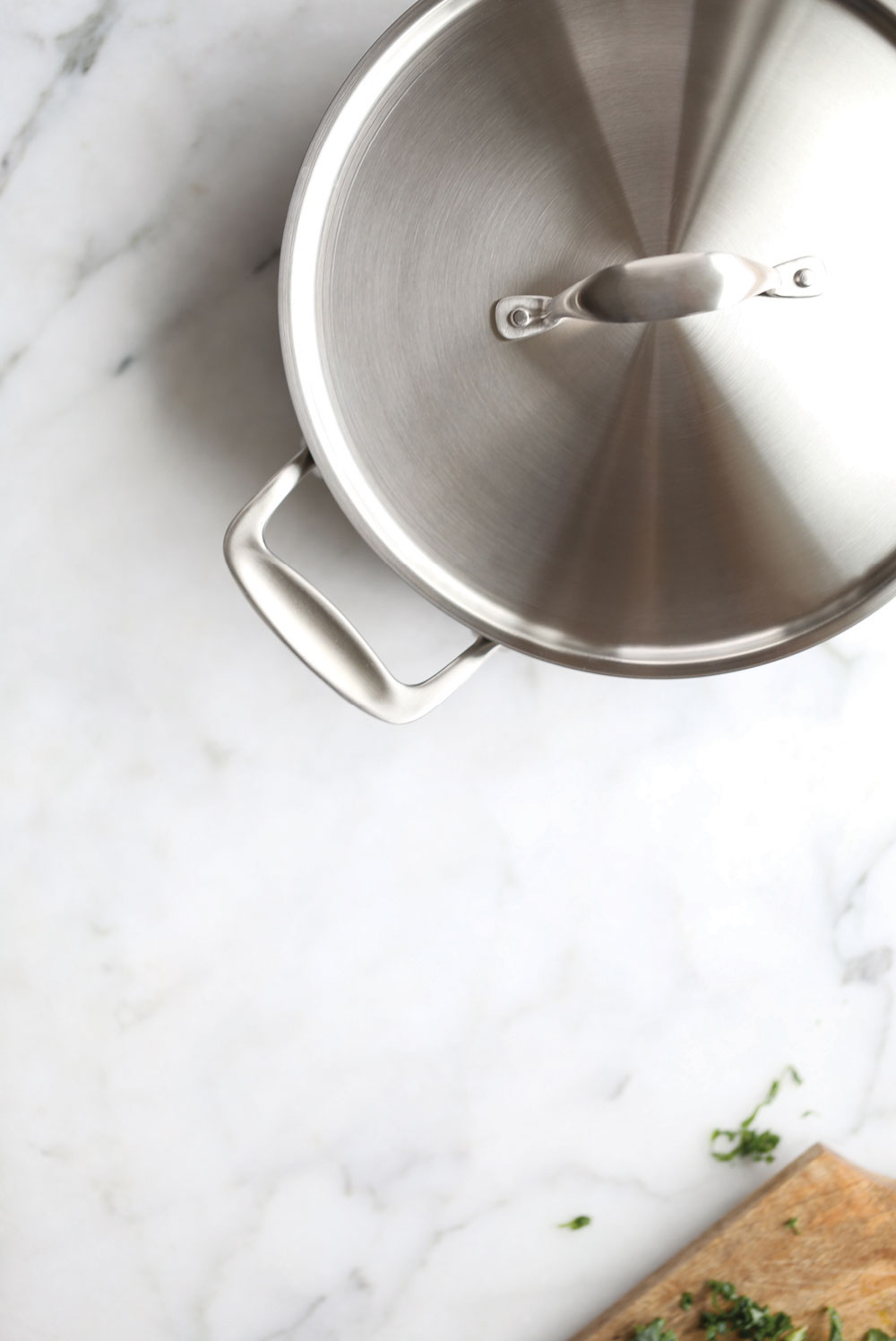 Can you see the beauty and quality of this pan?!
I am happy to announce a giveaway
of a 2 Piece American Kitchen Cookware set:
10 inch Premium Stainless Steel Casserole Pan (as shown) (value $139.99 USD)
10 inch Stainless Steel Premium Skillet (value $79.99 USD)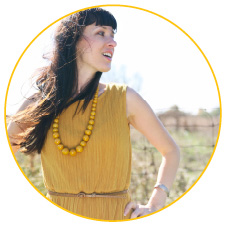 Ella Leché
is a cookbook author ('
Cut the Sugar
'), recipe developer, and photographer/stylist behind Pure Ella; where she shares delicious and healthy recipes. Eating PURE is clean ingredients, whole foods, plant-based nourishment and delicious desserts – with quality ingredients and sweeteners so they're treats with benefits so you won't have to feel deprived or restricted to eat healthier.
Thank YOU for being here!
Follow on social media for daily health & happiness inspiration:

ps. don't forget to share your Pure Ella (PE) recipe creations by tagging them #pureella and
@pure_ella
on Instagram – we repost our favourite photos!