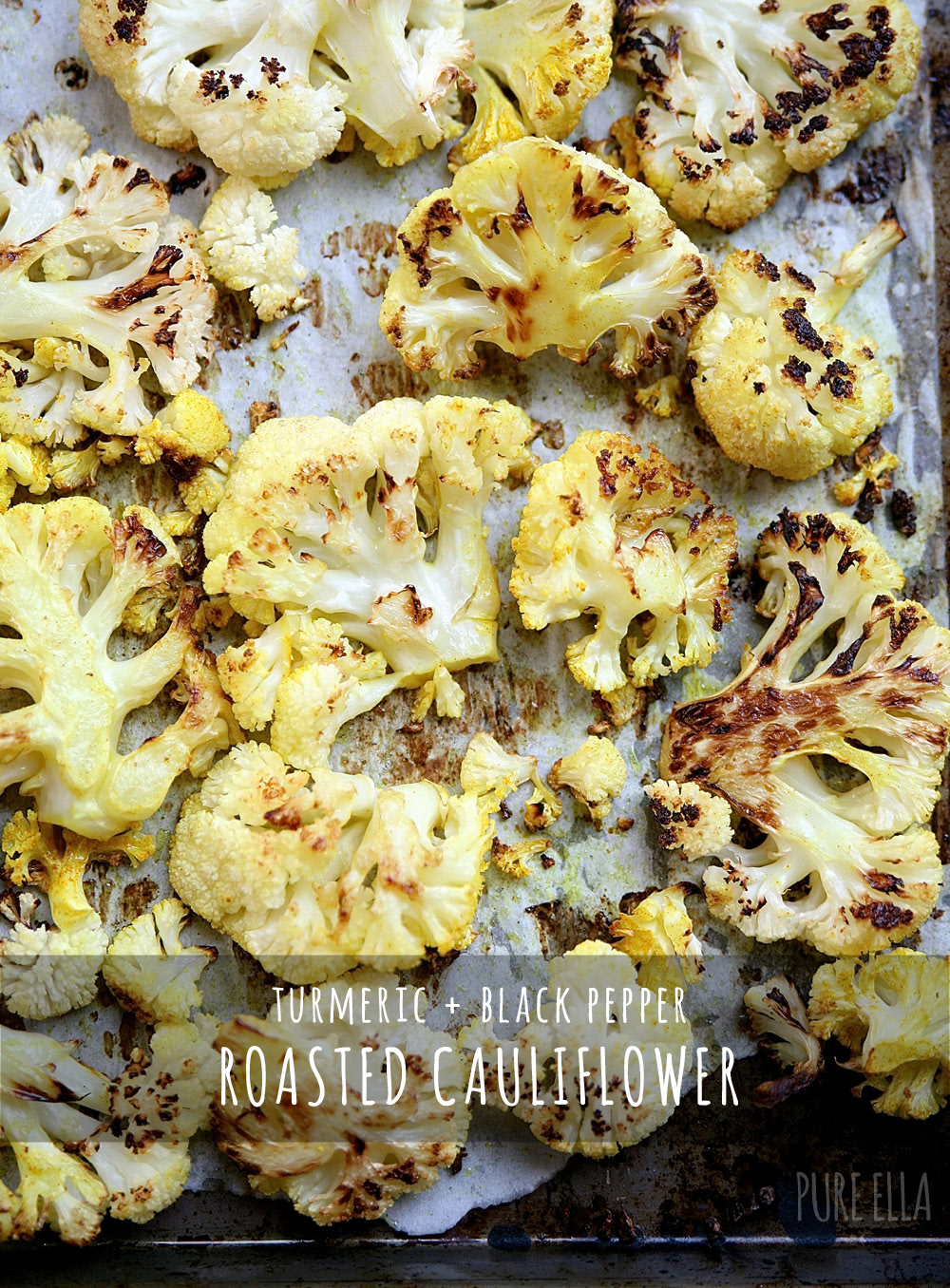 Today I have a simple AND delicious recipe for you all! Turmeric + Black Pepper Roasted Cauliflower – that's naturally gluten-free, vegan and paleo so everyone can enjoy. If you're not too crazy about cauliflower, it's basically because you haven't tried this recipe yet.
Turmeric + Black Pepper Roasted Cauliflower
Ingredients :
1/2 a head of cauliflower
1 – 2 teaspoons turmeric
1/2 teaspoon freshly cracked black pepper
sea salt to taste
grapeseed or mustard oil for drizzling
Directions :
Preheat oven to 350F and line a baking sheet with parchment paper. Clean, dry and cut the cauliflower into chunks. Drizzle oil on the parchment paper and spread out all over. Drizzle the top with more oil and sprinkle turmeric, pepper and salt. Rub all over with your hands so the spices get spread out all around. Spread out the cauliflower pieces on the pan and place in the oven. Bake at 350F for 20-25 minutes flipping over once half way through at around 12 minutes.
NOTE : I made this for a family with small children (including a baby) and in our family the kids don't like pepper so I omit the pepper completely from the roasting and the adults add fresh cracked black pepper to our dinner plates.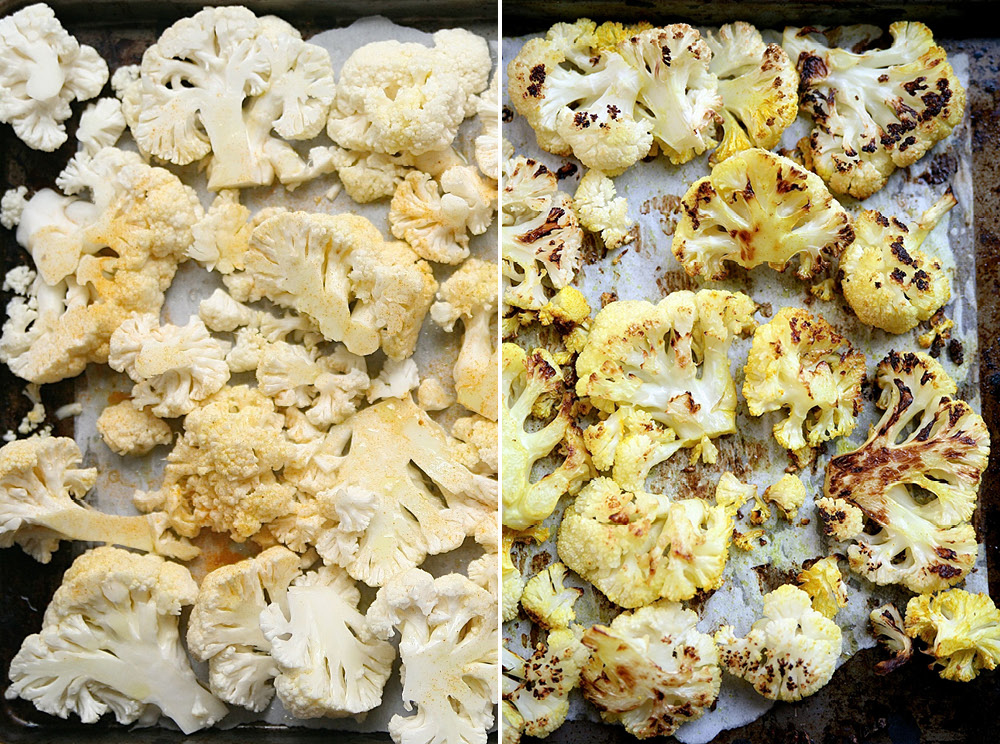 For a few years now I've been trying to increase my intake of Turmeric. Sometimes it's a success, other times it's a complete fail and the taste throws off a dish. But I'm so happy that this dish just naturally works with bringing the flavours together. And the rewards are amazing! Here's why:
Turmeric's medicinal health benefits are numerous:
anti-cancerous – helps prevent and treat cancer
contains powerful antioxiodants
anti-inflammatory (fights bacteria & repairs damaged cells)
improves brain function + lowers risk of brain disease
lowers risk of heart disease
has shown to reduce depression
fights age-related chronic diseases
.
NOTE : Turmeric (or the Curcumin in turmeric) is poorly absorbed into the blood stream but the absorption is naturally boosted when combined with pepper!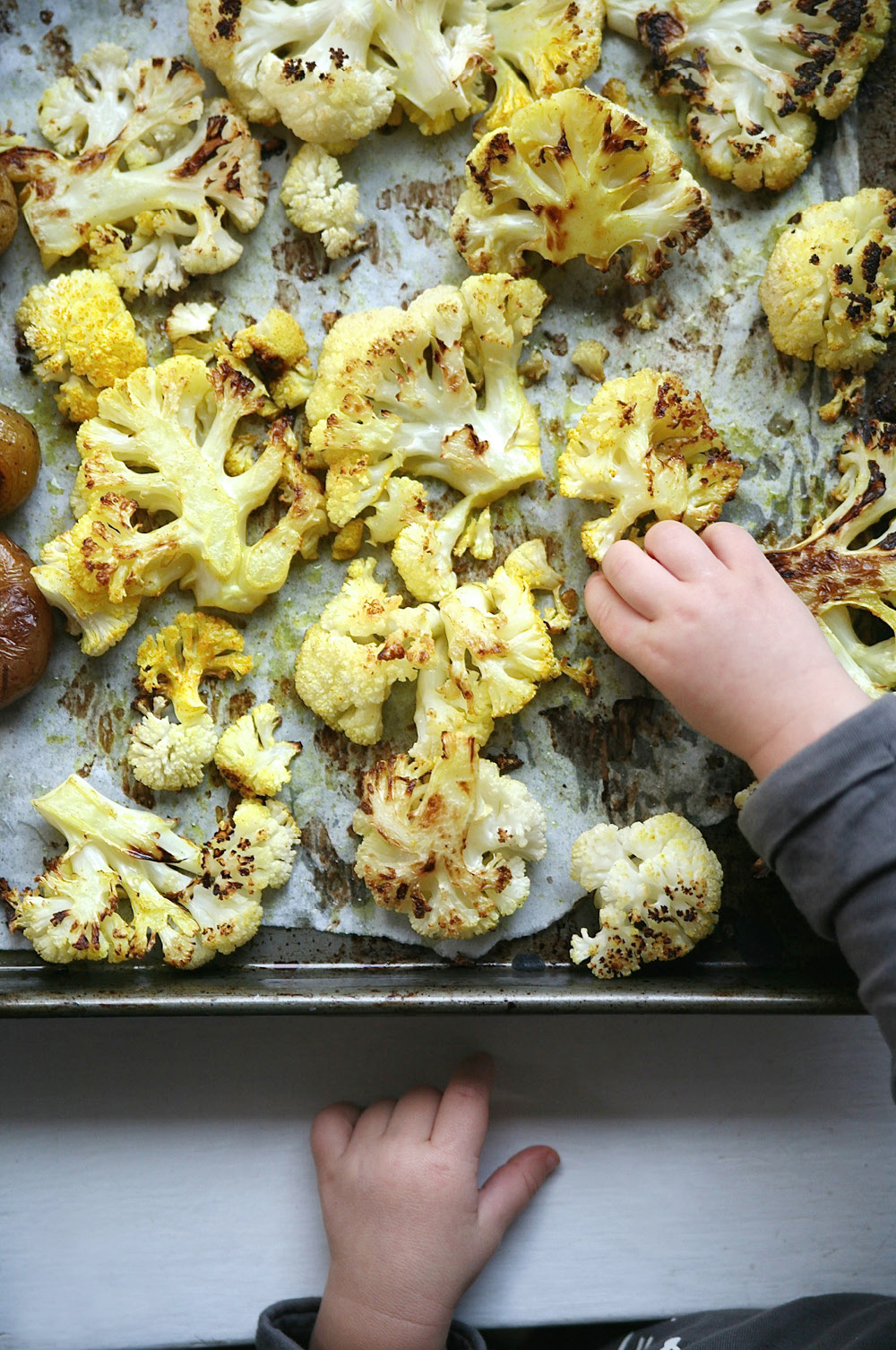 So not only is this recipe super healthy! It is absolutely deliciously amazing! What's more exciting is that my kids LOVE this cauliflower and they eat it right off the pan. (Mis is just 16 months and stuffs her face with this!) I am so happy when I make an easy family friendly recipe that is delicious and healthy too!
I now make this recipe from the full head of cauliflower because it's that good. And did I mention this is a super easy recipe too? ;)
What are your favourite ways to eat up cauliflower?
Here are a few other great recipes with cauliflower:
Cauliflower, Potato and Lentil Soup