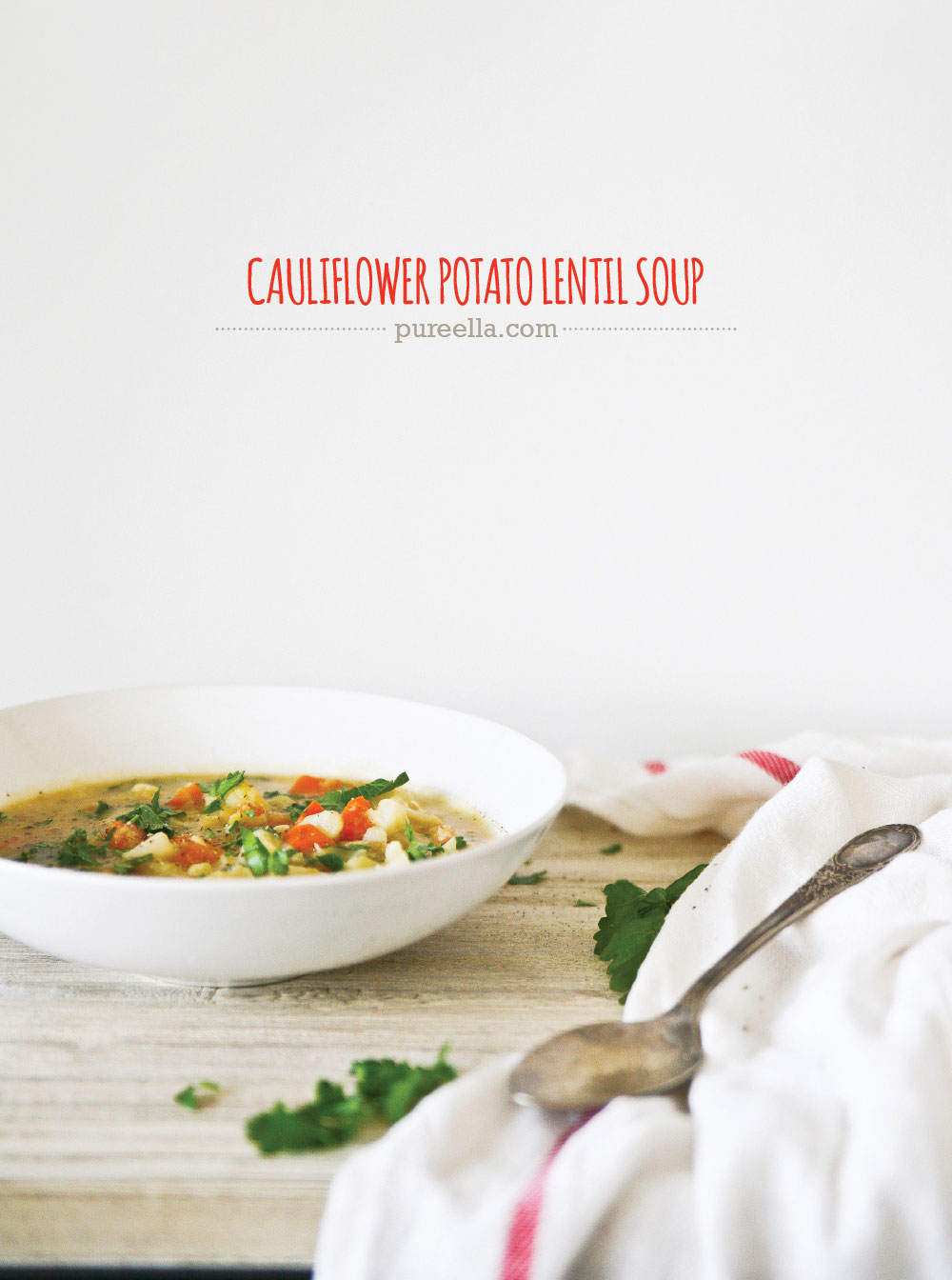 Hey! Just checked, it's still winter! Below seasonal! It is cold…!!!
So what to do with that piece of information…. make some comfort food of course! What else?
I like to turn to food for all kinds of things… nourishment, warmth and always love.
A bowl of this Cauliflower Potato Lentil Soup will make winter bearable a little longer and make you smile as you scoop up the simple beautiful veggies onto your spoon… and into your belly.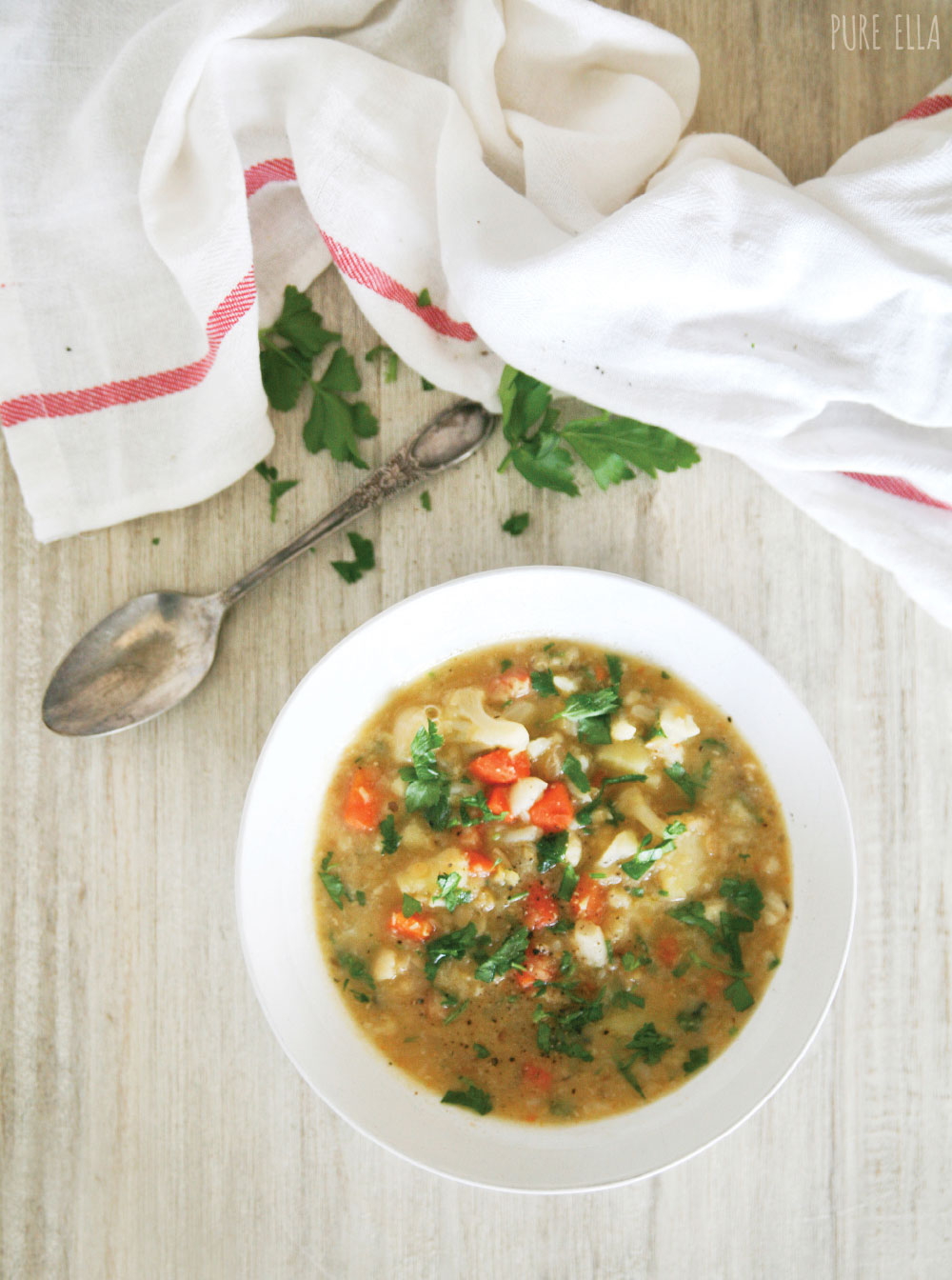 Cauliflower Potato Lentil Soup | gluten-free and vegan
serves 4
prep time : 10 minutes
cooking time: 20 minutes
Ingredients :
1 medium onion
2 carrots, peeled and chopped
1 parsnip root, peeled and chopped
1/4 celeriac root, peeled and chopped
2 medium potatoes, peeled and chopped
1/2 cup dried red split lentils
1/2 head of cauliflower, chopped
1 tablespoon dried garlic flakes
1 tablespoon sea salt
fresh cracked black pepper
fresh parsley
grape seed oil for frying
2 L hot water
Directions :
In a large pot, drizzle in some oil to cover the bottom, add in onions and sautée until slightly golden. Add in other vegetables  except for cauliflower and lentils, and cook for about 3 minutes mixing occasionally so they don't stick to the bottom of the pot. Add more oil if need be if the oil gets absorbed too much. Once the veggies are slightly golden, slowly pour in hot water, about 1 cup at a time while mixing the veggies. (About 2 L in total) Add in lentils and stir. Bring to a boil, cover and reduce heat, stirring occasionally. Add in the seasoning and cauliflower. Cook for another 10-15 minutes. Serve with fresh parsley. Enjoy!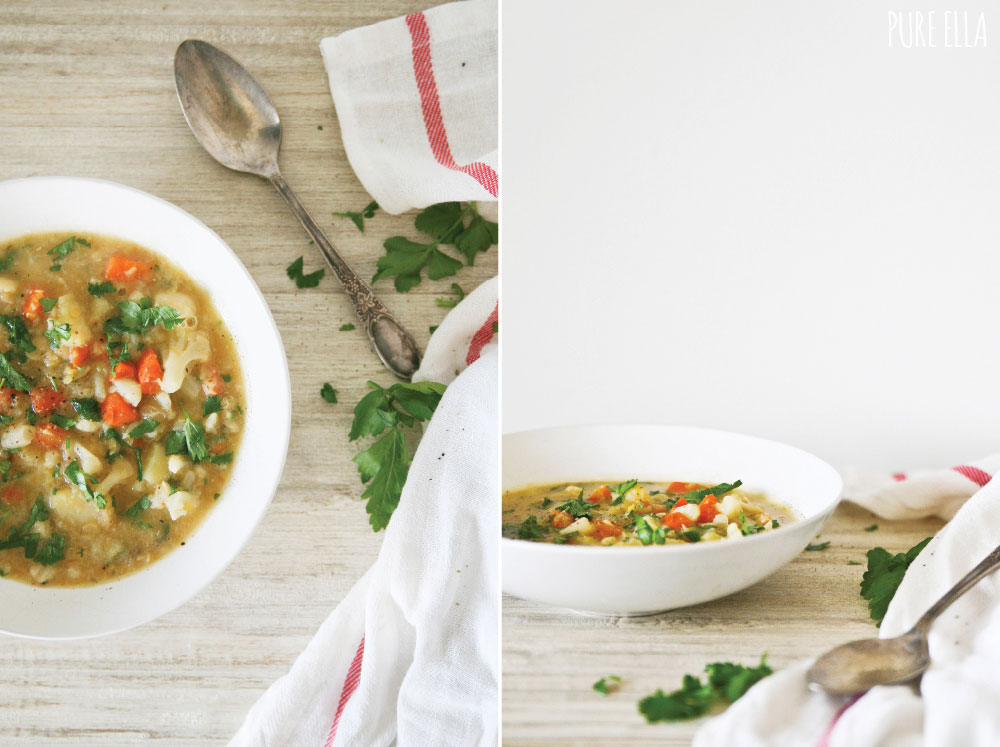 A simple healthy soup like this makes a world of a difference when the weather outside chills you to the bones. On days like this, sometimes, I even cook a big pot of soup in the evening, let it cool as I get ready for bed and then just place it in the fridge for the next day. That's when a little planning goes a long way… who does not want to come home on a blistering cold day to some hot soup that just needs a two minute reheating. And we don't have a microwave, so warming up a portion of soup on the stove feels like you're making a fresh pot of soup… the aroma just lifts and fills the house again with comfort and love.
Keep to simple pure ingredients and enjoy a little soup heaven… I like to usually add a protein source to most of my meals so they are heartier – lentils are packed with protein, fibre and lots of nutrition. And they are so inexpensive and convenient to use. I always have a bag on hand. And the split lentils cook so quick! Perfect for a quick comfort-food dinner.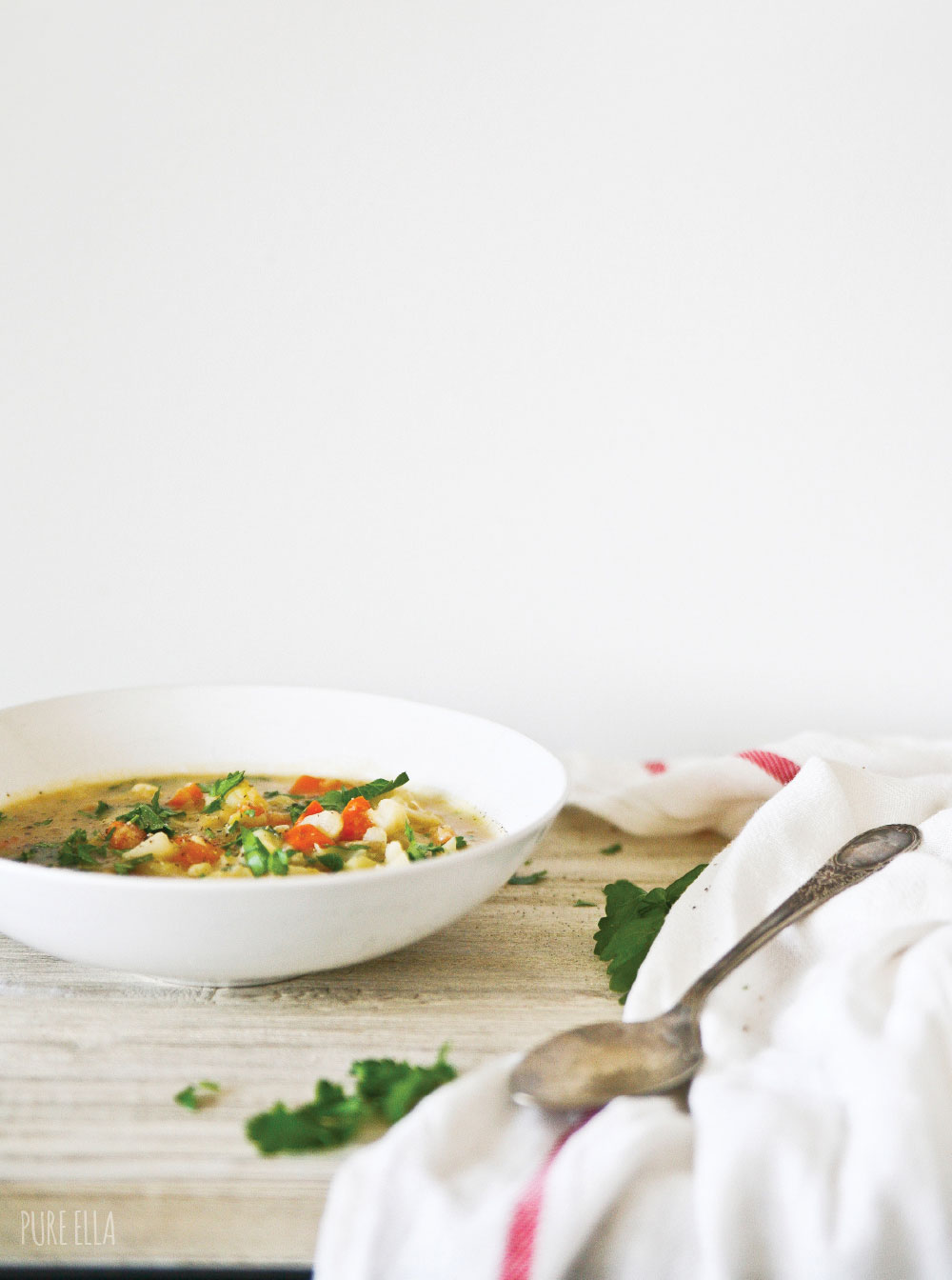 So we're still enjoying soup days and other ways to stay nice and warm…
Are you also enjoying warming meals still, or have you dived into Spring recipes already?
♥
Pure Ella
If you're new to Pure Ella, please sign up for email updates and join me elsewhere: 
Facebook

  //  

Pinterest

  //  

Twitte

r  // 

Instagram

 

@pure_ella