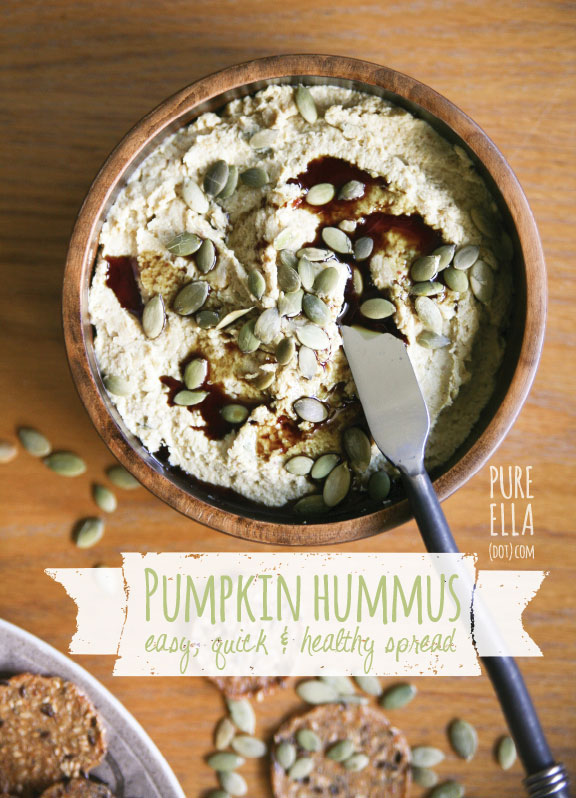 Tis the season for everything Pumpkin!
And although pumpkin-spice or pumpkin puree usually takes centre stage this time of the year, let's not forget about the all-year favourites : Pumpkin Seeds & Pumpkin Oil which take centre stage in this recipe! This Pumpkin Hummus Recipe is especially amazing and packed with incredible nutrition to take your hummus game to the next level!
Pumpkin seeds (also know as Pepitas more in the US) are one of our favourite snacks. They are neutral tasting with a little bit of nuttiness which are a fun go-to snack for school lunches, the car for the mr. to snack on or to throw into our morning oatmeal.
Pumpkin oil is my new found superfood that I am really enjoying. It's rich and creamy and has a very distinct flavour that goes really well with fall-inspired salads and of course this hummus.
Below this recipe I go into the health benefits of both! Enjoy this Pumpkin Hummus – yes, it really does take 5 minutes to make!!! (I have no idea on earth why people spend $5 on a small package of hummus. It's so quick and easy to just make at home… enjoy!
This pumpkin hummus is also naturally vegan and gluten-free!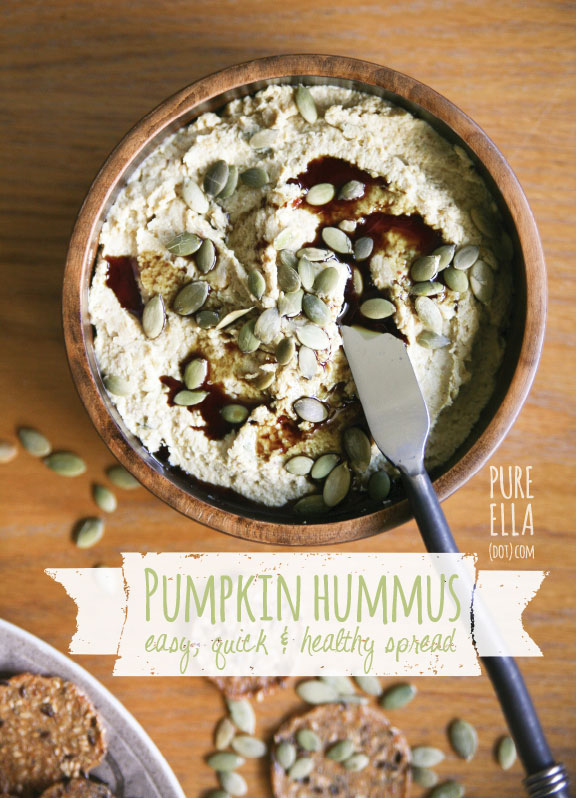 Pumpkin Hummus
2013-10-22 10:52:55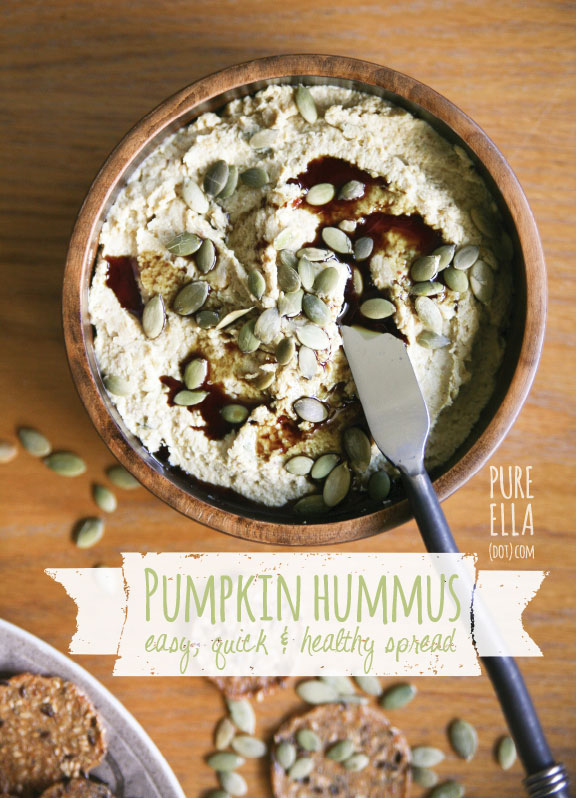 Serves 4
with pumpkin seeds & pumpkin oil
Ingredients
1 can (19 ounce) chickpeas, rinsed and drained
1/4 cup tahini (sesame paste)
2 cloves garlic, finely minced
dash of sea salt and fresh ground pepper
2 tablespoons of freshly squeezed lemon juice
2 tablespoons of pumpkin seeds (+ extra for sprinkling on top)
2 tablespoons extra virgin olive oil
2 tablespoons of pumpkin oil (+ extra for drizzling on top)
+ a few tablespoons of filtered water if needed
Instructions
In a food processor or blender, add in all the ingredients and purée until smooth. Add a little extra filtered water if the consistency is too thick. Taste and add more sea salt and pepper as you like.
Serve in a small bowl and top with a drizzle of pumpkin oil and a sprinkle of extra pumpkin seeds. Enjoy as a dip or sandwich spread.
Adapted from Pure Ella
Pure Ella https://pureella.com/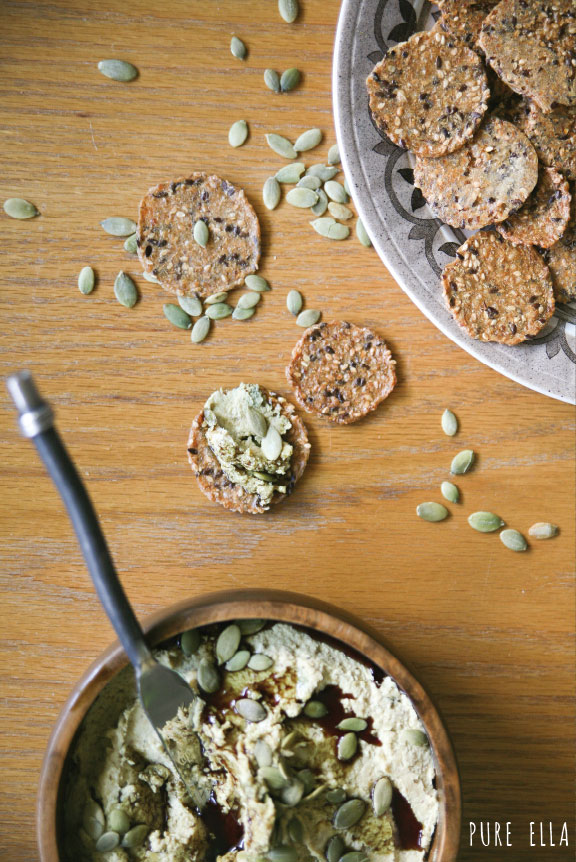 PUMPKIN SEEDS NUTRITION FACTS:
pumpkin seeds are rich in protein – 30 grams of protein in 100g serving (that's a little less than 1/2 cup)
rich in mono-unsaturated fatty acids like oleic acid that helps lower bad LDL cholesterol and increases good HDL cholesterol in the blood. this helps to prevent coronary artery disease and strokes by building healthy blood lipid profile.
excellent source of amino acid tryptophan and glutamete – Tryptophan is converted into serotonin and niacin. Serotonin is a beneficial neuro-chemical that helps relieving depression and aids in sleep.
helps relieve anxiety, nervousness and other neurotic conditions
great source of antioxidant vitamin E
high in B-complex vitamins
good source of minerals like copper, manganese, potassium, calcium, iiron, magnesium, zinc and selenium.
cuts the risk of prostate and ovarian cancers due to DHEA blocking actions
.
PUMPKIN OIL NUTRITION FACTS:
(ALL OF THE ABOVE) +
contains phytochemical compounds that prevent diabetic nephropathy (kidney disease)
great remedy for irritation of the bladder and kidneys as well as prostate irregularities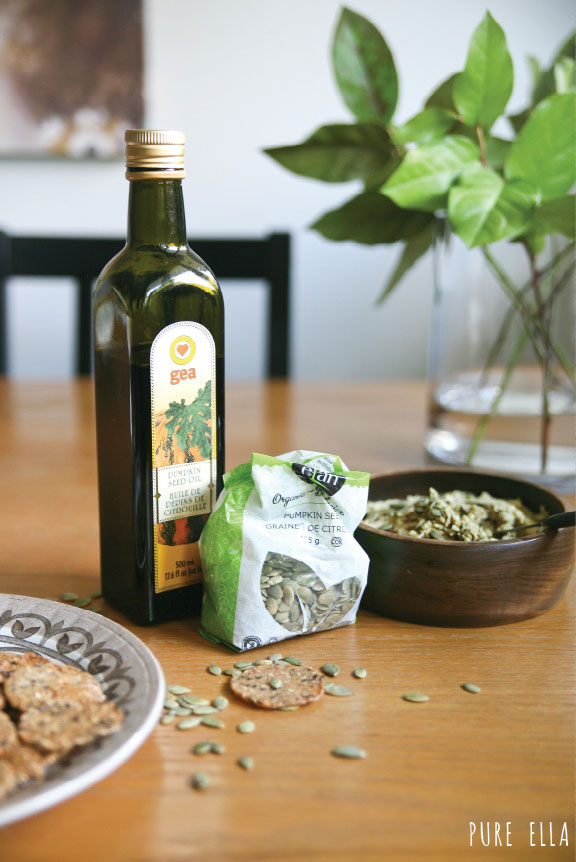 Aside from this great Pumpkin Hummus that we've enjoyed on crackers, a base for sandwiches and dip for carrots… I am making sure we are increasing our snacking on organic pumpkin seeds and enjoying the European-produced pumpkin oil such as this one from Gea. The EU has no GMO crops and have lots of restrictions on toxins that are used on plants. This brand you can pick up at most European grocery stores or look in your health food or organic stores.
I hope you'll enjoy this yummy hummus!
What are your favourite ways to enjoy the pumpkin season…. and have you tried pumpkin oil yet?