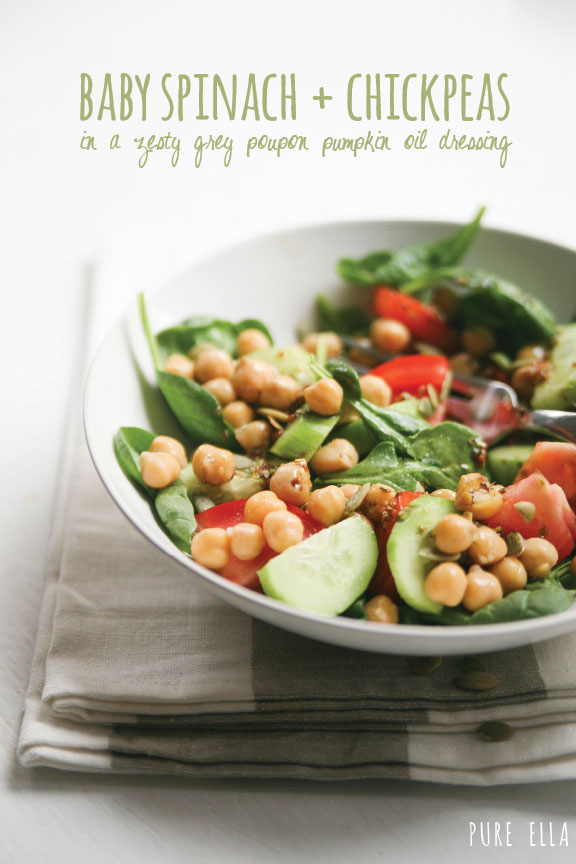 There have been two new little purchases in my house recently :
One, is the bottle of pumkin oil which I've already shared about on my Pumpkin Hummus post. Pumpkin Oil is a true superfood and I'm trying  to add it to something daily… hence this salad recipe…
Two, is a jar of Grey Poupon course seed mustard! Oh wow! That mustard has this incredible burst of flavour and I love it! So weird for me to say this about mustard… I have never been a huge fan… but now that I'm kind of a nutrition geek – I know how amazing mustard seeds are! Hello nutrition is a divine flavour! Be prepared for everything mustard! (ok, just kidding) but perhaps just a few recipes won't hurt ;))
So, speaking of nutrition… How is that department going for you lately?
I have to be honest, I kind of fell off the wagon for a few weeks after our vacation to the Bahamas. I was kind of spoiled and relaxing too much… that then everything seemed to go in snail-speed…. I could not keep up with anything, I slacked off in the cleaning department, laundry department, work department and yes, even my nutrition department. I just kind of forgot to take care of myself. I kept craving bad things and even though my fridge was stocked with fresh veggies… I just completely ignored them. And went for a banana again. (too easy and although still good for you….it's just not a meal).
Oh and I also stopped exercising completely. I think I overdid it before our vacation at the gym that I must have injured my knees and my right shoulder. I can't remember a specific incident that would have cause this pain, but it's been weeks with tragic pain and I can't imagine what else it could be. So I've been taking it easy and doing nothing. Not a good idea either. Hence my slacking. (now you know).
But I'm bouncing back! One of the ways to bounce back is to take care of yourself. If you're a grown-up you know that no one will show up and pick you up and nurture you back to happiness! You have to get up and do it yourself!! Even if you don't want to. You have to go out get fresh air, move that body and go and grab some nutritional foods!
Which makes me finally go into this delicious Baby Spinach + Chickpea Salad with Zezty Grey Poupon Pumpkin Oil Dressing! Yum!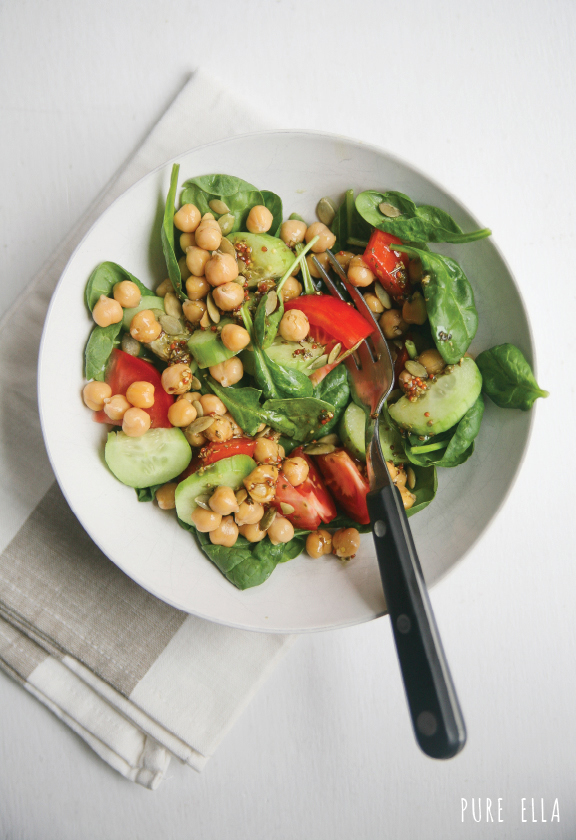 Baby Spinach + Chickpeas Salad
2013-10-23 09:28:54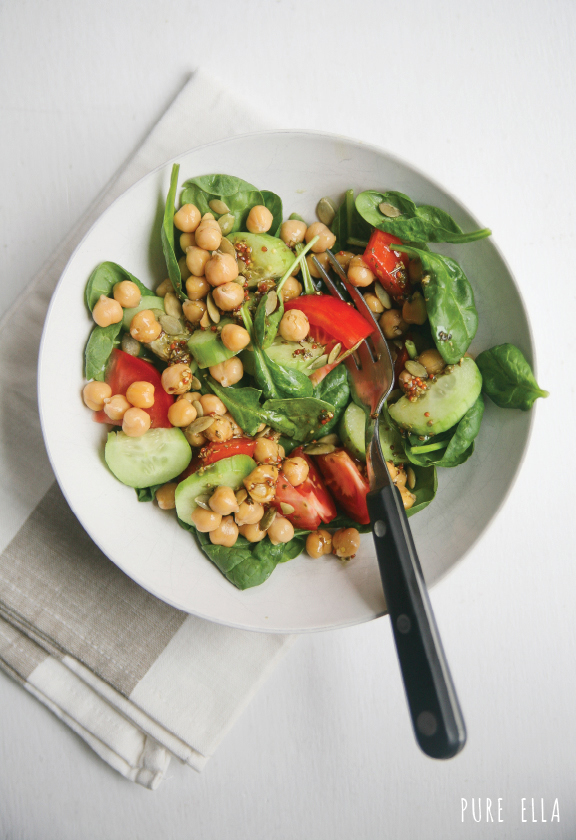 Serves 1
with Zesty Grey Poupon and Pumpkin Oil Dressing
Ingredients
a handful of organic baby spinach
1/2 organic tomato
1/2 organic cucumber
2 tablespoons pumpkin seeds
1/2 cup chickpeas or garbonzo beans, rinsed and drained
FOR THE DRESSING
2 tablespoons pumpkin oil
1 teaspoon Grey Poupon course Mustard
1/2 teaspoon dried oregano
1-2 tablespoons freshly squeezed lemon juice
pinch of sea salt
freshly ground pepper to taste
Instructions
Toss all the veggie ingredients together in a serving bowl.
In a small bowl, whisk all the dressing ingredients. Pour over salad and enjoy right away.
Adapted from Pure Ella
Pure Ella https://pureella.com/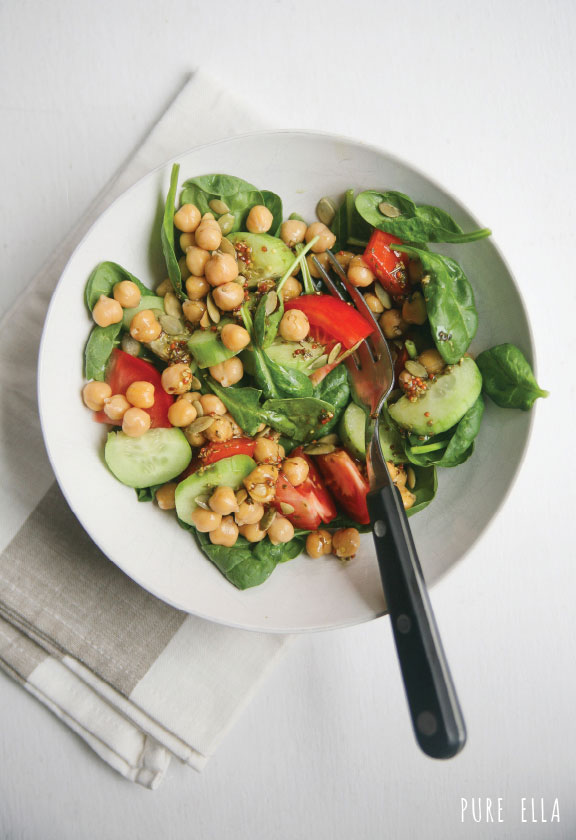 This was delicious and it helped me bounce back and take care of myself a little more. I know the fall and winter seasons aren't all to inviting to grab a salad – but you still should! ;) Trust me, your body and energy will thank you ;) xo