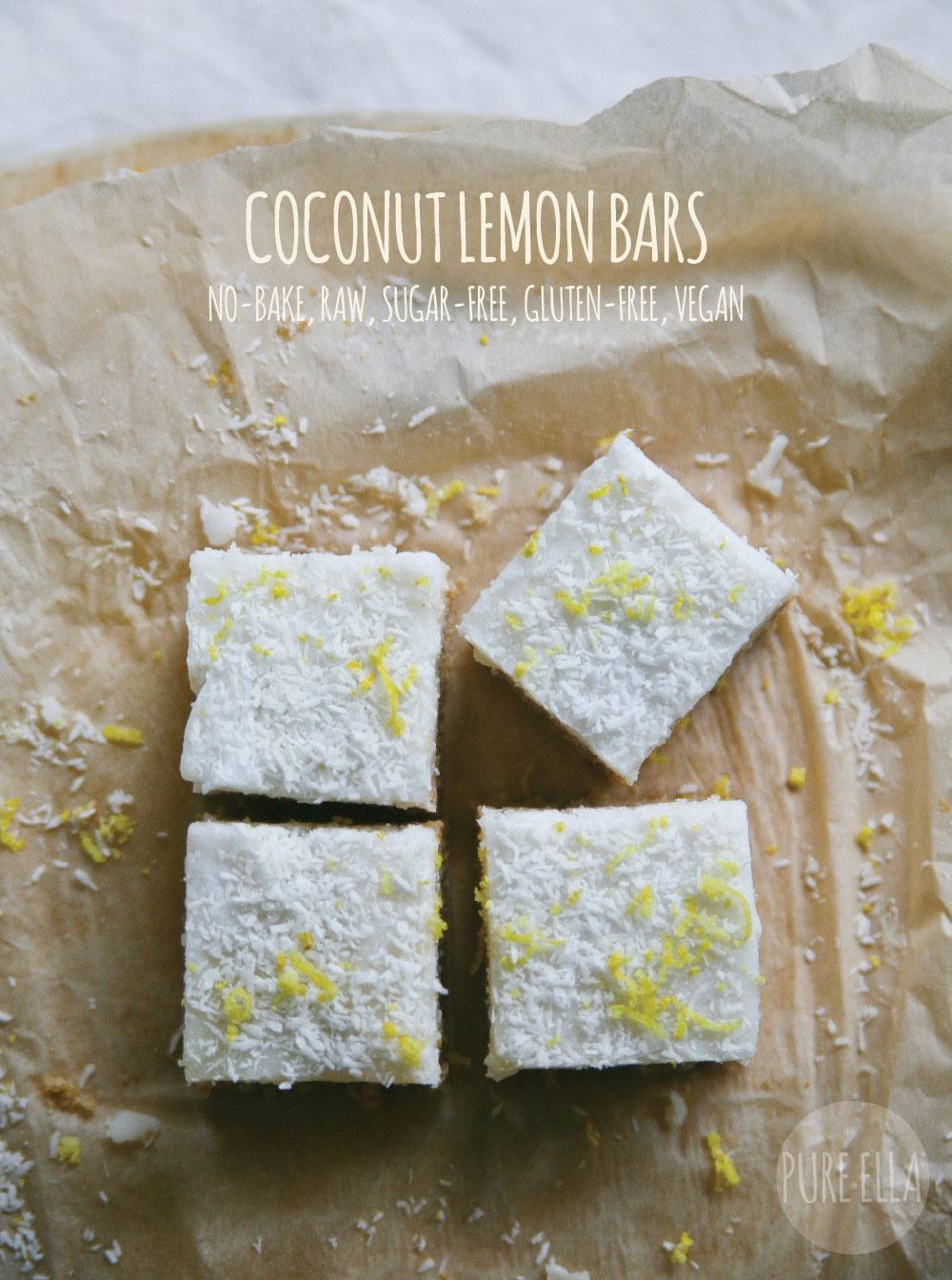 What better way to end the week than with some homemade dessert…
I love a good yummy something and it's become a tradition that I bake something for the weekend, almost every weekend. It's just a nice way to reward yourself I think, and keep the sugar-intake at a minimum. After all, dessert eating has its limits – if we all could just succumb to our cravings, we'd be sick, obese, diabetics and what not. Basically, I've learned that sugar cravings are not all that cute – you just can't have it all… and the more disciplined you become with your sweet tooth cravings – the healthier you are.
But, but wait! What if this said dessert is incredibly um… Good-for-you! Like for reals! No sugar added, healthy grains, healthy ingredients, amazing taste, completely guilt-free!? Do all my rules and all my discipline for craving sugar go out the window? Ha! They kind of do!!! ;)
Because this dessert is a crazy amazing dessert that you could eat for breakfast and not feel one piece of guilt about it! ;)
Desserts don't have to be evil and painful to look at!
Just trust me on this… this is a sugar-free no-bake, raw recipe for a dessert so delicious that you I think you should just make a double batch and call it a day! Because people will start knocking on your door and inviting themselves over for tea as soon as news gets out of this deliciousness in your kitchen! (Welcome to my life… I already left the door open… and the tea pot is already set! ;)
No-Bake, Raw, Vegan Coconut Lemon Bars, gluten free
Ingredients for base :
1/3 cup almond flour
1/2 cup certified gluten-free oats
1/2 cup raw buckwheat groats
3/4 cup dates, pitted
3/4 cup unsweetened coconut flakes + extra for topping
2 tablespoon agave nectar, honey (not vegan) or maple syrup
fresh lemon zest of 1 lemon + extra for topping
pinch himalayan pink salt (optional)
Ingredients for top layer :
1/4 cup coconut oil
2 tablespoon raw coconut butter (optional, use regular coconut oil if not available)
3 tablespoon raw honey, one that becomes solid at room temperature (use agave or maple syrup if vegan)
juice of 1/2 lemon
You will need a food processor, any dish that will hold an approximately 6×6″ base (does not have to be oven proof), pan to heat oil, unbleached parchment paper
Directions :
To make the base : In a food processor, grind all ingredients until well blended. Be sure to turn the food processor off and scrape down the ingredients from top to mix them all in. Line a dish with parchment paper; leave tops of paper sticking out so it's easy to remove the finished dessert from the dish once it's done. Press the 'dough' into the bottom of the dish, be sure to pack the bottom tight and press down evenly. (Be sure the sides are nice and firmly packed). Set aside.
To make the top layer : On the stovetop, heat the coconut oil with honey or other sweetener on low until just melted, not boiling. Remove from heat completely and make sure the temperature is lukewarm not hot before you add the fresh lemon juice. Whisk those ingredients together to incorporate well. Pour over the base and place in the refrigerator for at least 1 hour to chill or overnight. For a quicker serving, place the pan in the freezer for about 15 minutes to set faster, then cut into squares and serve.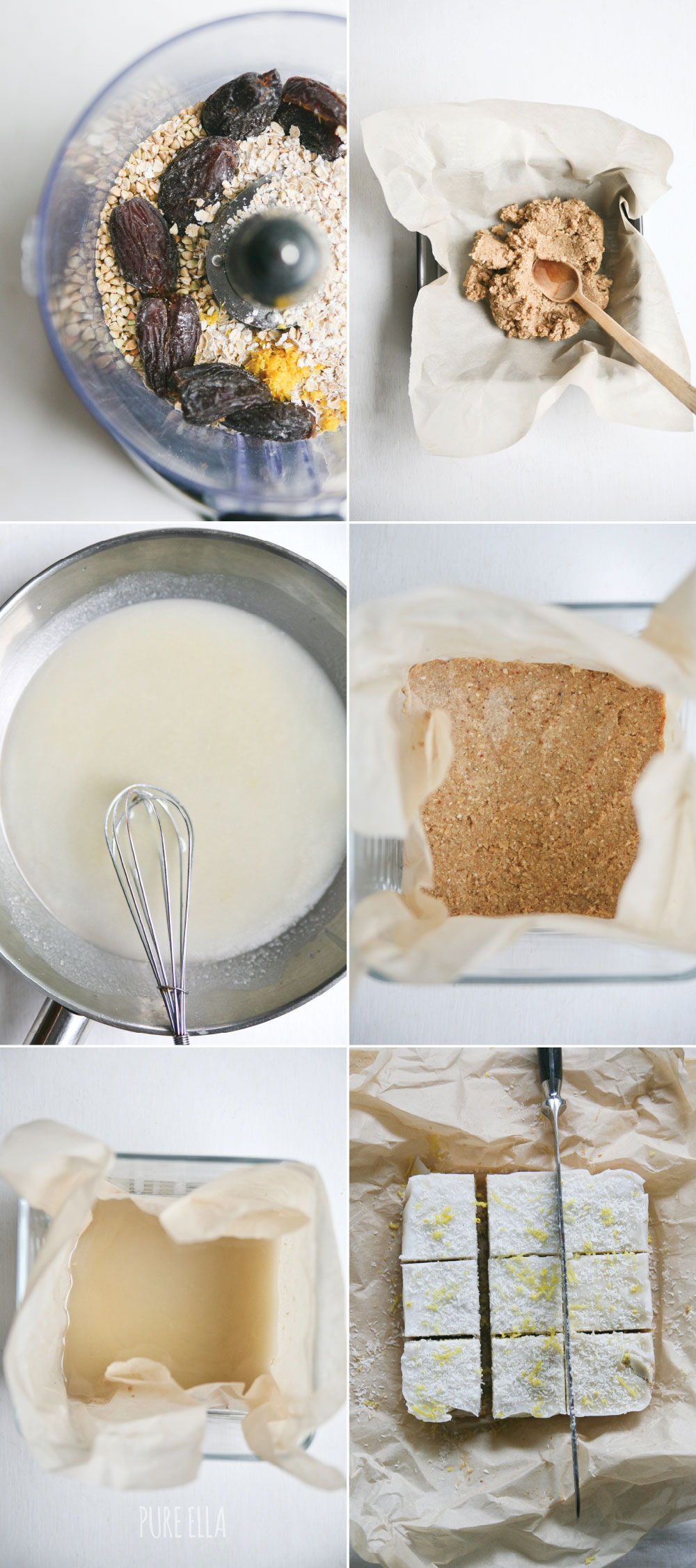 So there you have it. Guilt-free, sugar free dessert recipe that is easy, quick and tastes amazing!
And I totally give you the stamp of approval to even devour for breakfast! It's all good… enjoy!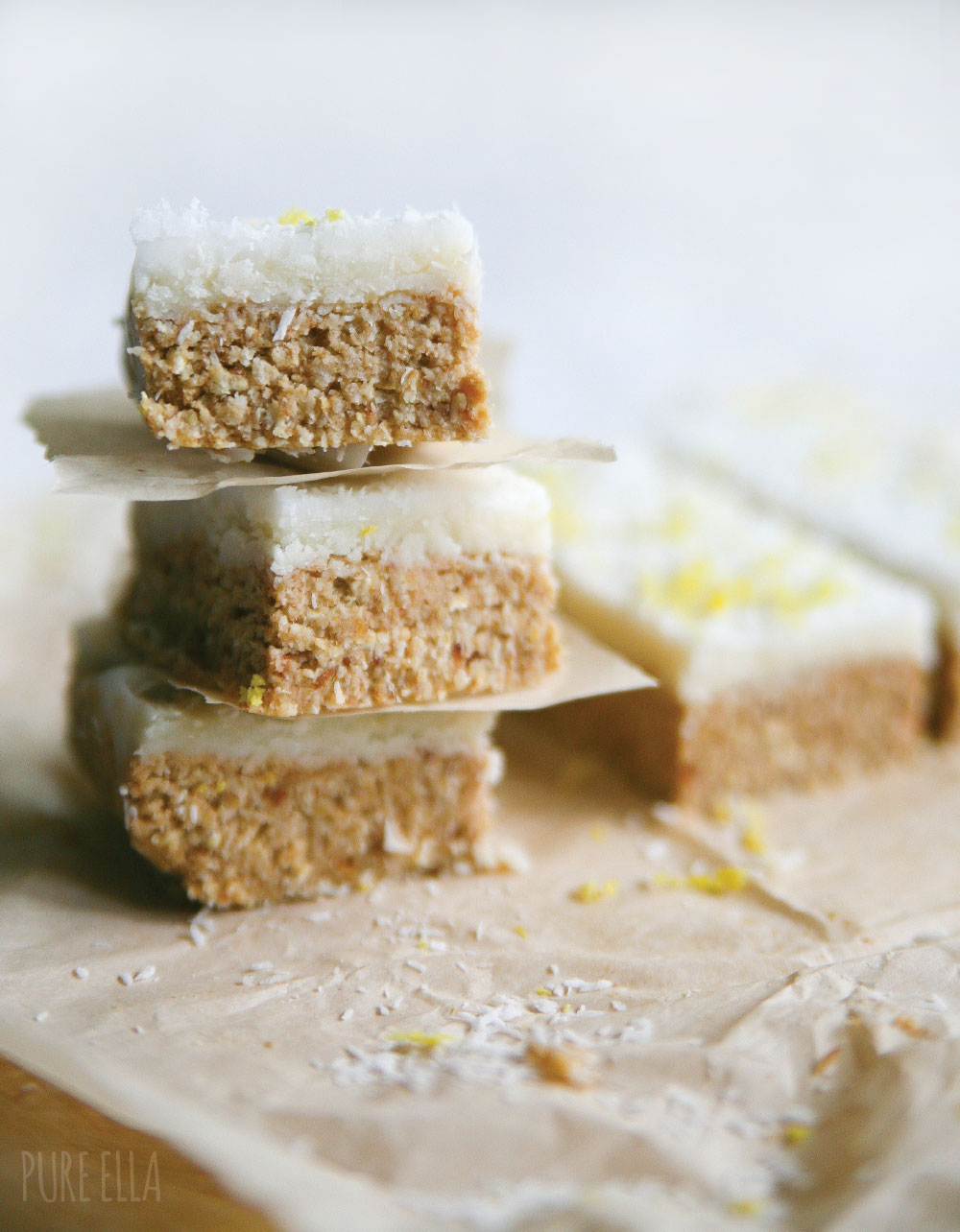 I have to say my family is my best taste-tester for all my recipes first! And I know my husband has a biased role in saying he loves everything I make. But, when he bit into one of these bars, his eyes widened, he smiled and said : "This is the best thing you ever made!" Totally rude, right? Because I have made so much other good stuff. Plus I think he says that every time he bites into my desserts. So, I don't even know anymore… some constructive criticism would be nice for a change….
Now there's one more recipe taster that I know I can't fool easily… my girl flew into the kitchen a gazillion times when I was making these asking if they're ready! Only to be turned away with grave disappointment that she has to wait 5 minutes longer.
Kids don't know patience anymore…. ;)
Finally, when she saw the big squares, the excitement could not be contained. She quickly grabbed one and was all smiley ear to ear. I love making little girls happy!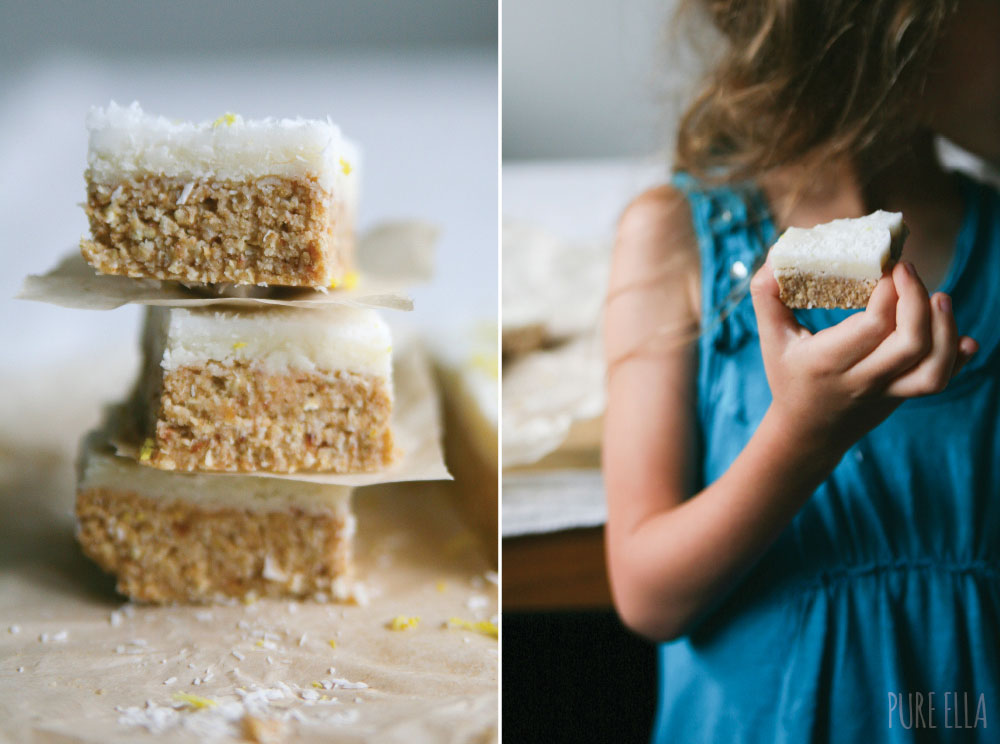 Now I just want to make myself happy again and make these very soon! What's great is that these ingredients are something that I keep regular stock of at all times – and fresh lemons are like air around here. We always have them…. so I think I need to make these again very soon…. I hope you will join me, and enjoy my vegan lemon bars.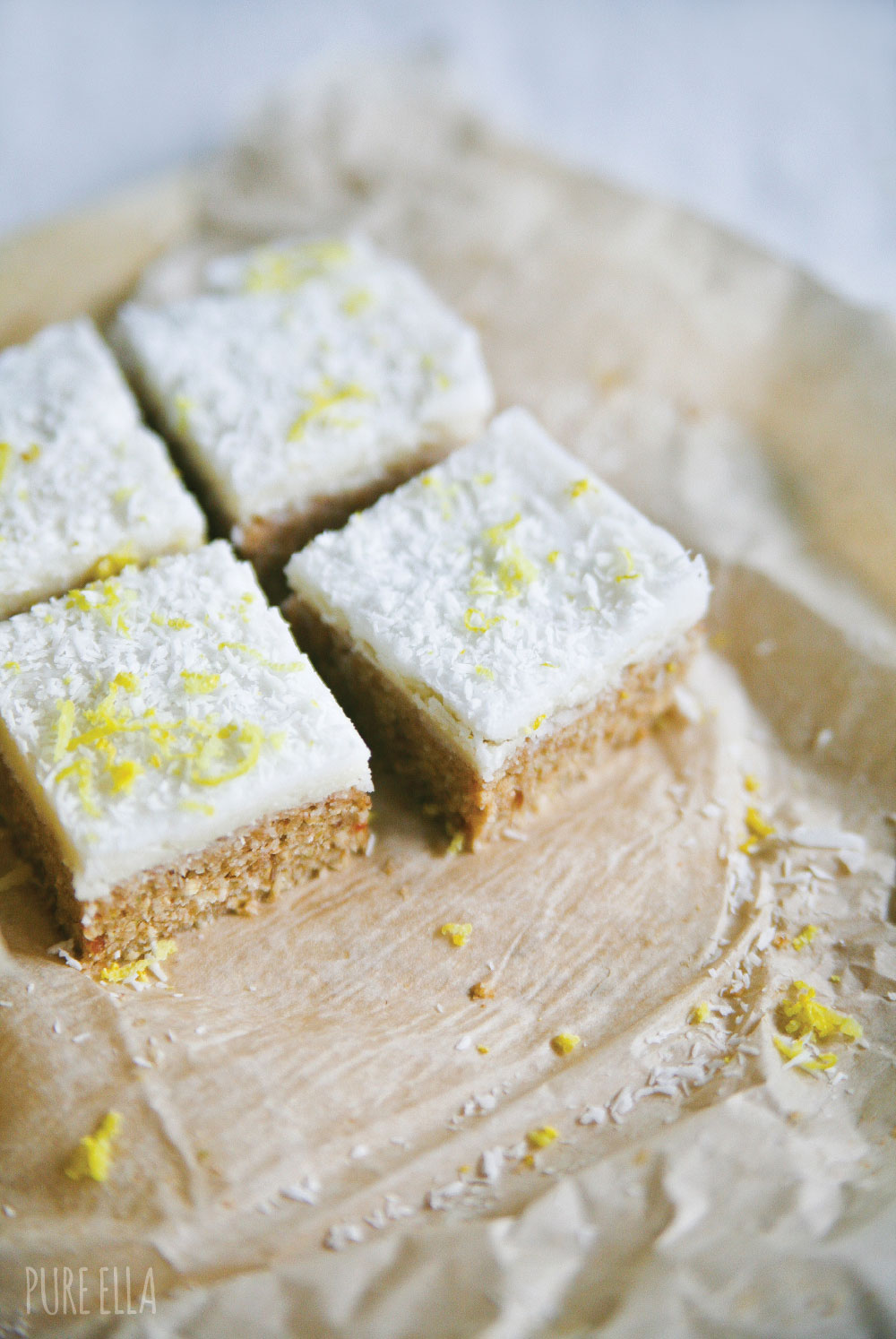 ♥
Ella
.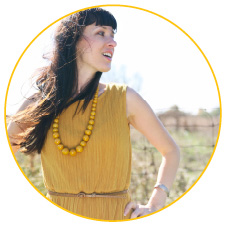 Ella Leché
is a cookbook author ('
Cut the Sugar
'), recipe developer, and photographer/stylist behind Pure Ella; where she shares delicious and healthy recipes. Eating PURE is clean ingredients, whole foods, plant-based nourishment and delicious desserts – with quality ingredients and sweeteners so they're treats with benefits so you won't have to feel deprived or restricted to eat healthier.
Thank YOU for being here!
Follow on social media for daily health & happiness inspiration:

ps. don't forget to share your Pure Ella (PE) recipe creations by tagging them #pureella and
@pure_ella
on Instagram – we repost our favourite photos!
Summary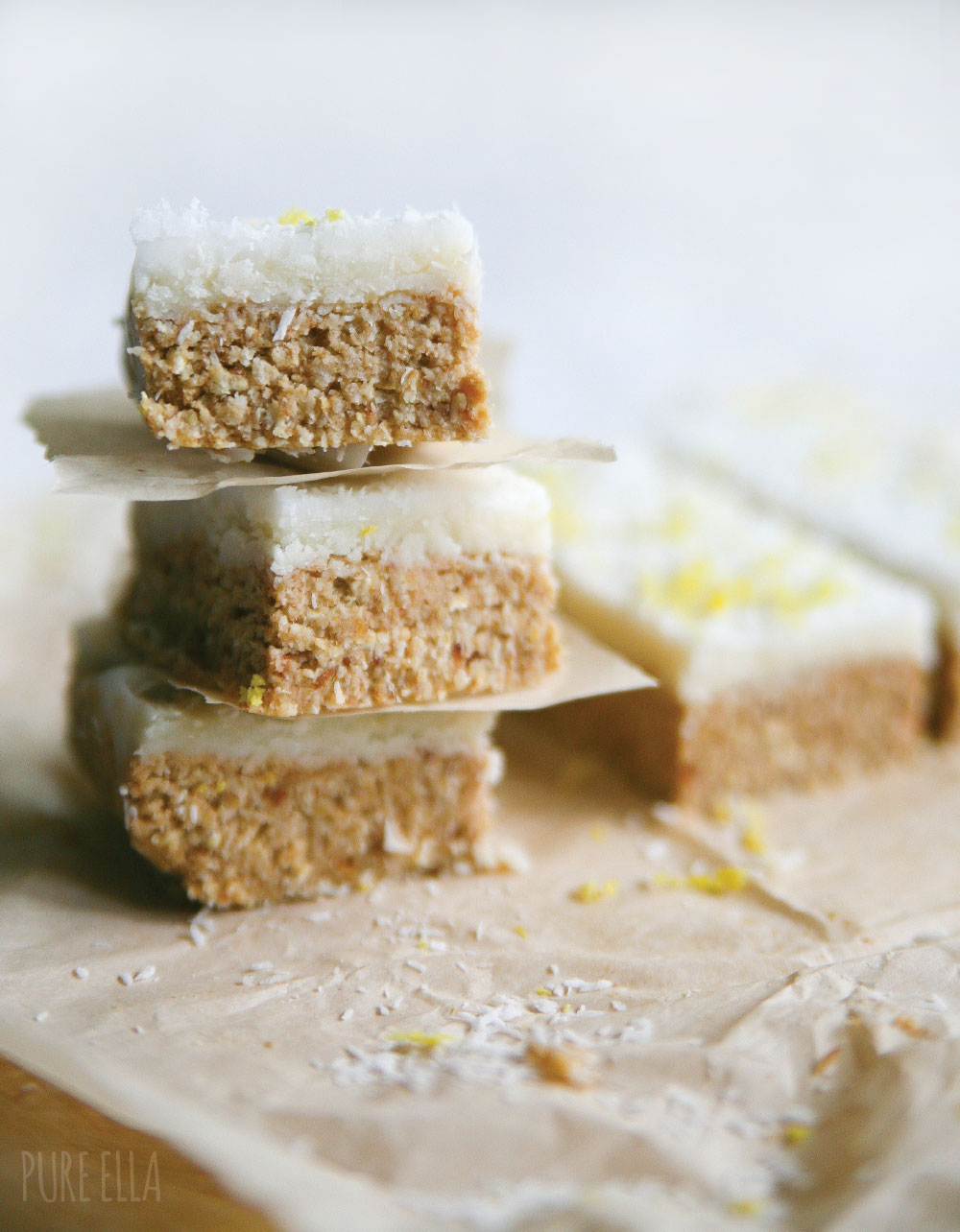 Recipe Name
Published On
Preparation Time
Cook Time
Total Time