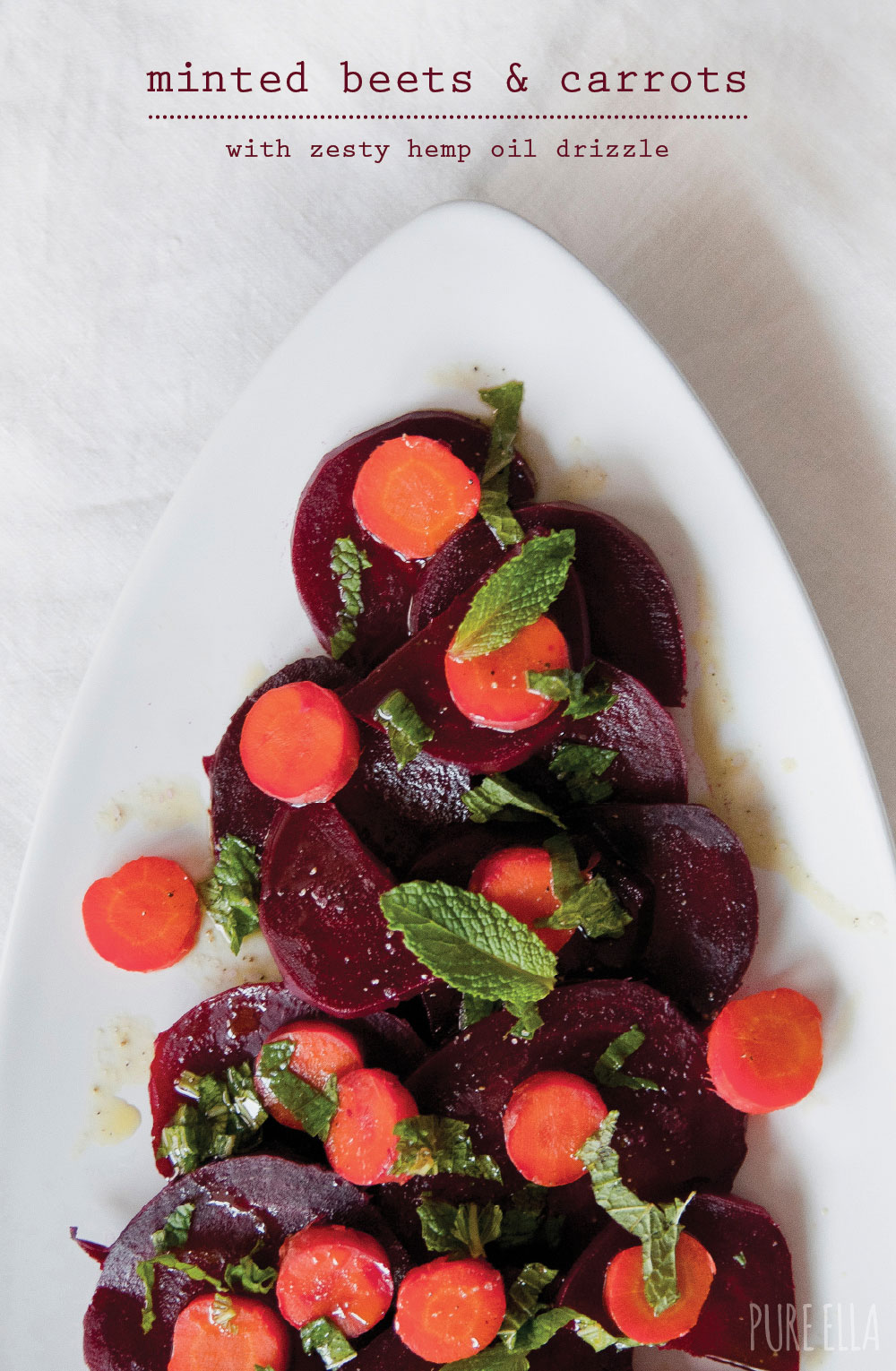 Sometimes it's the side dish that really makes a meal. Right?
I know there's folks in my family like my mom and father-in-law who only focus on two food selections on the table : meat & potatoes.
That my dear ones is not what a meal is all about! I personally couldn't care less about the meat or the potatoes. What I do like are some amazing side dishes that add a burst of flavour and excitement to my palette ;)
And hey, if you do care for meat and potatoes – I'm sure you can still spice up your life with a great side dish or two!
I like simple side dishes that are quick and easy to make – it's even great if they can be prepped the day before so there's less work the day of a big family feast.
What I also like is when that dish has instant pizzaz and looks beautiful!!
I find these Minted Beets and Carrots are exactly that! They are quick, easy, have a Wow factor on the table and it's also super healthy!! With an added Zesty Hemp Oil Drizzle you're also boosting the Omega 3 oils – making this a great antioxidant rich side dish burst with enlivening vitamins and minerals.
Minted Beets and Carrots with Zesty Hemp oil Drizzle
(gluten-free and vegan)
Ingredients :
4 medium beets, peeled
2 large carrots
1/2 cup fresh mint leaves, roughly chopped (leave some leaves whole)
1/4 cup extra virgin olive oil
2 tablespoons hemp oil
juice of freshly squeezed 1/2 lemon
1/2 teaspoon fine sea salt
freshly cracked black pepper
pinch of cayenne pepper (optional)
Directions :
Clean the beets and carrots well. Set a large pot of water to boil, add in whole beets and cook for about 10 minutes on medium heat. Add in the carrots and continue cooking for another 10 minutes. Strain and let the vegetables cool. Peel the skins off once they are ready to be handled.
In a small bowl, combine all the ingredients for the dressing : oil, lemon and seasoning. Whisk well to combine the flavours and add in the mint leaves.
Just before serving, slice the beets and carrots and layer them on a serving dish and drizzle with the fresh mint hemp oil dressing. Top with some whole mint leaves.
Enjoy as a side dish with any Spring-time meal. The minty freshness makes the beets and carrots come alive and burst with a beautiful flavour.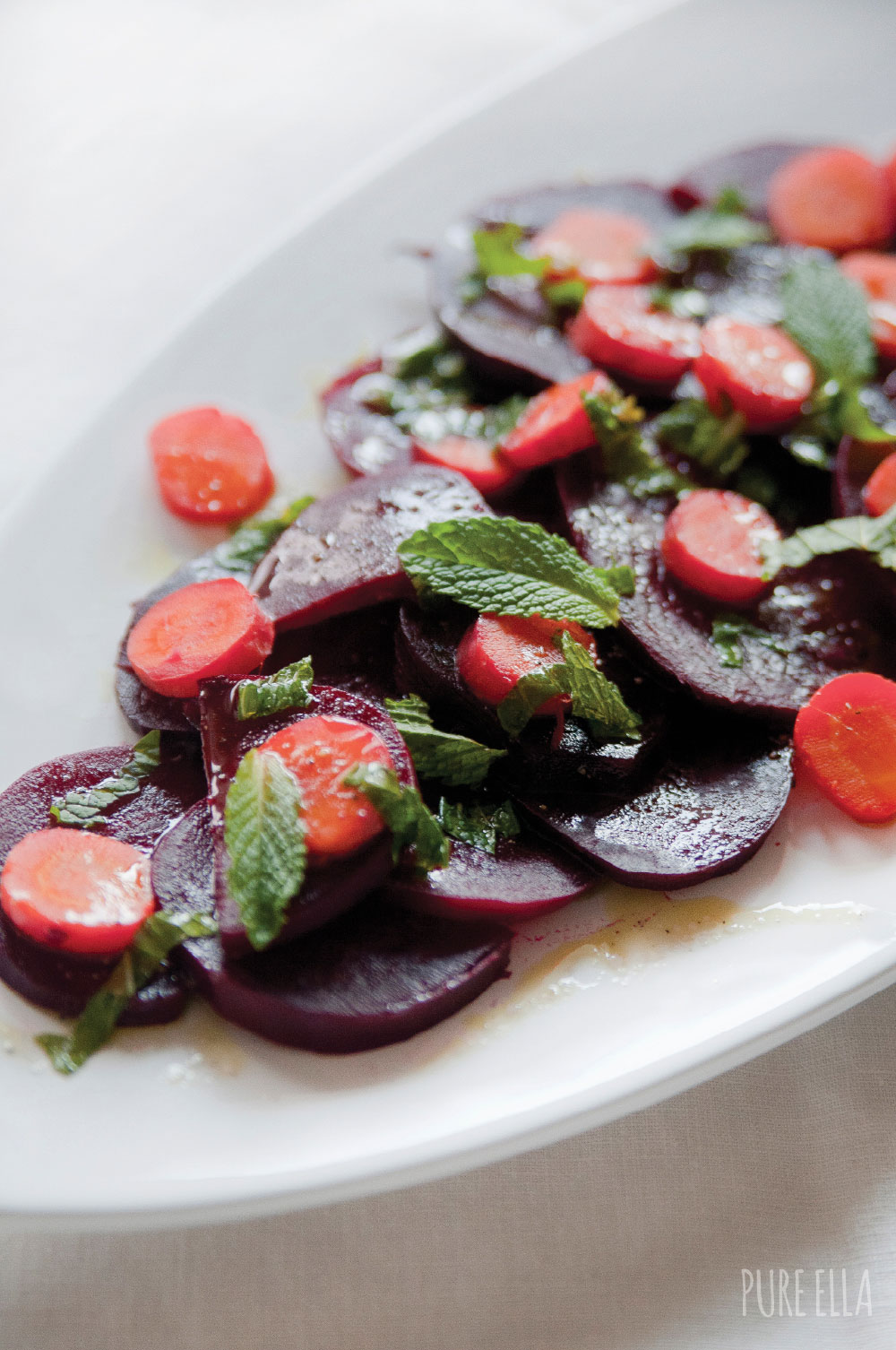 Beets don't only look bright and beautiful on your plate but are also packed with loads of vitamins and minerals. They are a natural tonic for the liver, improve mental health, lower blood pressure, improve blood health and are apparently found to be an aphrodisiac…. hmmm ;)
Do you need more reasons to enjoy this beautiful side dish? It also is a feast for the eyes and tastes amazing with the oil drizzle and fresh mint. Enjoy!
Do you love beets? What's your favourite way to enjoy them?
♥
Pure Ella
If you're new to Pure Ella, please sign up for email updates and join me elsewhere:
Facebook

//

Pinterest

//

Twitte

r //

Instagram

@pure_ella