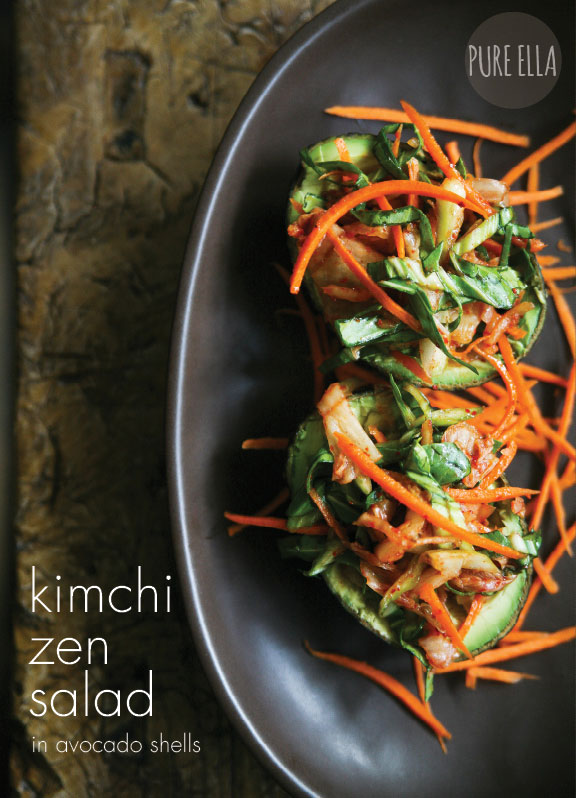 Lately I've had this insane craving for Kimchi.
So what is Kimchi anyway? If you're unfamiliar with the latest super-food – Kimchi is a spicy pickled (or fermented) cabbage that is traditionally from Korea. It has a flavour combination of spicy, sour and a little sweet depending on what variety you get.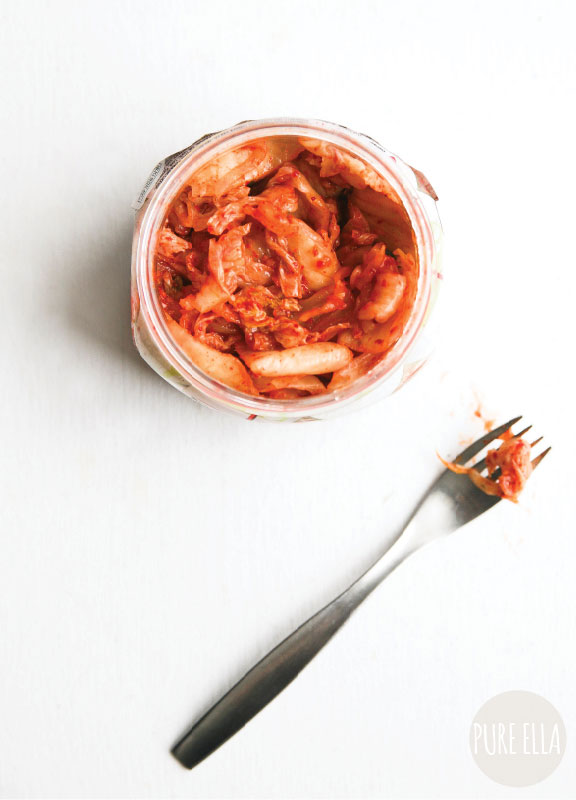 It's been a cultural dish in Korea for nearly 3,000 years so it's a big part of their daily tradition. Even when taking pictures, people there say "Kimchi" not "cheese" when smiling for their pictures. Fun, right? ;)
Kimchi is loaded with Vitamins A, B and C and lots of fibre. But the biggest benefit in Kimchi has to be the beneficial bacteria called lactobacilli which is found in fermented foods that helps with digestion and promotes a healthy gut. Some studies even show that there are compounds in fermented cabbage that promote healthy cells.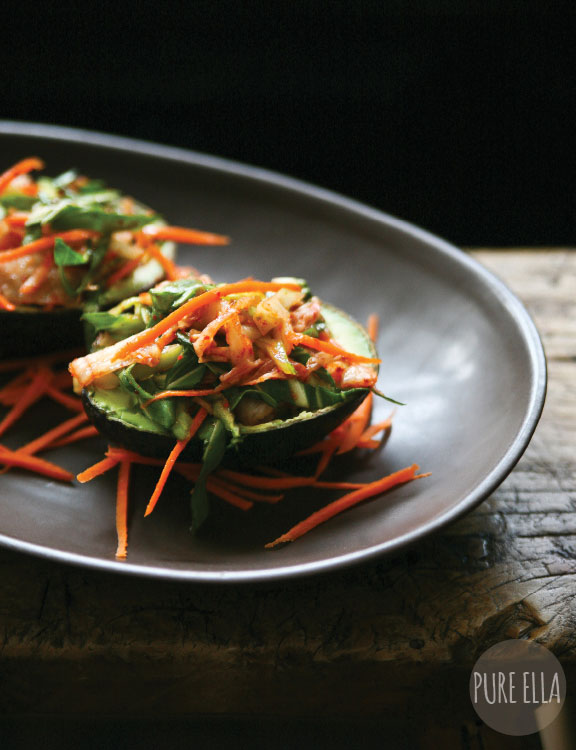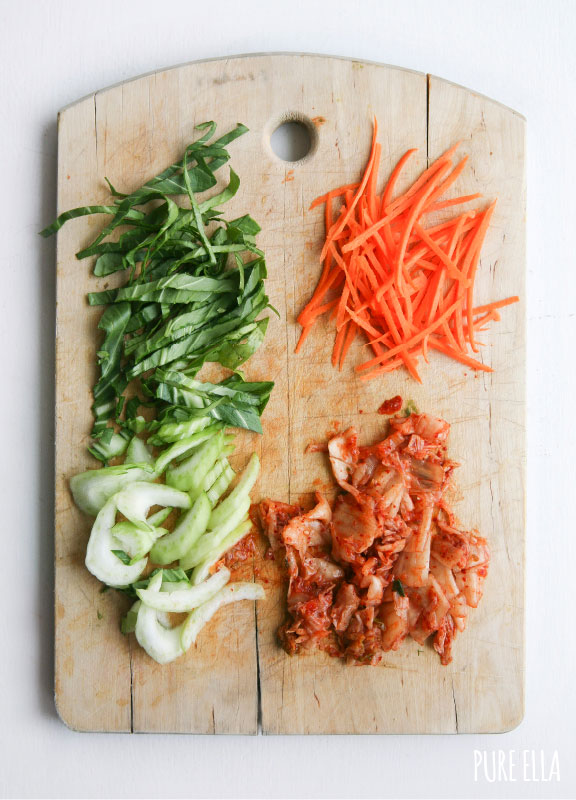 Kimchi Zen Salad in Avocado Shells (gluten-free and vegan)
Ingredients :
3/4 cup prepared Kimchi (napa cabbage)
a handful of bok choy, chopped
1 medium carrot, thinly sliced/ julienned, reserve some for plating (optional)
2 ripe avocados
.
Directions :
Rinse and cut the vegetables. Toss the prepared Kimchi with the bok choy and carrots in a bowl and set aside.
Cut the avocados in half and remove the pit. With a fork or knife remove some of the avocado and mix it into the kimchi salad. (you don't want to completely core out the avocado shells).
To serve, sprinkle some of the julienned carrots as a base. Place the avocado shells on the carrots (this helps them to balance better) and top the wells with the Kimchi salad. You're done! Enjoy!!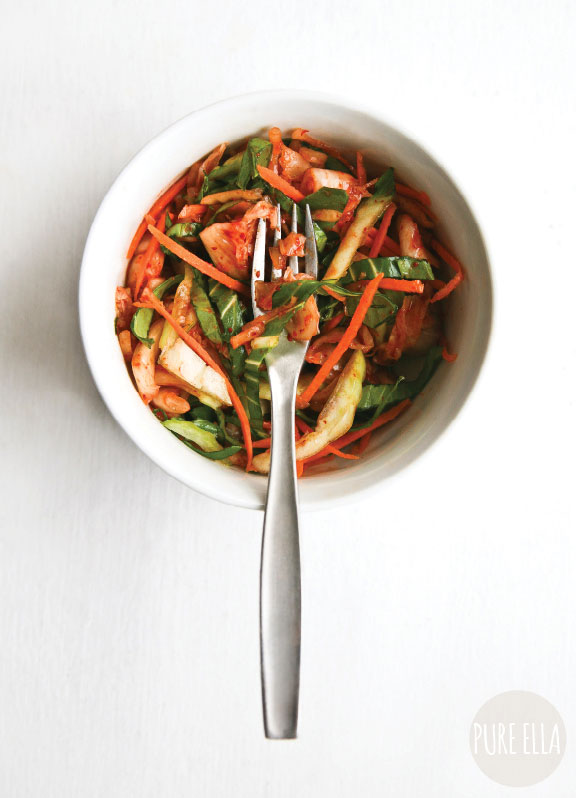 This recipe is super easy, yet it has a big vibrant taste! It's fun to also serve this recipe in the avocado shells. And all the flavours play together very nicely – the spiciness of the Kimchi gets balanced out with the mellow flavour of bok choy and avocado. All together it makes a perfect lunch or appetizer with lots of freshness, crunch and even nutrition! Because healthy can also be fun, right?
This Kimchi Zen Salad in Avocado Shells is the perfect balance of flavours – the perfect Zen on your plate! I hope you enjoy!
I love the flavour that is spicy yet slightly sweet and tangy. It's becoming a favourite condiment or side dish to our Asian cuisine experiments ;)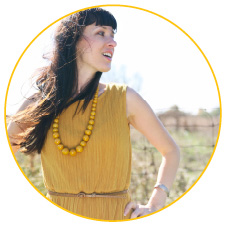 Ella Leché is an author, recipe developer, and photographer/stylist behind Pure Ella; where she shares how delicious and fun healthy food can be. Here, you'll find mostly plant-based gluten/ wheat -free recipes, that are always refined sugar-free with whole food clean ingredients. Thanks for being here!
Share your PE creations by tagging them #pureella and @pure_ella on Instagram – we repost our favourite photos!
Be sure to follow for a daily dose of *pure* food, health and happiness inspiration:
Facebook
//
Pinterest
//
Twitte

r
//
Instagram