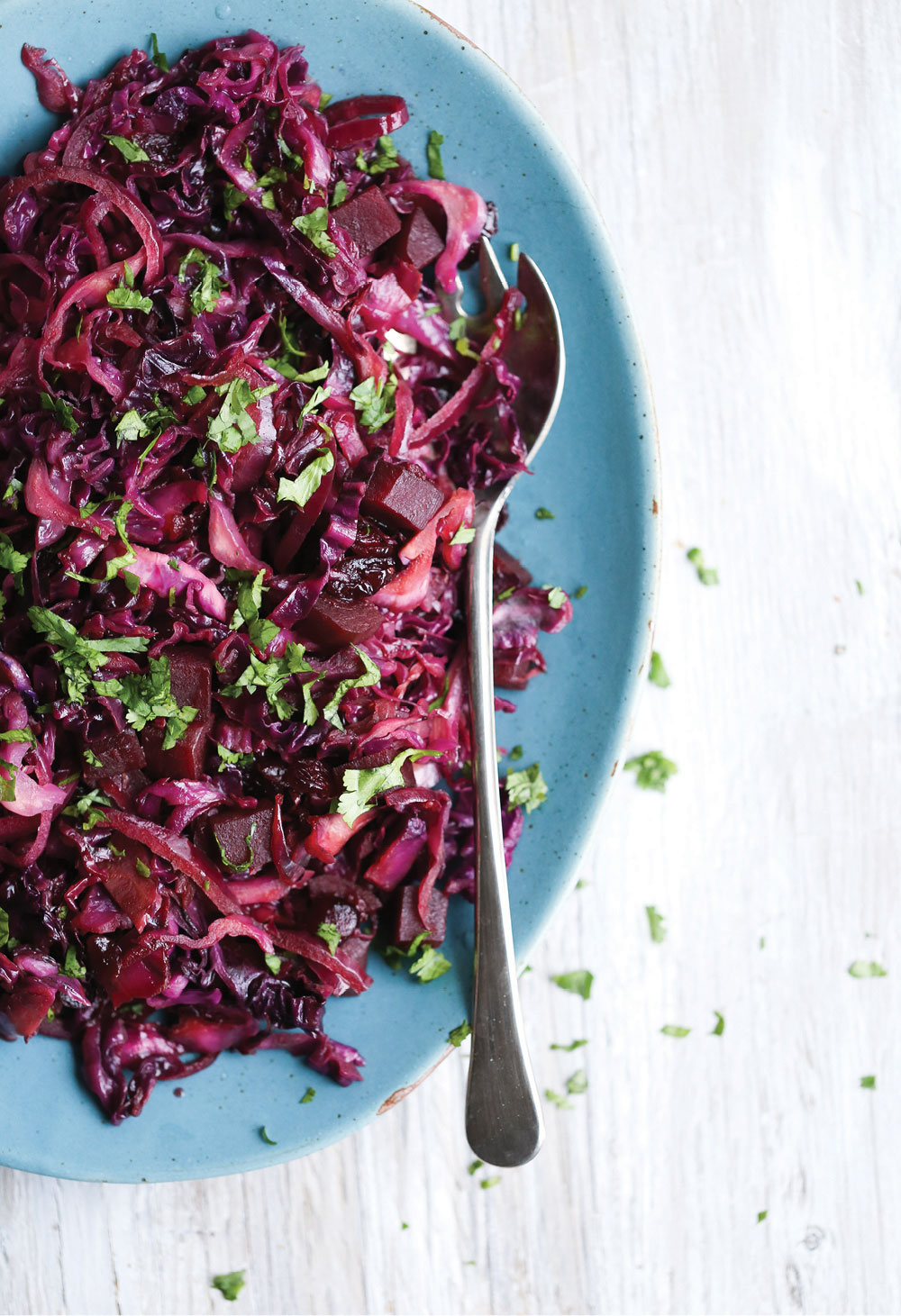 Hello my friends… hope you like all things purple & red because this happened and it's amazing!! Red Cabbage Beet Slaw ~ this 'slaw' recipe (I literally realized how much I hate this word!) Ugh! It's a cooked slaw recipe which means you serve it still hot or warm and it's AMAZING!! Pretty much the best side dish I've ever had! And I'm sure you'll agree soon when you make this recipe :)
The ingredients are pretty basic and clean. I have some red cabbage (which should really be called purple cabbage, right?), some cubed beets, red onion and to add a bit of sweetness dried cranberries! Oh MY gosh – these ingredients together are so delicious!!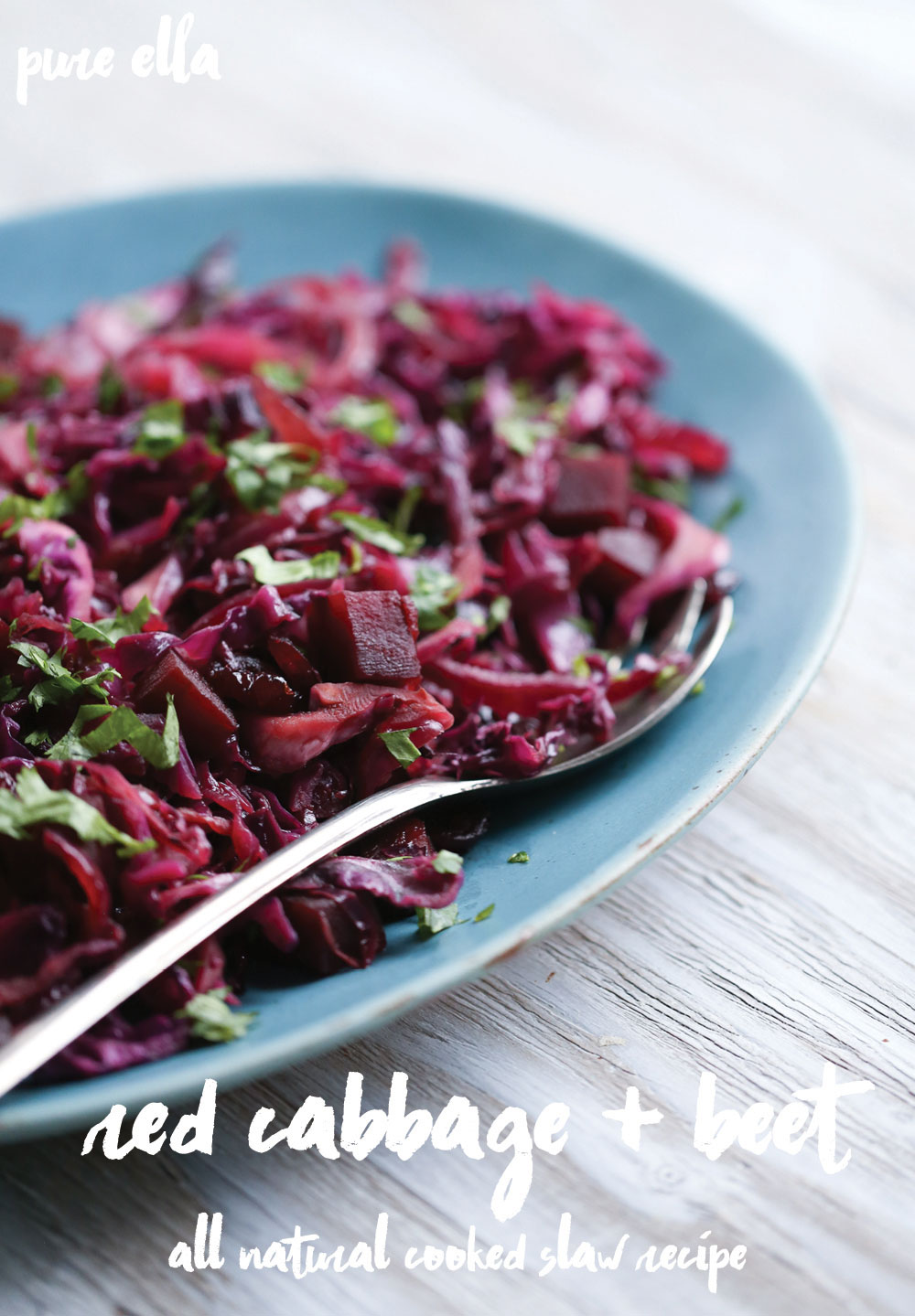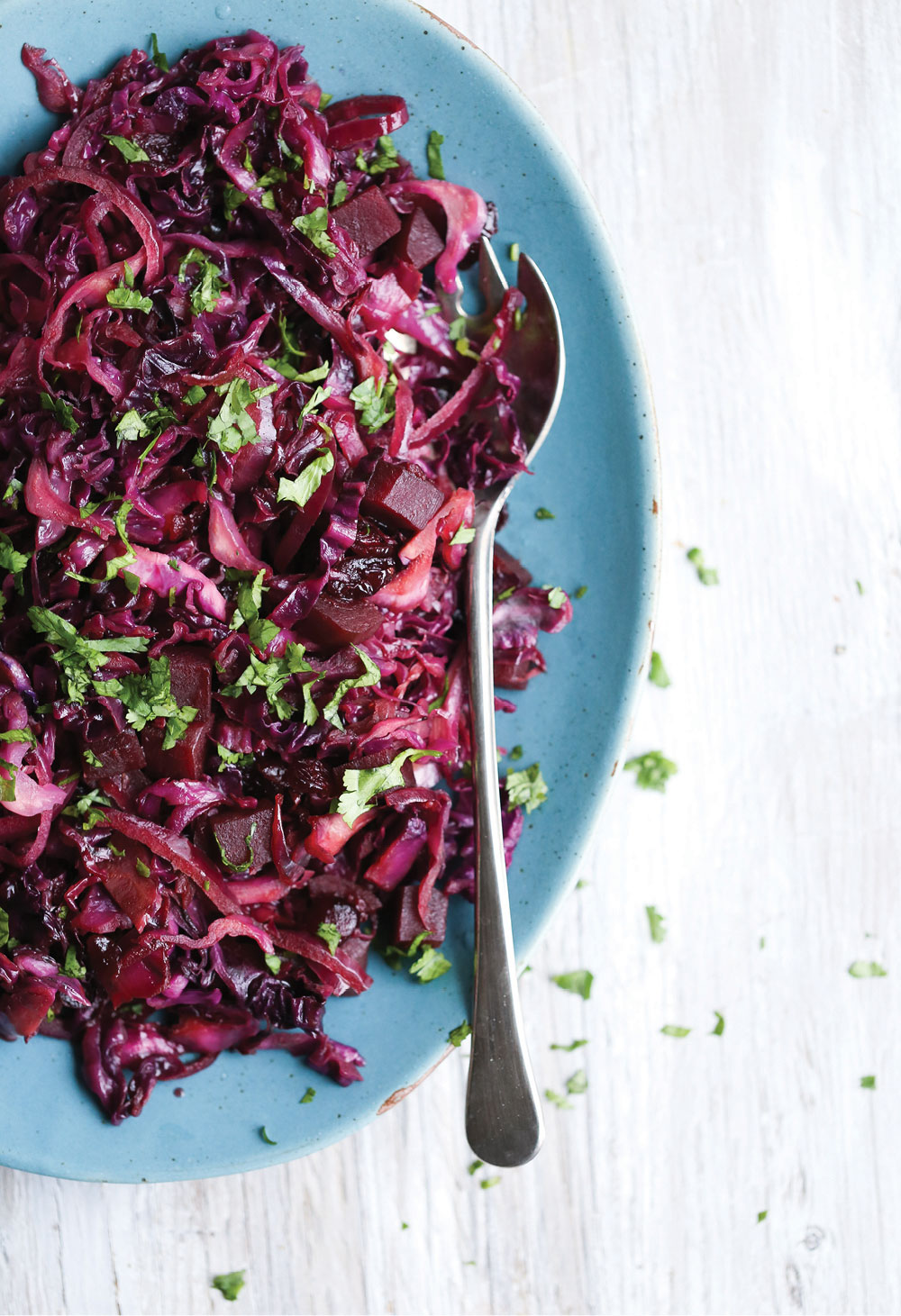 Red Cabbage Beet Slaw
2016-12-01 09:35:09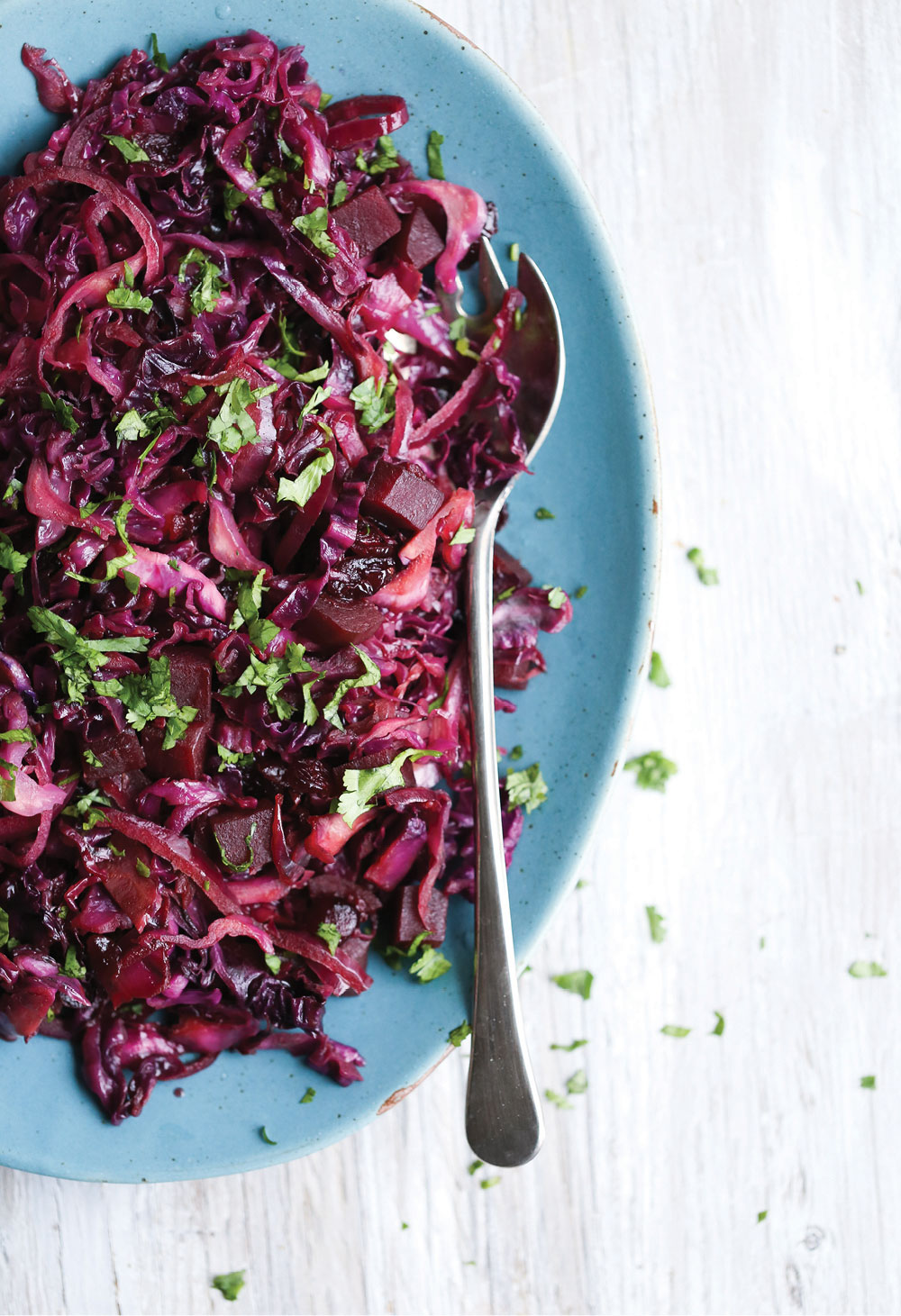 Ingredients
1/4 - 1/3 red cabbage, shredded thin
2 medium beet roots, peeled and previously cooked
1/4 medium red onion
1/4 cup dried cranberries (sulphite free & naturally sweetened)
1/2 teaspoon dried sage or thyme
4 tablespoons balsamic vinegar
2 tablespoons of maple syrup or honey
1 teaspoon fine sea salt
freshly ground black pepper to taste
fresh parsley or chives for serving (optional)
Instructions
Peel and quarter the beets and cook them separately for about 10-15 minutes.
In the meantime, shred the cabbage and slice the onions thin and set aside.
Heat a large skillet on medium heat, drizzle a bit of oil and add in the shredded cabbage and onions. Cook for about 5 minutes on low heat, adding a bit of water once the cabbage starts to stick to the pan.
Add in dried herbs, vinegar, salt and pepper and stir to incorporate.
Stir in sweetener and dried cranberries and cook for another 5 minutes or until the cabbage is softened but not overcooked.
Turn off heat and allow to cool completely.
Transfer into a container and refrigerate until the next day.
Notes
This slaw recipe is best the next day. So I strongly recommend to make it ahead of time and store it in the fridge, then just reheat on a pan with a bit of water and then serve.
This is because the flavours of the balsamic vinegar really have to penetrate through the cabbage. Otherwise the vinegar is too pronounced and the cabbage a bit bland - however, when the flavours mingle a bit ~ WOW - the flavour is really amazing!
This slaw recipe keeps well for up to 4 days in the fridge.
Pure Ella https://pureella.com/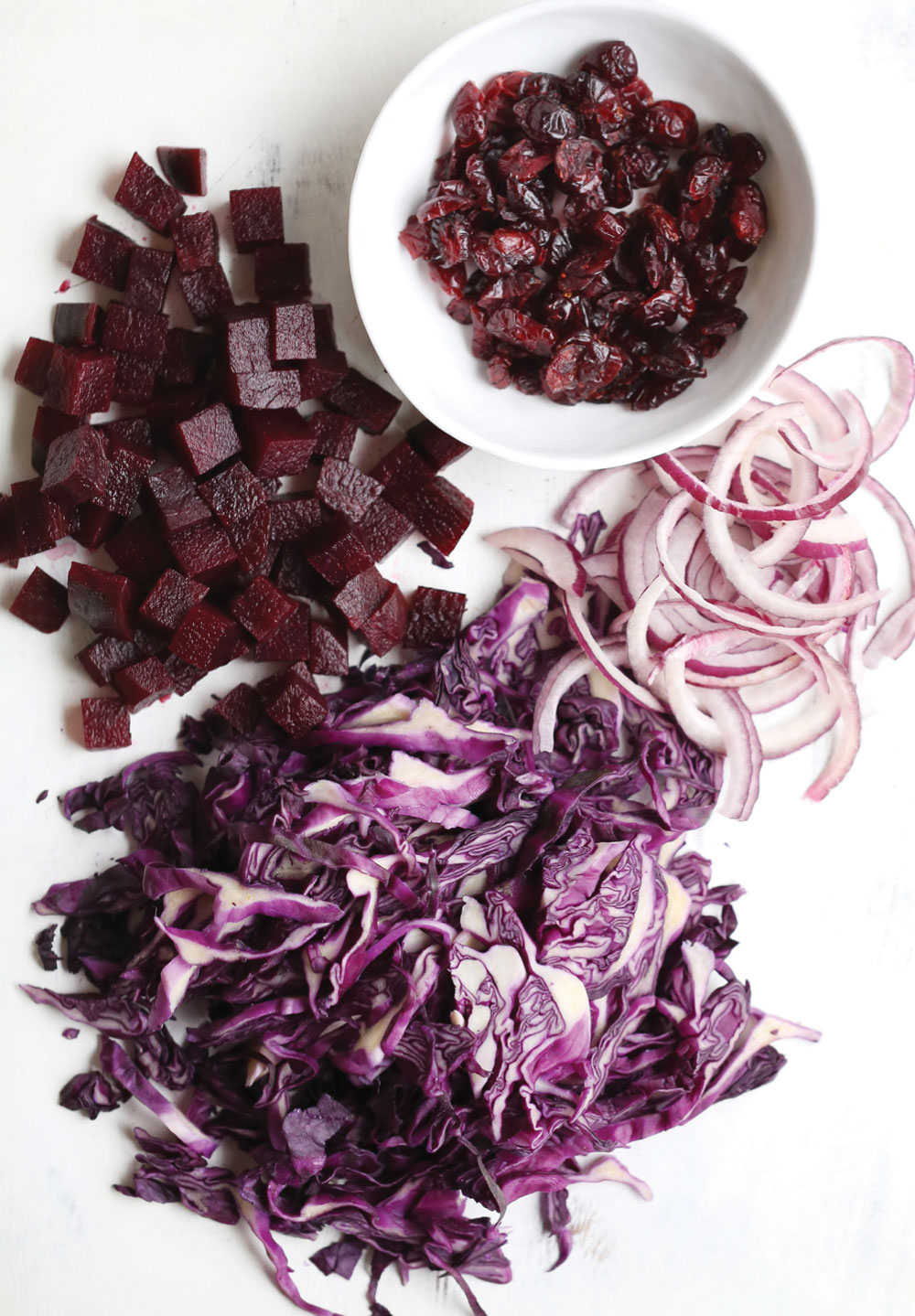 This is probably my NEW favourite side dish recipe. I can't get enough. I have it with dinner, I have it with a salad and chickpeas and this adds a bit of pizzazz to my random veggies.
What I like about it too is that you make a big batch the night before and then have this great side dish for a few days.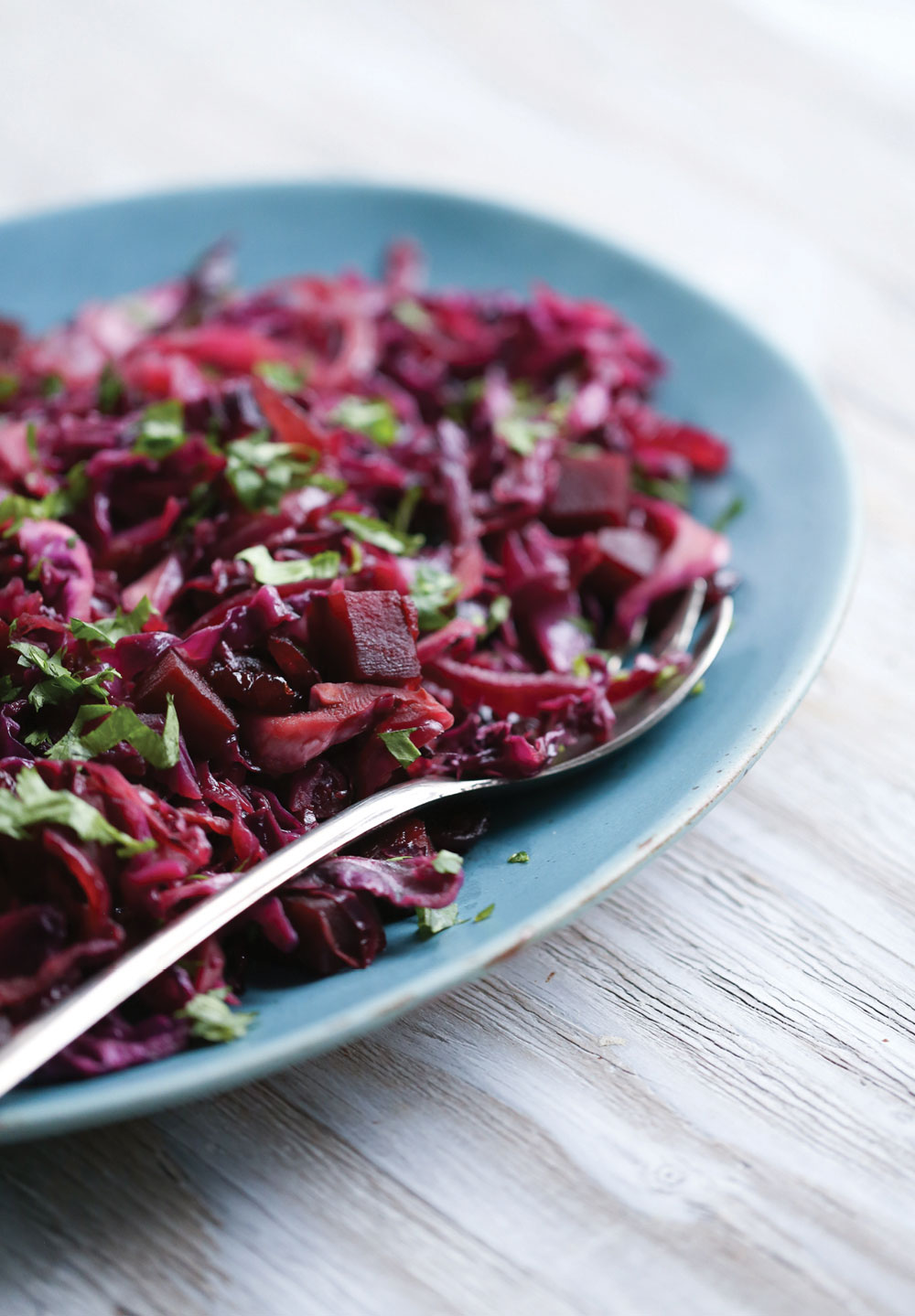 This will also make an appearance on our Christmas Dinner table. Oh I just can't wait for that to happen.
And can we just discuss the colours here for a bit….? Oh wow! These purples and deep reds are so GORGEOUS!! This is also another reason why this dish is wonderful to bring to a potluck or dinner party and everyone can enjoy it.
It's completely allergen-friendly and everyone can eat it. It's gluten-free, vegan, paleo, nut free etc. etc. :) Enjoy!!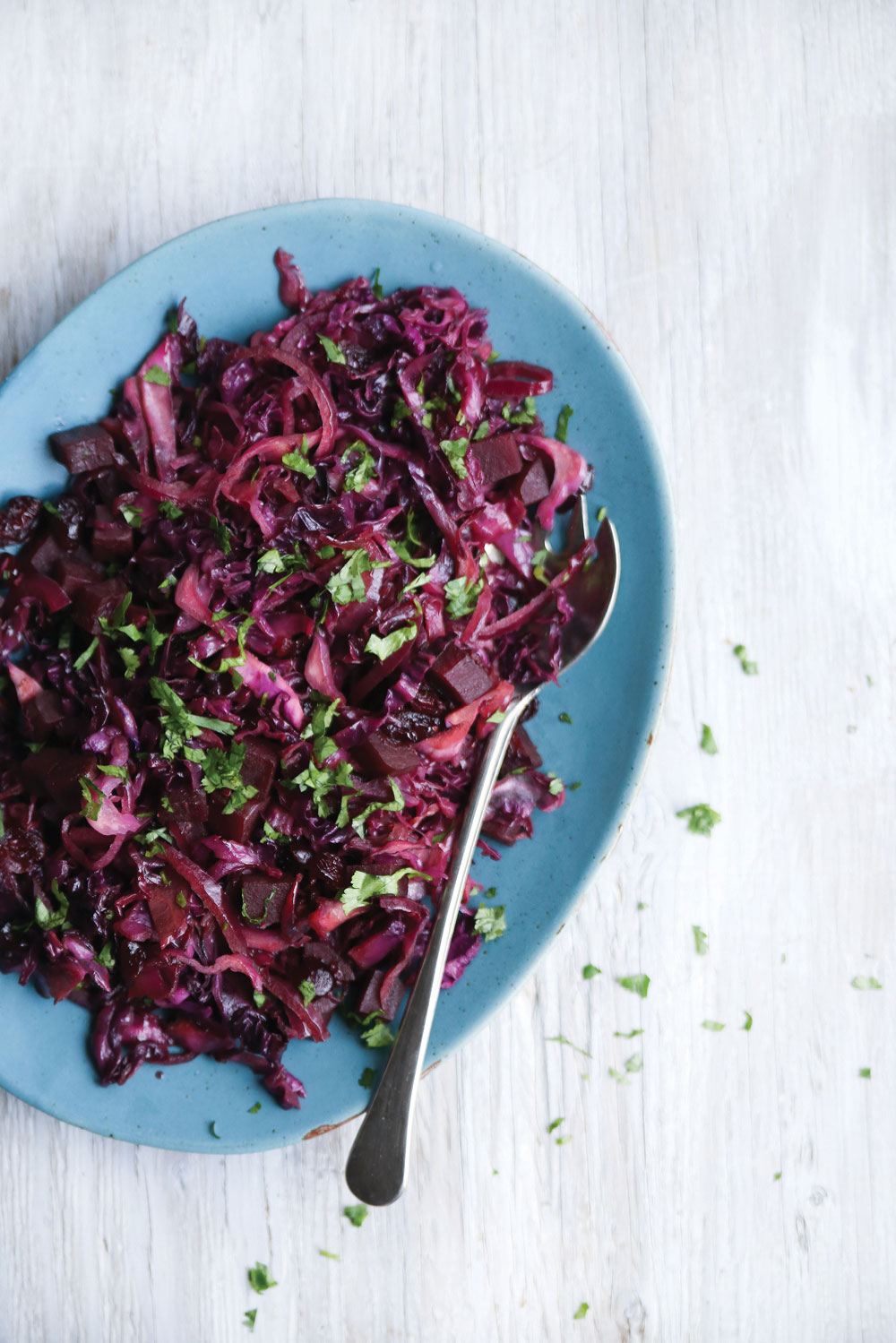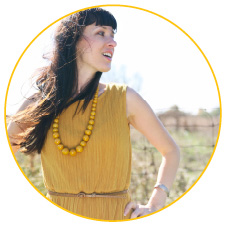 Ella Leché
is a cookbook author ('
Cut the Sugar
'), recipe developer, and photographer/stylist behind Pure Ella; where she shares delicious and healthy recipes. Eating PURE is clean ingredients, whole foods, plant-based nourishment and delicious desserts – with quality ingredients and sweeteners so they're treats with benefits so you won't have to feel deprived or restricted to eat healthier.
Thank YOU for being here!
Follow on social media for daily health & happiness inspiration:

ps. don't forget to share your Pure Ella (PE) recipe creations by tagging them #pureella and
@pure_ella
on Instagram – we repost our favourite photos!