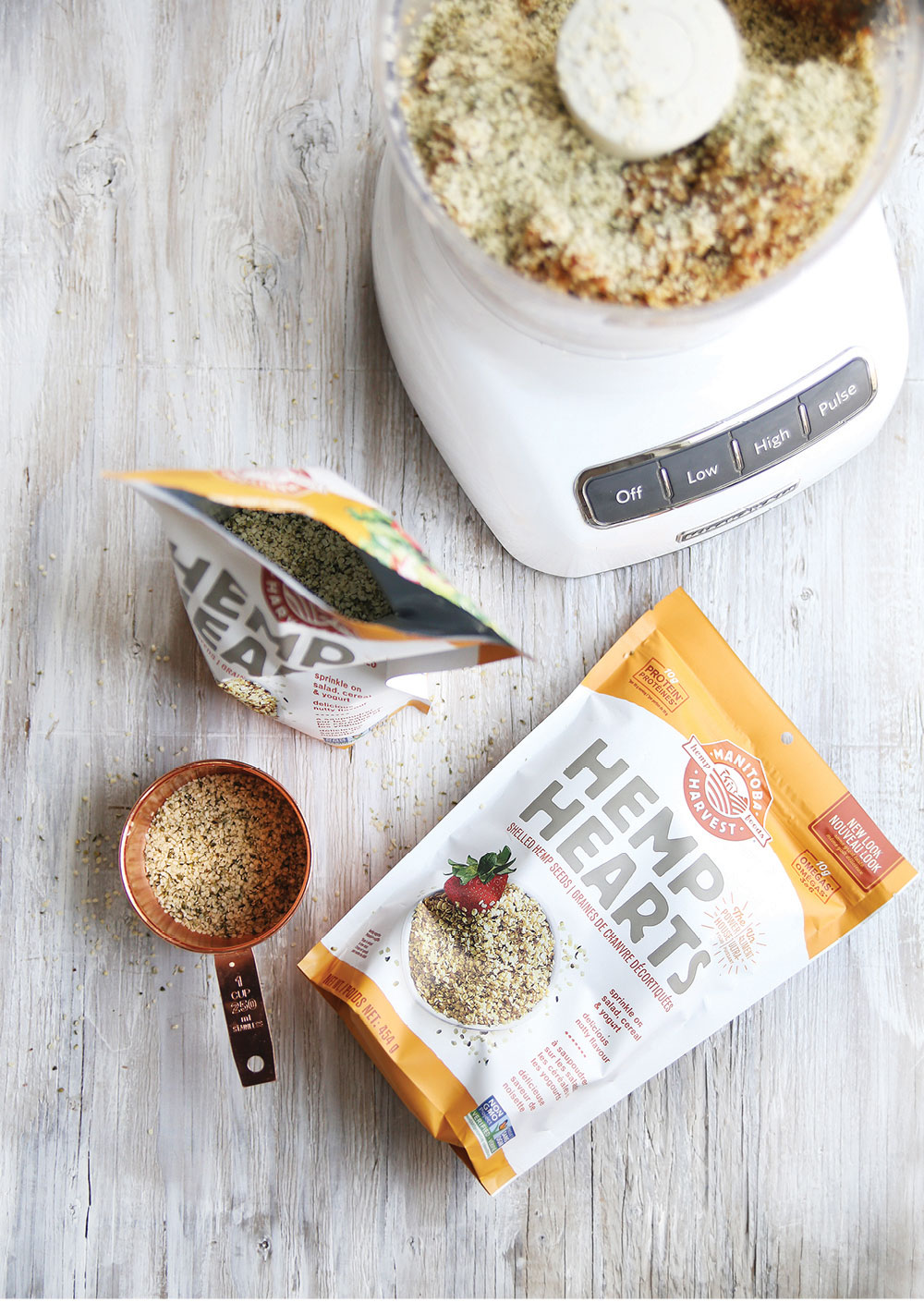 I'm so excited to share about Manitoba Harvest and their excellence in hemp heart production! :)
I have a great recipe for Hemp Protein Energy Balls that I'm sharing below and an exciting GIVEAWAY from Manitoba Harvest.
The prize from Manitoba Harvest is valued at $85!
And it includes the following:
– 2 bags of Hemp Hearts
– 4 bags of Hemp Heart Toppers
– 2 bags of Toasted Hemp Seeds
– Grocery bag
– Shaker cup
Leave a comment below to enter and follow my Instagram for more entries at @pure_ella.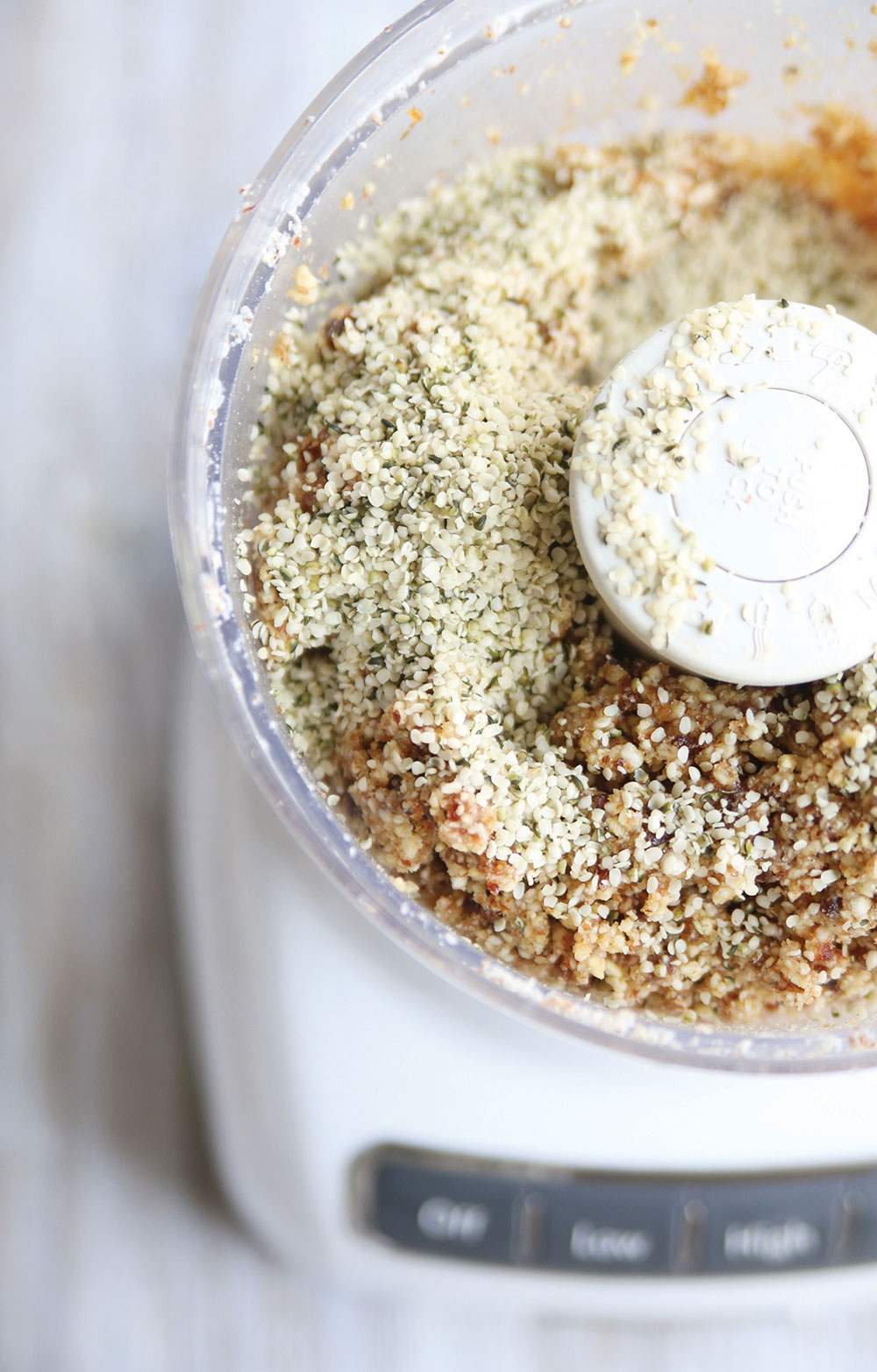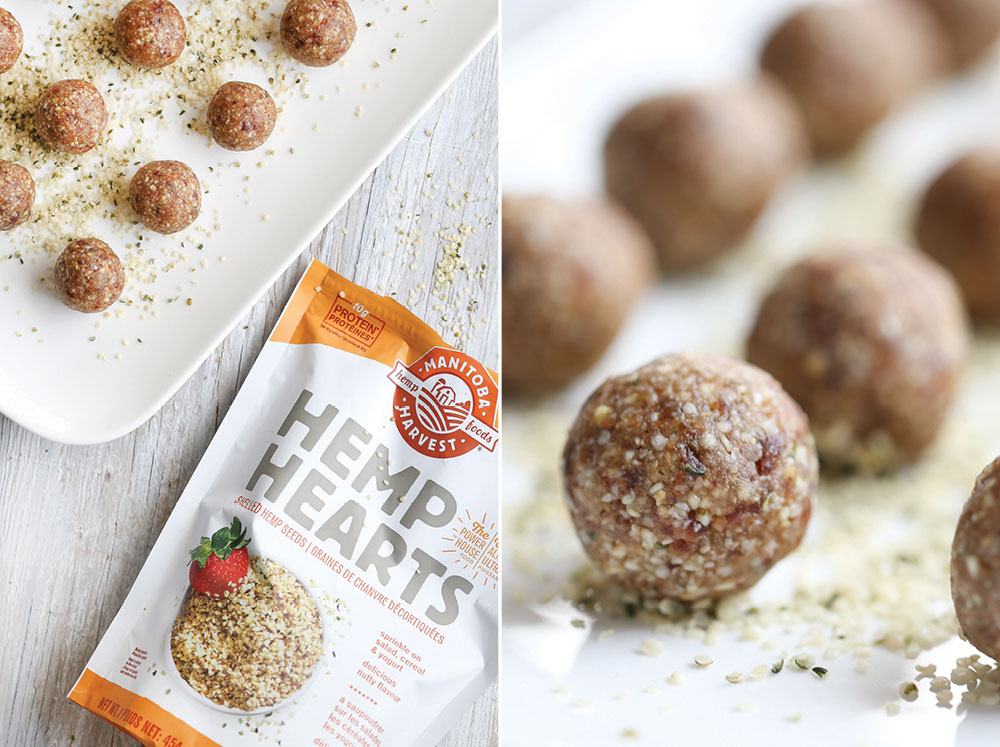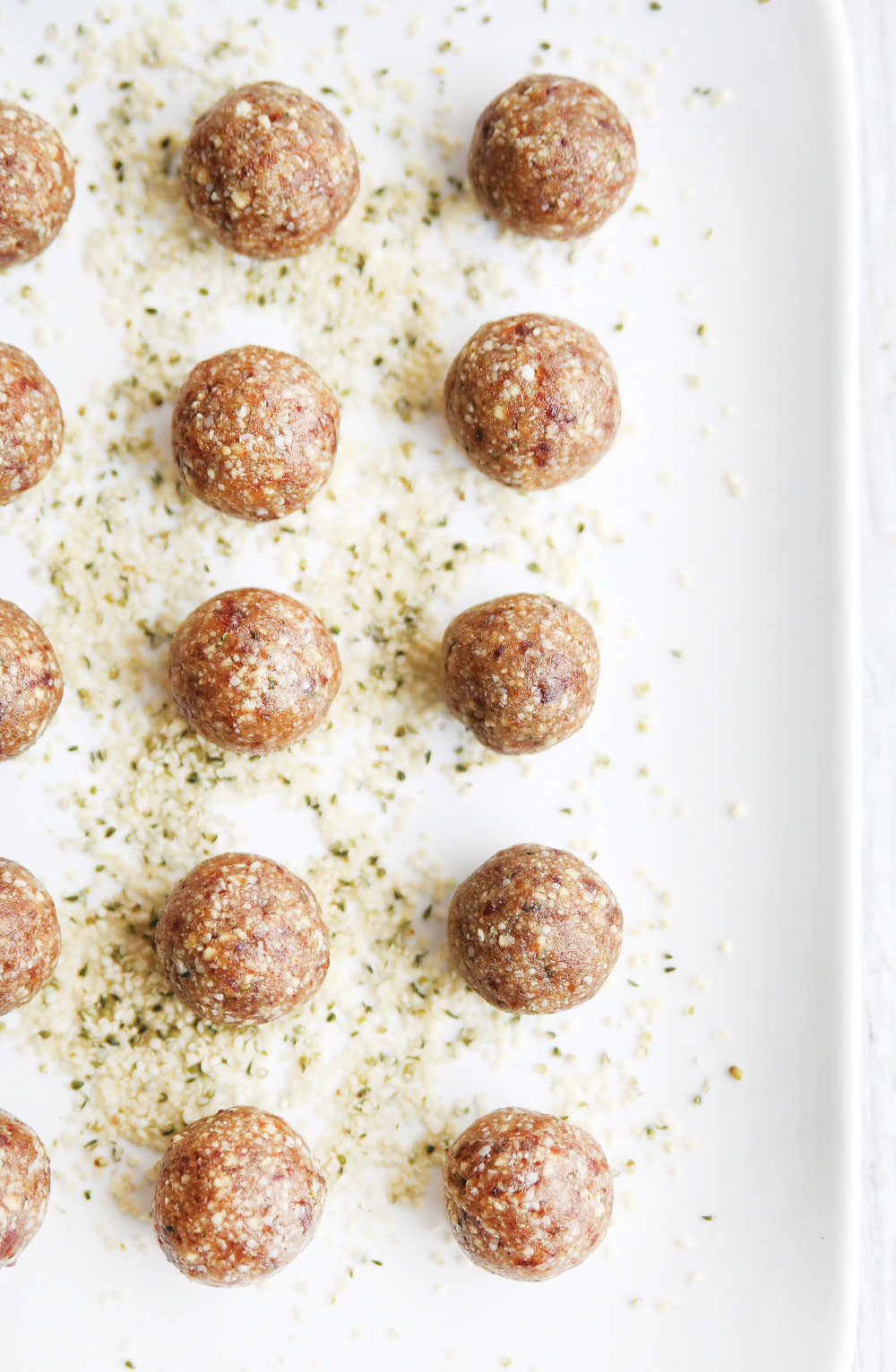 Hemp Protein Energy Balls
2017-12-04 14:19:37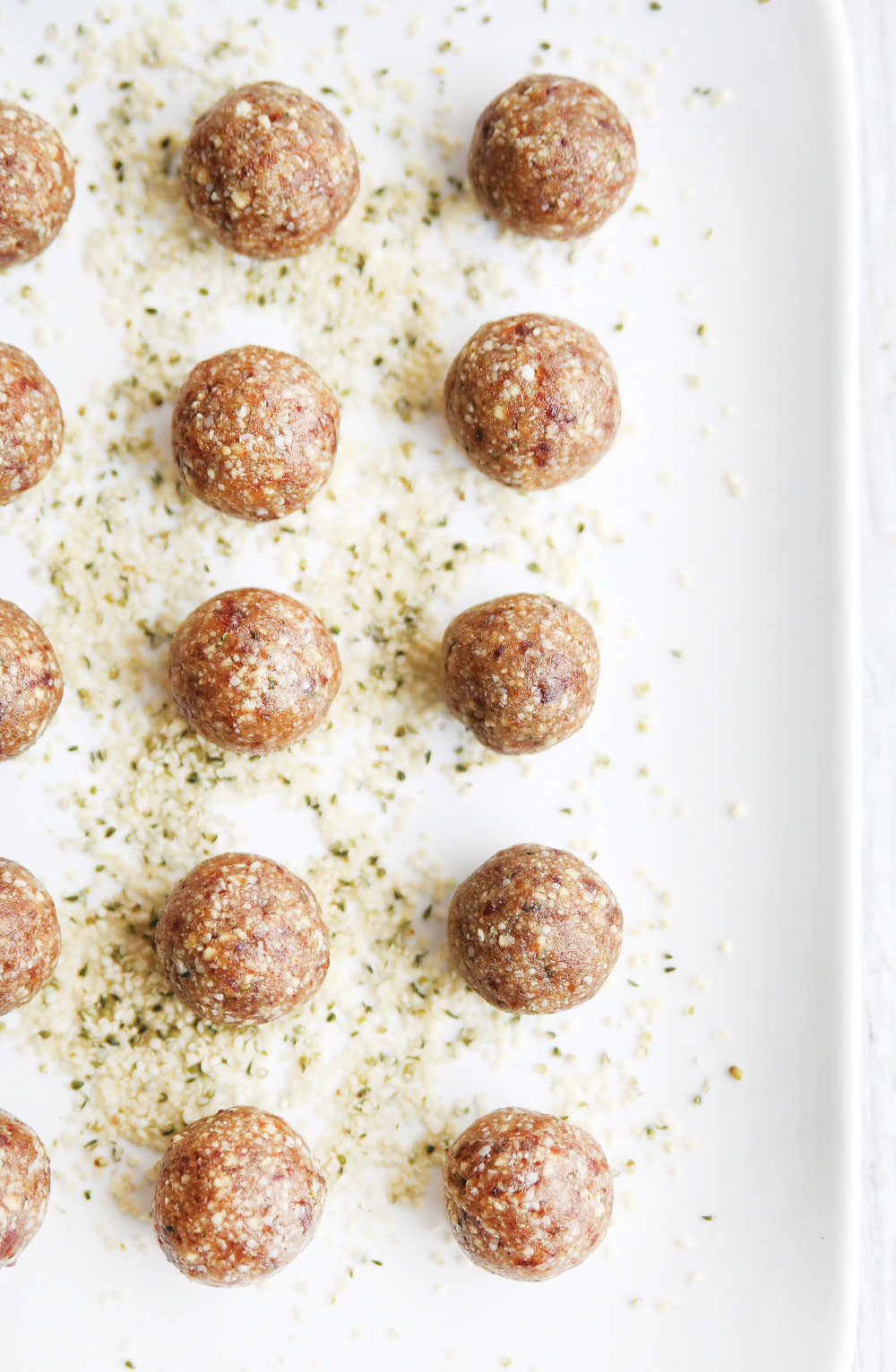 Nutrition and delicious Hemp Protein Energy Balls that are gluten-free, vegan and refined sugar free.
Ingredients
1 cup cashews
1 cup almonds
3/4 - 1 cup Medjool dates
1/4 cup Manitoba Harvest hemp hearts (* more if needed)
pinch of sea salt or Himalayan pink salt
2 teaspoons vanilla extract
1-2 teaspoons of warm water (as needed)
Instructions
Place all of the nuts in a food processor and grind until crumbs form.
Add the dates, vanilla extract, and pinch of salt and continue processing until combined.
Check the mixture with your hands and press to check if the mixture sticks between your fingers. If it's too crumbly, add 1 tablespoon of hot water at a time and mix again, and check again so that you can roll a ball in the palms of your hands.
Sprinkle about 1/2 cup of hemp hearts onto a serving plate and place the balls on top as you roll them.
Notes
If desired, place in the fridge for about 30 minutes to set. They are great when they harden a little.
Store in the fridge in an airtight container for up to 1 week or freeze for up to 1 month for a quick and easy to grab-and-go snack.
* If these balls are too sticky, coat them all over with extra hemp seeds. Alternatively, use a bit of cinnamon or cacao powder for coating.
Pure Ella https://pureella.com/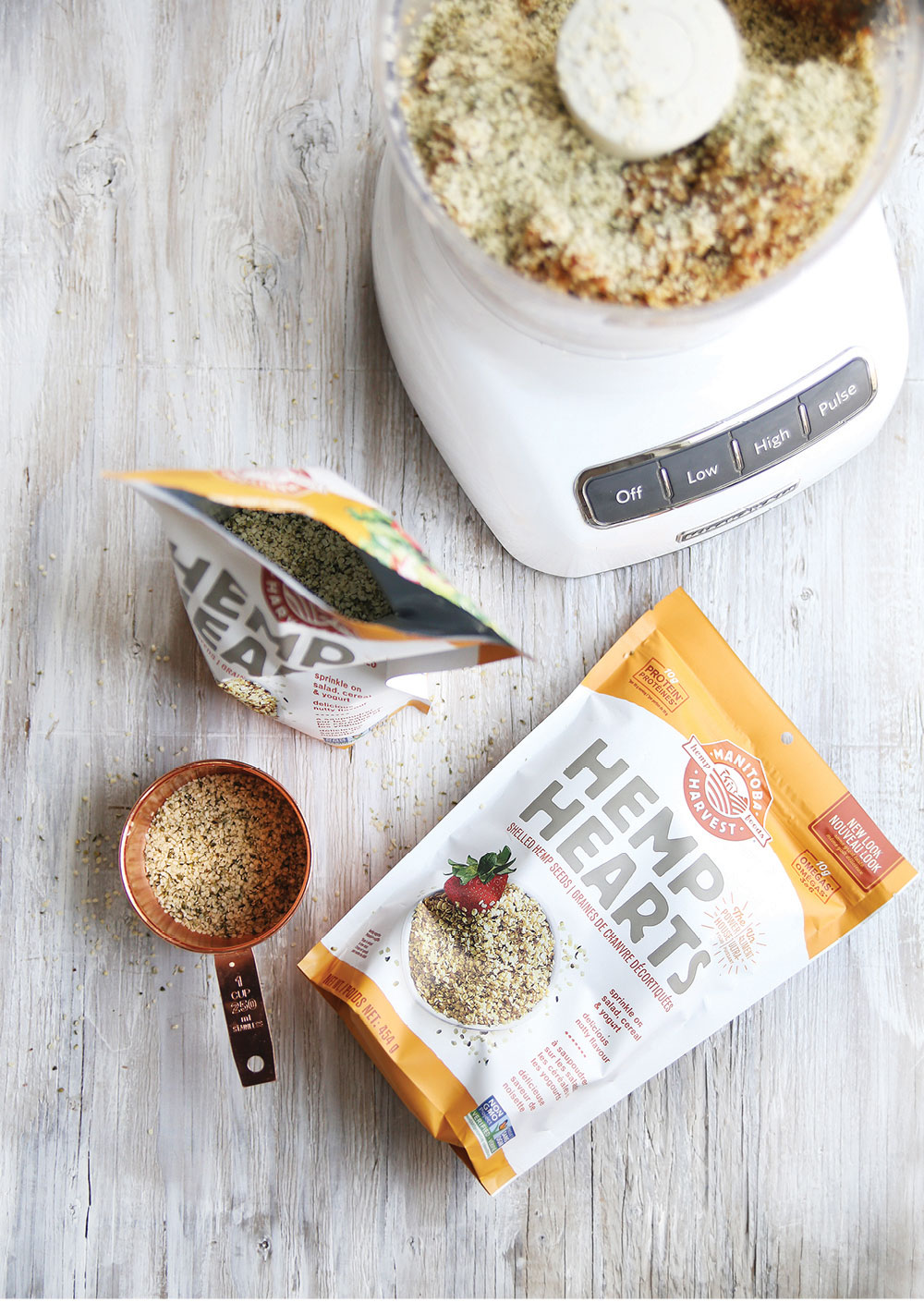 HEMP HEARTS NUTRITIONAL INFORMATION:
Hemp is a super plant

– with hundreds if not thousands of uses.

But, most people are unaware of, or have misconceptions about hemp foods.
Manitoba Harvest hemp foods pack a nutritional punch – our hemp products, made from the hemp seed, are high in protein and healthy fats.

In fact, compared to chia and flax seeds, hemp seeds contain twice the amount of protein and are lower in carbohydrates.
Manitoba Harvest Organic Hemp Hearts are delicious and versatile – with a deliciously nutty taste and satisfying texture, our Organic Hemp Hearts offer endless possibilities.

Sprinkle on snacks, blend into recipes, add texture to baked goods.

Hemp foods are an excellent superfood

– There are so many reasons to embrace hemp foods, everything from the fact that they offer a sustainable farming solution to health benefits to great taste and versatility.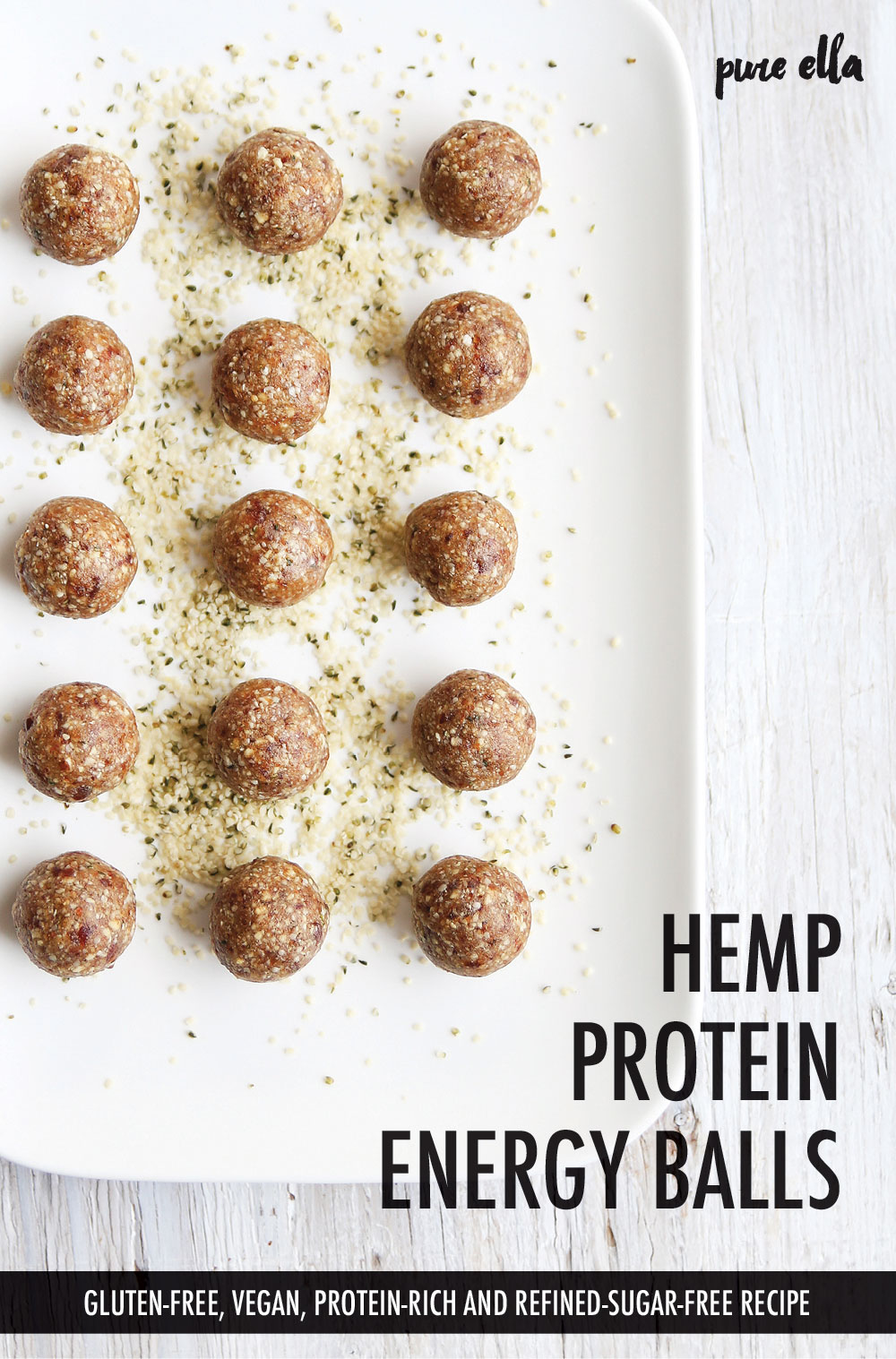 I enjoy Manitoba Harvest hemp seeds pretty much everyday. My favourite way to use hemp seeds is in a smoothie, breakfast bars, topping off a salad, or incorporating in a dessert.
See a few links below for hemp heart recipes:
Hemp Heart Recipes to try:

HOW TO ENTER THE GIVEAWAY:
Comment with your favourite way to use Hemp Hearts for a chance to win a
Manitoba Harvest Prize Pack (provided by Manitoba Harvest, $85 value)
Follow Manitoba Harvest on MH Facebook, MH Instagram and MH Twitter for more information.
Photo Credits: All photo's courtesy of Pure Ella. Giveaway Disclaimer: No purchase necessary. This giveaway is being offered as part of our partnership agreement. However, all thoughts and opinions expressed here are entirely mine.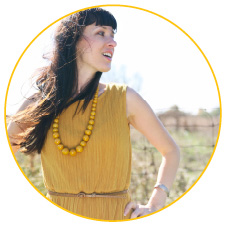 Ella Leché
is a cookbook author ('
Cut the Sugar
'), recipe developer, and photographer/stylist behind Pure Ella; where she shares delicious and healthy recipes. Eating PURE is clean ingredients, whole foods, plant-based nourishment and delicious desserts – with quality ingredients and sweeteners so they're treats with benefits so you won't have to feel deprived or restricted to eat healthier.
Thank YOU for being here!
Follow on social media for daily health & happiness inspiration:

ps. don't forget to share your Pure Ella (PE) recipe creations by tagging them #pureella and
@pure_ella
on Instagram – we repost our favourite photos!