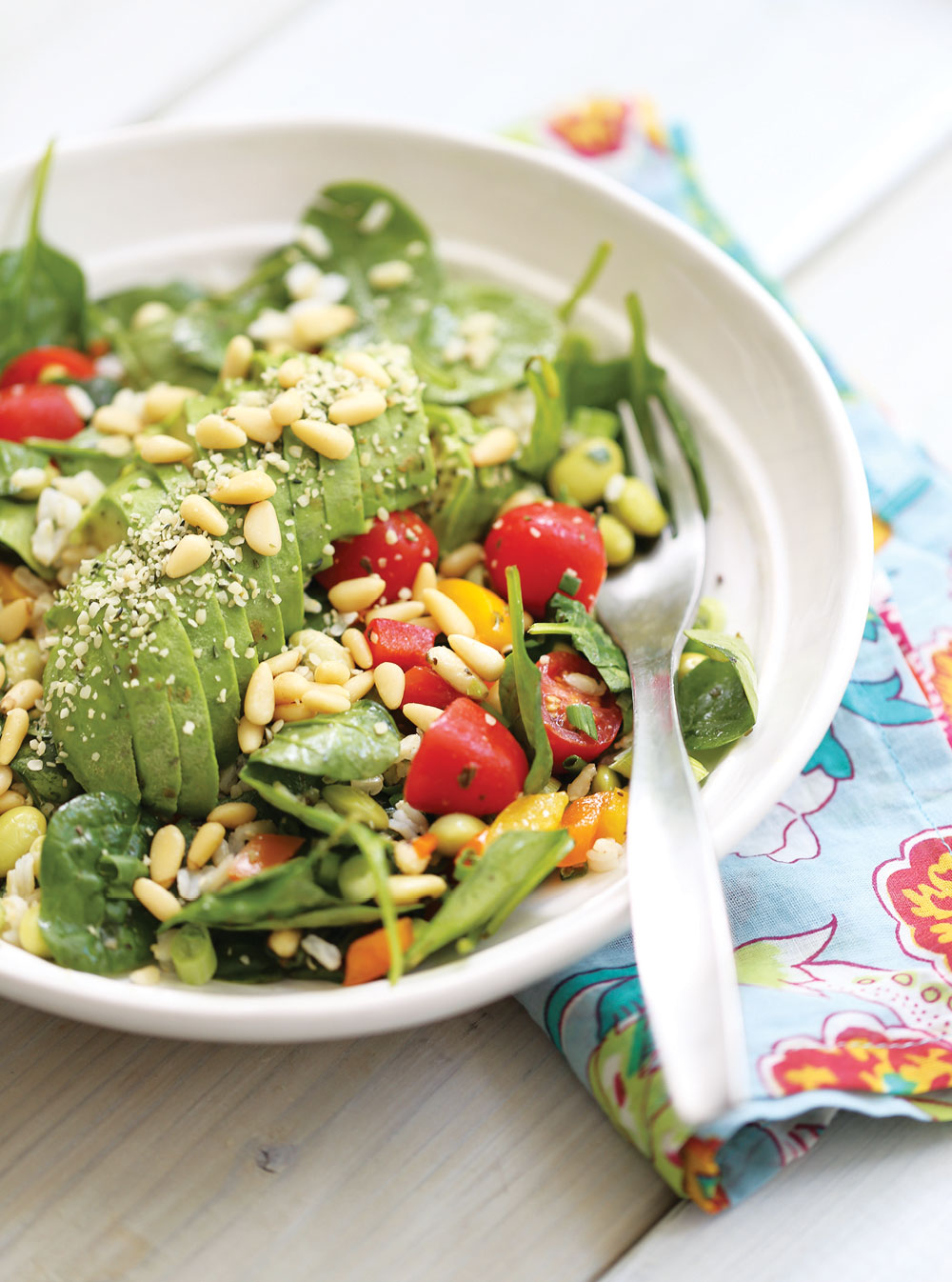 I just realized that for the amount of salads I eat – I only have a few salad recipes here on
Pure Ella… oops!
I also realized that it's the easiest thing to make and eat but usually people struggle with the most ~ donno why? Salads are so delicious, fresh tasting and packed with nutrition that gives you energy and good health and they taste delicious – why would anyone eat that, right?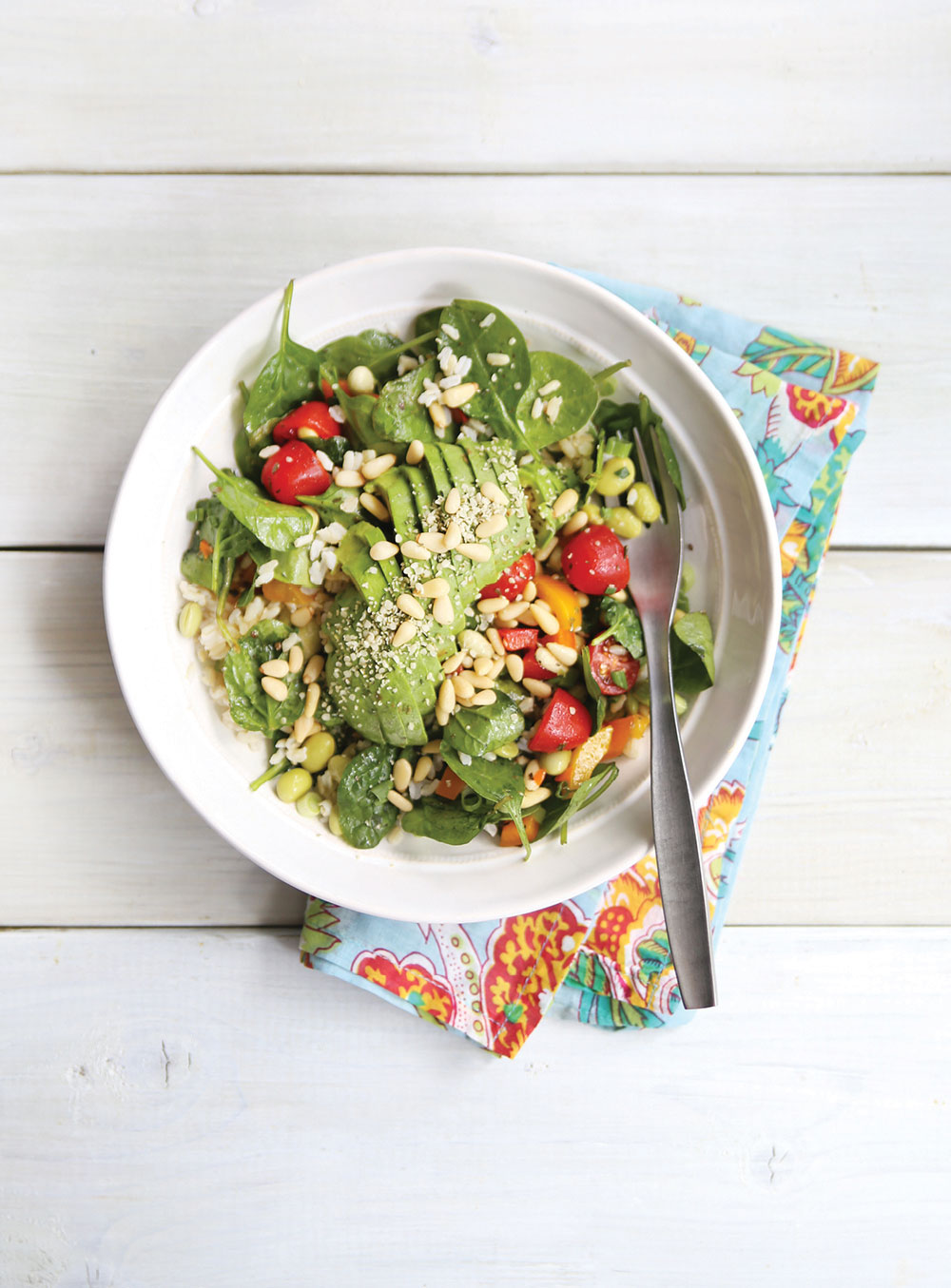 So here is one of my recent favourite salads Avocado Spinach 'Salad as a Meal' – because it's naturally very filling with brown rice, veggies and plant protein from edamame beans, hemp seeds and pine nuts and it's also naturally gluten-free…
vegan and low-glycemic AND so yum!!
Avocado Spinach 'Salad as a Meal'
Prep time : 5 min Serves 2
A healthy and hearty nutrient-dense salad that eats like a meal. Naturally gluten-free, vegan and low-glycemic and protein packed.
Salad Ingredients :
1/2 cup brown rice (pre-cooked, use leftovers)
1/2 cup edamame beans (cooked)
2 handfuls of baby spinach
about 1/2 cup diced sweet peppers (red, orange, yellow)
handful of green onions, chopped (1-2 sprigs)
handful of cherry tomatoes, halved
1/4 cup pine nuts
4 tablespoons hemp hearts
1 large perfectly ripe avocado
Dressing Ingredients :
1/4 cup EV olive oil
1/2 lemon, freshly squeezed
pinch of cayenne pepper
pinch sea salt
freshly cracked black pepper
Directions:
In a large salad bowl, toss all the vegetable ingredients (except the avocado) : spinach, peppers, green onions, tomatoes and cooked & cooled edamame beans.
In a small bowl, whisk together all the dressing ingredients: olive oil, lemon juice, cayenne pepper and salt and pepper and whisk rapidly until the ingredients emulsify.
Just before serving, either pour the dressing and add the rice into the salad bowl and toss OR separate the salad over serving plates and drizzle the dressing and sprinkle the rice on top over individual portions.
Top with sliced avocado, pine nuts and hemp seeds.
NOTES:
I love to use leftover rice and beans for salads like this but if you are cooking the brown rice, cook more so you can use it for another meal (cook as per directions on the packaging). Brown rice also cooks about 40 minutes, if you need this salad turned around faster, switch the grain to quinoa as that cooks a lot faster.
Separately, cook the edamame beans as per directions. I usually have a bag of frozen edamame and it cooks in about 15 minutes. Allow extra time if cooking these two foods.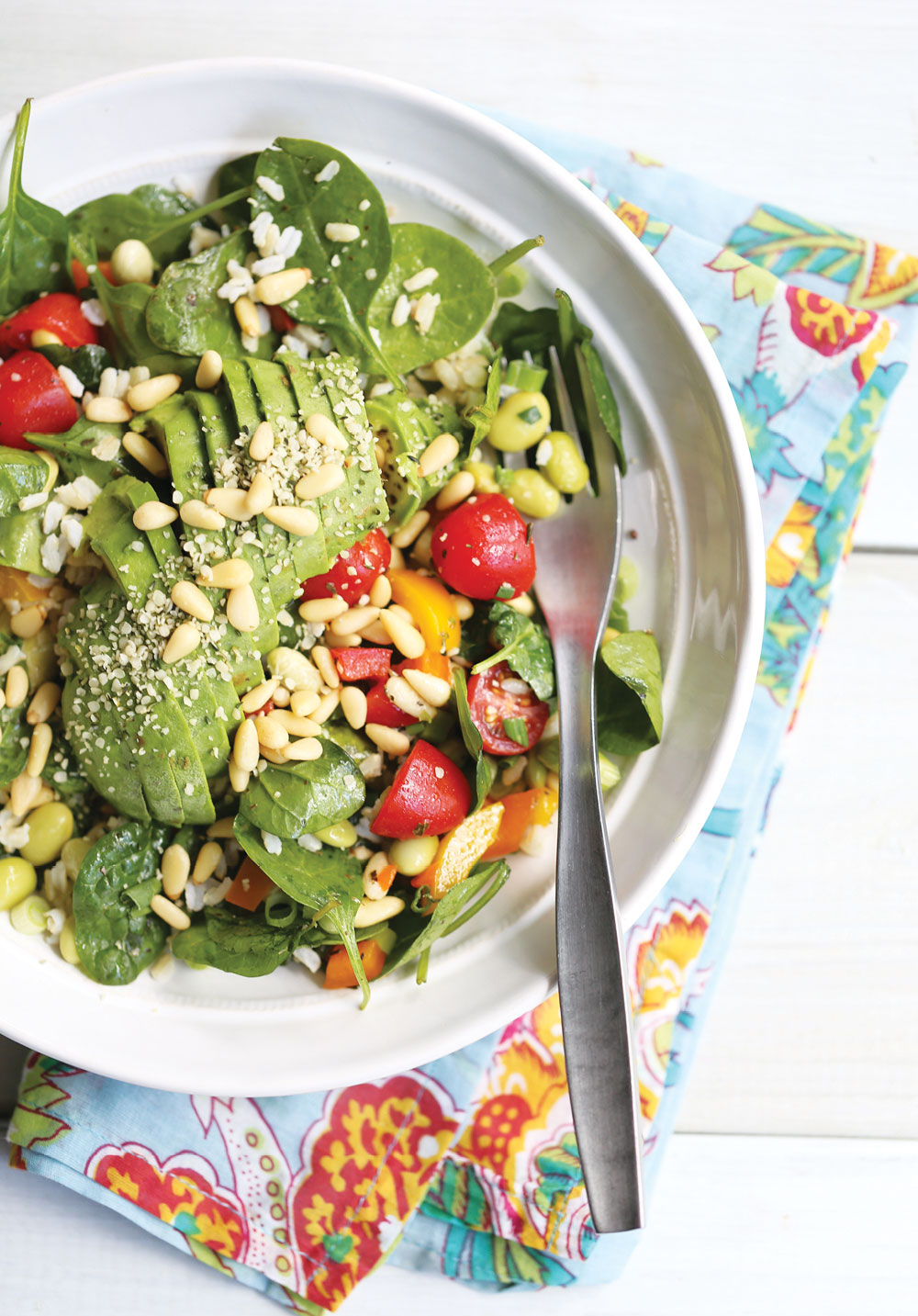 This is a great salad idea for lunch or even dinner – it's packed with everything your busy body needs : nutrition, vitamins, protein, complex carbohydrates and healthy fats.
'But a Salad as a Meal, you say?' Trust me, Pure Ella isn't a diet or restrictive-eating blog but I've learned so much over the years about food and you know what? Eating lighter meals is amazing for your body, mind and overall health! Our bodies thrive on meals like this the most! And it doesn't matter if you eat meat or wheat ~ a hearty salad like this rocks for lunch or dinner!
And this healthy salad recipe just so happens to be naturally gluten-free and vegan but only because I said it is (it certainly doesn't look restrictive does it?) I basically eat healthy food and it just so happens to be usually gluten-free and vegan (even though I'm not 100% gluten free or vegan myself). Do I think most people should eat gluten-free and vegan? Absolutely! Sounds like I'm trying to drag you into a dark weird diet zone but seriously, I promise it's not like that at all.
"Healthy food is about nourishment and also convenience too – that's why I love to pack in lots of great ingredients that are filling and don't make you feel like you're on a diet."
You can ask anyone who knows me personally and I eat a lot and I eat frequently and I think about food a lot (but not in a constant-cravings kind of a way, more like daydreaming…;)
And this Avocado Spinach 'Salad as a Meal' is kind of my go-to for lunch and dinner too – yup, I could pretty much eat this everyday and I'd be a happy girl. With all these flavours going on, it's basically happiness in my mouth AND belly! :)
ps. I hope you like this name too because it only took me 37 minutes to come up with it. (ugh, the life of a blogger is so challenging) but since I worked so hard and ate so well, I deserve chocolate (dark 80% Yes, please! :))
.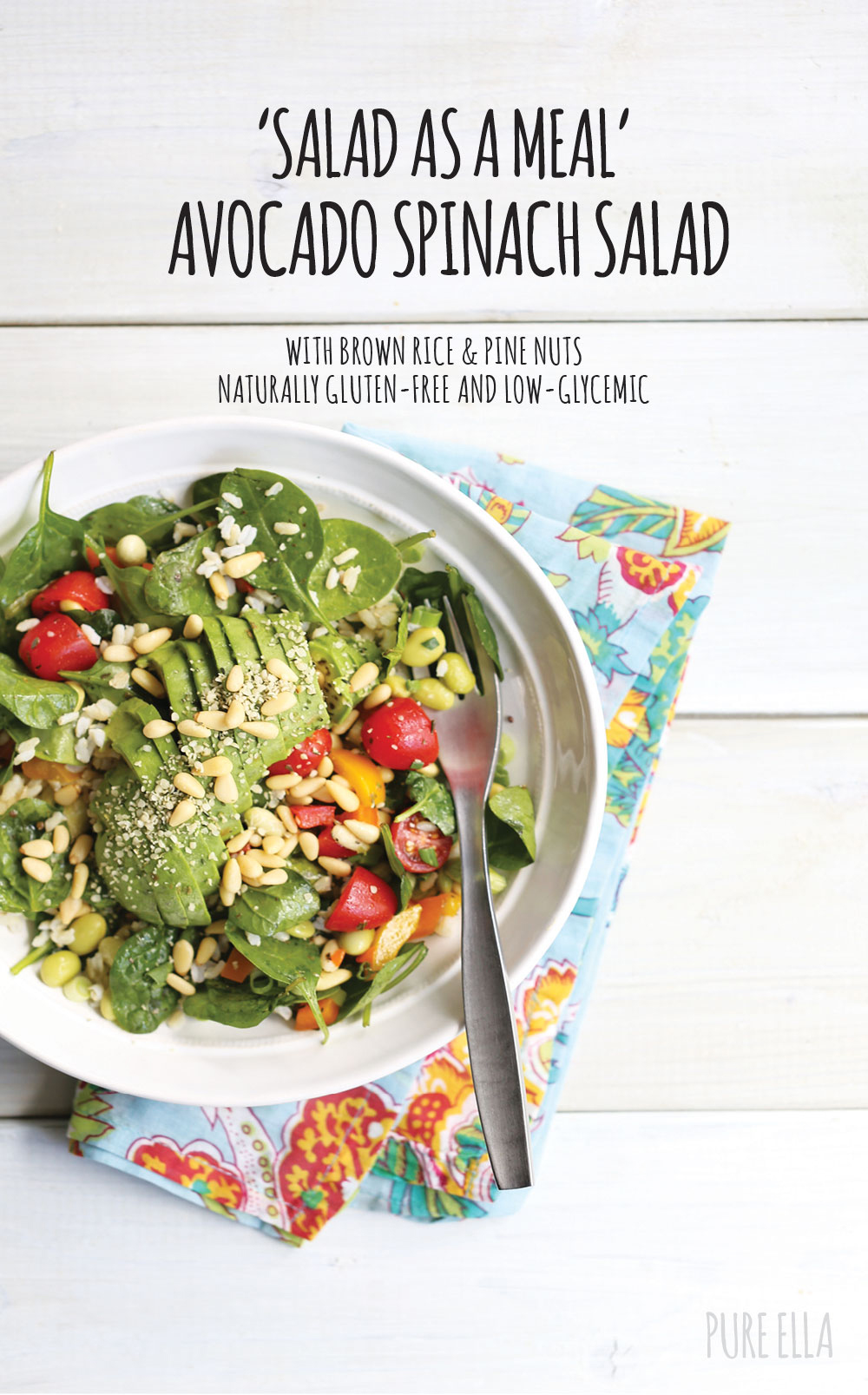 This is a sugar-free meal but it still contains sugar, that's because rice actually becomes glucose during digestion, but it's a healthy low-glycemic/ complex carb that doesn't spike your blood sugar. This carbohydrate is released slowly into your blood stream giving you a stable healthy blood sugar.
Both high blood sugar and low blood sugar is bad for you. You need to be in the middle to have stable energy and nourishment – that's why brown rice and edamame beans make a great and healthy carbohydrate.
We also have protein here from the edamame beans, hemp seeds and pine nuts that make you feel full and nourished.
And we've got healthy fats from the hemp seeds, pine nuts and avocado and EVOO which also contribute to feeling full and happy and the fats also benefit the the whole body (including beautiful skin) as they help you absorb the nutrition from the vegetables. (Never eat a fat-free salad ever!)
.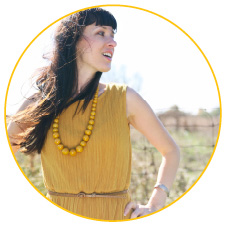 Ella Leché
is a cookbook author ('
Cut the Sugar
'), recipe developer, and photographer/stylist behind Pure Ella; where she shares delicious and healthy recipes. Eating PURE is clean ingredients, whole foods, plant-based nourishment and delicious desserts – with quality ingredients and sweeteners so they're treats with benefits so you won't have to feel deprived or restricted to eat healthier.
Thank YOU for being here!
Follow on social media for daily health & happiness inspiration:

ps. don't forget to share your Pure Ella (PE) recipe creations by tagging them #pureella and
@pure_ella
on Instagram – we repost our favourite photos!