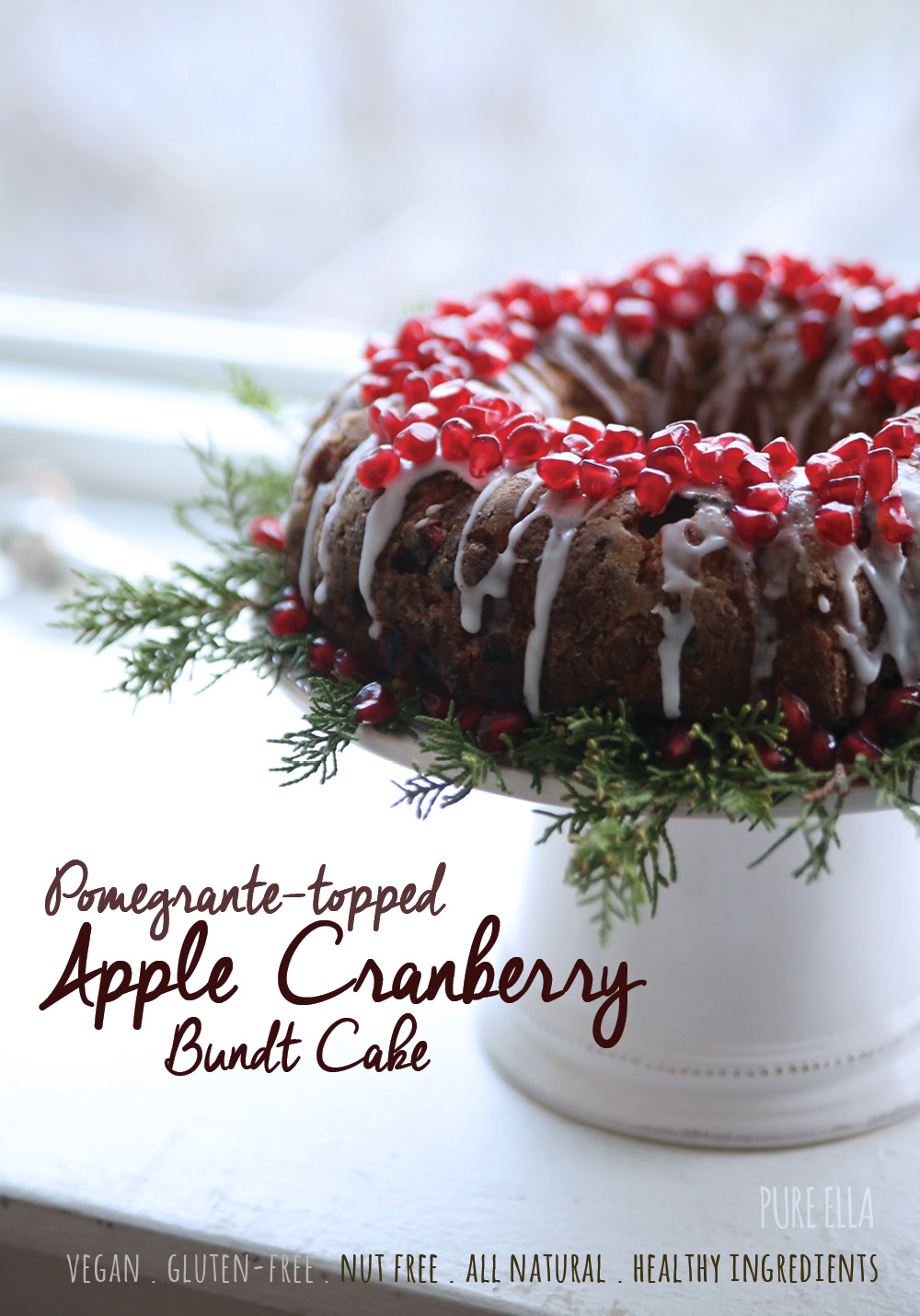 We're 4.5 days away from Christmas and I guess you could say I save the best for last!
This gorgeous Apple Cranberry Bundt Cake is absolutely delicious and made gluten-free, vegan and nut-free so that everyone can have a treat these Holidays!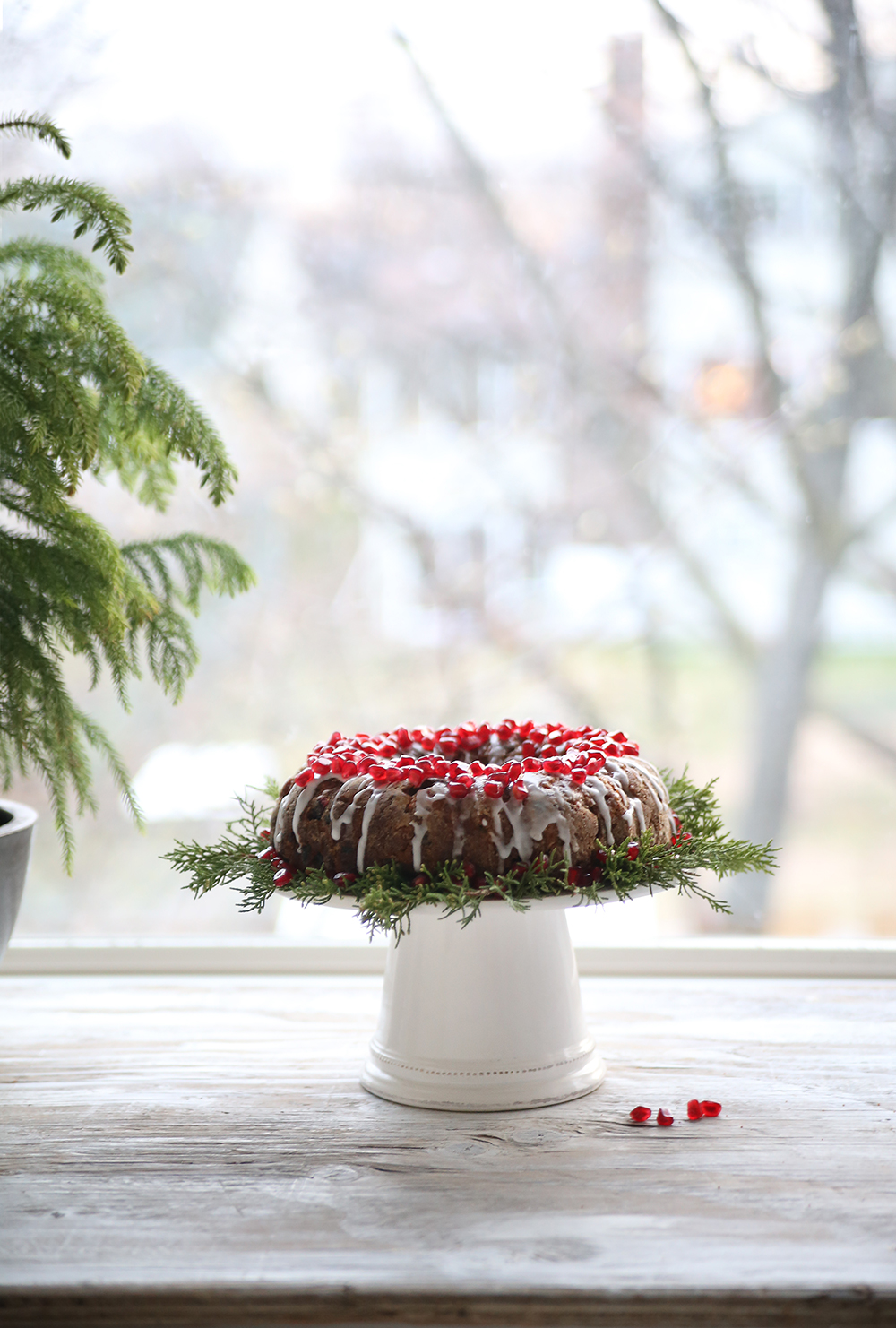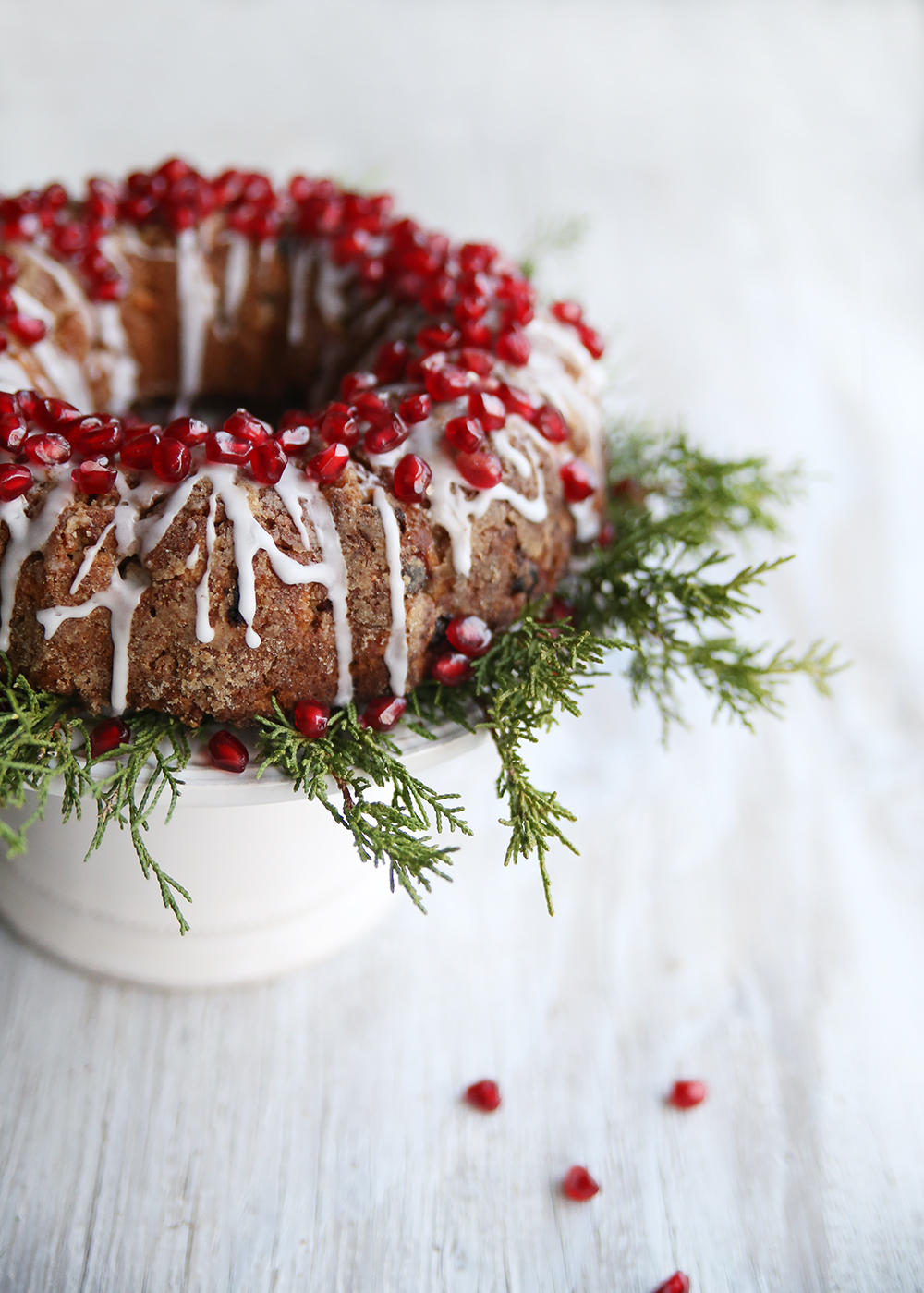 I've made it twice this week and will be making it on Thursday for our Christmas Eve dinner. Yes, it's that good! This healthy bundt cake is also no stranger to our family. It's an old favourite bundt cake recipe that I've even shared on my blog way before it was even called Pure Ella, back in ahem, 2011 when my my blogging was very simply a mommy blog, an outlet for a little creativity and I rarely shared recipes… but glad I did because I essentially posted more and more recipes and I probably wouldn't have gotten a book deal if I remained a mommy blog :)
But for this recipe I've simplified the ingredients – swapped out the egg replacer and simplified the gluten-free flours. Basically it's now really easy to make and pretty much fool proof! If you're new to gluten free vegan baking – this is a great cake to make!!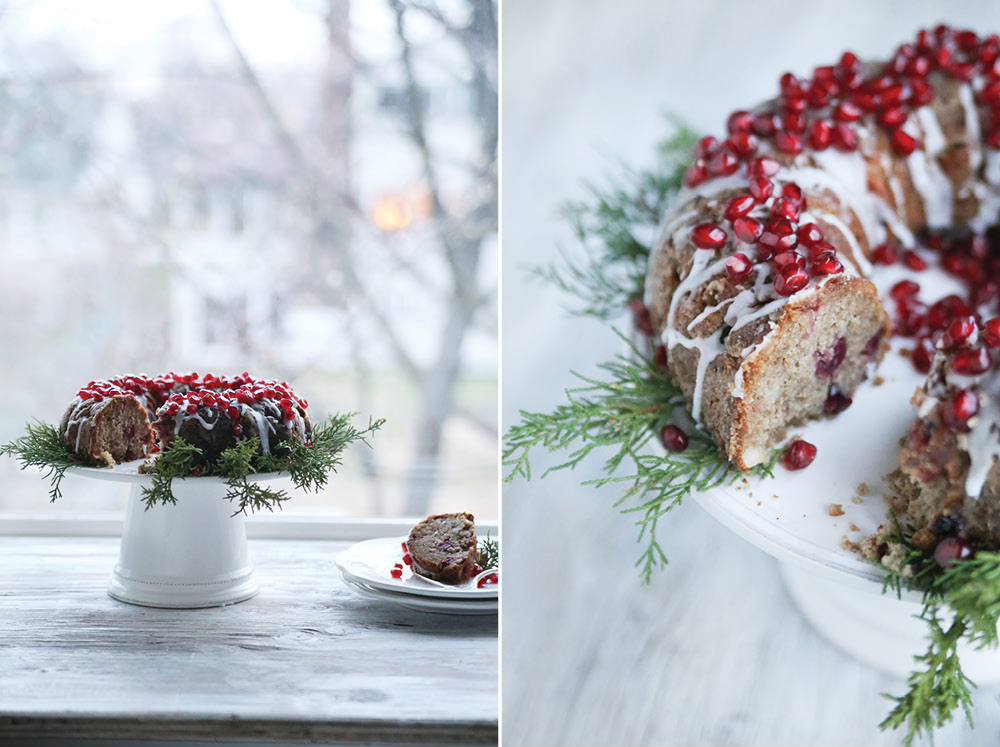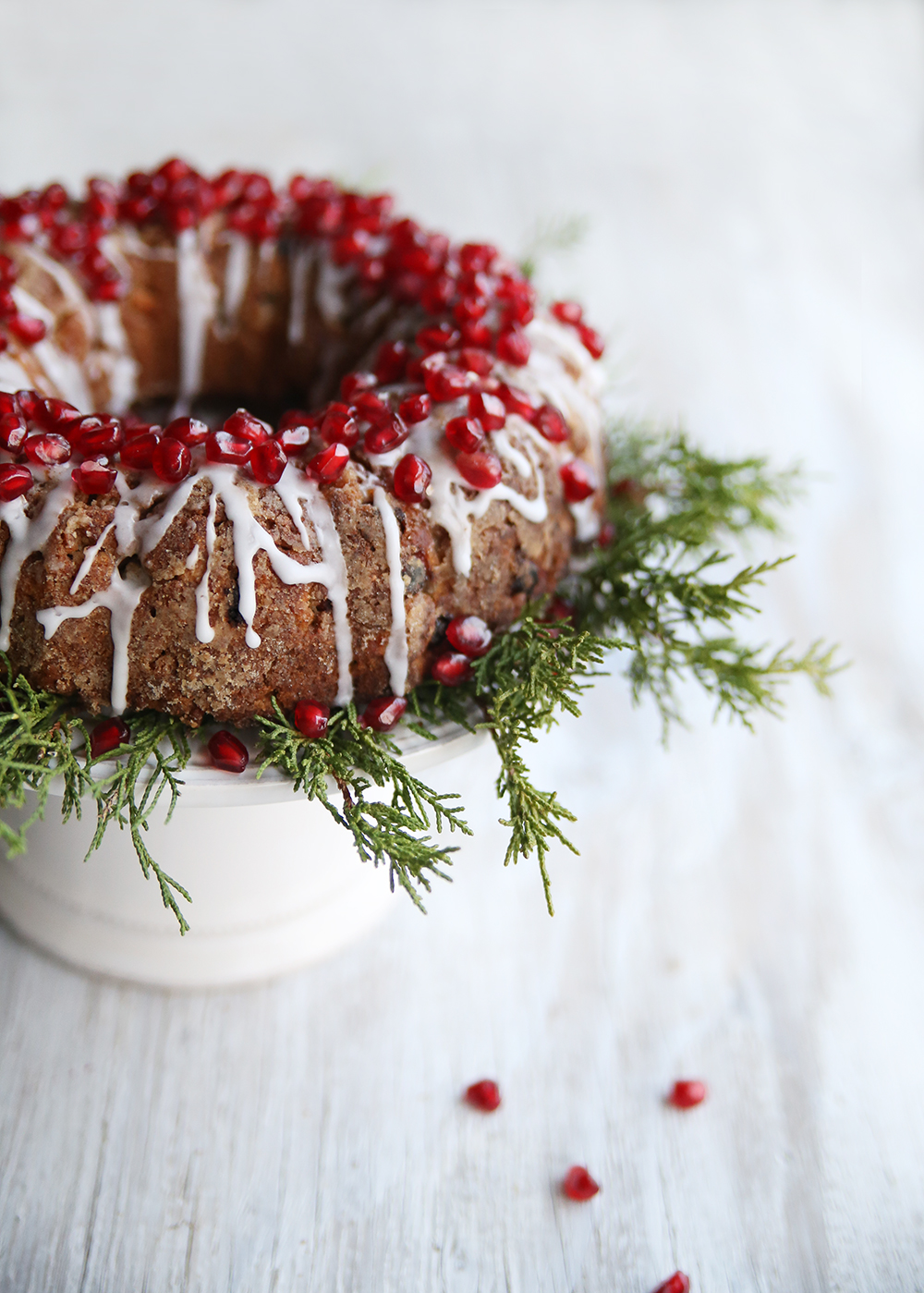 APPLE CRANBERRY BUNDT CAKE
2017-10-05 12:29:20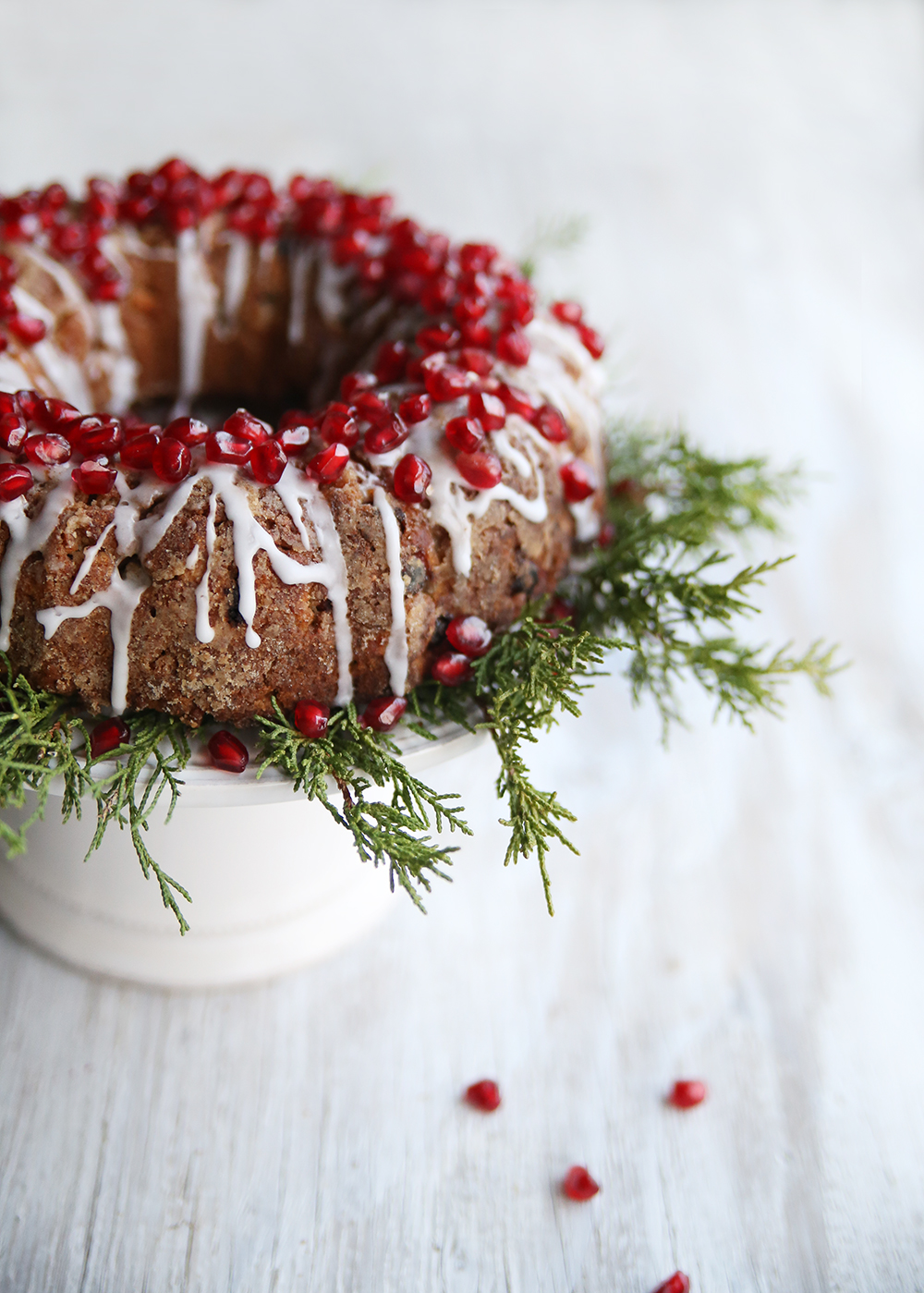 Serves 8
GLUTEN-FREE, VEGAN, NUT-FREE, SOY-FREE BUNDT CAKE
Ingredients
3 tablespoons chia seeds mixed with
1/4 cup hot water
1 3/4 cup all-purpose gluten-free flour mix
1 teaspoon baking soda
1 1/2 teaspoon baking powder
1 teaspoon fine sea salt
1 teaspoon cinnamon
1/4 teaspoon ground nutmeg
1/4 teaspoon ground cloves
1/4 cup raw cane sugar
1/2 cup powdered stevia
1/2 cup grapeseed oil
1/4 cup coconut milk or your favourite nut milk
1/2 cup applesauce
1 teaspoon lemon juice
2 teaspoons vanilla extract
Add in
2 cups peeled and chopped apples
1 cup chopped frozen cranberries
Topping
1/2 cup icing sugar
2 teaspoons hot water
1/2 pomegranate for topping
greens such as rosemary, evergreens or mint for plating (optional)
Instructions
Preheat oven to 350F.
Prepare a 9″ round bundt cake pan by greasing it and lightly flouring the pan. Any other cake pans will work too!
In a medium bowl, whisk together chia seeds and water and set aside.
In a large mixing bowl, use a whisk to combine your dry ingredients: flour, baking soda, baking powder, salt, cinnamon, nutmeg, ground cloves and sugars. Set aside.
Add the rest of the wet ingredients to the bowl with chia seeds : grapeseed oil, milk, applesauce, lemon juice, vanilla extract. Mix to incorporate.
Add the wet into the dry ingredients and stir until a smooth batter forms. Stir in apples and cranberries. Scoop the batter into the prepared cake pan and press down and smooth top evenly. Add the remaining chopped apples and cranberries and press into the batter. Bake in the center of the preheated oven for 40-50 minutes until golden around the edges and firm in the center. Use a toothpick to test for doneness. Timing might also be influenced by the size of apples, etc.
Remove from the oven and let rest for 5 mintues. To remove from the pan – make sure the cake is separated from the sides by putting a butterknife or spatula between the cake and pan. Cover the top with a plate and flip over quickly upside down so the cake falls down to the plate.
If desired, whisk the icing sugar with water to make icing and drizzle on top. Then top with pomegranate arils and greens of your choice for a festive Christmas wreath look.
Serves 9 to 10.
Pure Ella https://pureella.com/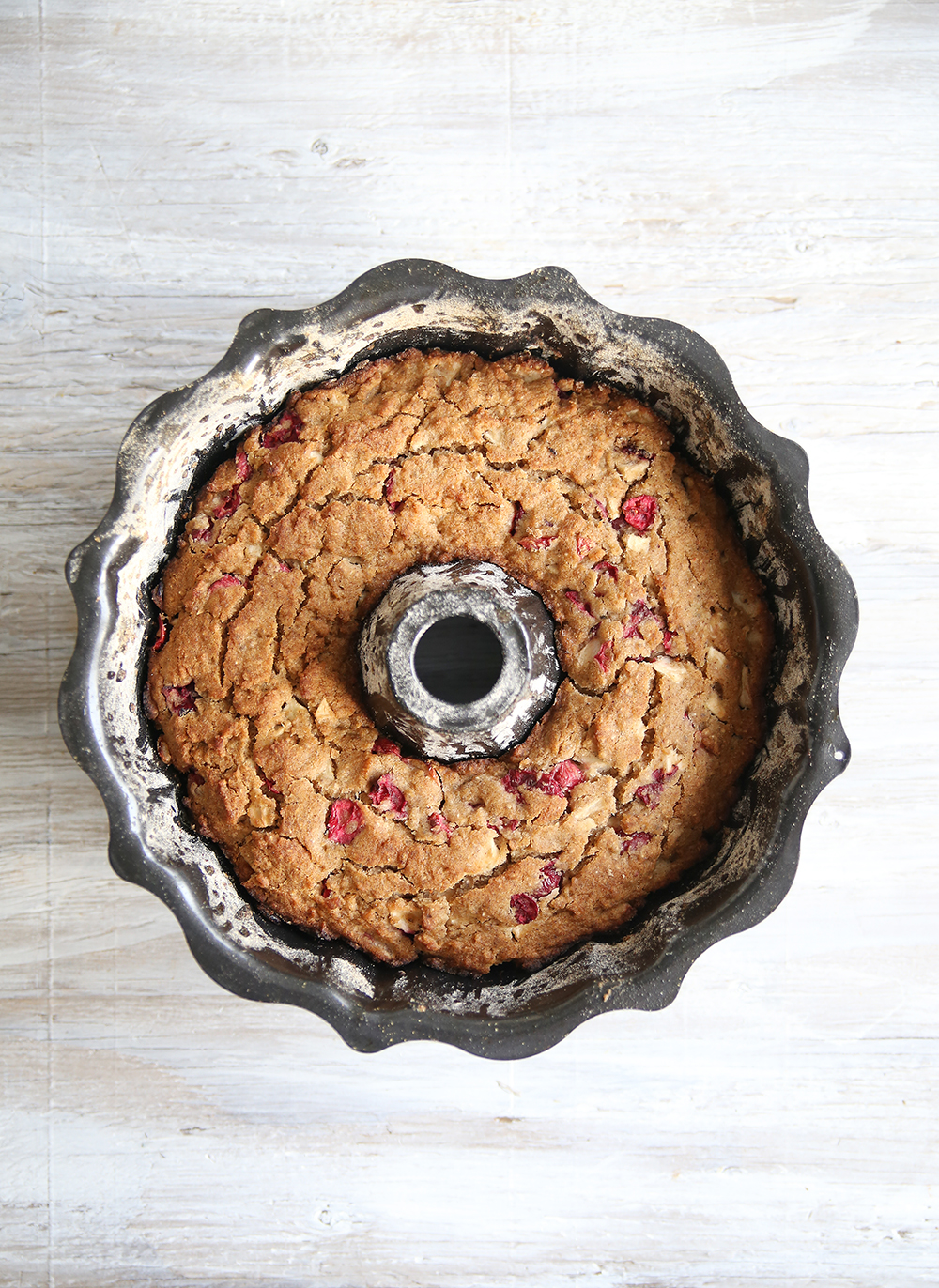 Seriously, have you ever had this combination in a dessert and thought – apples and cranberries just belong together! This gluten free and vegan recipe for the Apple Cranberry Bundt Cake is a light and moist beautiful cake that bursts with holiday flavour.
I have already made this cake as a round cake, bundt cake (babka) and muffins. It is so tender and moist . When I did cut a slice of the cake on a plate in front of me – it was gone before I even sat down at a table. Seriously delicious apple cranberry goodness here… Enjoy!
Confession – I am so not into overly sweet desserts so I scraped off the icing! But you need something that will stick the Pom arils to the cake. Or is there another way to stick fruit onto a cake without sugar? I'm still learning here – so let me know if you have any suggestions :)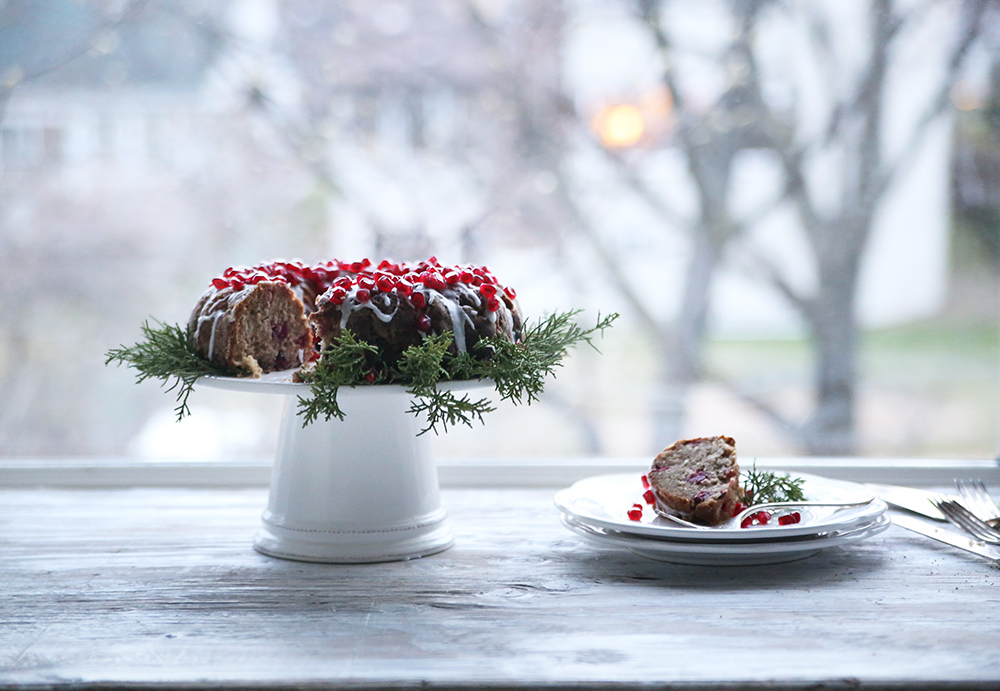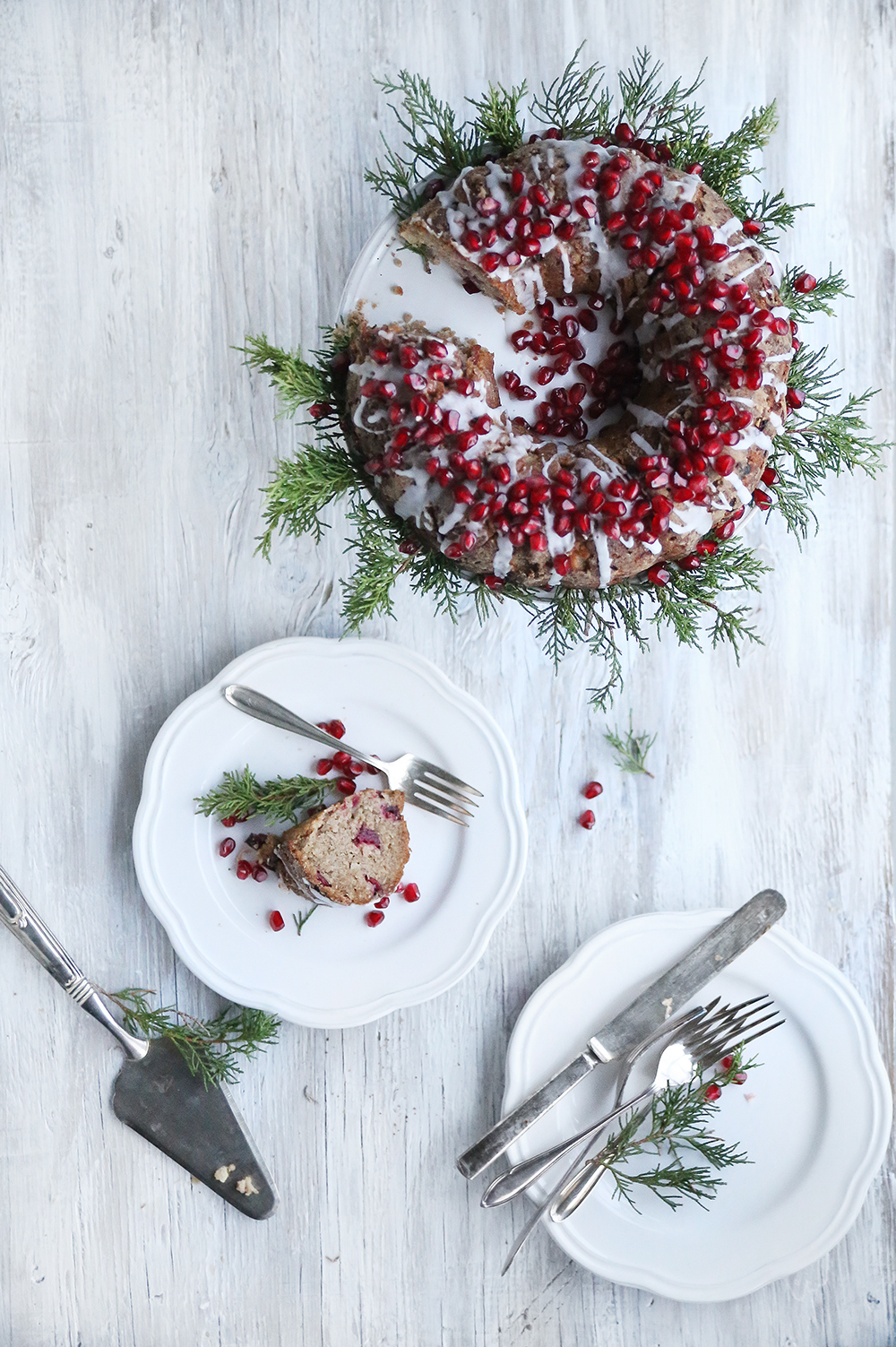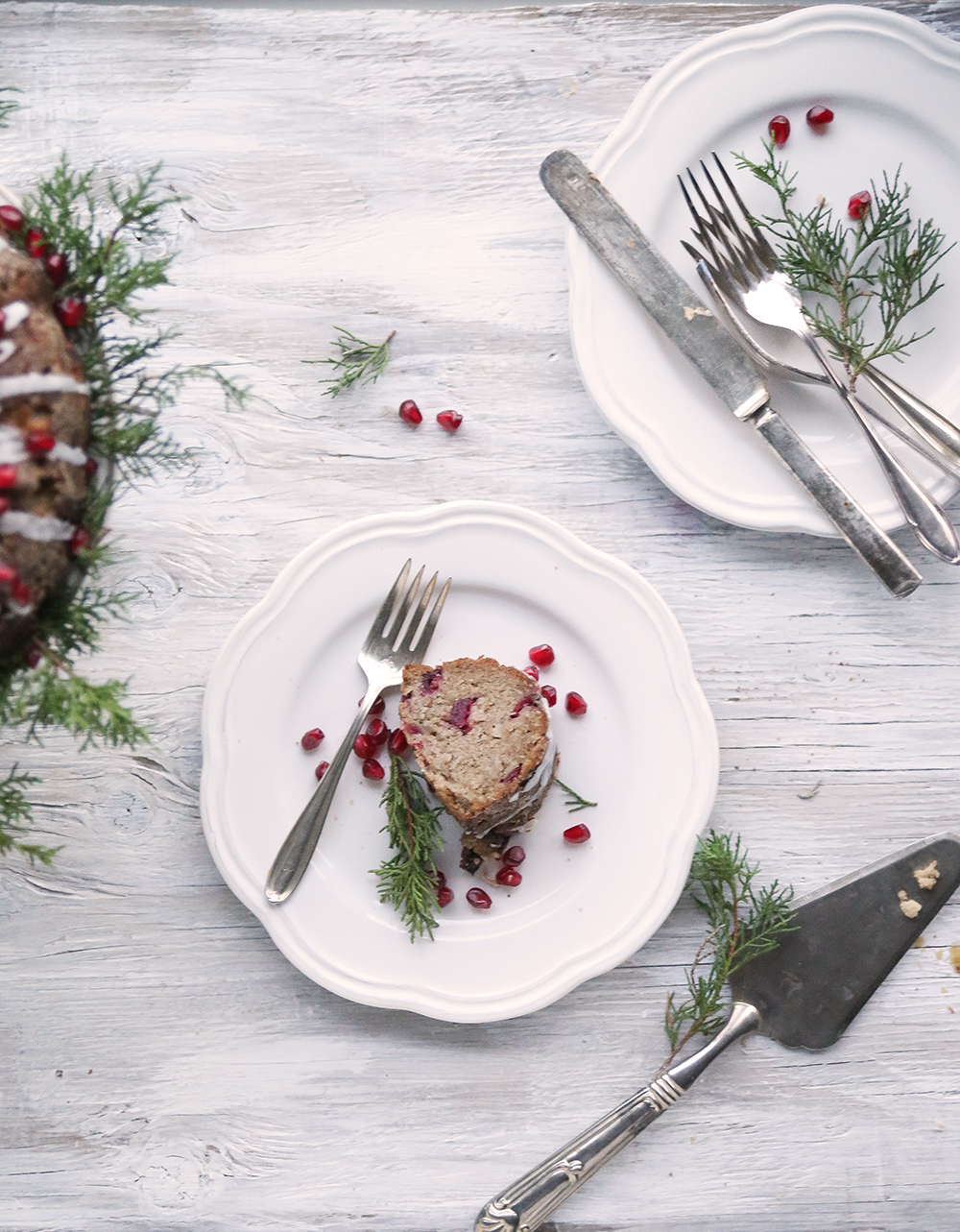 This is my favourite dessert of the season and it's a gluten-free and vegan recipe I go to for a quick and easy dessert. Our whole family loves it, including little Mia ~ see her sneaking off bites?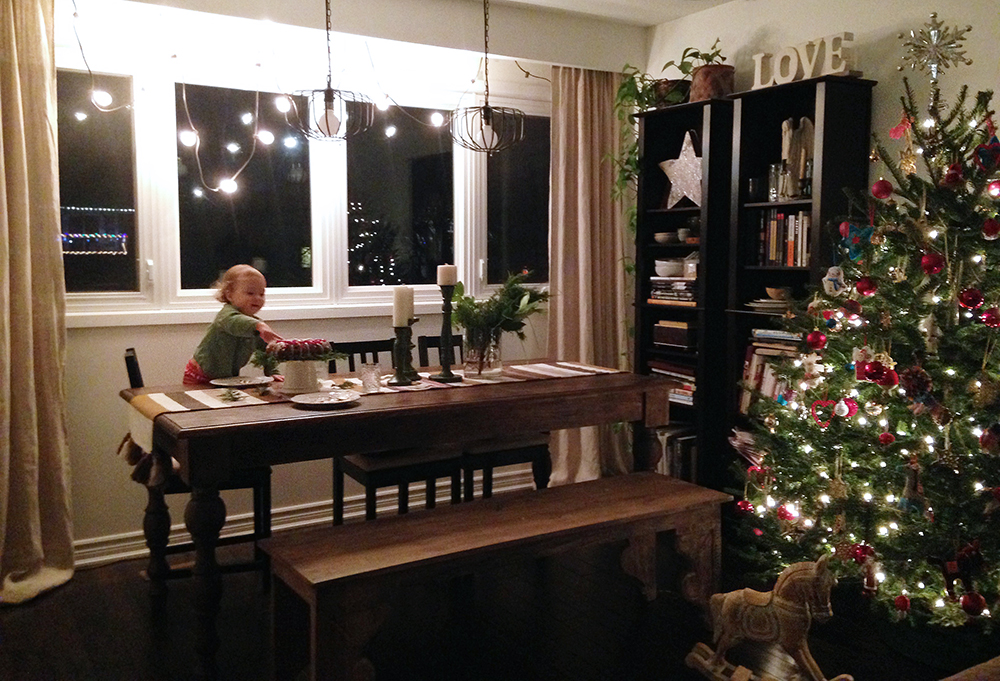 By the way, I swear I didn't dress her to match the cake! Haha! But I only realized it when I saw it on camera :)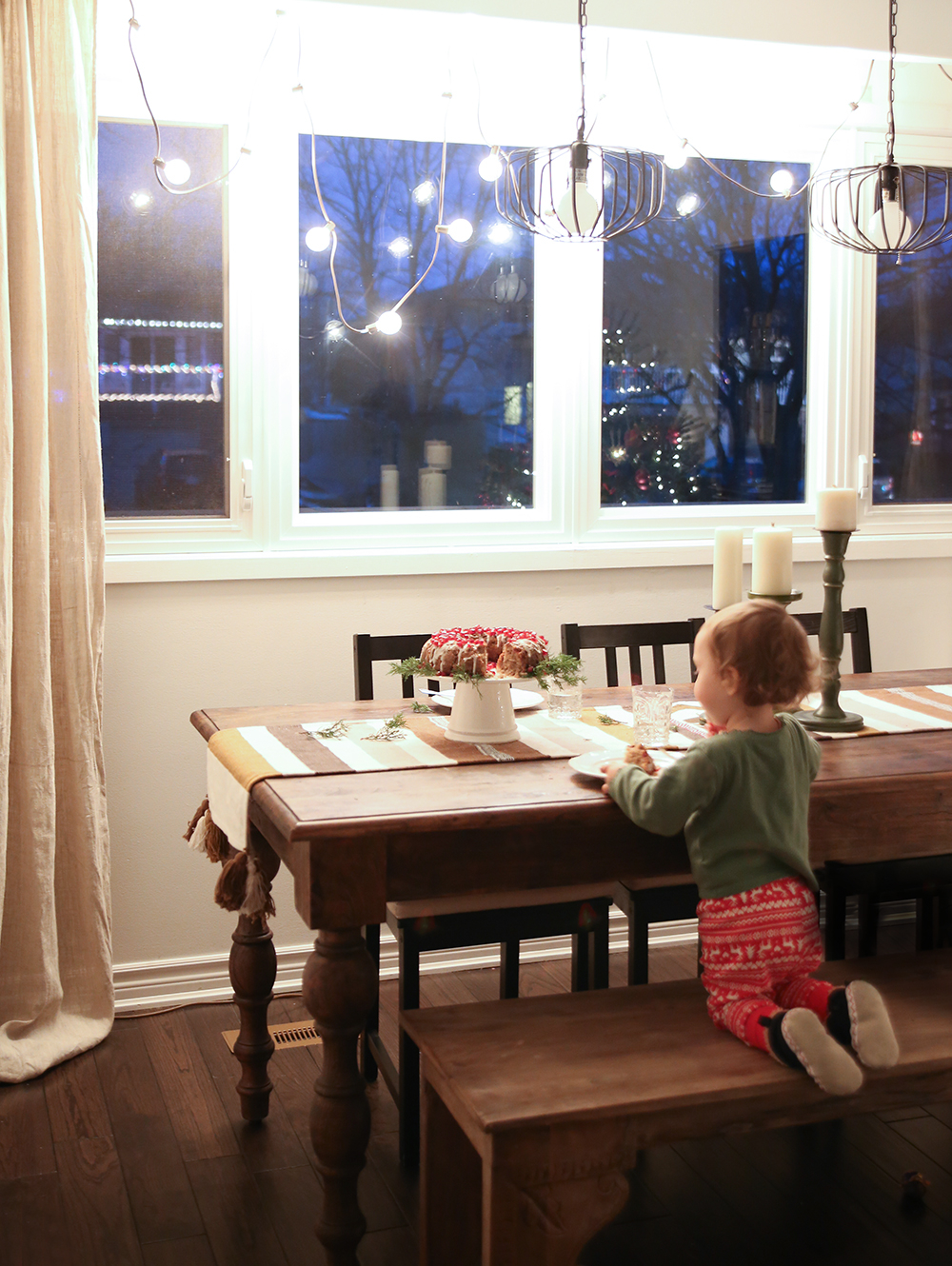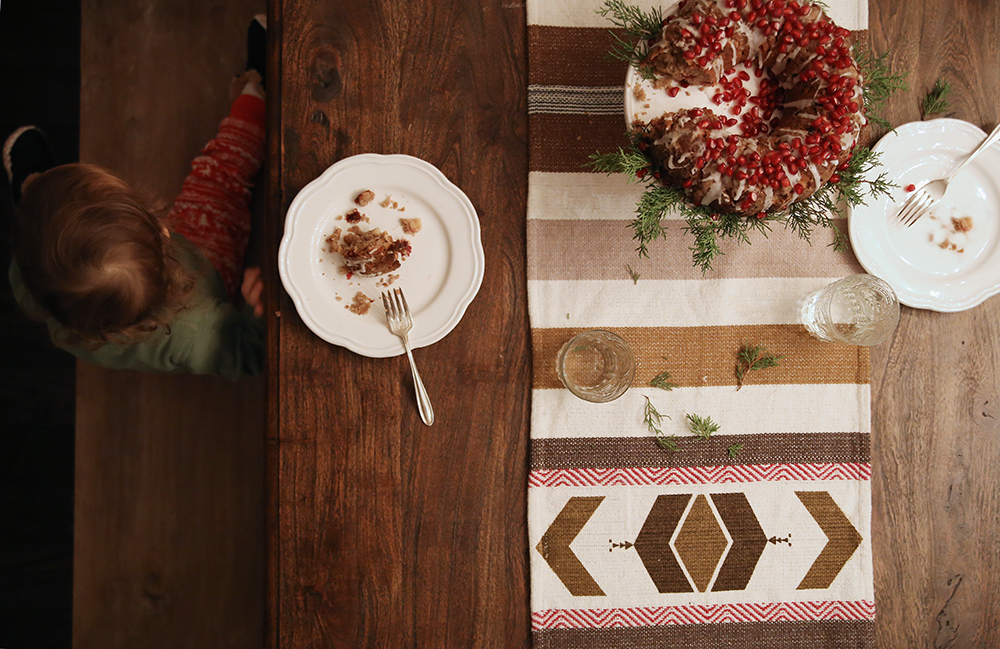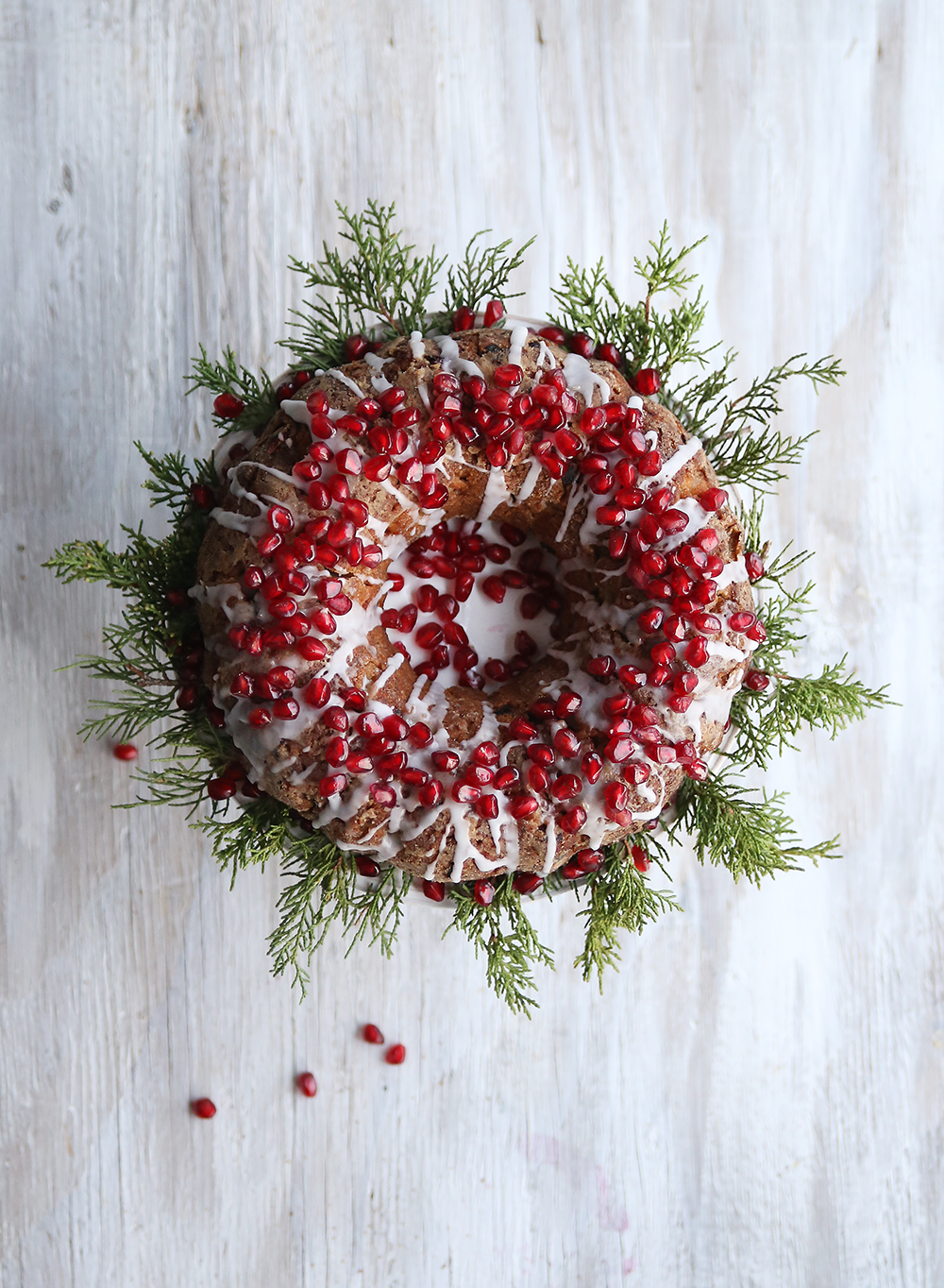 I hope your family and friends will love it too! And I wish you a wonderful Holiday Season with lots of great people, great food in peace and love!
With warmest hugs, ella