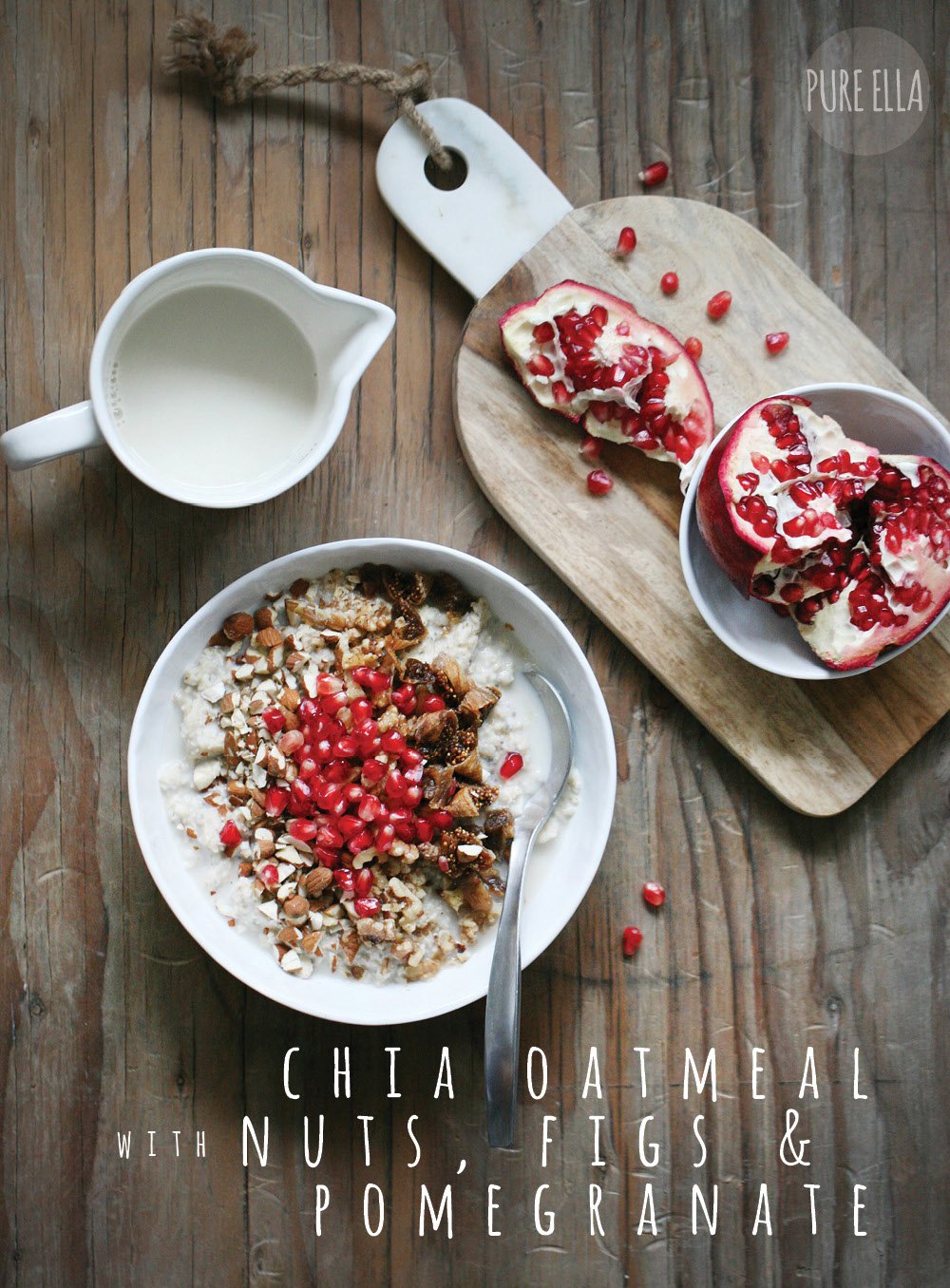 Lately this Chia Oatmeal with nuts, figs and pomegranate has been making me really happy and I thought it might make you happy too!
I don't share a lot of my breakfast photos because of one reason : I eat it all up too quick before I can take a photo! It's true. I LOVE breakfast! AND I love to eat! So I'm always hungry in the morning and I fuel up big time! Buy I had to share this easy healthy breakfast recipe! (basically one day I had two breakfasts so these photos could happen :))
I learned a lot about what it takes for breakfast to be nutritious!
I come from a long history of either Cinnamon Toast Crunch or eggs or tuna sandwiches for breakfast – now I don't eat neither – either for intolerances, toxins or basically too much sugar and crap in the 'food'! And ever since I ditched these foods – I discovered so many amazingly delicious vibrant breakfast solutions! Like this one!
You will love it too I'm sure!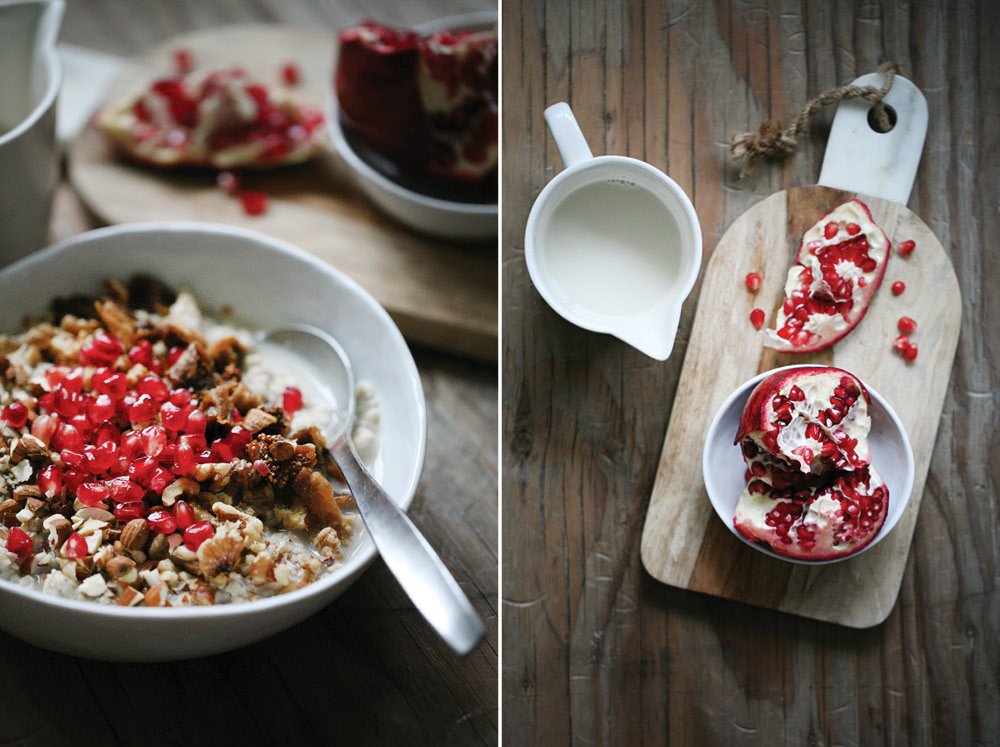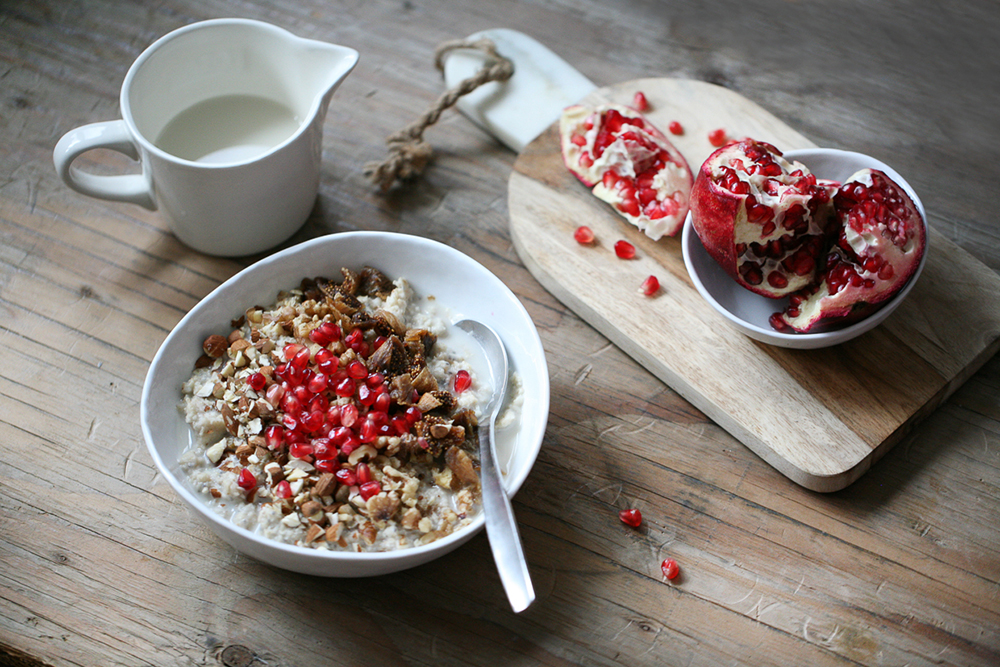 Chia Oatmeal with Nuts, Figs and Pomegranate
gluten-free, dairy-free/ vegan
Ingredients :
1 cup oatmeal
2-3 tablespoons chia seeds
almond or hemp milk
handful of nuts (I used almonds and walnuts)
a few dried figs (optional)
a small handful of pomegranate arils
Directions :
Cook the oatmeal in 3 cups of water on medium low heat. Stir in chia seeds near the end of the cooking. Cover and turn off heat to steam-cook. In the meantime, chop some nuts and deseed your pomegrante.
Note : this way when you cook the oatmeal with chia seeds, you allow the seeds to absorb the liquid and they are tastier and better for you.
Then throw some chopped nuts, chopped dried figs and pomegrate arils on top, pour over with your favourite non-dairy milk and enjoy!!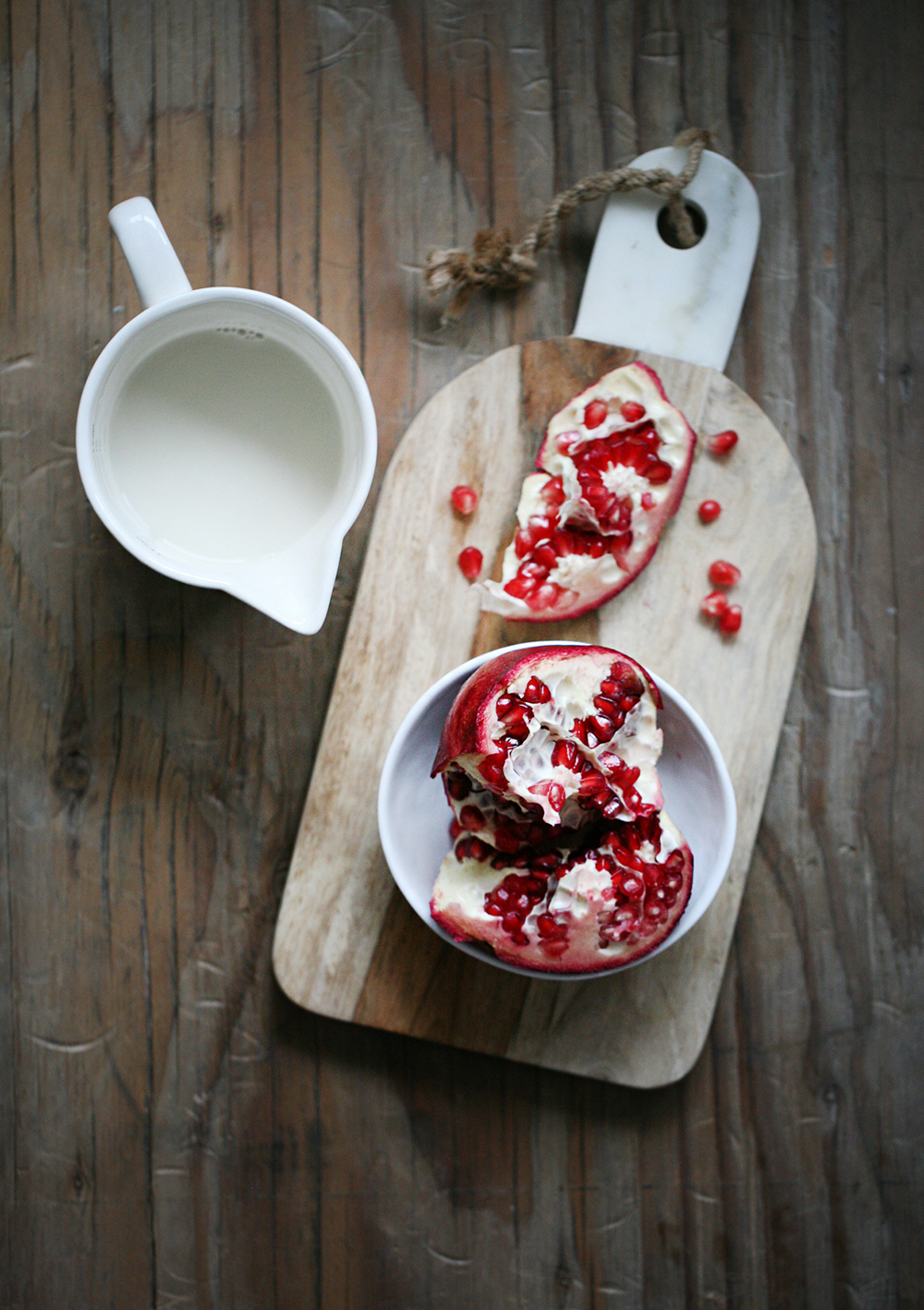 These days I get a little help finishing up my meals from Miss Mia. So breakfast is even more fun!!
She's not eating pomegrate arils yet – I find that although delicious and nutritious, they can be tough on the digestive system and can cause painful bm's in babies. So I'll wait a few more months and introduce them just a bit at a time.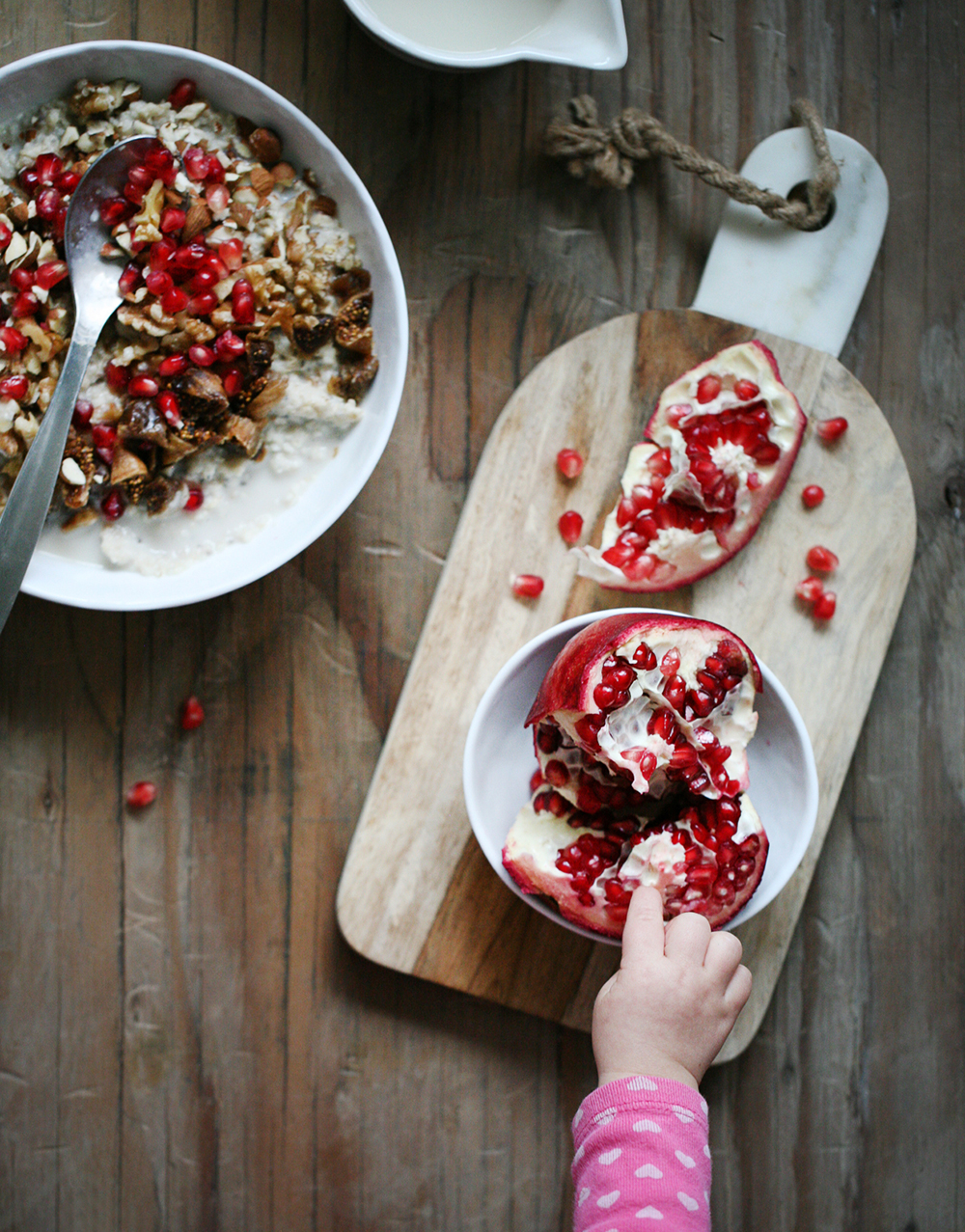 Adding chia sees and nuts to your breakfast is essential to max out on nutrition.
You get a great protein boost and you add essential omega 3 oils that nourish your body and boost brain health – the best way to start the day!!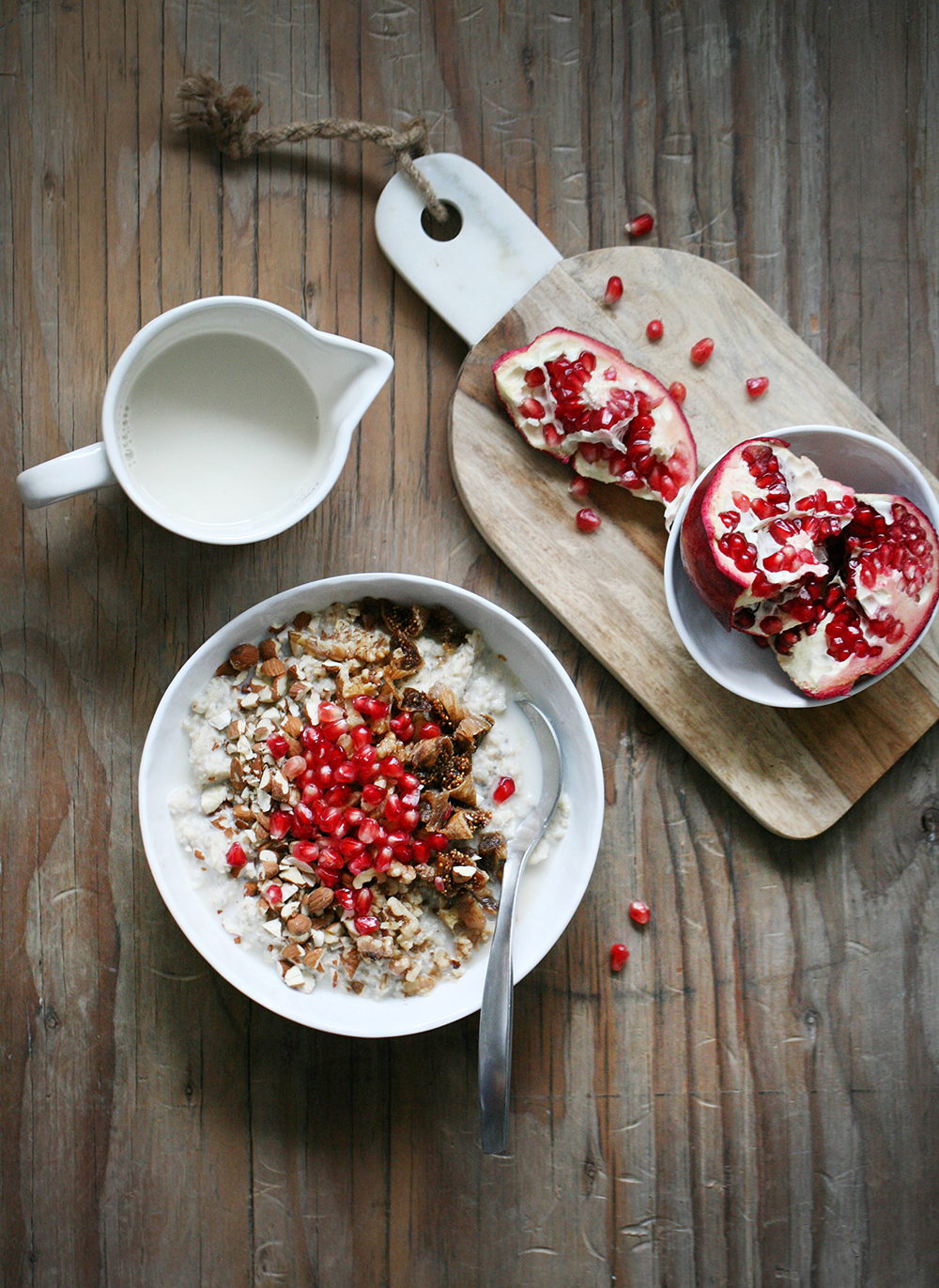 I hope you will enjoy this delicious breakfast soon.
What's your current breakfast obsession?