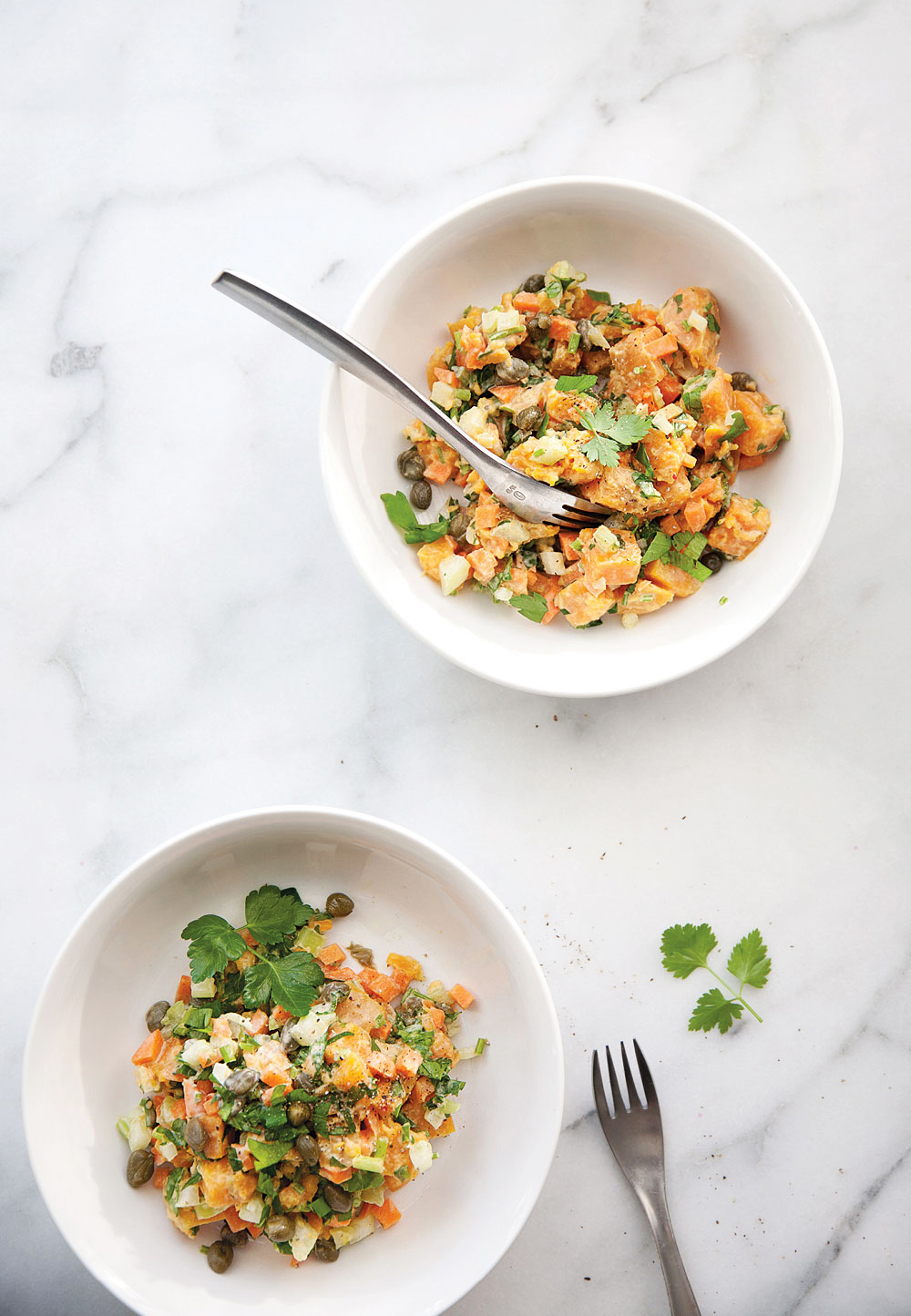 It just can't be summer without a good potato salad… especially this healthy Sweet Potato Salad with Capers! Wait till you taste this ~ it's simply the best comfort-foody deliciously amazing potato salad recipe you've ever eaten!
I used to LOVE potato salads! Creamy, comforting – a delicious potato salad was my ultimate comfort food. But when I started to change improve my diet, I learned that the white potato variety isn't all that healthy and I learned that sweet potatoes are much healthier and better for you. When I first started to like sweet potatoes (because it was not love at first taste) I eventually came to love them! And sweet potatoes are now a regular deliciousness in my grocery cart.
One of the most interesting reasons why sweet potatoes are better for you (versus the white or yellow variety) is that they…
are low glycemic and don't spike your blood sugar as much as the lighter potato variety. Plus the orange colour which is from the beta carotene nutrient that helps maintain healthy skin and also plays a vital role in eye health.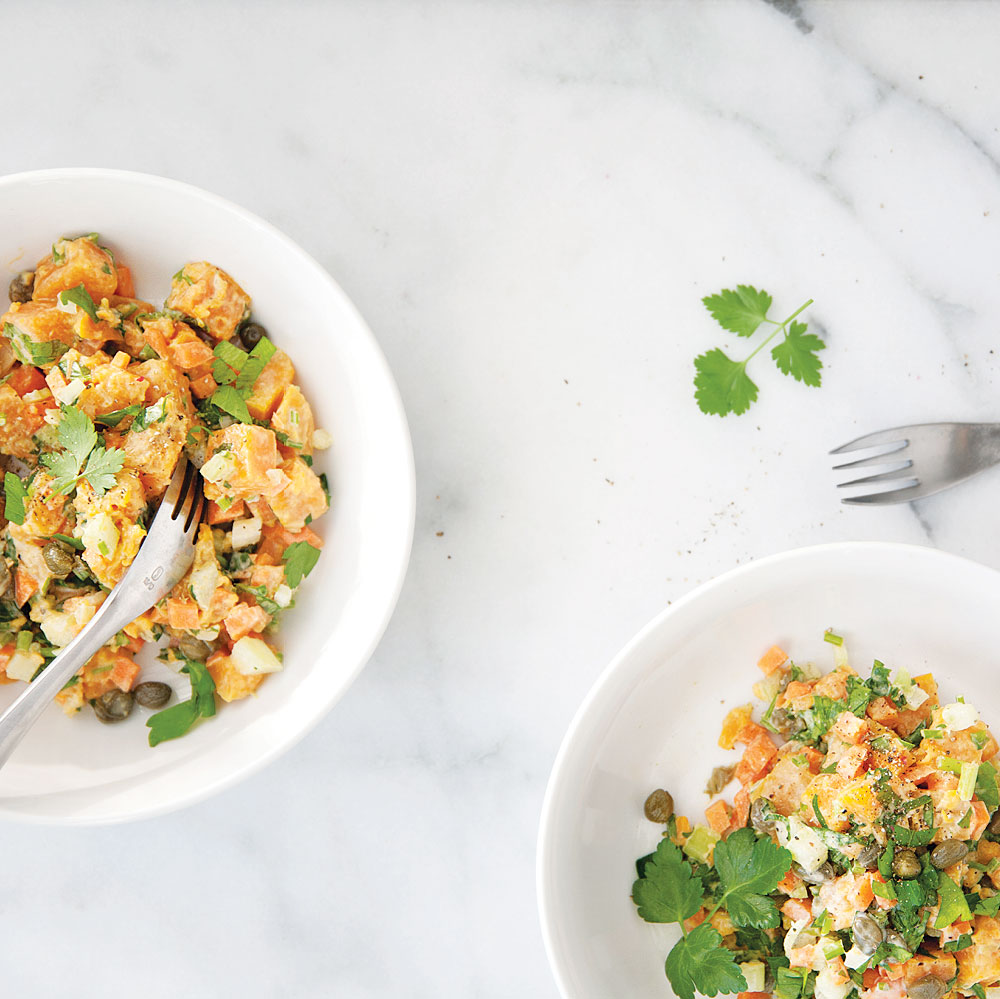 Healthy Sweet Potato Salad with Capers
A healthy real-food Sweet Potato Salad recipe that's naturally gluten-free/ vegan/ allergen friendly.
Ingredients:
1 large sweet potato, peeled & cooked (great to use leftovers)
1 stalk of celery, chopped fine
1 large carrot, peeled and chopped
1/4 cup capers + 1 Tablespoon vinegar water from the caper jar (preservative free)
1 heaped Tablespoon organic vegan mayo (or regular real-food mayo)
1/4 cup flat-leaf parsley, chopped fine
1/2 teaspoon sea salt or himalayan pink salt
fresh ground black pepper
Directions:
If cooking the sweet potato: Peel and quarter the sweet potato and cook in slightly salted water until tender. (cutting the sweet potato into equal smaller chunks helps to cook faster too). Prepare the other ingredients while the sweet potato cooks. Once tender, remove from pot and allow to cool slightly to room temperature and use in the recipe once cooled. Or place in an airtight container and store in the fridge until ready to make the salad.
SIDE NOTE: Cold ingredients are great for summertime salad, but I like the potato slightly warm or room temperature when enjoying this salad in the colder months.
In a medium bowl, mix in all the ingredients : chopped celery, carrots, capers, mayo, parsley, salt and pepper.
Enjoy immediately or place in an airtight container and store in the refrigerator until serving time.
Stays fresh refrigerated for up to 3 days.
NOTE: I definitely like to use leftover sweet potatoes for a recipe like this that requires only 1 potato. But if you are cooking them for this recipe, consider cooking more so you either make an extra batch of this salad or reserve for a meal later or for tomorrow.
This is one of the reasons, why cooking doesn't feel like a chore for me, it's because I plan (literally visualize) my next few meals in advance and get some of the batch cooking done beforehand. This is also why I usually spend under 15 to 30 minutes cooking :)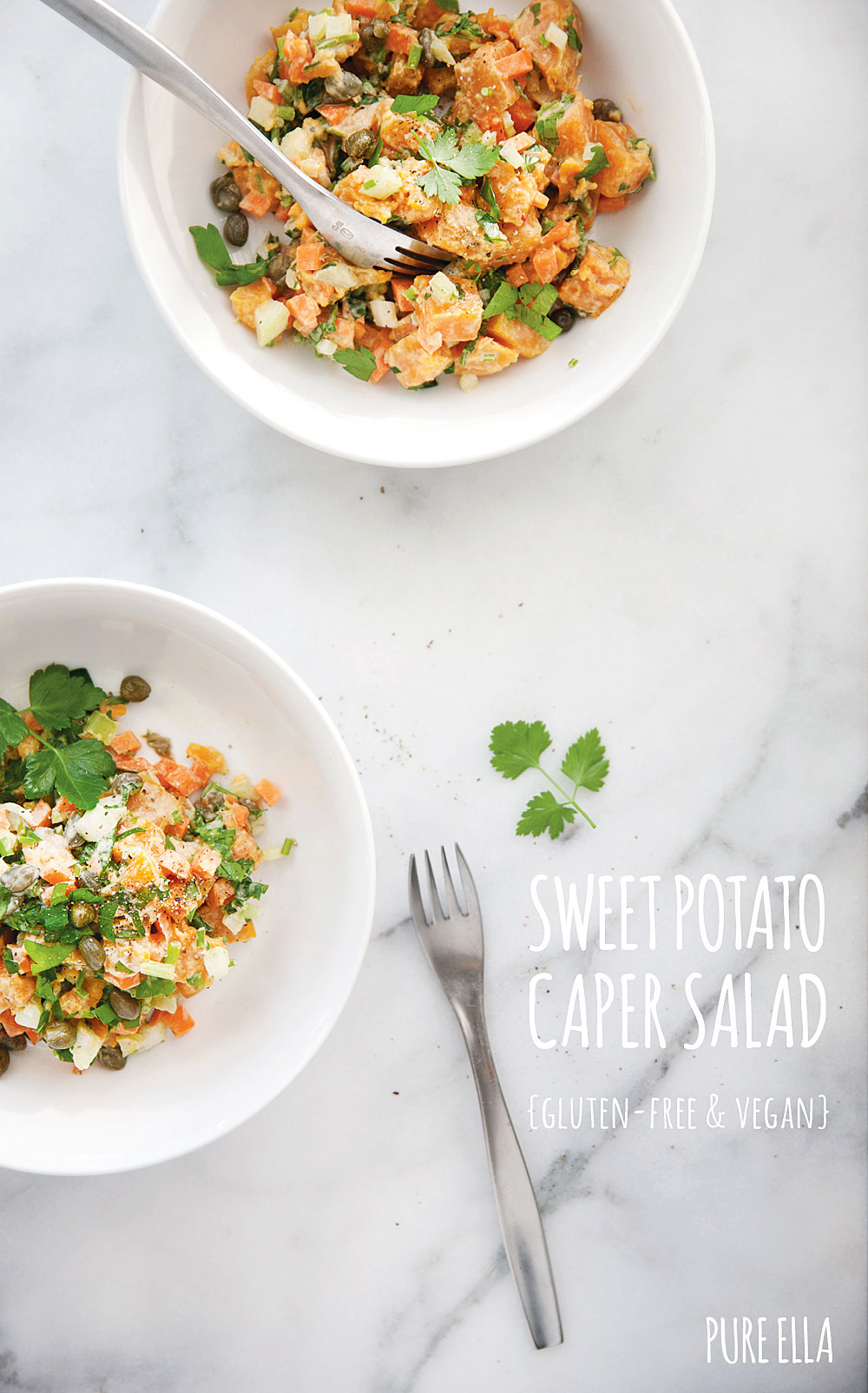 I hope you will be trying this delicious Sweet Potato Salad soon! I also am certain it will become your absolute favourite potato salad because yes, it's that good!! :)
Even though there is no sugar in this recipe, there are carbs and all carbs have sugar, right? (are you guys paying attention?)

Here's a great tip for cutting out sugar from your diet – simply, reduce eating white potatoes and replace them with sweet potatoes!

I know it sounds confusing because sweet potatoes taste sweeter and even have "sweet" in the name BUT when it comes to how carbohydrates affect your blood sugar (the real important stuff aka digestion) it's the sweet potatoes that digest slower and don't spike your blood sugar as high as white or yellow potatoes – that does makes any sense? I hope so. Just remember, your body and blood prefers sweet potatoes vs. the white guys, ok? ;)
.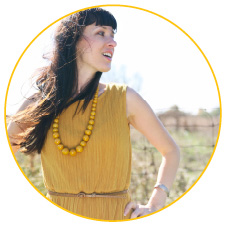 Ella Leché
is a cookbook author ('
Cut the Sugar
'), recipe developer, and photographer/stylist behind Pure Ella; where she shares delicious and healthy recipes. Eating PURE is clean ingredients, whole foods, plant-based nourishment and delicious desserts – with quality ingredients and sweeteners so they're treats with benefits so you won't have to feel deprived or restricted to eat healthier.
Thank YOU for being here!
Follow on social media for daily health & happiness inspiration:

ps. don't forget to share your Pure Ella (PE) recipe creations by tagging them #pureella and
@pure_ella
on Instagram – we repost our favourite photos!