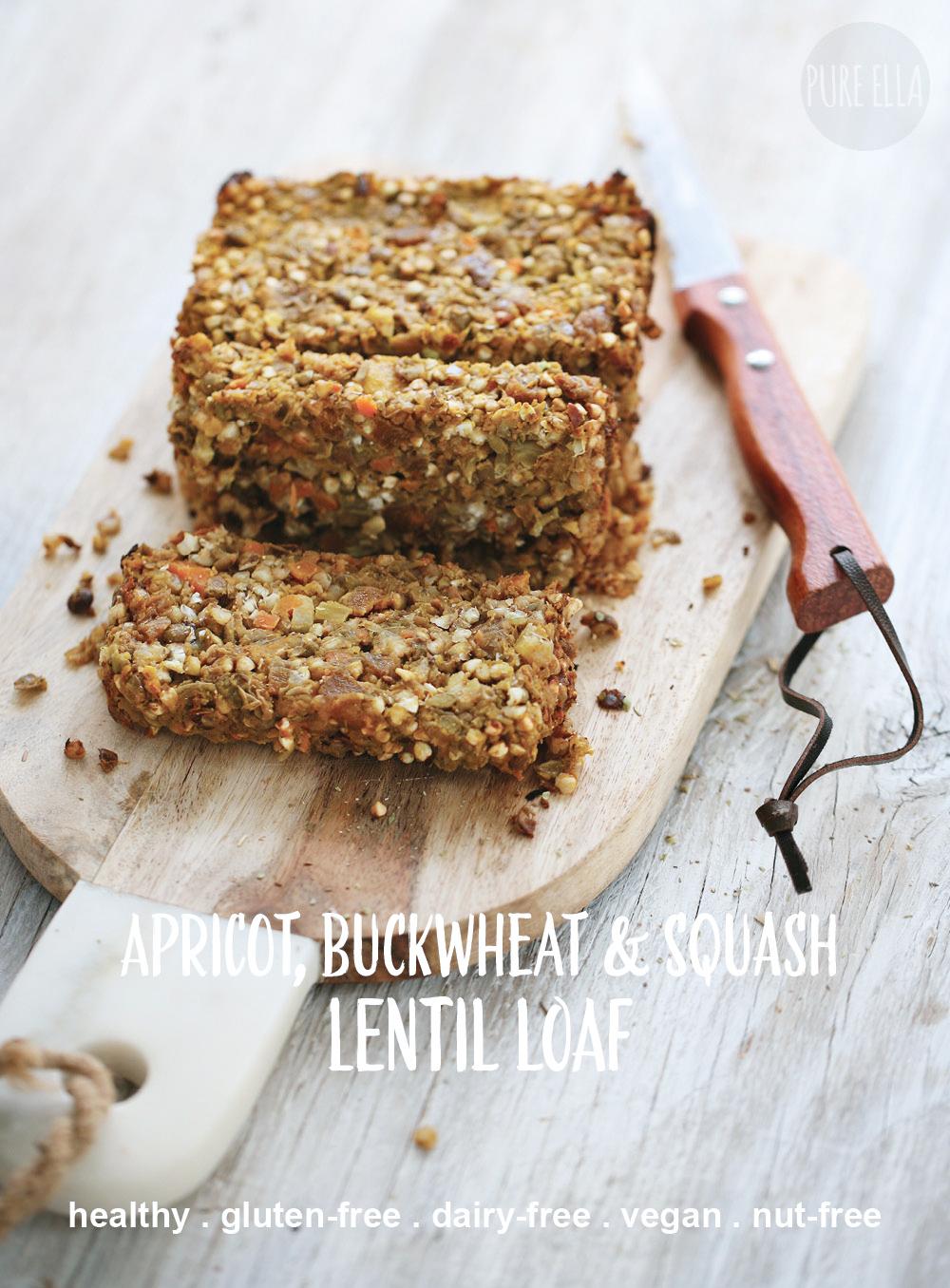 My family's been begging me for this recipe ever since it's debut on our Canadian Thanksgiving back in early October – so finally it's here! The Apricot, Buckwheat and Squash Lentil Loaf recipe is here! It is a beauty in every delicious way! The natural flavours all mingle together so well – and everything is made healthy, naturally gluten-free/ wheat-free, dairy/ vegan and nut free! So basically everyone can enjoy this – it is a delicious recipe that will make all your guests happy.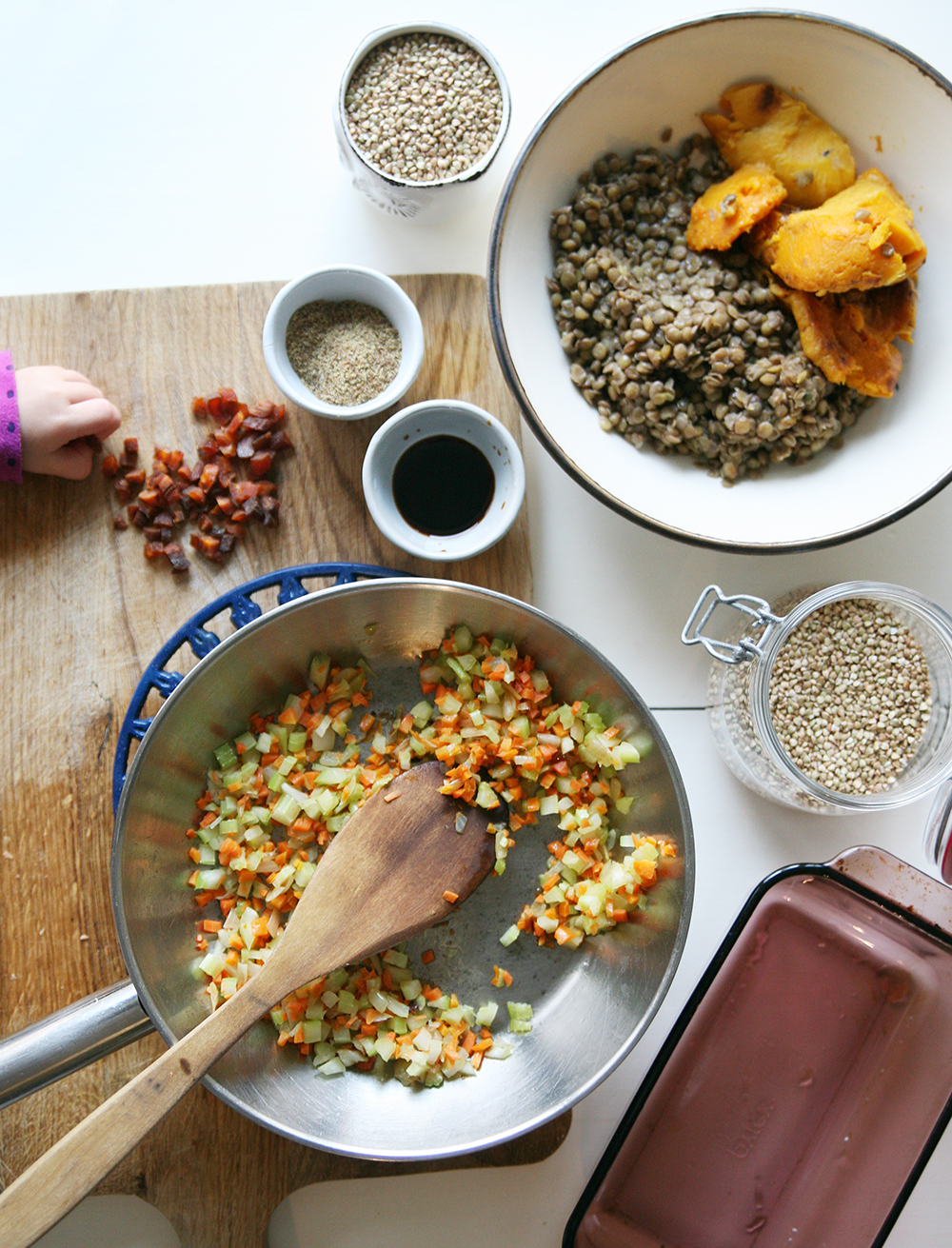 Just look at these delicious and healthy ingredients – butternut squash, buckwheat, lentils and all-natural dried apricots (note that they are almost black when they are natural (not orange when you get with sulphites)). My baby girl loved helping me taste test all the ingredients and mix the bowl too! She agrees it's delicious!
Apricot, Buckwheat and Squash Lentil Loaf
Ingredients :
3/4 cup raw buckwheat, pre-soaked
2 tablespoons ground flax
1/4 cup water
1 cup butternut squash, cooked or roasted (great to use leftover squash)
1 cup green lentils, cooked or 1 small can, drained well
1 celery stalk, chopped fine
2 medium carrots, peeled & chopped fine
1 small onion, chopped fine
1/4 – 1/2 cup dried sulphite-free apricots, chopped
2 tablespoons soy sauce (look for gluten-free if avoiding gluten is important to you)
1 tablespoon dried oregano
1-2 teaspoons fine sea salt
1/2 teaspoon freshly cracked pepper
about 3 tablespoons of breadcrumbs (gluten-free)
a tablespoon of oil for greasing the baking dish
Directions :
First, pre-soak the raw buckwheat for 6-8 hours in cool water or 1-2 hours hot water.
And mix the ground flaxseed with 1/4 cup of water and set aside.
Cook the lentils as per instructions. Once cooked, strain well by pressing them into a sieve to remove excess water.
In the meantime, cook or roast about 1/4 of butternut squash or use leftovers.
In a medium skillet, cook the celery, carrots and onion until golden on medium heat, about 10 minutes stirring often. Remove from heat and allow to slightly cool before continuing to the next step.
Preheat the oven at this point to 350F.
In a large bowl or food processor, combine the lentils, squash, drained buckwheat and celery/ carrot/ onions from the skillet, flax, apricots, oregano, salt and pepper and mix until all the ingredients are well incorporated.
If using a food processor – pulse a few times so that some texture is left behind.
I mixed all the ingredients in a bowl because I had my baby daughter help me do the mixing – if I was doing this on my own I would definitely pulse this in a food processor to save time :)
Rub the inside of a baking dish with oil and sprinkle the gluten free bread crumbs on the sides. Then scoop the mixture and press firmly and evenly inside the pan.
Bake for 30-40 minutes or until sides appear golden. Remove from the oven and let cool for about 30 minutes before serving.
OR it's best to make this one day ahead and storing in the refrigerator covered. Then preheat for 30 minutes in the oven at 350F. The flavours in this Lentil Loaf just get more saturated and really taste amazing the next day. It's less crumbly too. So I would really recommend to make this one day ahead before serving and also get something out of the way especially for Holidays!
So this was a lovely main dish for our Thanksgiving – I hope you'll give it a go and make this for Thanksgiving dinner too! :)
All your friends who do have dietary preferences will LOVE you for it – and those that don't will also appreciate how good simple and healthy ingredients make a meal amazing!!
To our US friends, I wish you all a wonderful, safe and happy Thanksgiving! xo ella