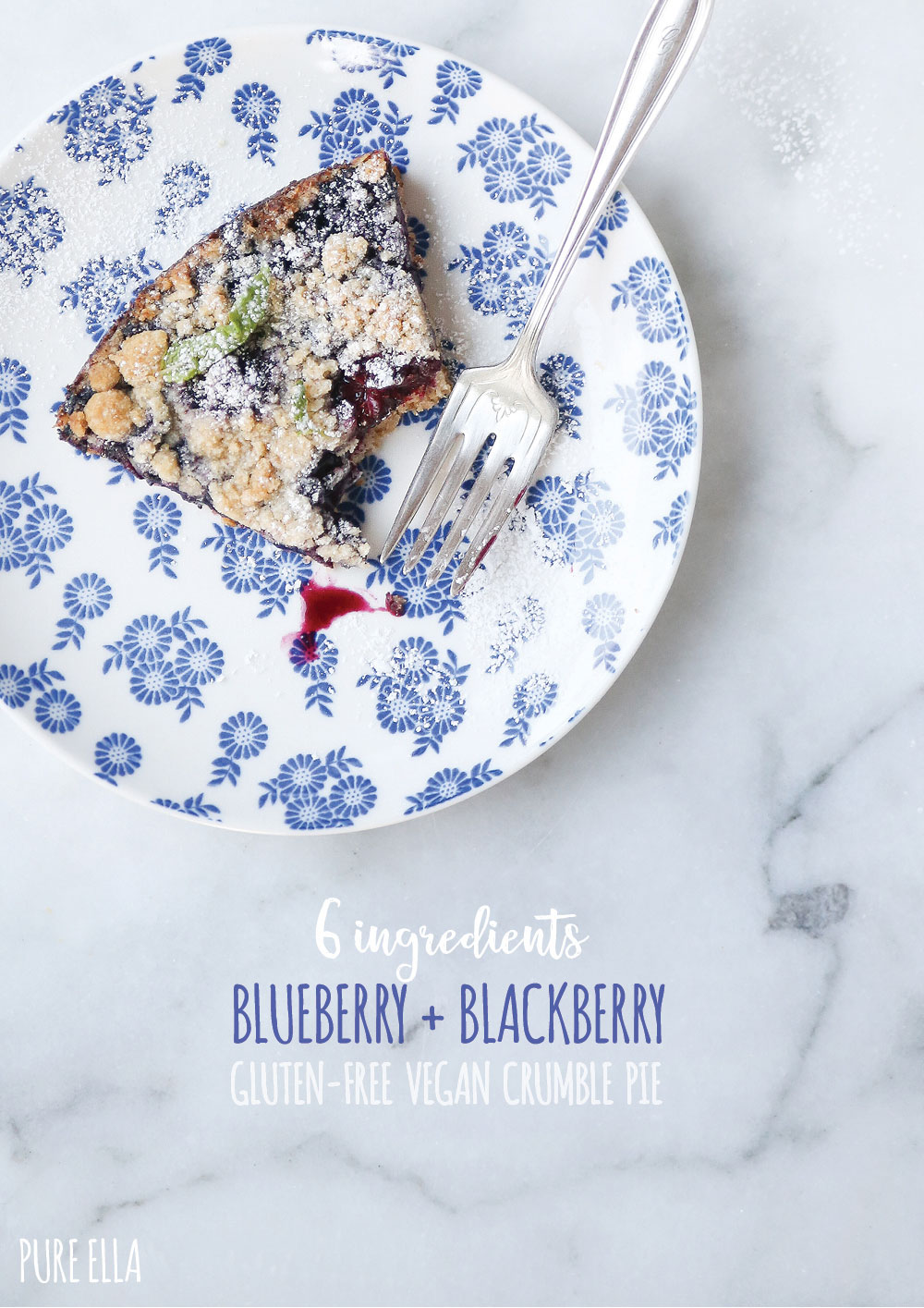 So I just love crumble pies and I think you will love them too once you see how easy and quick these are to make. This 6 Ingredient Blueberry Blackberry Pie is also naturally gluten-free and vegan and super delicious!
I can make crumble pies with my eyes closed by now (although not necessary because I do enjoy seeing the process) but, I do make these super quickly – how could I not? They are probably the easiest baked dessert that you can make from scratch. Just 4 ingredients for the pastry + blueberries and blackberries.
If you went for a single fruit type, it would come down to a 5 Ingredient Pie.
Easy. Simple. Quick. Delicious.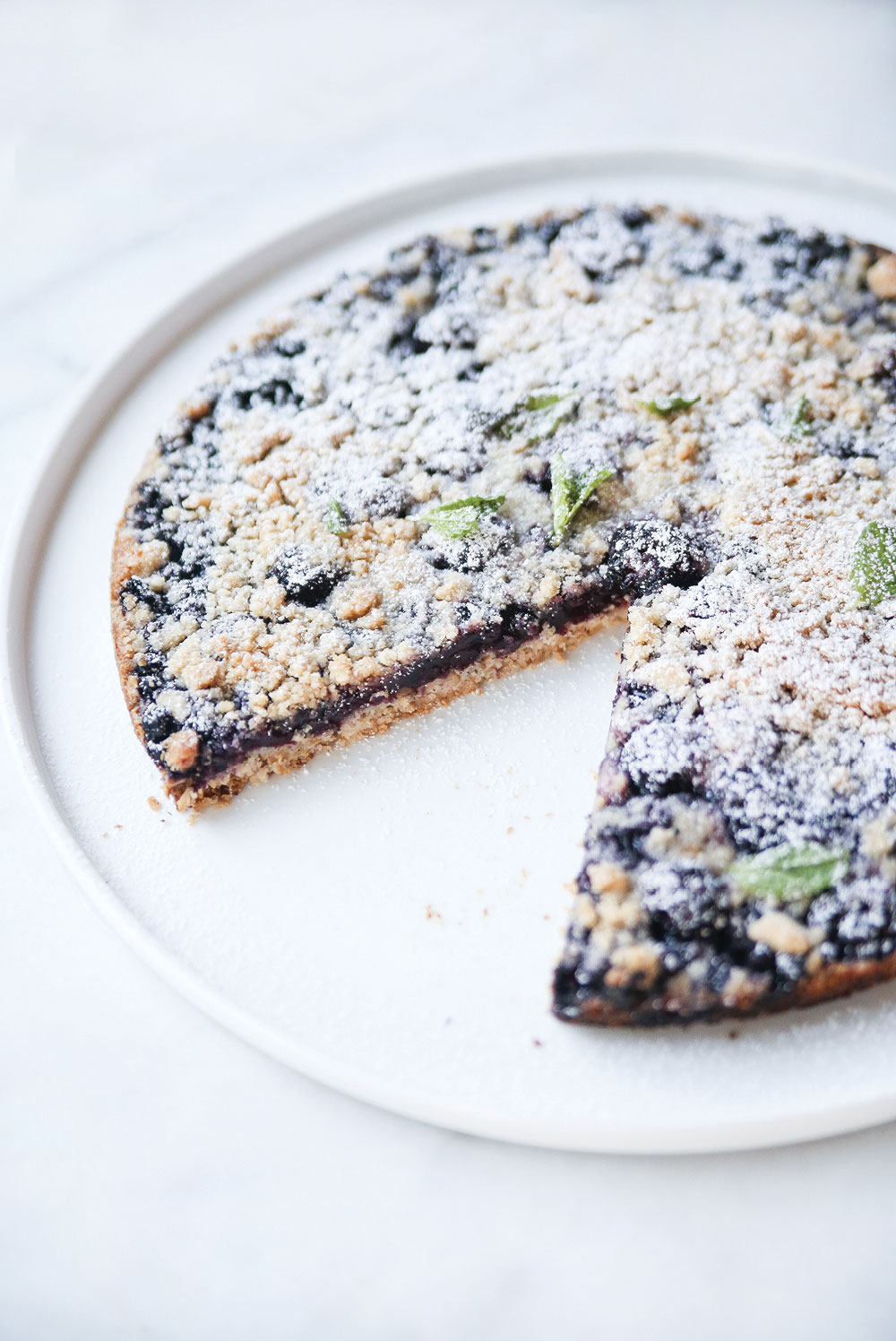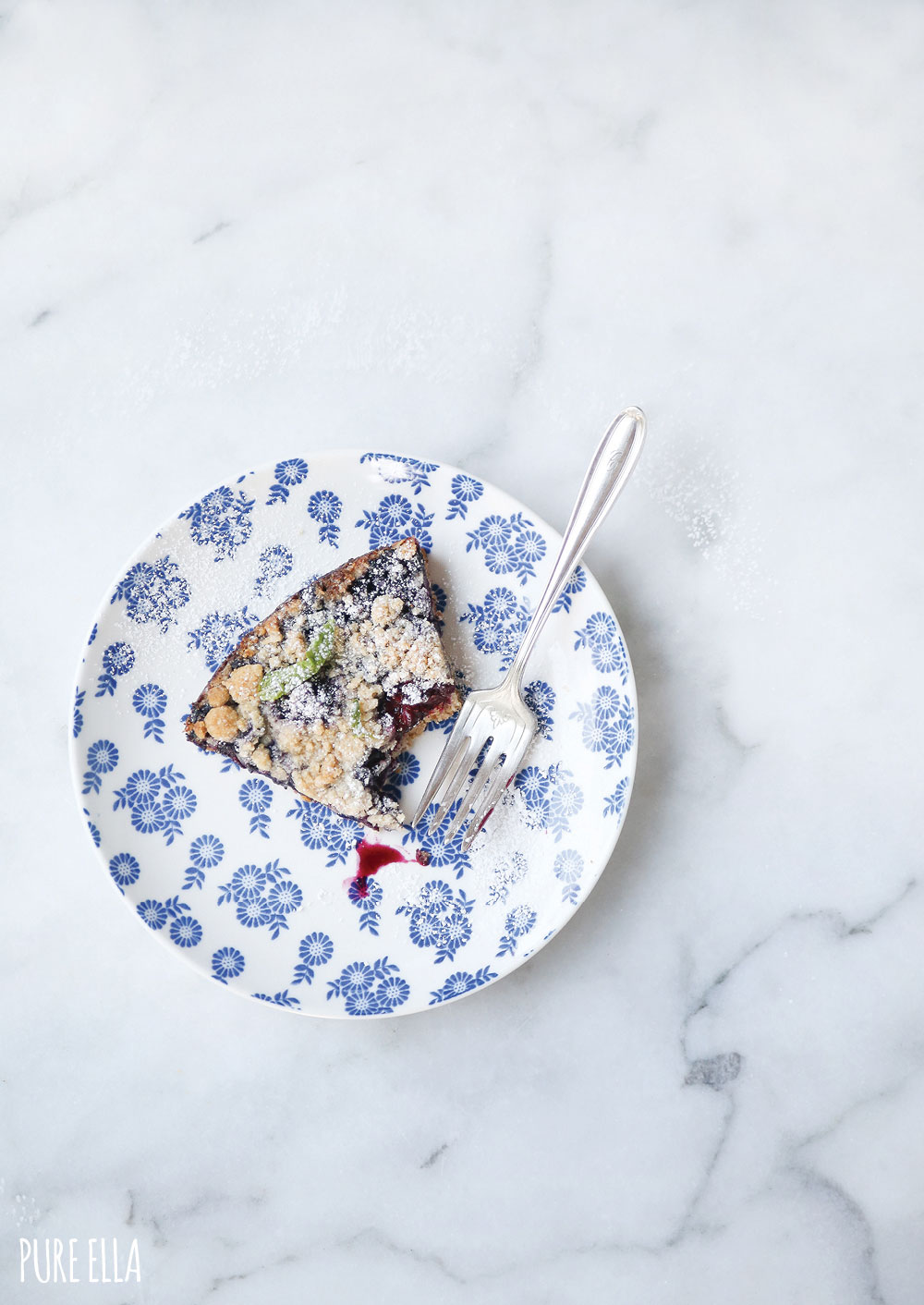 Blueberry Blackberry Pie
2017-06-27 11:32:31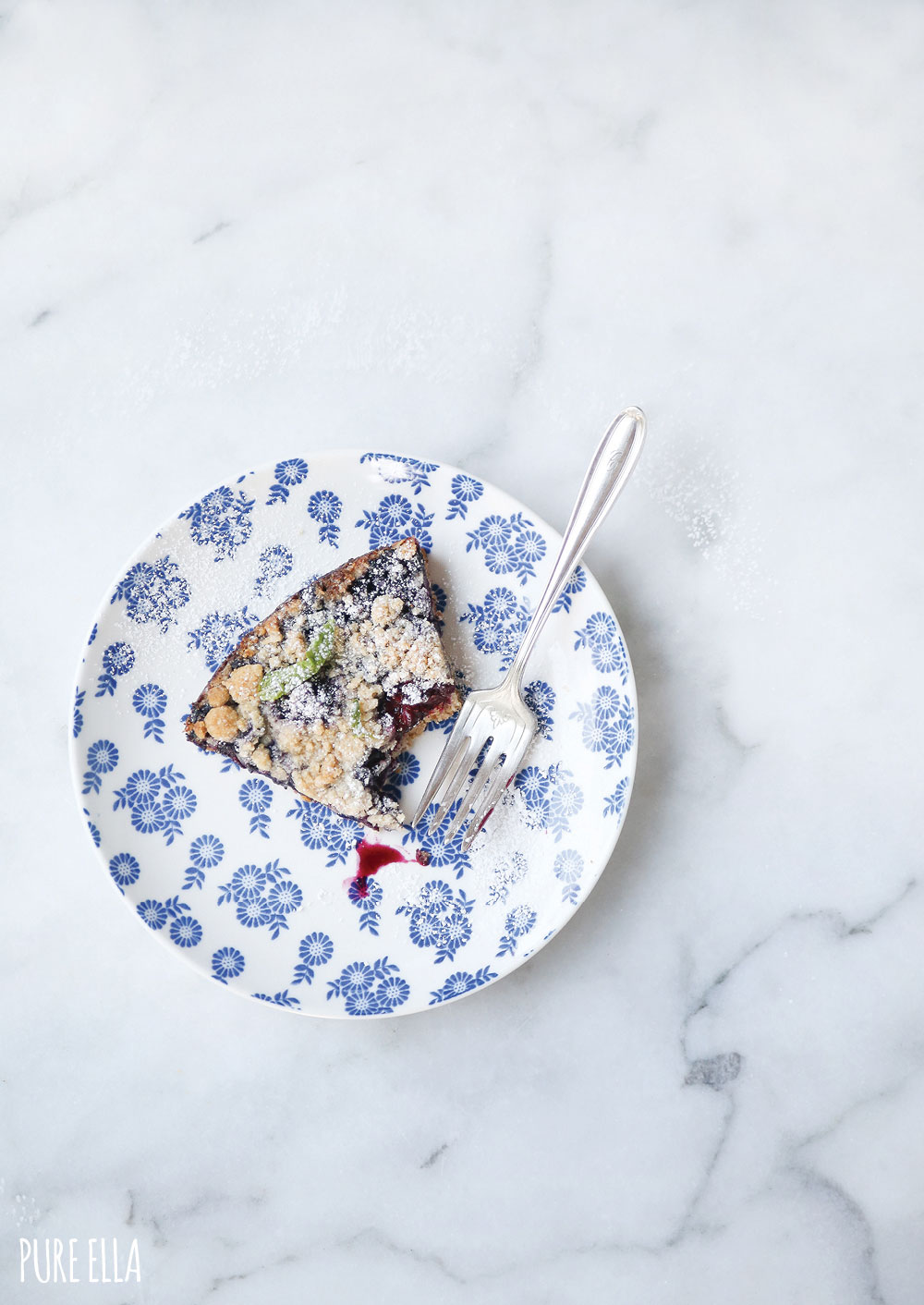 Serves 4
A simple and delicious 6 Ingredient Blueberry Blackberry Pie that's naturally gluten-free and vegan. Quick and easy recipe.
Crumble Base
1 cup oat flour or gluten-free flour
1 cup rolled oats
1/2 cup organic raw cane sugar or coconut sugar
1/2 cup organic coconut margarine (from Earth Balance), cold
Crumble Top
1/2 cup oat flour
1/4 cup organic raw cane sugar
2-3 tablespoons organic coconut margarine
Filling
1 cup blackberries, frozen or fresh
2 1/2 cups wild blueberries, frozen or fresh
Powdered sugar and mint leaves for topping (optional)
Instructions
Preheat oven to 350 F.
In a large bowl or food processor mix the ingredients for the base just so crumbles form, do not overmix.
Press into the bottom of an 8" pie dish and set aside.
Sprinkle the fruit on top and even out the top.
To make the crumble topping, mix the ingredients by hand or in the food processor (do not overmix because you need crumbs). And sprinkle on top of the fruit evenly.
Bake at 350 F for about 30-40 minutes or until the top is slightly golden.
Remove from oven and let cool for about 10 minutes before serving.
Notes
I used frozen berries for this pie. I love having frozen berries around as they don't go bad and I can always make something quick with them whether it's dessert or a smoothie.
If using frozen berries be sure that there isn't a lot of frost on the fruit. If there is frost on the fruit, rinse quickly with cold water and pat dry. If using fresh fruit, rinse off and pat dry.
Pure Ella https://pureella.com/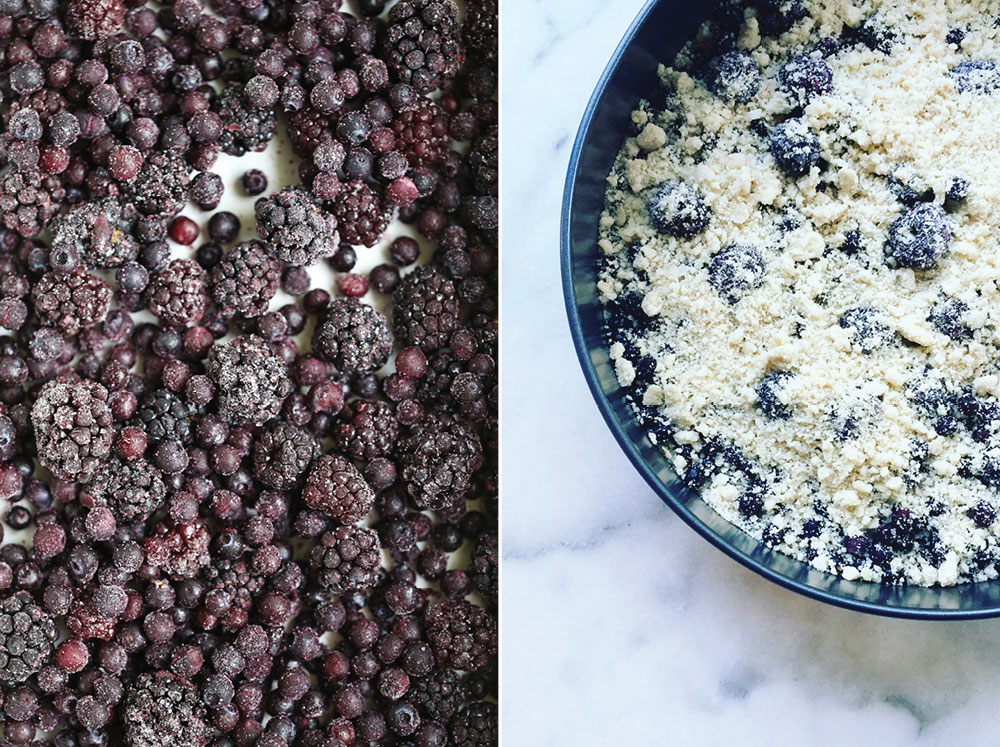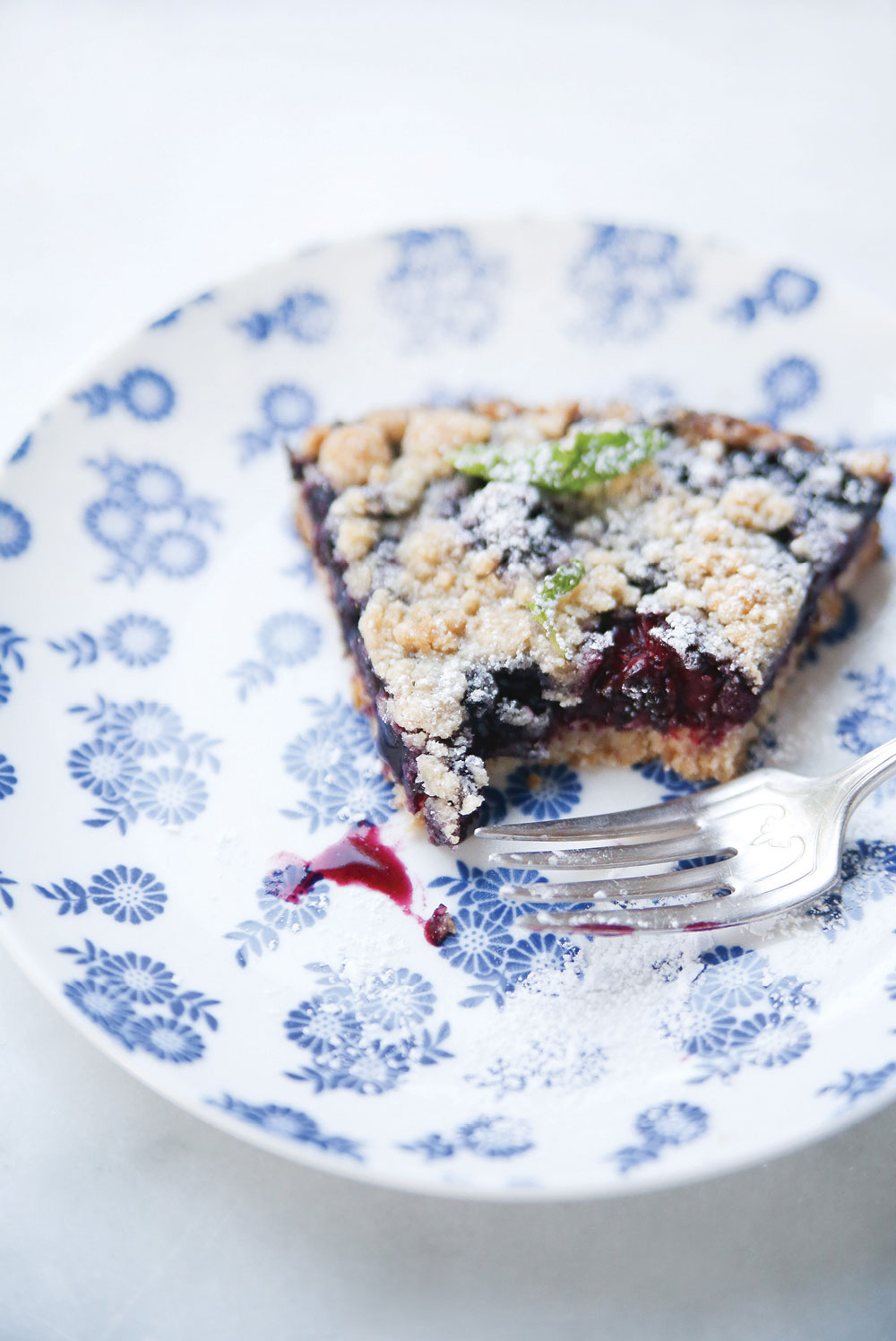 I love making these crumble pies even if I already have guests over (a friend who just dropped by uninvited) and I kind of have nothing to serve. And I'm so old fashioned (gifts from my Polish mom) that I have to serve something for my guest. Sometimes, I just say… let's keep chatting while I make a pie. And that is my real life. Kind of awesome like that. My friends love that and maybe that's why they like keep coming by uninvited just like that. It's like cell phones don't exist sometimes in our world. And that's a good thing sometimes. :)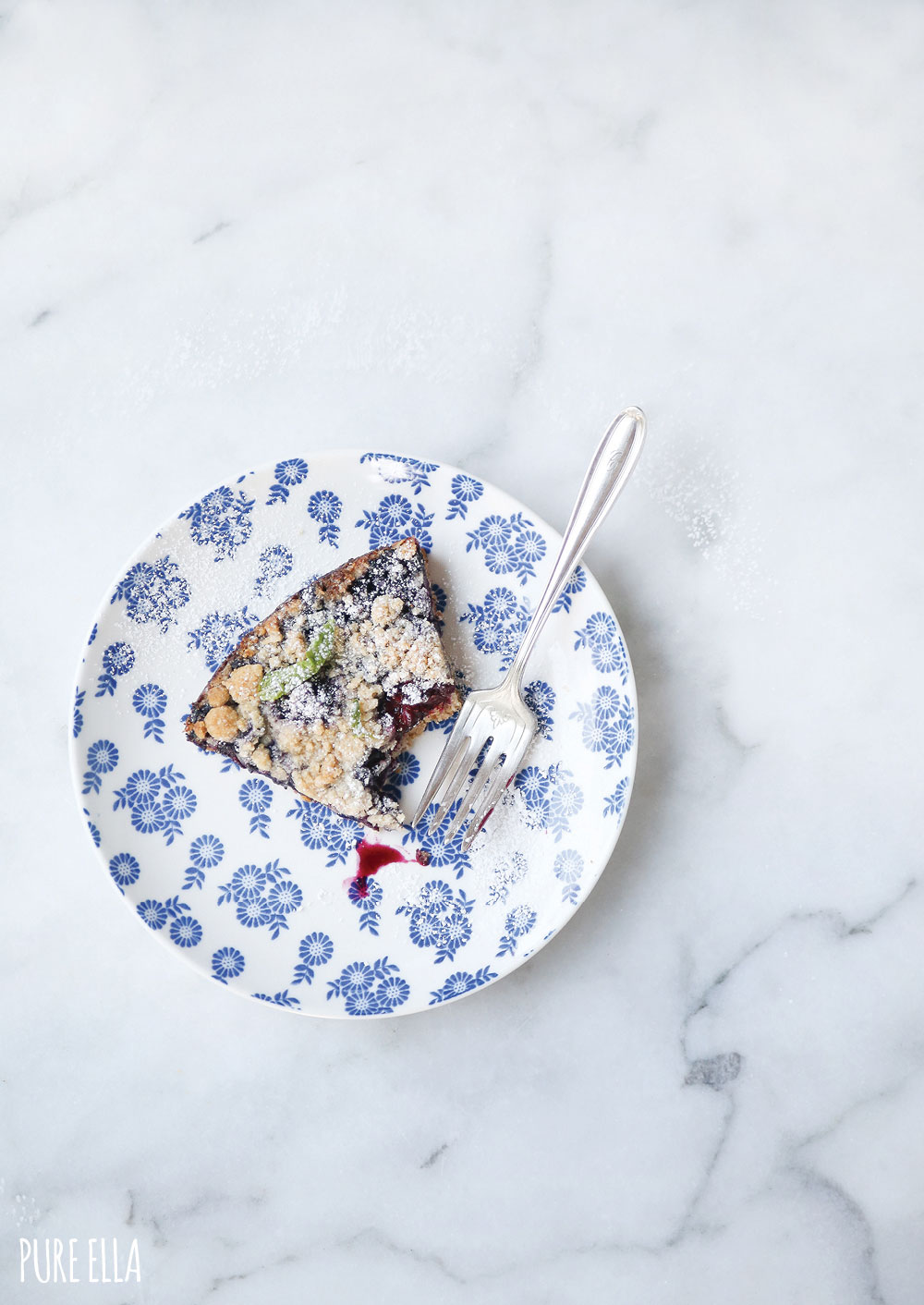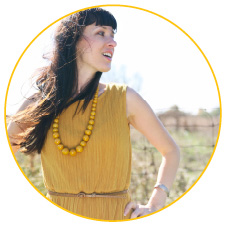 Ella Leché
is a cookbook author ('
Cut the Sugar
'), recipe developer, and photographer/stylist behind Pure Ella; where she shares delicious and healthy recipes. Eating PURE is clean ingredients, whole foods, plant-based nourishment and delicious desserts – with quality ingredients and sweeteners so they're treats with benefits so you won't have to feel deprived or restricted to eat healthier.
Thank YOU for being here!
Follow on social media for daily health & happiness inspiration:

ps. don't forget to share your Pure Ella (PE) recipe creations by tagging them #pureella and
@pure_ella
on Instagram – we repost our favourite photos!