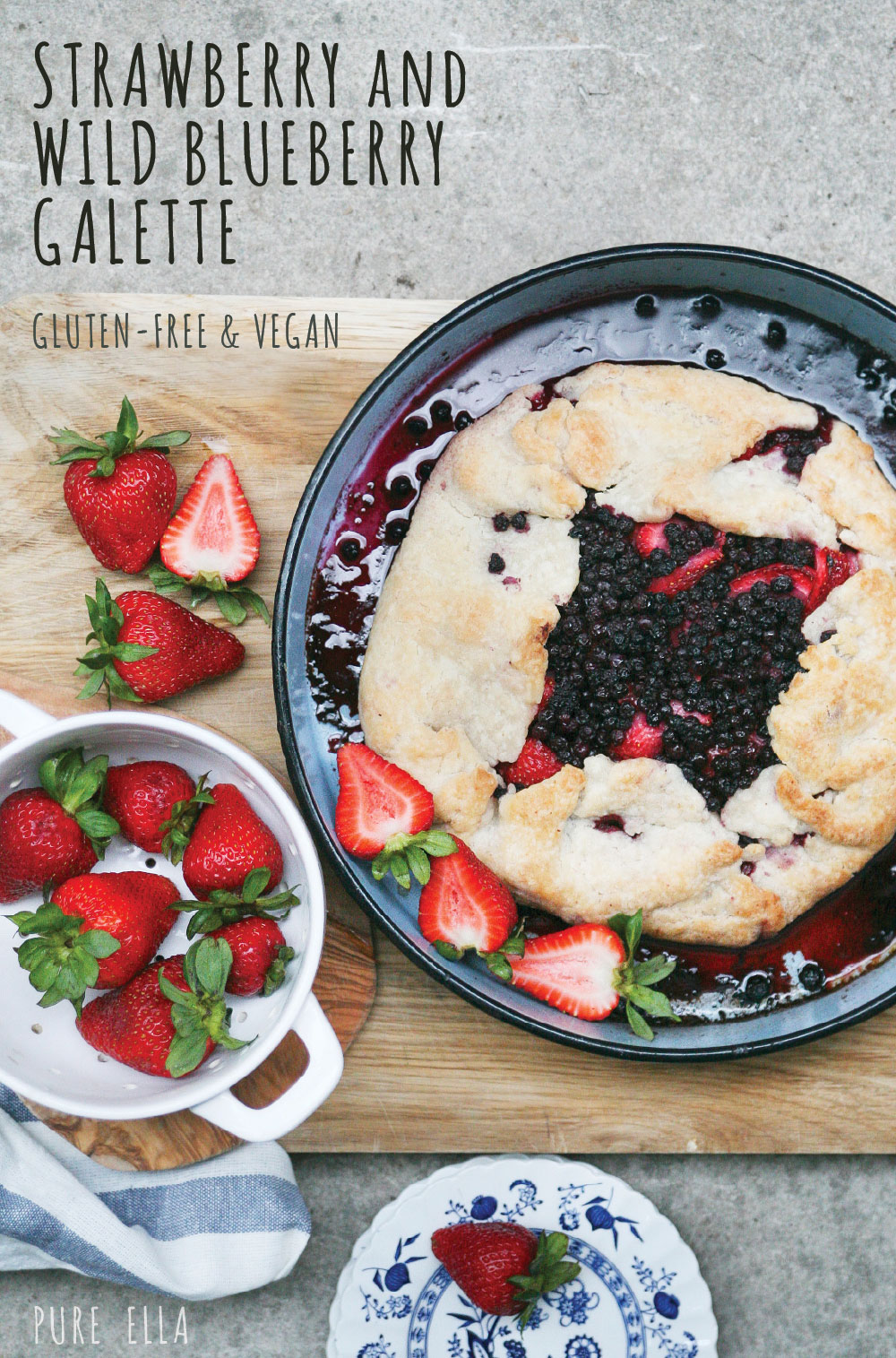 Oh I've been dreaming of making a Galette for a while now…. this French term for a rustic round cake est très bon! Not only is it perfectly delicious with a light and flaky vegan and gluten free pastry, it bursts with flavour from fresh seasonal strawberries and wild blueberries. How do you say Wow in French again? ;)
Not only is a Galette delicious, it is also a piece of cake to make. (actually more like pie ~ easier than pie) as it's naturally freeform so imperfections are welcome…. ;)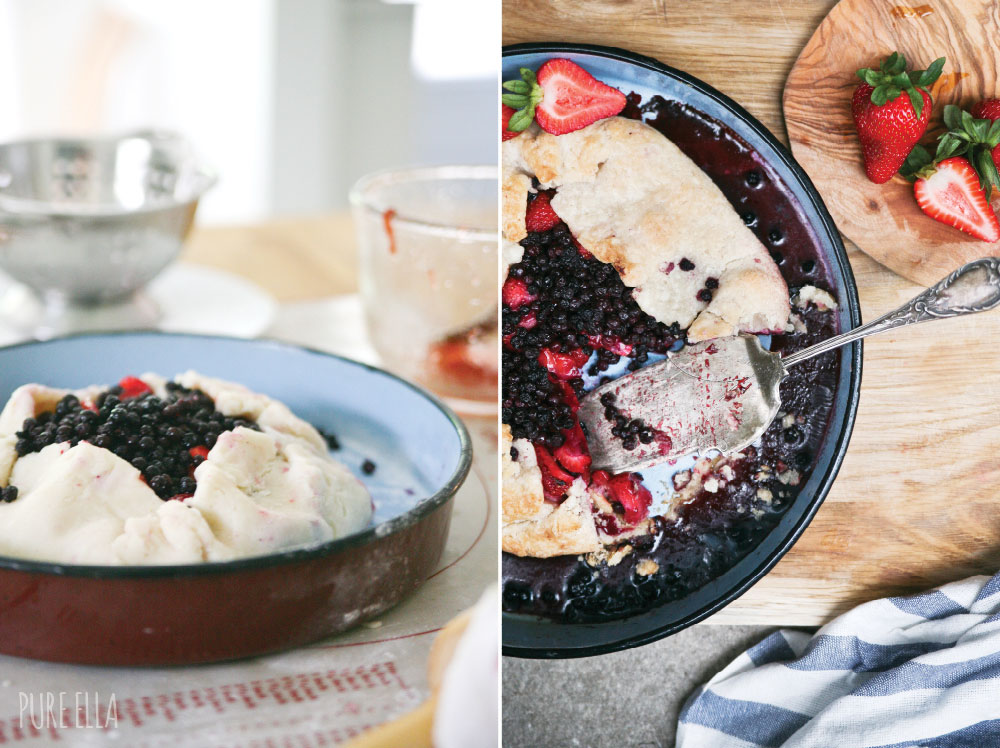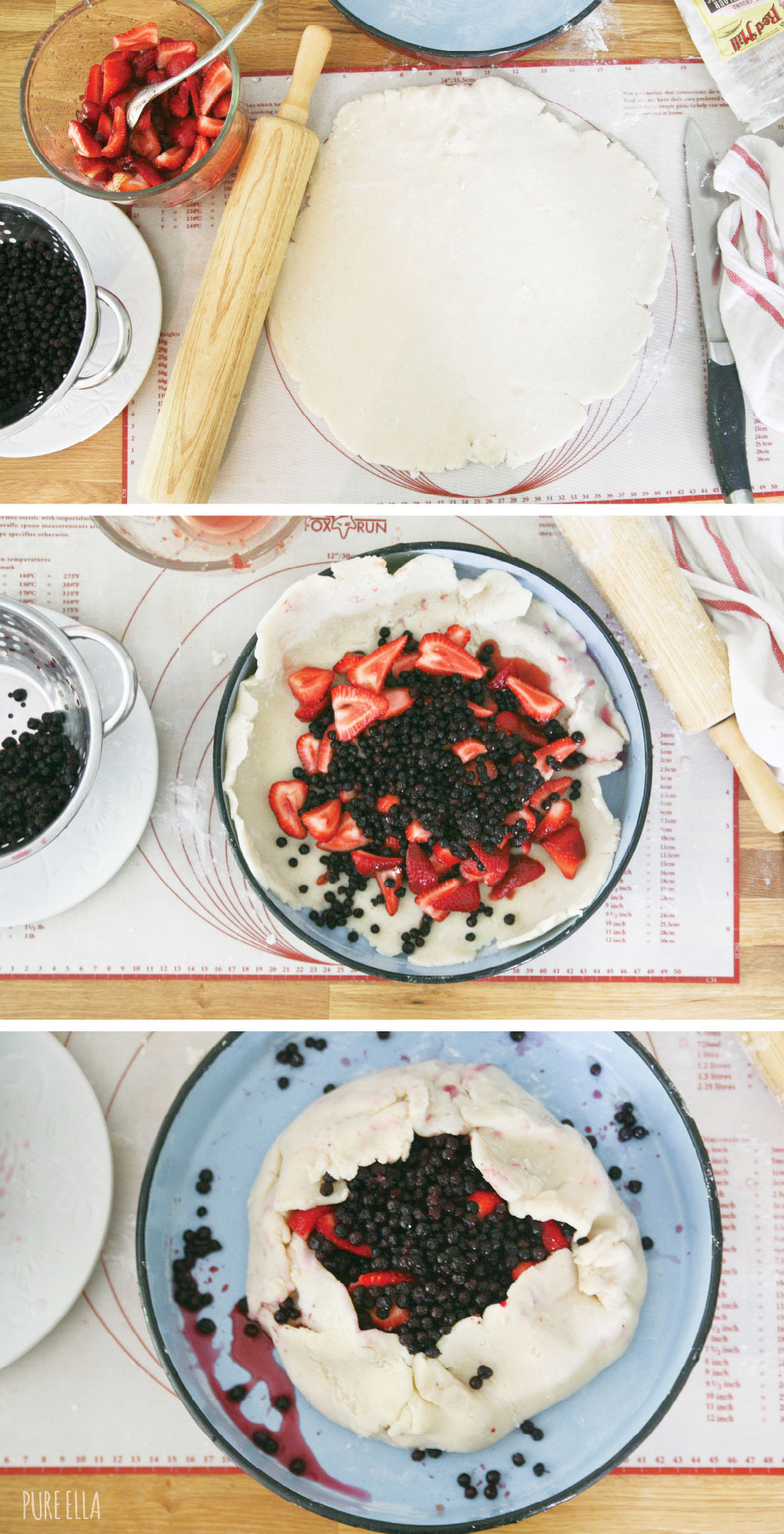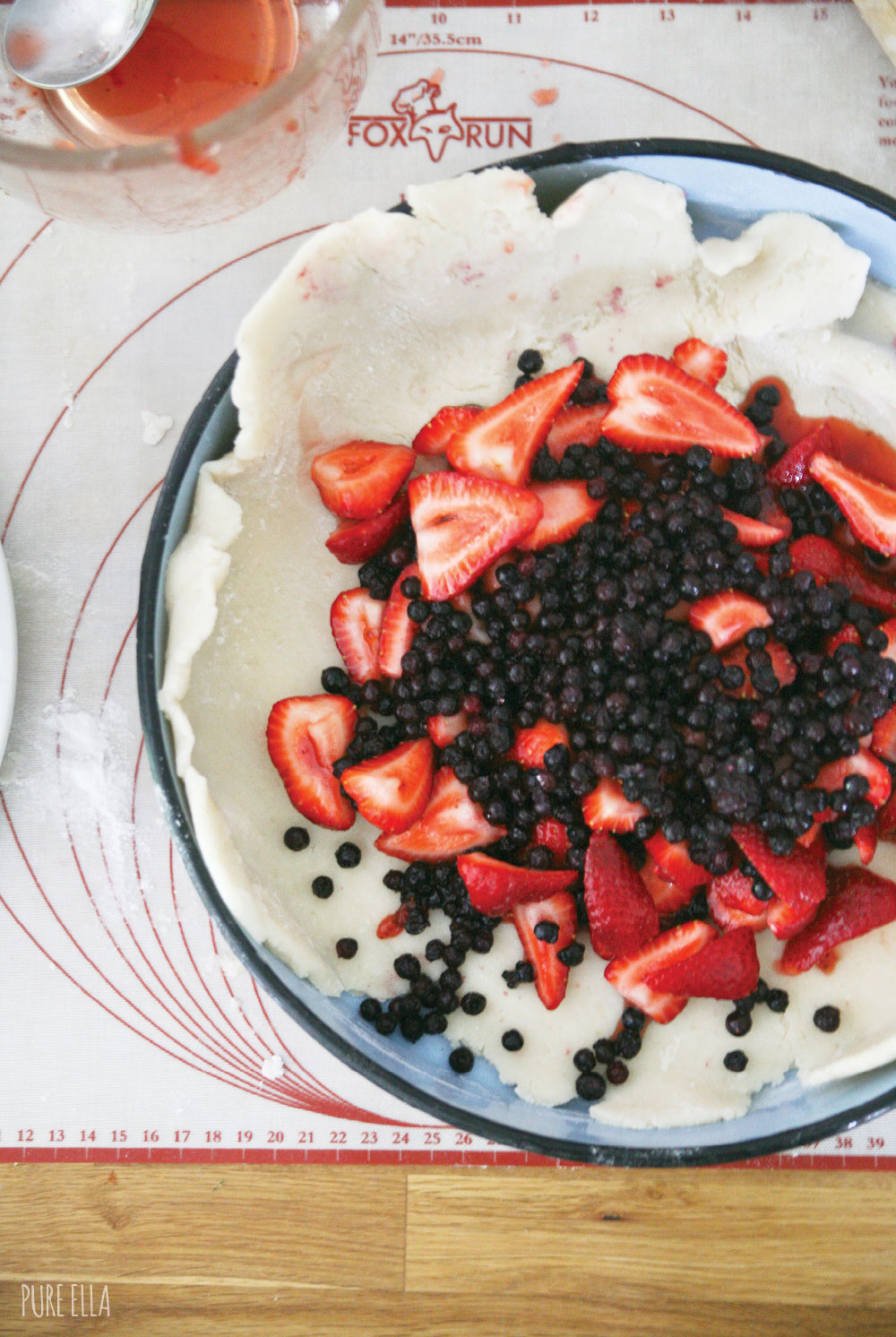 STRAWBERRY AND WILD BLUEBERRY GALETTE
gluten-free, wheat-free, dairy-free, egg-free, soy & nut free
PASTRY INGREDIENTS : (enough for two galettes)
1 cup Earth Balance vegan shortening (or 1/2 cup vegan buttery spread + 1/2 cup vegan shortening), cold
2 tablespoons Earth Balance vegan buttery spread (soy free), cold + extra for greasing
1 cup white rice flour
1/2 cup potato starch
1/2 cup tapioca
1/3 coconut flour
2 tsp xanthan gum
1/2 cup organic raw cane sugar
1 tsp sea salt
3/4 cup ice water
+ a little (about 2 tablespoons) melted buttery spread, or coconut oil or another light tasting oil to smear on top before baking, (this will remove any flour spots which may have been left behind and add a little glossiness to the pastry when baked.)
FILLING INGREDIENTS : (for one galette)
1 pint of organic strawberries (plus more for plating)
1 1/2 – 2 cups organic wild blueberries (can be frozen)
3 tablespoons of pure strawberry jam
* the pastry dough measurements are enough to make two galettes or 1 galette and perhaps some Summer Berry Tarts?
The reason I make more pastry is because you never want to run out and sometimes the sizes vary, so if you have left over pastry, cover well in a plastic wrap and freeze it for the next baking day! ;)
DIRECTIONS :
To make the dough, sift and mix all the flours together. Add the salt and sugar and mix to distribute evenly. Fold in the cold shortening and/or vegan butter and cut through the flour with a pastry cutter. (You can also pulse these ingredients in a food processor for a faster method.) Once crumbles form, create a well and slowly pour in ice-cold water, just a little at a time. Continue folding and cutting and adding more water a few tablespoons at a time until a dough forms. Keep dusting the work surface as well as your hands with some extra rice flour so the dough doesn't stick. Do not over mix as little areas of fat from the shortening/butter are necessary to achieve a lightness in the pastry. Overworking it may result in a tougher dough. If dough feels warm and soft, place in the fridge or freezer for just a few minutes to return to a cold temperature. For best secret results, keep the dough very cold.
Preheat oven to 400F.
Grease and flour a large cake pan.
For the filling, slice the strawberries into small pieces if needed, place into a medium-sized bowl and mix in strawberry jam.
On a floured surface, roll out the cold dough to a circumference of about 12-14 inches. Should be about 3 inches than the size of you pan. Keep adding rice flour so your dough won't stick to the rolling pin. Make a circle and place in the cake pan. It does not have to be perfect – this is the essence of this pastry… it should by all means not be perfect ;)
Fill the very middle of the galette pastry with strawberries and blueberries mixture. Fold over the sides. Pinch the dough together if cracks develop. Expect some of the juices to spill out in the baking process so be sure your dish has a rim around.
Gently rub the top with a little liquid oil of choice with your hands so it's nice and glossy.
Bake for about 35-45 minutes, or until beautiful and golden on top and juices ooze out from the bottom and top… Let it sit for about 15-30 minutes before serving. Enjoy!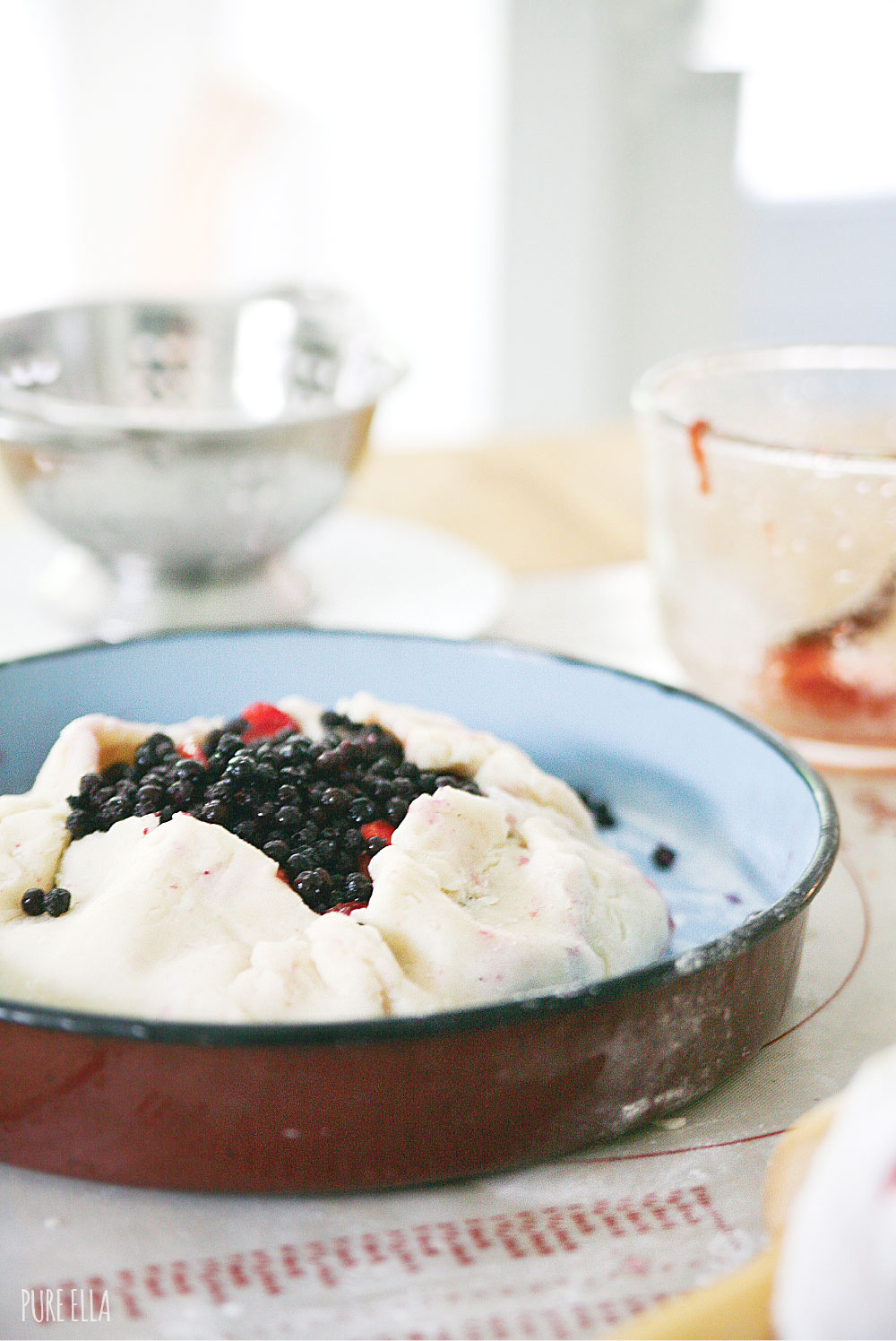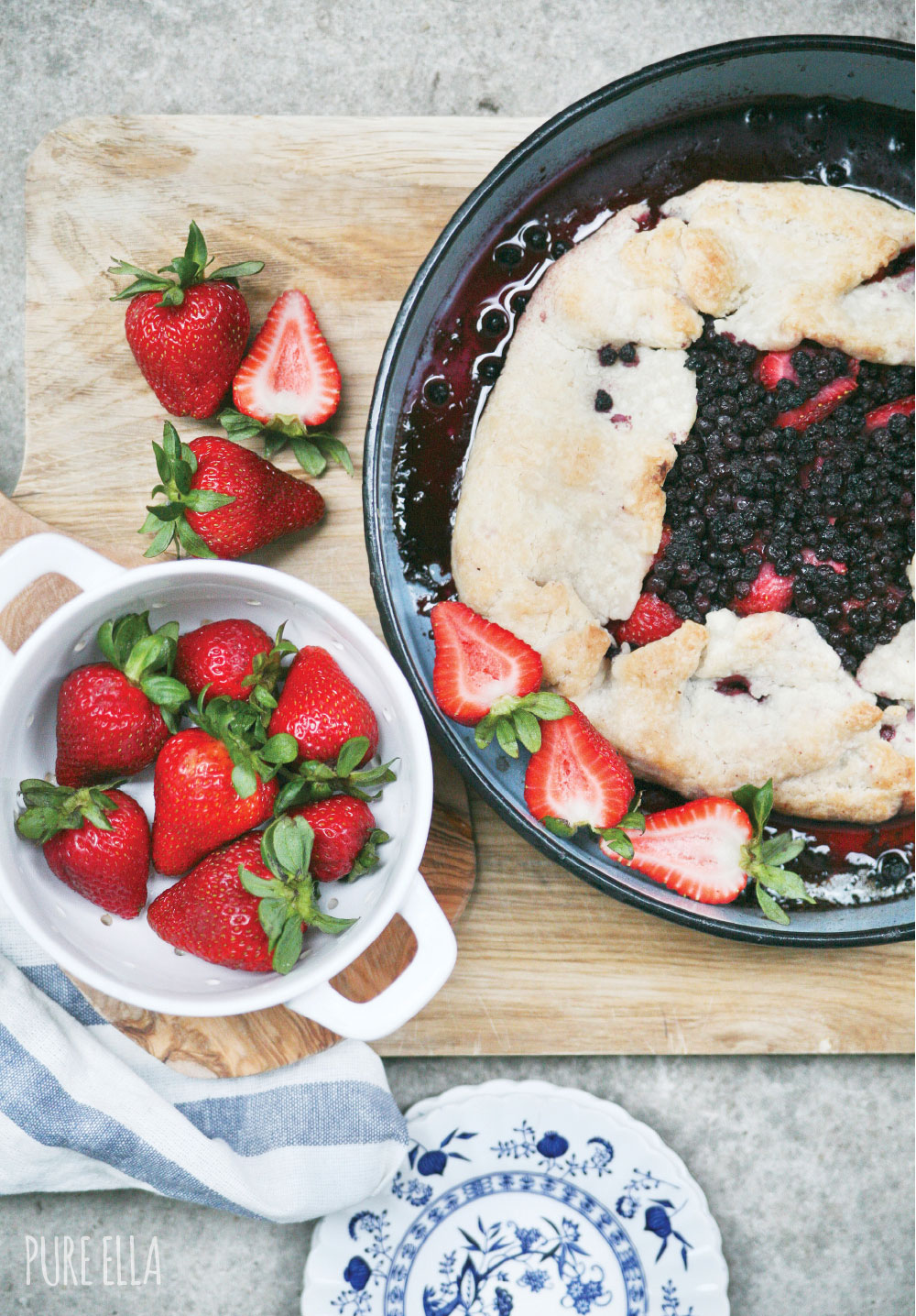 This dessert didn't sit around for too long…. we enjoyed a quiet evening out in the backyard with the birds chirping high in the sky and background music playing, talking, laughing… and just having a good good time.
This dessert is a feast for the eyes and your taste buds… I think I need to make this again soon….
And if you're looking for a perfect 4th of July dessert ~ this is it! Not to mention it's all vegan and gluten free, soy free, nut free – perfect allergen-friendly dessert! Great for entertaining, get-togethers big and small or for just a cozy dinner for two out on the patio….. Bon Appétit!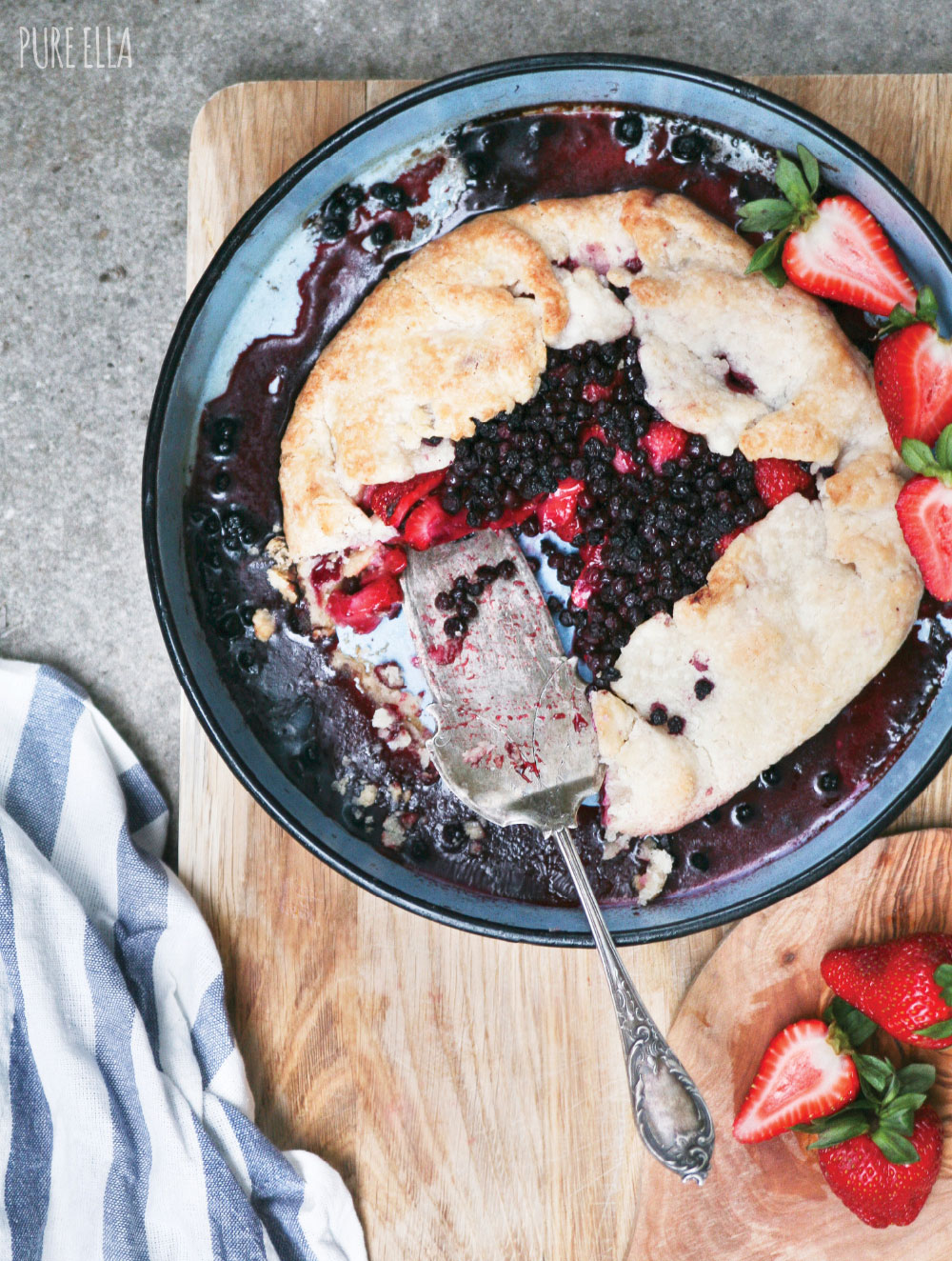 ♥
Pure Ella
If you're new to Pure Ella, please sign up for email updates and join me elsewhere:
Facebook

//

Pinterest

//

Twitte

r //

Instagram

@pure_ella