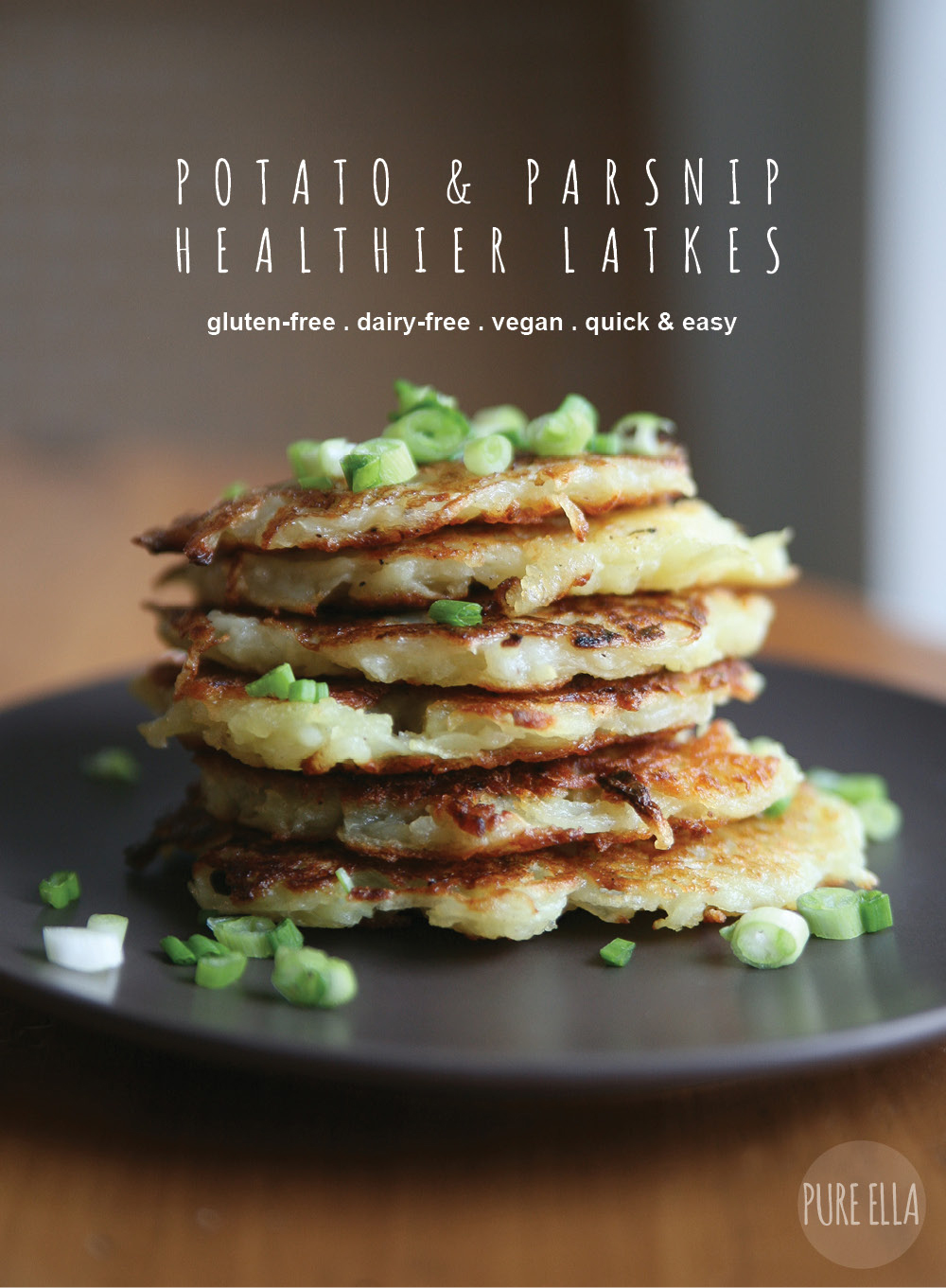 It's that time of the year when Latkes are making an appearance on our dinner table… if you're also craving this comfort-food recipe – you'll be happy to hear that I have a very delicious and healthier version! These Potato & Parsnip Latkes are naturally gluten free, egg free/ vegan!
I also half bake them to use less oil when frying. It's a good trick to get the fried goodness without adding too much oil. (see notes below)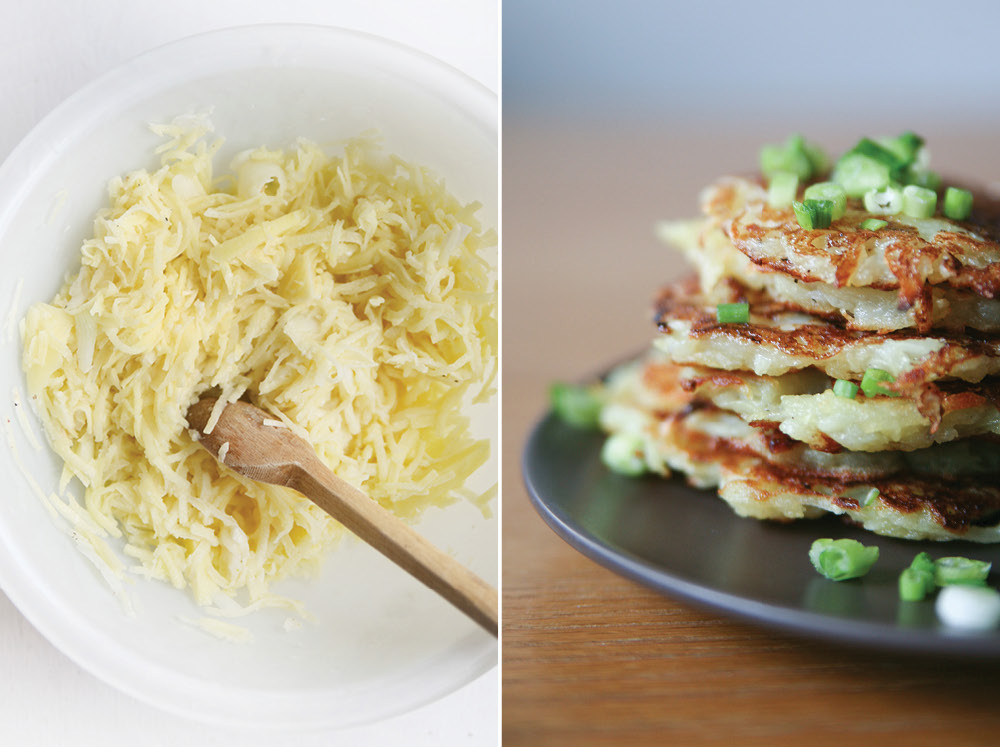 Of course I grew up with them being called "Placki Ziemniaczane" ~ which means Potato Cakes in Polish. My mom whipped up a good number of these throughout the year and they were pretty much amazing every time – a large plate of these in the middle of the table was cleared in minutes. We ate them with sour cream and chopped green onions. A simple, always satisfying meal.
Now I still want to enjoy them but I also wanted to make them healthier. My husband loves them too and I wanted to keep that flavour right on without sacrificing too much on the authenticity of these yummy potato cakes.
However, there's always ways to make the old better. For these Latkes/ Potato Cakes – I reduced the carbs of potatoes and incorporated a few parsnips. I also omitted the egg (due to allergies/ intolerances) and I also found a way to make them half-fried! A little trick that I found worked well. But baking these is also a great option. (see notes below)
Potato & Parsnip Latkes : Healthier Potato Cakes
gluten free, egg free, dairy free, vegan
Ingredients :
3 medium potatoes, peeled, grated & drained
2 medium parsnips, peeled & grated
1/2 large onion, chopped fine
3 tablespoons potato starch
1/2 teaspoon baking powder
2 teaspoons fine sea salt
fresh ground pepper to taste
grape seed oil for cooking
Directions :
Wash, peel and grate the potatoes and parsnips in a food processor or on a grater. Transfer into a large bowl and squeeze as much of the liquid out. Add the onion, starch, baking powder and salt and mix with a wooden spoon or hand to incorporate well.
NOTE : Cast iron pan is best as you can just add them to the oven in the pan. Or prepare a baking sheet lined with parchment paper. And preheat oven to 325 F.
Heat a large non-stick/ cast iron pan with oil to medium heat. Scoop a heaping tablespoon of the mixture and add to the pan. Press down the mixture quickly and do the same for as many as fit into the pan (leaving some room around to move).
NOTE : I do not recommend stainless steel pan for this as they will definitely stick to the bottom.
Keep them on the heat for a few minutes (2-3) until they brown slightly – this will make them move and/ or flip over with ease. Once the bottoms are slightly browned and tops look drier, flip over to cook the other side for 2-3 minutes. Then using a spatula, transfer onto the baking sheet. Continue with baking them in the oven for about 15 more minutes. (no extra oil in needed)
NOTE : I found this half-baked method to be the best for nice potato cakes that are tender on the inside but crispy on the outside without having to fry them longer. Potato cakes soak up a lot of oil and need to be fried for about 10 minutes to get them cooked through the middle. Having them finish in the oven – you're cutting down on the frying time and the oil you would need to fry them in. This also makes them stay hot before serving.
You can also bake them from start to finish – about 30 minutes flipping over half way through.
I also like baking them, but I found that this half-baked method makes the tops nice and crispy and they're nice and tender on the inside. They're not too dry and still retain that authentic taste I still remember from childhood.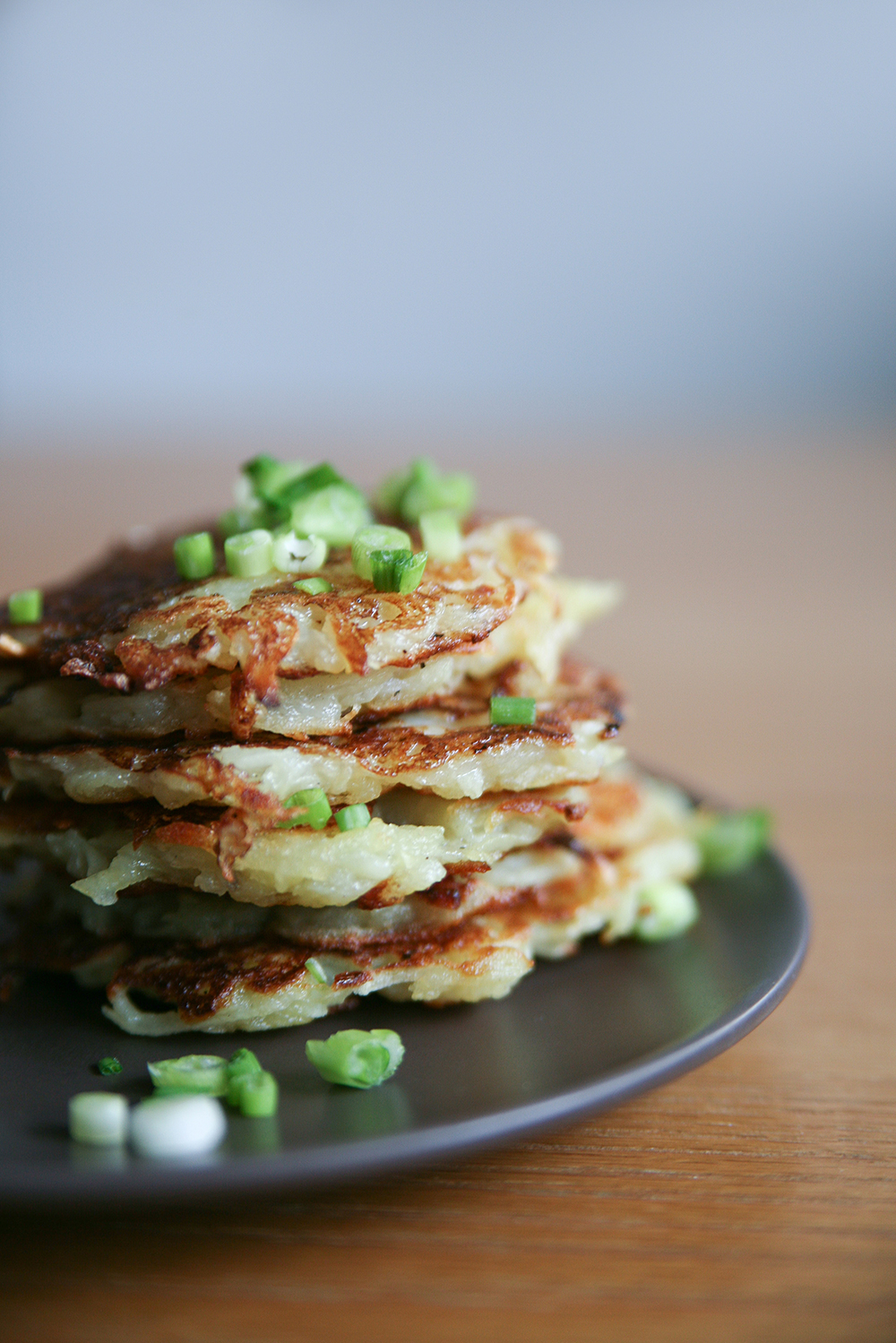 Traditionally they were always served with sour cream as its own meal. But I live to serve them with a nice big lentil salad or chickpea salad like this one.
I hope you enjoy this recipe soon! And do let me know how you like them in the comments and by tagging your photos #pureella! xo