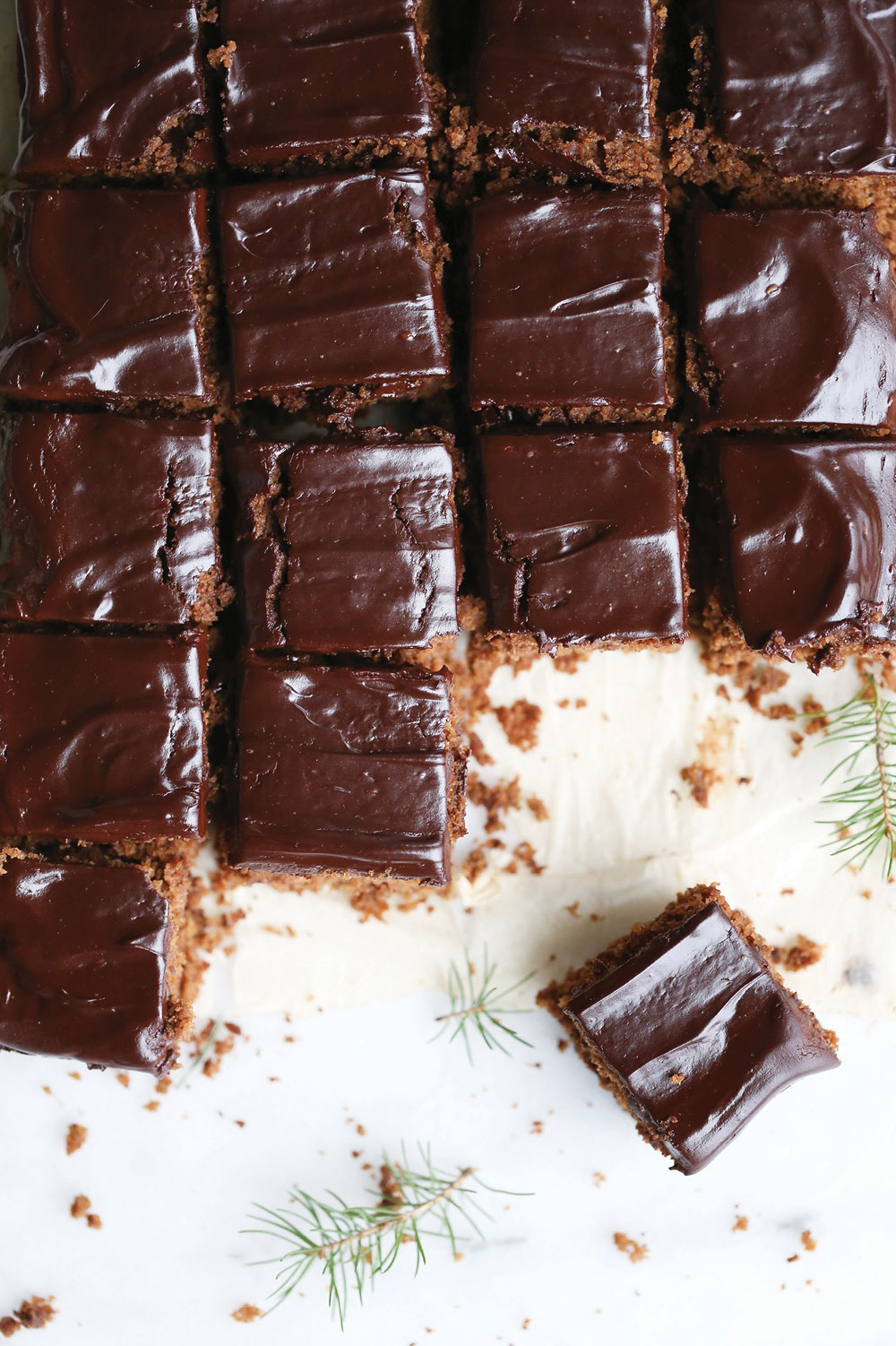 Hello and OMG!! Look what I have for you today!! If you're still searching for that amazing Christmas dessert This. Is. It. Healthy Gingerbread Brownies!!
These are insanely delicious, super simple to make, short ingredient list AND they truly are healthy. They're also naturally gluten-free, dairy-free, egg-free/ vegan, and refined sugar free. They're also nut-free which makes them very allergy-friendly.
Perfect for that potluck holiday dessert or if you have guests coming that you don't know if they have allergies or food intolerances ~ so you make these!
I am also excited to partner up with Whole Foods for this post and share in a fun campaign about My Holiday Tradish! (#MyHolidayTradish)
So, I hope you'll enjoy getting to know a little more about my family roots and how we add a bit of our own family traditions to our Christmas. Maybe it will inspire you to bring something new to your Holidays…
Christmas to me is about the tradition of coming together for a holiday dinner and sharing and celebrating the love for our family and our close ones.
I have Polish roots, and although I personally no longer celebrate the Catholic version of Christmas, we do adapt traditional Polish ways in which we celebrate togetherness.
We actually celebrate a Christmas Eve dinner called Wigilia. This is a traditional quiet dinner that starts at sunset and is very special and intimate. Our dinner is also very traditional in the dishes that are served. The meal is always meatless (but fish is still served), and consists of cabbage dishes, pierogi, white fish, mushroom gravy, mashed potatoes ~ lots and lots of comfort-food dishes. Tranditionally 12 dishes are served but I don't even think we ever go that high. But, there's still a lot of food and it still tastes like childhood so not much has changed.
For dessert, the ladies of the family plan ahead and meet up a few days before Christmas to bake together. We get the kids involved too and we make all kinds of desserts that we would eat on Christmas Eve and Christmas Day and even after that because that Christmas spirit tends to last several days… :)
Each of us ladies makes a dessert that we want – it's always seasonal and often quite still has that traditional Polish Christmas flavour… this helps the host so much as they don't have to worry about dessert. It's already done and out of the way and we just bring it over for our dinner.
One of the traditional desserts I always have during the holidays is Piernik. This is a type of Gingerbread cake that is so rich and decadent and absolutely amazing!! You just can't have Christmas without this cake!
I feel that I really preserved the taste of the traditional Piernik and it's just as decadent and rich as I remember. My family agrees!
After dessert, we hear a knock on the front door and SANTA brings presents! (well, we always miss him because he's rushing, but he leaves the presents by the front door!) This is the best part of our dinner ~ the kids are all dressed up, the family is all there, Santa makes an early stop and brings presents only for the kids! We open the presents, take photos, we play with the kids and just take in the magic of what the Holidays are really about…
Pure comfort and joy!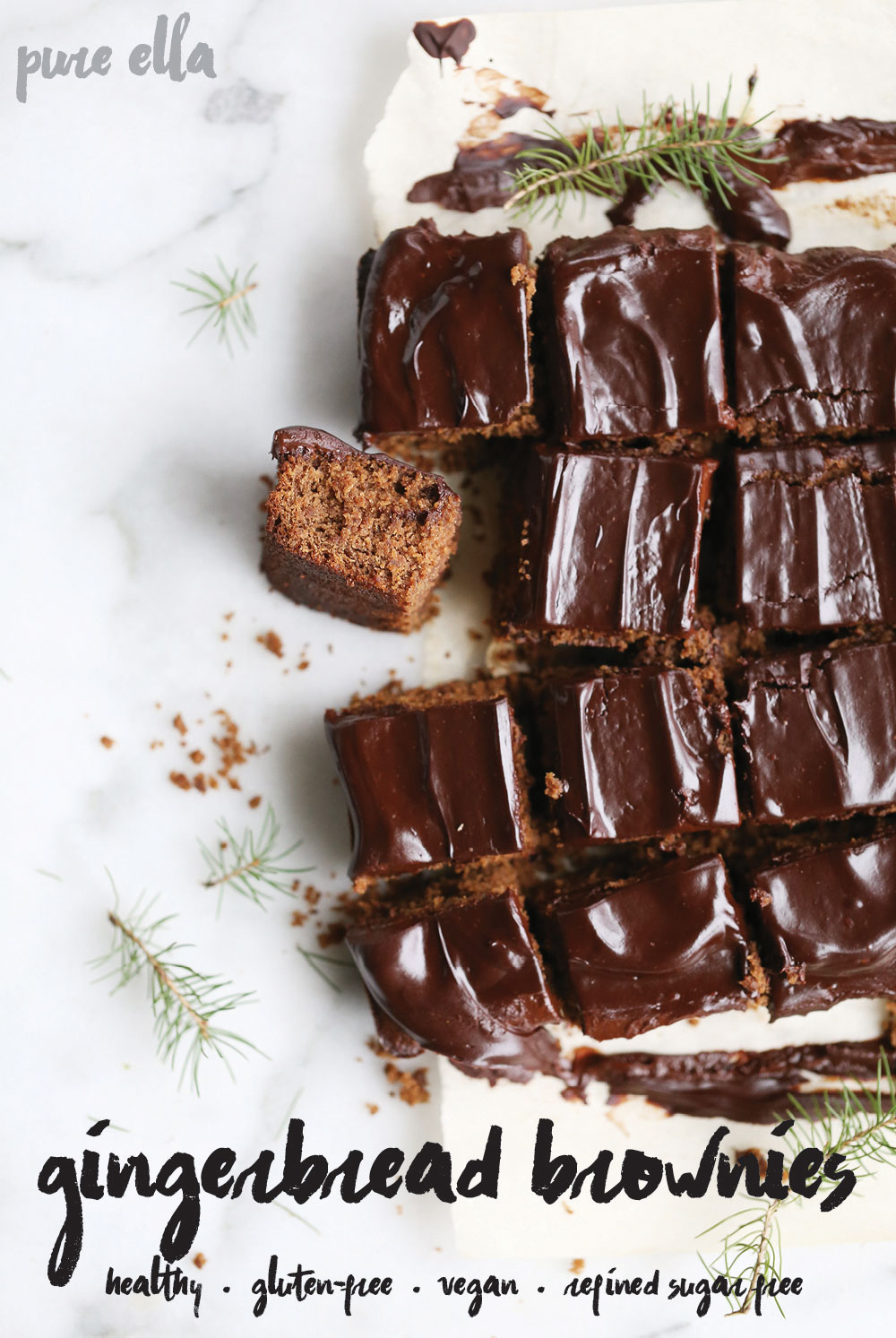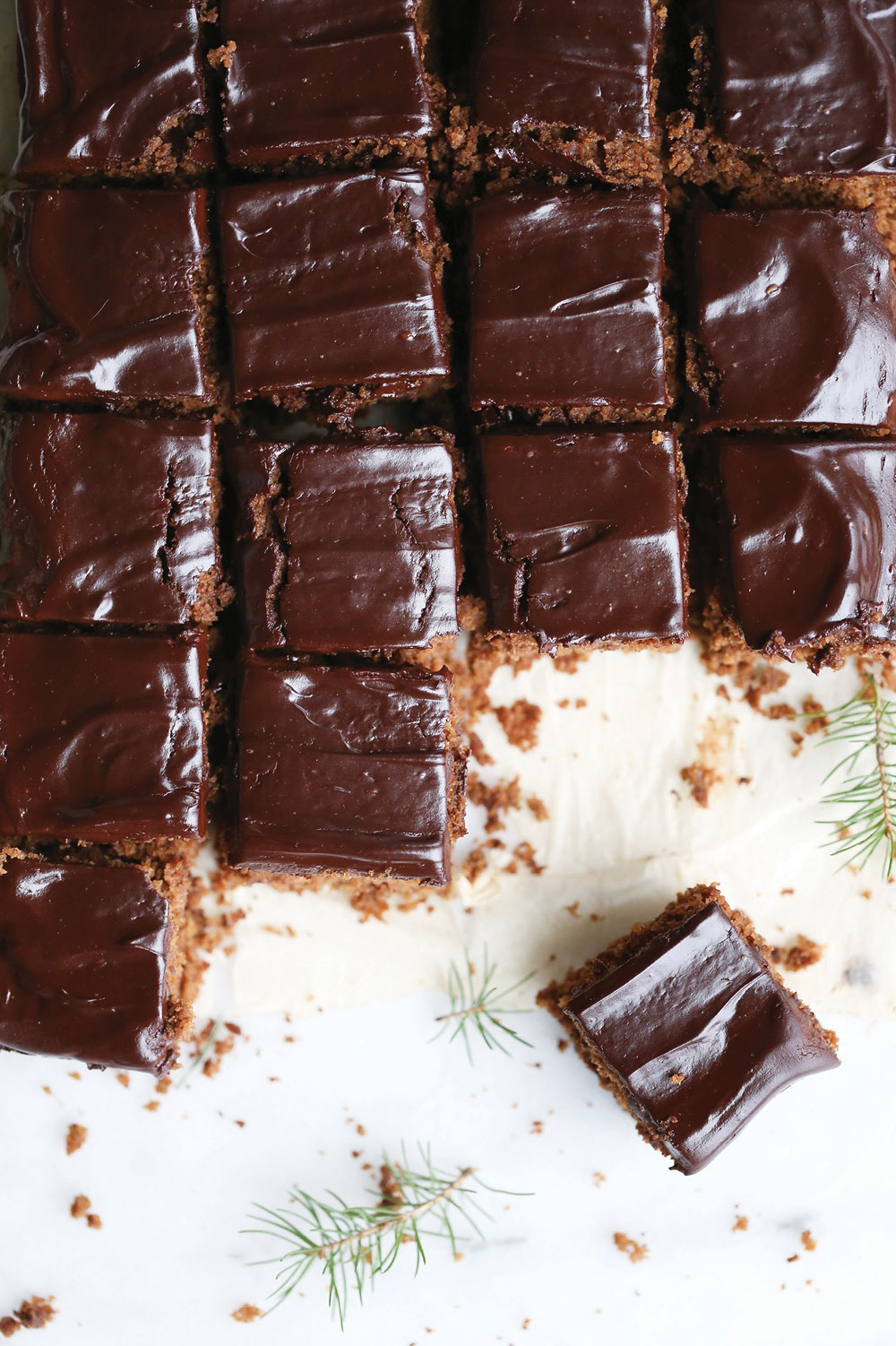 Gingerbread Brownies
2016-12-07 12:16:46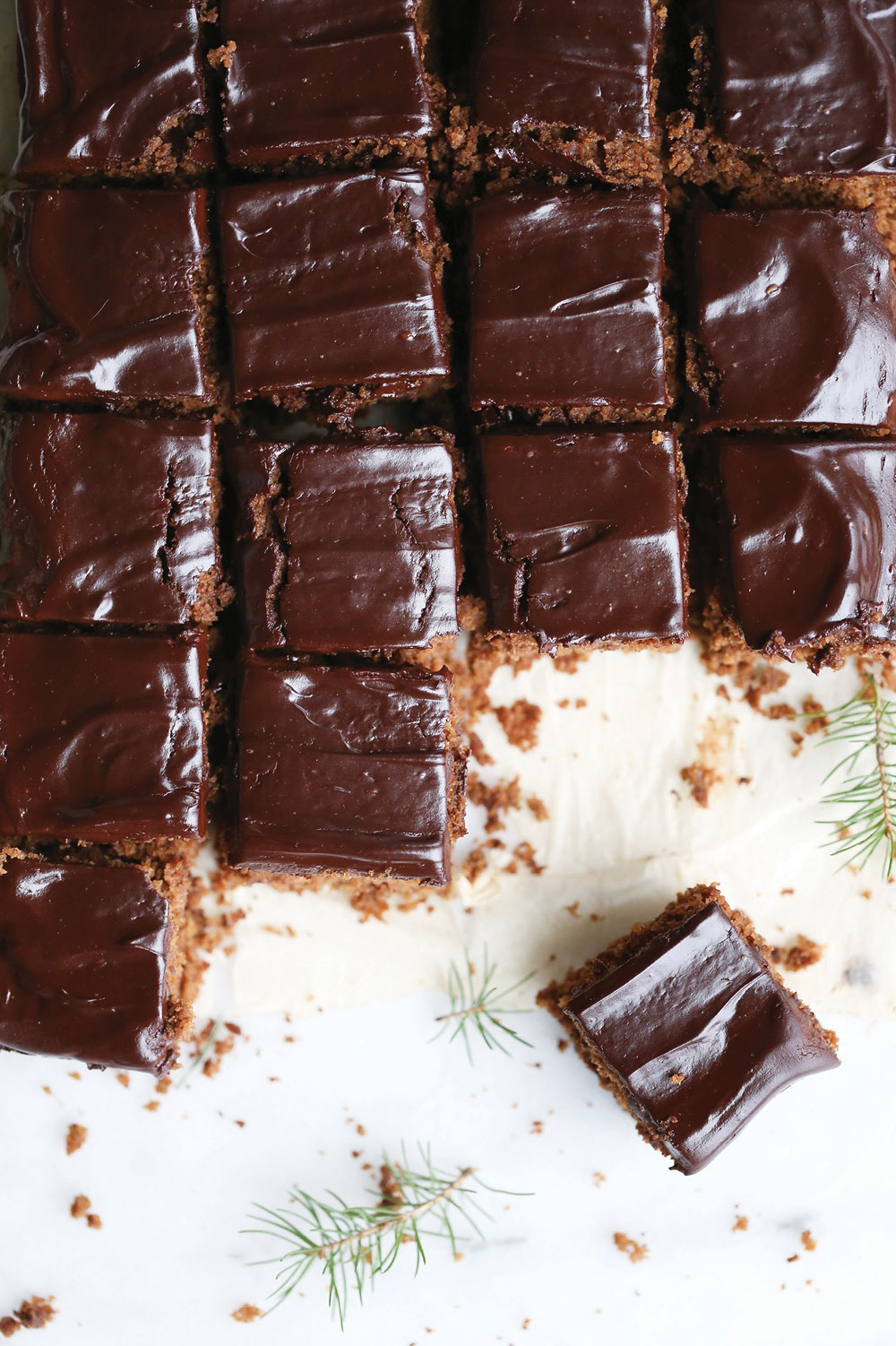 Ingredients
2 cups gluten-free flour mix (I used 1 cup gluten-free flour mix + 1 cup oat flour)
1 teaspoon baking soda
1 tablespoon cocoa powder (for a darker colour, optional)
2 tablespoons gingerbread spice mix (see below)
3/4 cup maple syrup
1/3 cup grape seed oil
1/4 cup warm water (or orange juice)
1 cup unsweetened apple sauce
2 tablespoons molasses (optional)
Chocolate Ganache
3/4 - 1 cup 72% dark chocolate
1/4 cup almond milk or other plant-based milk
Instructions
Preheat oven to 350F and line a 12" x 8" baking dish with parchment paper and oil the top.
In one large bowl, mix all the dry ingredients: flour, baking soda, cocoa powder and spice mix.
In another bowl, mix all the wet ingredients: maple syrup, oil, water, apple sauce and molasses.
Pour the we wet ingredients into the dry and mix well until combined.
Pour into a prepared baking dish and bake for about 25 minutes.
To check for doneness, insert a toothpick in the centre to make sure it comes out dry.
Remove from oven and let rest for about 10 minutes in the pan or longer before adding the chocolate ganache on top.
To make the ganache, melt the chocolate in a bowl over a small pot with water, and slowly pour in the milk as you stir the chocolate. Stir until it is completely incorporated and smooth.
Top over the gingerbread brownies and allow it to harden slightly before cutting.
Notes
This cake keeps well for up to 1 week in a sealed container in the fridge.
The chocolate ganache does set at room temperature or in the fridge so it's easy to transport. (In my photos, the chocolate is still a bit soft and the brownies still warm so thy are a bit crumbly.
If you wait a bit longer until it cools down, the cake isn't crumbly and the chocolate sets. (I just got too excited about taking these photos - and simply could not wait! ;))
Pure Ella http://pureella.com/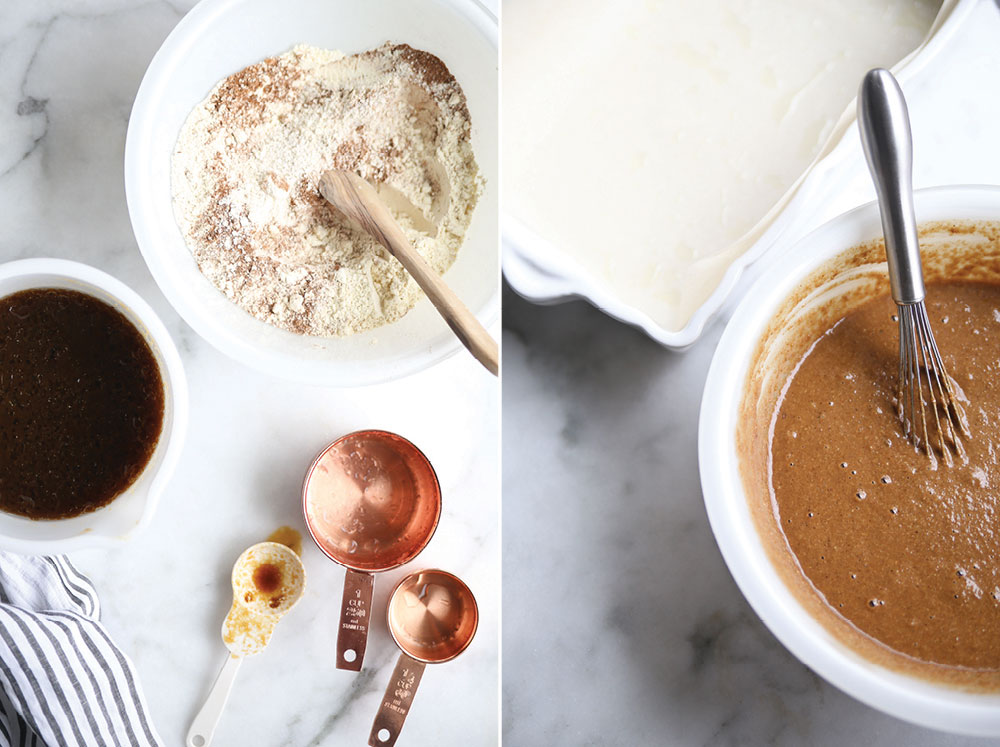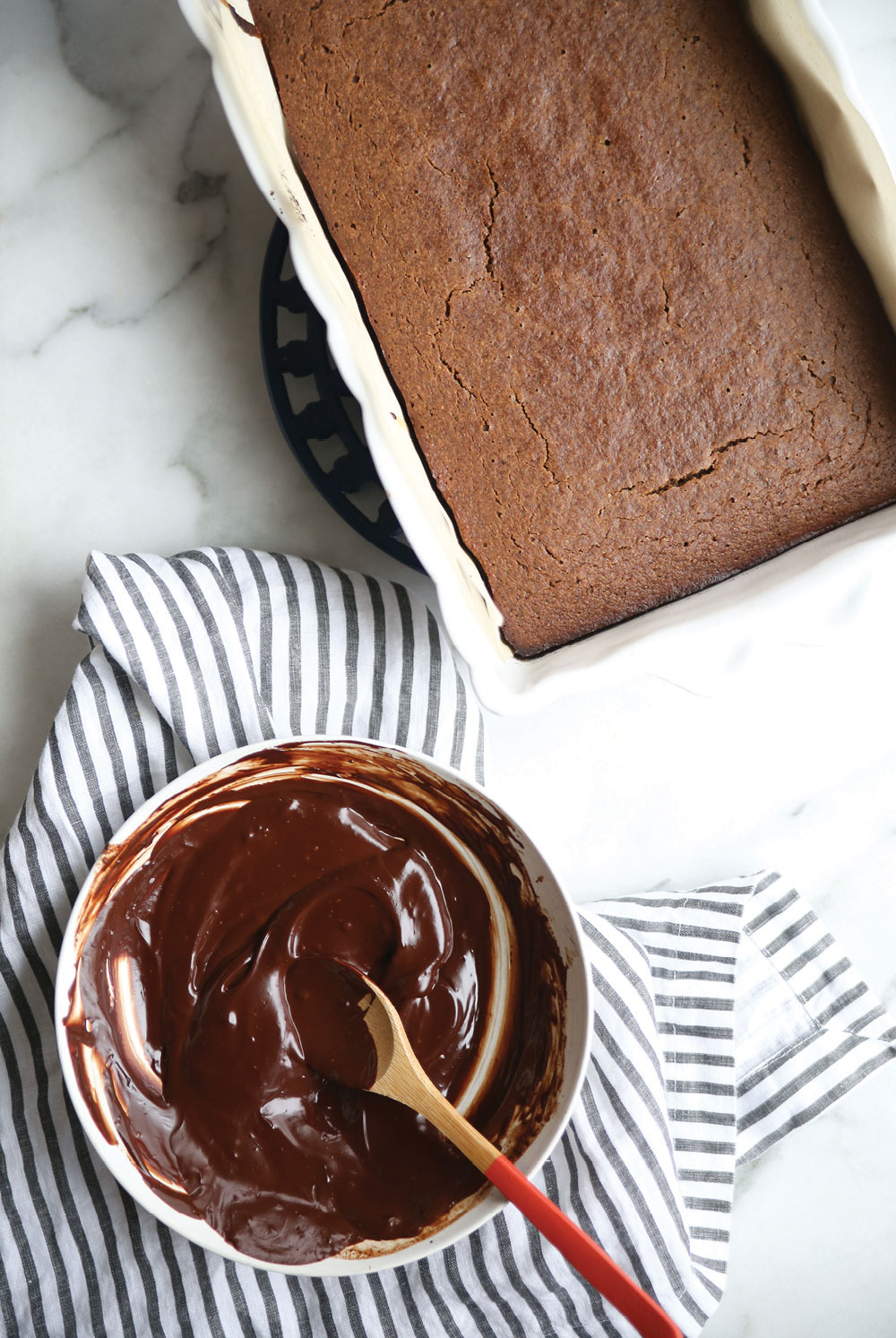 DIY Gingerbread Spice Mix
Ingredients:
2 Tb Ground Ginger
2 Tb Ground Cinnamon
1 Tb Ground Cloves
1/2 tsp Ground Nutmeg
(1/2 tsp Cardamom Powder (optional)
Directions:
Mix in a small jar with a lid.
This recipe makes more than you need as it's great to add to coffee, pancakes, etc. etc. (my fave is in hot frothy almond milk) Enjoy!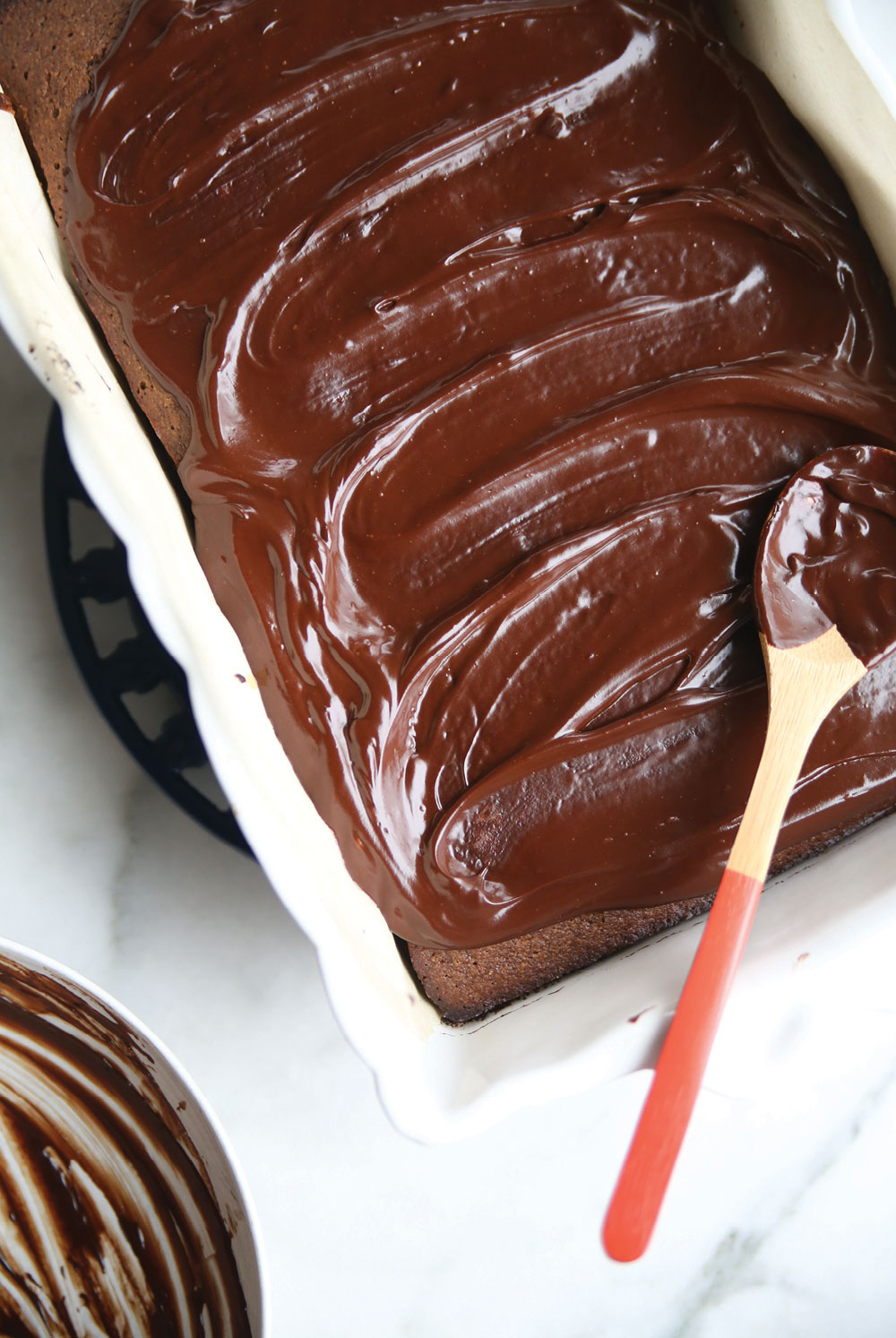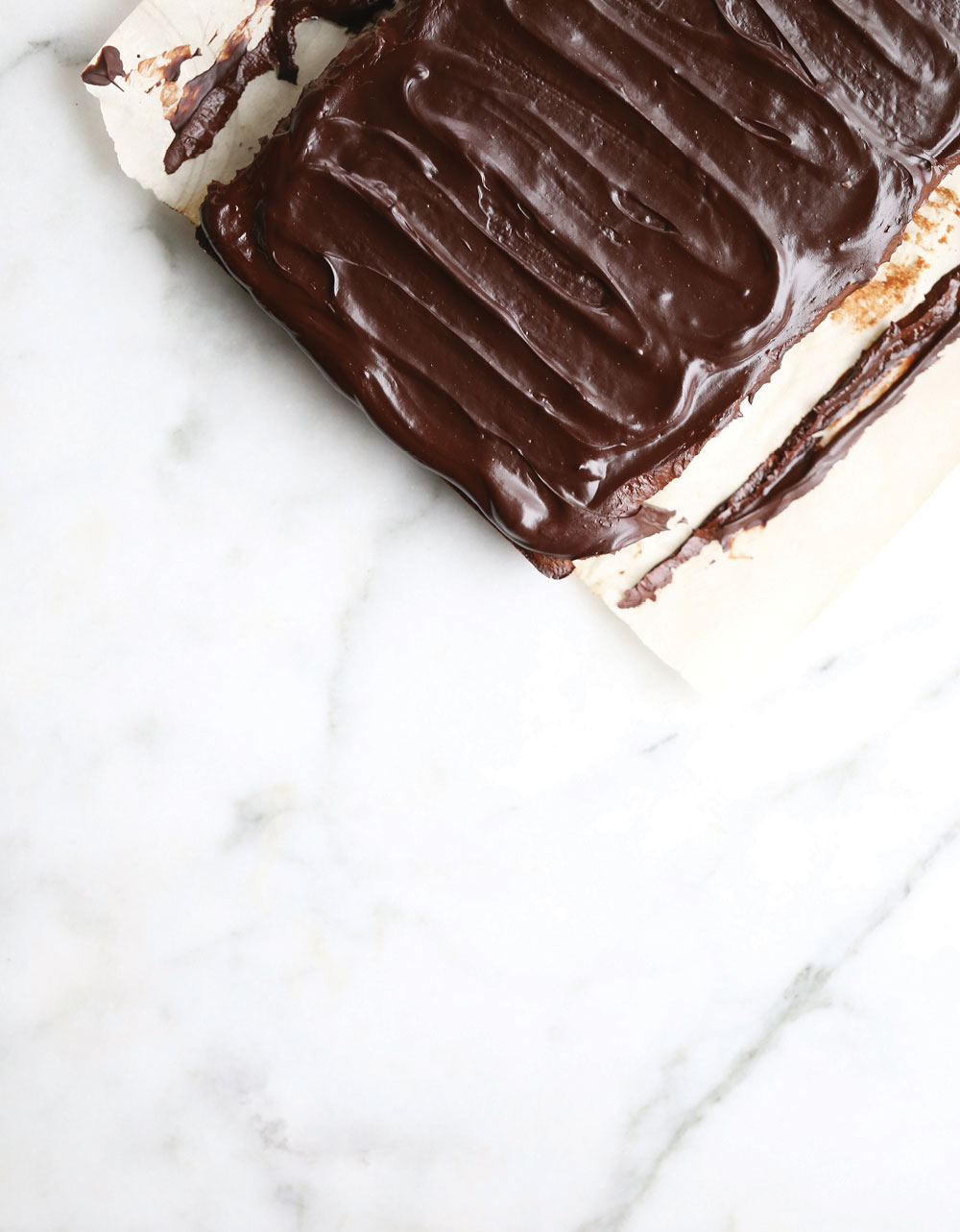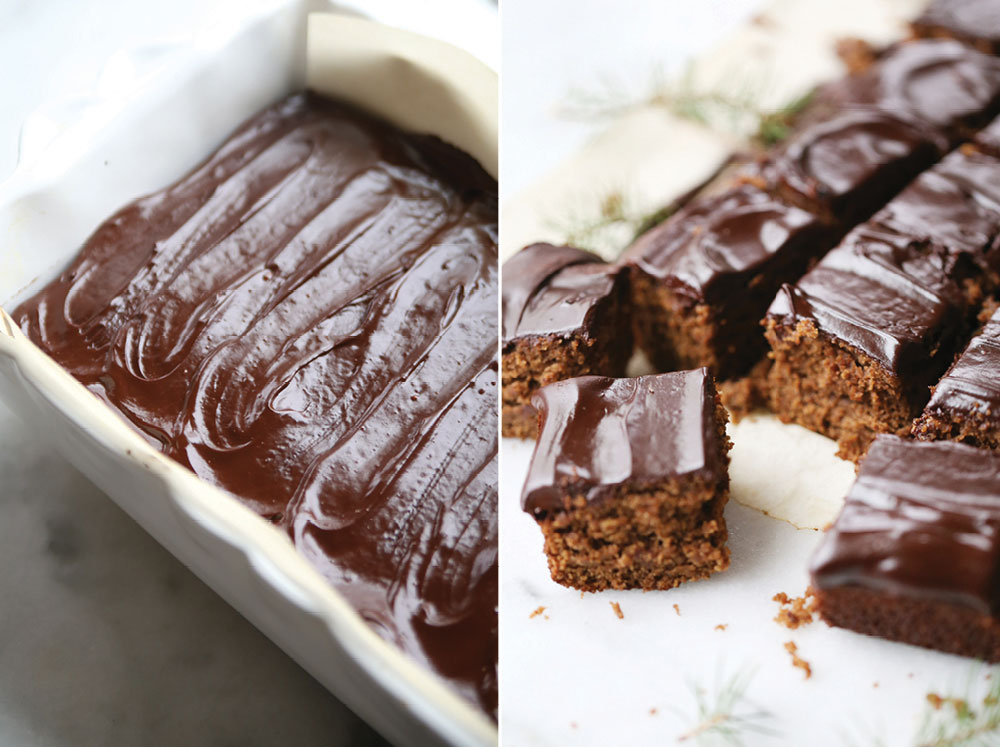 THIS my friends is basically a marriage of the best worlds. Gingerbread + Brownies = a match made in heaven!
I of course, like to adjust recipes to make them healthier and this type of cake is traditionally made with wheat flour, eggs, dairy and refined sugar. So, I had a bit of challenge that I got really excited about. I wanted to make this Piernik (Gingerbread Cake) that's gluten-free and vegan and with healthier sugars. I also just LOVED the idea of making it unfussy and easy so you can just pick up with your fingers ~ brownies came to mind that they're so basic and that everyone loves so much!!!
But I have gone far and beyond to make it not only amazing BUT also just amazing for you.
It's a guilt-free holiday dessert that will want to make you come knock on my door and kiss me!!! :) (Three times on the cheeks because that's how we do it ;))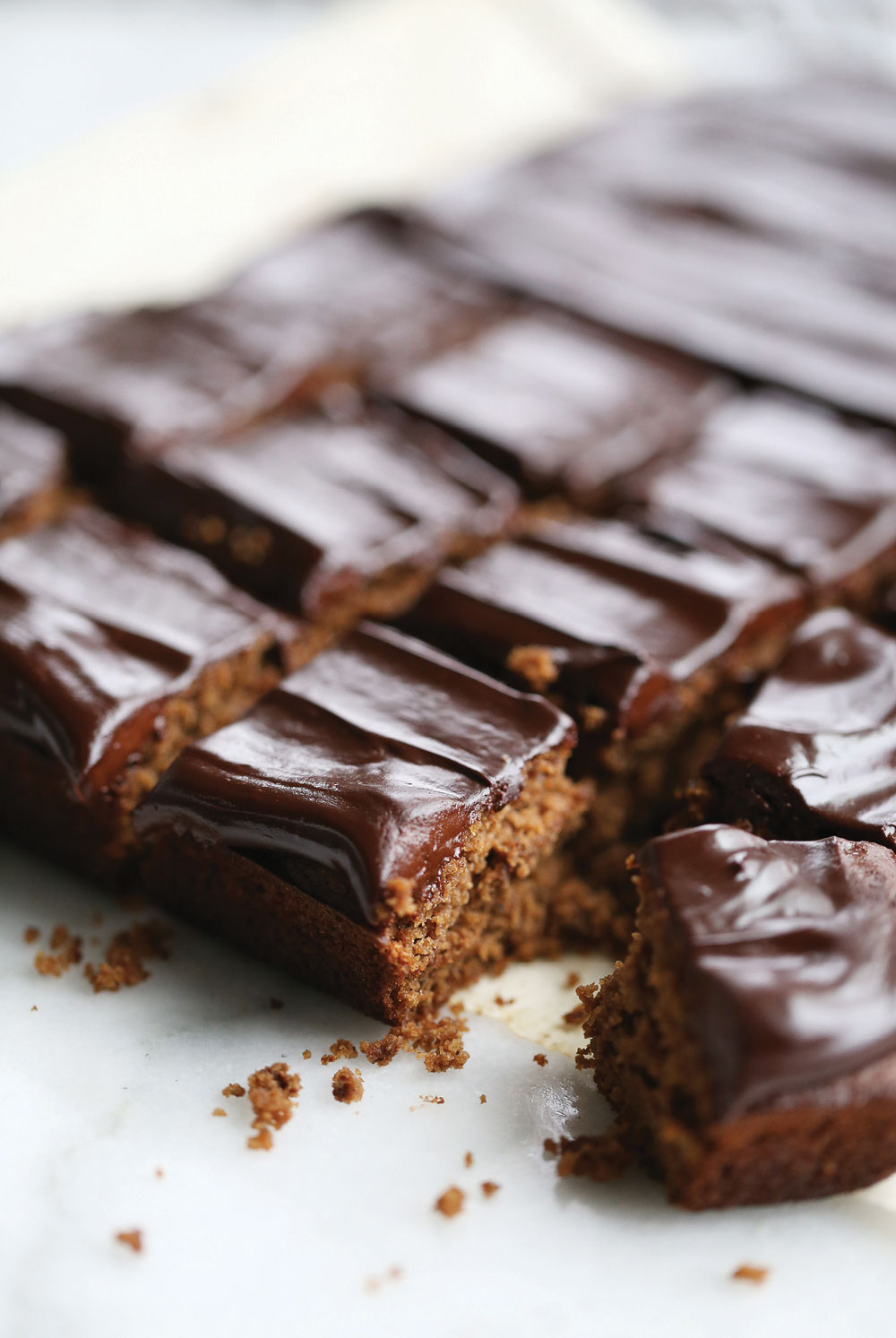 I hope you enjoyed my holiday tradition…. Please join me with Whole Foods and share your own story with #MyHolidayTradish throughout social media.
To celebrate the Holiday Spirit further, Whole Foods would like to give you a FREE Organic Popcorn coupon with every $20 purchase. Simply click on the link and present this coupon to the cashier.
This post has been sponsored by Whole Foods.
Wishing you a beautiful Holiday Season with great food, great people and great traditions… old and new that you can treasure for years!
And on a final note, to bridge the gap between my Polish roots and my North American readers ~ here's this amazing ad that's going viral about what You Want For The Holidays. Enjoy!
Ella Leché
is a cookbook author ('
Cut the Sugar
'), recipe developer, and photographer/stylist behind Pure Ella; where she shares delicious and healthy recipes. Eating PURE is clean ingredients, whole foods, plant-based nourishment and delicious desserts – with quality ingredients and sweeteners so they're treats with benefits so you won't have to feel deprived or restricted to eat healthier.
Thank YOU for being here!
Follow on social media for daily health & happiness inspiration:

ps. don't forget to share your Pure Ella (PE) recipe creations by tagging them #pureella and
@pure_ella
on Instagram – we repost our favourite photos!