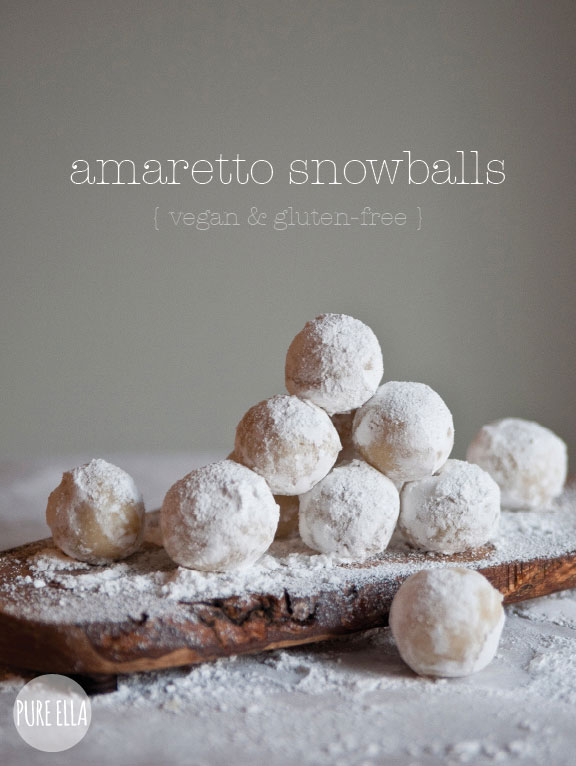 With the first sight of snow falling this year… I made a gasp and smiled. Winter really is a beautiful season and there is something about the cold crisp air, calm and quiet outdoors and squeaky snow under your feet that makes you enjoy every bit. Then there's the wintery fun when everyone becomes a kid again… snowball fights! We already had a share of those and although it can be rough, it really is a ton of laughter and fun. Of course, sometimes the best part is to coming home to warm up with hot cocoa and a delicious something… like these Amaretto Snowballs!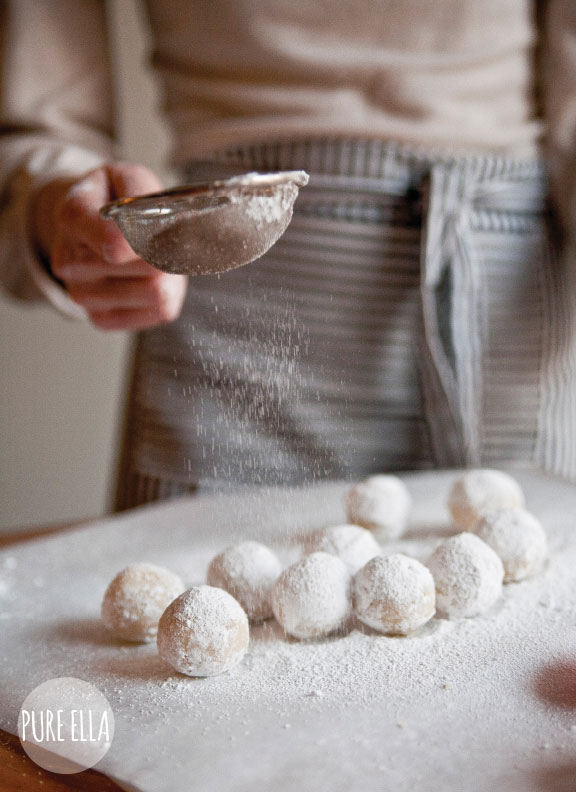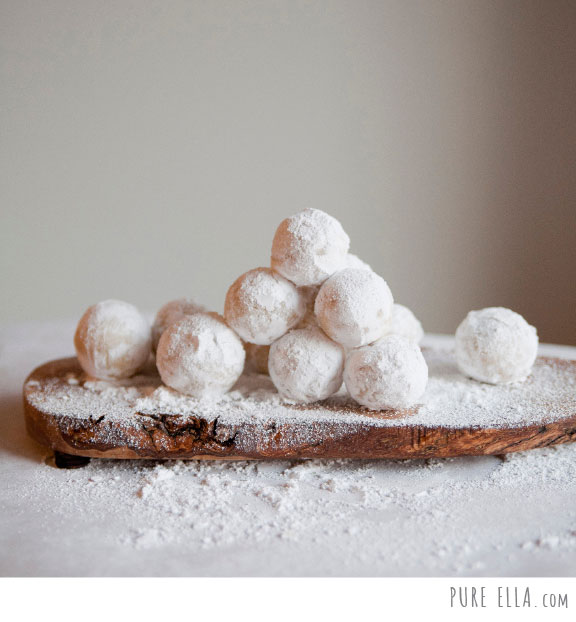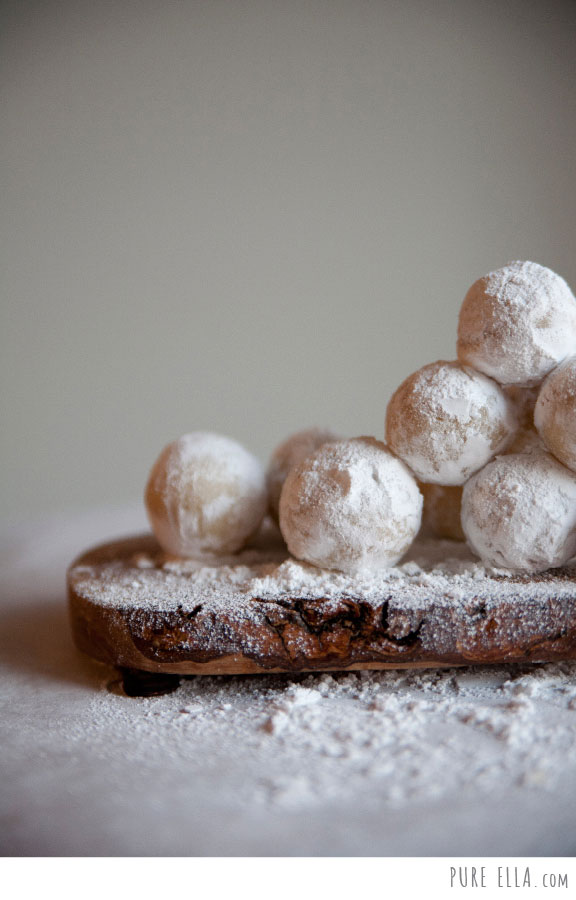 There are only 4 all-natural gluten-free and vegan ingredients in these delicious treats. A healthy Holiday recipe that's quick and easy to make and is sure to please. And they are No-Bake! Enjoy these delectable Amaretto Snowballs with a mug of hot cocoa… pure winter heaven! The amaretto adds richness and makes this dessert very delectable and delicious. Great to make with the kids in your family (you can use amaretto extract instead of amaretto liqueur if serving to kids). And let the snowy fun begin… Snowball fights are optional!
Amaretto Snowballs
ingredients:
2 cups blanched almonds
1 cup gluten free icing sugar + extra for coating
2 tsp almond extract
1-2 tbsp amaretto liqueur (or all-natural amaretto extract for a non-alcoholic, child-friendly version)
.
directions:
Soak the blanched almonds in water for 4 hours or more (overnight is great) in the refrigerator. Rinse and drain completely (even pat dry with a paper towel) and grind in a food processor until a very smooth paste forms. Add the icing sugar, almond extract and amaretto towards the end and continue processing to combine all the ingredients well. At this point the mixture may be too runny and it will be hard to shape into balls. Simply, place in the refrigerator or even freezer for a few minutes to let it harden and then proceed to shape the mixture into small balls. Roll in extra icing sugar for a snow-covered look.
ps. please read through the comments for additional tips!
Store in the refrigerator in an air-tight container for up to 5 days and serve cold. These are best cold as they get too chewy when at room temperature.
Makes 12-15 balls.
These also freeze well until serving time. Simply line an air-tight container with paper towel at the bottom (this will help to absorb moisture) and cover. Freeze for up to 1 month. Place in the refrigerator for 15-30 minutes to thaw out before serving.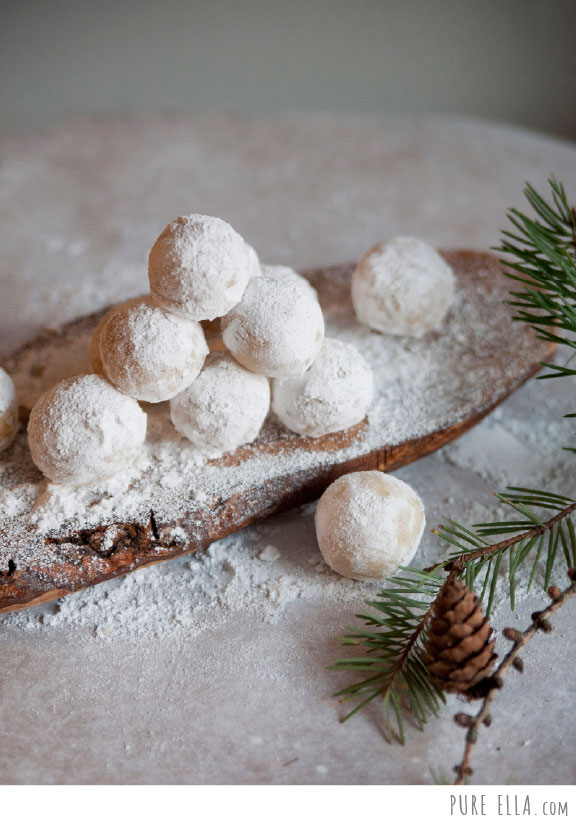 These are wonderful placed in a festive tin box for a beautiful homemade Christmas gift. I love yummy homemade gifts that are made with love!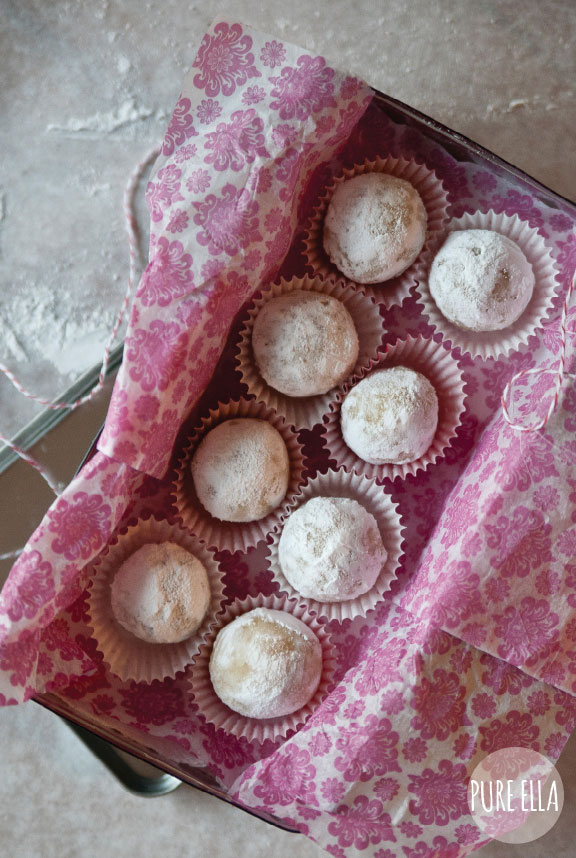 PS. Looking for more amazing No-Bake Holiday desserts? You should try my
Rum Ball Cake-Pops
!