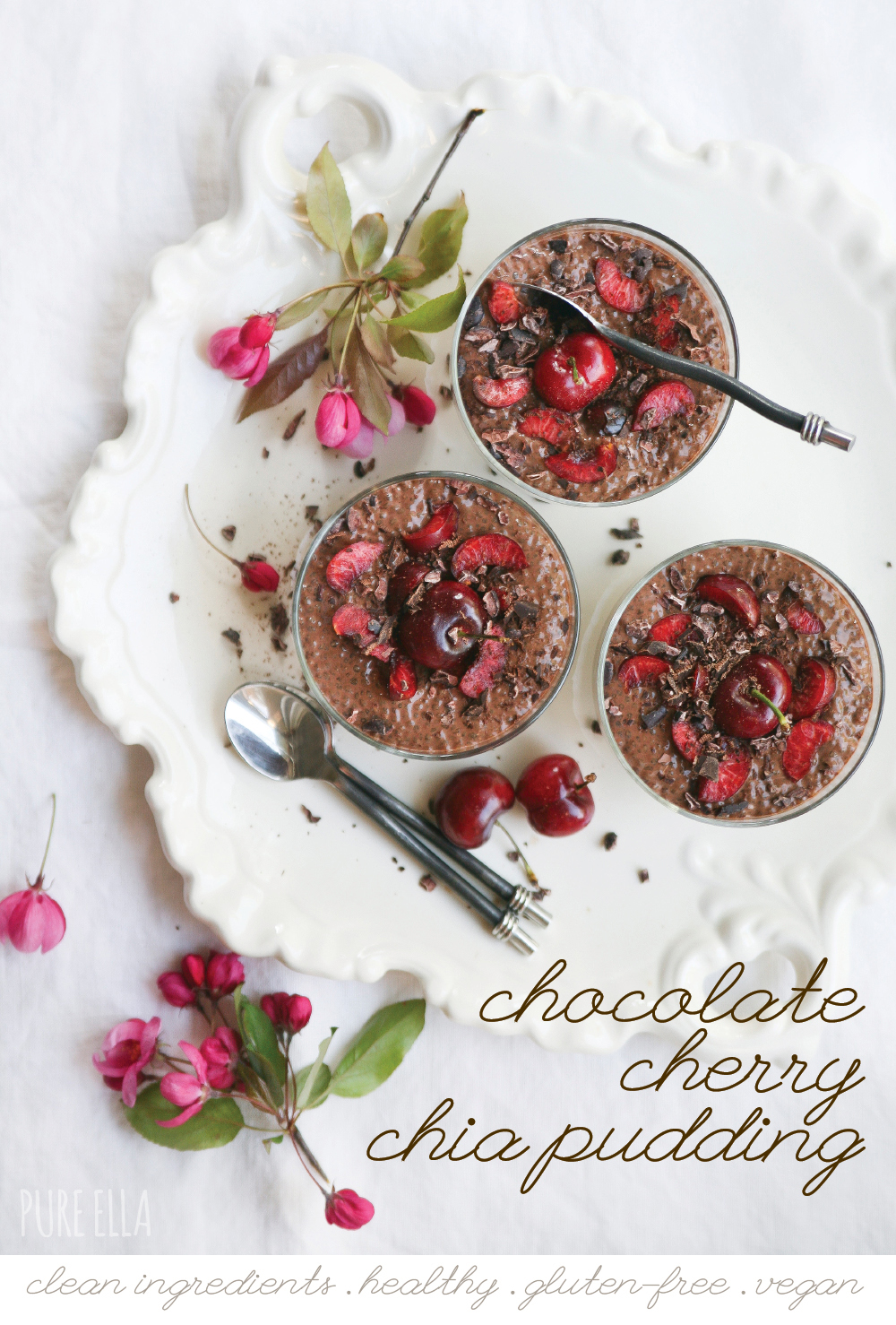 Cherries and chocolate! These two have been my most divine dessert combination for years…. and although my early days with Cherries and Chocolate may not have been on the 'healthy' side ~ I'm finally ready to embrace these decadent flavours guilt-free!
You will not believe the rich incredible taste this Chocolate Cherry Chia Pudding has! I don't even know how to fit rich, decadent and healthy into the same sentence – but essentially this dessert is completely good-for-you!!! ;)
Yes, you could have it for breakfast. Yes, you could devour it as a late night snack. And yes, you can go back for seconds or thirds! Isn't it great when you can eat delicious foods and not have any guilt attached? ;)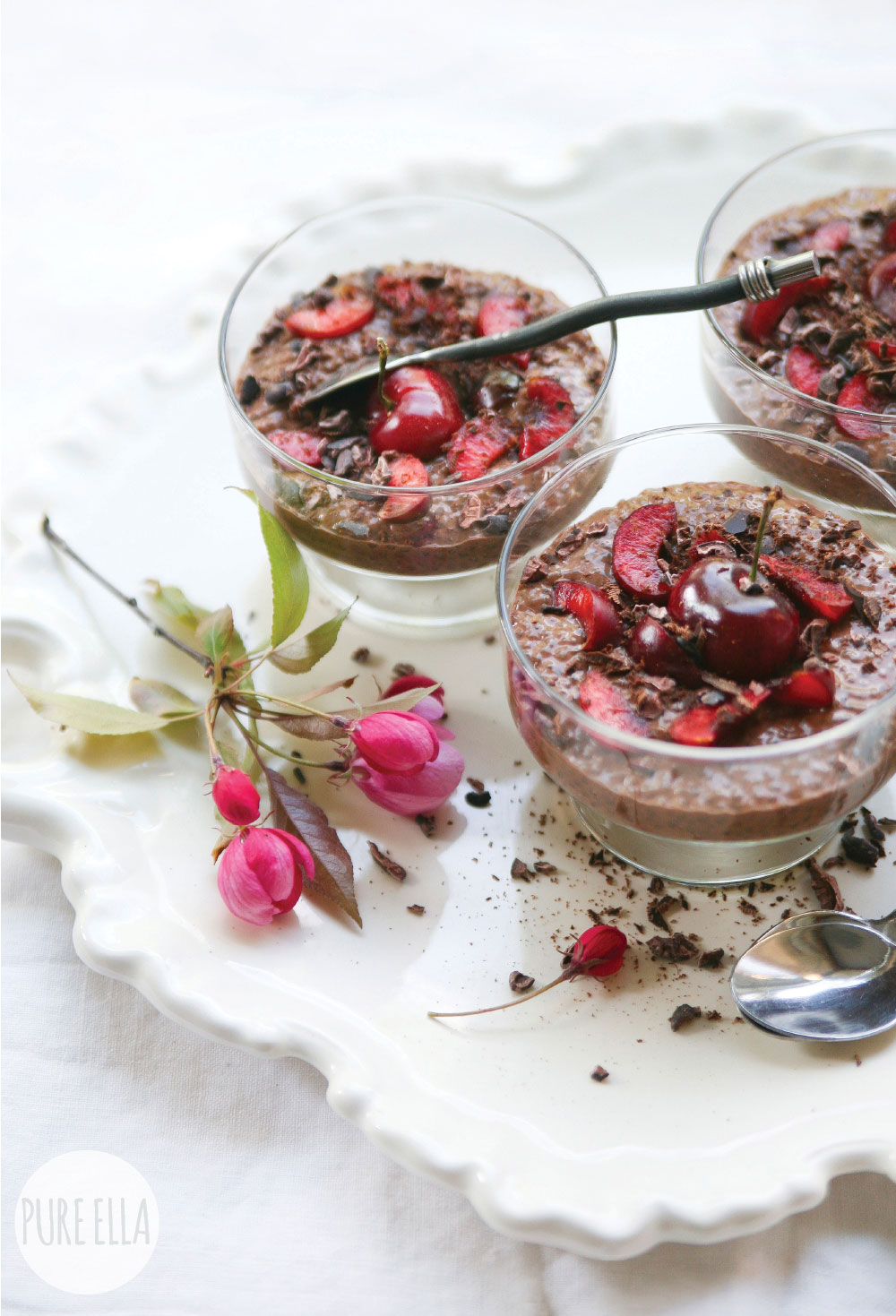 These Chocolate Cherry Chia Pudding cups were recently enjoyed by my family…
~ a 6 1/2 year old who enjoys sweet things in any shape or form and doesn't really understand the difference between 'good' and 'bad' sugar out there ~ she loved this pudding! Here exact words : "More Pleeease!!!" ;) (in the cutest little voice ever)
~ my husband who is really 'difficult' when I try to introduce healthy foods (this guy for years tried to persuade me that he was allergic to green food!) (I was onto him from day one though! ;)) Oh and he hates puddings in any shape or form! So I knew this would be almost impossible for him to try this Chia Pudding. But he did… and I couldn't believe the first three letter word that came out of his mouth… "Wow!" followed by "this is actually good!!" ;) Ha! of course it's good!!!! ;) It's amazing!! ;)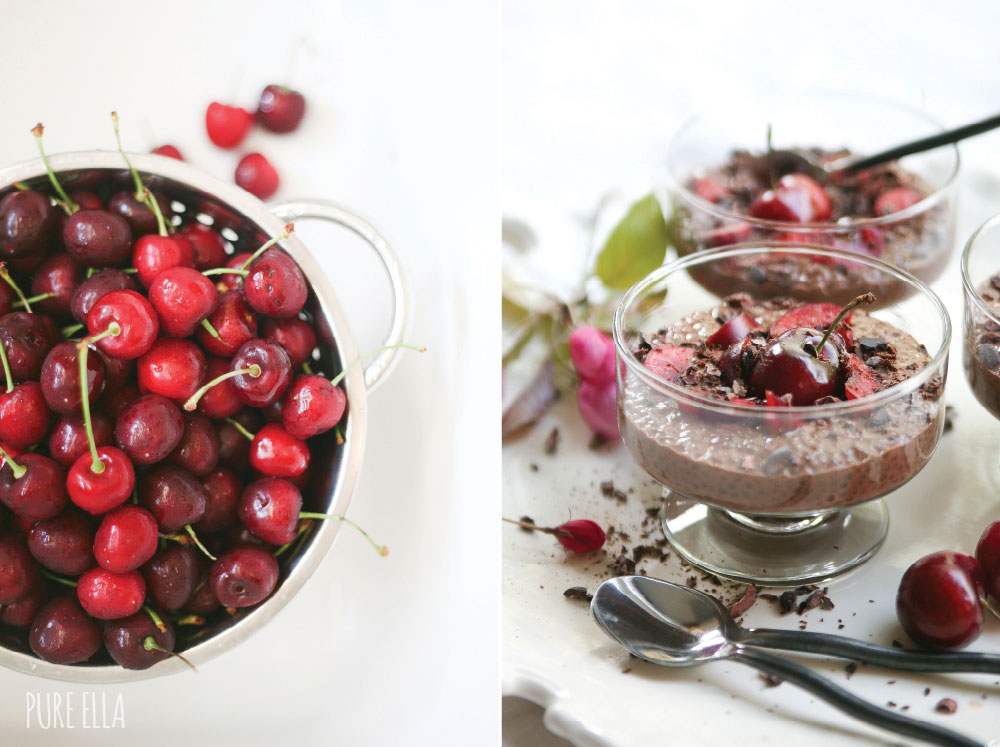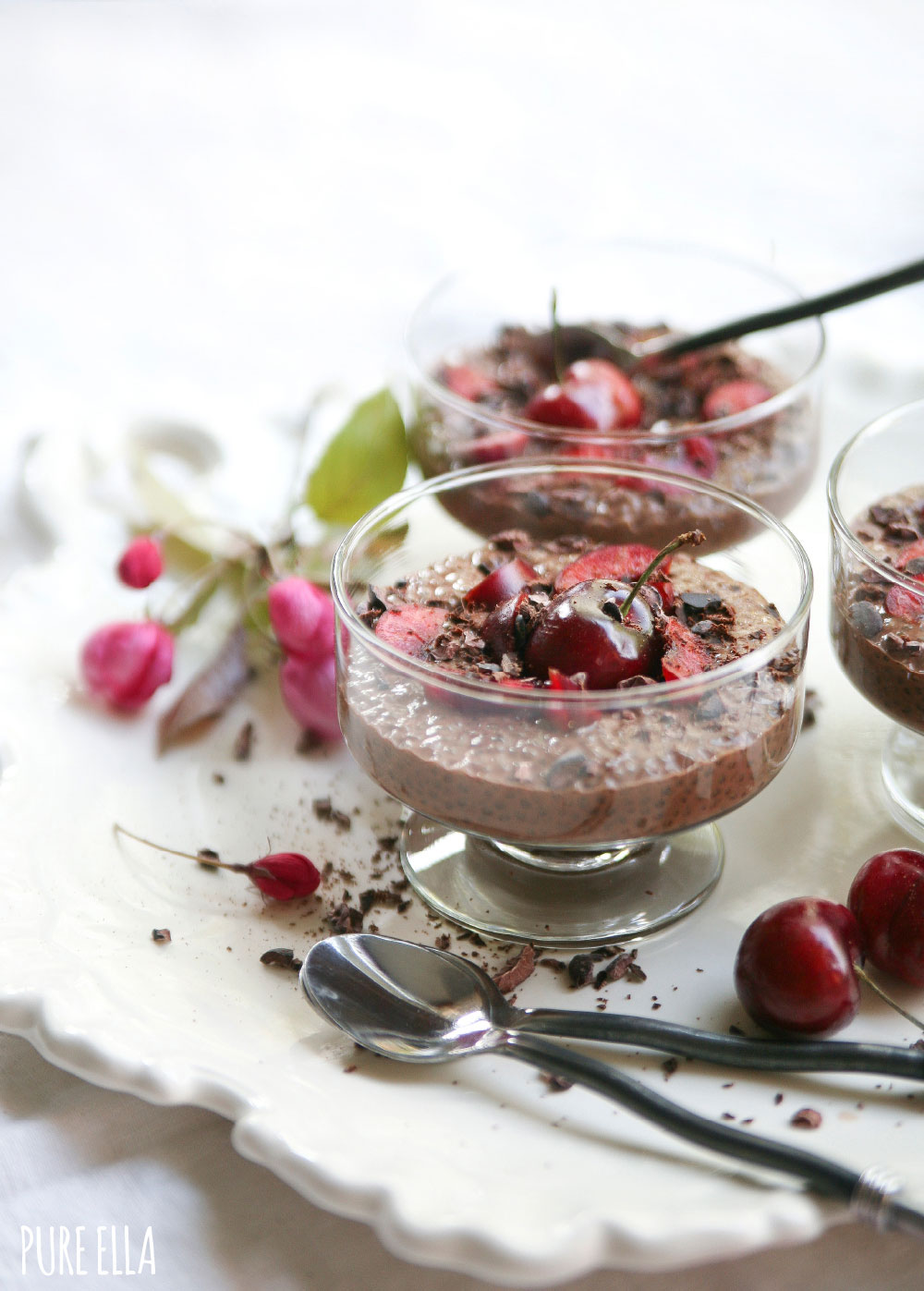 Chocolate Cherry Chia Pudding
clean ingredients | healthy | gluten-free | vegan | paleo
Ingredients:
1 1/2 cup non-dairy milk (almond/ coconut/ hemp are my favourites)
1/4 cup chia seeds (look for powdered chia seeds if you want a smooth texture)
3 tablespoons raw cacao powder
2-3 tablespoons pure maple syrup or honey
1/2 cup cherries, pitted and sliced + extra for plating
additional toppings : extra cherries, raw cacao nibs, dark chocolate shavings (use 70% dark chocolate or higher)
Directions :
In a bowl or mason jar, stir together the first 4 ingredients: milk, chia seeds, raw cacao and maple syrup and refrigerate for at least 4 hours or overnight. (If using a Mason Jar, simply close the lid and shake!)
Just before serving, separate into 4 serving dishes, top with sliced cherries and garnish with raw cacao chips, dark chocolate shavings and extra whole cherries and enjoy!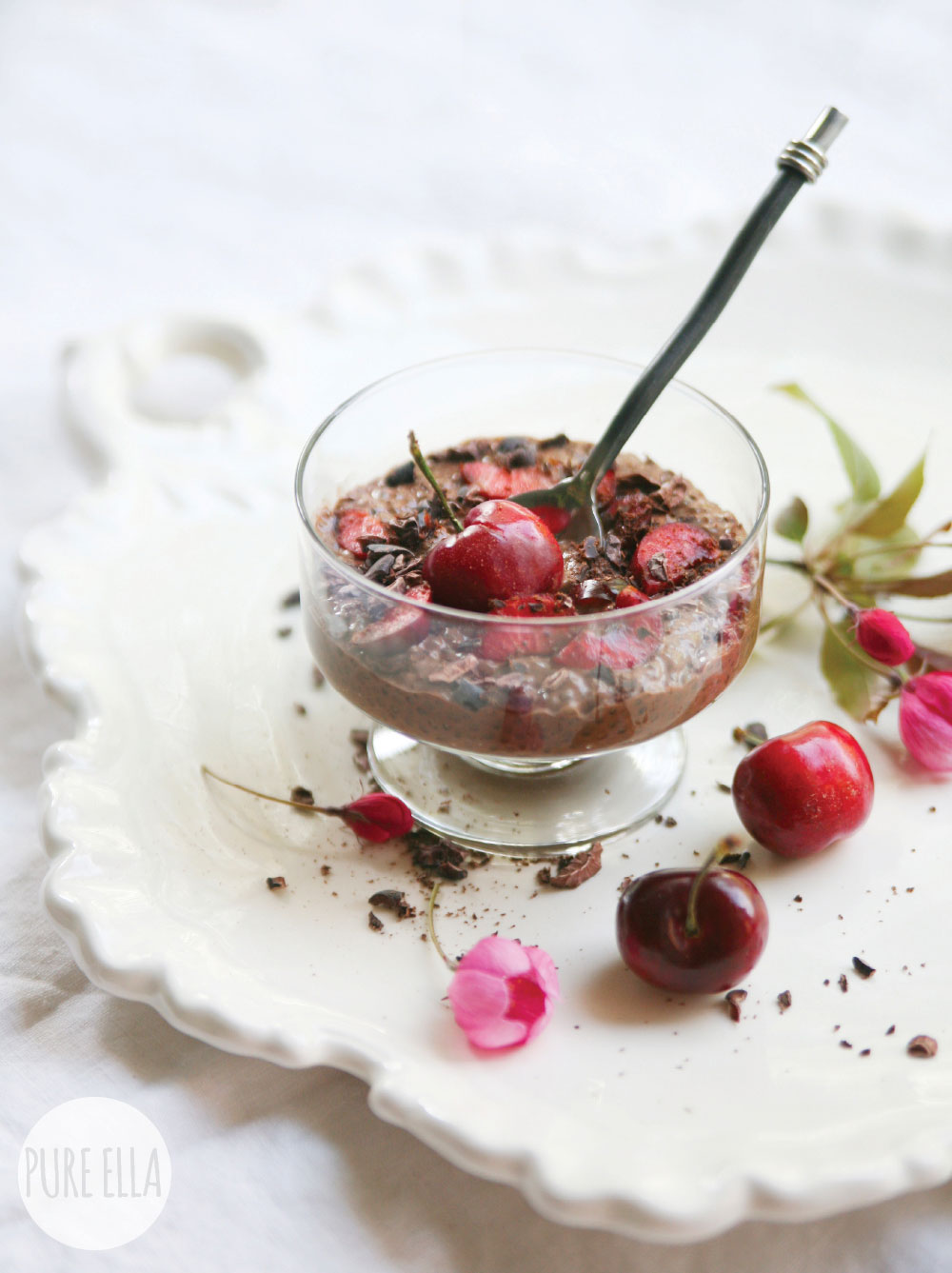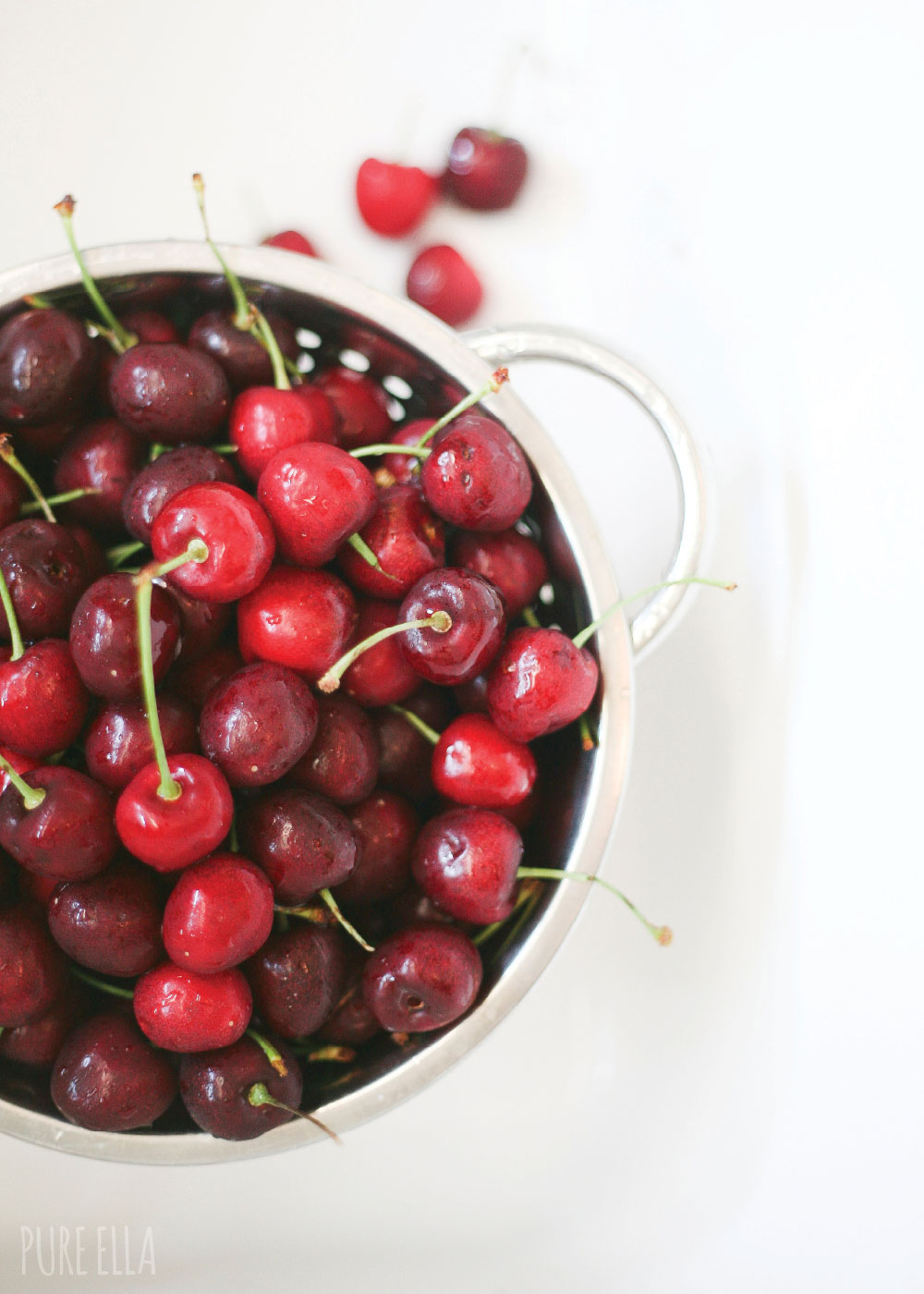 Making Chia Pudding is so easy yet so incredibly healthy! And because you can really easily switch ingredients it becomes such a fun way to heave a healthy treat ~ without any guilt or hours spent in the kitchen.
These healthy pudding cups can be enjoyed as breakfast, or midday snack or really any time of the day… and they can even be a beautiful decadent dessert for an evening soiree with family or friends! You could top with even more dark chocolate shavings for a sweeter kick – and you have a stunning easy + healthy dessert! Win!!! ;)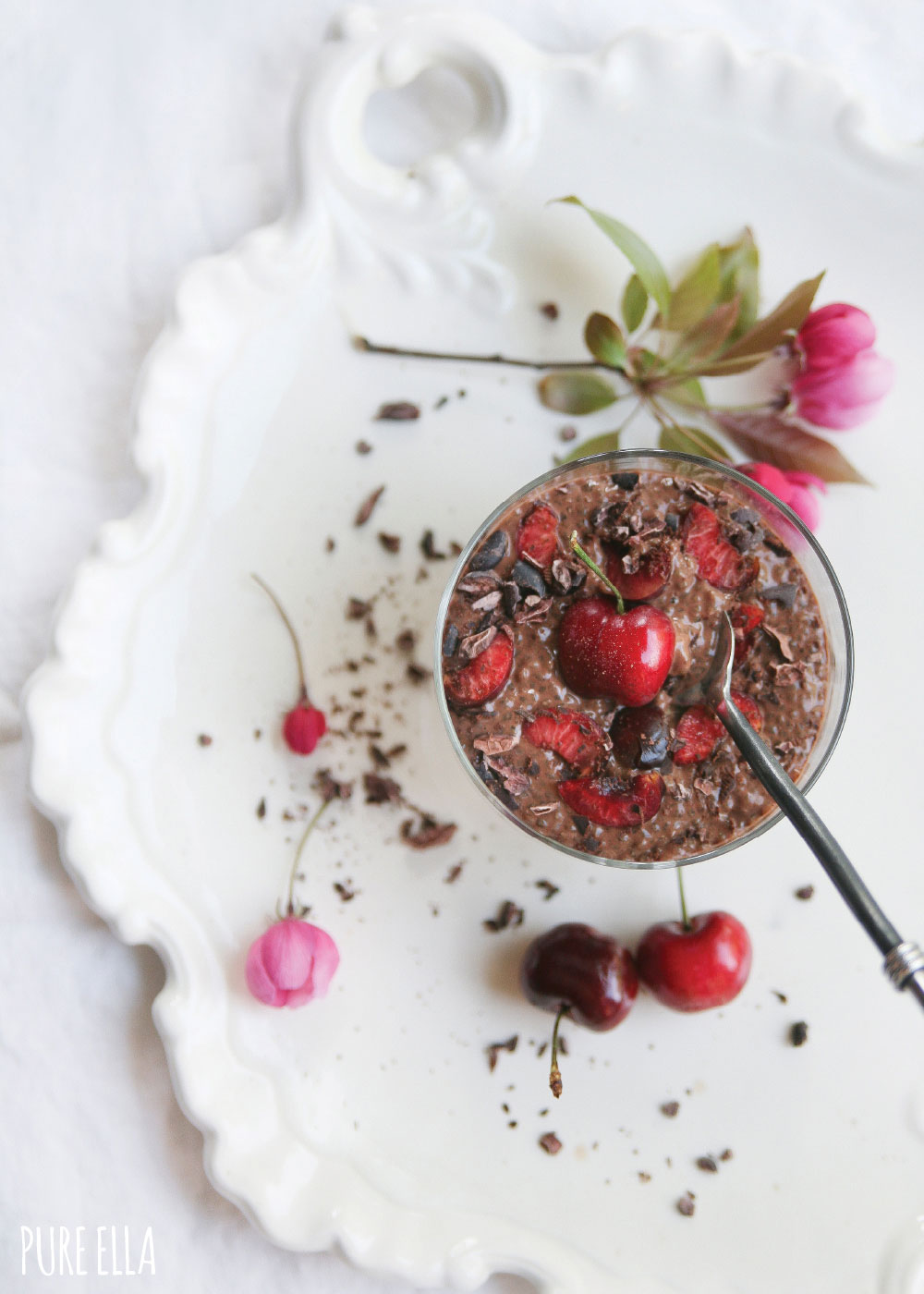 My girl keeps asking for more of this delicious Chocolate Cherry Chia Pudding, even if she could bring it to school! I like that because I know she's getting a healthy treat and we're all happy. And because this is nut-free, it makes a perfect school treat too if you put it in a small air-tight kid-proof container.
Chia seeds are an amazing source of nutrition! They should really be right on top of the healthy food pyramid! They are packed with incredible vitamins and minerals – so if you're new to chia seeds, it's really time to join exciting world of healthy food – eating healthy does not have to be about eating rabbit food! ;) You can (and you should) treat yourself to delicious foods that are naturally refined sugar-free and nutritious but taste amazing!!!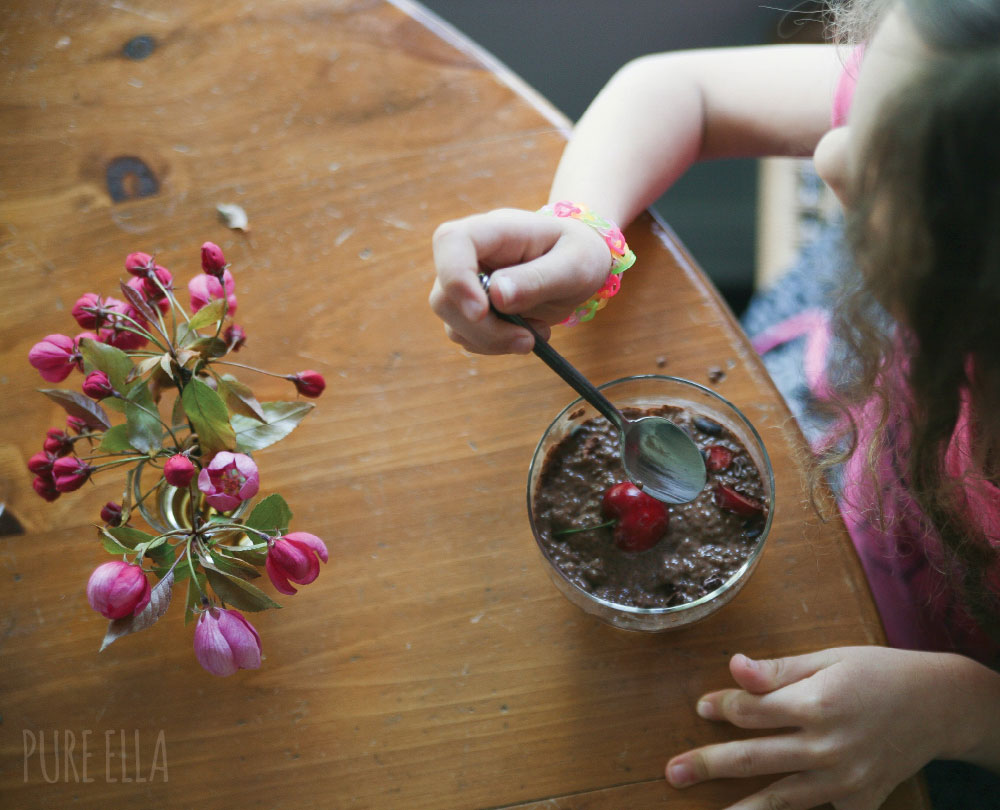 ♥
Pure Ella
.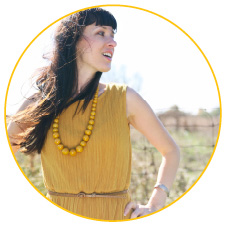 Ella Leché
is a cookbook author ('
Cut the Sugar
'), recipe developer, and photographer/stylist behind Pure Ella; where she shares delicious and healthy recipes. Eating PURE is clean ingredients, whole foods, plant-based nourishment and delicious desserts – with quality ingredients and sweeteners so they're treats with benefits so you won't have to feel deprived or restricted to eat healthier.
Thank YOU for being here!
Follow on social media for daily health & happiness inspiration:

ps. don't forget to share your Pure Ella (PE) recipe creations by tagging them #pureella and
@pure_ella
on Instagram – we repost our favourite photos!