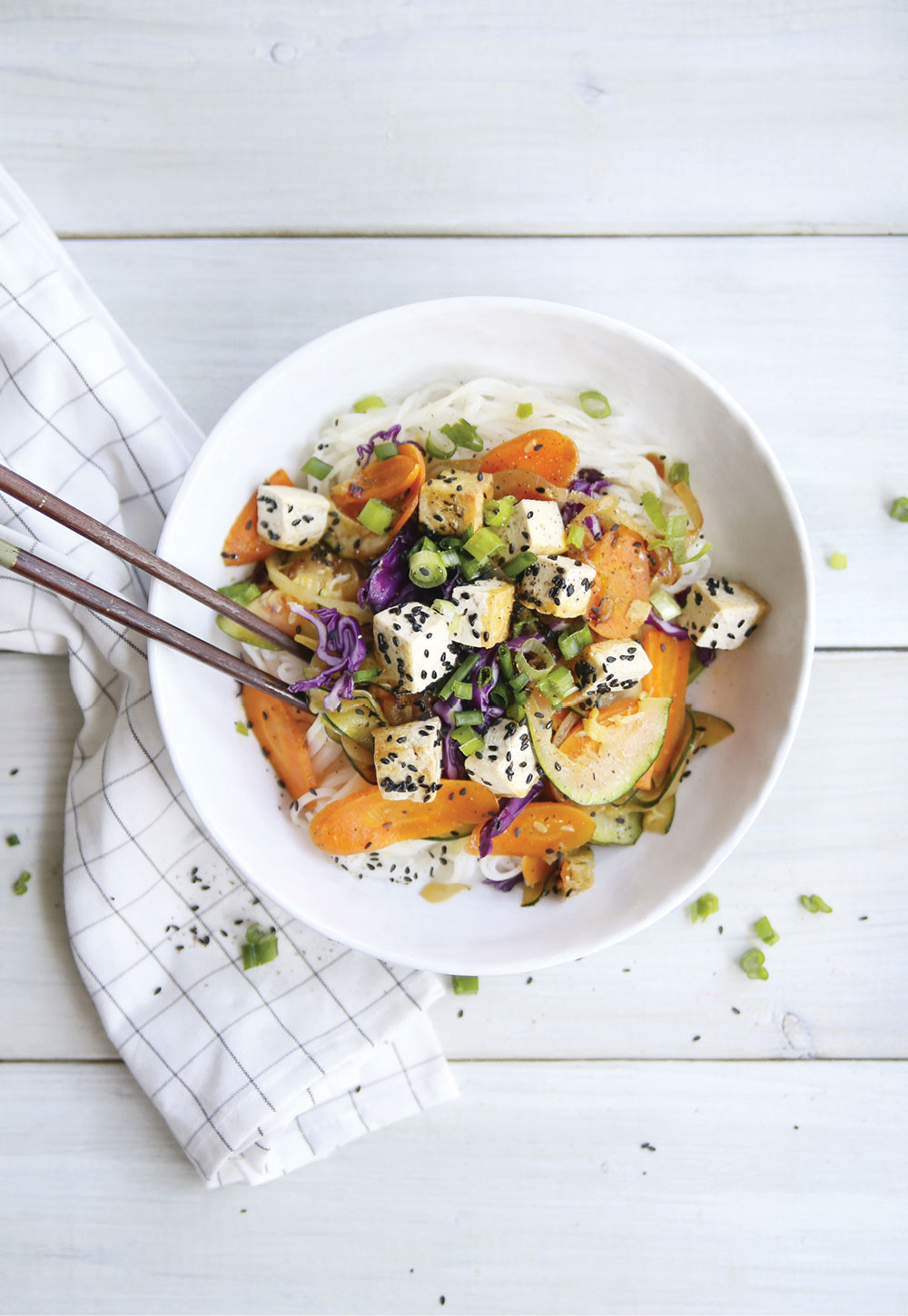 Simplicity is key when it comes to eating healthy food. I find that when I first cut out gluten from my diet (and still am wheat-free 7 years later), stir fry recipes were on repeat! This one is especially my fave: Spicy Sesame Tofu Stir Fry. Super simple, quick to make, and so delicious!
This one especially is my go to. Simple organic tofu fried with sesame oil is so yum! And all this really can be done in 5 minutes!
I may look like I am food-obsessed but I also have this approach to keep it super simple in the kitchen and always have fun. AND I also much prefer to take longer to eat a meal than to cook it! #fact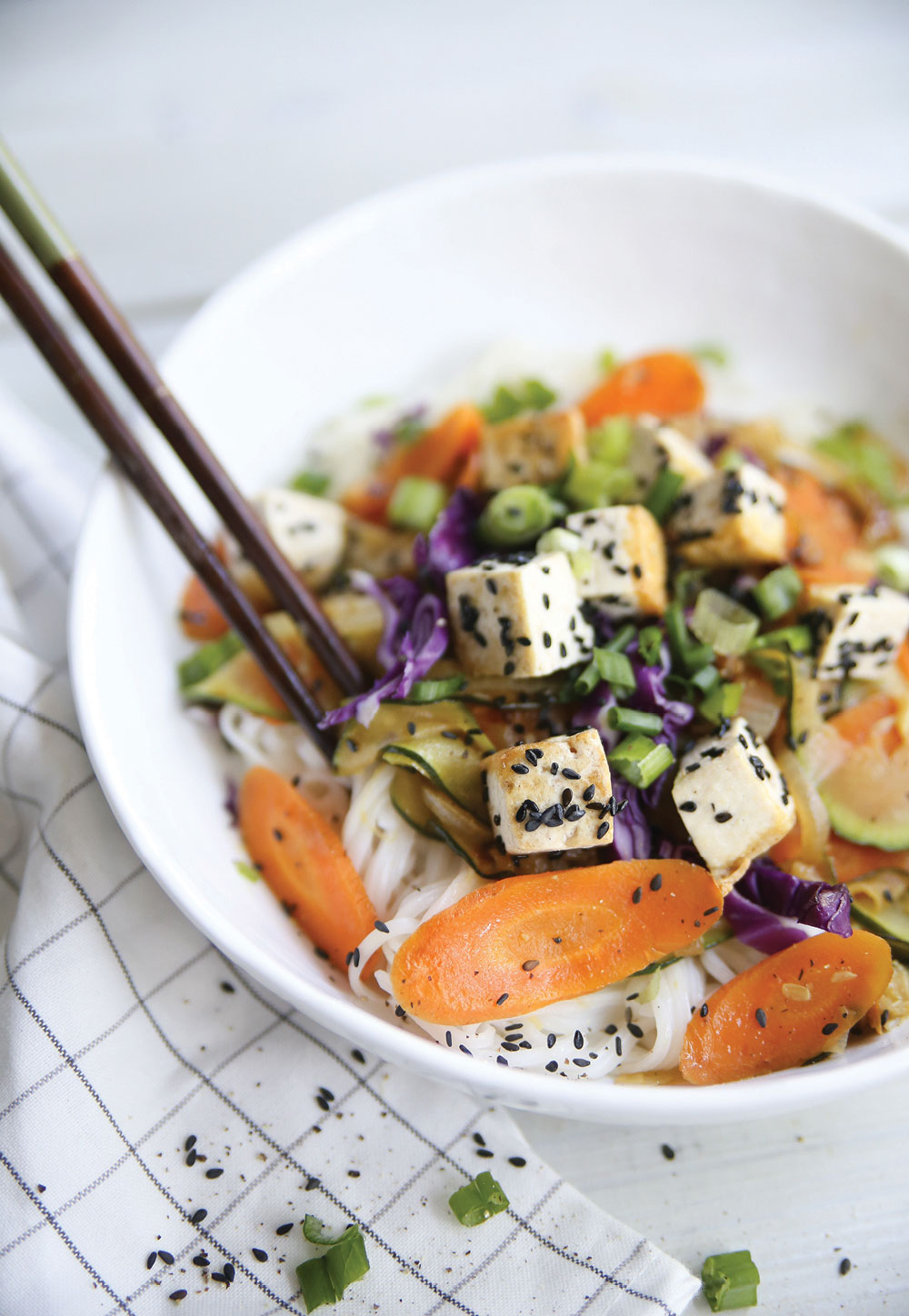 And as you try to cut out gluten and/ or wheat for whatever reason (be it health or trend) (less wheat is always a good idea) ;) Then Asian cuisine is a great idea to go with. As it's mostly based on rice which is naturally gluten-free and also inexpensive. Mind you white rice isn't an ideal 'grain' but it's delicious and so versatile.
This type of a stir fry recipe is one of my favourite comfort foods. The cooking method is so quick and easy. And feel free to customize with the vegetables you have on hand:
Peppers, mushrooms, bok choy, savoy cabbage, bean sprouts etc.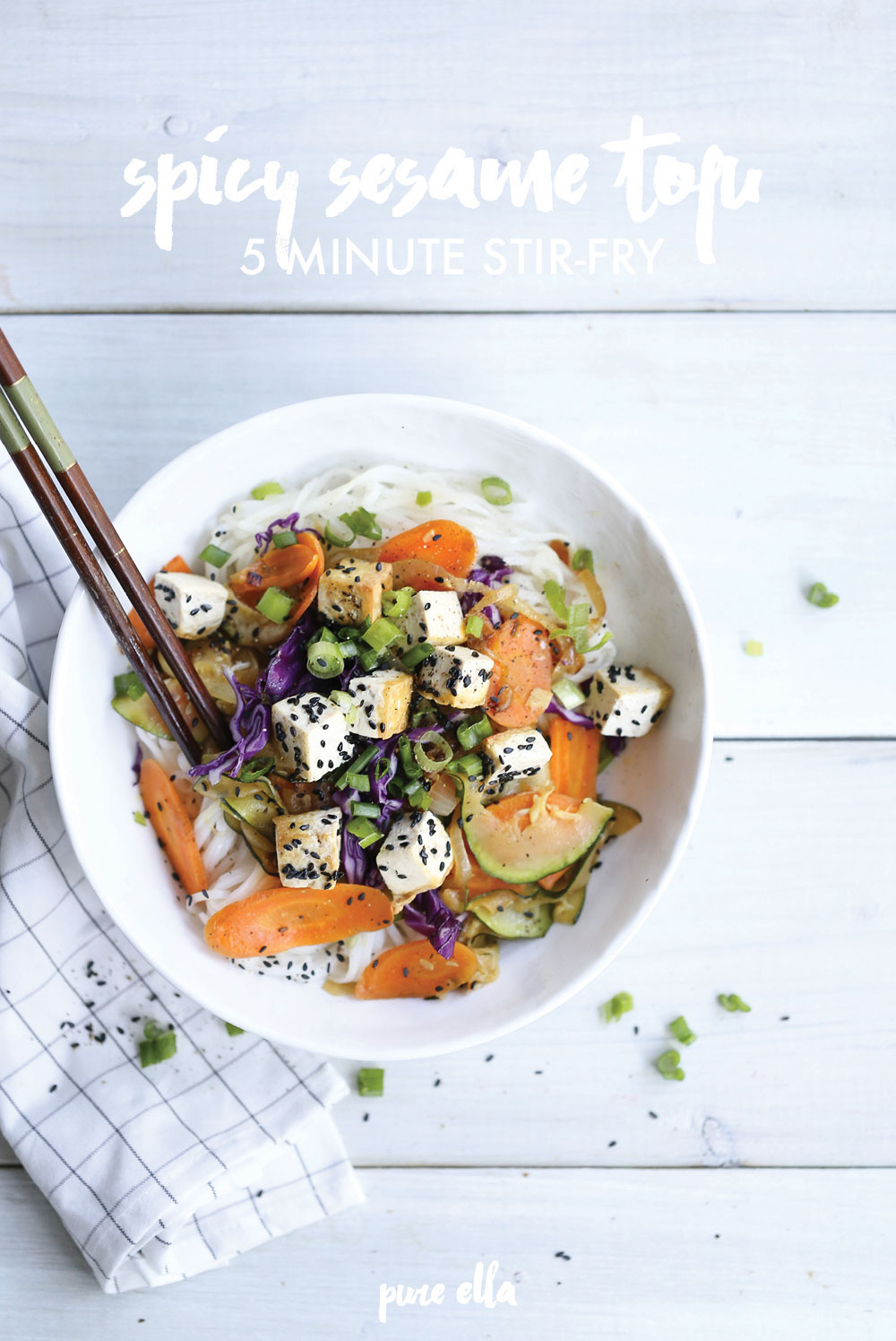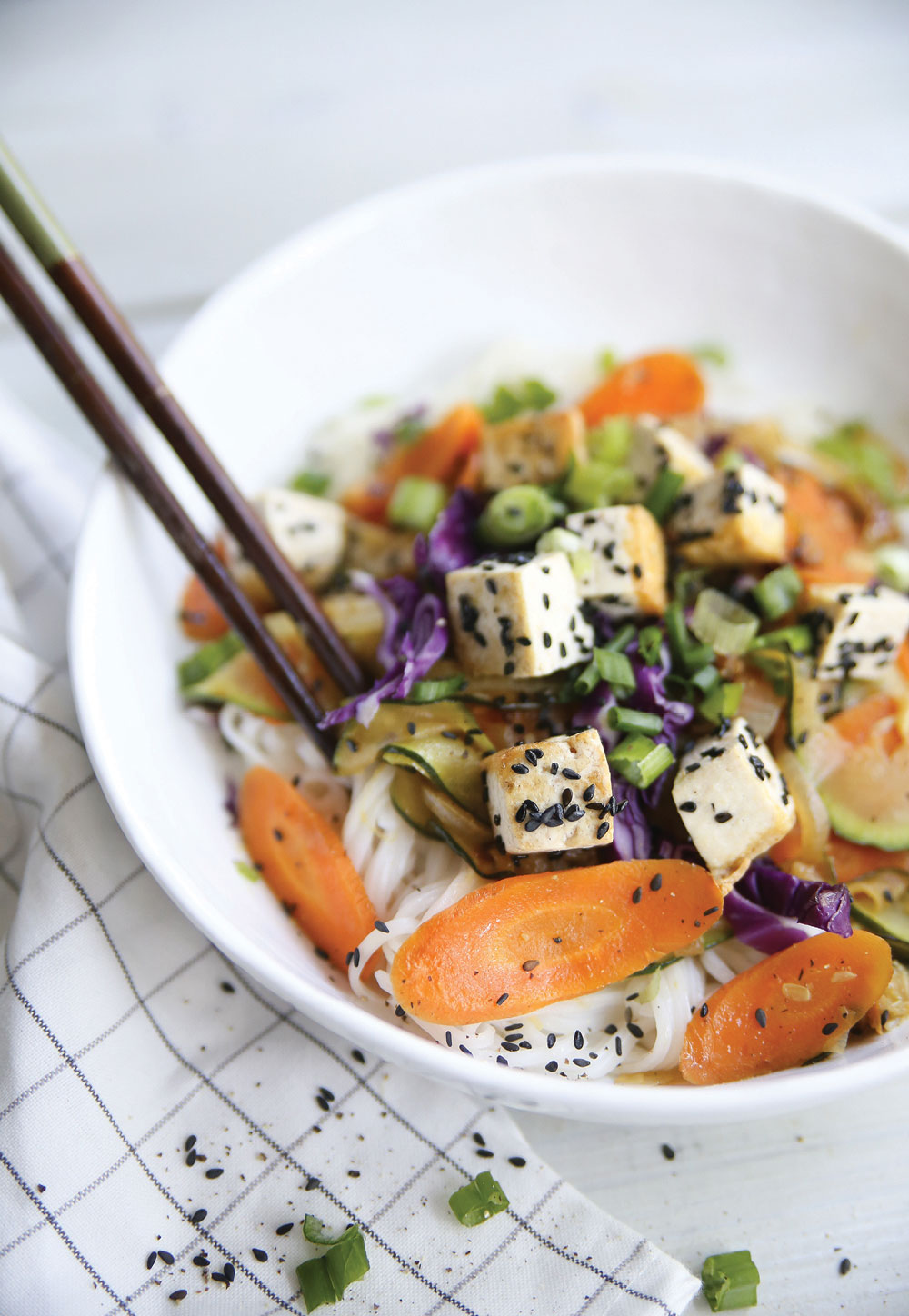 Spicy Sesame Tofu Stir-Fry
2017-04-25 11:49:18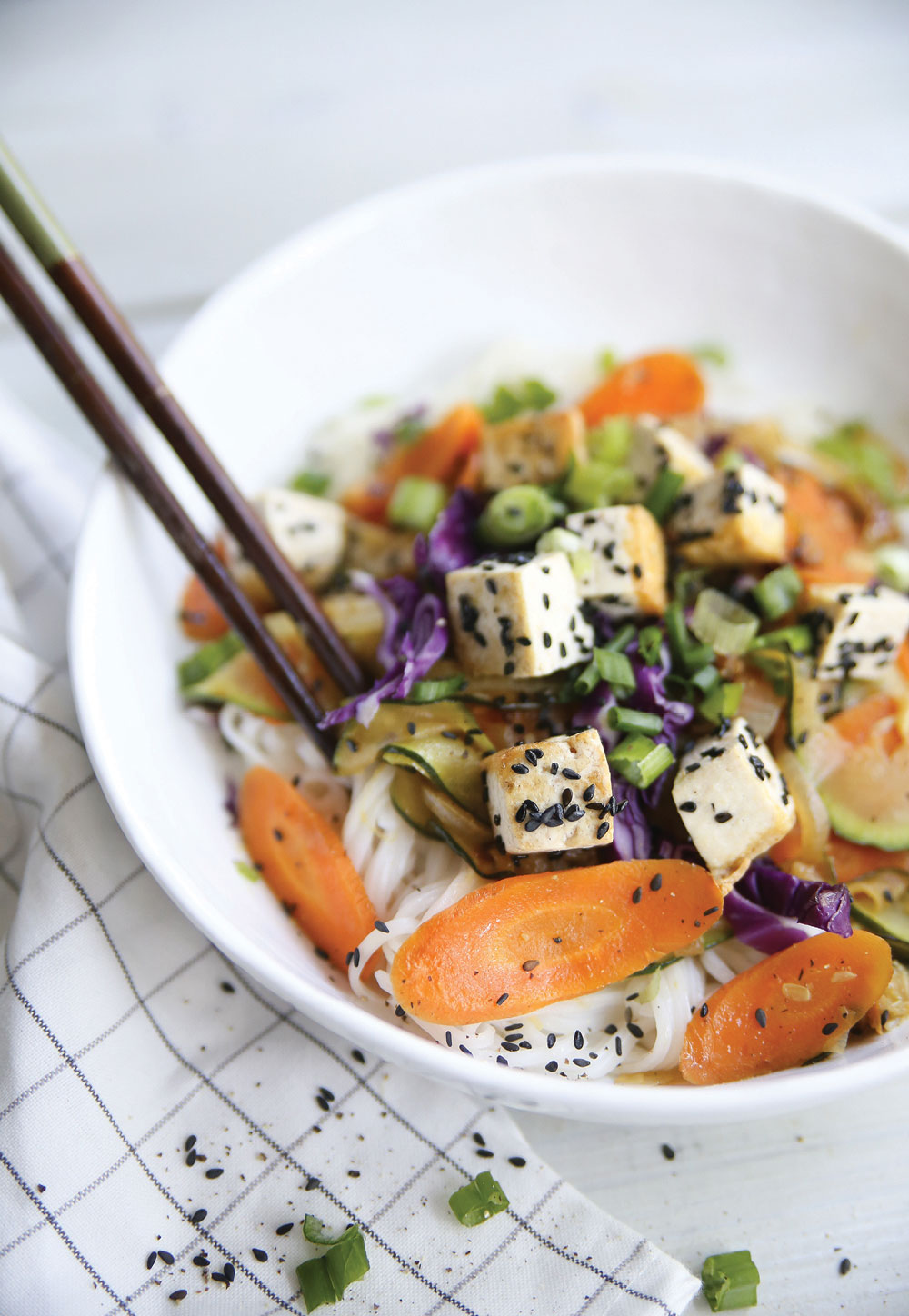 An easy and quick spicy sesame tofu stir-fry that's done in 5 minutes. Naturally gluten-free and vegan/ plant-based.
Ingredients
1 (1-pound) package firm or extra firm tofu, drained and cut into 1-inch cubes
4 tablespoons sesame oil
1 tablespoon black (or white) sesame seeds (divided)
2 cloves garlic, minced
1 medium onion, sliced
1 large carrot, sliced on the mandolin or sliced into matchsticks
1 medium zucchini or green onion or bok choy
1 few slices of red (purple) cabbage (I just love the colour here)
1 tablespoons soy sauce (look for gluten-free)
1 teaspoon cornstarch or other starch
1 teaspoon chili sauce or other preferred hot sauce or spice
1 package of white or brown rice pasta (I used Vermicelli)
a bit of grape seed oil
a bit of cold and also hot water (I keep a hot kettle around)
1/4 cup thinly sliced green onions
Instructions
In a large pot, heat water and cook the pasta as directed on the packaging.
In a large pan or ideally a wok pan, heat the sesame oil and fry the tofu until slightly golden (sprinkling half of the sesame seeds over the tofu cubes), about 1-2 minutes. Remove the tofu into a bowl and cover to keep them hot and not dry out.
In the same pan, add in a bit more oil and heat the pan again. Add in the garlic, onion, carrots and cook until a little softened (30 seconds) stirring often. If the vegetables start to stick to the pan, add in a bit of hot water into the pan, stir and cover to cook.
In a small bowl, mix the cornstarch with about 1 tablespoon of cold water and mix that in.
Add the zucchini and purple cabbage and sauces and stir.
Turn off the heat, add in the tofu, stir and cover to cook a little more.
In the meantime, the pasta should be cooked, strain it on a colander and rinse just a little to get some of the starch out.
Drizzle with a little bit of olive oil or grape seed oil and toss so that the noodles don't stick. (I prefer grape seed oil as it has a more neutral taste. More sesame oil will be too overpowering).
Place a serving of the pasta in bowls, top with veggies and tofu and sprinkle with green onion and extra sesame seeds.
Pure Ella https://pureella.com/
I love customizing the veggies and flavours and I also kept it simple with the sauce so that I don't have to have 10 ingredients just for the sauce. I find that so discouraging when you need to buy so many ingredients for a simple dish. I also didn't want to buy store-bought asian sauces as those have questionable ingredients. Although there's so many organic sauces now on the market. Essentially it's your call to add something you already have on hand.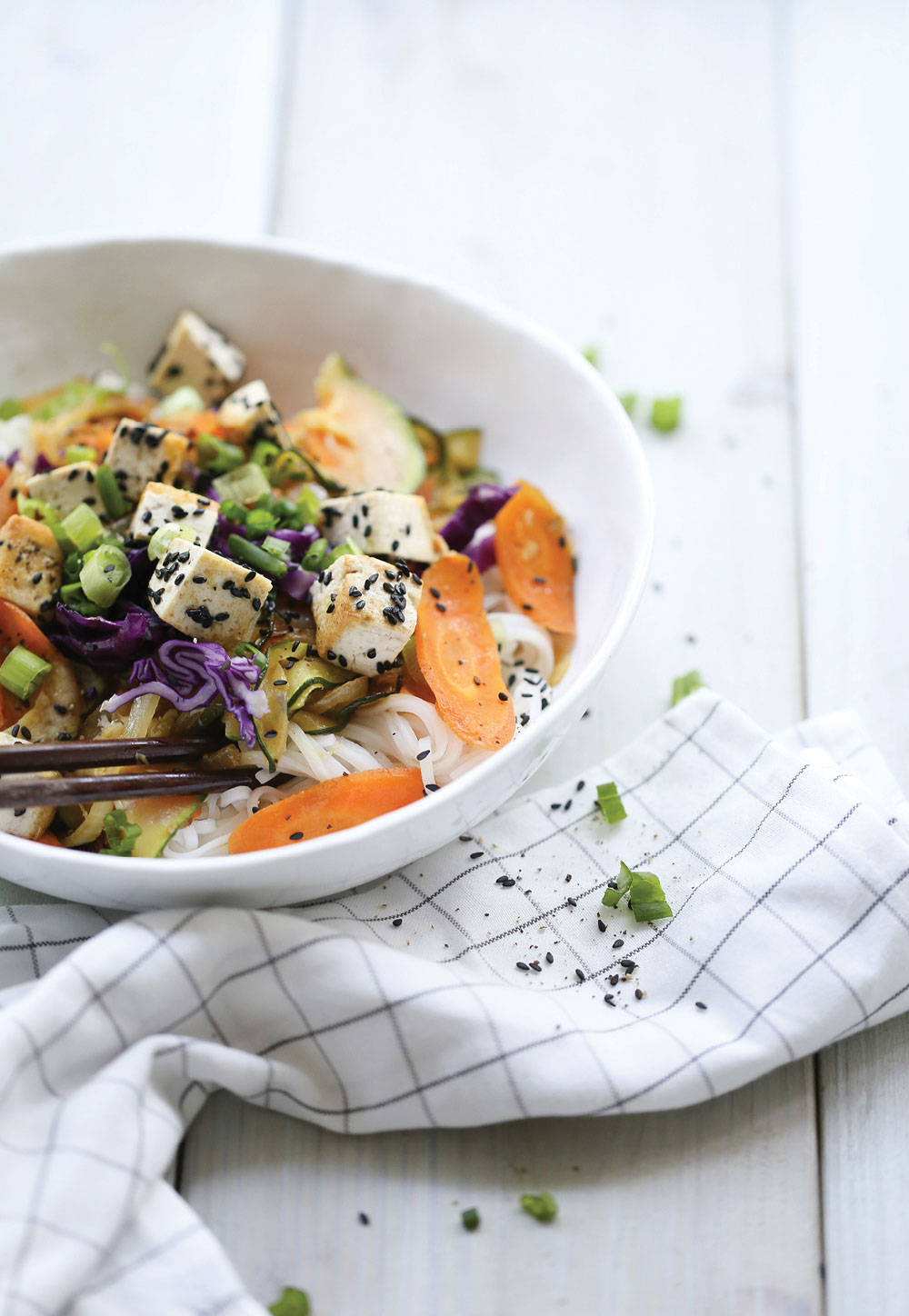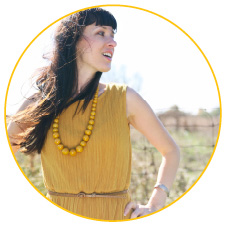 Ella Leché
is a cookbook author ('
Cut the Sugar
'), recipe developer, and photographer/stylist behind Pure Ella; where she shares delicious and healthy recipes. Eating PURE is clean ingredients, whole foods, plant-based nourishment and delicious desserts – with quality ingredients and sweeteners so they're treats with benefits so you won't have to feel deprived or restricted to eat healthier.
Thank YOU for being here!
Follow on social media for daily health & happiness inspiration:

ps. don't forget to share your Pure Ella (PE) recipe creations by tagging them #pureella and
@pure_ella
on Instagram – we repost our favourite photos!