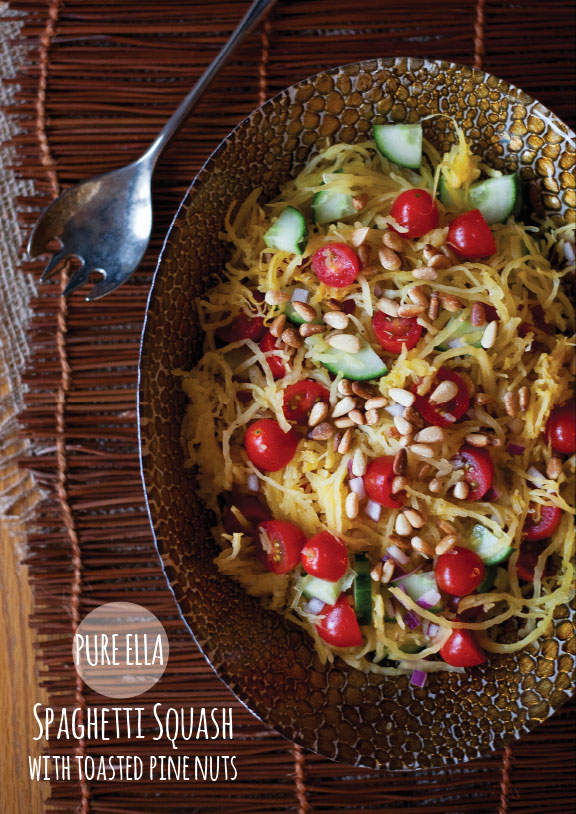 I wanted to share a recipe for this delicious Spaghetti Squash because it's such a great dish and yet it's so quick to make. It makes a great side dish for your Thanksgiving or Christmas dinner but versatile enough for an all year-round dish. We make this every few weeks or so, in fact, I have just baked the squash last night, placed it in the fridge and now I know I can make a great side dish to our dinner in a matter of minutes!
So that's why I was reminded to share this recipe here with you. (If you're a regular visitor to the blog, you've probably seen it in my Thanksgiving recipe eBook – but it has not been live on the blog where it has easier access and a chance for you to share it with your friends on Facebook and/or Pinterest ;)
Spaghetti Squash is this amazing squash variety that when baked, its inner flesh falls away in strands like spaghetti with just a slight pull of a fork. Amazing! ;)
It makes a great naturally gluten-free variation to spaghetti and it's super healthy!
Nutrition of Spaghetti Squash:
Beta-Carotene
Folic Acid
Potassium
Vitamin A
Calcium
low in calories (42 cal per 1 cup)


.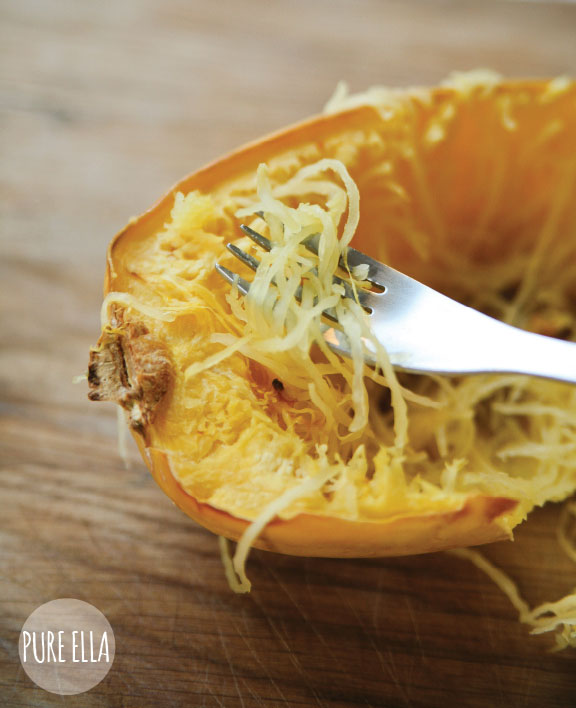 SPAGHETTI SQUASH WITH TOASTED PINE NUTS
gluten free, dairy free, vegan, paleo, low carb
Ingredients :
1 large Spaghetti Squash (that's the real name of this squash here in Canada, but it may also be called Vegetable Spaghetti or Noodle Squash)
pint of organic cherry tomatoes, halved
1 large organic cucumber, cubed
1/4 medium red onion, chopped fine
juice of 1/2 lemon
1/4 cup olive oil
1 tbsp celery seeds
2 tsp sea salt
fresh cracked pepper
1/2 cup pine nuts, toasted
Directions :
Squash:
1. Rinse and dry the spaghetti squash.
2. Cut in half lengthwise, scoop out the seeds and rub with olive oil.
3. Place on a baking sheet and bake at 350 F for 30-45 minutes.
4. Using a fork, scrape the spaghetti strings out completely leaving only the skin.
Toasting the Pine Nuts:
5. Place the pine nuts on a baking dish on parchment paper and toast them lightly in the oven at 200 F for 5 minutes or until golden brown. Toss them half way through baking at about 2 minutes. Be careful not to burn them as they brown really quick.
6. Place the spaghetti squash strings in a large bowl, toss with all the veggies, lemon juice, olive oil and seasoning. Top with toasted pine nuts just before serving.
This is a favourite dish around here especially around the fall months, but we really enjoy it year-round and it's made it's way onto our summer bbq table (just without the toasted pine nuts) that ingredient makes it great for the fall.
If you still haven't discovered how fantastic Spaghetti Squash is – than you must try it!
I like to bake it the night before so that I have a quick lunch or dinner made up the next day.
For lunch, like to add beans or lentils to this recipe and have a complete meal with protein. Or for dinner, it makes a great side dish that's naturally gluten-free and vegan and allergy friendly (just skip the pine nuts if there are tree nut allergies).
Have you tried Spaghetti Squash? How do you like to eat it?