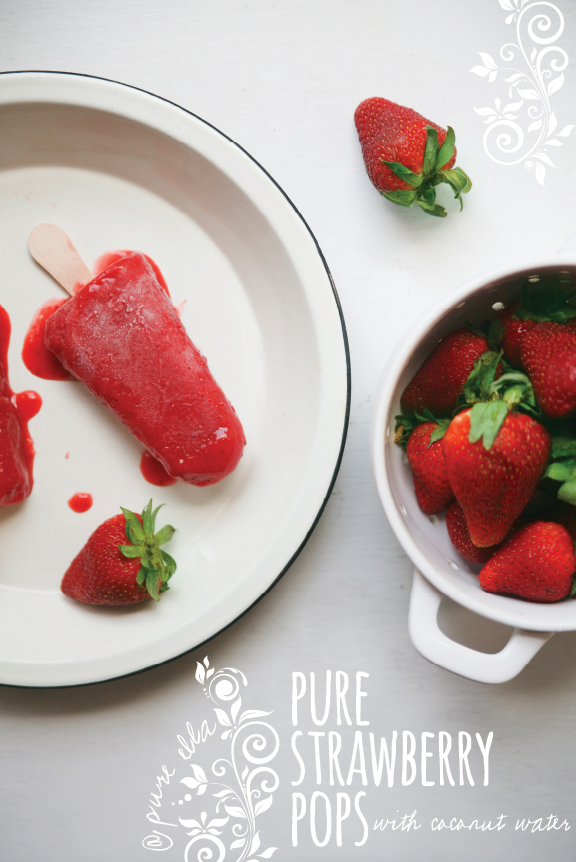 Oh Summer, we love you! And we love the sunshine, bright and hot. And we love sandals and flowy summer dresses and sun hats and pool time. I can't get enough of these beautiful days… for someone who lives in Canada, I know these days are numbered. It doesn't last forever and so we completely embrace it fully with big happy melted-strawberry pop faces all smiling wide ;)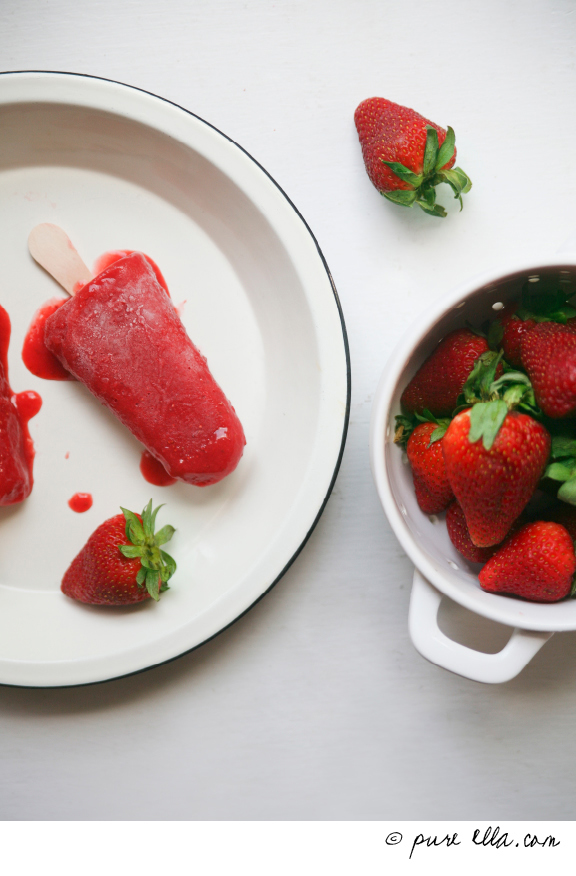 So of course, you might figure, we love our fresh fruit pops! The perfect way to cool off from this sweet sweet summertime… so of course we also love the fresh abundance of fresh local fruits and veggies…. especially yummy berries and strawberries!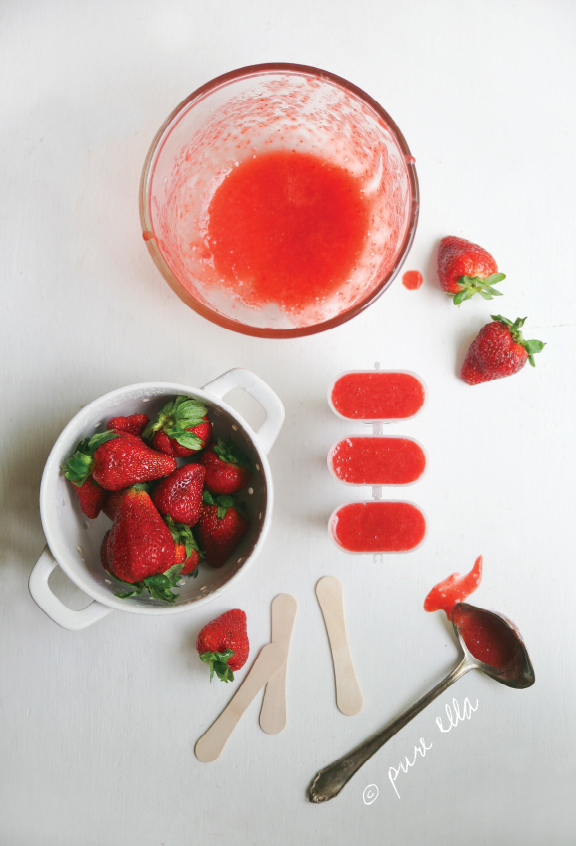 Here's how you can enjoy this sweet treat – it's quick and super easy! I get a kid to do it. (well, some of it – of course not the blending part)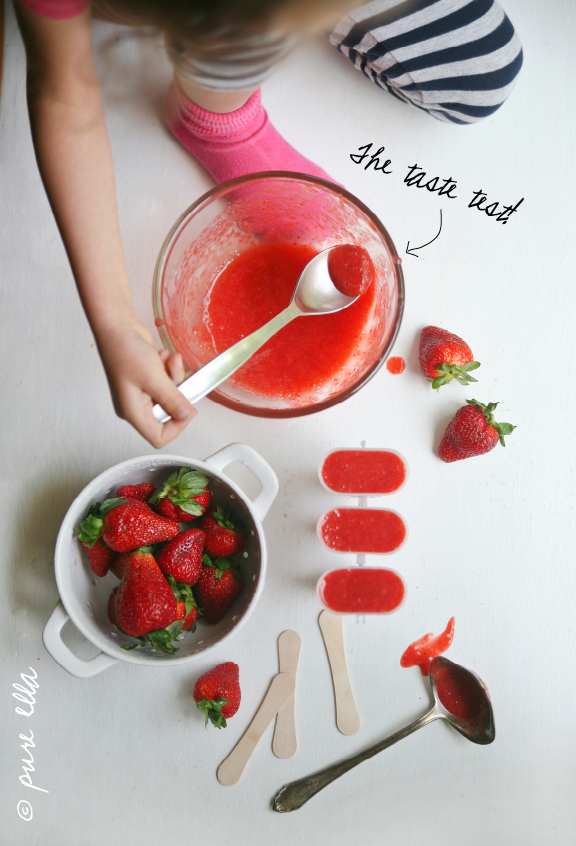 PURE STRAWBERRY POPS
all-natural dairy-free fruit pops
Ingredients :
1 pint of organic strawberries
1 cup of coconut water
2 tablespoons of liquid organic sweetener, like agave or honey (if not a strict vegan) (optional)
Directions :
Clean the strawberries and remove the stems. Puree all the ingredients in a blender. Add the sweetener at the end, and before you do, turn off the blender and taste the mixture. It may be sweet enough for you. If so, you can omit the extra sugar as there's plenty of natural sugar in the strawberries.
Then, pour the strawberry puree into ice cream moulds, cover up and freeze overnight or about 4-6 hours minimum. (Yes, this is a big lesson in patience too! ;))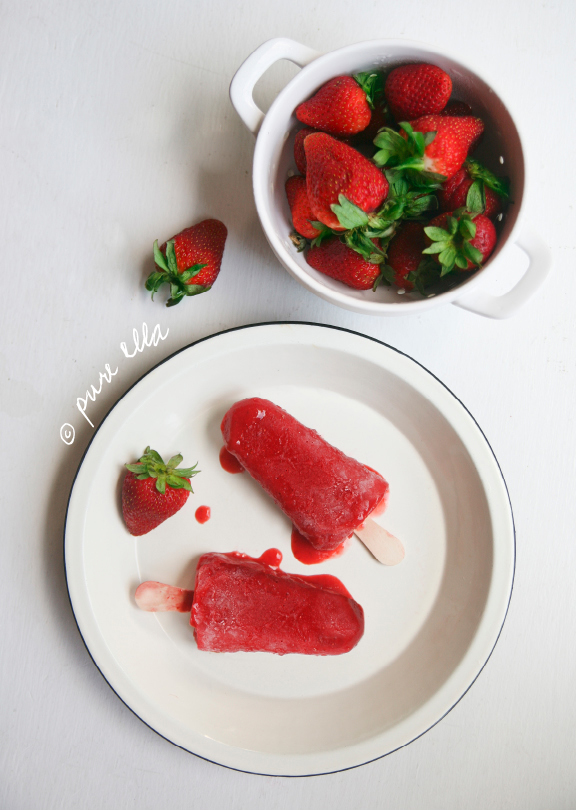 Buy organic strawberries too – not only are they safer to eat because you don't consume all the toxic chemicals that are found on conventional fruit, but organic strawberries also taste so much better and actually so much sweeter. Yum!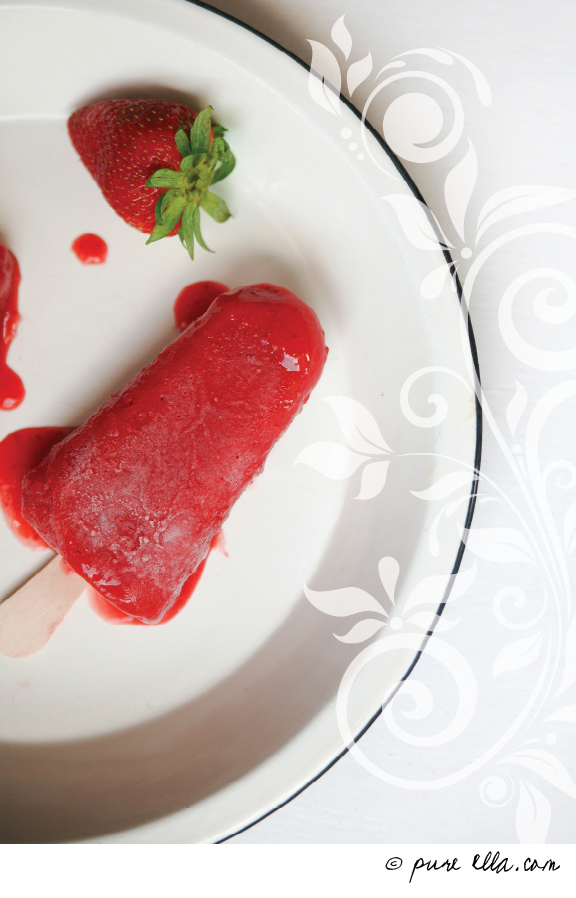 Me and my girl – the official taste tester for my recipes (especially when there's sweet stuff – of course I don't have to beg ;)) loves making ice cream pops with me! They are so easy and simple to make, and it's pure joy to see your own *pure* ingredients go into them ;)
This is also a great lesson in patience for kids and adults alike! The hardest part here is really waiting for them to set. So gather up the ingredients and some kiddos to help you out and I hope you enjoy ;)
Happy Summer everyone! The. days. are. numbered. (just a reminder) eek! ;)