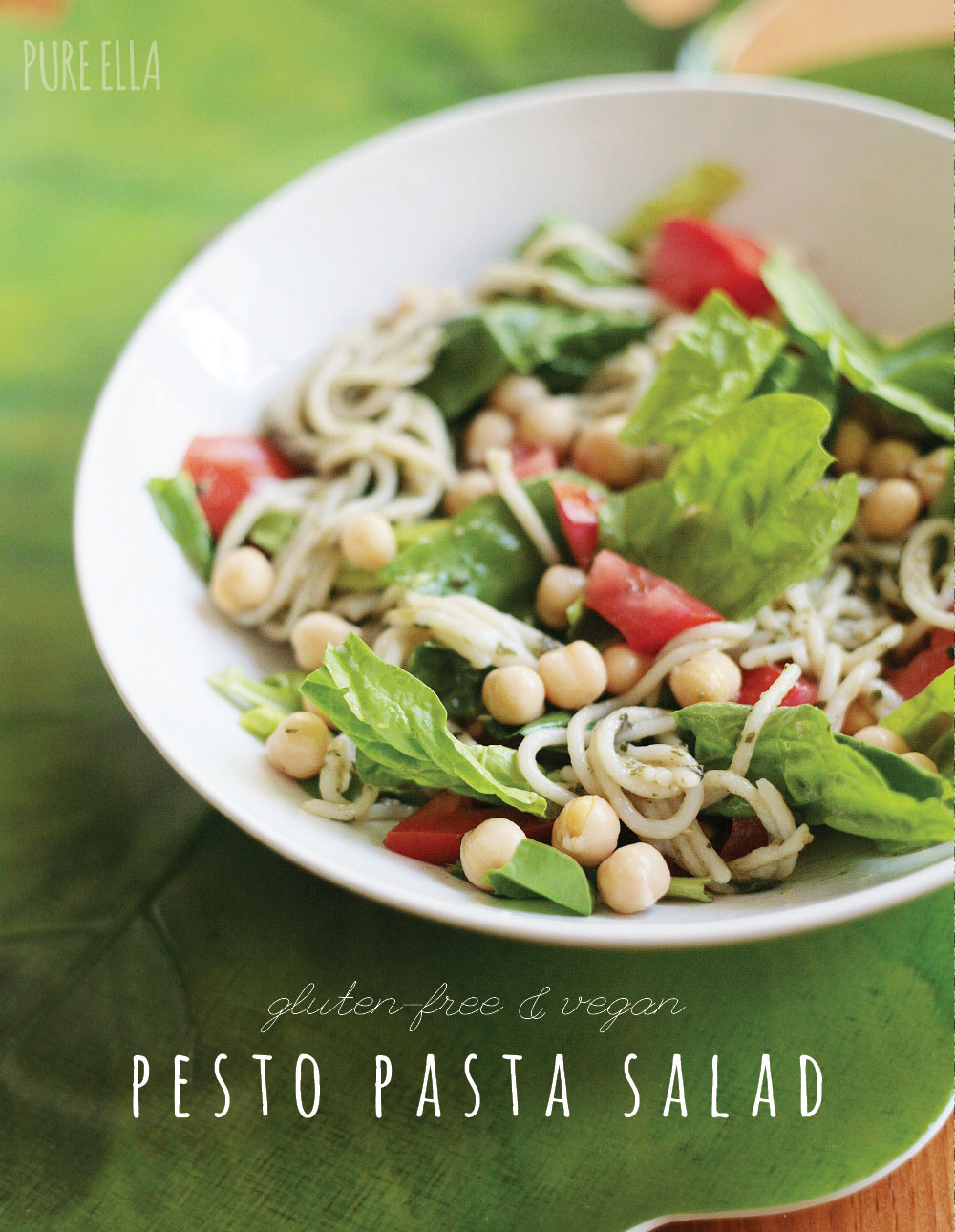 Now that summer days are here… I don't want to stand by the stove and heat up the house for too long – or even at all. So today, I'm simplifying things with a lighter meal with less cooking time and an easy to prepare recipe – but one that looks and tastes so good! Best of all, it's an easy gluten-free and vegan dish that's very healthy too. Even my kiddo loves dishes like this ;)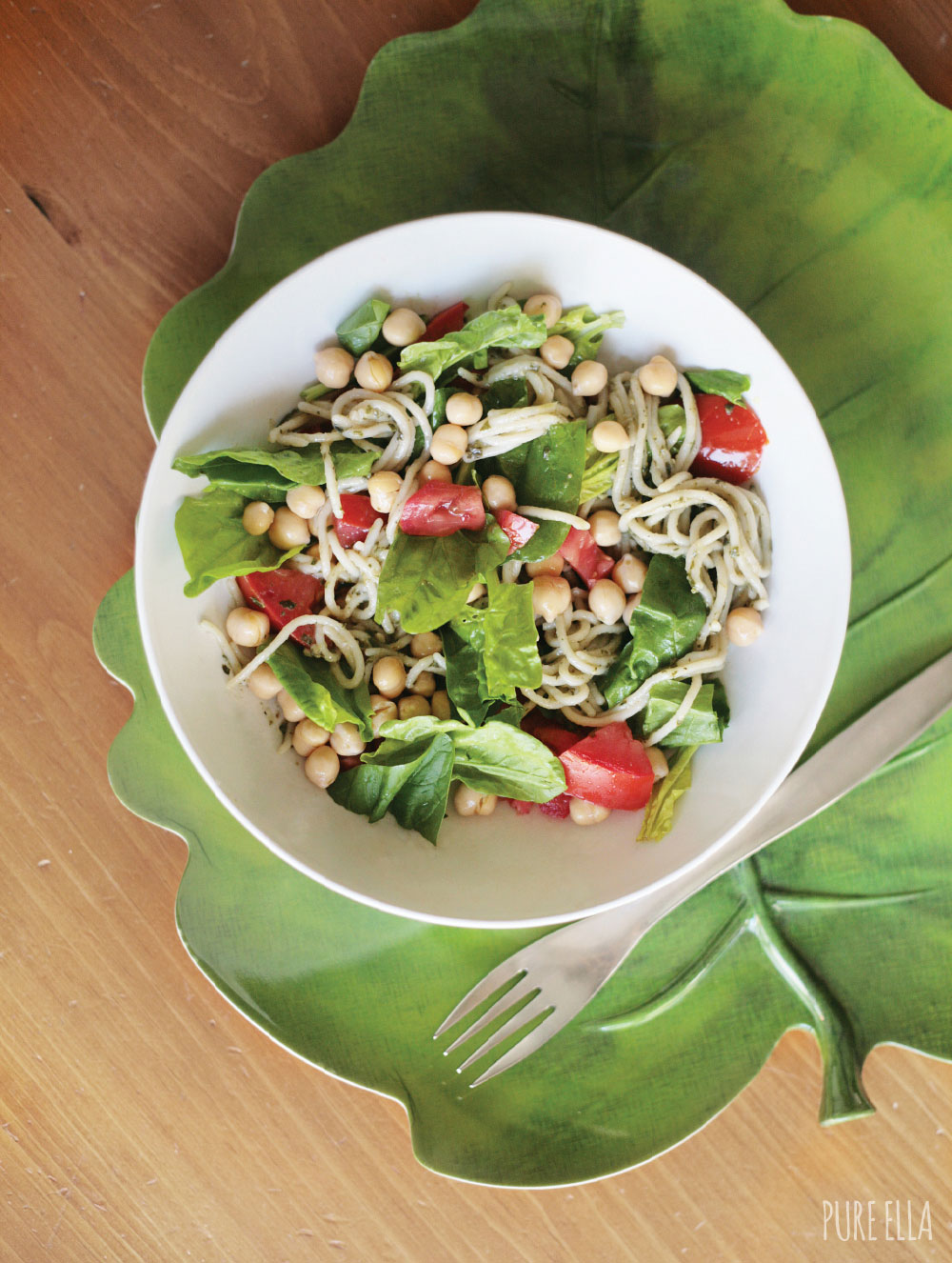 Pesto Pasta Salad
{gluten-free and vegan recipe}
Ingredients :
brown rice pasta (spaghetti style), cooked and cooled slightly
package of vegan organic pesto (store bought or homemade)
can of chick peas
2 fresh tomatoes, diced
bunch of baby spinach
bit of red onion, finely chopped
a drizzle of extra virgin olive oil
sea salt and pepper to taste
Directions :
Cook the pasta as per directions on the package. As it's cooking, prepare the other ingredients.
Toss the cooked and slightly cooled pasta with the pesto sauce (you don't want the pasta too hot or the pesto sauce will darken), and then stir in the rest of the ingredients. Full prep time approx. 15 min.
Quick and Easy. If you prep your vegetables while the pasta is cooking, you will be all ready to just toss up and serve. Run the hot pasta under cold water to speed up cooling time. Super quick and easy especially if you use store-bought pesto sauce or use up one that you may already have made previously. Making your own pesto sauce though, is really easy! See a delicious Vegan Pesto Recipe below:
Vegan Pesto
Ingredients :
2 cups basil and parsley, washed, loosely packed with stems
1/2 cup shelled pecans
2 cloves fresh garlic
1/4 to 1/2 cup good tasting extra virgin olive oil, as needed
sea salt, to taste
Directions :
Place all ingredients in a food processor and blend on high for a couple of minutes. Add to the salad. If storing, place in an airtight container and drizzle the top with extra EVOO so the top doesn't darken. Keep in the refrigerator up to 1 week or freeze for up to 3 months.
I hope you are liking these recipes ;)
Stay Happy & Healthy. Ella.
Summary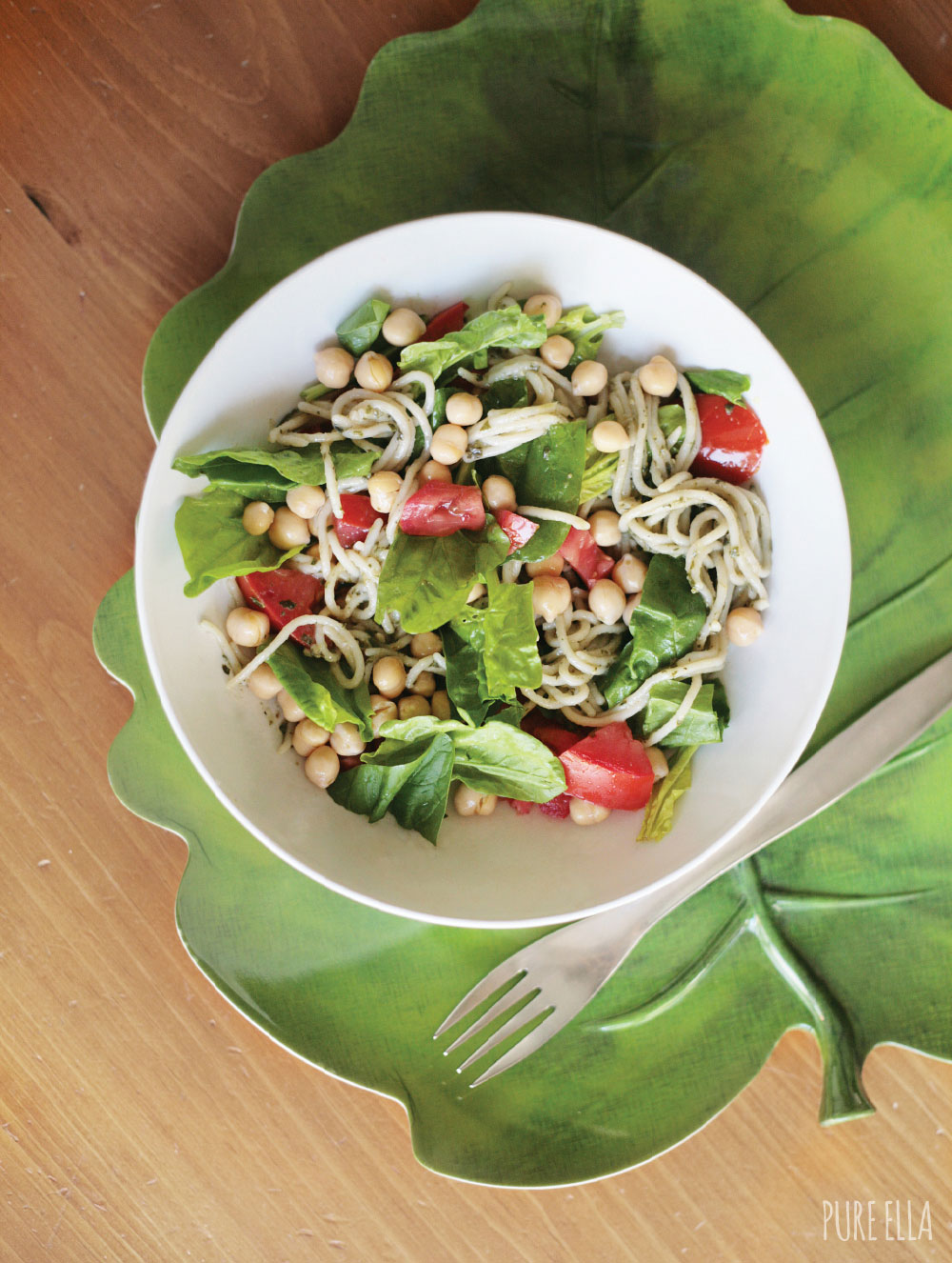 Recipe Name
Spring Pasta Salad with Easy Pesto
Published On
Preparation Time
Cook Time
Total Time