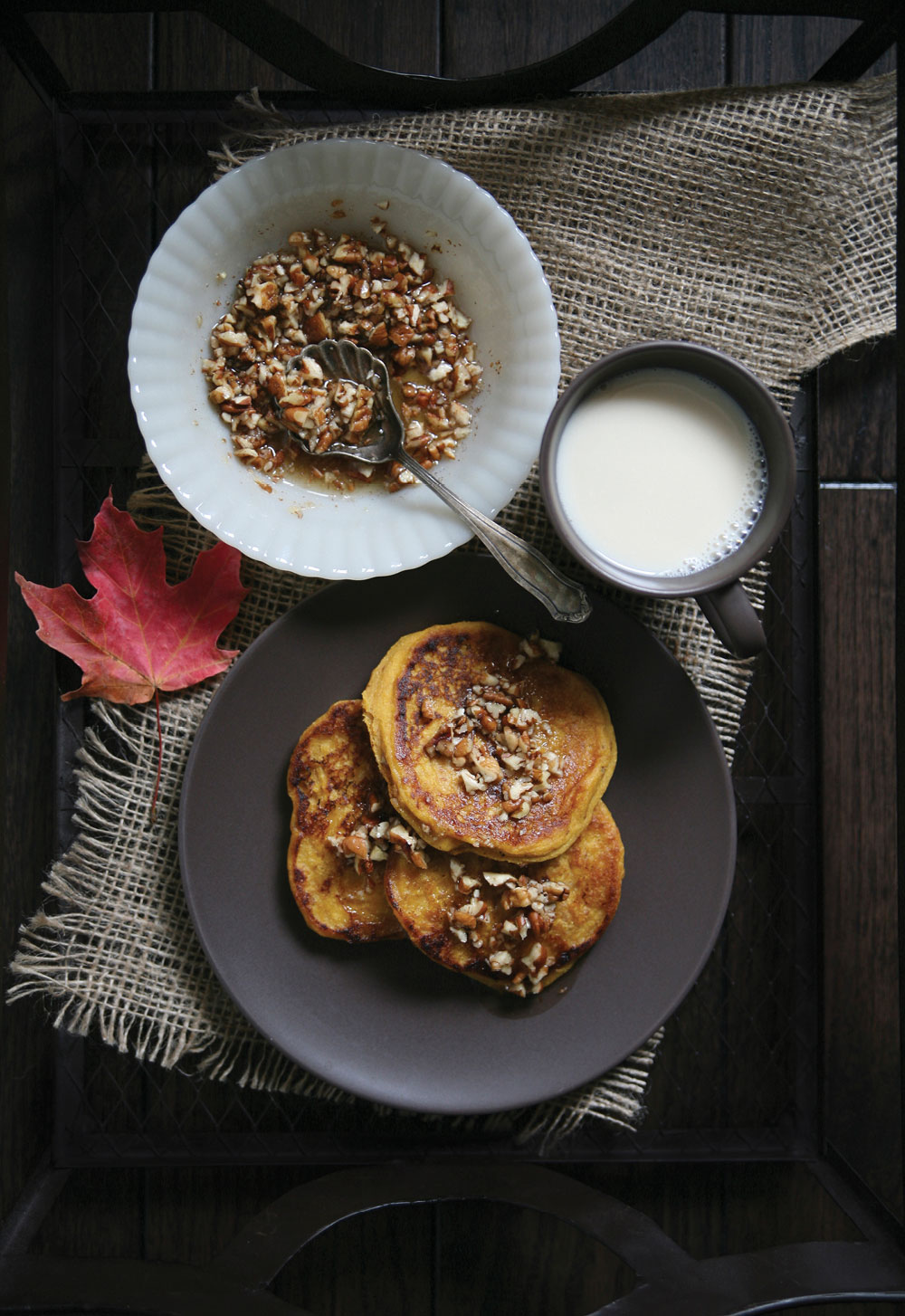 Fall is upon us and (although I'm often in denial about this season coming up – because I love summer so much! ;)) I am now embracing it fully and can't imagine living without the change of seasons… and one of the best reasons to fall in love with this season more is that you get to eat these Gluten-Free and Vegan Pumpkin Pancakes!
This healthy pumpkin pancake recipe was inspired by my another oldie-but-goodie Pumpkin Pancake Recipe that I did ages ago – and I remembered how amazing pumpkin puree was in pancakes! So good – in fact, I used pumpkin puree throughout the year and not just in the fall. Now I always just keep a can of organic pumpkin puree in the pantry… because, you know, you never know when you're going to need that special secret ingredient! :)
These pancakes are now my new favourite. The spices, the bit of pumpkin, the addition of pecans and maple syrup… all these flavours mingle so well together – it's a perfectly delicious way to start a beautiful autumn day cozied up with your favourite tea, coffee or in my case, a delicious cup of warm almond milk… (+ someone to cuddle, like my Moxie is always the best way to start the day…) :)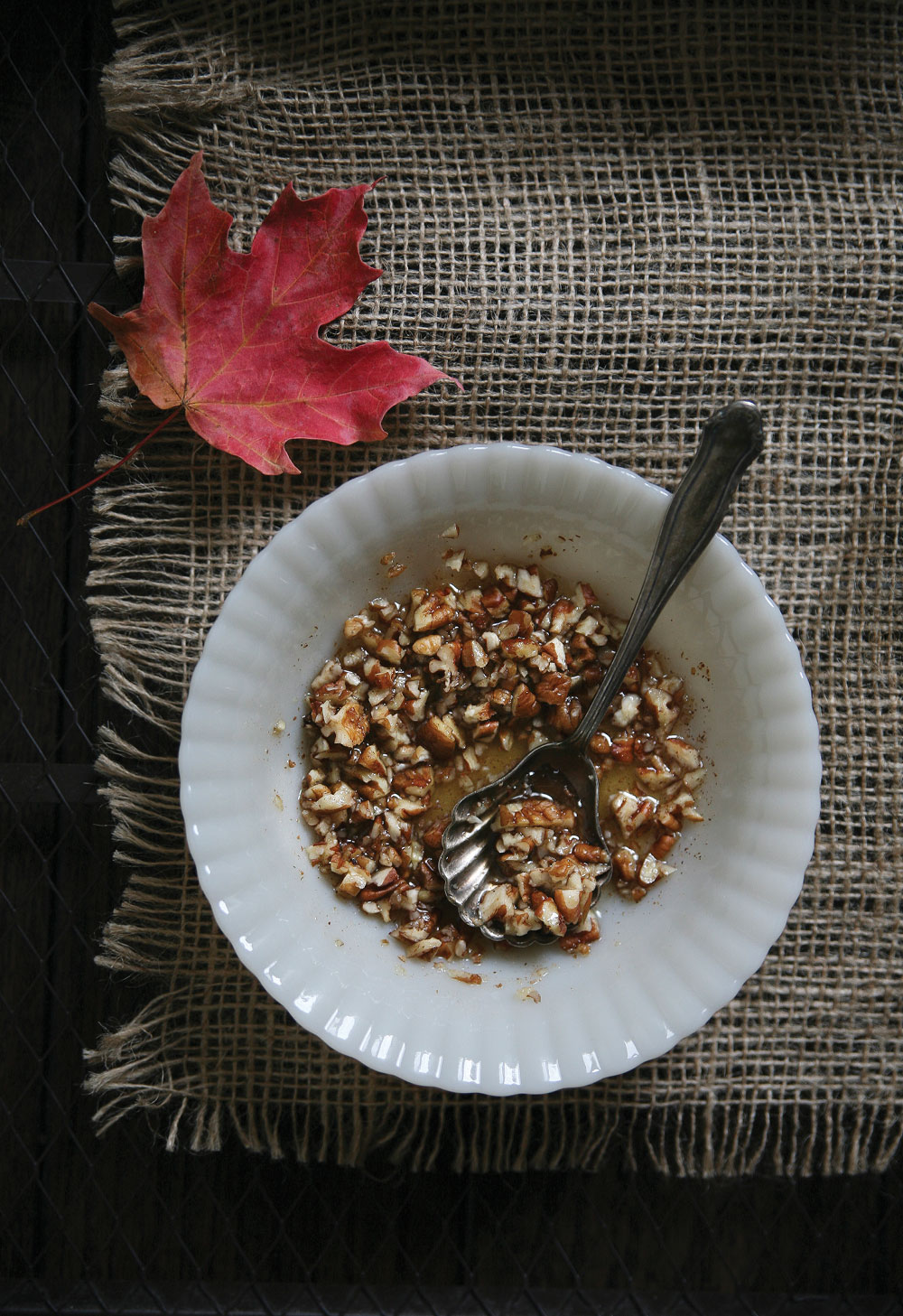 Vegan Pumpkin Pancakes
gluten-free, dairy-free, egg-free, vegan, soy-free
Ingredients:
1 1/2 cups all-purpose gluten-free flour mix or light spelt flour*
1/2 tsp baking soda
2 tsp baking powder
1/2 tsp fine sea salt
1/2 tsp of each cinnamon, ground ginger & ground nutmeg
1/4 tsp ground cloves
1/3 cup pumpkin purée
2 tbsp light grape seed or coconut oil, melted + extra for cooking
2 tbsp maple syrup or coconut nectar
1 1/2 cup almond milk
Add in : 1/4 cup finely chopped pecans, soaked in hot water then drained well
*OR I also used a mix of these flours and the results were wonderful (but I just know how people hate long ingredient lists ;)):
1/2 cup rice flour*
1/4 cup coconut flour*
1/4 cup quinoa flour*
1/4 cup tapioca starch*
Directions:
First, soak the pecans in hot water for about 30 minutes to soften and remove most of the phytic acid (a toxin) that's naturally found in the skin of the nuts.
Mix all dry ingredients together in a large bowl: flour, baking soda, baking powder, salt and spices
Add in the milk, oil, pumpkin purée and maple syrup. For the smoothest texture, you can mix with an immersion blender to remove all the clumps.
Gently fold in the soaked pecans into the mixture.
Heat a large non-stick pan (cast iron is best) to a medium heat, drizzle in grape seed oil or coconut oil and scoop in 2-3 tablespoons of batter into the pan. Cook for about 2-3 minutes until lightly golden, flip and cook for another 1 ½ minutes.
Serve with the Maple-Caramel Spiced Nut Topping (recipe follows)
Maple-Caramel Roasted Nuts
Ingredients:
1 cup chopped pecans (or a mix of other nuts)
1/2 cup maple syrup
1/2 tsp cinnamon
1/4 tsp ground cloves
Directions:
Chop the nuts.
For best results soak the nuts in hot water for about 30 minutes to soften them and remove the phytic acid that's naturally found on nuts. Once soaked, drain and even pat dry to remove the access water. (But you can skip this step if you're pressed for time).
Heat a non-stick pan and add the nuts to the pan and toss them around on the heat to toast them slightly – this will add a more earthy flavour.
Add the maple syrup, cinnamon and ground cloves.
Stir and allow to simmer over medium-low heat for a few minute while stirring often so the syrup won't burn. The syrup should thicken slightly and become more 'caramel' in consistency.
Remove from heat and serve over pancakes or transfer onto a dish and set aside for topping another dessert!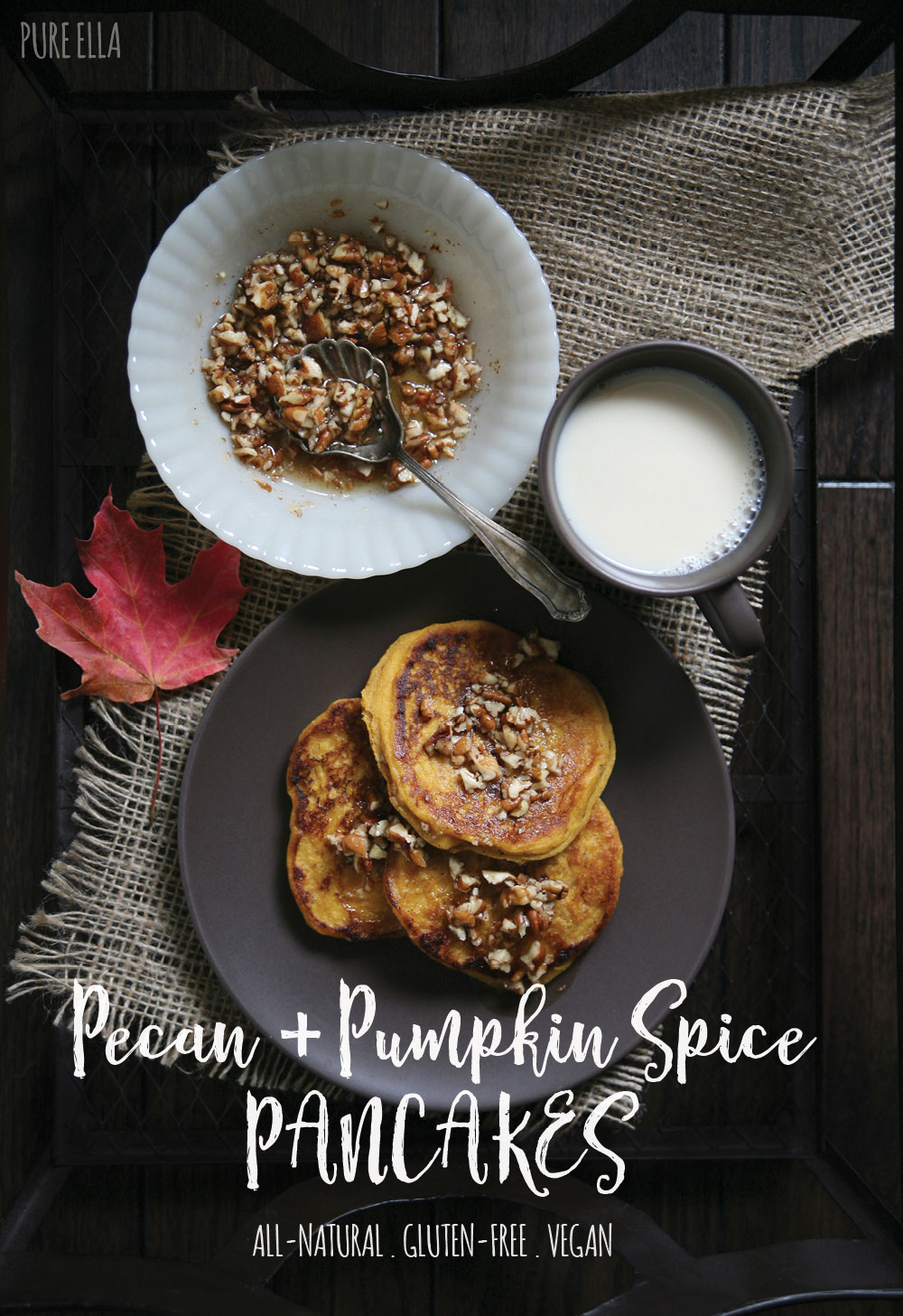 I hope you enjoy these soon! These are so delicious and so aromatic – they'll make your morning really special!
Also, the addition of pumpkin puree makes these so soft and delicate – it's my favourite add-in to everything nowadays!
These pancakes are super yummy and although I don't recommend a sweet treat for breakfast ~ I think these on a weekend are fine! (with that said, yes, I definitely don't recommend sweet breakfasts everyday – if that's what you're into (or your kids are into) – then it's time to cut the sugar, sugar! :)
These contain a bit of added sugar but it's an all natural unrefined sugar such as maple syrup (or coconut syrup which is even better for you). This is way better than if you added 2 tablespoons of white sugar into the batter – trust me!
I've added protein to these pancakes ! The addition of nuts into the batter and then to the toppings adds as much as 6 grams of protein into the pancake serving! Also, I originally used quinoa flour in this recipe which also adds more protein. If you want to take this further, go ahead and add 1/4 cup of a neutral-tasting protein powder into the batter and make these really hearty for breakfast especially if you have a busy/ active morning ahead.
Try not to leave a bottle of the maple syrup (or worse Aunt Jemima) or other sweetener on the table. Easy access makes you reach for it that much faster and this could really load up on the sugar calories.
Drink your tea, coffee or milk unsweetened. This will balance the flavours in your mouth nicely and cut down on the total sugar calories consumed in one sitting. This is key! It's the quantity that matters A LOT too!!
Enjoy! A nice and delicious and sweet breakfast like this should never make you feel guilty about what you eat ~ enjoy, smile and look forward to another beautiful day! An autumnal walk after breakfast sounds pretty good after this… I think :) (ps. this will also reduce your blood sugar intake and energize you! :)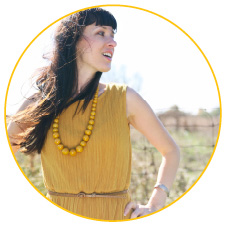 Ella Leché
is a cookbook author ('
Cut the Sugar
'), recipe developer, and photographer/stylist behind Pure Ella; where she shares delicious and healthy recipes. Eating PURE is clean ingredients, whole foods, plant-based nourishment and delicious desserts – with quality ingredients and sweeteners so they're treats with benefits so you won't have to feel deprived or restricted to eat healthier.
Thank YOU for being here!
Follow on social media for daily health & happiness inspiration:

ps. don't forget to share your Pure Ella (PE) recipe creations by tagging them #pureella and
@pure_ella
on Instagram – we repost our favourite photos!