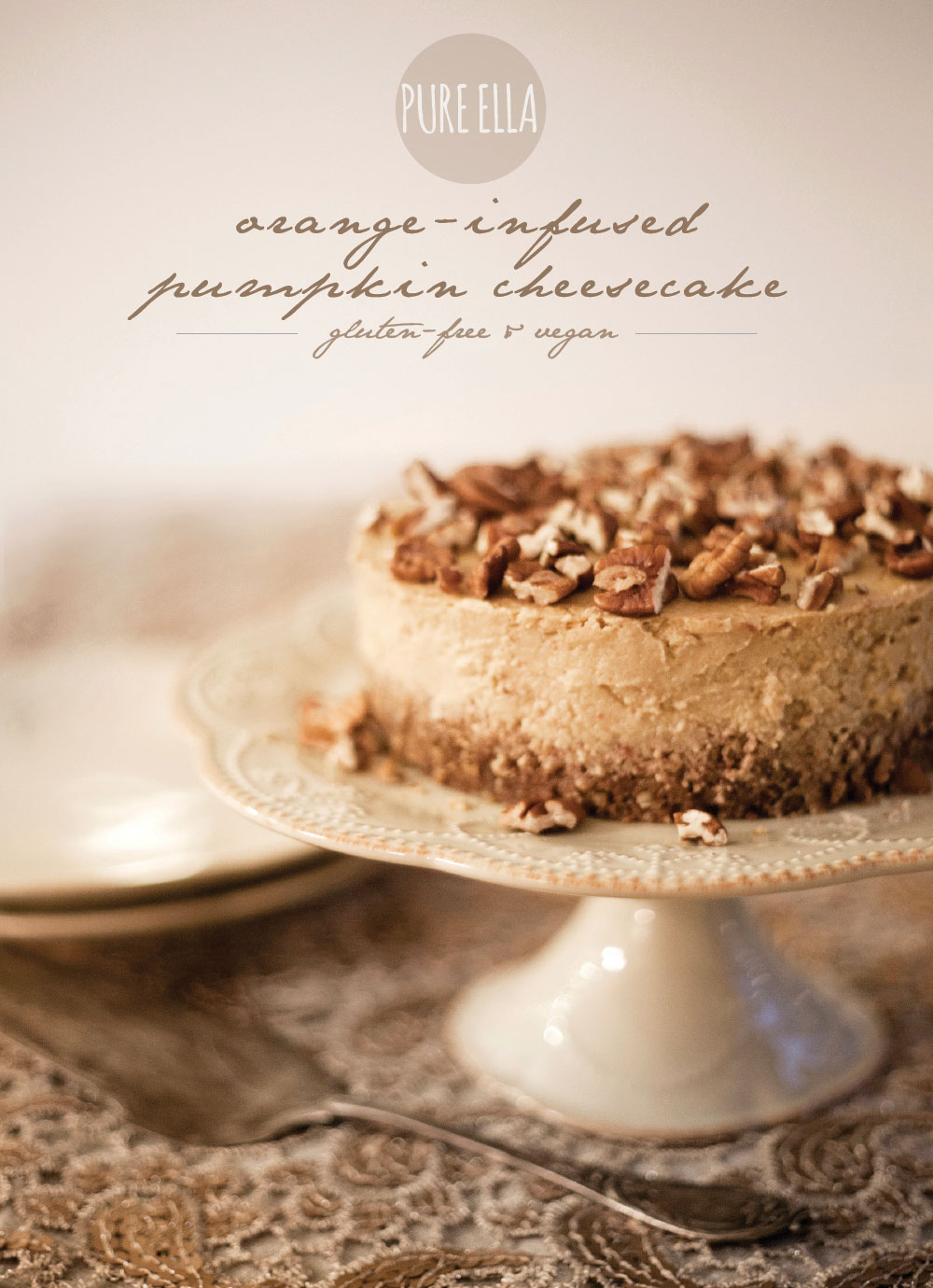 This beautiful Orange-Infused Pumpkin Cheesecake is entirely dairy free, egg free and gluten free – yes! A rich vegan Cheesecake with the perfect aroma and taste of the Holiday Season. But in all honesty, this is a dessert I would even have on a Tuesday morning ~ it's made with such great ingredients – there's no guilt. (or just very little ;)
So here she is, the beautiful showpiece for your dessert table:
ORANGE-INFUSED PUMPKIN CHEESECAKE
Crust Ingredients :
1 cup almonds
½ cup pecans
½ packed cup medjool dates, pitted, (6 lrg)
1 tsp cinnamon
1 tsp ginger powder
¼ tsp ground cloves
1 cup puffed quinoa or rice cereal
zest of ½ orange
1tsp vanilla extract
Filling:
In a sauce pan:
1 cup So Delicious original coconut milk
2 tablespoons agar flakes or powder*
1 cup organic brown sugar
In a food processor:
1 cup cashews, soaked for 1 hr
1 package of Organic regular-firm tofu, leave at room temperature for 20 minutes
¼ cup maple syrup
1 tablespoon potato starch
juice of ½ orange
1 teaspoon orange zest
1 cup organic pumpkin puree (fresh or canned)
(fresh pumpkin puree will give you a more subtle pumpkin taste where as the canned will have a heightened pumpkin flavour)
Directions:
Start with stovetop ingredients as this mixture needs to cool before adding it to the rest of the batter.
To make the crust:
1. In a food processor, pulse almonds and pecans until crumbs form.
2. Add in the other ingredients except for the puffed cereal. Mix some more checking with your fingers if the mixture sticks together, if not add 1 tsp water, pulse more and check again.
3. Add in puffed cereal and mix in for a few seconds, scooping down the sides to blend in well.
4. Press into an 8"d spring form lined with parchment paper.
For the filling:
On the stovetop:
1. In a small saucepan, heat the coconut milk with brown sugar and agar mixed in well.
2. Slowly bring to a boil while continuously whisking until sugar and agar flakes are dissolved.
3. Remove from heat once it comes to a boil and set aside to cool to a lukewarm/ slightly cooled mixture.
In a food processor:
1. Pulse cashews, tofu, and all other ingredients.
2. Slowly add in the 'stovetop' liquid mixture, a few tablespoons at a time and pulse in between.
3. Pour over the crust.
4. Refrigerate for at lease 4 hours to set before serving. Enjoy!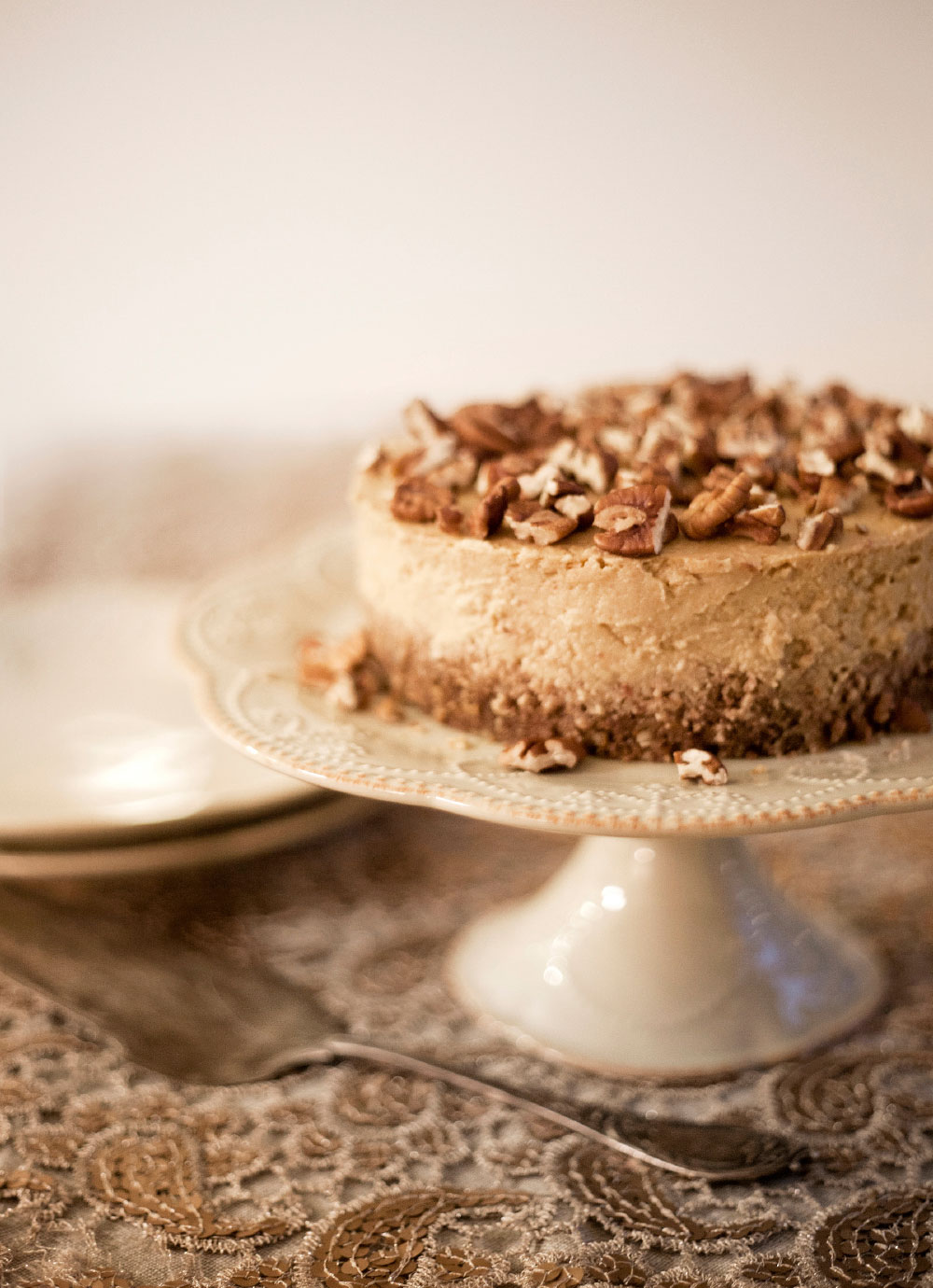 I am sure you will love this cake. So many of my family members and a few friends tried it and loved it – even non-vegans couldn't believe it was dairy and egg free!
Are you new to Vegan Baking?
If you're new to vegan baking – the ingredient *agar* may be new to you…
Agar is a gelatinous substance obtained from various kinds of red seaweed and is used in baking and cooking as a thickening agent. So it's actually seaweed – and seaweed is very healthy and great for you – which would replace gelatin (an animal by-product) for vegans in a lot of recipes that need a firming or thickening.
In this Vegan Cheesecake for example, I wanted to have a spongy and creamy texture that would hold up the cake out of the pan firmly. The Agar flakes (or powder) took care of that very well. Even if you're not Vegan but want to add a healthier touch to your baking or cooking – using agar in place of gelatin is a great step.
Agar shouldn't be that hard for you to find. Most asian food stores or organic food stores would carry it. Or you can order online. A small package will last you a long time as usually just a couple of tablespoons goes into a recipe.
ps. Follow Pure Ella on Facebook and Twitter for more recipes and new eBook offers!
♥ Ella