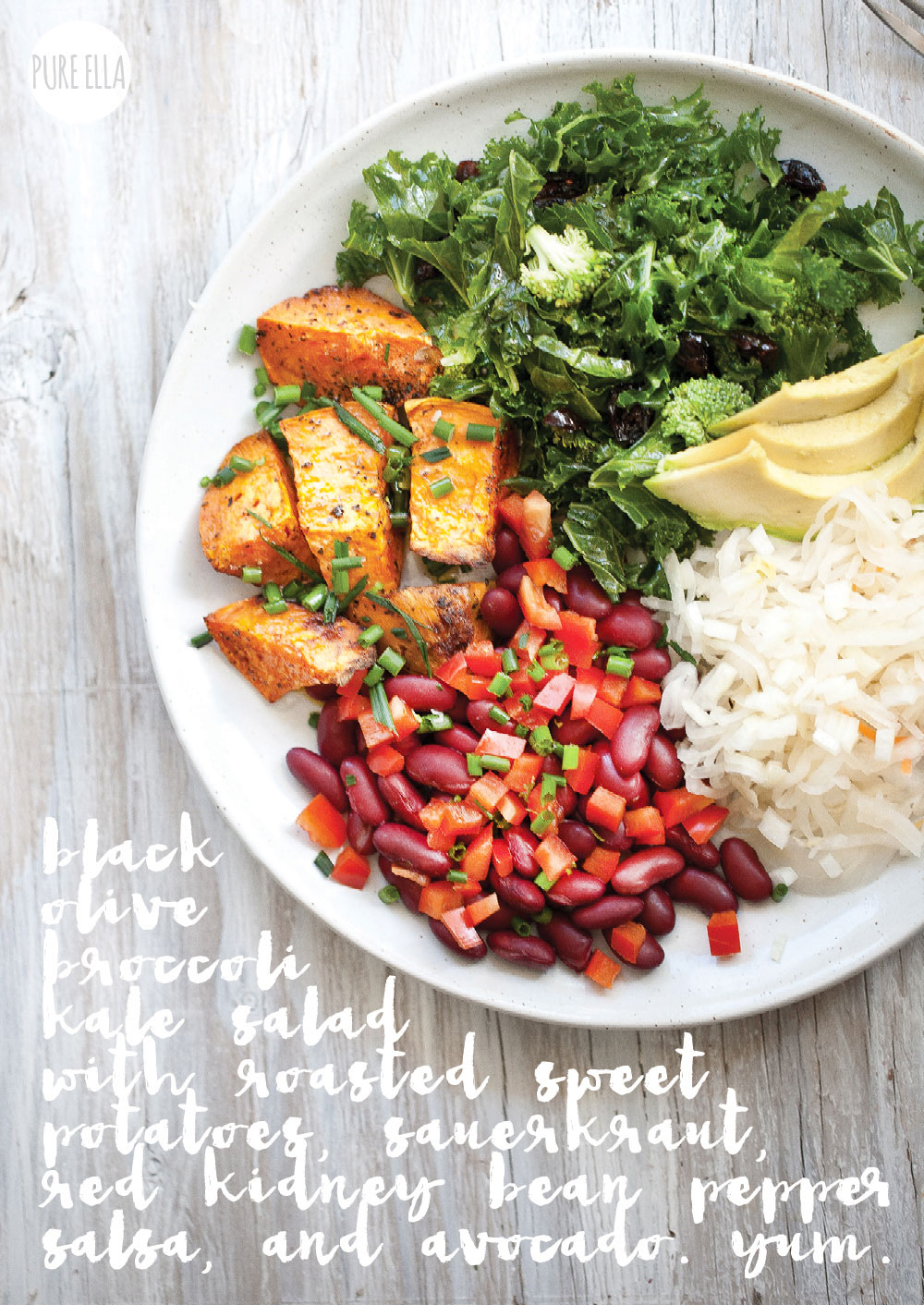 This 'Nourish Bowl' with roasted sweet potatoes, sauerkraut, red kidney beans with red pepper 'salsa', avocado and the pièce de résistance The Black Olive Kale Broccoli Salad – is so perfectly delicious and healthy!
Isn't it just the best when you get a great meal right in front of you? It gets even better when that dinner is just thrown together and delicious… And when all good and good-for-you ingredients combined create a delicious satisfying dinner. Yess!!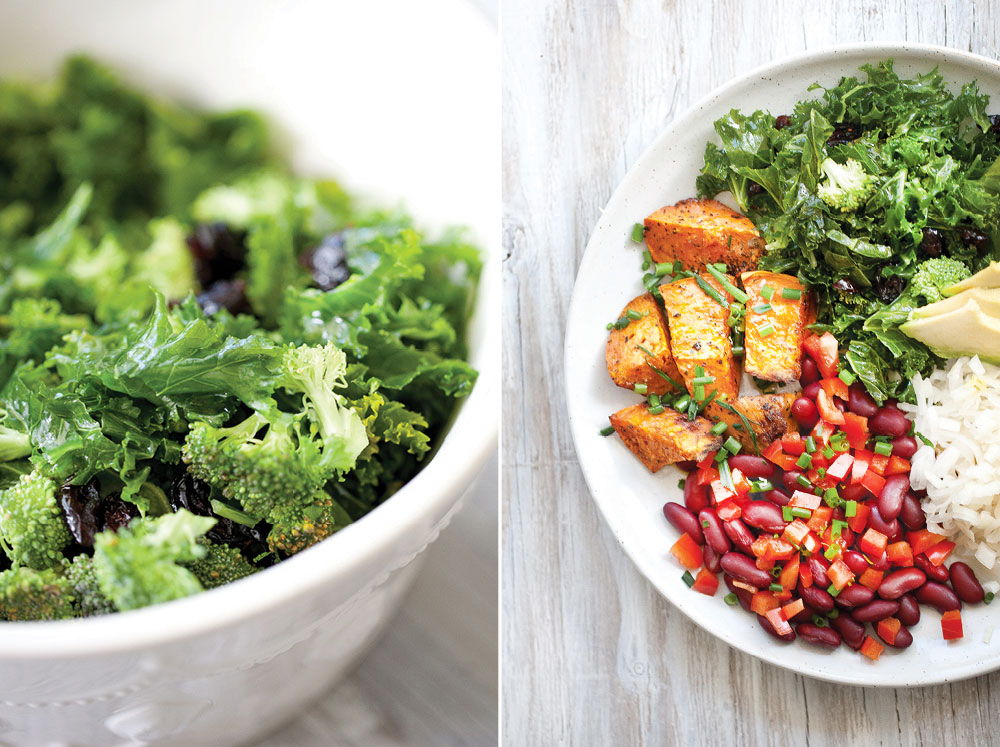 So this is my new favourite Kale and Broccoli Salad – the sky is the limit when it comes to kale salads but this is my newest favourte way to eat kale! This was also just a happy way to use up my jar of black olives and when combined with a little sweetness of the dried cranberries it was just a win win.
I hope you will enjoy this delicious healthy vegan kale salad soon!! Makes a great leftover salad as kale is a tough green and can withstand the test of time even if especially when it's smothered in oil. That's because the kale leaves get softer as they are soaked in oil and become more delicate and more delicious.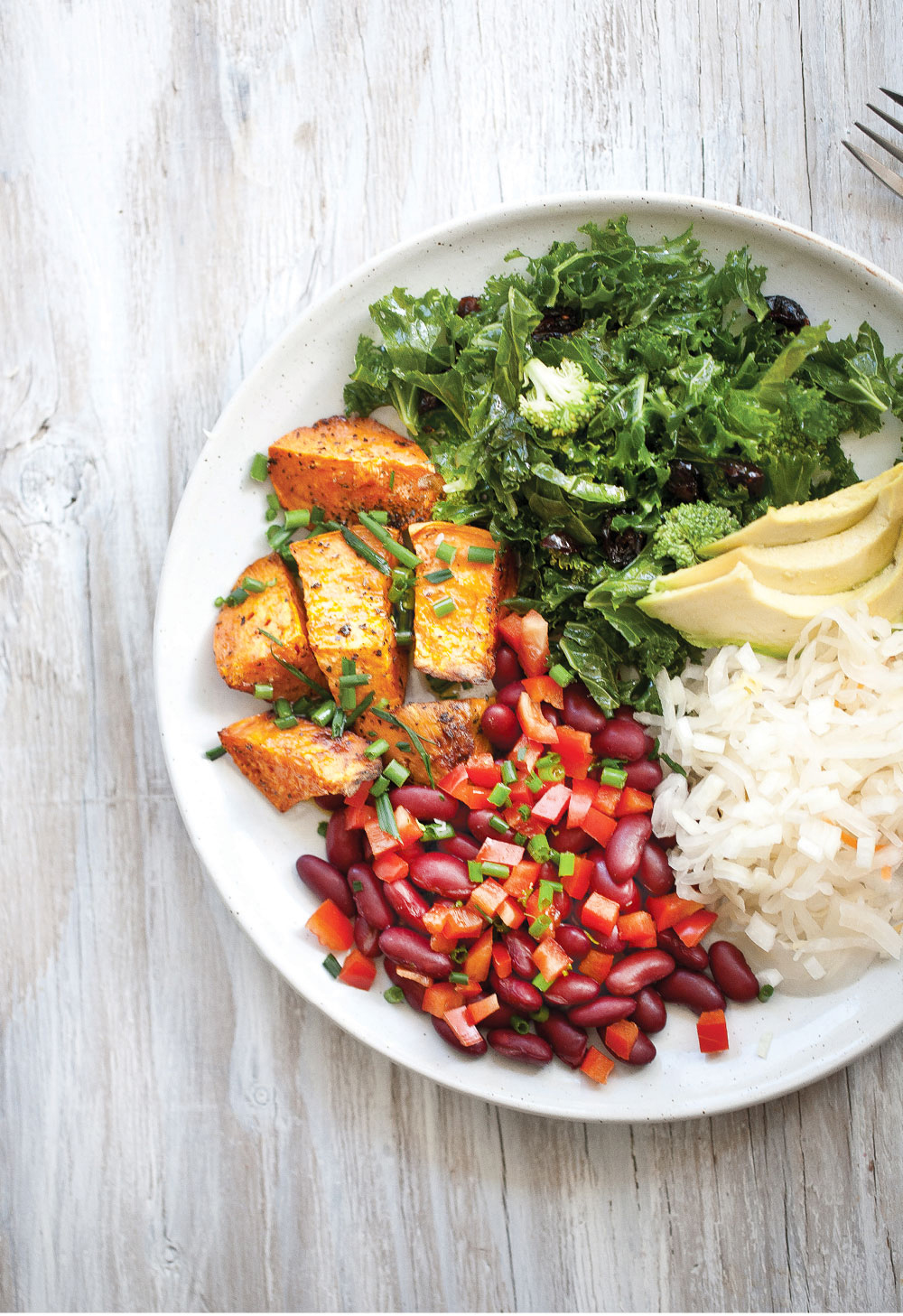 NOURISH BOWL : BLACK OLIVE, KALE BROCCOLI SALAD
2016-02-24 10:27:10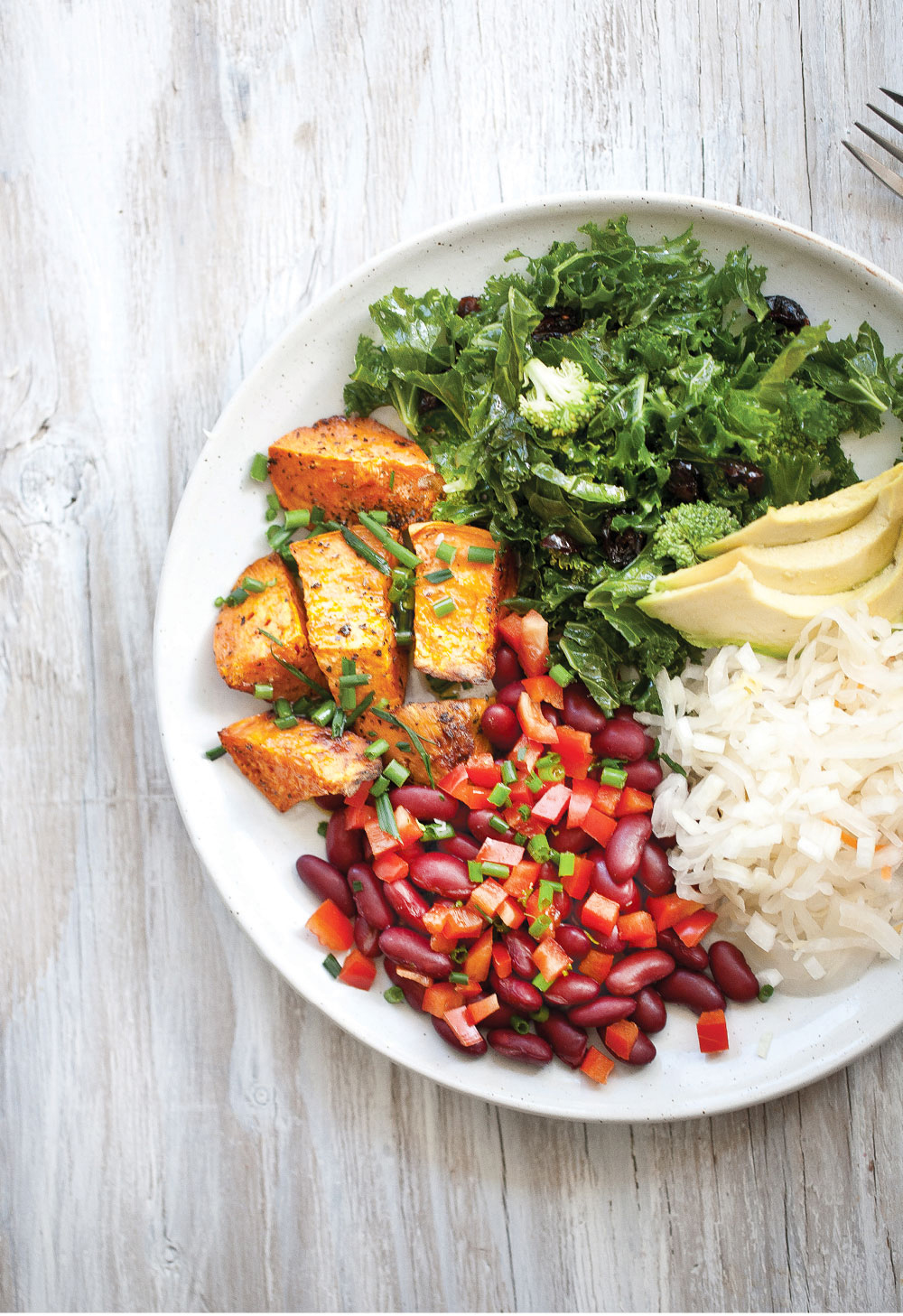 Serves 4
healthy, easy and makes great leftovers gluten free, vegan, paleo, sugar free, grain free
Ingredients
bunch of kale (stemmed)
about 1 cup of broccoli crowns, cut into small pieces
1/2 cup black olives, pitted and sliced
1/4 – 1/2 cup dried cranberries or raisins (sulphite-free)
about 1/4 cup olive oil drizzled in
1/2 lemon, squeezed
sea salt and pepper to taste
Instructions
De-stem the kale leaves from the stems and tear into small pieces.
Toss into a large salad bowl, drizzle in olive oil and toss with salad tossers or your hands about 20-30 times. This process massages the kale leaves and softens the kale.
Add the broccoli, olives, dried cranberries, lemon juice and toss to incorporate.
Season to taste.
Notes
Keeps well in the fridge for up to 3 days.
Makes a great side dish or a side salad that's quick, easy and healthy.
Pure Ella https://pureella.com/
To serve as a Vegan Gluten free Nourish Bowl : Roast chunks of sweet potato, combine red kidney beans (rinsed and drained) with chopped red pepper and two tablespoons of olive oil, add sauerkraut, sliced of avocado and top with chives. Enjoy!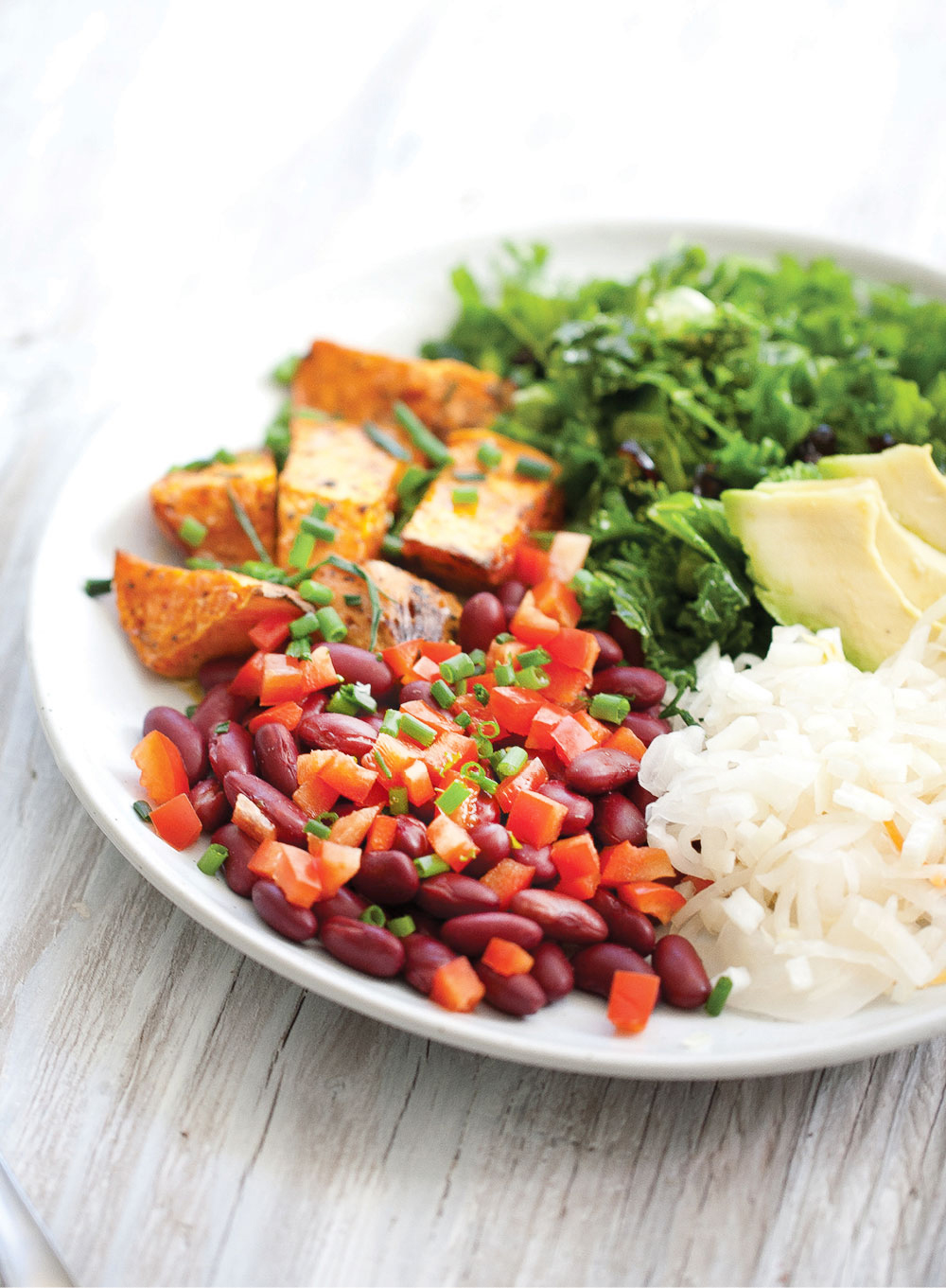 I love it when my healthy lunch or dinner has a lot going on – in fact this is how I usually eat: Simple healthy ingredients. No fuss. Easy and most important clean, all-natural ingredients without any junk, preservatives or artificial colours or flavours in my food. Just pure and healthy AND it's food that makes great leftovers!!
That's why I love this salad – it stays fresh and the oils that are on the kale actually keep softening the leaves so the kale becomes even more delicious. You can only do this with kale though – any other leafy green is so much more delicate and you have to make it daily. So if you LOVE leftovers and may be kind of lazy in the kitchen sometimes (like me ;)) then this kale salad is for you!!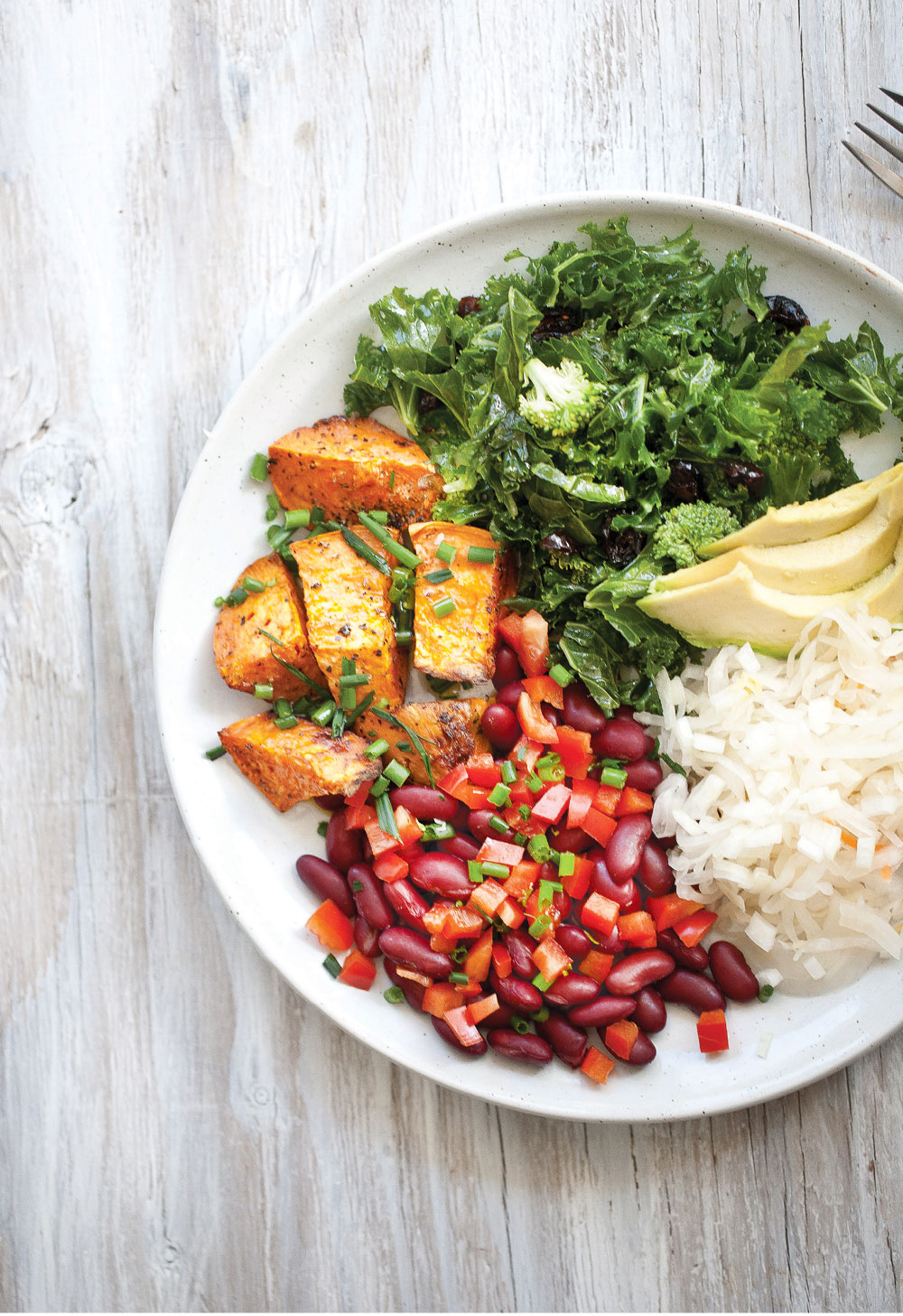 I hope you will love this kale salad and this Nourish Bowl as much as me and my family does! ella
Summary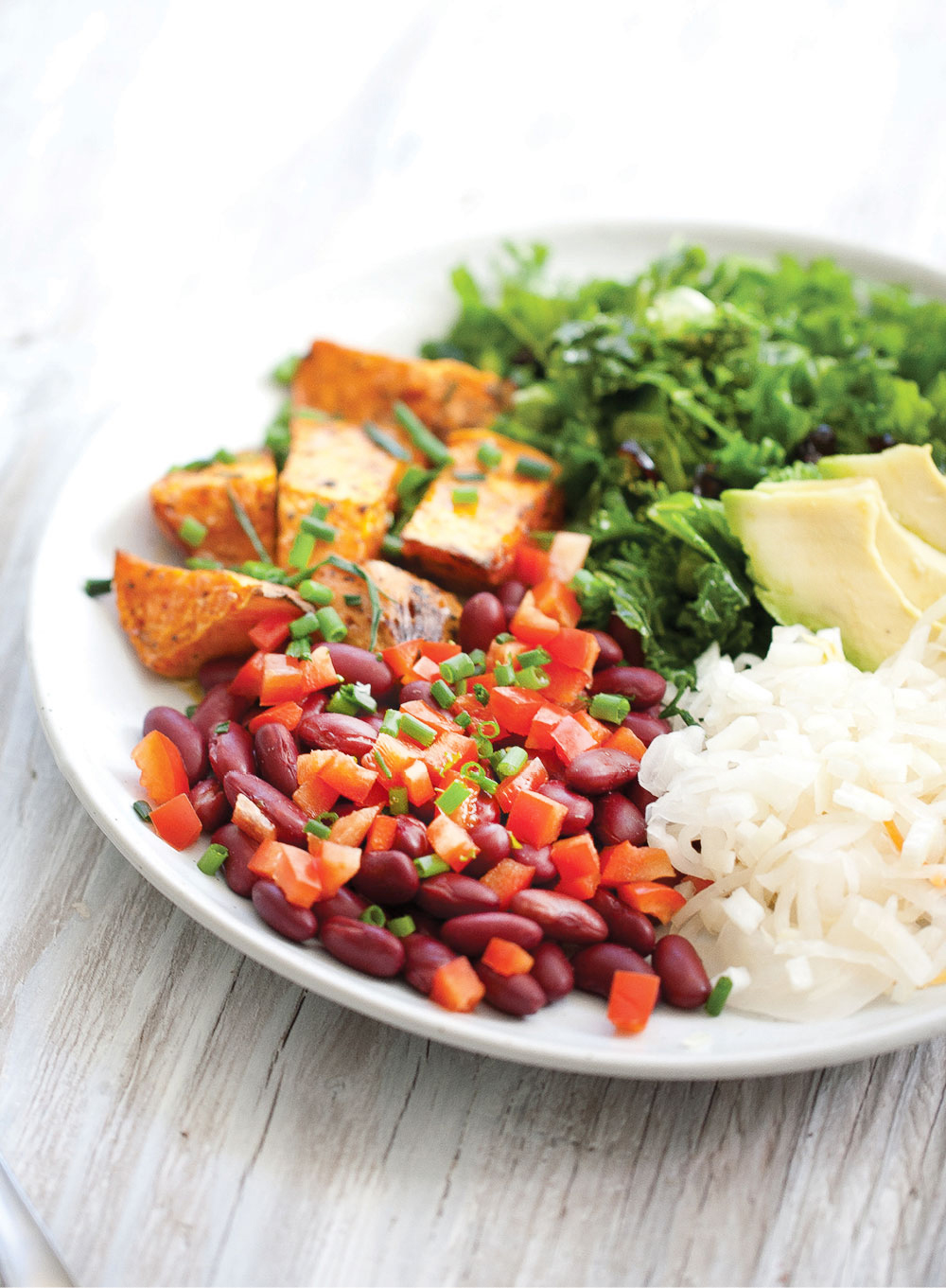 Recipe Name
Black Olive Kale Broccoli Salad
Published On
Preparation Time
Cook Time
Total Time
Average Rating





Based on 1 Review(s)