It's true, I've been dreaming of the perfect 'burger' for a long long time…. I've been craving and salivating and literally daydreaming of the perfect taste, texture and heartiness. This, my friends, is it! The perfect 100% meatless (vegan) and gluten-free burger – The Naosap Burger!
I don't eat meat, and it's your call whether to eat meat or not – this will not be a post to push you to a vegan way… but rather to excite you about a healthier delicious way that just happens to be meat-free!
Even if you eat meat, that's even a bigger reason to include some meatless dishes in your diet… Yes, this is true! Eating meat, especially red meat and pork has been proven to increase health problems especially heart disease, this is due to a high content of calories, fat and cholesterol in a meat-eating diet.
That's why I love eating meatless dishes. I get great health for less money and with great flavour and yes, lots of protein! A full return on my investment into my family's health!
This recipe for the meatless burgers is amazing because it's packed with nutrition and protein! So when I say it's a hearty meal – it really is a filling hearty meal! That's because one of the main ingredients is Naosap Harvest Organic Wild Rice – a truly amazing nutritious grain that is surprisingly packed with protein and lots of other nutrition.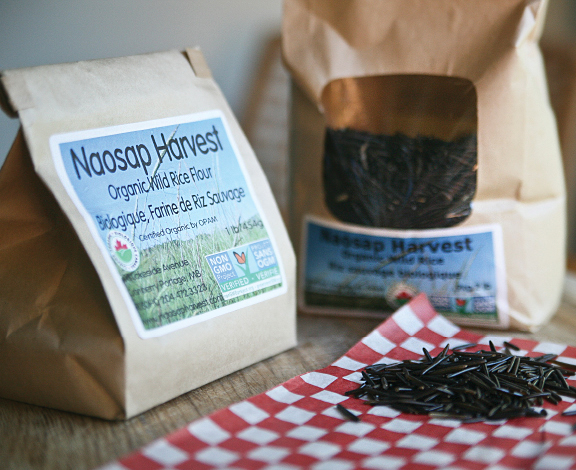 NAOSAP HARVEST WILD RICE NUTRITION INFO
7g of protein in a 1/4 cup
3 grams of fibre
6% of your daily iron
rich in B vitamins
gluten-free
certified Non-GMO
and certified organic
When choosing ingredients for my recipes, I do have high expectations! I look for nutritious pure ingredients that will not only feed the body but also nourish and promote great health and wellbeing.
I love reaching for a scoop of the Naosap Harvest Wild Rice. These grains changed my life and this wild rice is now a staple in my kitchen pantry that I really count on. ;)
But enough excitement already, you guys need to eat! So, here is the delicious recipe for the Naosap Burgers with an interesting non-traditional burger arrangement ~ I served these babies bun-less with beautiful grilled eggplant discs to hold my burger in! A must try – just delicious!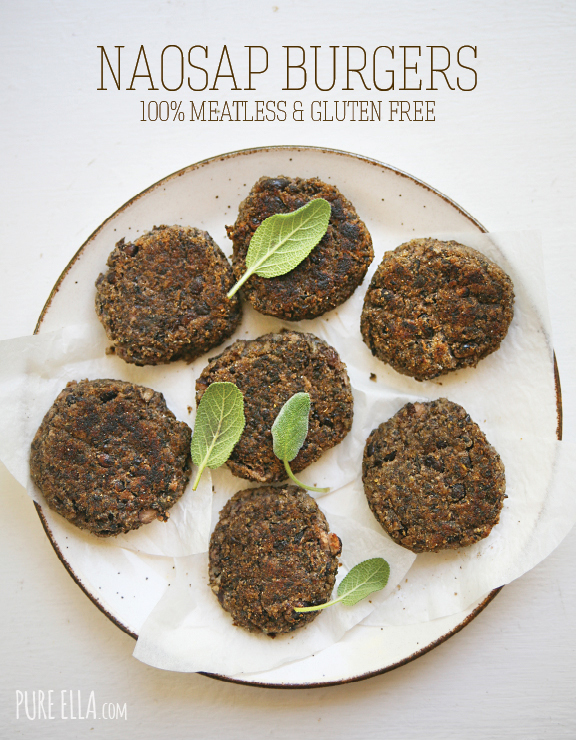 NAOSAP BURGERS
100% meatless burgers
with Naosap Harvest Wild Rice
Ingredients :
1 cup cooked Naosap Harvest Wild Rice
1 cup cooked organic black beans (from a BPA-free can or perviously cooked dried beans)
1 medium onion, diced fine
1 chia or flax egg (mix 1 T of ground chia or ground flax seeds with 2 T warm water, mix and let stand for 2 minutes)
1-2 teaspoons of sea salt
1-2 teaspoons of freshly cracked black pepper
1/2 – 1 teaspoons of turmeric
1/2 teaspoon chili powder (optional)
1/2 teaspoon dried oregano
1 tablespoon of fresh thyme
2 tablespoons grape seed oil + more for cooking
about 1/2 cup Naosap Harvest Wild Rice Flour for coating
.
Directions :
Cook the wild rice in salted water as per directions. Wild rice cooks about 1 hour, so it's a great idea to cook the rice the night before or at least plan ahead to have it ready. (I also freeze cooked rice for a quick thaw and use the day of.) If you're cooking dried beans, be sure to add in that time frame also. Cooking your own beans is always better as it's more economical, healthier and eco-friendly. But sometimes convenience helps a ton, but look for BPA-free cans if possible.
In a large non-stick skillet (I love my cast iron pan), sautee the onion on low-medium heat until golden but not burned. Set aside.
In a food processor, add in wild rice, black beans and all other ingredients except the wild rice flour and blend until a blended mixture forms. I like to leave some texture of the wild rice and beans so I don't mix for too long, just a few seconds to get a crumbly but sticky mixture.
Transfer the mixture into a bowl, add the golden onions and mix with a spoon or your hand to incorporate the onions in. Taste the mixture and adjust any seasoning to your liking. (I have a small kid so I only add a pinch of the chili powder as she's not crazy about spicy foods) however, I do like the chili powder in this recipe and have created the first few burgers with just a pinch, then added the extra for the rest.) Tasting and adjusting to your taste preference is always great. I like a lot of fresh cracked pepper in these also. And depending on how much salt you had in the cooking rice, will also determine how much salt you will need in these burgers. Low sea-salt will make them bland in taste. Tasting a little from the bowl will tell you exactly what you need more of. ;)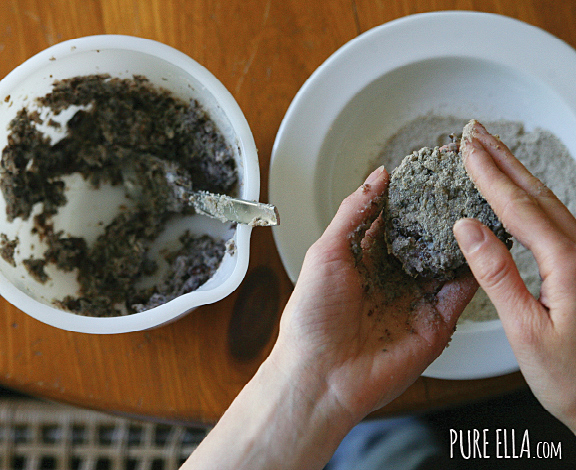 So, now the mixture is ready… Set a plate next to the bowl with Naosap Wild Rice Flour, create a patty with your hands and drop into the flour, flip over to coat completely. Prepare a few burgers this way, heat some grape seed oil in the same pan your sauteed the onions and drop the burgers into the pan. Cook for about 2 -3 minutes on one side on medium heat, or until slightly golden and firmed up, then flip over to the other side to cook.
You don't want to touch them too much while they're cooking or else they could break and crumble or stick to the pan. Once they're in one spot on the pan, leave them there for a minute or two until they are slightly cooked, otherwise they might stick to the pan if they're not ready. Add more oil if needed and continue with the rest of the batch.
Now that the burgers are ready, you can serve them as you wish, in a bun or salad… or what I liked doing is creating a non-traditional recipe and I created Burger Stack – stacking the burgers on some grilled slices of eggplant with kale, pickled red pepper, vegan mayo, grain mustard and organic ketchup. And I served these with a basket full of carrot and cucumber sticks and eggplant fries.
Who needs a traditional burger anyway when you have a delicious hearty meal that is big on taste and meaty flavour!? (But so much more amazing and healthier for you?) Doing something different is exciting and delicious ~ trust me, this is Good! ;) Just don't forget to throw in a fork and knife and a good beer!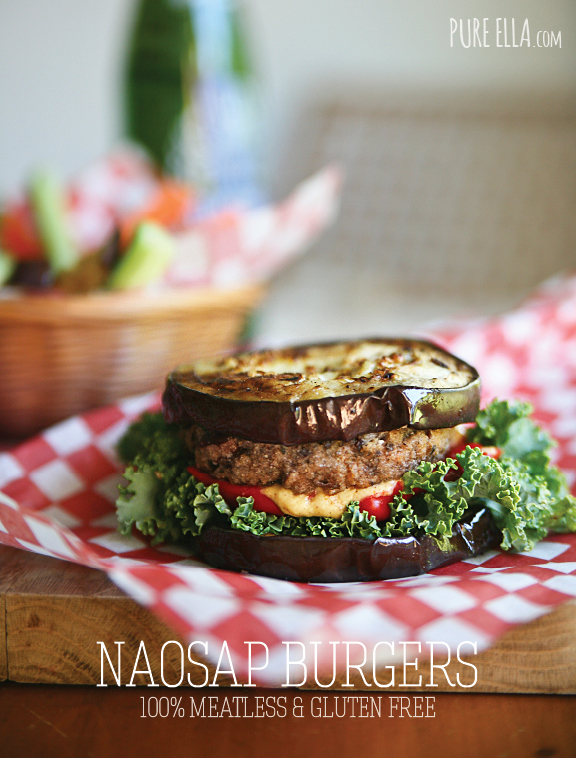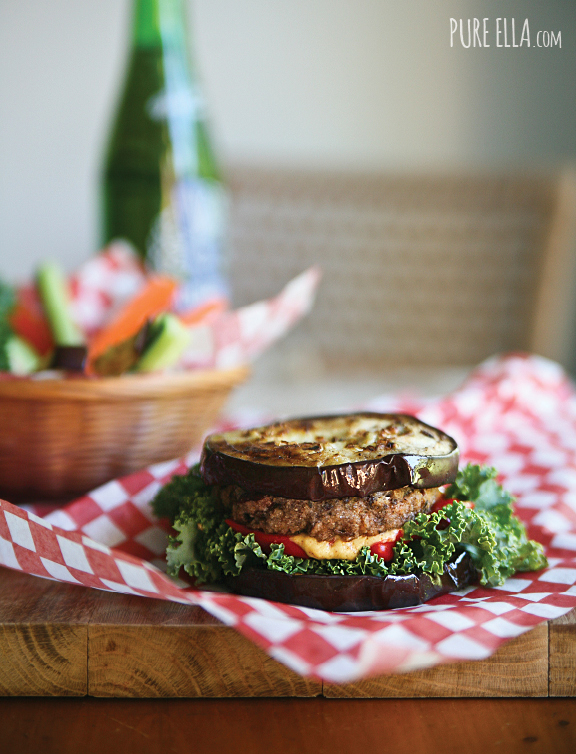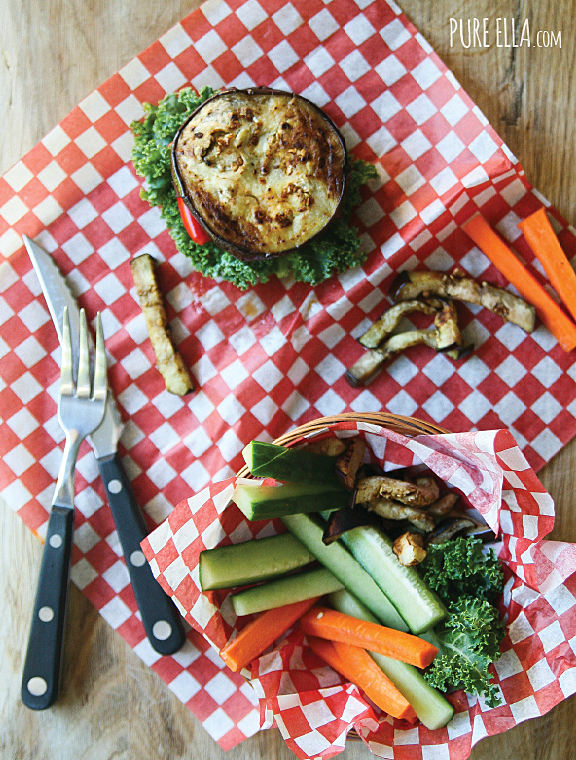 The Mr. paired up his Burger Stack with Steam Whistle beer – another great Canadian product. Steam Whistle is an all-natural micro-brewery in Toronto. It's only a local beer as it doesn't have a long shelf-life because of its pure ingredients. So, if you're ever in TO – you know where to go and have a good beer ;)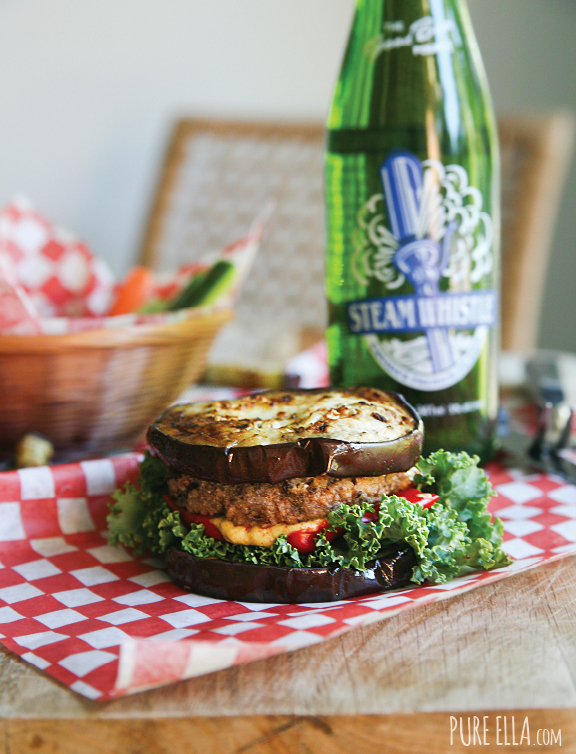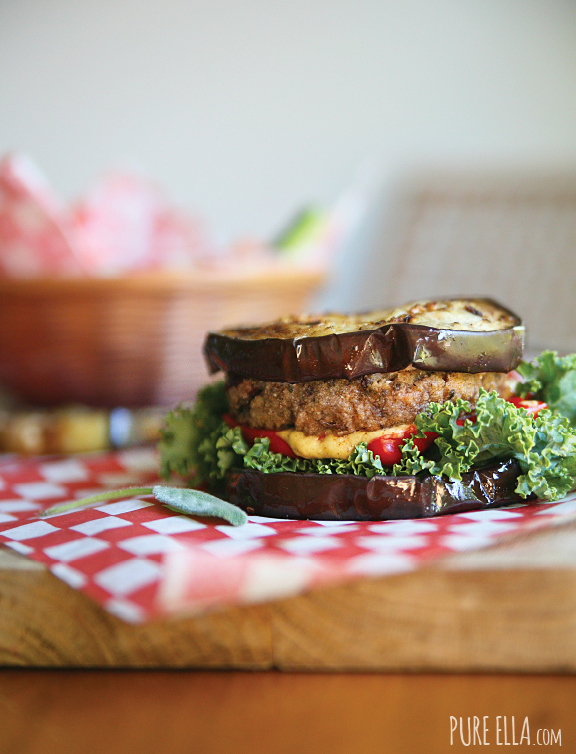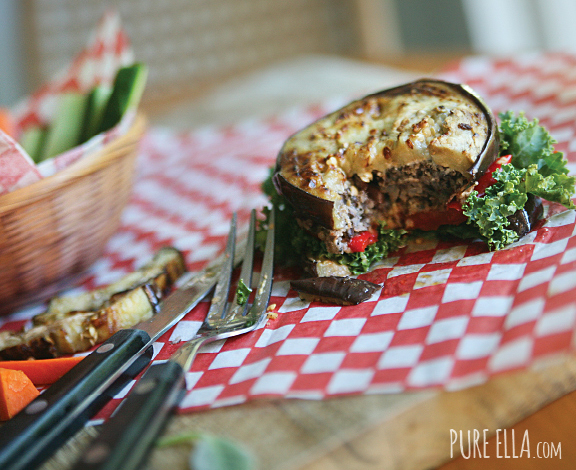 In these summer months, it may seem daunting to cook rice for an hour, but it's still great to do that. Why? Well, wild rice is exceptionally nutritious and very filling, you gotta eat great food all year long right?
So this is what I do during the summer. I cook a large batch, 1 cup of rice which TRIPLES in size and gives me 3 cups of cooked rice – this is great, right? And I divide it into portions of 3 and freeze what I don't need right away. This makes life so much easier when I need a quick meal and need great ingredients. I then simply, submerge the ziplocked bag into warm water for a about 5 minutes as I prep other foods and then voilà – my rice is ready in just a few short minutes!
Hope you like this recipe my friends. Let me know what you think when you chow down on some Naosap Burgers soon ;)
And BTW burger buns are so unnecessary – reinventing a burger that is meatless and bun-less is so much more creative, fun and delicious! Simply, a must-try!
Naosap Harvest Wild Rice is harvested from the organic and non-gmo farms, a family owned and operated operation in Manitoba, Canada. For more information and to get your own bag of Canadian wild rice, you can visit Naosap Harvest on their website, facebook page, and you can order online through their online store – a bag of this great rice lasts a long time as it triples in size when cooked and it's just a wonderful hearty and healthy food staple.
This is a sponsored post, and all opinions are completely my own – I do love this rice and it's a pleasure to cook with it! ;) xo Ella