If you're looking for an easy and delicious healthy spring salad – this Kale Avocado Salad is perfection – just 5 ingredients and done in less than 5 minutes.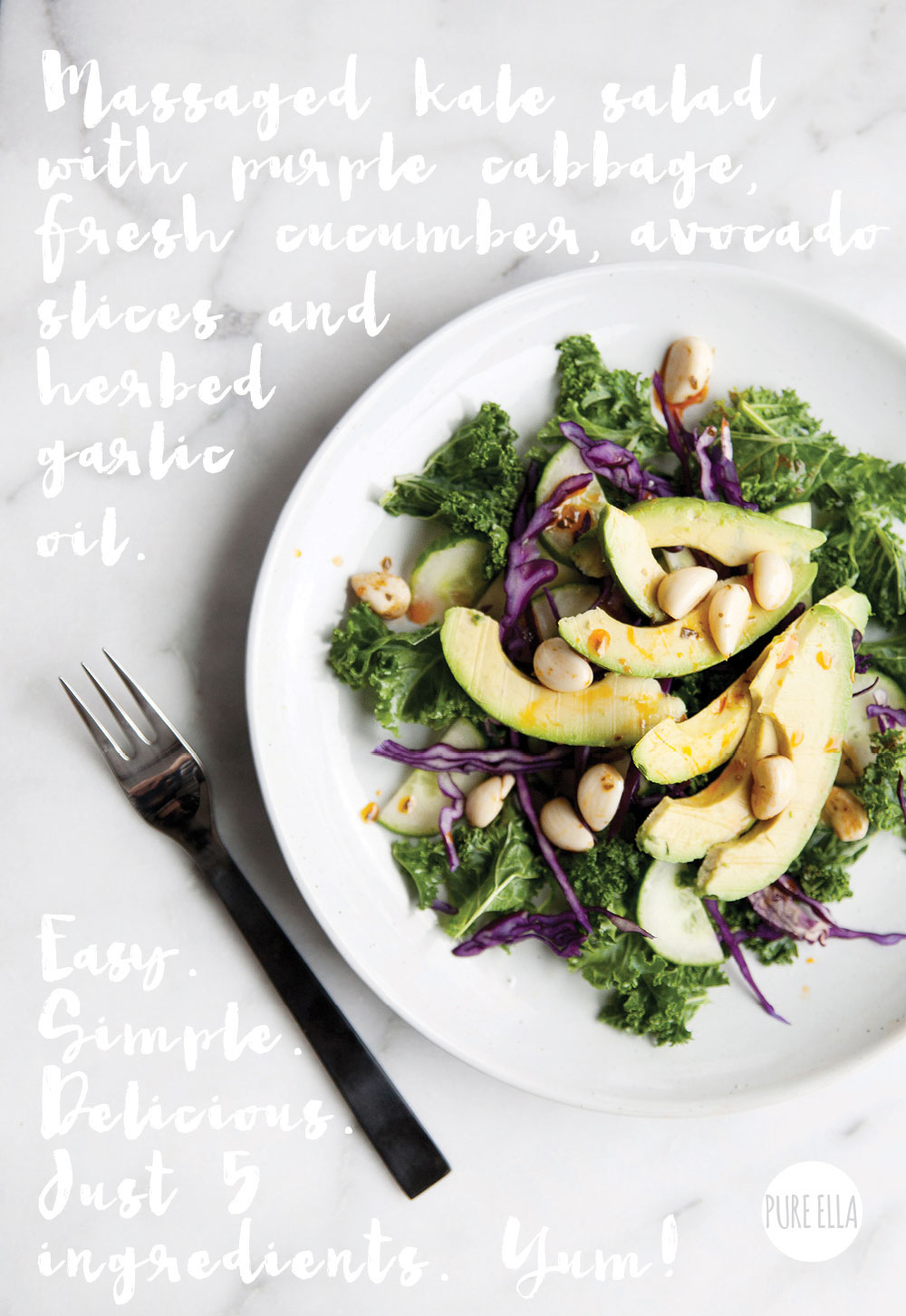 This delicious kale salad is one of my favourite salads – but it almost didn't make it to the blog!
The other day, my sister was over and I wanted to make a little side salad to our lunch. I had literally nothing in the fridge except a few good favourites/ my regulars. Some kale, some leftover purple cabbage, cucumber, and the a perfectly ripe avocado! But even though these ingredients sounded good they just didn't scream – Eat me! I'm delicious!
Then I remembered this little jar of Italian Antipasto Garlic in Oil – whoo! Sounds crazy to think you'll just eat up whole garlic cloves – but this stuff was so good! The garlic cloves taste sweet and the texture is so creamy and delicious. I remembered the taste of them immediately and I smiled because I knew that this would be an amazing little ingredient that pulls all this good food together. And, it worked! This delicious salad was perfection!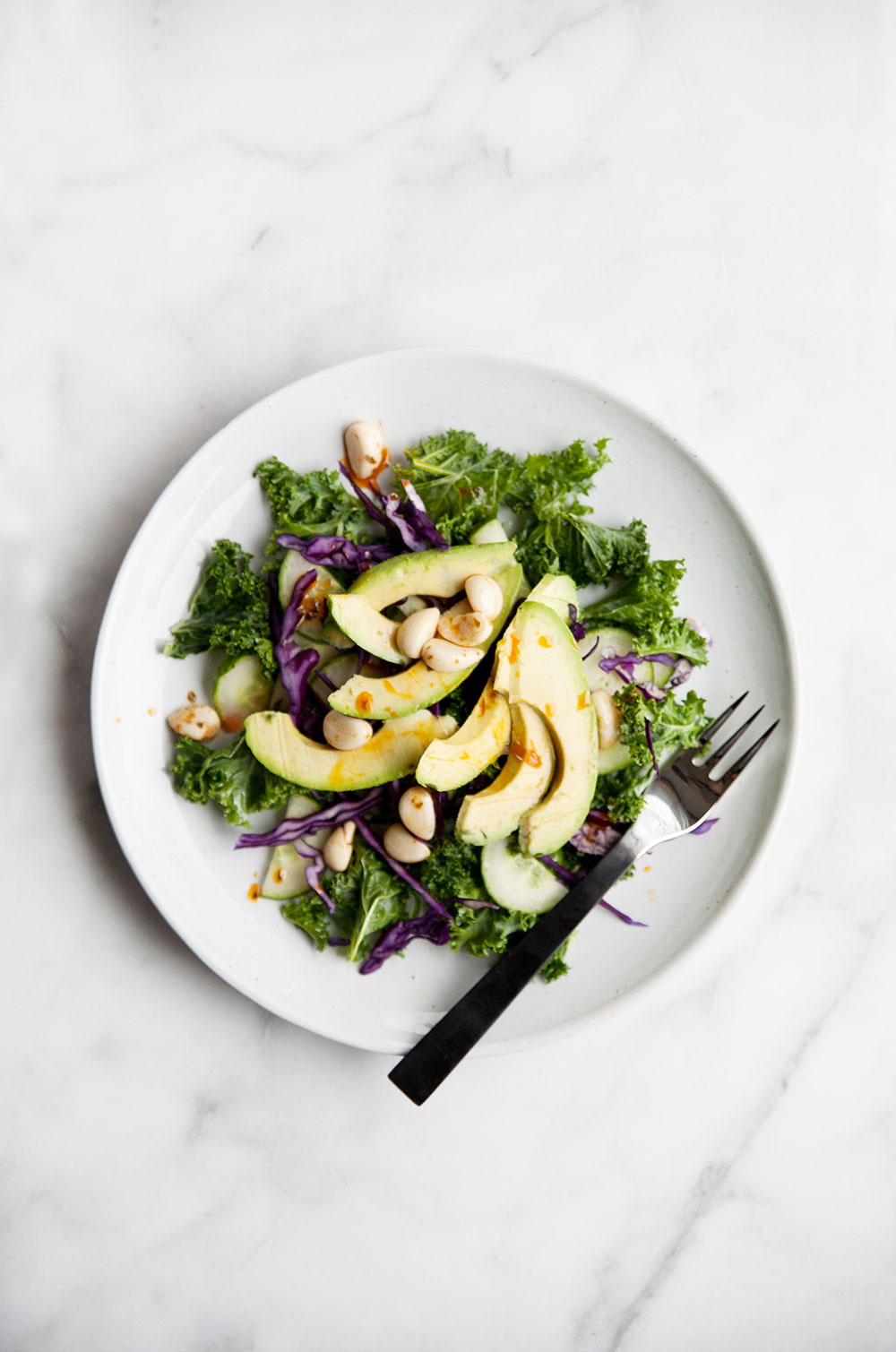 I made up the salad quickly and set it on the table for us to devour! "Oh this is looks amazing!" my sister said. And after a bit "this is so delicious…. is it on your blog?" 'No', I said "should it be?" (insert a kind of smirk and laughter as in 'you're so funny' "this isn't that great – it's just a simple salad" I continued. 
"Exactly, it's a delicious, amazing and simple salad! When I make a salad I don't want 15 ingredients in it. I just want something simple and easy that tastes amazing – and this is it!"
"Oh… so maybe I should take a photo of it then?" 
Fast forward to today and here I am sharing this easy kale salad recipe and these photos I took right next to my sister finishing off her own salad. If it wasn't for her excitement – I would never take these photos and I would have probably forgotten about this salad. I make a lot of recipes like this – I just grab the food I have on hand and it works out great – like my Cucumber Rolls (this was probably my best empty-the-fridge recipe).
So even though I would like to say I pour a lot of work into recipe developing and recreating recipes and adjusting measurements etc. (and I often do) Most of the time it's just me cooking meals for my family that we actually eat later. And occasionally it's just a pure simple delicious accidents if you will, that makes a great simple AND healthy dish. Thanks sis for making me understand what people want a little bit better ;)

 Kale Avocado Salad
For this delicious and easy kale avocado salad – all you need are 5 ingredients. Boom – easy, no fuss yet so pretty and delicious. Enjoy!
It also makes a delicious spring kale salad that's great served for lunch or a side dish for your dinner or bbq. And this is also a naturally gluten-free and vegan kale salad also.

Kale Avocado Salad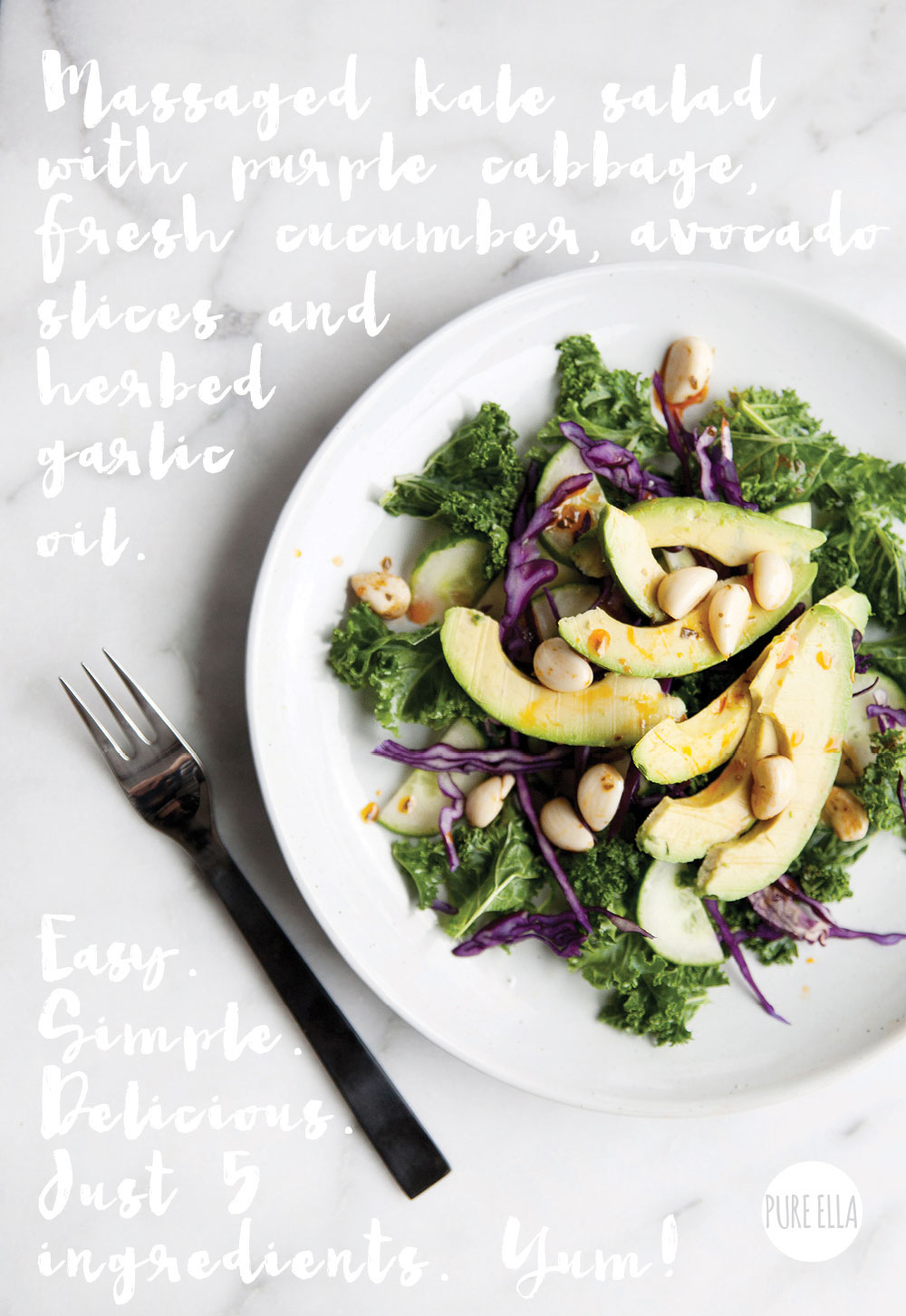 Author:
Ella Leché of Pure Ella
Recipe type:
healthy, gluten free, vegan, paleo
Cuisine:
healthy, Italian-inspired
A healthy and delicious Kale Avocado Salad that's easy and simple. Just 5 ingredients. Gluten free, vegan, paleo.
Ingredients
bunch of kale, stemmed
up to 1 cup shredded purple/ red cabbage
½ English cucumber, sliced
1 jar of antipasto herbed garlic cloves (or roasted garlic with basil and olive oil)
1 ripe avocado
Instructions
Remove the kale leaves from the stem and tear into small pieces.
Drizzle in a bit of the oil from the garlic to coat all over and toss with your hands or salad tongs about 20 times. If using your hands, rub the leaves between your hands a bit. This will soften the kale and make it more delicious.
Toss all the ingredients (except the avocado) into a bowl and pour in the contents of the antipasto garlic cloves with the oil. Mix to coat all over.
Transfer onto serving plates and top with avocado.
NOTE : having a jar of this antipasto garlic is key to making this super easy and quick. You can get this type of garlic in Italian stores or in the Italian section of your local grocery store.
You could also roast garlic, tops of garlic heads cut off, drizzled with olive oil and sprinkled with dried basil, then wrapped in parchment paper or aluminum foil for about 30 minutes in the oven. Once cooked, squeeze the garlic cloves 
Summary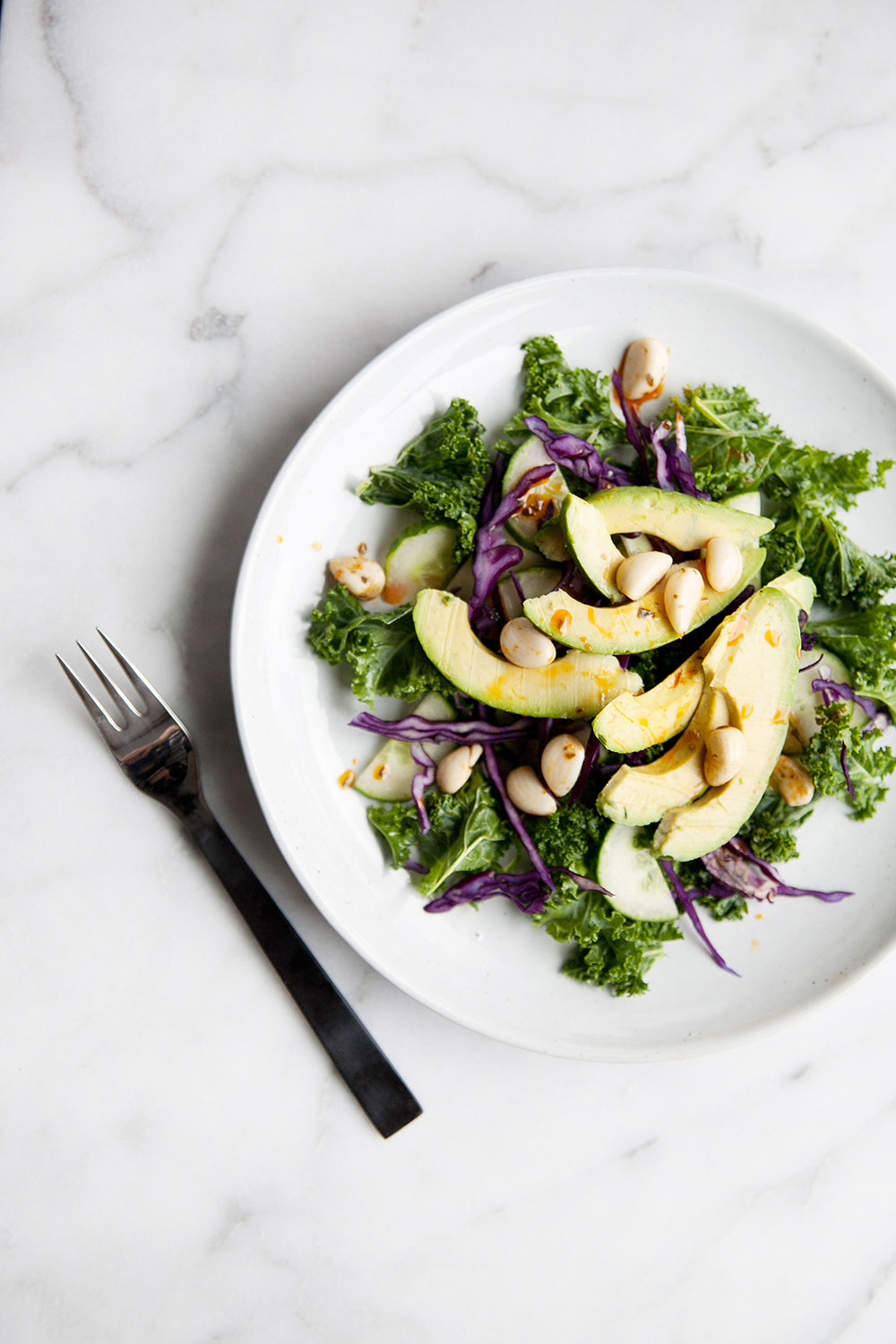 Recipe Name
Published On
Preparation Time
Total Time