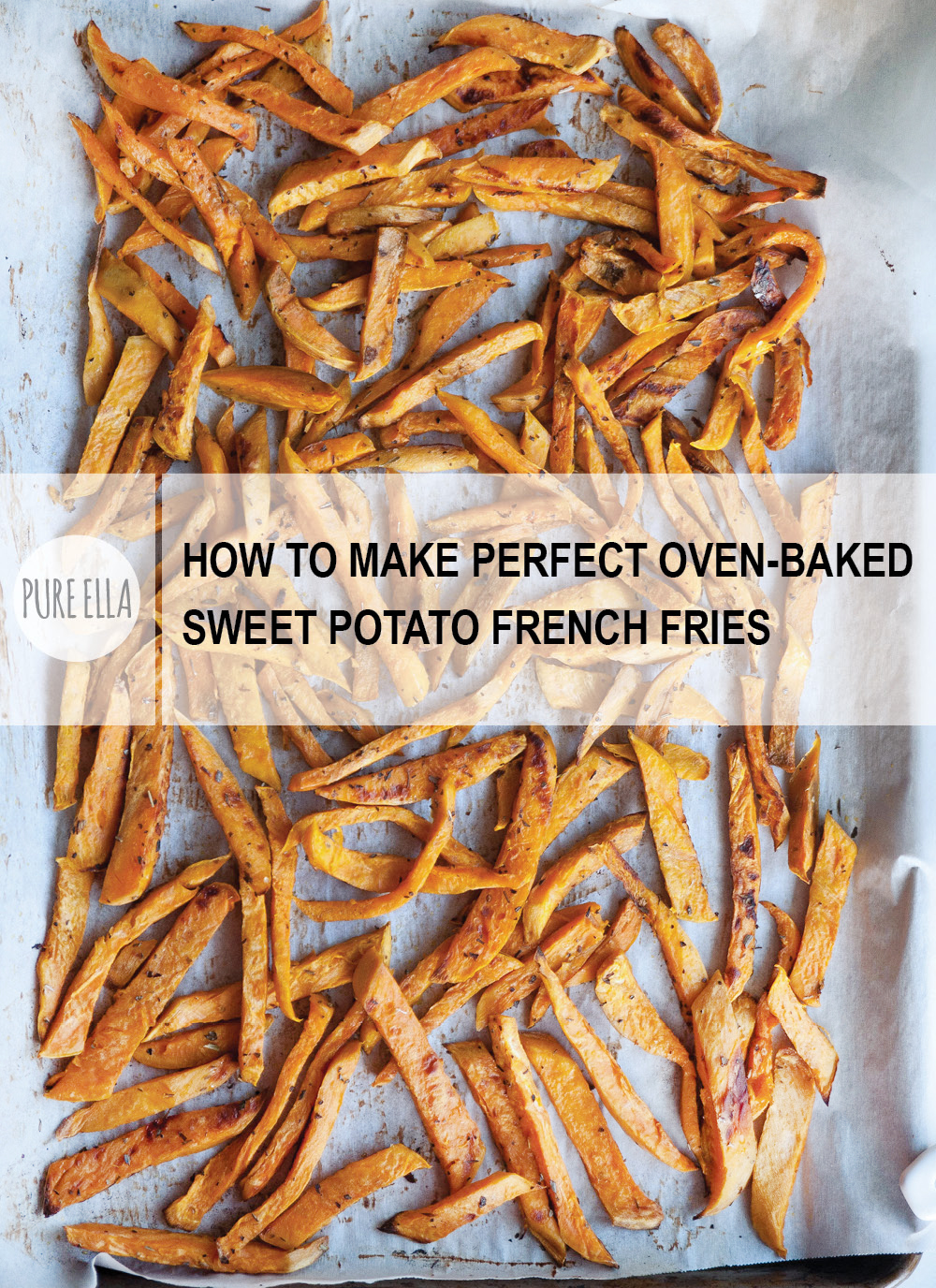 Here's a new section for the Pure Ella blog with simple How-To's and techniques for helping you master some amazing kitchen skills. I hope you enjoy this new addition – I have wanted to share about what I've learned (and continue learning) in the kitchen for so long (so much of it is from observing my mom in the kitchen – she is a brilliant home cook who happens to have years of experience in the culinary world in catering). Thanks mom!
If you LOVE french fries – but stay clear because you know they're not very healthy. This post is for you! These french fries bring all the happiness regular french fries bring but are also :
healthier than regular french fries
these french fries are baked not fried
made with sweet potatoes vs. white potatoes (sweet potatoes are a lot healthier as they are lower on the glycemic index chart so they don't spike your blood sugar as much as white potatoes and have move nutrition like beta-carotene)
real food, no additives, you know what you put in
indulgent but healthy ~ a life-changing concept! :)
.
How to Make Perfect Oven-Baked Sweet Potato French Fries:
Ingredients :
1 sweet potato (count one medium potato per person, 1/2 potato for a child)
about 1/4 cup grapeseed oil or EVOO (extra virgin olive oil)
1 tablespoon of your favourite dried herb, I chose oregano this time
salt & pepper to taste AFTER they bake
.
Directions :
Preheat oven to 425F. and add parchment paper onto a baking sheet.
Wash and scrub the sweet potatoes and dry them with a paper towel or dish towel.
Cut into 'fry' strips. Be sure to cut them evenly – if you cut thin fries, continue with all thin so they bake evenly and the small ones don't burn.
Toss them in a large bowl to mix with the oil and seasoning OR pour out some of the oil onto the parchment-lined baking sheet and toss them with the seasoning right on the pan. (sometimes I cut corners in the kitchen and this helps to save a bit of time on prep work and clean up!)
Bake for about 10-15 minutes on one side, then remove from the oven and flip the fries over with a spatula. Simply slide the spatula under several of the fries and flip right over. You can then go in with a fork to turn over the few that didn't flip. (Make sure they are all flipped to one of the 3 sides or else they will burn quickly if they remain on the same side).
Bake for another 10-15 minutes (depending on the thickness of your fries and oven settings). Look for a nice carmel colour and that they remain stiff when moving (and not soft and flimsy).
.
NOTES :
If they don't bake evenly, it's essential to remove the fries that have already darkened and are fully baked by picking them up with a fork or spatula, or else they will burn. Then return the pan into the oven and bake the rest.
If they don't crisp up (usually on thicker-cut fries) simply toss a third time and reduce the heat to 350F. and bake for 5-10 minutes.
I hope you like this simple How-To recipe and will enjoy these soon! These will change your life!
When you do make them or any other recipes, please don't forget to comment and share your photos and hashtag your Pure Ella creations #pureella so I can see them and possibly feature on my social media. Thank you all!