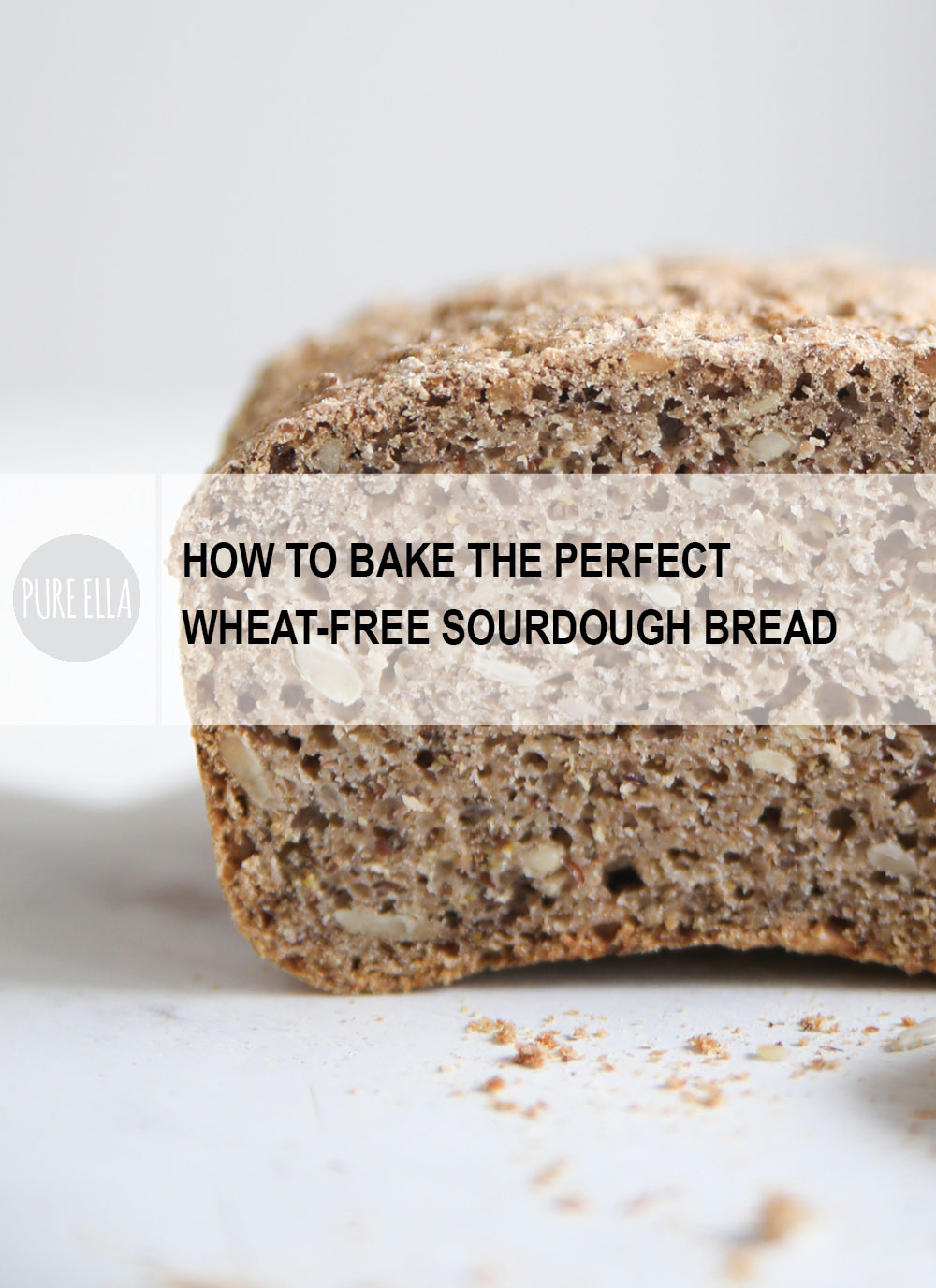 Home baked sourdough bread is just the best.
I can't believe I got sucked into baking my own bread… the idea of it was very puzzling not long ago and yet here I am ~ baking my own sourdough bread. Hmmm… sometimes you never know what awaits you until you try.
My first piece of advice is just try it. See how easy it is. Then commit and enjoy fresh slices of your own simply made sourdough success….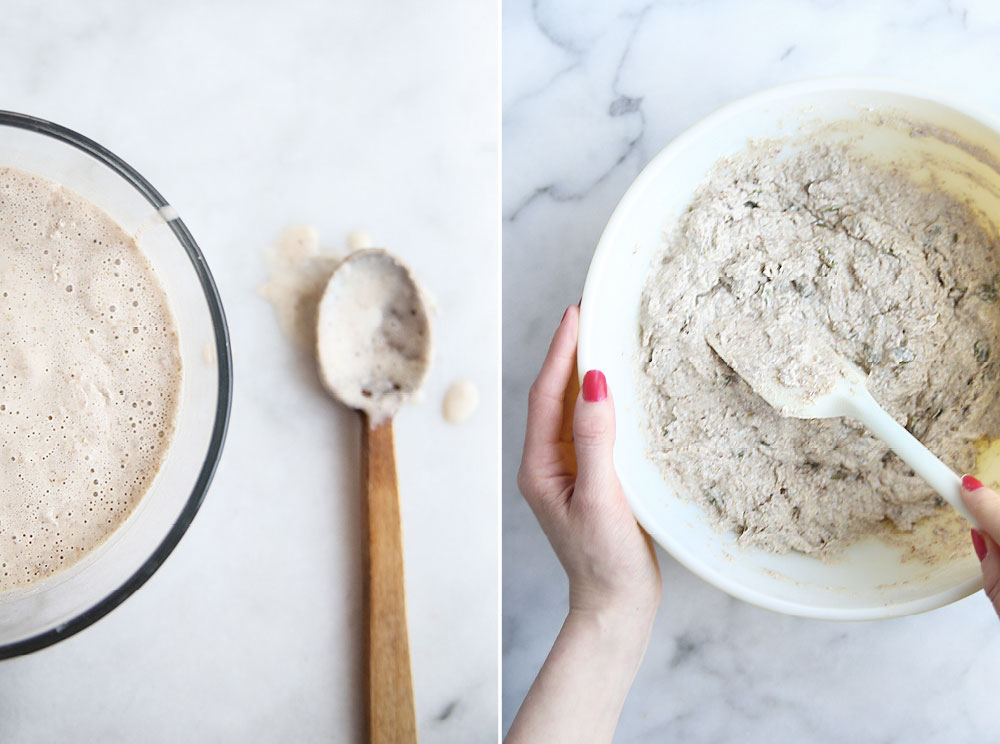 I won't lie. This isn't for everyone. Especially if you have commitment issues and don't like the idea of owning a "pet" :)
Because sourdough is for ever… you feed it and it lives on with its beneficial bacteria. It really is kind of a "pet"… you feed it every day or two days and it keeps living.
One simple requirement – you need to bake a delicious loaf of sourdough bread at least once a week. Sounds simple. It's really simple. Hopefully you'll join me a few lines down over a recipe :)
When you bake a new loaf, you use 1/2 the starter and reserve the other half for the next loaf. And you keep going never running out of the starter. (unless you kill it by not feeding it often enough and it becomes to sour that you can't use it anymore).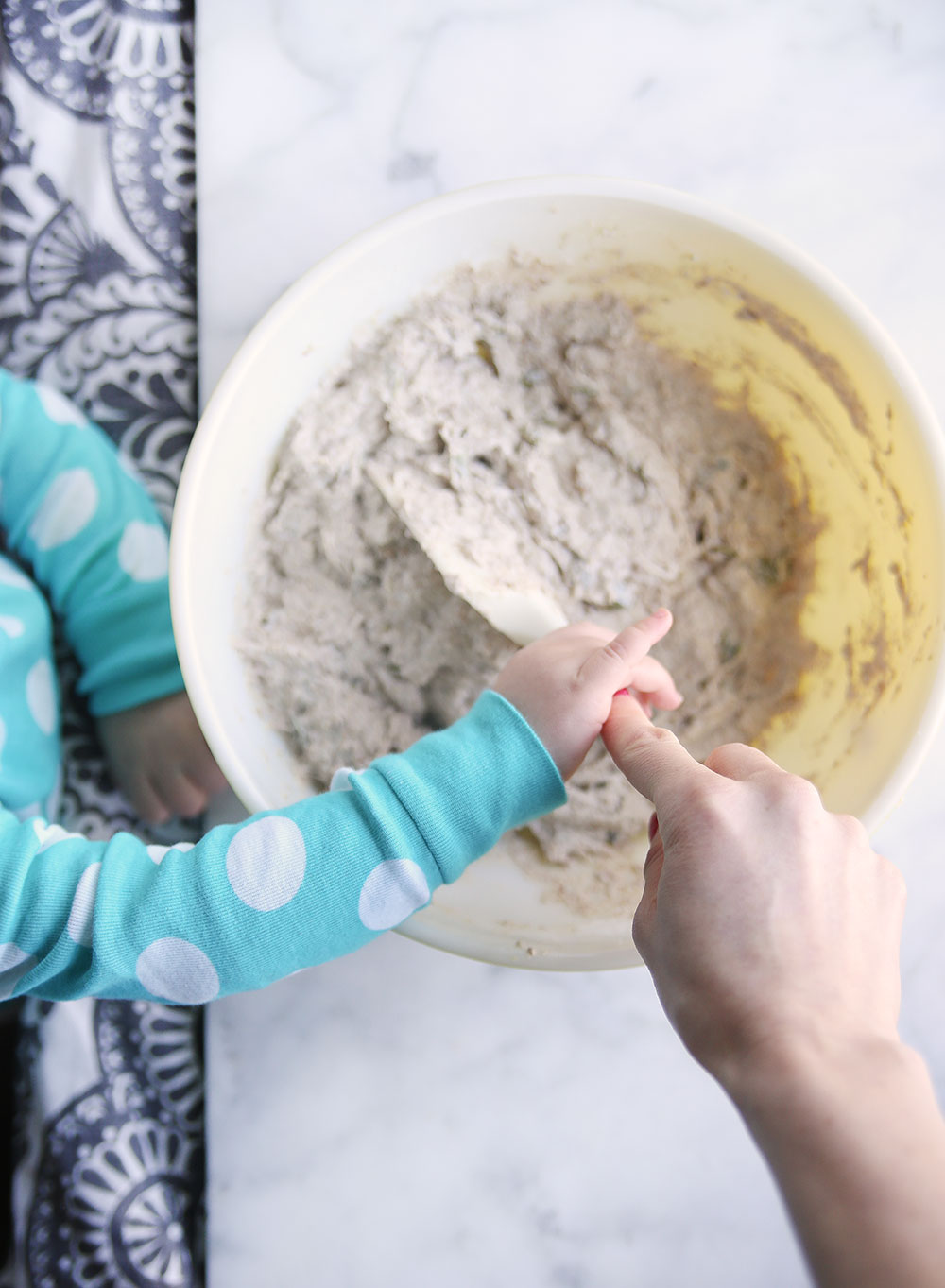 Spelt & Rye Sourdough Bread with Flax and Sunflower Seeds
Ingredient :
about 1 cup sourdough starter (recipe here)
3 cups flour (I use 1/2 and 1/2 rye and spelt)
1 1/2 cups warm filtered water (pre boiled and cooled)
1/4 cup sunflower seeds
1/4 cup ground flaxseeds
1 teaspoon fine sea salt
How to prepare the a sourdough starter :
First, remove the starter from the fridge and get it activated by leaving it at room temperature for about 1 hour.
Then feed the starter about 1/2 cup flour and 1/4 cup warm water.
Stir and use only 1/2 of what you have.
See How to make the perfect wheat-free starter first.
Return the remaining starter to the fridge and remember to feed it daily or every two days.
Ideally, bake a new loaf every two – three days.
How to make a sourdough bread :
Line a glass 9″ x 5″ bread pan with parchment paper. (do not use aluminum pans)
In a large glass bowl, combine all the ingredients above and mix with a wooden or silicone spoon (do not use metal) for about 3 minutes until well combined.
Pour into the lined baking dish and smooth top with wet fingers.
Set in a warm spot in the house, near a stove or next to the fridge where there are no drafts and cover with a dish towel.
Set aside for 3-4 hours to rise.
Preheat oven to 35o F.
Bake for about 50 minutes or until top is nice and golden.
Remove from the oven and being careful not to get burned (wear oven mitts) remove from the pan and flip over onto a large wooden cutting board.
Carefully remove the parchment paper right away.
Leave the bread to sit on a cooling rack covered with a cloth towel until completely cool. About 4 hours.
Once cooled, slice and enjoy!
I like to prepare the dough in the late afternoon/ evening and let it rise and then bake in the late evening when the house is nice and quiet. It creates a sense of calmness in the house when the scent of home-baked sourdough lifts from the oven and spills through the house. It then cools overnight and it's ready to be sliced into in the morning for avocado-topped sandwiches! Yum!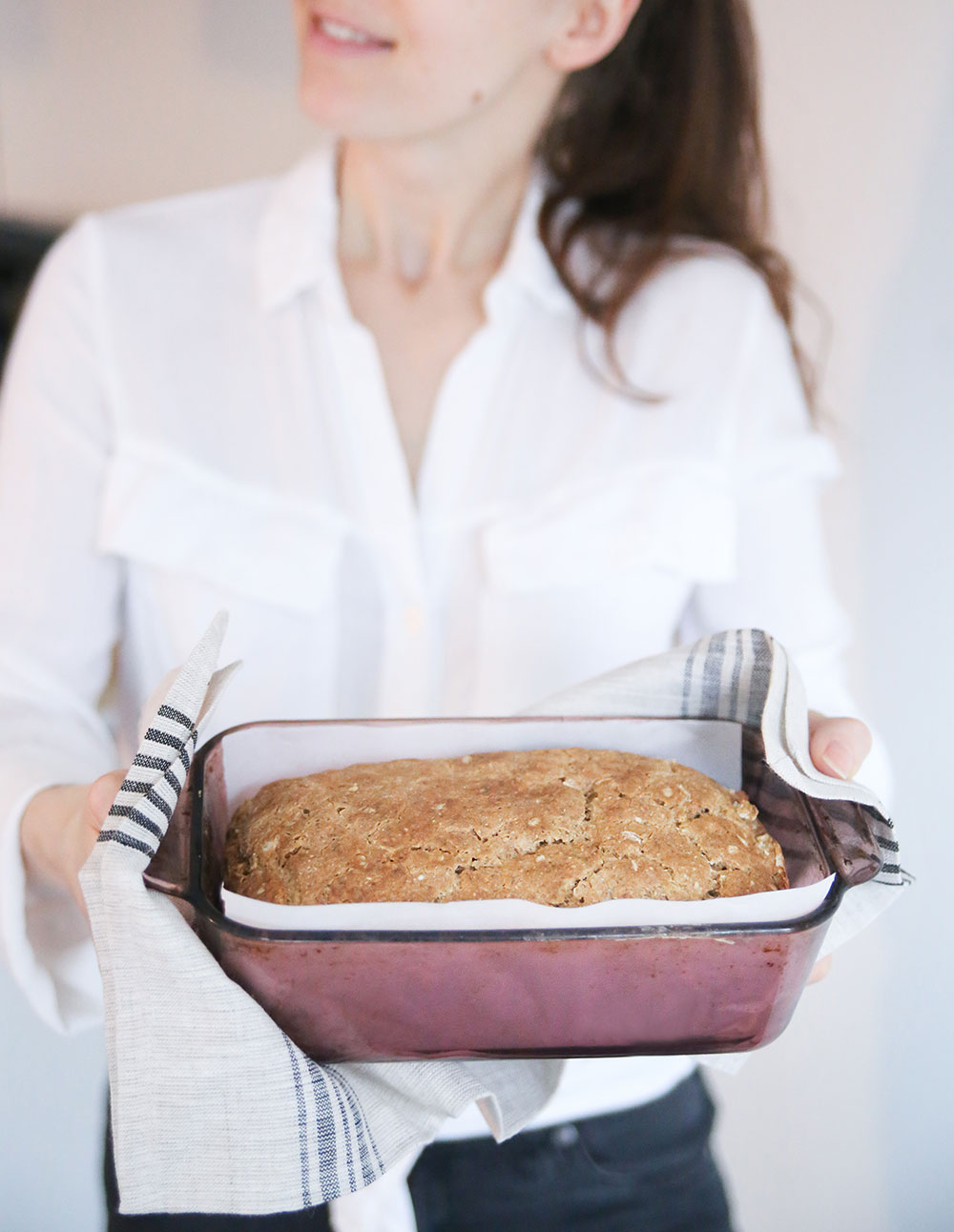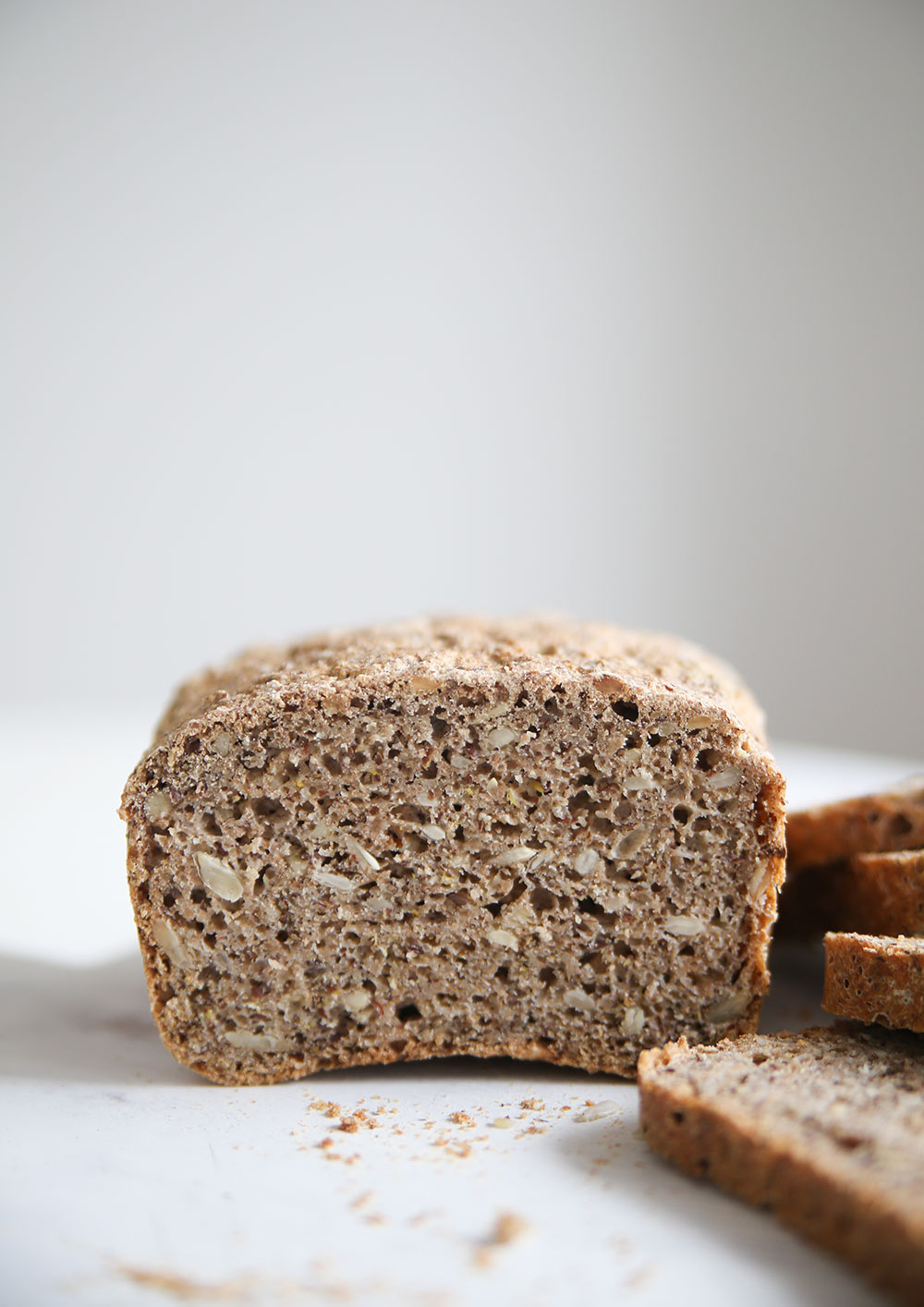 We honestly just love fresh home-baked sourdough bread.
It's a great tasting bread that's made with great ingredients, low-glycemic grains and fibre and protein. All this goodness at a fraction of the cost of what a good organic bread costs at a good bakery.
I think a basic bread without the seeds and flaxmeal would come out under $2 a loaf that makes about 16 slices. You could also keep customizing it and add different seeds and nuts ~ those recipes to come :)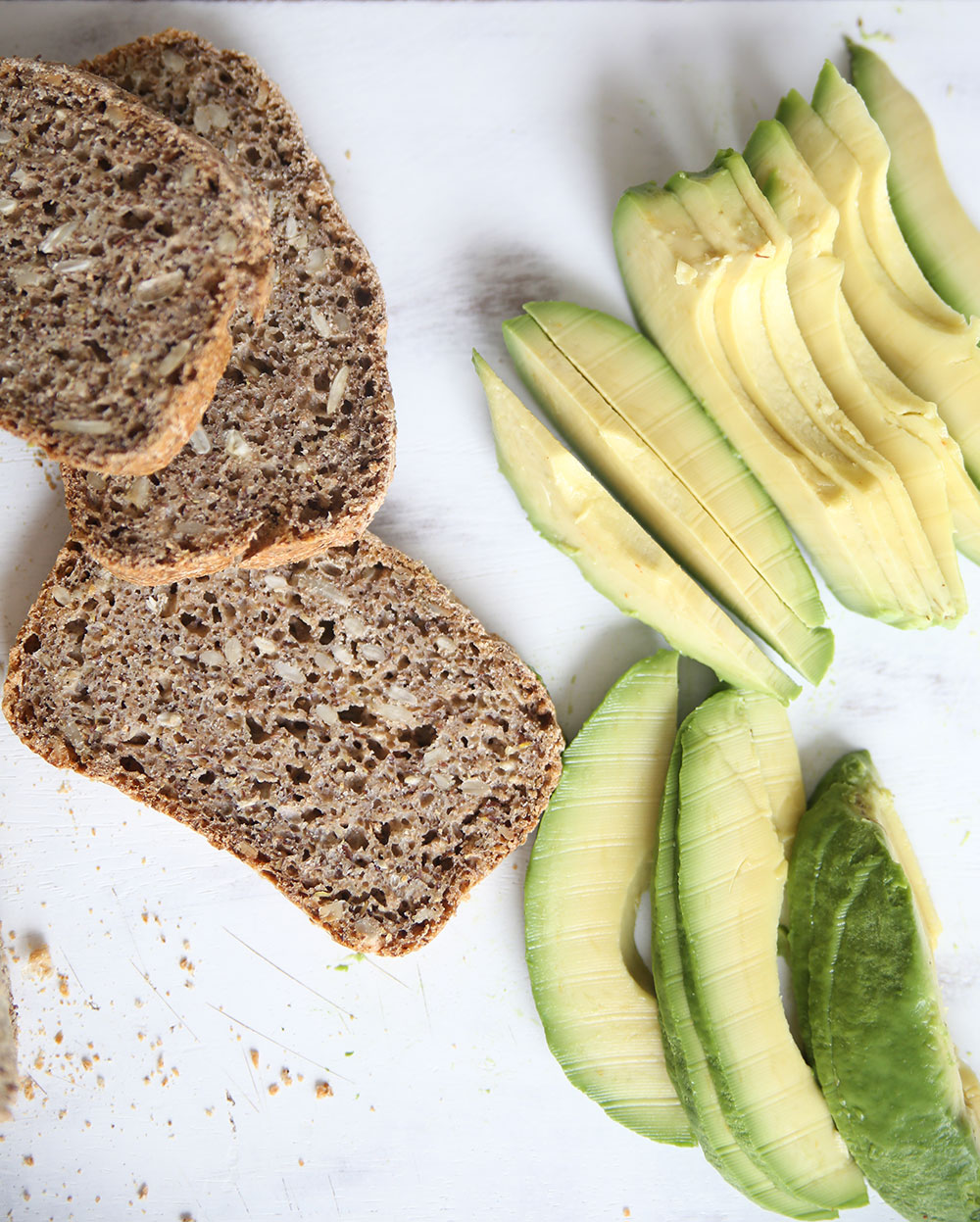 I hope you're excited to bake some sourdough bread this weekend!
Seriously the best activity to do this winter…. :)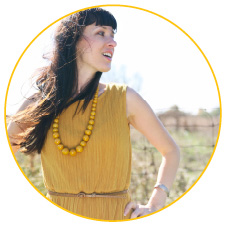 Ella Leché
is a cookbook author ('
Cut the Sugar
'), recipe developer, and photographer/stylist behind Pure Ella; where she shares delicious and healthy recipes. Eating PURE is clean ingredients, whole foods, plant-based nourishment and delicious desserts – with quality ingredients and sweeteners so they're treats with benefits so you won't have to feel deprived or restricted to eat healthier.
Thank YOU for being here!
Follow on social media for daily health & happiness inspiration:

ps. don't forget to share your Pure Ella (PE) recipe creations by tagging them #pureella and
@pure_ella
on Instagram – we repost our favourite photos!
Summary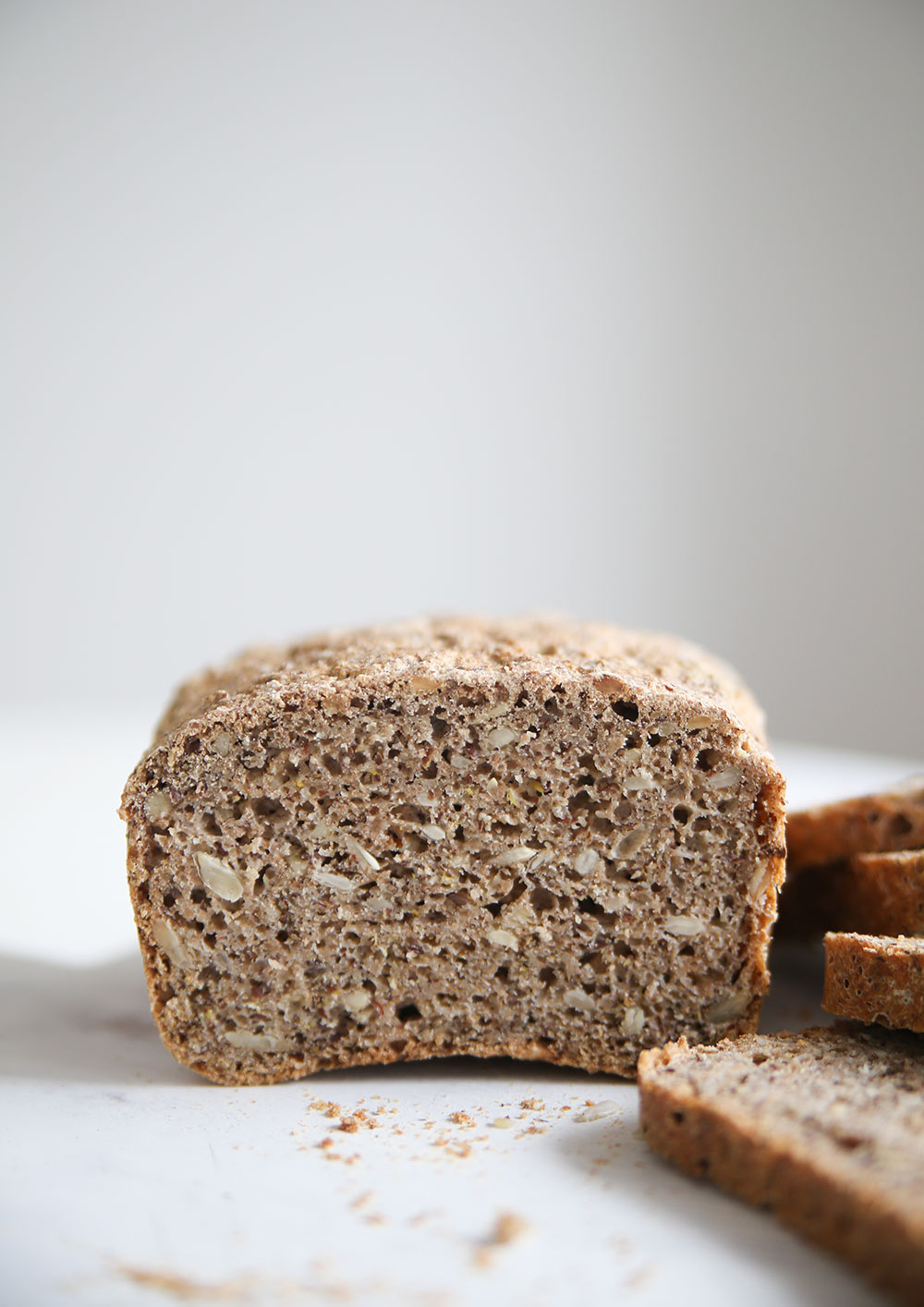 Recipe Name
Published On
Preparation Time
Cook Time
Total Time