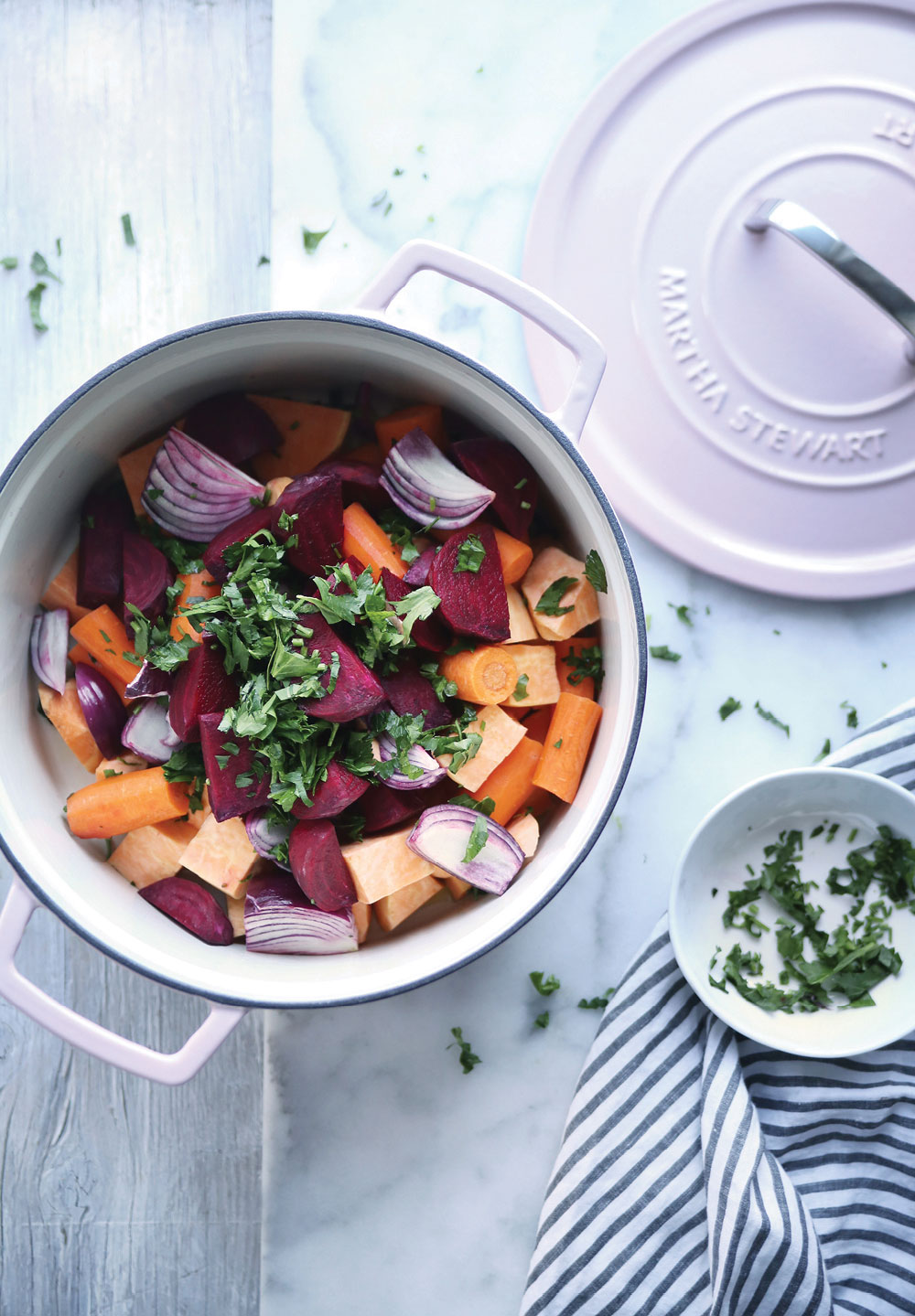 Simplicity is key. This is a rule for lots of things in life. But it's especially important when it comes to food. Don't you agree? :)
This Healthy Vegetable Bake is incredibly simple and very delicious – yet, I bet you don't think to put them together in a pot and pop in the oven for an oozing flavourful and fragrant dish.
This is my favourite way to cook. Which is probably why I continue to enjoy cooking. It comes effortlessly because I don't overcomplicate things. It starts with simple healthy ingredients that come together with a bit of a creative taste in mind. But the rule of thumb is, choose pure food, keep it simple and have fun with it all :)
For this recipe, I'm excited to share this stunning Enameled Cast Iron Casserole Pot from Martha Stewart which is available only at Macy's.
If you still don't collect enamelware cookware, I suggest you start with these pieces. These last for years – you just can't beat something of great quality. And everything I've cooked in this pot turns out amazing. It doesn't burn, the heat is even. It's crazy perfect. I'm all about quality and not just for food but cookware too :)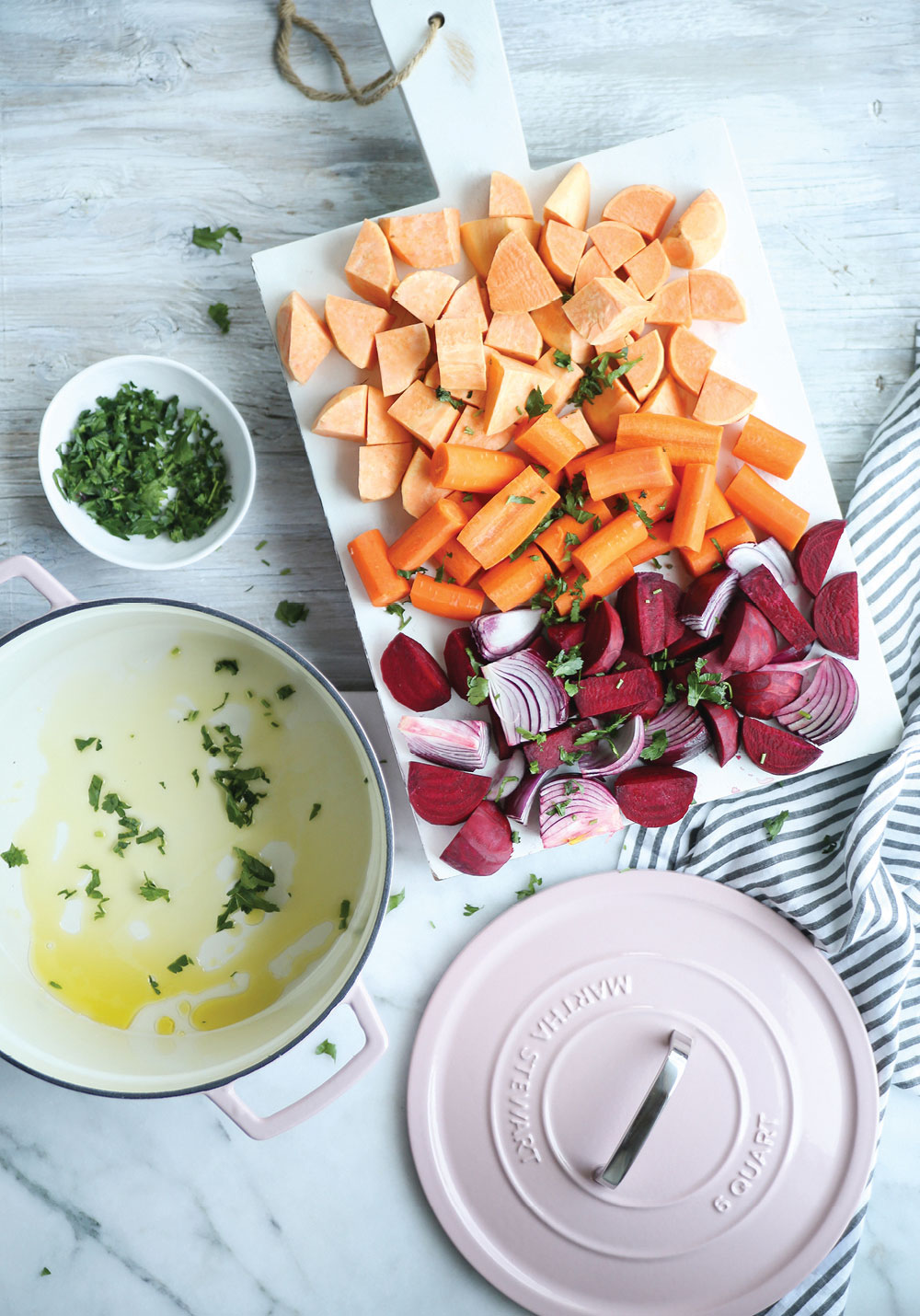 Here's a fun story for ya :) So when I got this pot, my 2 1/2 year old, Mia, was super excited! OK. Seriously! Picture a 2 year old really excited with jumping up and down and shouting "Oh mommy, I love this pot, I LOVE PINK"…. followed by "can I have it when I'm a big girl?"
Of course I said "Yes, of course!" And promised her that when she's a grown up I will give her this pot. LOL! So cute! So now I need to keep this pot for about 18 years maybe? Which isn't a problem at all, because these pots last and last! I won't even store it for her, we will just continue using it all the time until Mia is ready to receive her dowry ;)
Haha! Isn't this the cutest story ever? Also, this colour is just the pretties to look at. Makes my whole kitchen so cheerful and happy. So many goals achieved with just one pot, who knew it could be so simple :)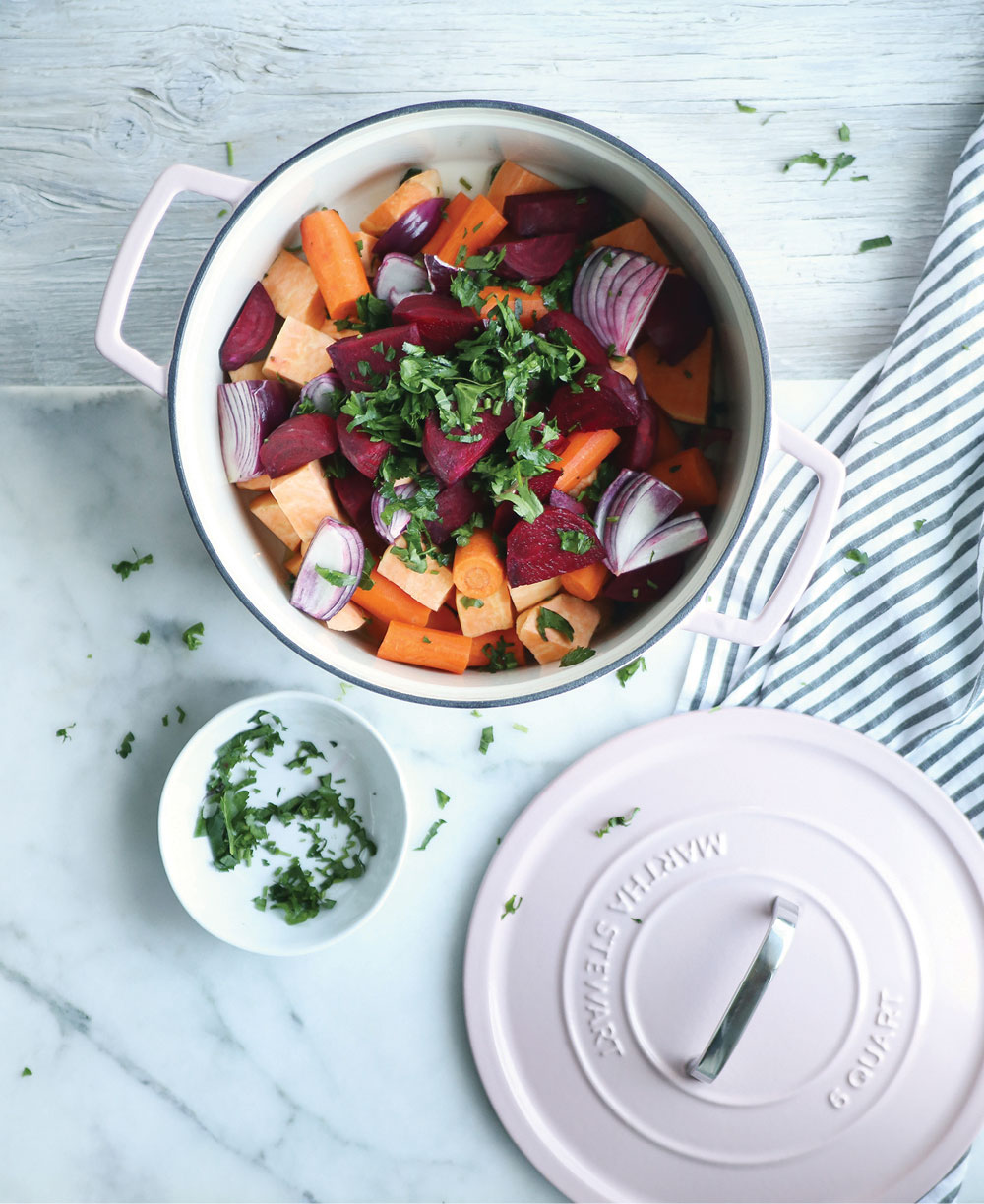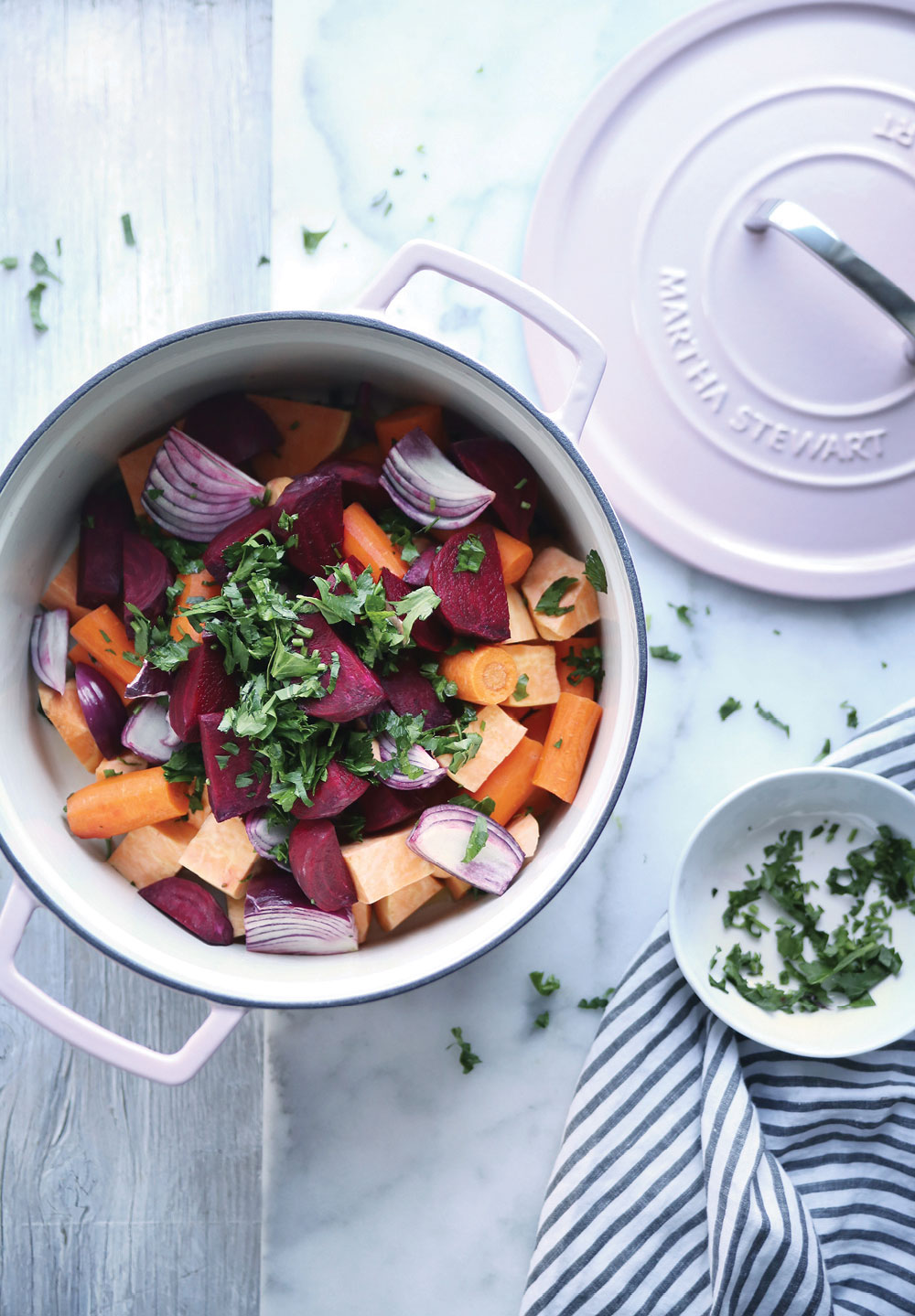 Healthy Vegetable Bake
2017-02-11 12:50:28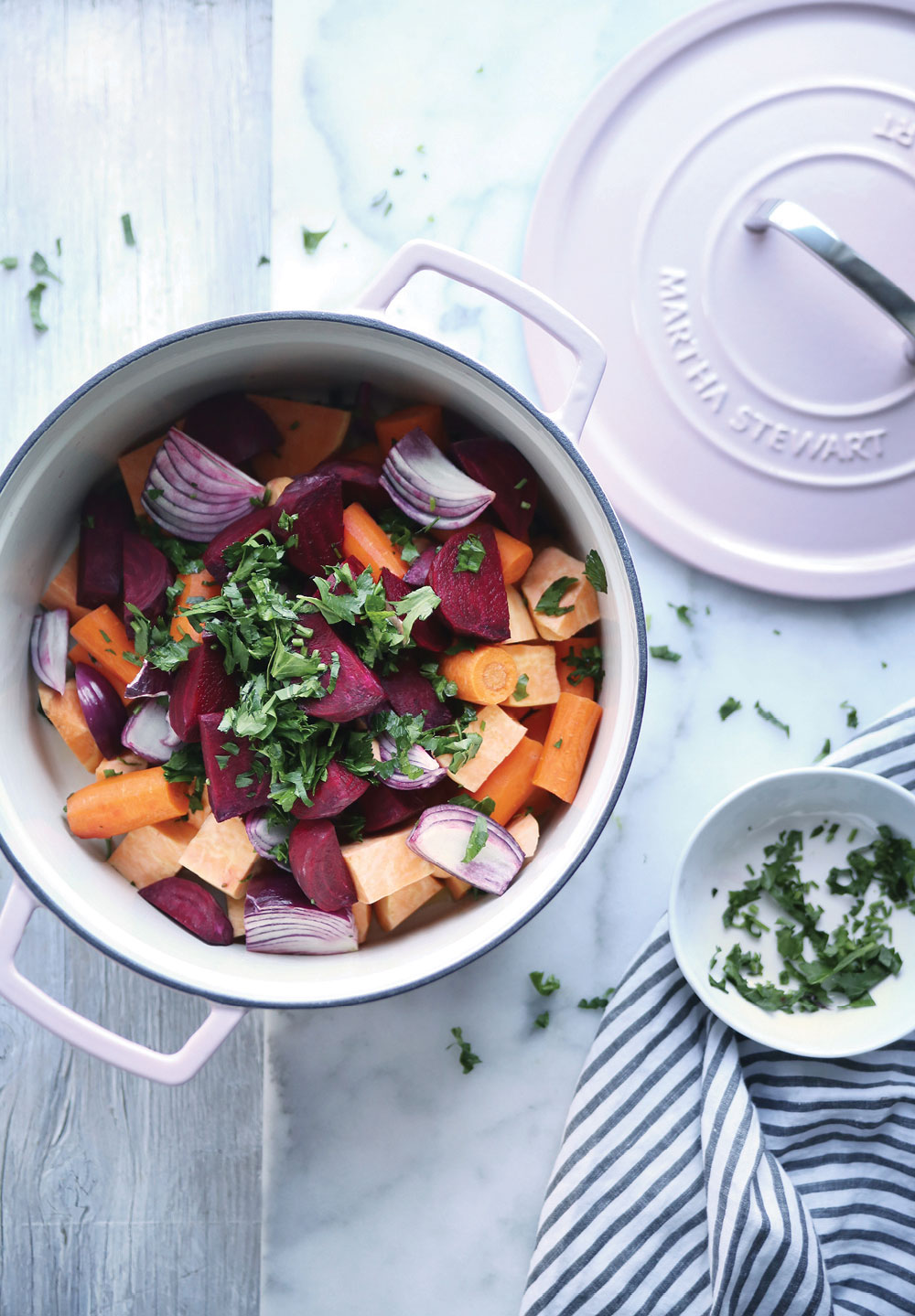 Serves 6
Ingredients
4 large carrots
2 medium sweet potatoes
4 medium beets
1 medium red onion
1/4 cup olive oil for cooking
1 tablespoon dried thyme or oregano
2-3 teaspoons sea salt (or more to taste
freshly cracked black pepper to taste
fresh parsley for topping
Instructions
Preheat oven to 350F.
Wash and peel the vegetables and cut into large chunks.
Drizzle some of the olive oil on the bottom of the pot, add in the vegetables and pour over oil over top. Sprinkle in the seasoning and toss around to coat the vegetables evenly.
Cover with the lid and place in the oven to cook for about 25-30 minutes.
Notes
If you bake this dish in a cast iron pot with the lid, you don't even need to toss the vegetables half way through.
Pure Ella https://pureella.com/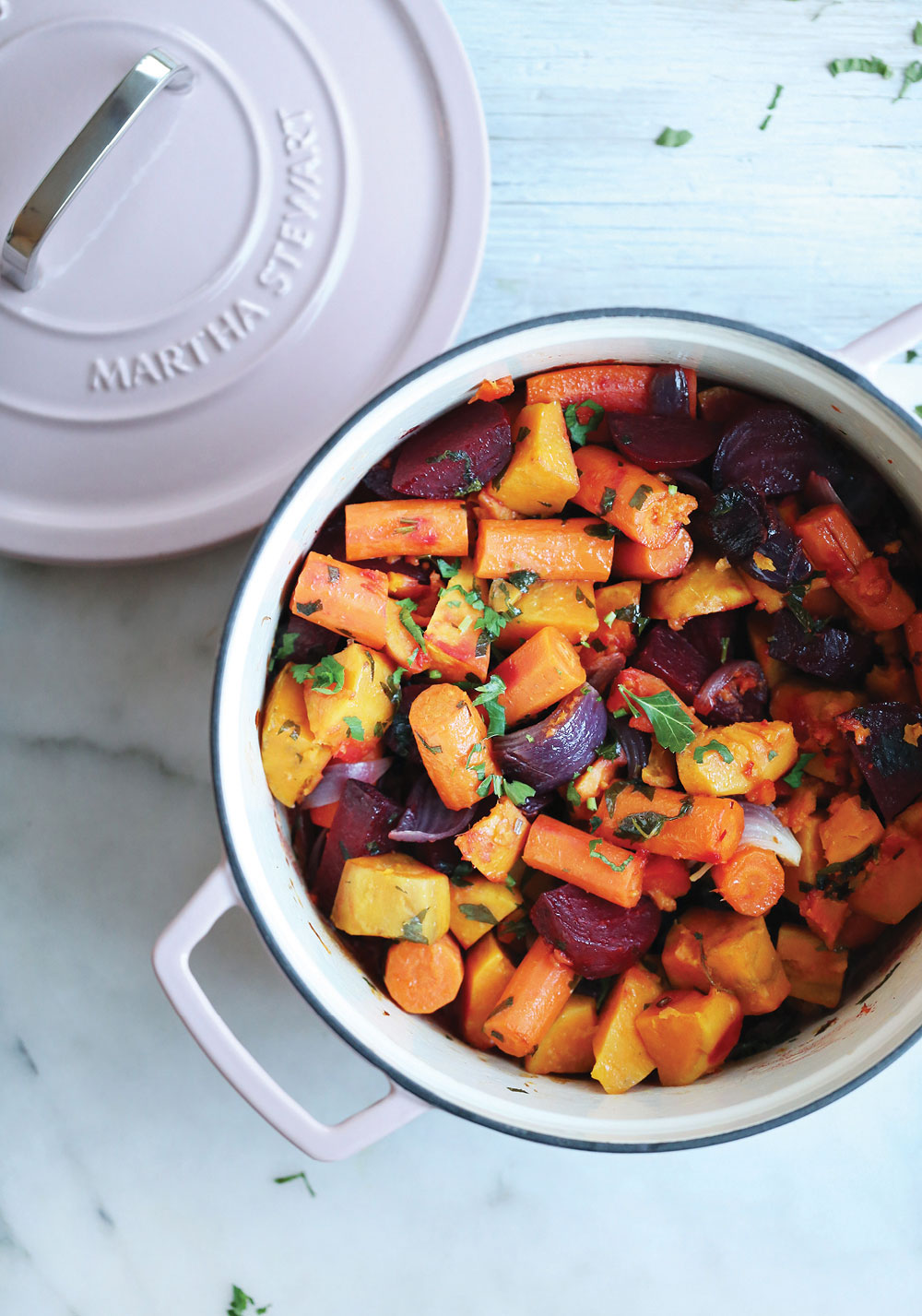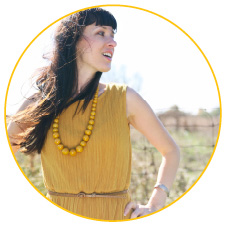 Ella Leché
is a cookbook author ('
Cut the Sugar
'), recipe developer, and photographer/stylist behind Pure Ella; where she shares delicious and healthy recipes. Eating PURE is clean ingredients, whole foods, plant-based nourishment and delicious desserts – with quality ingredients and sweeteners so they're treats with benefits so you won't have to feel deprived or restricted to eat healthier.
Thank YOU for being here!
Follow on social media for daily health & happiness inspiration:

ps. don't forget to share your Pure Ella (PE) recipe creations by tagging them #pureella and
@pure_ella
on Instagram – we repost our favourite photos!