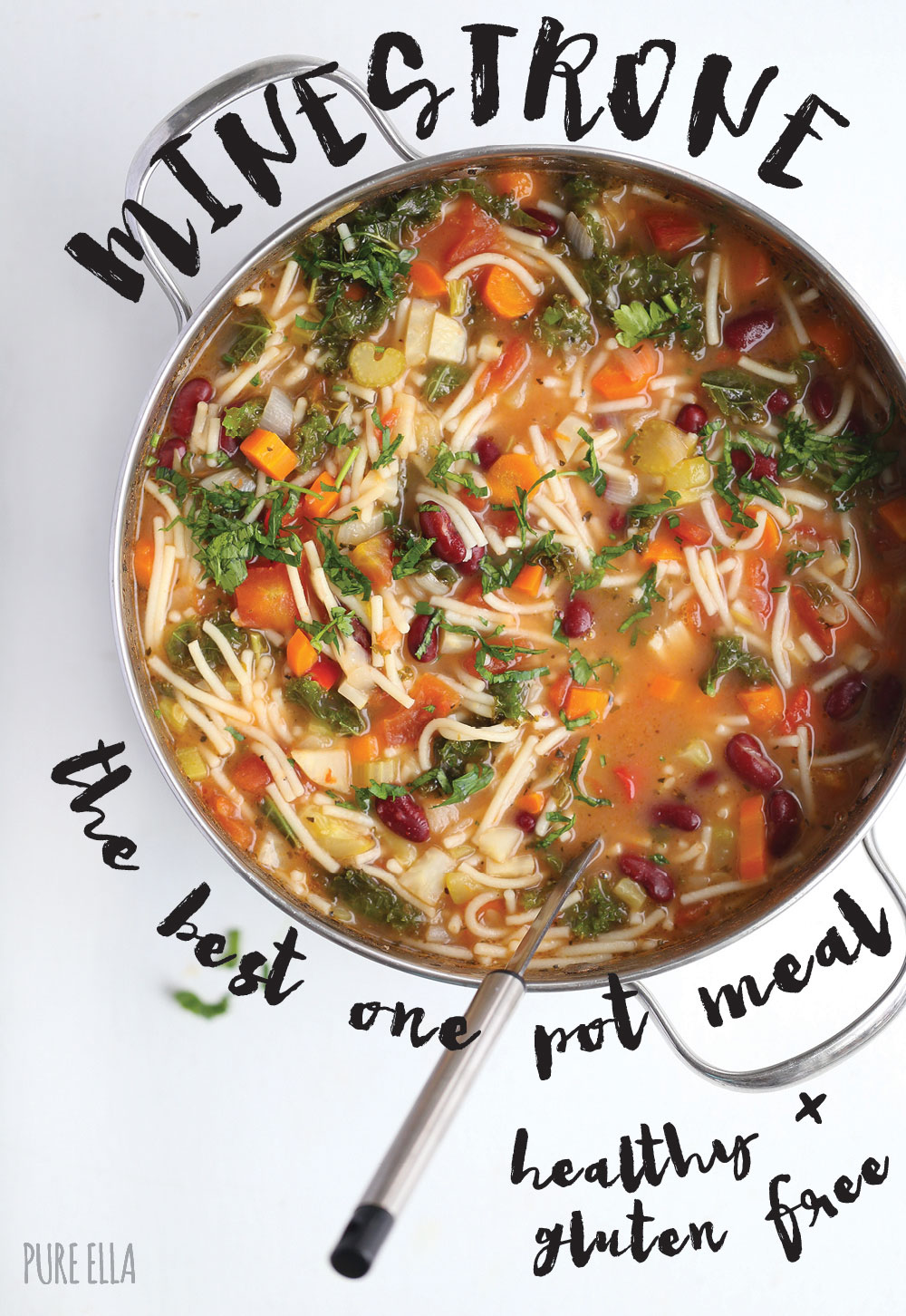 Today is definitely a soup day. And just the perfect day for a Healthy + Easy Minestrone! The best one pot meal! This easy minestrone recipe is also gluten free and vegan – making it a perfect meal for everyone!
A pot like this should last a couple of days – it makes the best leftovers!!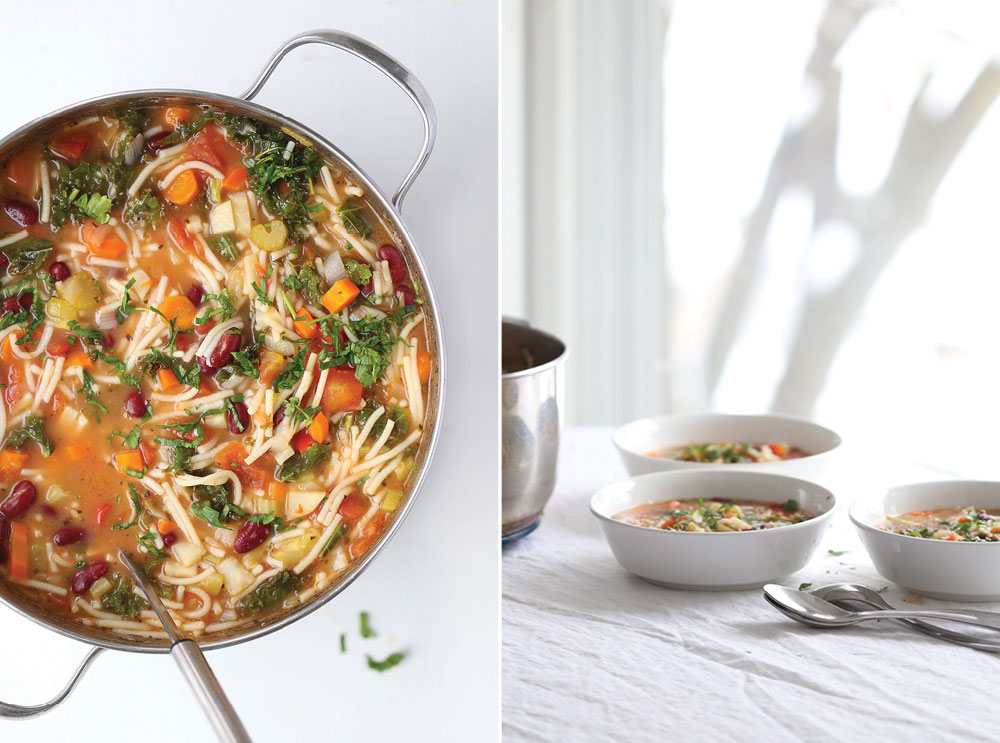 Healthy + Easy Minestrone Soup
A deliciously amazing and healthy gluten free and naturally vegan minestrone recipe.
Ingredients :
2 tablespoons grape seed oil
2
carrots
, peeled and diced
1/4 teaspoon
chili-flakes
1 796-mL can
diced organic
tomatoes
1 540-mL can
red kidney
beans
, drained and rinsed (or with the liquid for a creamier soup)
3/4 cup/ handful gluten-free
spaghetti
pasta (torn into 3 sections)
2 cups
packed
chopped kale or spinach
1/4 cup
chopped fresh
basil or parsley for topping
Directions :
Heat a large pot over medium heat.
Add oil, then onion, carrot, celery, garlic. Cook until vegetables are slightly tender, about 3 min.
Add tomatoes, beans, and pasta and 1-2 cups boiling water or more (from a kettle). Bring to a boil. Reduce heat and simmer. Cook until pasta is tender, 10 to 11 min.
Stir in kale and turn off heat. (the kale will cook with the heat of the soup but not overcook).
Serve with fresh parsley.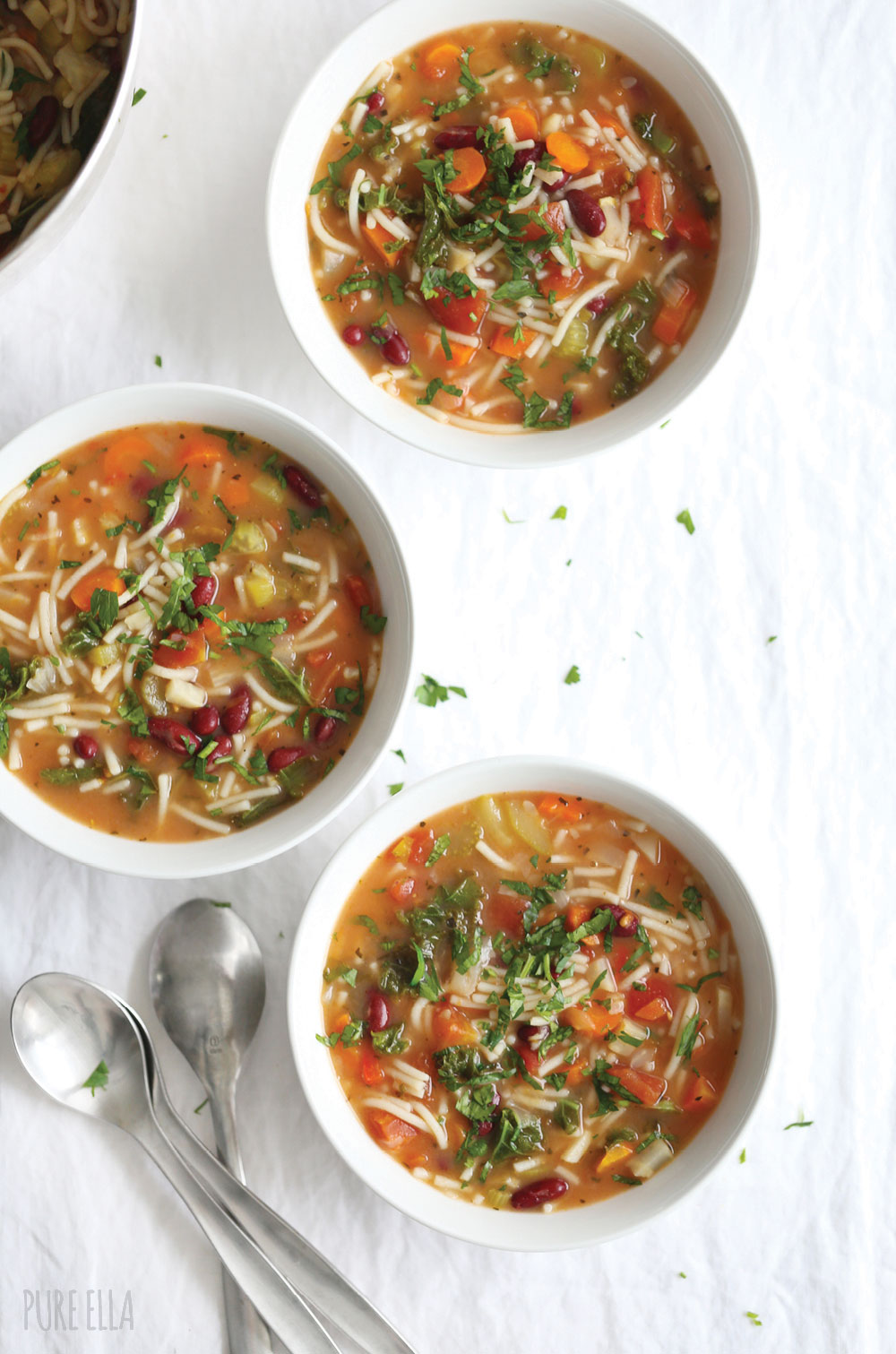 This is also a soup I make when I want to clean out the fridge. I always stock up on canned tomatoes and beans and gluten-free pasta is in my pantry at all times. So this soup easily comes together on busy nights or when there's 'nothing in the fridge'. Also it still works if you are missing a vegetable or two and have something else on hand like zucchini. It's just the best and there are hundreds of variations for Minestrone – but this THIS is our favourite!
And best of all, it's so easy to make a Minestrone Soup ~ it's a family favourite here as everyone including my husband and kids love it! I hope you'll make it ASAP!