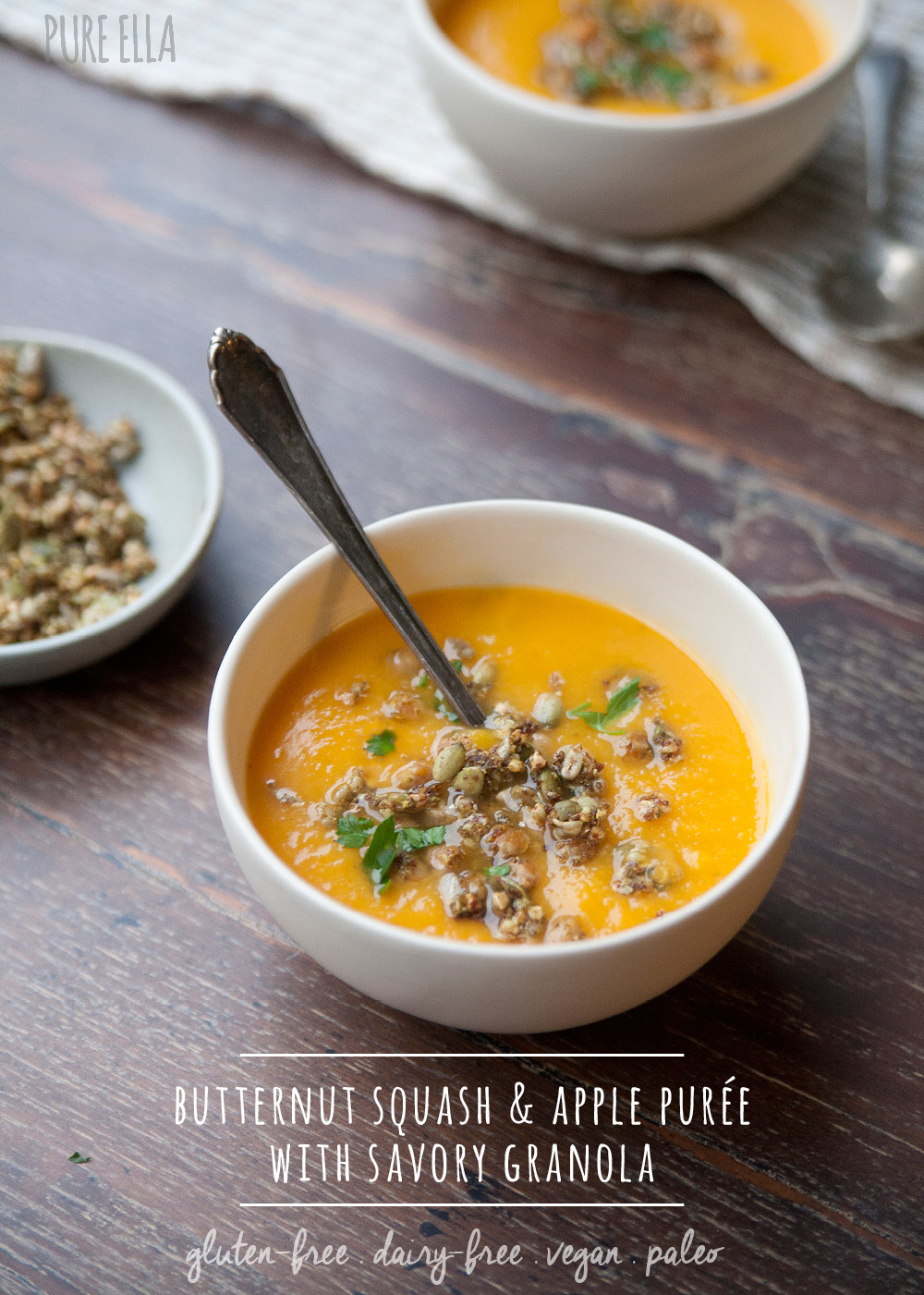 It's such a beautiful time of the year… and time to make amazing comforting meals. This Butternut Squash Puree is especially one of our favourite soups we make every year for Thanksgiving. It's become a tradition. I hope you will add it to your autumnal table this season for the holiday table or a family dinner any day of the week. It's a delight on your plate!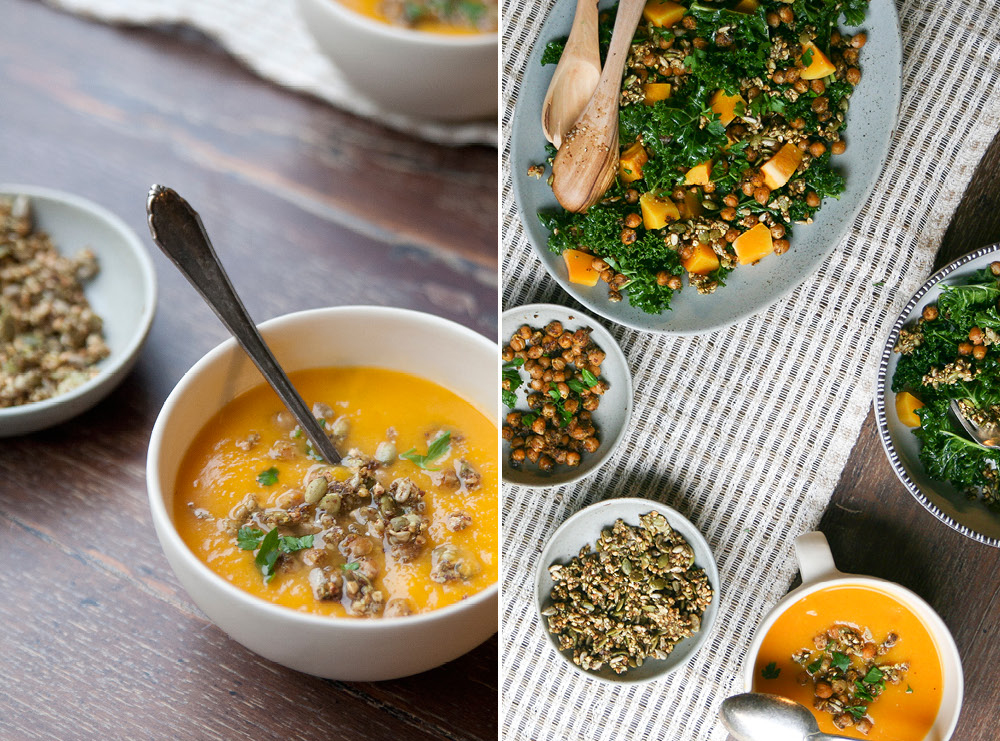 This is a special recipe adapted from my husband's Butternut Squash Puree that he makes every Thanksgiving. Even before I got into food blogging and took over the kitchen – this guy flaunted his talents here and there making our mouths and bellies happy.
Today is his birthday and I cannot believe I met this boy when I was only 16! It's been a crazy ride over the last 19 years (10 years of marriage) full of ups and downs with incredible highs in our careers and downs with an illness and a true test to our marriage. Our relationship has been a test for patience, support and love day in and day out. It's been a wild ride but lately every day when I wake up I realize how lucky I am. Mornings are especially crazy and fun, as you can imagine, with an eager tiny toddler in the house you can't help but smile and go with the silliness and laughter. The two of us often glance at each other and smile. These smiles are everything. These smiles mean we've made it through the bumpy ride and we're ok. I'm glad you're here by my side to see all this good stuff we've made together.
Butternut Squash & Apple Puree
gluten-free, vegan and paleo recipe
Ingredients :
1 large butternut squash
2-3 medium apples, peeled and cored
2 l of vegetable stock (purchased or make your own)
bunch of leeks
2-4 tbsp olive oil for cooking
salt and pepper to taste
Optional : Savory Granola for topping : this recipe is from my cookbook Cut the Sugar
Directions:
Preparing Squash: Clean and dry your squash, cut it in half and bake on a baking tray (drizzled with olive oil) in the oven at 350 F for about 1hr or until tender. Let it cool so it's ready to be handled. Cut or scoop out the meat and discard the skin (or add to your compost ;).
Preparing stock: (once your squash is in the oven, you can make your stock). In a large pot filled with 2 l of water, boil these cleaned and peeled vegetables for stock: carrots, parsnips, celery, celery root (optional). Strain or remove the soft vegetables and leave the stock in the pot. (you can eat the cooked vegetables and give some to kids :). Pressed for time, you can use store-bought organic vegetable stock.
Preparing Leeks: (while the butternut squash and the stock is set to cook, you can make the leeks) Discard the white and dark green parts, and clean the mid section well. Cut into small pieces and fry on a large skillet with the olive oil until soft but not burned. (if the leeks stick to the pan too much, add a bit of water, stir and cover to cook).
Combining the Purée: To the large pot that now has your stock, add the scooped out squash and the leeks. Add apples and cover and bring to boil, then reduce heat to medium. Cook for about 30 more minutes. Let cool slightly, and puree with an immersion blender until no chunks are left behind. Season with salt and pepper to taste. Serve topped with Savory Granola (sorry to tease) or with fresh chopped green onion with a sprinkle of pumpkin seeds on top.
You can also cool completely and refrigerate overnight. And just reheat 20 minutes before serving.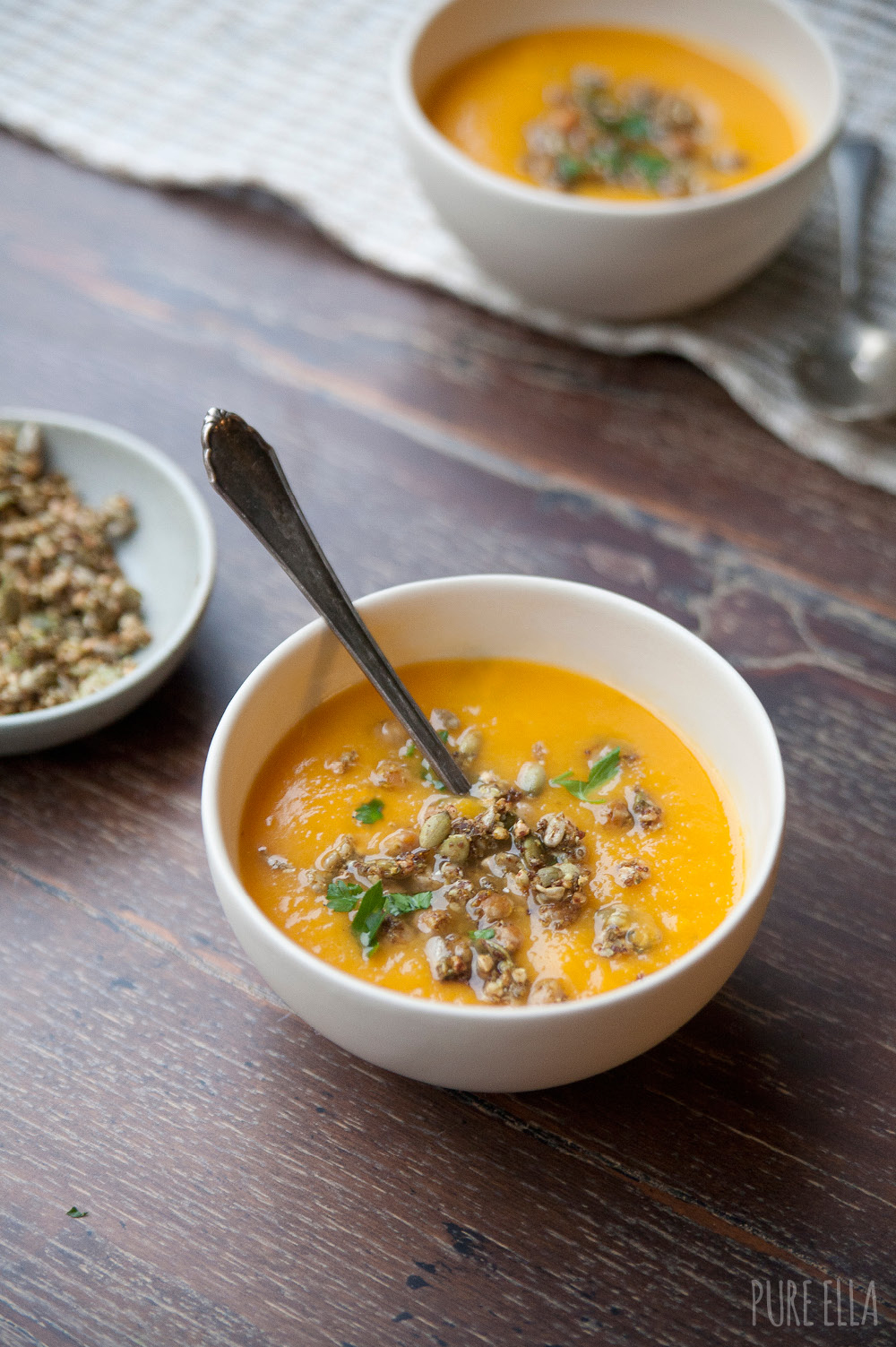 October brings us the best of the seasonal foods. I am loving these last seasonal harvests for two reasons. One is that the harvest is absolutely delicious ~ squashes and pumpkins are a delight to cook with. The second reason is that I know all too well it's the last of the growing season here in Canada. Local foods are not a year-round thing here. Unfortunately. So I really do appreciate every little food we get right about now.
Having Thanksgiving at the beginning of October is especially wonderful. We get to truly celebrate this amazing season with autumnal meals. I could not be be more thankful for the food and people in my life right now.
Happy Thanksgiving to all our Canadian friends who are celebrating this weekend.
Do tell, what are you thankful for right now?