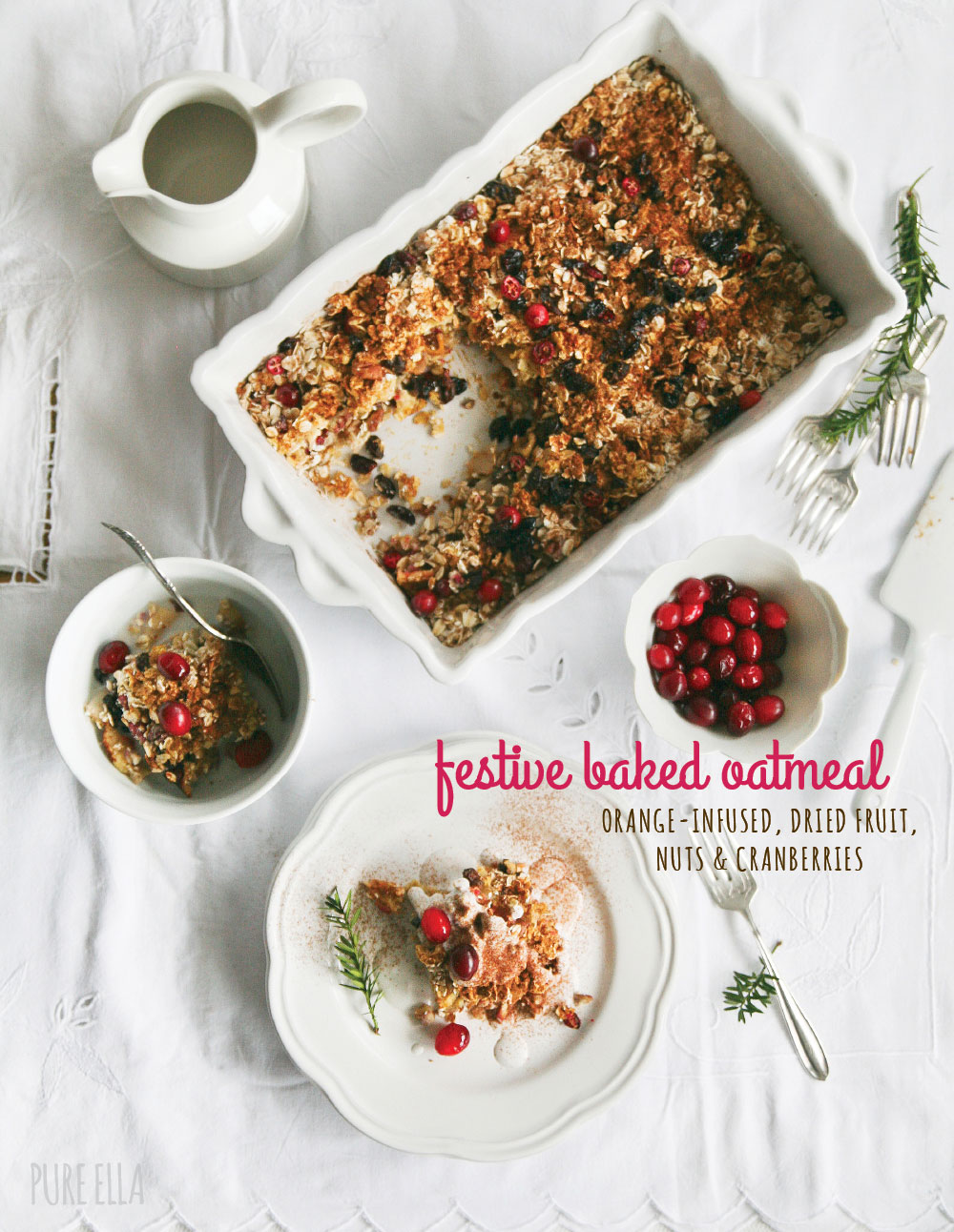 As the cheery buzz of a brand new day wakes you up… with someone jumping on the bed and giggling and laughing (because that's my life ~ and hopefully yours too :)… you can't help but smile. It must be Christmas!
Isn't Christmas morning the best? No matter how you celebrate, it's an instant invitation to be happy and cheery! The best way to start the day is with a little snuggling, a good cup of coffee or tea and a beautiful breakfast awaiting to enjoy! (Presents aren't even the most important thing! ;P)
How do you make this special morning go smooth and stay happy? (As opposed to chaotic and stressful.) I think it's all in a bit of planning ahead :)
That's why I love this recipe for the Festive Baked Oatmeal. It's easy and quick to make ahead of time and then just pop in the oven for 20-30 minutes as you start the day. In no time, it's ready, oozing with amazing aromas and filling up your home with the scents of the Holidays… perfect!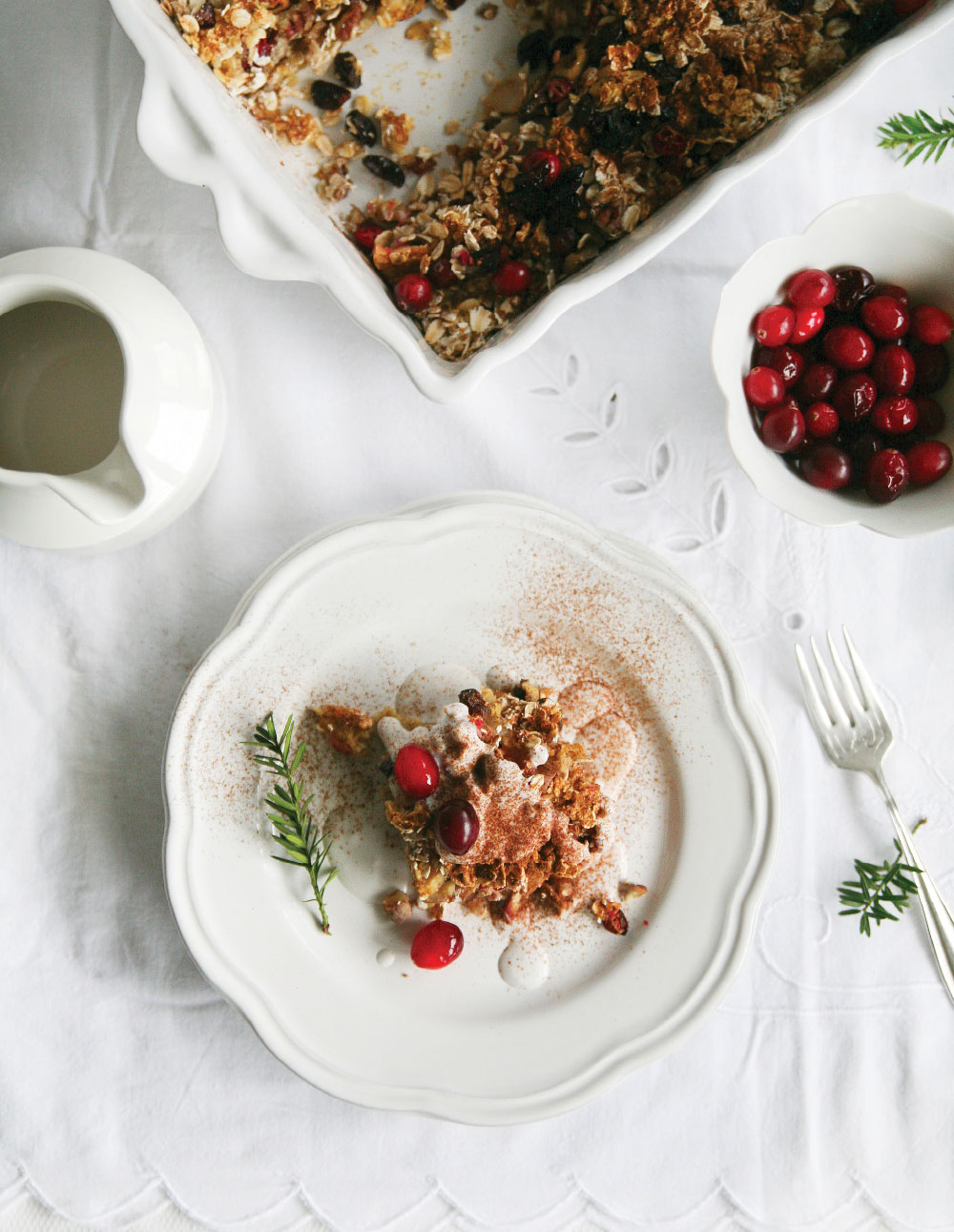 Festive Baked Oatmeal
Ingredients :
2 cups organic gf steel cut oats
2 cups organic orange juice
1/4 cup dried cranberries
1/4 cup fresh or frozen cranberries
1/4 cup raisins
1/4 cup dried figs, roughly chopped
1/2 cup prunes, halved
1/4 cup walnuts, roughly chopped
1/4 cup pecans, roughly chopped
1/2 fresh pear, sliced thin
1/2 fresh apple, sliced thin
1 teaspoon cinnamon
1 tablespoon organic brown sugar
.
For serving :
handful of fresh, frozen or dried cranberries for topping
whipped coconut cream and/or almond milk for serving
Directions :
The evening before :
Mix all the ingredients together in a bowl and place in the refrigerator.
In the morning :
Preheat oven to 350 F.
Place the mixture onto a ceramic or glass baking dish and bake for about 20- 30 minutes.
Serve hot on a plate with whipped coconut cream or in a bowl with almond milk or another milk of choice.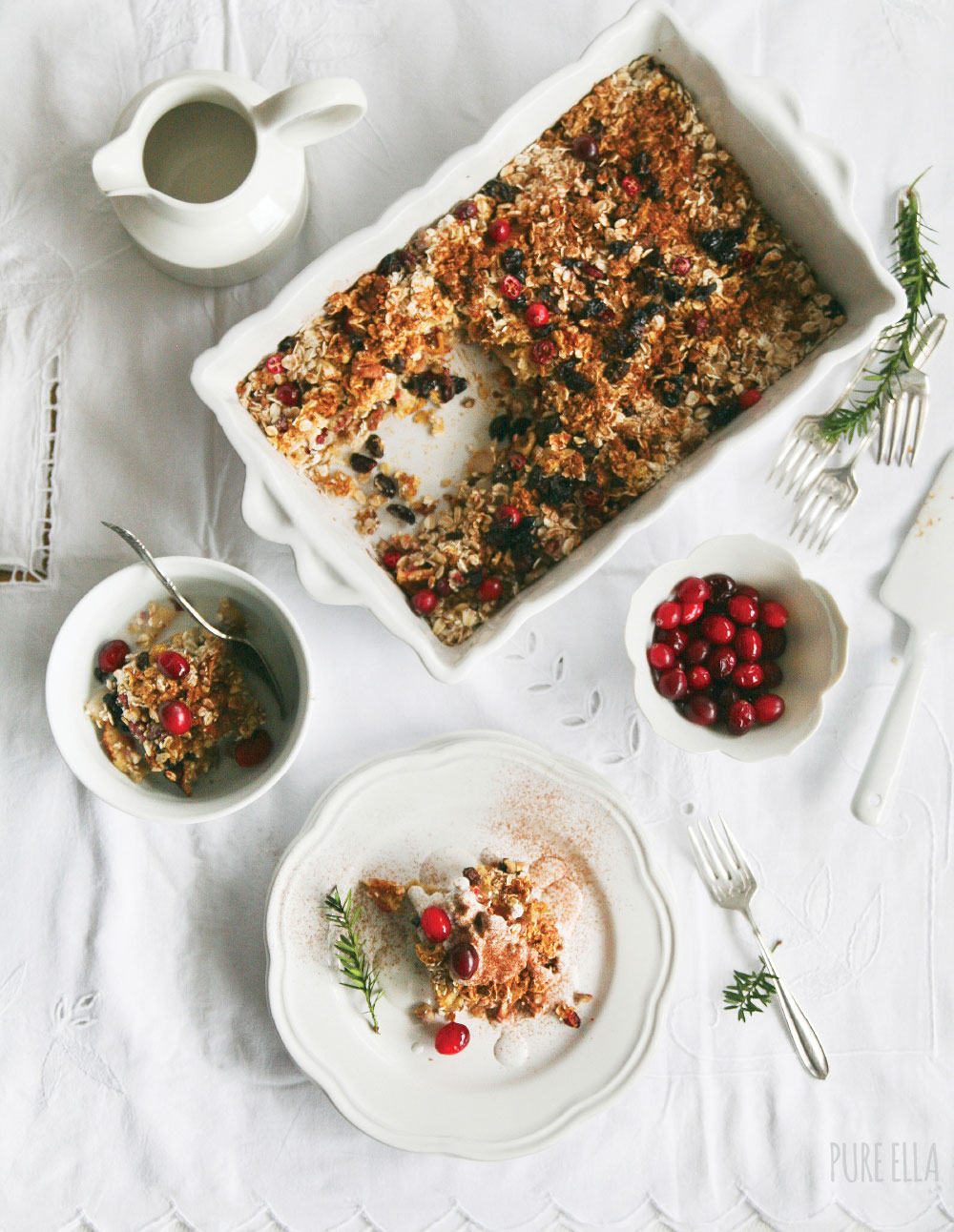 This is one of our traditional dishes we make for Christmas morning every year… and oh it's amazing every time. It's honestly the best baked oatmeal I look forward to all year long. There's something wonderful about this dish also, I love how the smells of the dried fruit and cranberries fills up the home while it's still baking in the oven. It slowly plays with your senses before you even get that first bite. It's amazing. And when it is finally taken out of the oven, it looks so pretty but the best part is that first bite. So good, hot and comforting and nourishing. Really my favourite way to start the day ;)
Of course this dish is best when it's shared with the special people in your life that are with you on Christmas morning. Making breakfast lovely and special (and effortless) is really the best way to start the day. I hope it will really be the most wonderful time of the year ;)
How do you traditionally start Christmas Day?